IKEA products are widely available, low cost, and also so stylish, featuring the best of Scandinavian design. But the absolutely great thing about IKEA products is that they can be hacked – completely redesigned and changed!
Hacking IKEA products means changing just about anything to do with that product – including the color, finish and style.
Not only are IKEA hacks fun and enjoyable to do, they can provide you with a unique one of a kind item that nobody else has.
If you want unique, budget-friendly items for your home, consider these 16 amazing IKEA hacks that you can do in just a weekend.
These hacks are great for weekends because they do not require extensive materials (which may need to be ordered way ahead of time).
They are relatively simple, yet incredibly effective DIY hacks, and they don't involve really complicated directions and figuring out.
1.Lack Table turned into Family Game Table
Games with your family make for great family bonding experiences. This hack takes the simple and classic IKEA Lack table, and turns it into fabulous games tables.
You can create a table for Monopoly and Backgammon, or pretty much any game table that you want to. See the post here about how to create these great games tables.
Photo: IKEA
2.DIY Modern Vanity using Ekby Alex
If you need a vanity desk in your bedroom, but space is an issue. Or if you need a desk for you or a family member, consider hacking IKEA's Ekby Alex unit.
This hack puts modern legs onto the unit, to create a beautiful vanity desk that will be beautiful as well as functional. See the hack right here.
Photo: A New Bloom
3.Beautiful DIY Ottoman
Ottomans make great pieces for your living room, but they can be either plain or in a pattern not to your liking or choosing.
Taking a simple IKEA ottoman and covering it with pretty fabric of your choosing, you can make a great statement piece of furniture for your home. See the hack here.
Photo: Rebecca Propes Design & DIY
4.DIY Kitchen Island
If you are in need of more space in your kitchen, a hack can fix all that. This hack uses the IKEA Expedit storage cube and Numerar countertop.
It turns it into a beautiful rolling kitchen storage island. Just what you need to solve that storage problem that you have in your kitchen. You can see the hack here.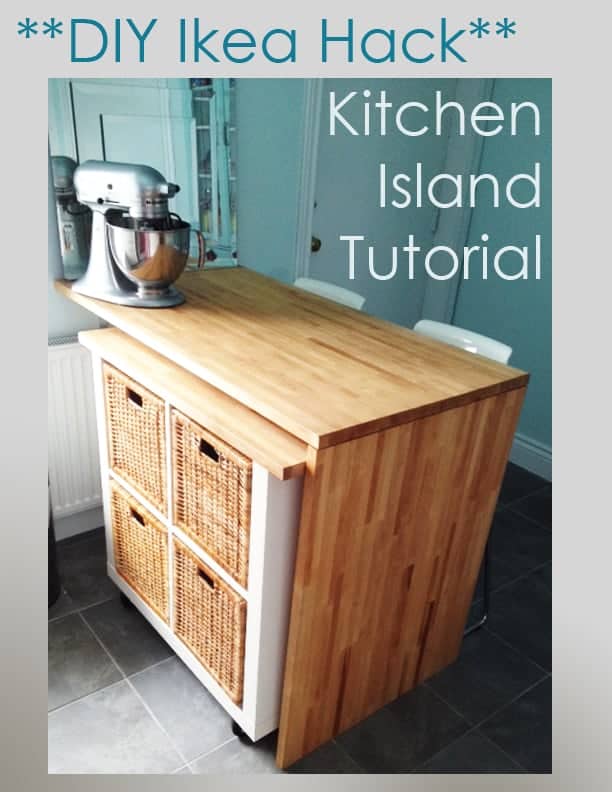 Photo: Sketchy Styles
5.Stikwood Bed Headboard Hack
Bored with your current headboard? Or are you desperately in need of a new stylish headboard?
IKEA hacks for headboards are cheaper and more stylish than anything you can buy.
This hack uses Stikwood, which is adhesive wood paper. I think you will agree it makes an incredibly stylish headboard. See the hack here.
Photo: Sugar & Cloth
6.Mudroom Hack
If you are in need of a mudroom, even just a little one, try a hack for that. This mudroom hack uses the IKEA Brusali TV unit, and the Ekby Hemnes shelf.
It makes up such a stylish mudroom unit for your home and family. Get the full hack right here.
Photo: Maisonmass
7.Reclaimed Wood Buffet
This hack is just so amazing, and is such a great example of how a hack can just totally transform an IKEA piece.
If you need a sideboard or buffet for your dining room, this is a wonderful hack to try. Get the full hack details right here.
Photo: Place of my Taste
8.Gold & Marble Side Table Hack
This hack uses the Vittsjo table and turns it into a beautiful gold and marble piece of furniture.
Nobody will know this was bought originally from IKEA. You can see the hack right here.
Photo: The Sweetest Digs
9.Mirrored Night Stand
This makes a really unique piece of furniture for your bedroom. So stylish and different from everything else out there! You can watch the video right here.
10.Bar Cart Hack
A bar cart can be a fun useful piece of furniture for your home. Bur pre-made bar carts can be pretty expensive.
This hack takes an IKEA laptop table and turns it into a beautiful budget-friendly bar cart. See the hack here.
Photo: Style Me Pretty
11.Rolling Under bed Storage Cart
If you have storage issues in your bedroom, utilize that space under your bed. Build this rolling storage cart, which is made using IKEA Ribba frames. Get the full hack tutorial here.
Photo: Curbly
12.IKEA Dresser to TV Stand
In just a weekend you could create a beautiful piece of furniture that you will love for years and years.
This hack creates just that. A classic piece of useful furniture, that looks so stylish and will be admired by everyone you know. You can see the full hack tutorial right here.
Photo: Purely Katie
13.Charging Station using Fintorp
Create a really useful charging station for your kitchen, using the IKEA Fintorp railing system.
Charging cords can look cluttered and messy in your kitchen. But this wonderful hack takes a simple IKEA railing system and makes an incredibly stylish charging station. You can see the full hack here.
Photo: Polka Dots in the Country
14.Moppe Apothecary Storage Chest
The IKEA Moppe unit is just calling out to be decorated and hacked! This hack that can be done easily in a weekend takes that plain yet stylish unit, and turns it into a beautiful vintage style apothecary cabinet! You can see the hack right here
15.Lego Table
If you are tired of your kids Lego bricks being scattered all over the house, or you just need a Lego workstation for them to use, this hack is perfect!
Taking an IKEA Lack side table, you can turn it into something amazing and useful. Get the complete hack tutorial right here.
Photo: The Decorated Cookie
16.Dipped Stools
These beautiful dipped leg stools will look perfect anywhere in your home. Stools are so useful to have around.
Not just as help reaching heights, but also they can be used as little side tables. See the full tutorial right here.
Photo: Style Me Pretty
Pin this for later!
These IKEA hacks are all simple and easy to do in a weekend. Make something useful, stylish and unique this weekend with a Unique hack!
You may also like these IKEA hacks!
14 Great IKEA Hacks for your Kitchen