22 IKEA Moppe Hacks that are Pretty Amazing
IKEA Moppe is a great storage cabinet. It comes as an unfinished birch wood unit, that just begs to be hacked! Here are 22 amazing Moppe hacks and tutorials!
The IKEA Moppe storage unit is made of beautiful birch wood. It is a beautiful neutral wood that just smacks of Scandinavian design.
If you have an IKEA Moppe unit you probably already love it. There are 6 drawers of various sizes in which you can store just about anything you want to.
You can use Moppe on your desk, in your kitchen, in your bedroom, in your garage – in fact just about anywhere in your home.
But do you sometimes just wish your Moppe was a little more decorative and colorful? Do you wish it wasn't so plain? Plain Scandi design is so good, but sometimes you just want something that pops a bit more!
I have a couple of IKEA Moppe units in my home. I use one in my home office on my desk. I also use one in my craft room for craft supplies. I love the unit, it works so well for so many things.
So here are 22 ideas and tutorials for how to hack, and jazz up, your simple IKEA Moppe unit!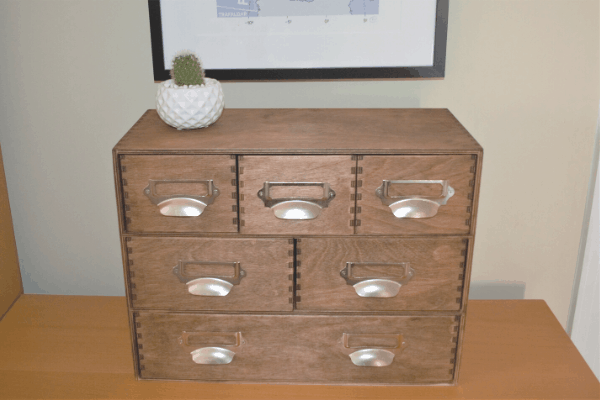 This post contains affiliate links. You can read my disclosures here.
Why is IKEA Moppe So Loved?
The IKEA Moppe storage cabinet is loved for so many reasons:
It has 6 great storage compartments, which vary in size, so you can store quite a lot, and separate things out too!
It is such an affordable price
It is made of a birch plywood that is so easy to pain, stain, or cover. It is such an easy material to work with on numerous DIY projects.
It looks so stylish, hacked or un-hacked!
Where to Buy IKEA Moppe
The IKEA Moppe storage unit can be bought directly from IKEA of course. Either at their stores in person or online.
You can also buy IKEA from Amazon. You can see what Amazon has right here for Moppe.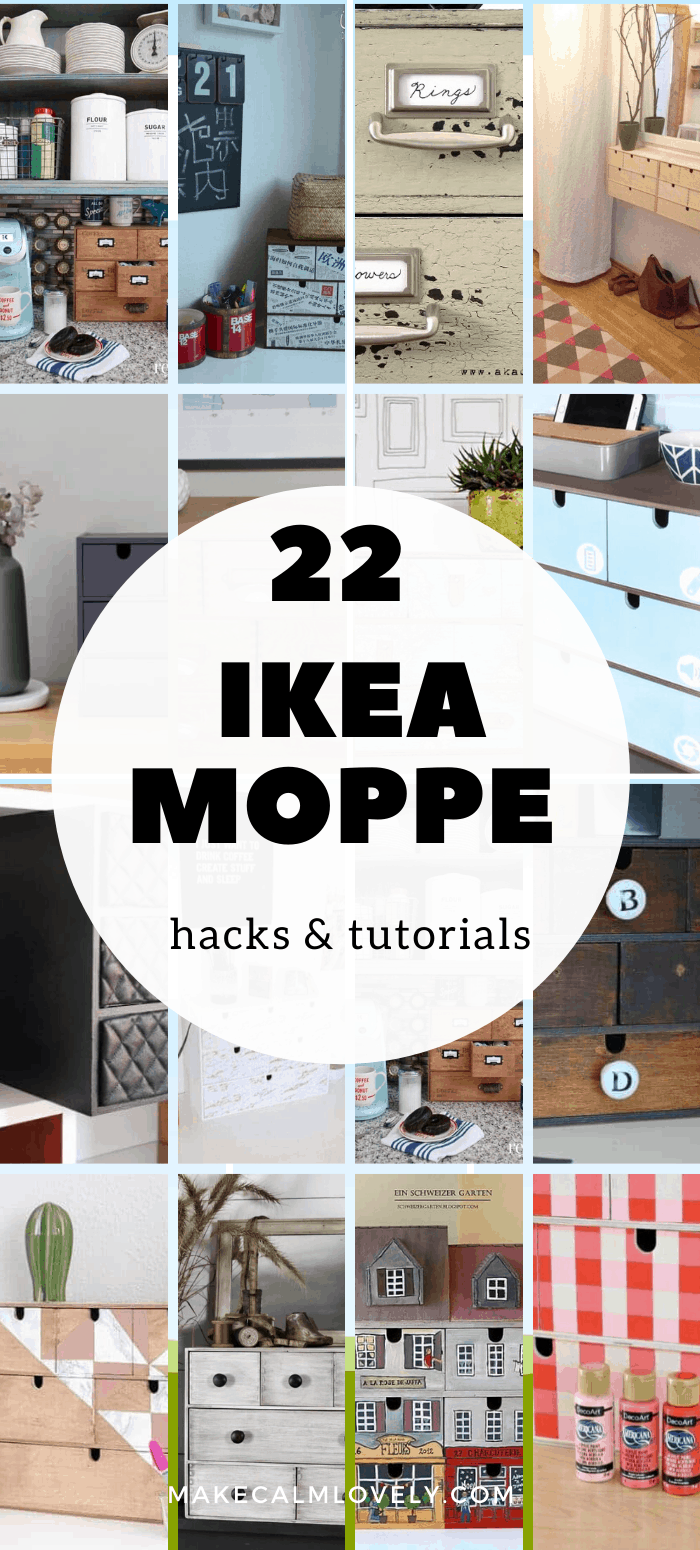 All the IKEA Moppe Hacks & Tutorials
Here are those 22 hacks and tutorials:
Minimal Moppe Hack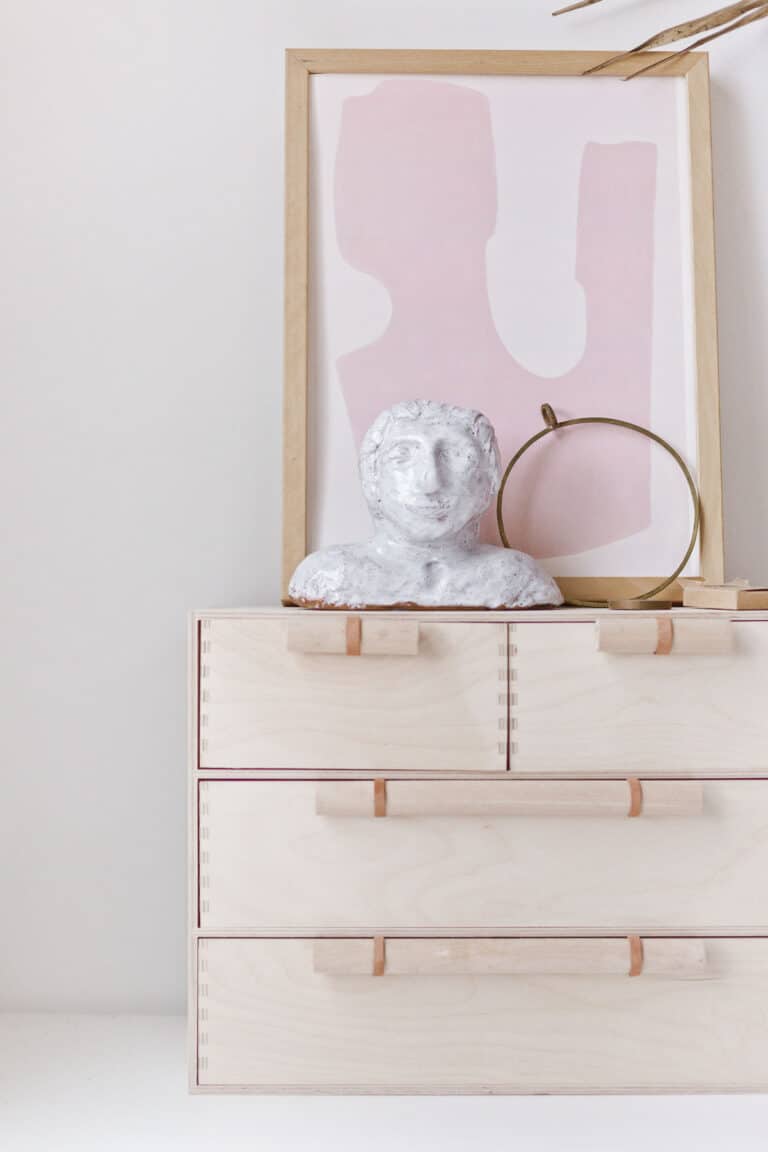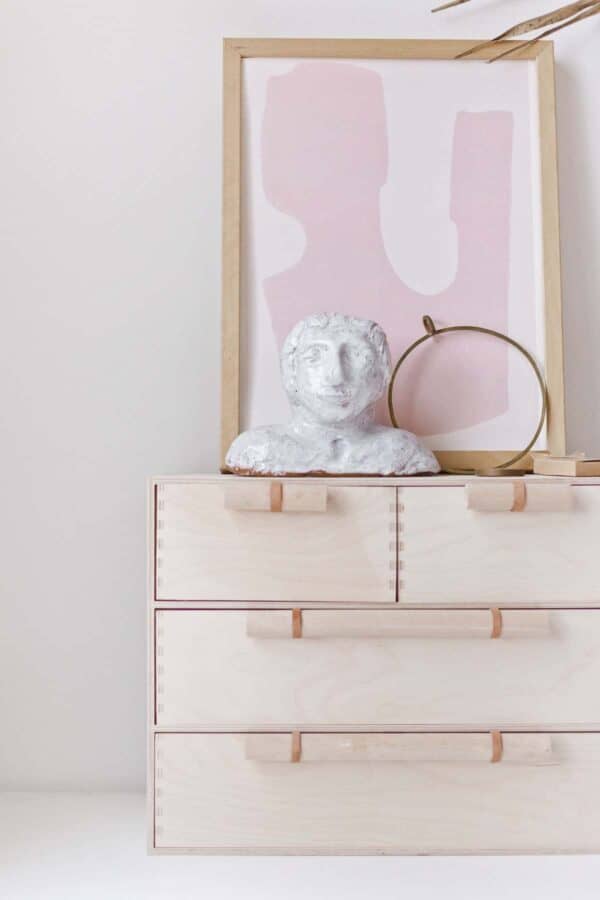 Photo: Paper & Stitch
This is a beautiful minimal IKEA hack. There isn't a lot involved with this hack, which makes it perfect as it the end result is so great.
This hack retains the beautiful birch natural wood, and just adds some amazing handles.
You can see the full DIY right here.
Maps and Leather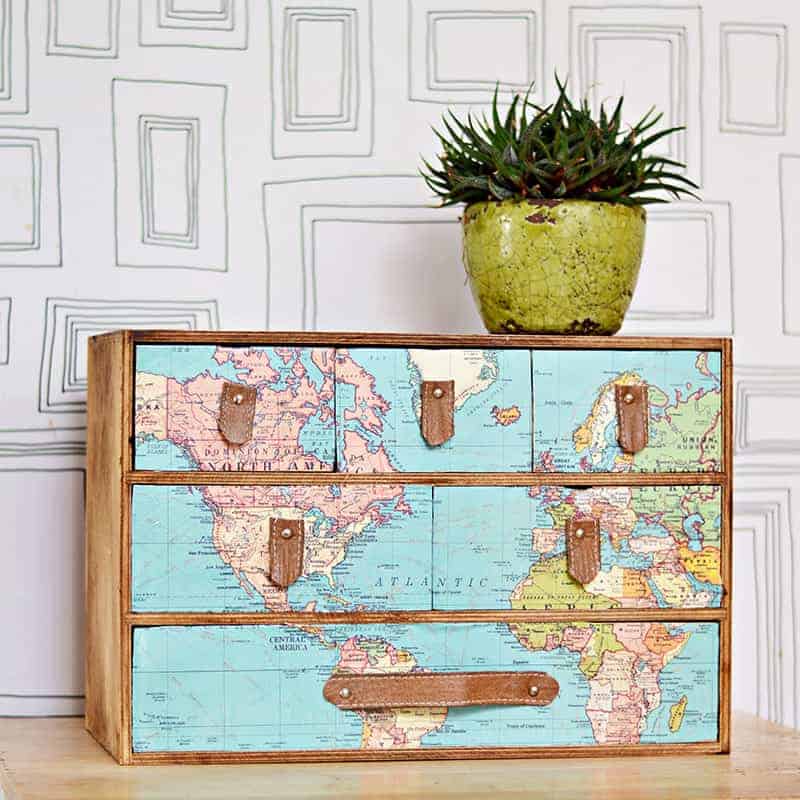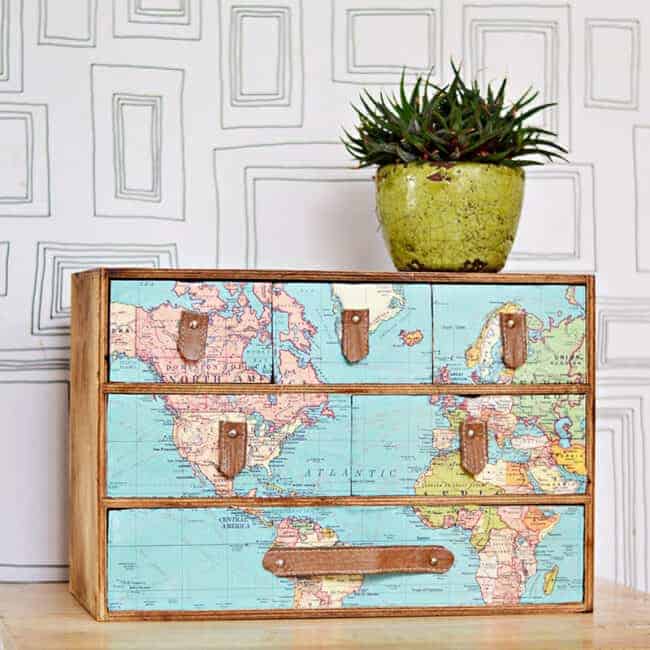 Photo: Pillar Box Blue
This Moppe hack uses maps and leather straps, to make it into the perfect storage unit.
You could use this hacked Moppe for just about anything, but it would be especially great for travel souvenirs.
You can see the full DIY here.
Moppe Spice Cabinet Hack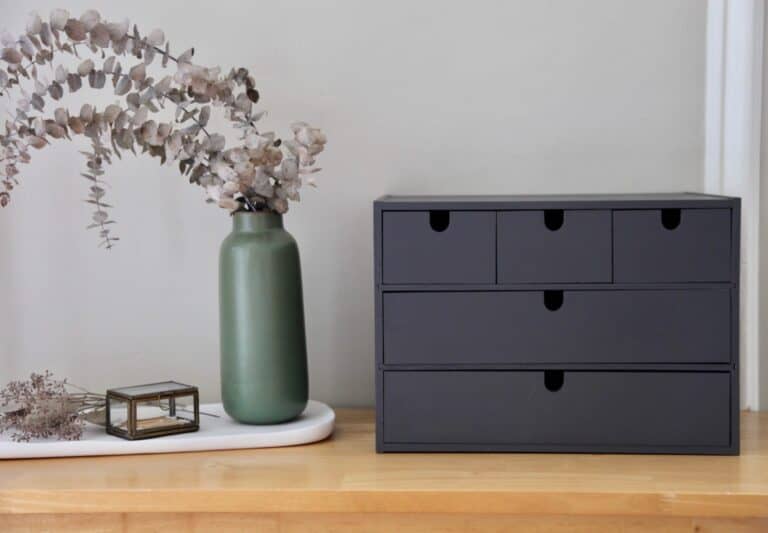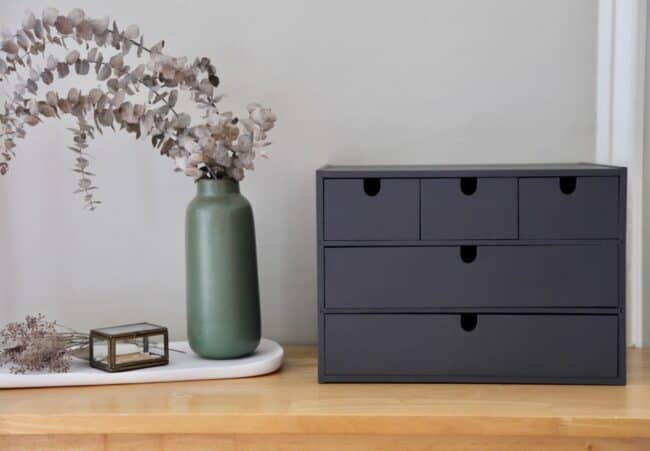 Photo: The Organized Home
Just painting the Moppe unit changes it considerably. This hack involves painting Moppe and turning it into an amazing cabinet for your spices. You could of course still use it for absolutely anything!
Black and White Moppe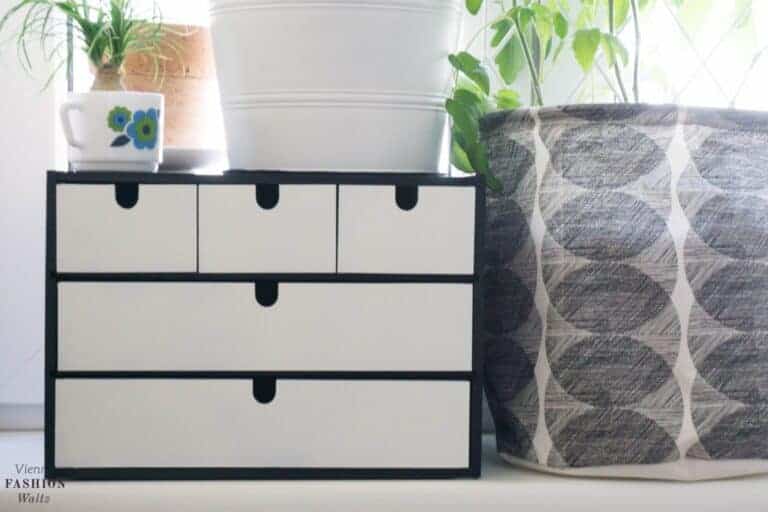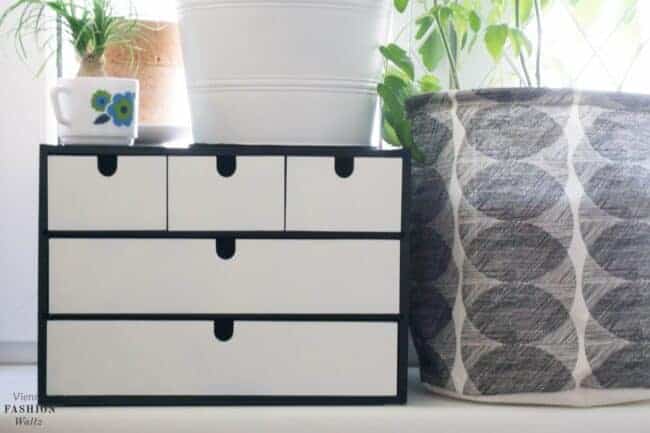 Photo: Vienna Fashion Waltz
Just applying paint to Moppe changes the unit considerably, as detailed in the last Moppe hack. This hack paints it black and white.
The unit is so pretty, and would work great as storage in any room. It is so pretty it could work as a jewelry box holder. Get the full DIY here.
Moppe Apothecary Storage Cabinet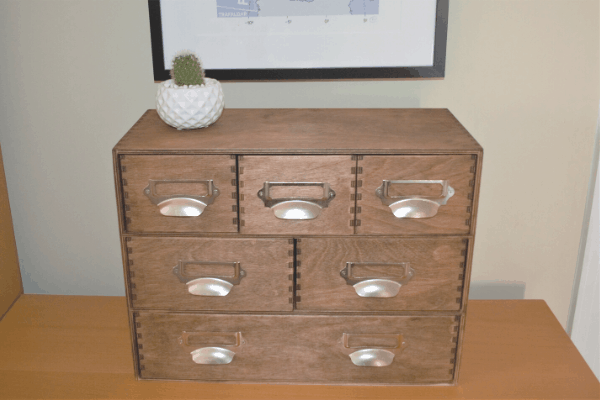 Just staining the Moppe storage chest (which is incredibly easy and fun!), can completely change its look.
This hack turns Moppe into an absolutely beautiful, vintage-looking Apothecary Storage Chest. All you need to do is stain it, and add some handles. It is a really easy DIY to do in a day or weekend. See the hack here.
Related: IKEA Hacks you can do in a Weekend!
Make Up Storage Chest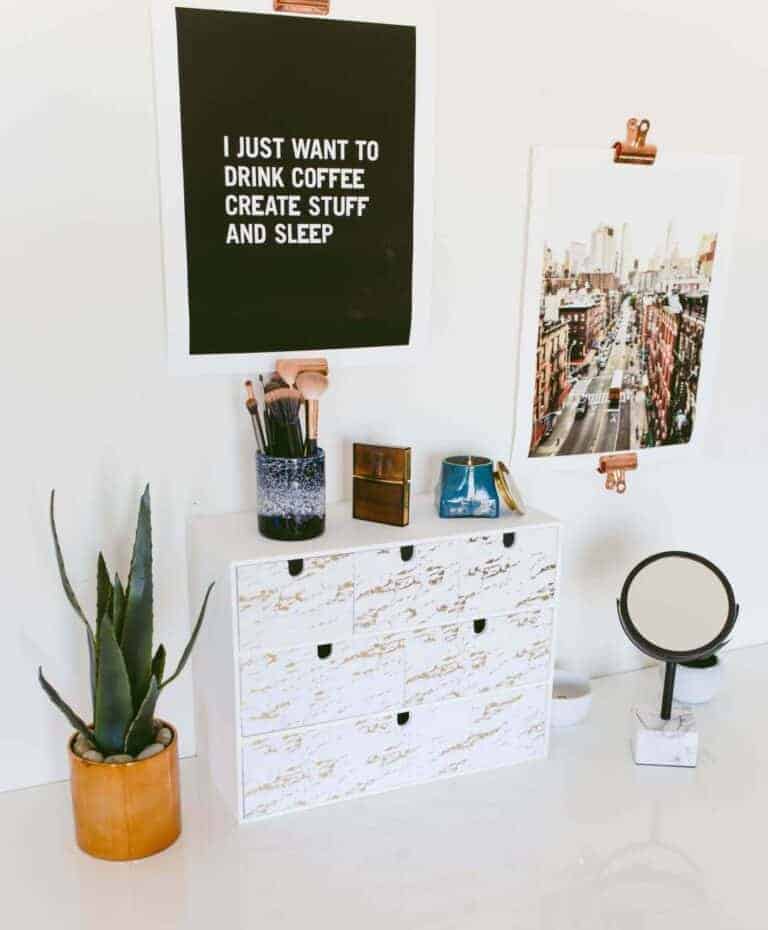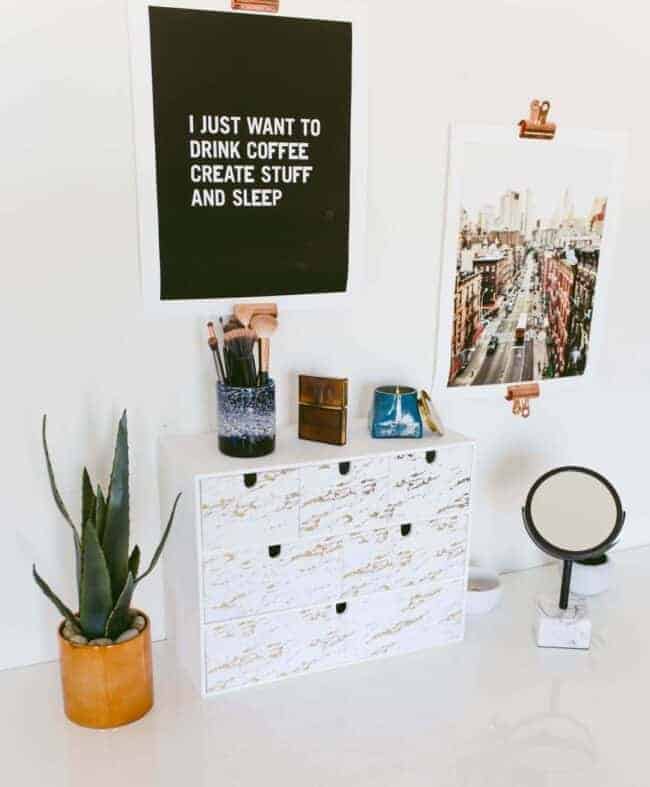 Photo: Twinspiration
This is a very pretty make up storage chest, made with scrapbook paper to get the very pretty white and gold design. You can see the full DIY here.
Related: IKEA Must have Pieces you can buy for less
than a Cup of Coffee!
Cord Charger Organization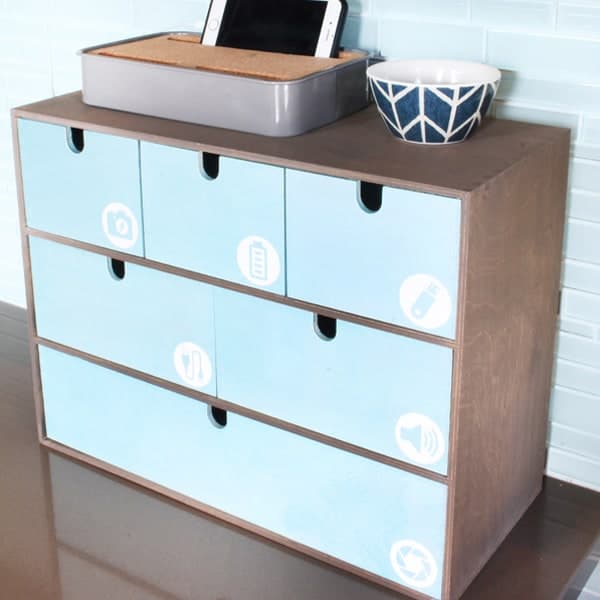 Photo: Blue I Style
This hack turns the Moppe into a charger storage unit Each drawer is for different charging cords storage. This is perfect to keep you organized. Get the full DIY here.
Dressing Table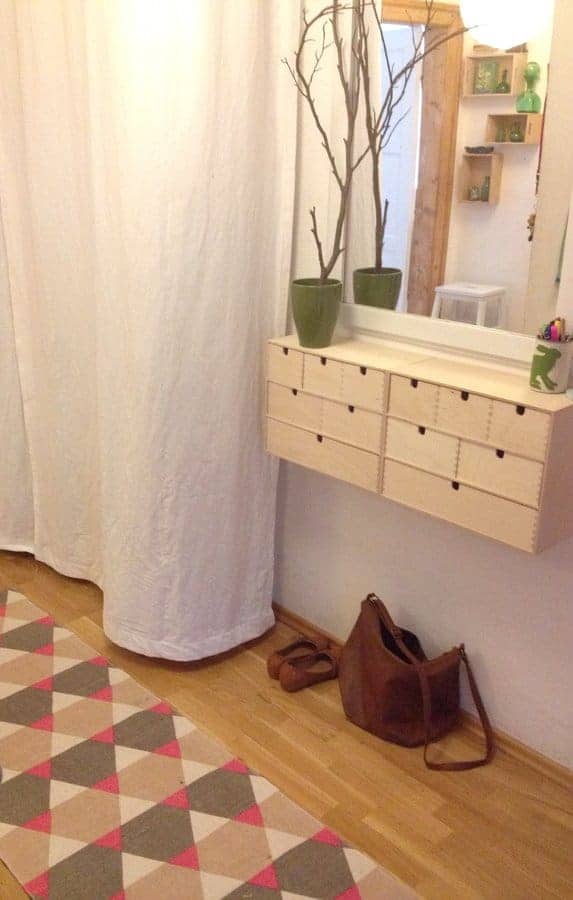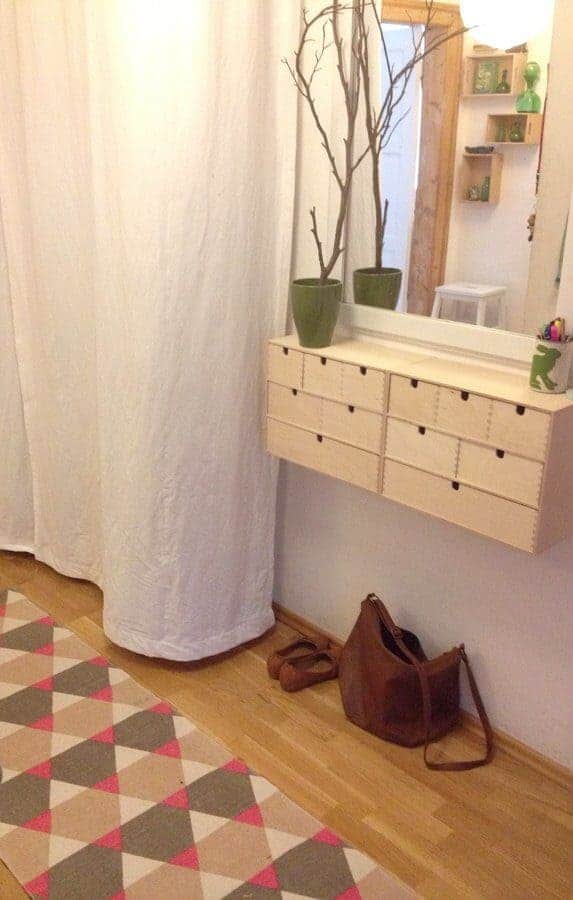 Photo: Sole Bich
This hack doesn't have an accompanying DIY post, but you can get the idea from the photo above of what needs to be done.
The hack takes 2 Moppe units and mounts them to the wall. This turns them into a really handy dressing table. You can get the full DIY here.
Farmhouse Style Moppe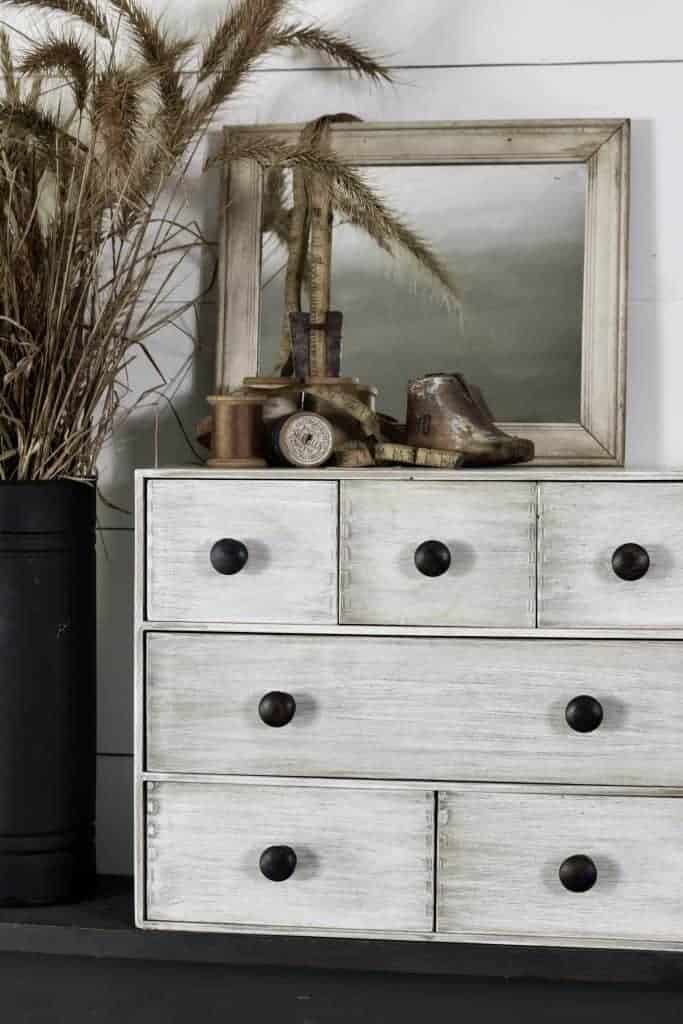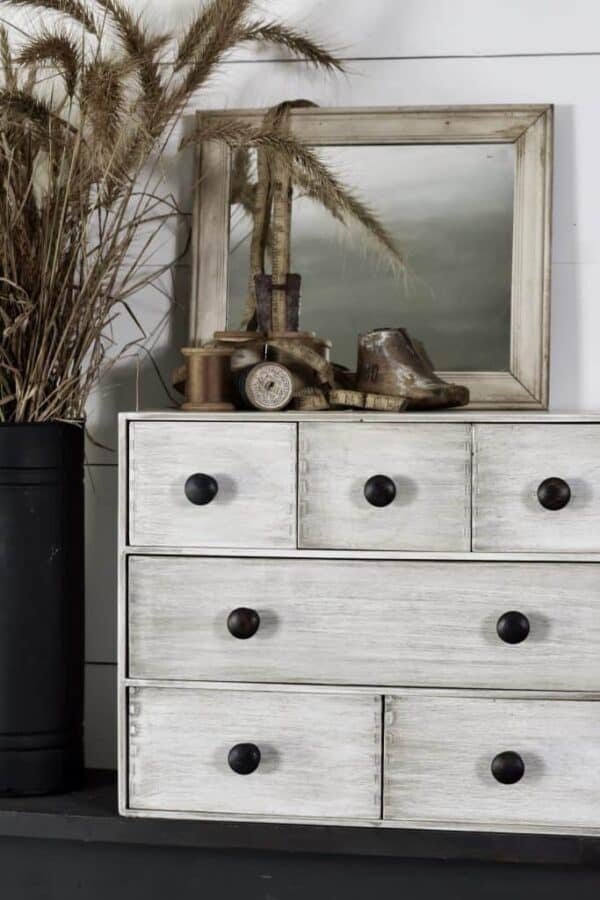 Photo: Rocky Hedge Farm
This hack is simple, yet pretty. It makes the perfect farmhouse style hack. One of the things about Moppe is that it does not have any handles. So hacks that involve handles really do change the piece.
You can see the full DIY here.
Check out these Farmhouse Style IKEA Hacks Right Here!
Fox Storage Chest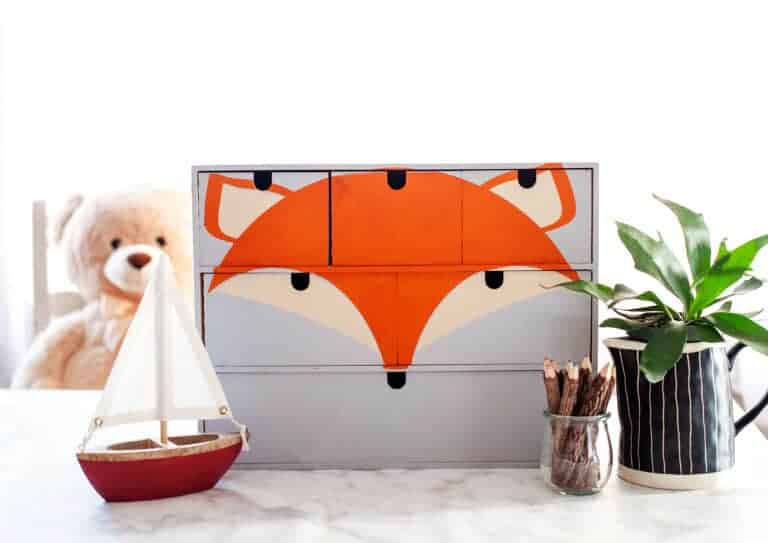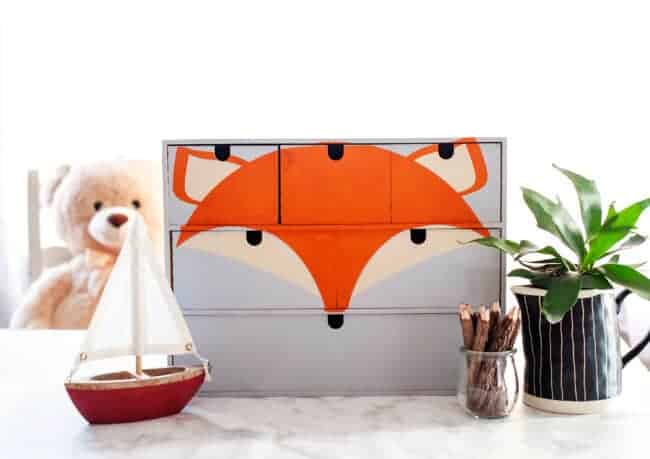 Photo: Whipperberry
This is a lovely way to hack the Moppe chest. Painting a lovely fox design turns this into a fun and colorful piece. You can see the full DIY here.
Dollhouse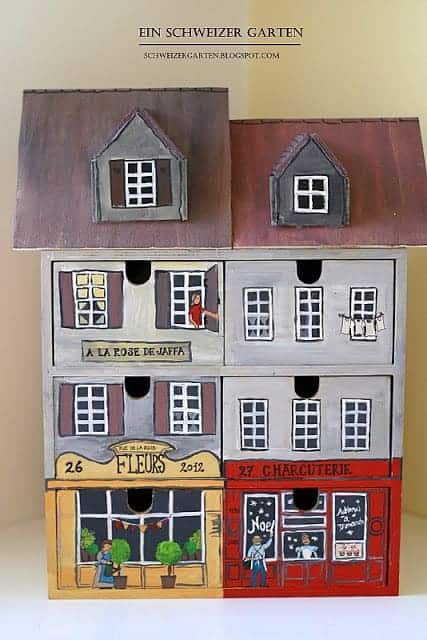 Photo: Schweizergarten
This hack is using a slightly different style of the Moppe, but you could do this easily with the model we are featuring Just by painting and decorating Moppe you can turn it into a beautiful dollhouse! Get the full DIY here.
Chanel Moppe
Photo: IKEA Hackers
This hack is amazing! Who would have thought to make Moppe into a Chanel dream?! Taking any Moppe model and following this DIY you can create this amazing Chanel style piece! Get the full DIY here.
Card Catalog Jewelry Box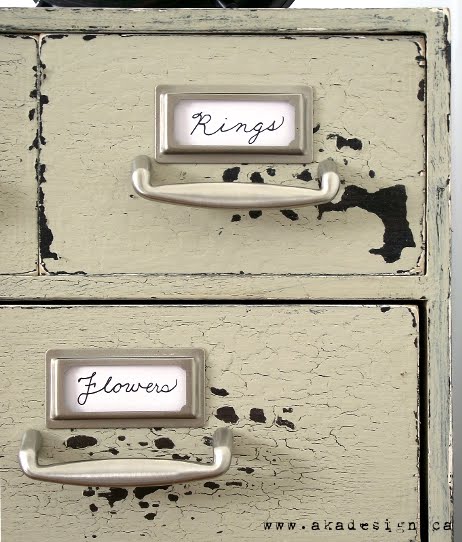 Photo: AkaDesign/IKEA Hackers
This great DIY hack makes the Moppe into a vintage piece. It is perfect for a jewelry storage cabinet. Get the full DIY here.
Checkered Moppe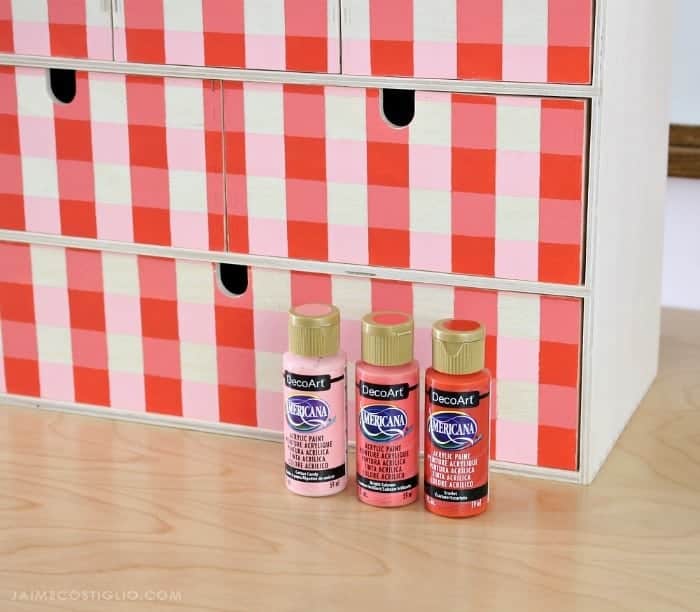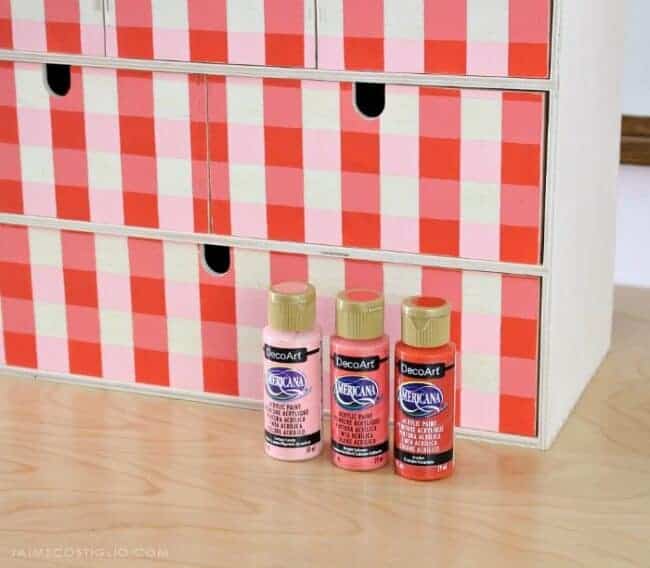 Photo: Jaime Costiglio
This hack turns Moppe into a beautiful checkered cabinet! It certainly makes an unusual piece. See the full DIY here.
Painted Trees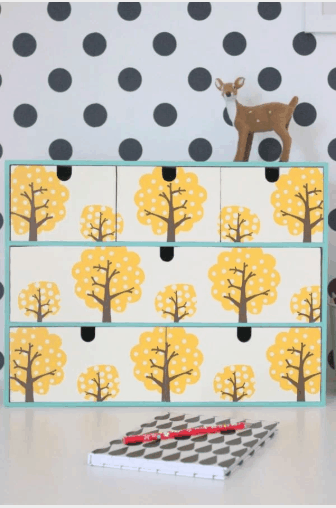 Photo: Hand Made Kultur
This is such a pretty hack. The Moppe unit has been painted, and trees painted on, for a beautifully patterned chest. See – Moppe doesn't have to be dull and boring!
Easy Moppe Makeover Using Contact Paper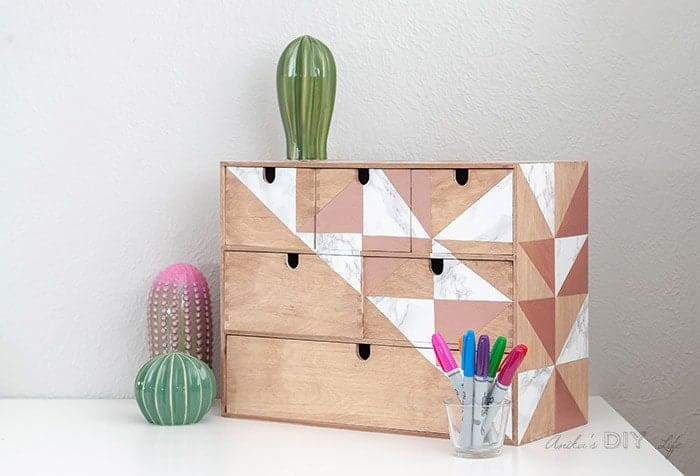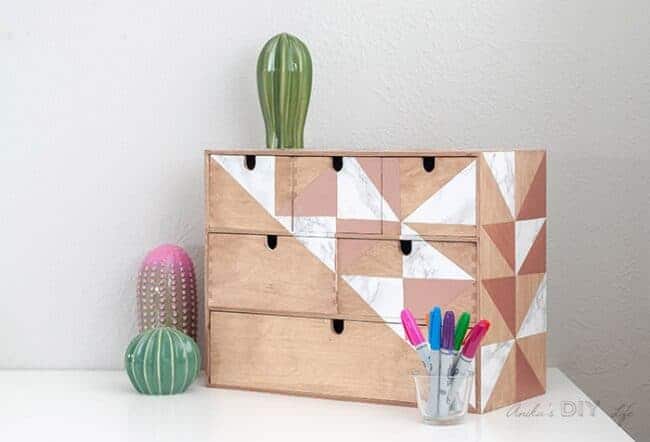 Photo: Anikas DIY Life
This makeover is extremely easy. It uses contact paper, which creates a beautiful piece. See how easy it is to hack Moppe! See the DIY tutorial right here.
Moppe Metallic Makeover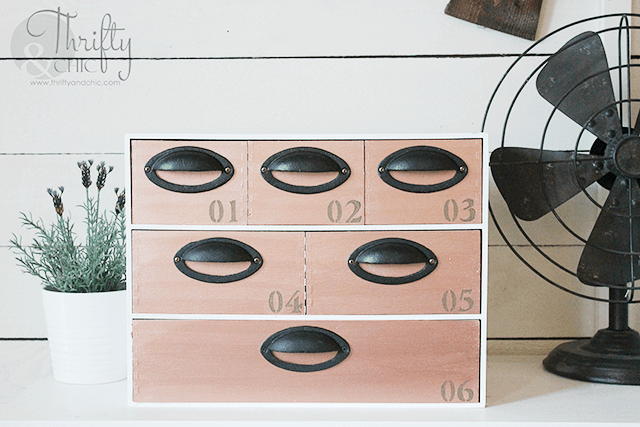 Photo: Thifty Chic
Give Moppe a metallic makeover with this DIY hack. Get the DIY tutorial right here.
Moppe Coffee Hack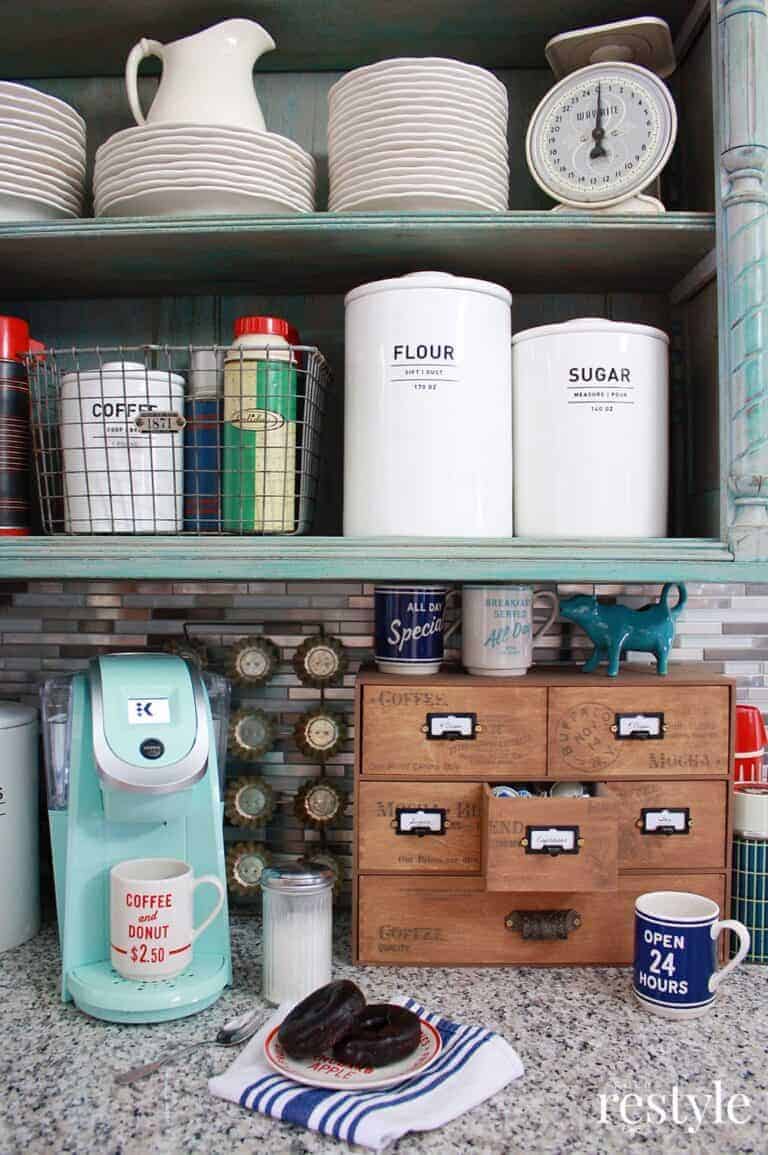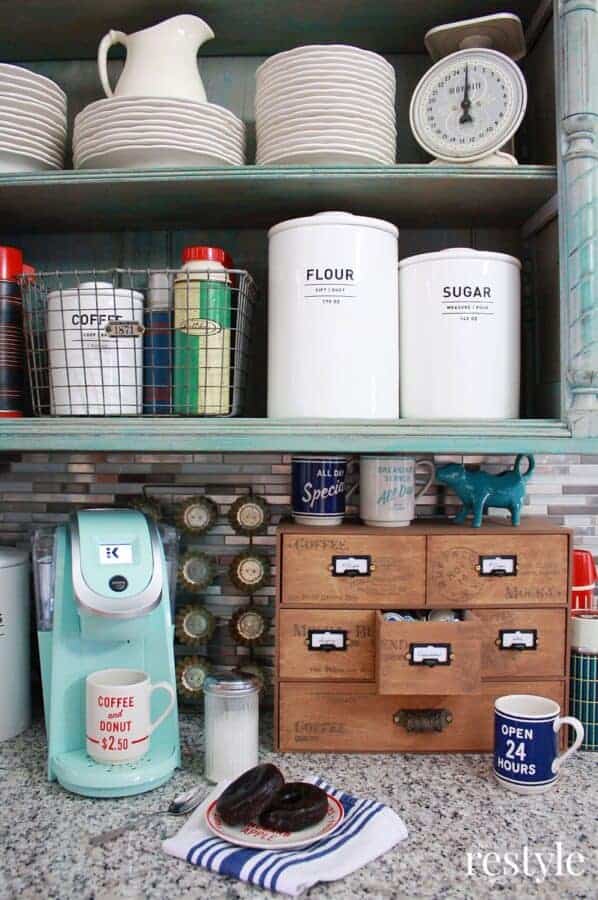 Photo: Restyle
This hack is just beautiful. It may just be my favorite one here! It creates a really unique storage cabinet for coffee (or whatever you want to use it for).
It looks old and vintage, and it is so effective you would never know it started life as a humble and simple IKEA Moppe storage unit. Get the DIY here.
Mounted Arrow Box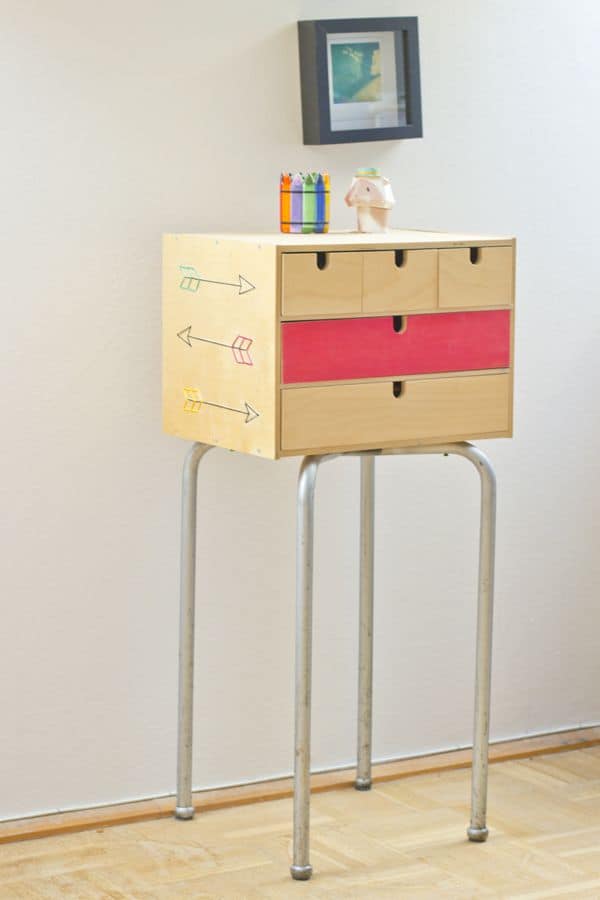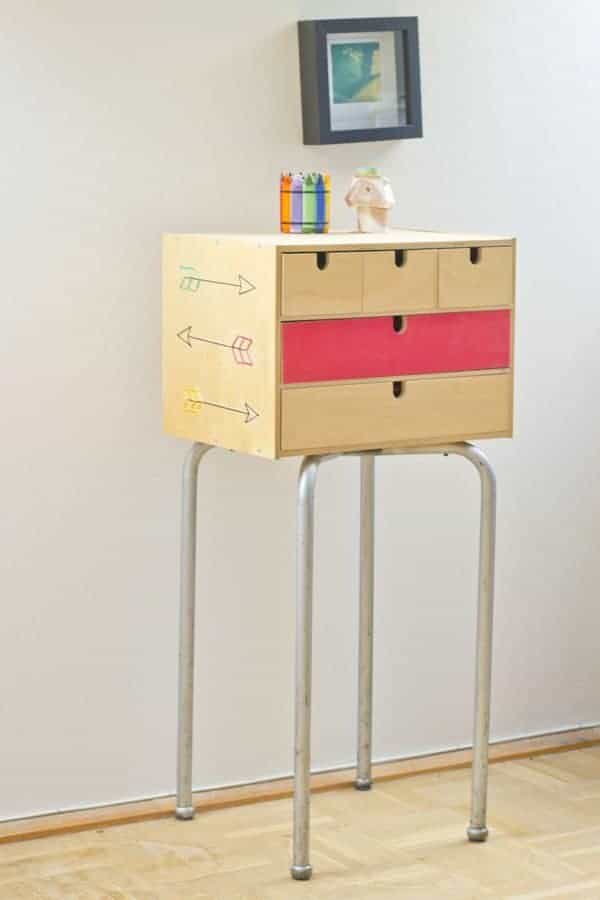 Photo: Look What I Made
This hack mounts the Moppe unit, so effectively creates a completely new, and free standing, piece of furniture! Get the DIY instructions here.
Paper Covered Moppe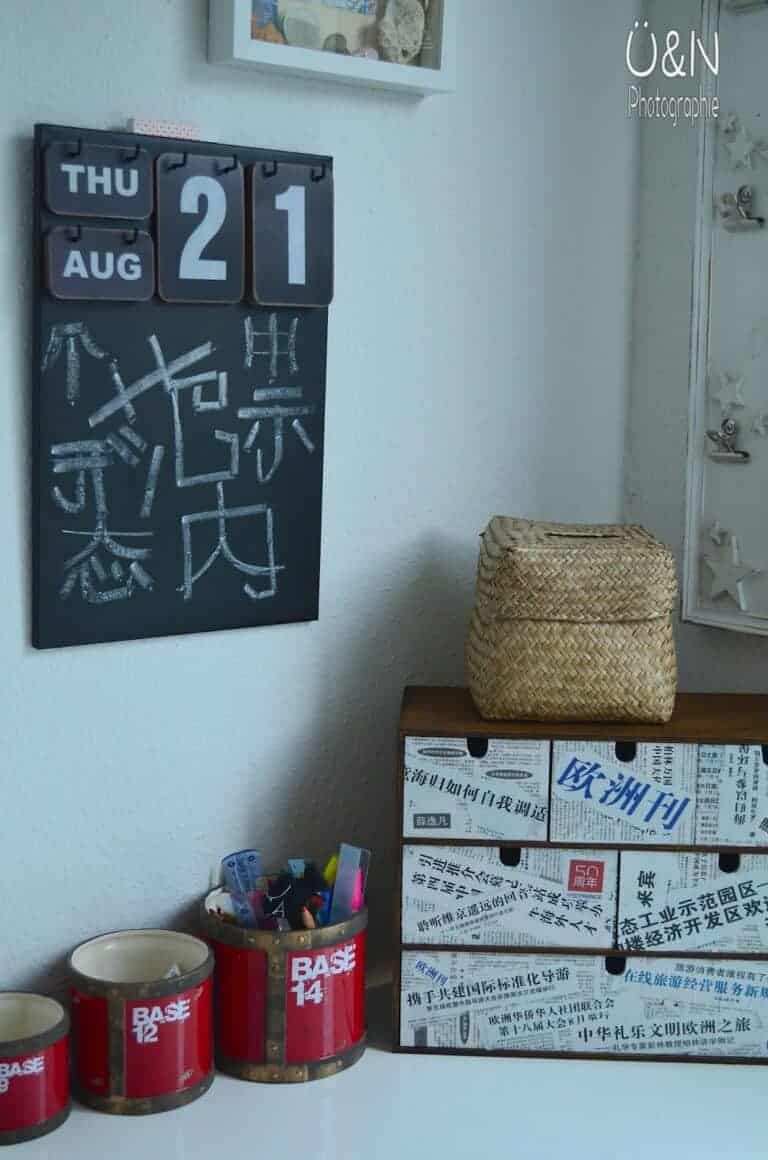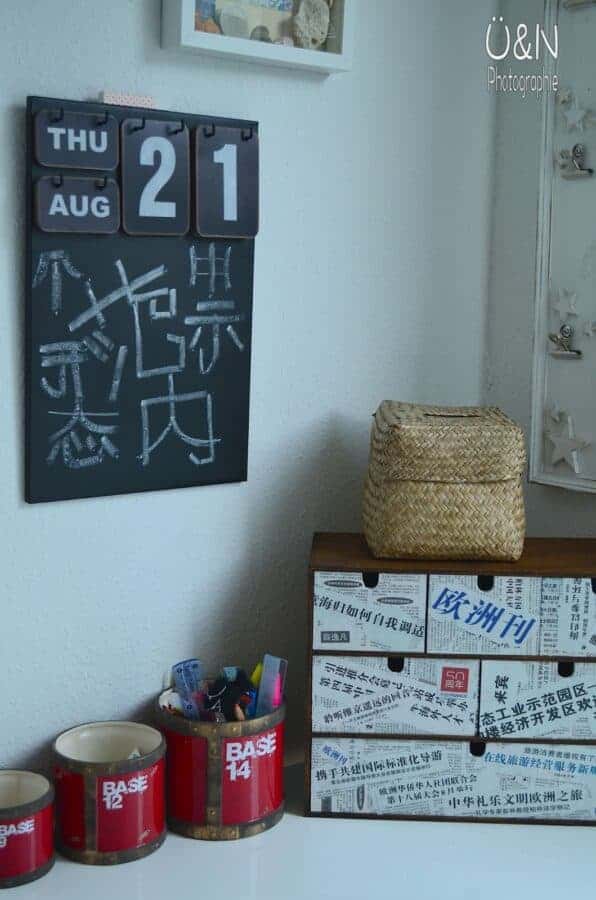 Photo: U&N
Cover your Moppe unit with newspaper, especially foreign newspapers that make it look more unique. I would take some newspaper and glue it to the unit using Mod Podge. It looks so effective!
Vintage Chest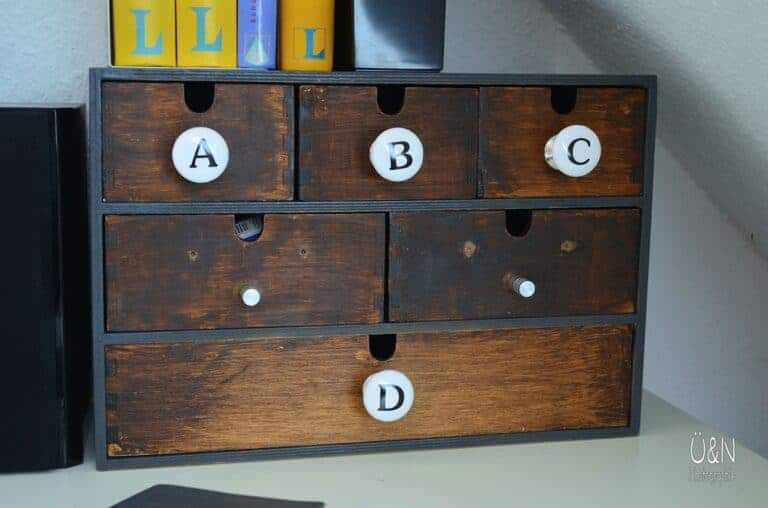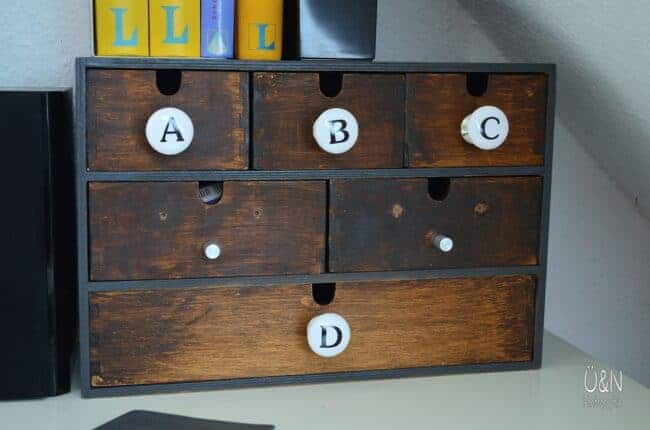 Photo: U&N
Create a vintage looking chest with this hack. See what I mean about handles making a difference?!
The Prettiest Hack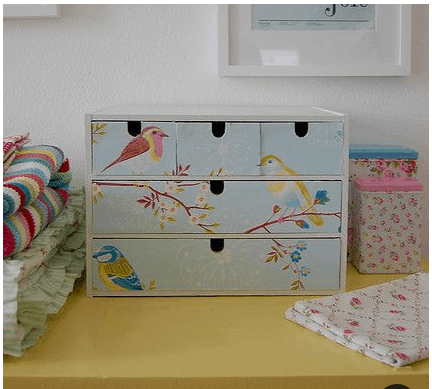 Photo: Flickr
Create the prettiest hack using pretty paper on your Moppe! This is a beautiful looking piece, just by choosing pretty papers and adhering to the unit.
As you can see, the IKEA Moppe unit is an amazing piece that can be hacked and changed in so many ways. It really is one of the most hackable pieces that is sold by IKEA!
Pin this for later!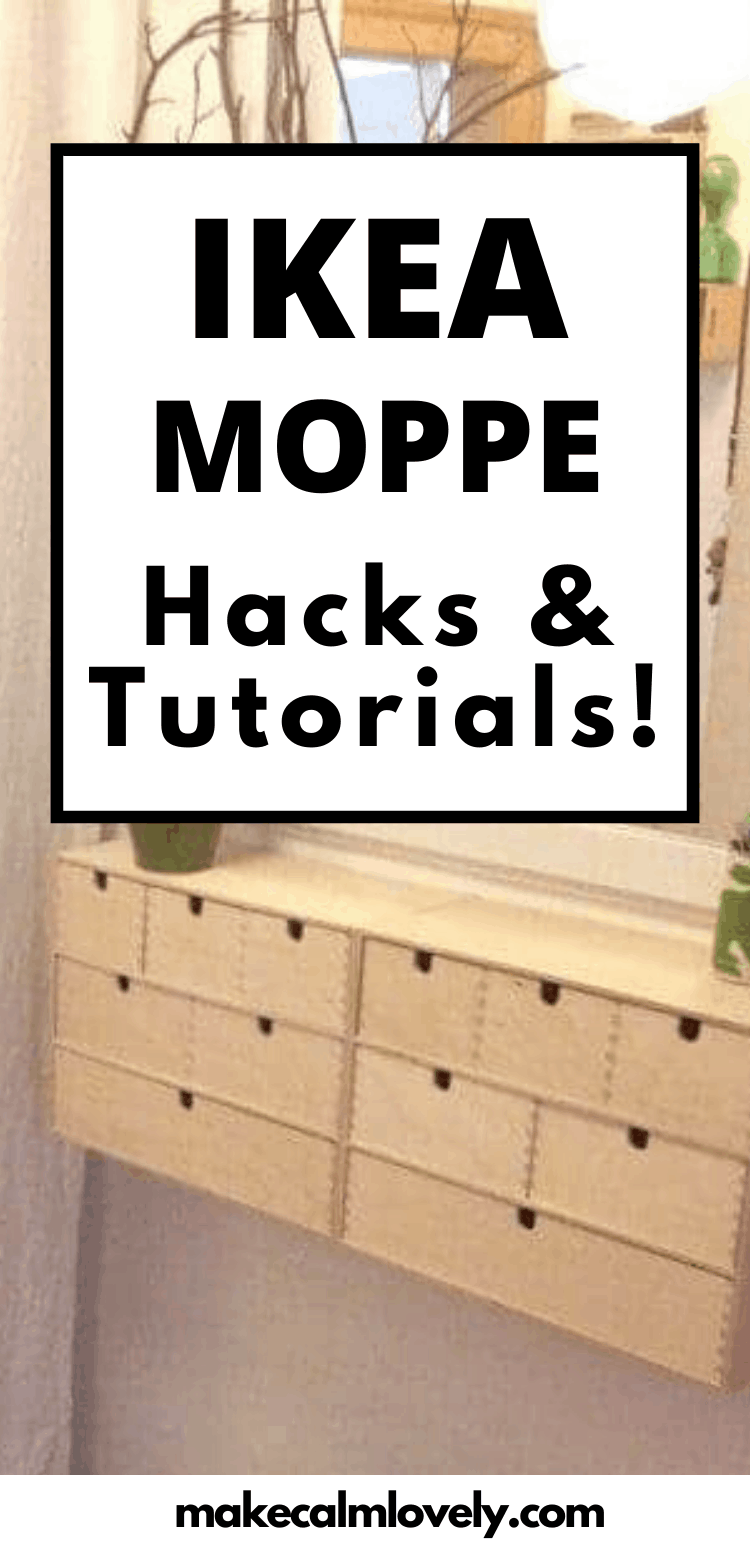 You will also love IKEA Hacks:
IKEA Mid Century Modern Style Hacks
Great IKEA Hacks for your Kitchen
IKEA Moppe is a great storage cabinet. It comes as an unfinished birch wood unit, that just begs to be hacked! Here are 22 amazing hacks and tutorials!