15 Amazing IKEA Bekvam Step Stool Hacks
The IKEA Bekvam step stool is such a useful and versatile little stool. It already comes in 3 great colors, but you can hack it and make it so much more amazing!
Bekvam step stools from IKEA are of a simple and classic design. They are sold in 3 color options – black, white or natural light wood (Beech). They can be used in any room of your house, and not just for climbing on. You can put your plants on them, use them to store things, and even keep them as an extra seat for your table.
Here at Make Calm Lovely we love IKEA hacks (see our post here on 14 IKEA hacks for your kitchen!). We know that you want a lovely home, but you need affordable items that fit your budget, and withstand your kids and plenty of wear and tear!
That is one of the reasons that IKEA hacks are so amazing. You can take something affordable and widely available, and turn it into something unique and beautiful.
A hack can be something as simple as just painting the stool, or putting removable wallpaper or Washi tape on it. It can also involve completely changing what the stool is meant for. That includes making it into a children's play table or a clothes hanger!
Here are 15 ways that people have taken the Bekvam step stool and turned it into something even more amazing!
Please note, in some countries the Bekvam step stool may have been discontinued. IKEA does sell similar stools in those countries where that may be the case, that you can use instead of the Bekvam step stool.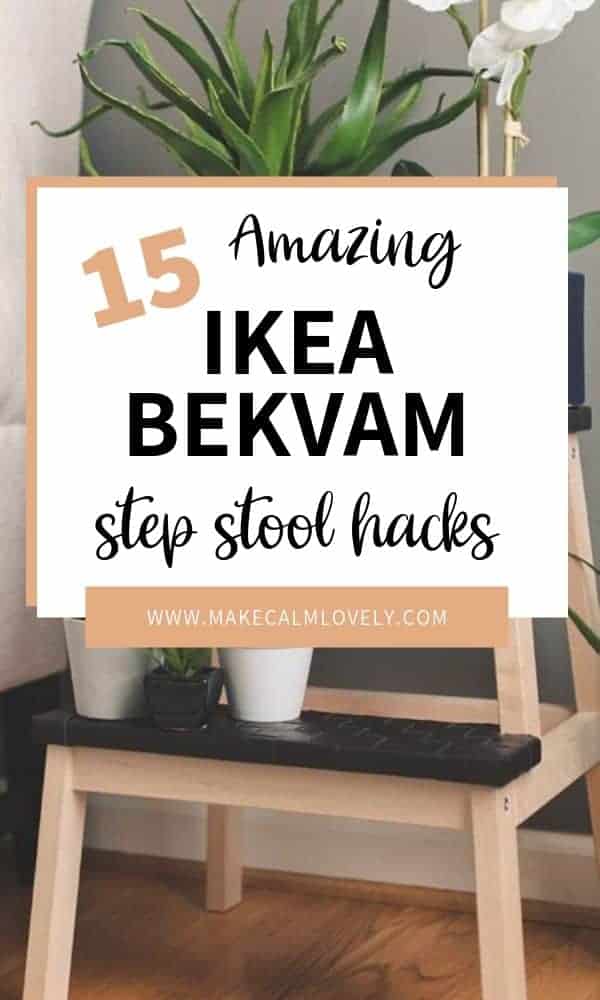 DIY Washi Tape Stool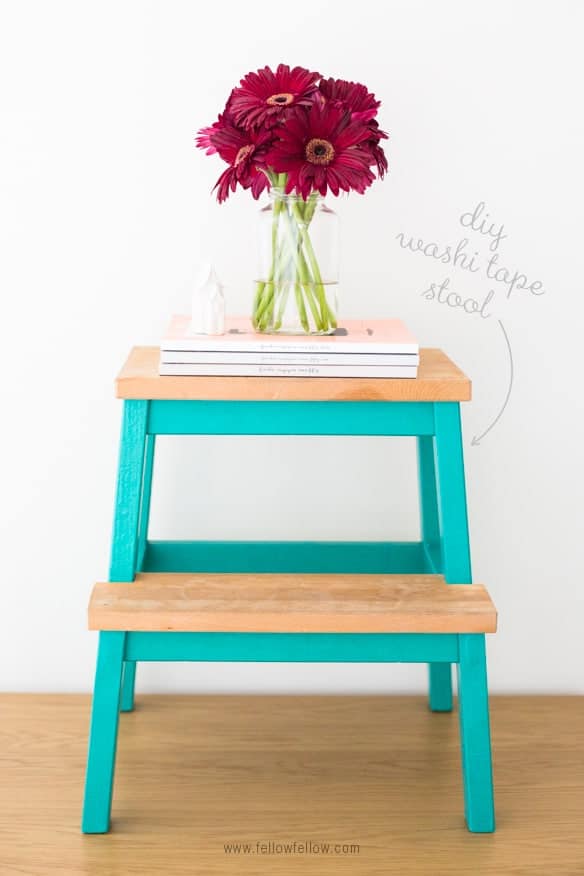 Photo: Fellow Fellow.com
This beautiful update to the stool has been created just by using Washi tape. The tape has been placed on the frame of the stool, leaving the treads as they were. You could get so arty with this by using all kinds of Washi tape colors and patterns! See the post here at Fellow Fellow.
Delicate Harlequin Pattern
Photo: Largarbatella.com
This harlequin pattern is so subtle, yet so beautiful! It would be so easy to do yourself using some masking or painters tape and white paint. Or you could use stencils to make the pattern. It looks really effective on this beech natural wood version of the stool, but I bet it would look amazing on either the black or white stool also (perhaps white on black, or black on white!).
Beautiful Dark Wood Bekvam Makeover
There isn't a dark wood version of this stool to buy, but if you want one you could try this great DIY hack here! This video guides you through step by step how to make this beautiful dark wood and white version of the stool. I think you will agree this version of the stool looks beautiful.
Wallpaper the Step Stool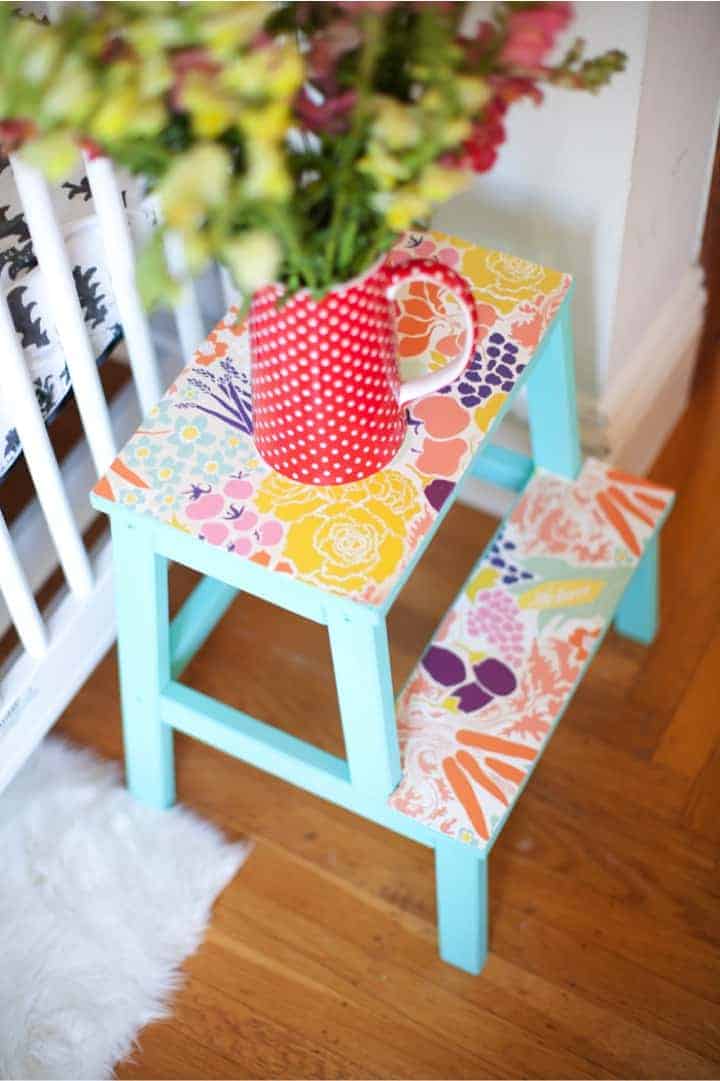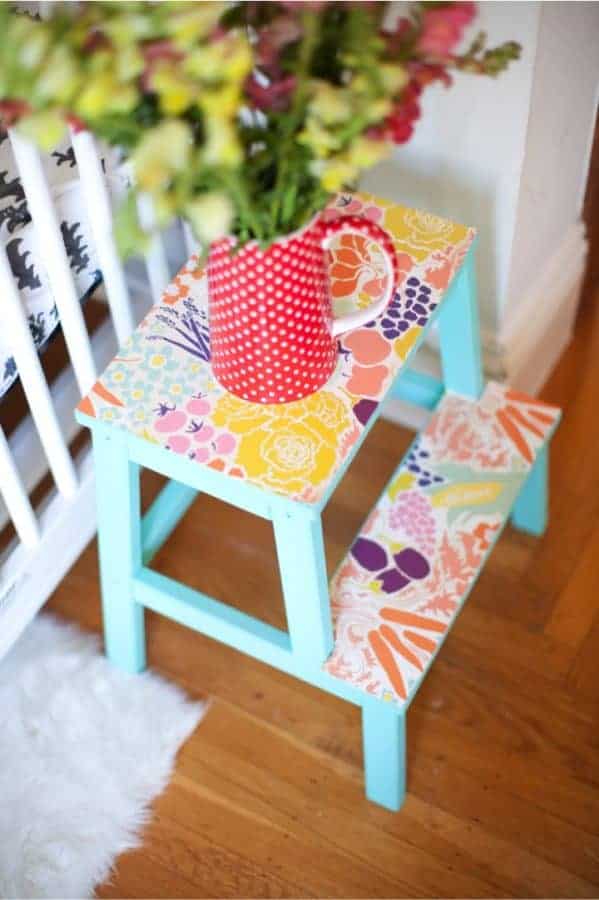 Photo: This Little Street
This step stool up-do is made with removable wallpaper. Check out this post, because there are so many examples of beautiful makeovers with removable wallpaper in this post. It is so easy to use removable wallpaper too, and you can create so many wonderful stools.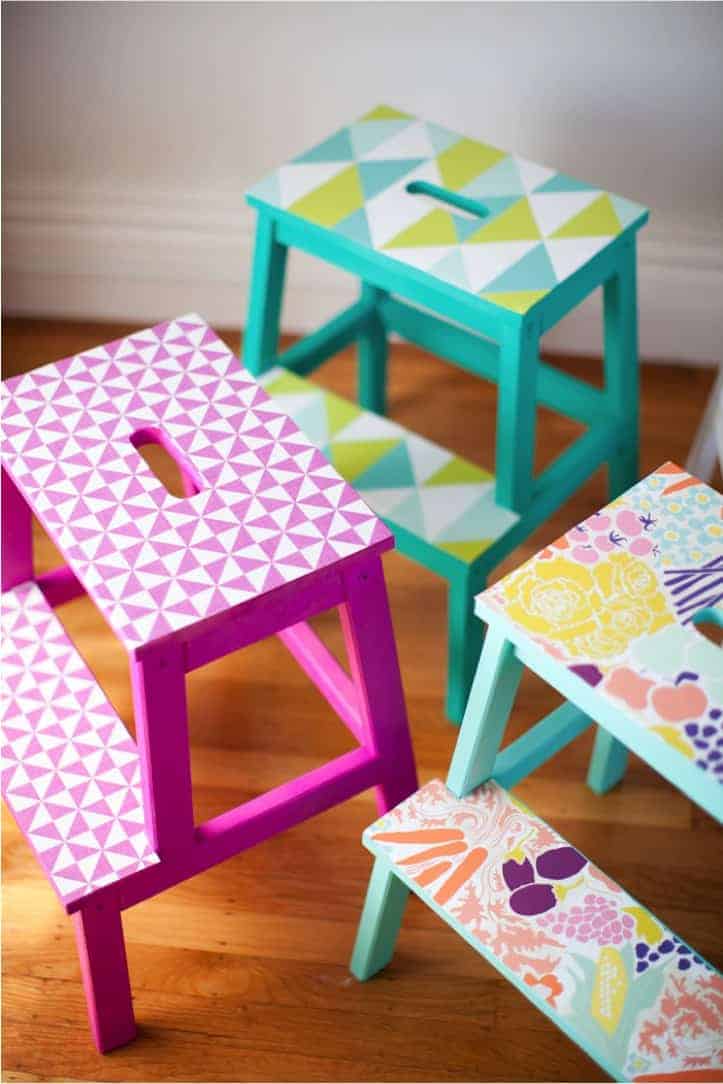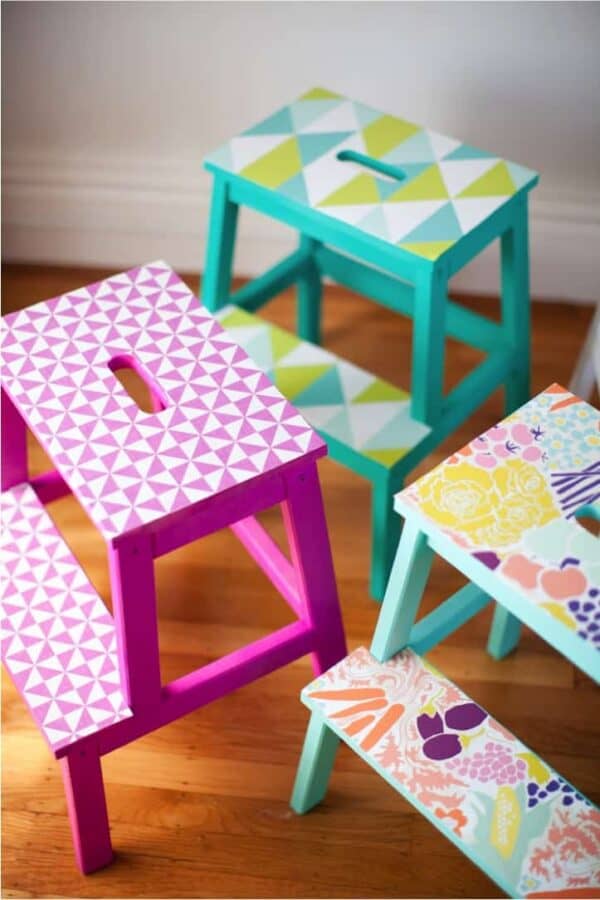 Photo: This Little Street
Paint it in Stripes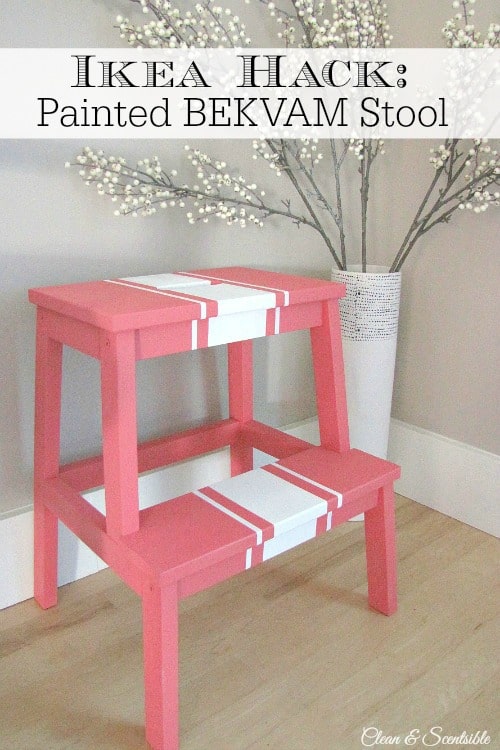 Photo: Clean and Scentsible
This is a really pretty hack. This one involves painting the stool a beautiful color and then adding stripes. Another pretty way to make a unique piece out of the stool. See the hack right here.
Stencil the Step Stool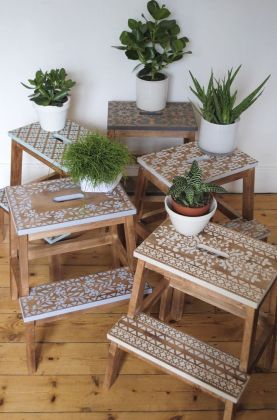 Photo: Dizzy Home
This is a beautiful idea for making the stool into something so amazing. Using stencils, stencil the stool. This looks really BoHo and would look fantastic in any room. I think also trying this on black and white stools with different colors may create something pretty extraordinary looking!
Personalize the Step Stool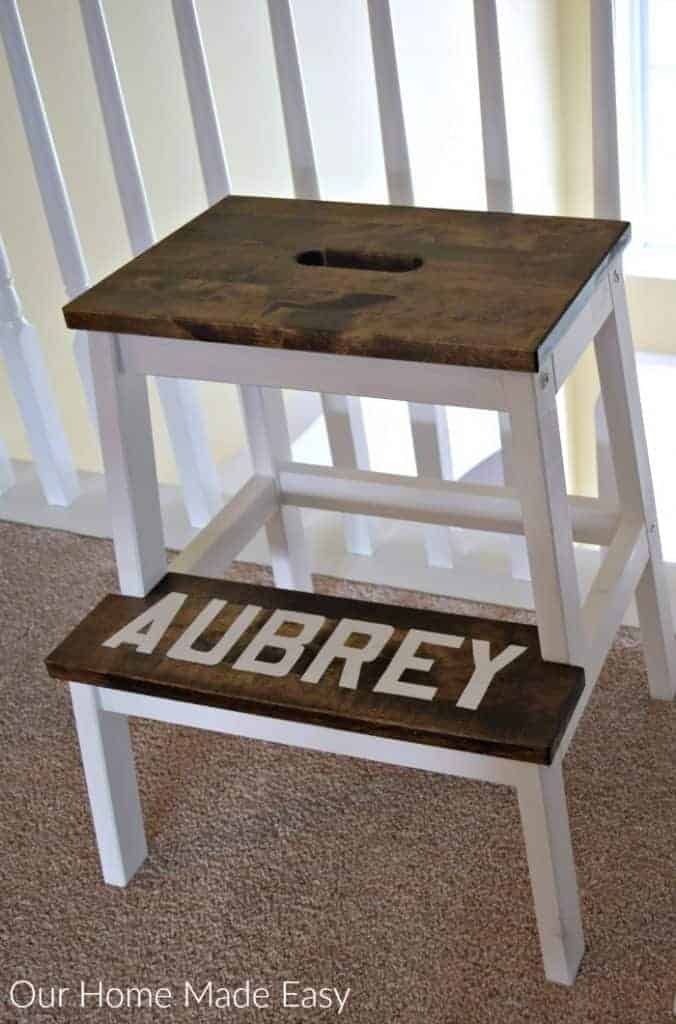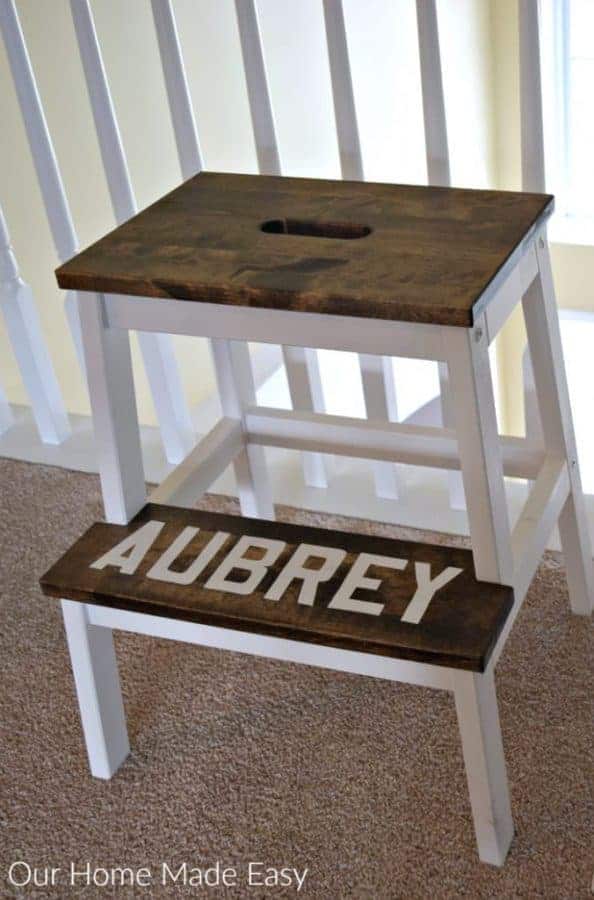 Photo: Our Home Made Easy
This IKEA Bekvam hack would make a great surprise for your kids. Personalize a lovely step stool for them for your home. Kids can use the step stool in so many ways around your home, and it is nice if they have their own stool!. See the hack right here.
Put some Fur on it!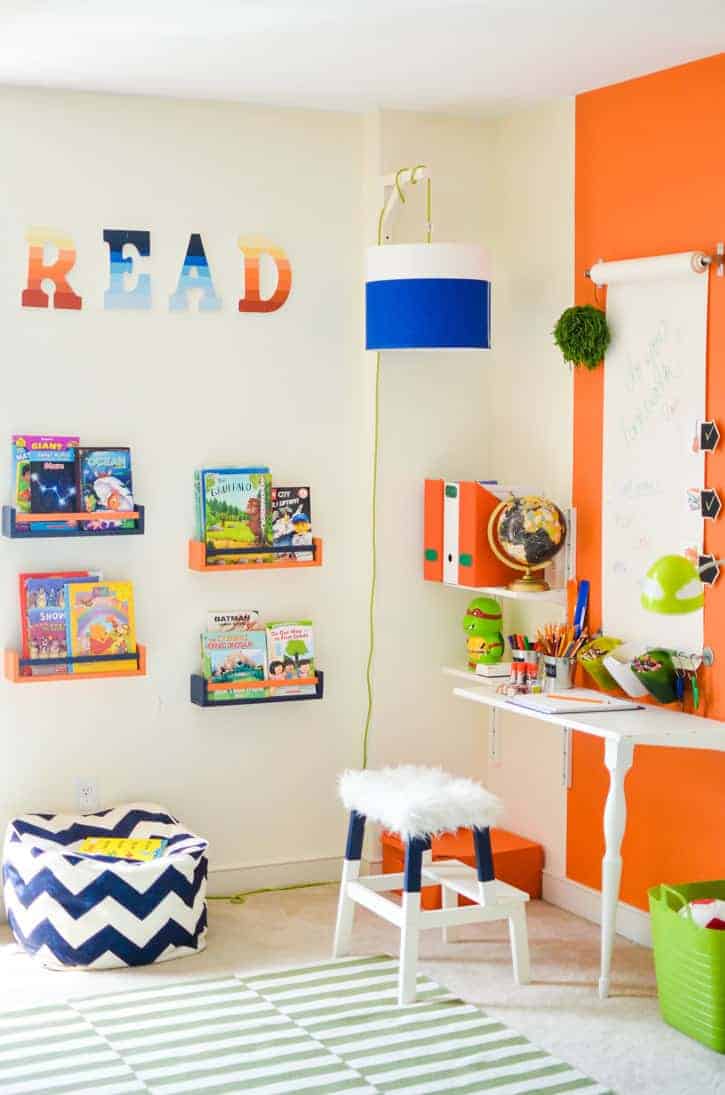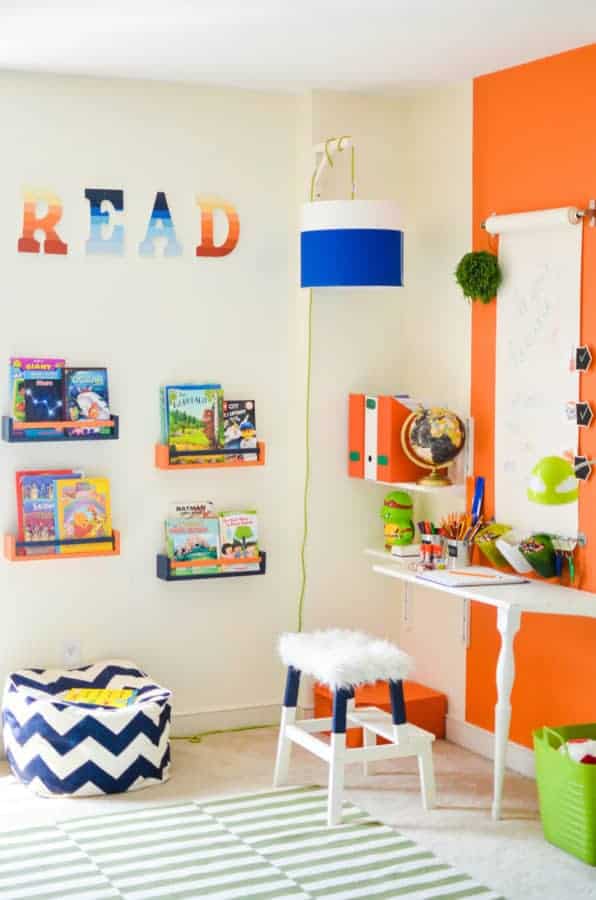 Photo: Design Sponge
This is a fun twist on the stool. By adding a little piece of fur it turns it into a really fun piece of furniture! Ideal for a kids room, or even as a seating stool for your bedroom!

Create Spare Kitchen Storage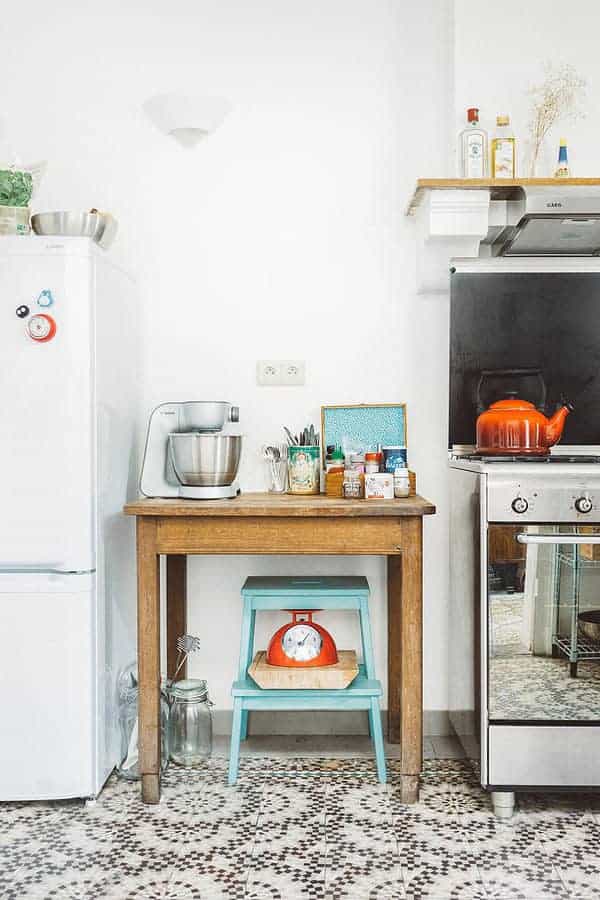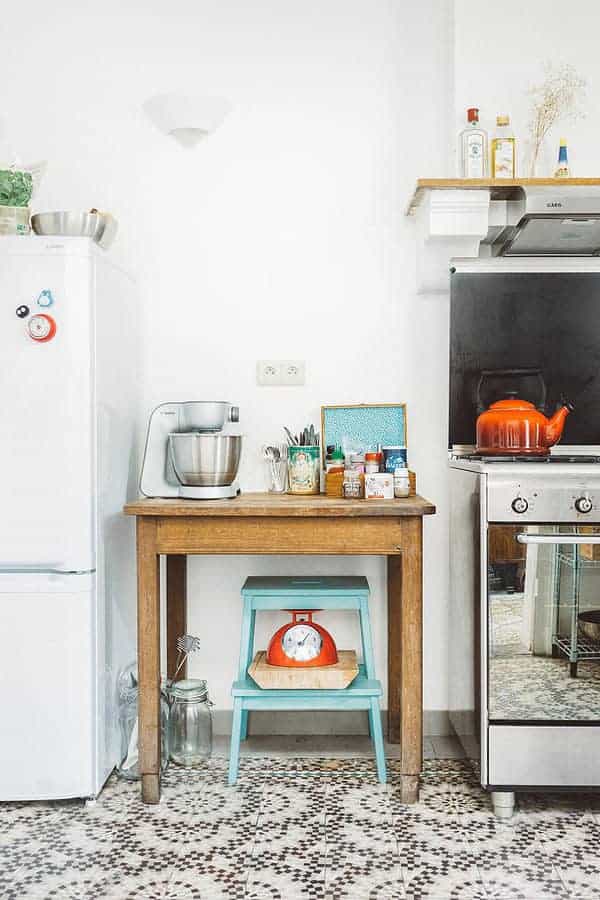 Photo: My Scandinavian Home
Create extra kitchen storage with the Bekvam. Use it as spare shelving, and you also have a spare seat for when you need it! It tucks away so beautifully out of sight until you need it!
Use the Step Stool as a Nightstand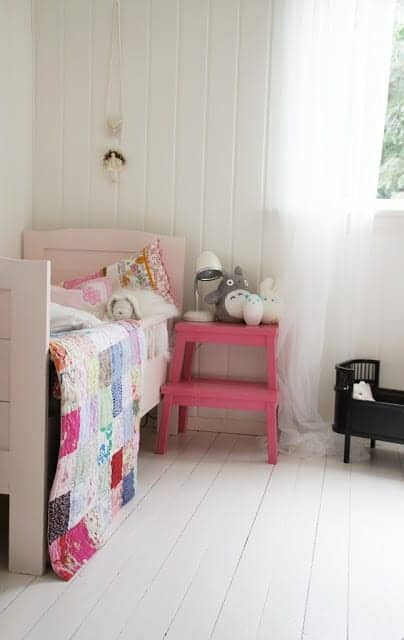 Photo: Svenngarden
The Bekvam stool also makes a perfect nightstand. Paint it any color you want to fit in with your decor and colors. It gives you plenty of room to keep your stuff close!
Woven Vegan Leather Step Stool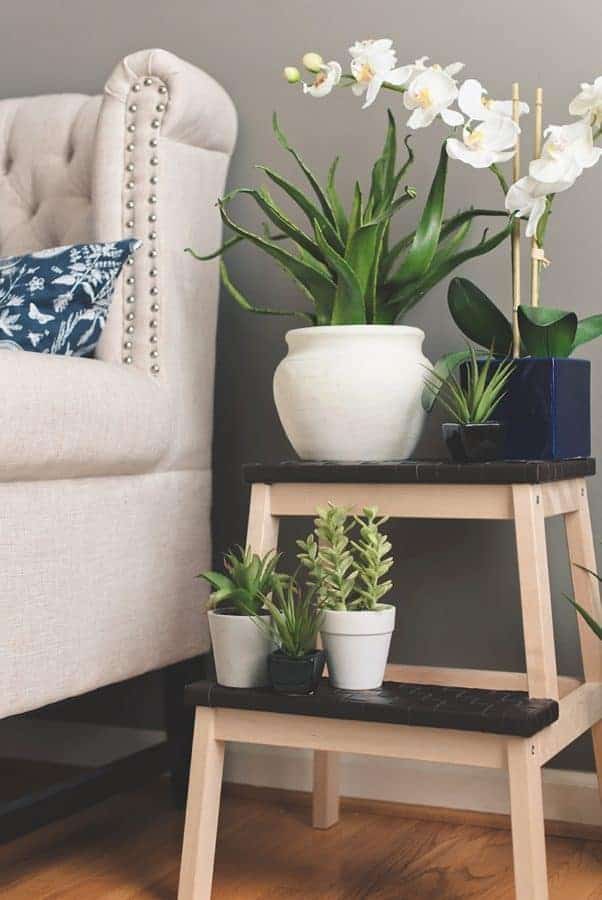 Photo: Tidewater and Tulle
This is a great hack for the Bekvam. It features woven vegan leather on the actual treads of the stool. It really makes a different and more interesting looking step stool. You can see the complete tutorial for this right here.
Turn it into something completely different!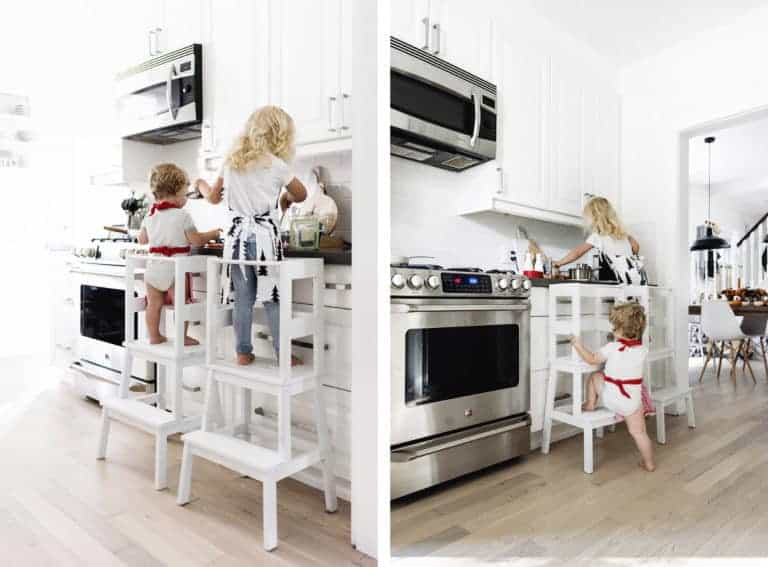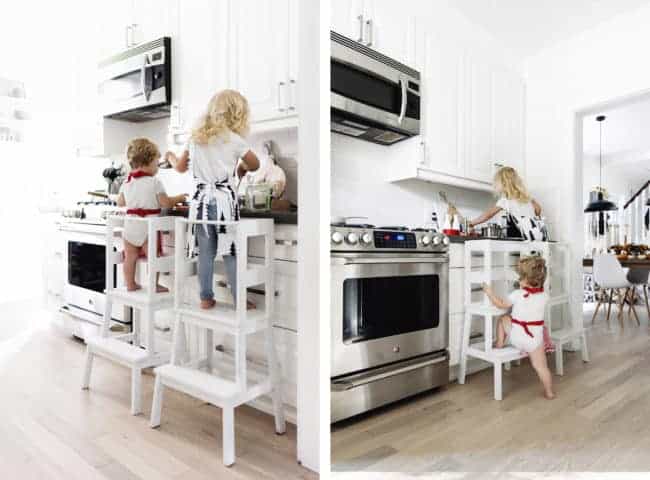 Photo: Happy Grey Lucky
This hack is taking the Bekvam step stool and turning it into something completely different. In this case it is a leaning tower helping steps for toddlers. See the complete tutorial here.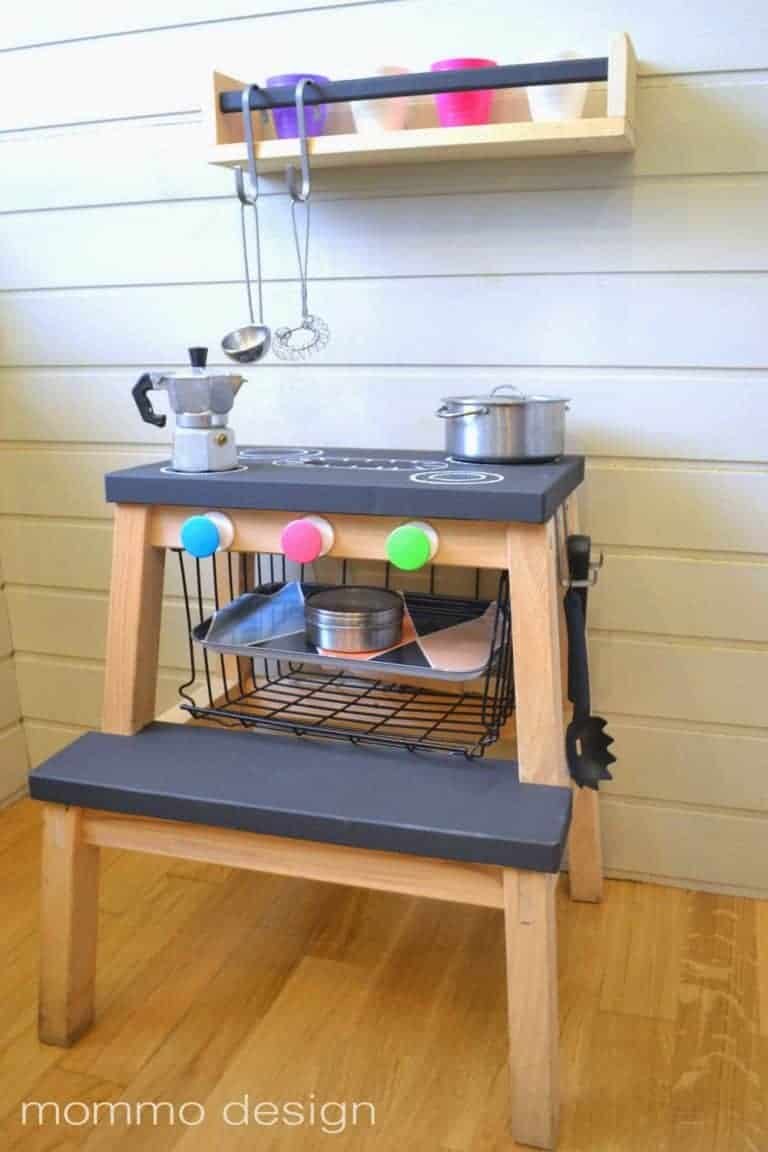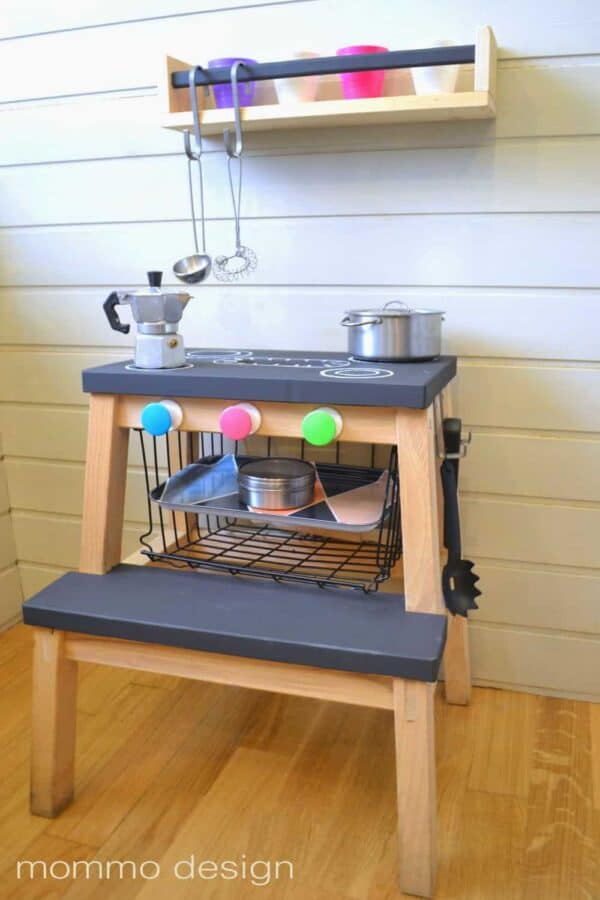 Photo: Mommo Design
This hack is turning the step stool into a pretty amazing kids play kitchen! You can create this amazing little play piece for your kids for next to nothing! You can see it here.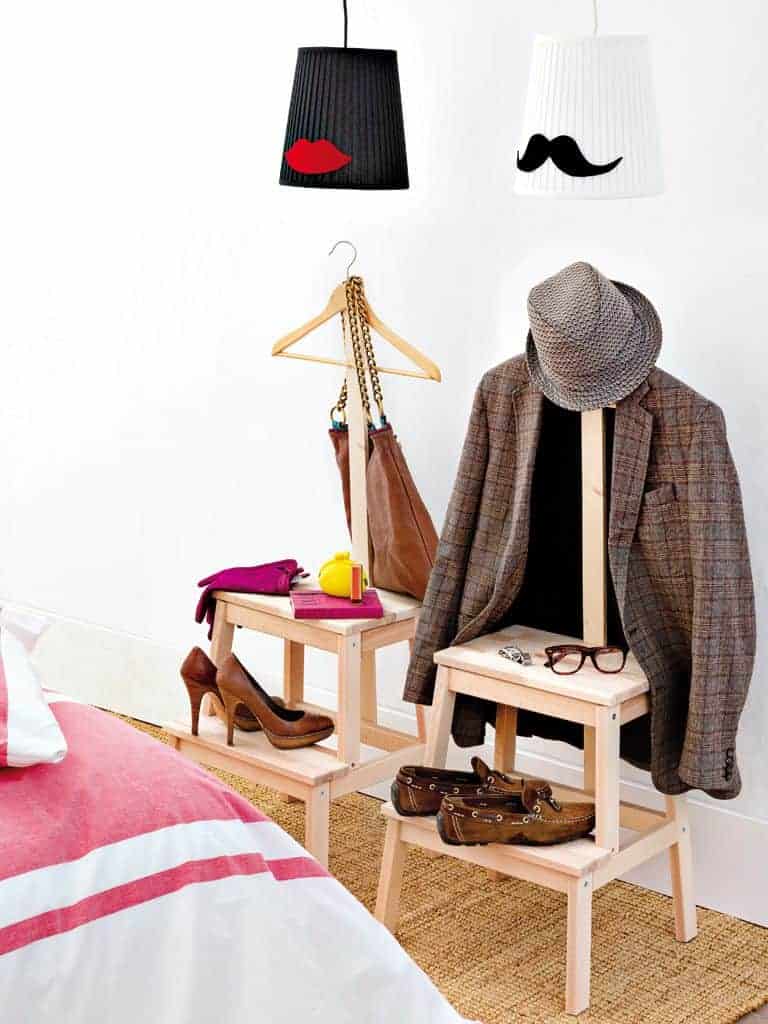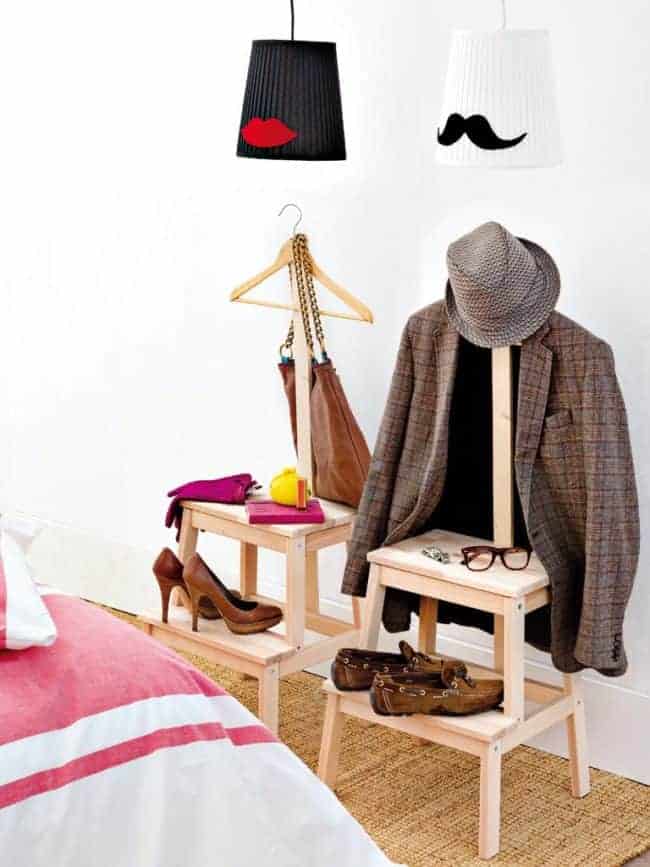 Photo: Micasa
This hack is turning the step stool into coat and shoe racks! Pretty amazing (and useful!). I told you that you can do so much with that simple little stool! See the hack right here.
Extra Notes about Bekvam
When you purchase the Bekvam step stool, you will need to assemble it. As with most things that IKEA sells, you do have to do some assembly yourself. There isn't much to do for the Bekvam, but there are some steps to follow.
I found this great online tutorial all about how to put the stool together. Because I know you just can't wait to get started on your own step stool project!
The modest little Bekvam Step Stool from IKEA can be turned into something so amazing with a little love, care and DIY!
You may also like these posts on IKEA:
IKEA items that Designers Rave About!
IKEA Products and Hacks to Help Organize Your Bathroom
IKEA Farmhouse Finds for your Kitchen