Almost anything IKEA sells can be hacked. Take a look at these hacks that are just so chic and stylish! They take a regular piece of IKEA furniture and turn it into something really quite extraordinary and amazing.
There is an IKEA store just about anywhere, which is great for those of us who love IKEA. But it is also not so great for those of us who love IKEA, as we then all have the same pieces of furniture in our homes.
That is where hacks come in. They take something the same as many others have, and turn them into amazing unique, one of a kind, pieces.
These 14 hacks are for the most wonderful stylish and chic pieces of furniture for your home. A little work is needed for all of them, but then you will have something quite remarkable for your home.
Hacks are so much fun. They make great weekend projects and leave you feeling so proud of yourself for what you made and accomplished!
If you are looking for chic and stylish, take a look at all these hacks. They all feature easy to obtain IKEA pieces.
If you like IKEA hacks, you will love these other hacks!
14 Great IKEA Hacks for your Kitchen
Amazing IKEA Hacks you can do in a Weekend
Genius IKEA Hacks your Kids will Love

Here are all those 14 hacks in detail:
Rast Bathroom Vanity
This is such a chic and beautiful bathroom vanity, using the Rast unit. A little work goes into this hack, but it is so worth it as it is such a unique beautiful piece. This hack is even using a mixing bowl as a sink! You can see the hack here.
Photo: IKEA Hackers
Tarva Dresser Hack
This hack takes the simple Tarva dresser and turns into a beautiful stylish piece of furniture. Just painting it and adding more upscale handles, it becomes the most chic dresser you could have in your home. See the hack right here.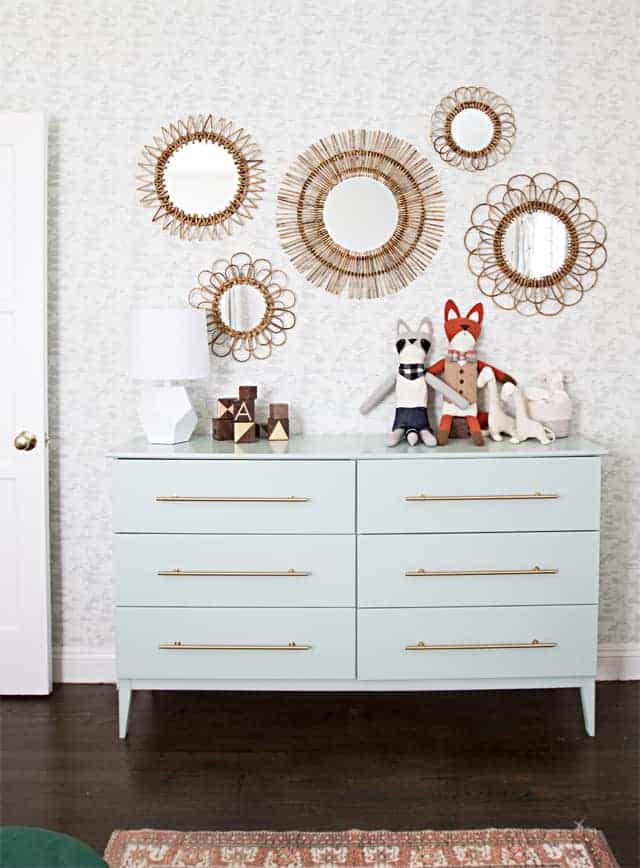 Photo: SarahShermanSamuel
DIY Entry Table
This is such a beautiful stylish desk hack, that makes an amazing entry table. It features gold leaf legs, and gloss black spray paint. You can see the complete hack here.
Photo: Style Me Pretty
Lack Copper Shelves
This hack takes the Lack shelf and turns it into a unique stylish copper shelf. The hack just uses copper contact film, and with the hidden brackets, this shelving unit is so beautiful, chic and stylish. See the complete hack here.
Photo: IKEA
Gold Leaf Desk
This desk is just so beautiful! It is also one of the most stylish and chic pieces of furniture I have ever seen! With just a little elbow grease, you can make this gorgeous desk for your home. It would also make a great dressing table or vanity unit. Get the hack right here.
Photo: Style Me Pretty
Gold Upholstered Bench
This beautiful gold upholstered bench is just so chic! Make it easily with just a little effort required. It would be a great bench for the end of your bed! You can see the complete hack right here.
Photo: Dwellings by Devore
IKEA Kallax Bar
This hack using the Kallax shelf unit is gorgeous. Just adding some chic looking legs totally transforms this piece of furniture. It makes the most wonderful stylish bar for your home. All ready for any entertaining purpose! See the complete hack right here.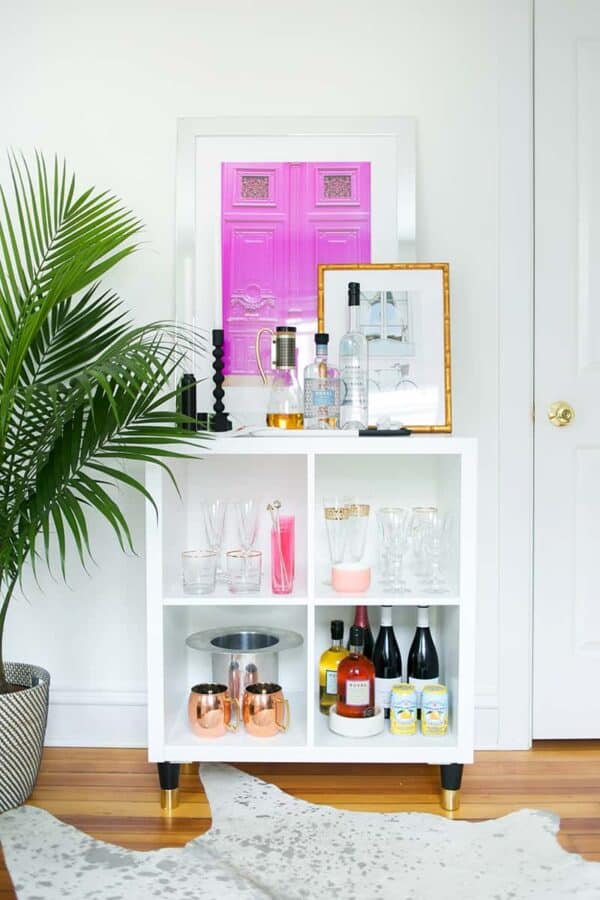 Photo: The Everygirl
Vintage Style Gold Dresser
Another beautiful dresser hack here, featuring gold edged drawers. This unique and stylish hack is very easy to do. See the full hack here.
Photo: Preciously Me
Copper & Marble Nightstand
The IKEA Lack table is to the rescue here again, with this lovely stylish nightstand hack. The copper legs and marble top makes it look just so chic. You can see the hack right here.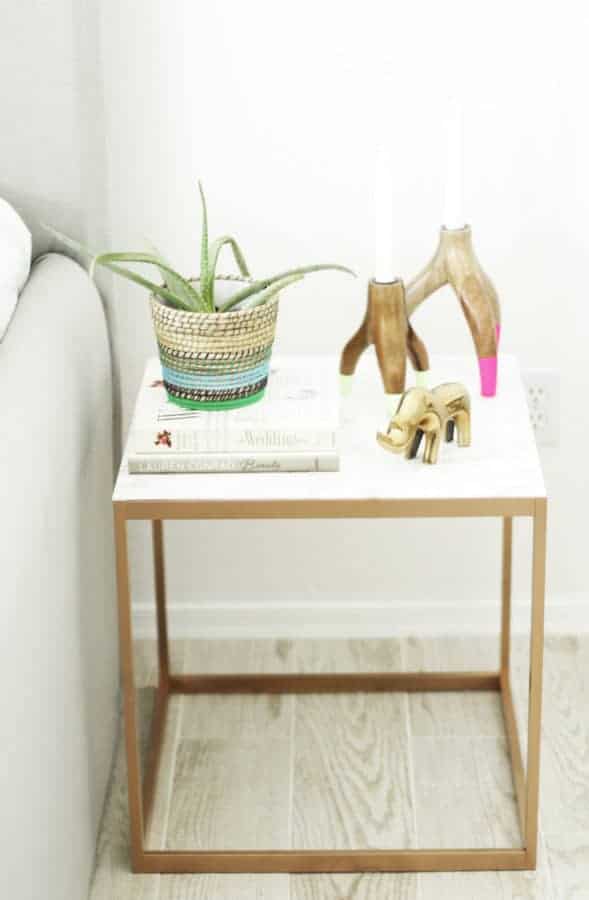 Photo: Kristi Murphy
Bar Stools Makeover
Bar Stools can be pretty uninteresting. But this hack lets you add some sparkle and style to a regular bar stool. These stools hacked look chic and industrial, all at the same time! See the hack right here.
Photo: Melo-Drama
10-Minute Fur Stool Hack
How is this for the best hack ever! It takes only 10 minutes! You can create this lovely chic fur stool. Perfect for your bedroom (and perhaps make it along with one of the vanity unit hacks in this post also!). See the hack right here.
Photo: Darling Darleen
Chic Vanity Unit
If you want the most chic vanity unit for your bedroom, look no further! If you are prepared to put in just a little bit of work, this unit will serve you well! It is also a great size for pretty much any size bedroom. See the hack right here.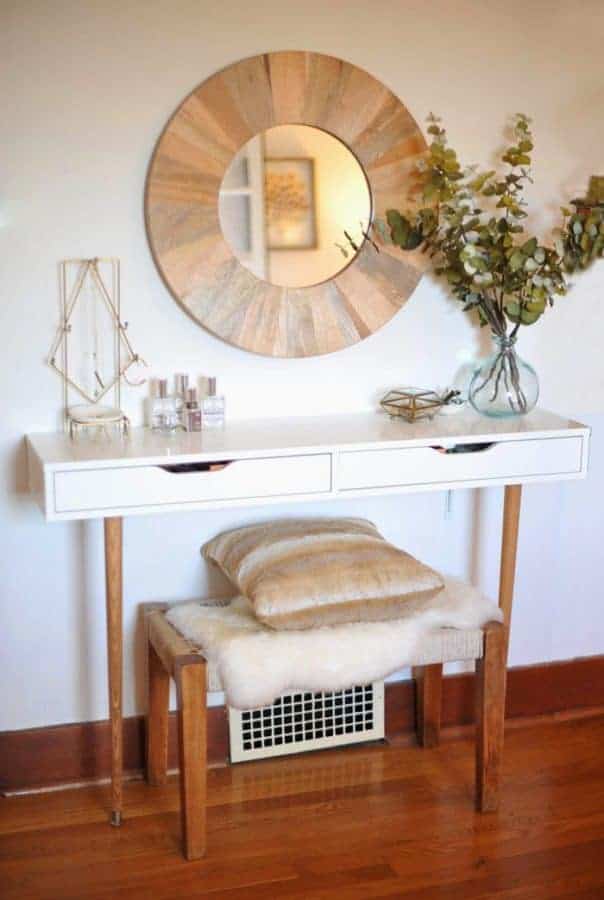 Photo: A New Bloom
Rast Plexiglass Table
This plexiglass hacked Rast table is just absolutely the most stylish and chic item for your home. Who else would have such a chic piece as this table! You can see the full hack tutorial right here.
Photo: Ich Designer
Gold Desk Hack
This lovely gold desk makes a great desk, or vanity unit for your home. You will have the most chic and stylish gold desk! The hardest part of this hack is spray painting it! See the hack here.
Don't be stuck with the same pieces as everyone else has in your home! Put in a little work and create something unique and wonderful with these great hacks.
Make sure you also read
16 Amazing IKEA Hacks you can do in a Weekend