How to Start a Blog – as a Side Hustle, Permanent Job or Hobby!
If you have ever thought about starting your own blog, whether it is just for a hobby, or you want a profitable side hustle or a new permanent job, read this article!
If you are thinking of starting your own blog, this is a guide for you on how to do that! There is no better time to start a blog than now, and so many resources and help available to you to start your own blog. You can even start a blog for as little as $2.95 per month!
In 2015 I was randomly searching through Pinterest one day for side hustle and money-making ideas, when I came across a post about starting a blog.
I knew absolutely nothing about blogging at that time. In fact I wasn't really sure what a blog actually was! But reading that article that day set me on a path that has brought me so much self satisfaction, not to mention an income!
I am now regularly making over $1500 a month in blog income, and it keeps going up. Advertising and affiliate sales are my biggest source of income, and I am constantly diversifying and adding more income sources that will bring up that amount even more.
When I first started looking into starting my own blog however, there was just so much information, and so many places to go to learn about it…..
…..And I just became overwhelmed…..there was so much to learn and just so much to do…..
So that is why I am writing an easy to follow post here for you on starting your own blog. This will set out in simple terms what is needed and how you do it all initially.
Then I have some great resources for you to consider buying or subscribing to that will help you out further along the line (these are tried and trusted resources that I used myself and know are good).
I am breaking this article down into 3 steps – to make it easier to follow and to set out exactly what the initial steps are for you to follow to start your own blog.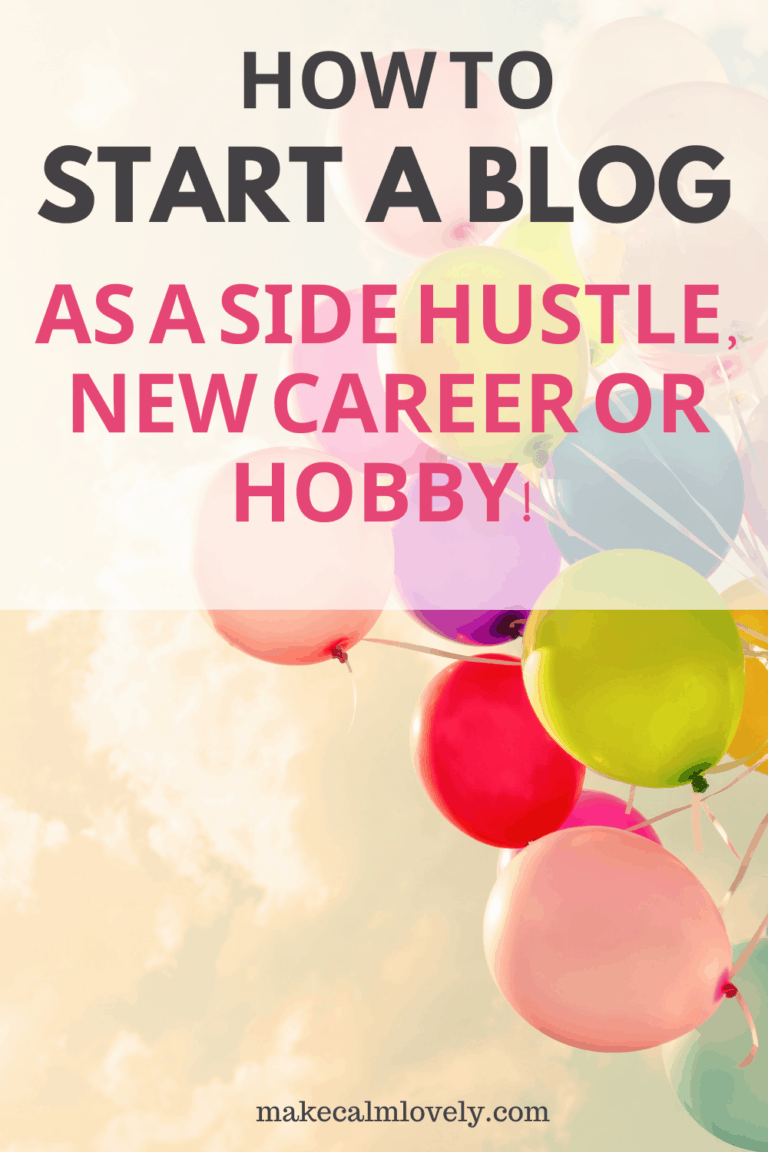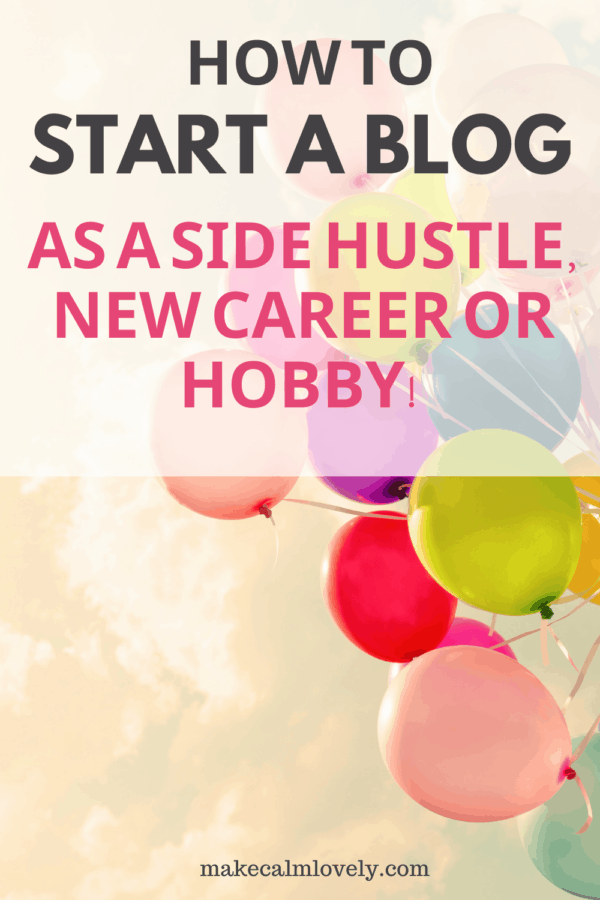 This post contains affiliate links. This means that if you click on a link in this post and make a purchase via those links I may receive a small commission, at absolutely no additional cost to you. You can view my disclosures here.
If you want to skip this article go straight to my How to Start a Money Making Blog Free Course!
Step 1: Figure out the Why & What
Why do you want to Start a Blog?
Think carefully about why you actually want to start a blog, and be honest about your reasons. Is it because:
You want to start a side hustle that may or may not eventually become your full time job?

You want to share details about your favorite hobby or interests with others?
No answer is the right, or wrong, answer.
But it is important for you to really know, and understand, why you want to create that blog in the first place. Because that initial start will determine everything else about your blog going forward.
For instance. If you just want to start a blog about your hobby of knitting, you will not need to do anything with your blog that involves monetization (that is bringing in an income from your blog). You can set up a simple blog and write articles etc whenever you want – pretty much no pressure at all!
But if you want to start a blog that is a side hustle, that may eventually turn into a full-time career for you, where you are actually earning money and an income from your blog, you will need to start monetizing your blog as soon as possible after you first create that blog.
What will you blog about?
This is a pretty important consideration. What will you actually blog about?
Do you have knowledge in something, such as watercolor painting that you could start a blog about?
Are you an expert at something, such as gardening that you could start a blog on?
Do you just love cooking and baking and want to start a food blog?
Do you love knitting and want to start a blog about that?
Consider what you are good at, what you have experience in, what you love to do, what you think you want to learn to do, and what you think other people would like.
You can also start a blog about something that you want to learn, and then write about your journey learning that particular thing and share tips as you go along.
The first blog I created was my DIY and craft blog. Because I loved doing DIY and crafts for my home. It was a natural thing for me to create because it captured my attention, I loved it, and I knew I could write a lot of posts about those subjects.
So to start out, make a list of things that you love/like, things that you are good at, and the things that you have experience in. My Free How to Start a Money Making Blog will help you with this!
When you start a blog you will need to constantly write blog posts/articles about that subject. So for instance, if you start a blog about container gardening, how many posts/articles do you really think you can write about that subject? Can you keep coming up with post/article ideas for that?
If you start a blog about a wide subject, such as a food blog, you can probably come up with numerous posts/articles constantly. You can write about desserts, entrees, cookies, and more!
You can even narrow your blog down to perhaps a Mexican food blog – but you can I am sure still come up with numerous ideas for articles and posts.
So, in addition to creating a list of what you are good at, what you have experience in, and what you love/like, also create a list of potential blog posts/articles for your chosen blog topic. If you can come up with at least 20 ideas for posts/articles just to start out you know that you are on to a winning idea.
Here are some ideas for types of blogs you can start:
DIY/Craft
Mom/parenting
Finance, Business & saving money
Travel
Home improvement//home decor
Hobbies – such as knitting, sewing, gardening, fishing, swimming….
Food blog
The above ideas are just a small snapshot of types of blogs that you can start! You can pretty much start a blog about anything!
Step 2: Set Your Blog up and Start Blogging!
If you went through the first part of this post, and you know what you will be blogging about you will already have done the really hard part!
Setting up your blog is actually really really easy – much easier than you can imagine. Even if you are not tech savvy you can do it! I promise! If I could starting out you can too!
Buy Blog Hosting
Before going any further, I should add here that you can definitely start a blog for free – if you are put off by the title of 'buy' blog hosting.
You may want to start a blog, but you don't have much, or any, spare cash to purchase hosting for your blog. But if you buy your hosting you will own your blog, and all your content.
If you just want to start a little hobby blog that you will dip into every now and again and write an article for occasionally, and don't have any intention of monetizing then free hosting will probably be just fine for you.
These free hosting platforms include WordPress.com and Blogger (note – WordPress.com is the free version of WordPress. WordPress.org is the paid version that you really want to have in order to monetize).
Those free hosting platforms will restrict how you design your blog, and you will also not be able to monetize a free hosted blog for advertising etc, which may potentially be one of your major money earners for your blog.
It really isn't expensive to purchase blog hosting to start out with. To be honest, if you plan on monetizing your blog, you will probably soon make back that initial spend anyway.
There are many different hosting companies, and many different hosting charges. You can usually pay hosting fees monthly or annually. If you pay annually up front you usually save a little money.
The Blog Hosting Companies I recommend
I recommend Bluehost for when you are first starting out with a blog. It is the hosting service I started out with, and it is great for a beginner and starting a blog.
I believe starting out with Bluehost is a great thing for you because:
They are one of the top hosting companies recommended by WordPress

You get a free domain name (that is your .com url) for a full first year

They offer free WordPress installation and integration with just one click

They are extremely affordable, especially when you are first starting out

I did it myself and have personal experience of the process.
How to Get Started with Bluehost
Getting started with Bluehost is incredibly easy, and you will have a blog set up and ready in under an hour!
I was able to negotiate a special deal with Bluehost that will give you a special price on web hosting through them. For just $2.95 a month you can get blog hosting, and a free domain name for one year too! Check out the deal right here.
Just follow these steps to start a blog through Bluehost:
Go to the Bluehost site by clicking here
Click on the Get Started Now button: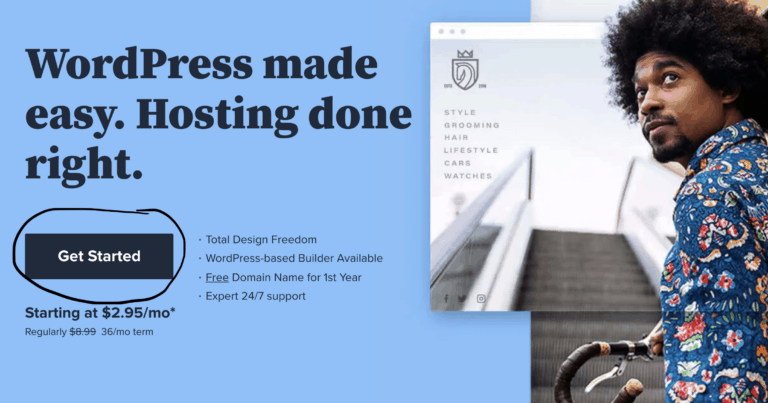 Next choose your plan. I recommend the Basic plan for when you are just starting out. You can always upgrade later if you want to.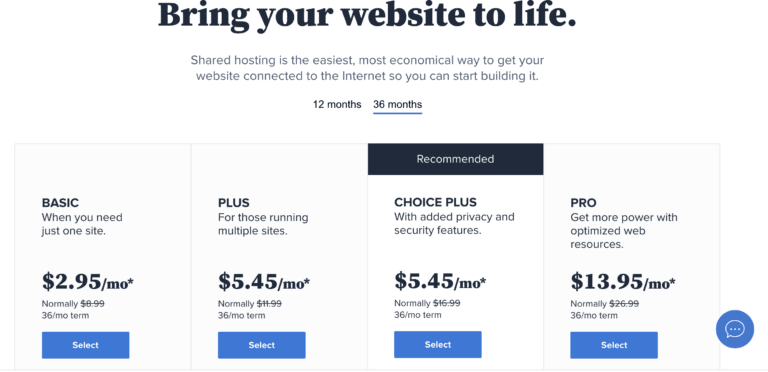 Now you need to set up your domain name. This is the name that you will be calling your blog. For instance, my domain name for my main blog is MakeCalmLovely.
Just type in the domain name you want and see if it is available. If it is you will be able to select it, if it isn't they will let you know that.
Note: If you are not yet ready to select your domain name, you can skip this step for now.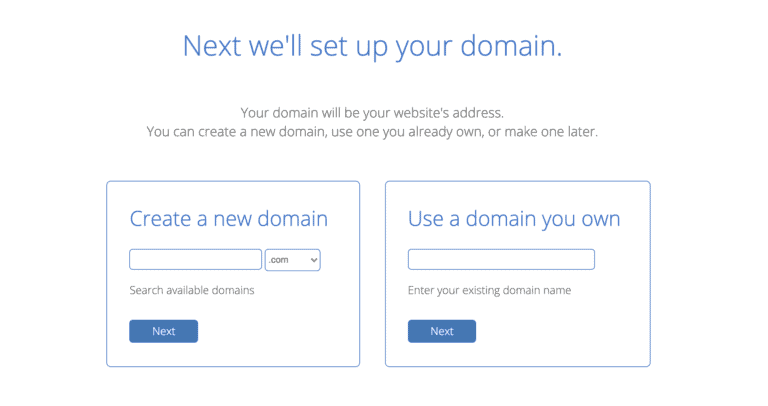 If your chosen domain name is not available they will let you know this, and give you suggestions for other similar names that are available.
For instance, I typed in Anthropologie, knowing completely well that this is already taken just for the purpose of showing you this – and this is what came up: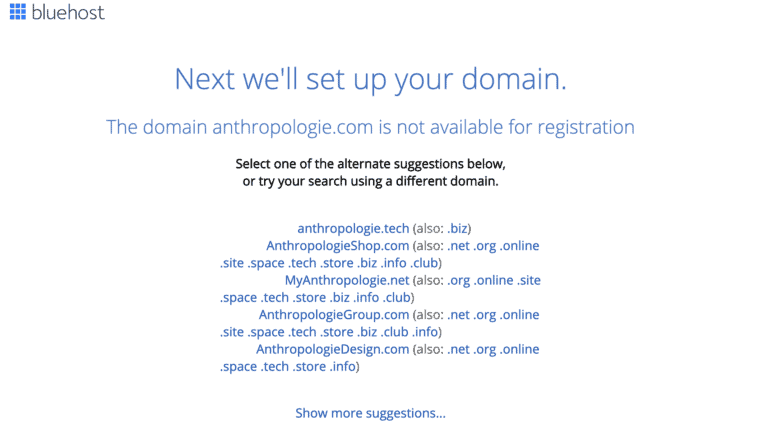 Next you will create your Account. Just enter in all your personal/business information: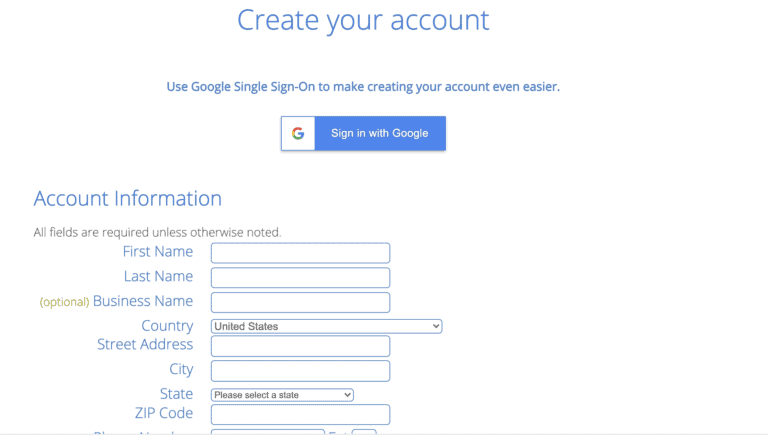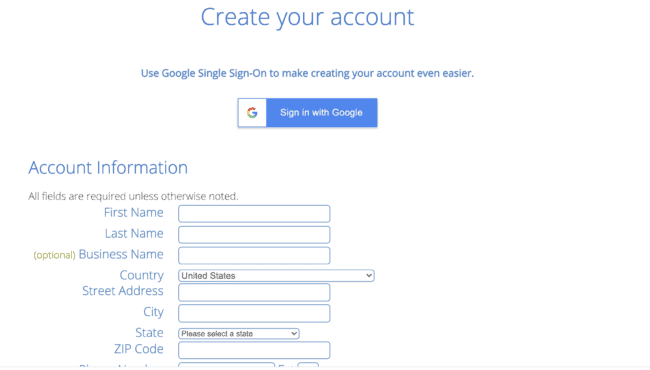 You will also choose your package on this page, and also any package extra add-ons that you may want. I would highly recommend an SSL certificate, as that makes your site secure.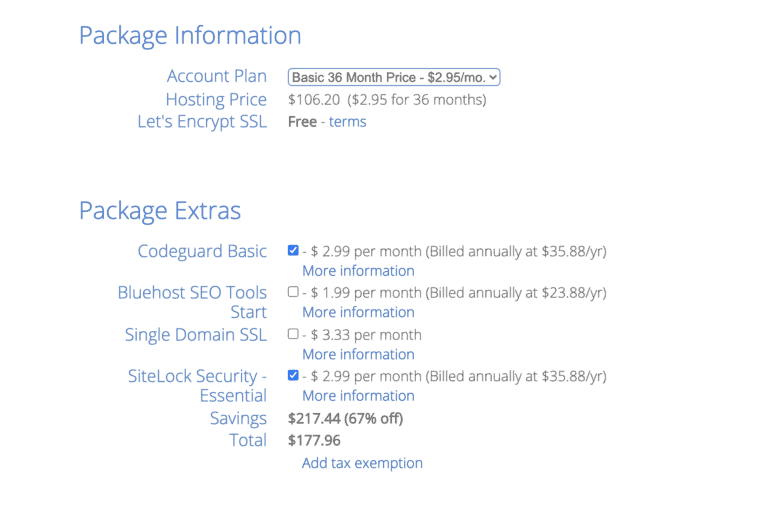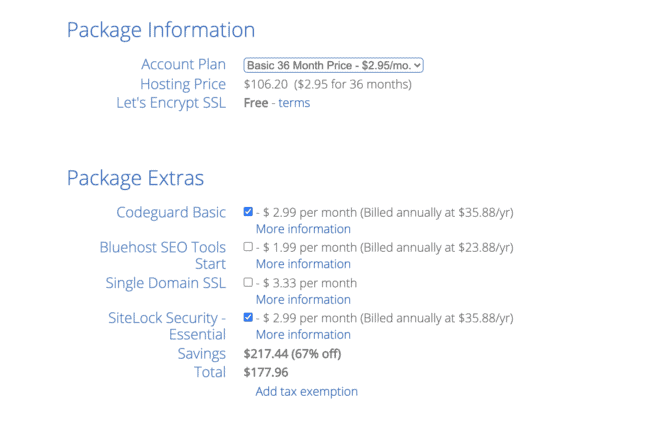 That is it! You now have your own blog, with your own blog name and url that you can start building!
Start Building your Blog/Website
You should now have all your hosting set up through Bluehost. You now need to start building your blog – and you need a blogging platform to do that.
Bluehost uses the WordPress blogging platform, and this is the absolute best blogging platform to use. It is just by just about everybody, and it is easy to use and implement.
Bluehost actually offers really easy installation and implementation of WordPress – with just one click!
You will be asked to select a theme next. Just select a free theme for your blog (you can upgrade your theme later to a paid theme if you want to) and start building your site/blog!
A theme is actually the layout of your blog. Usually blogs have a main page, with lots of other page links, post links, a sidebar etc. It is the framework of your blog. My site that you are reading this post on uses the Beloved theme from Restored 316 for instance.
If you want to purchase a theme to use, instead of the free themes that are offered (they are really fine for when you first start out, but they may have limited capabilities, especially if you want to do certain things with your blog) please be selective in choosing your theme.
You can buy themes just about anywhere, including places such as Creative Market, Theme Forest etc. There are also numerous companies that create their own themes.
But, not everyone knows how to code a really good responsive theme, and some themes can really slow your site down (which is a major issue). I had a theme previously by a well known company that was slowing down my site immensely.
The themes I recommend, and which were recommended to me by site speed specialists are by Restored 316. Their themes are well designed and do not slow your site down. Plus they are lovely pretty themes for use on your blog.
How to Install a Theme on your Blog
It is very easy to install a new theme on your blog/website.
Once you purchase a theme you will get a file to download. This is usually a zipped file, and you don't need to unzip it first before uploading it.
Just go into your WordPress dashboard > Appearance > Themes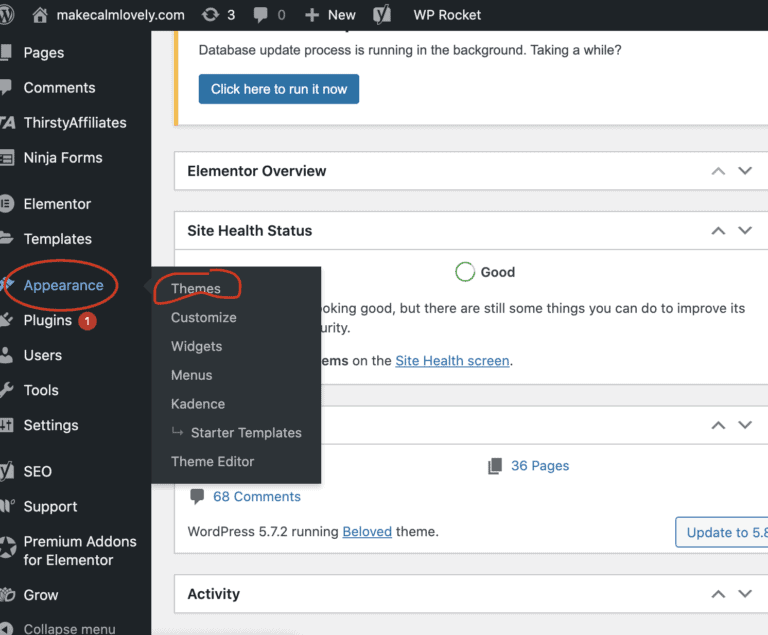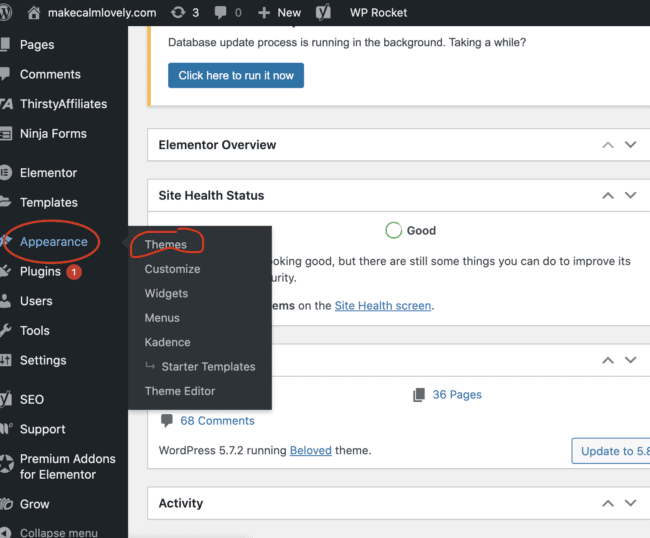 Then click on the Add New button at the top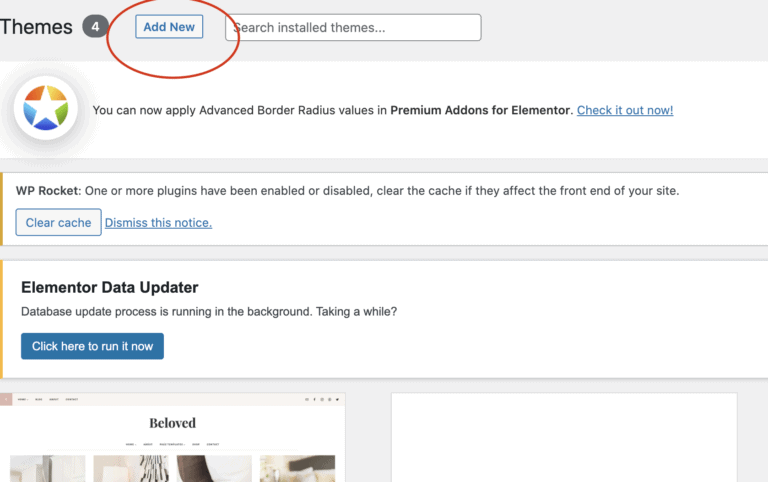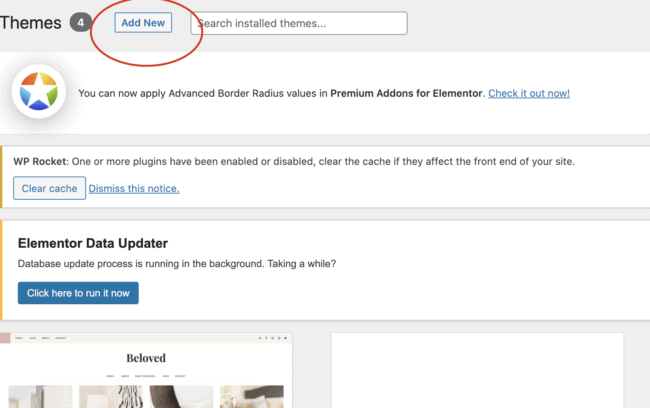 Then click on the Upload Theme button: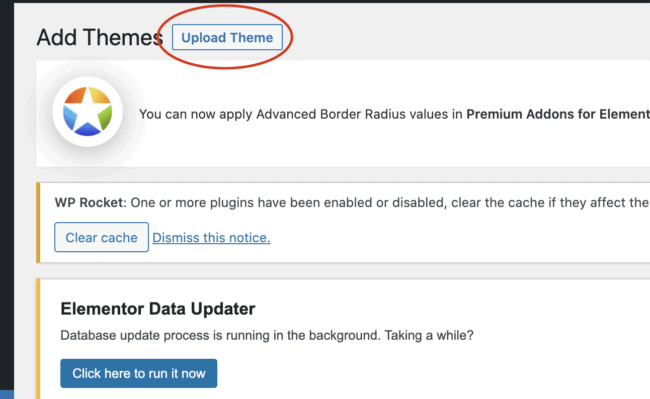 Then Install the theme after it is uploaded:
Step 3 – Start Creating your Blog Content
Now you get to the fun part! You can start creating your blog content!
But start out the right way in creating content. Adhere to great SEO (search engine optimization) practices and know how to set up a blog and write posts that will get noticed in Google, that will bring you traffic, customers, buyers and more.
I personally didn't start out the right way in creating my blog content and posts for SEO, because I didn't understand it at the time, and I also didn't really know about it when I first started out. I regret that, but I didn't know any better at the time.
I highly recommend these sources that will help you not only understand what SEO is and why it is important, but will also show you the right way to do it:
FREE SEO Email Course – Debbie Gartner. Debbie has many publications and courses that she sells, but you can start out with her free course first to really get a basic overview of SEO. Click here to sign up for this free course.
Easy On Page SEO for Beginners e-book by Debbie Gartner (this is all about great SEO optimized blog posts).
Stupid Simple SEO course (you can read my review of this course here)
If you need help and advice creating blog posts, there are a couple of resources I can highly recommend for this:
Post By Number From Start a Mom Blog.This is a great incredibly inexpensive course that will take you through everything you need to know about writing a blog post. It includes checklists and templates also to really help you!. You can read my review of this course right here.
Blog Post Creation Challenge – The She Approach. This challenge takes you through the whole process of creating blog posts. You will create one year of content in just one month! Get more information here!
In addition to these resources I mention above, I really cannot state how great the courses and books are from Start a Mom Blog.
Start a Mom Blog was one of the first resources I used in starting a blog, and I really want to recommend it highly to everyone. Their resources are inexpensive, easy to follow, and so helpful and useful.
Some of my favorites of their resources are:
Blog by Number. A complete course that will teach you how to pick a profitable niche topic for your blog, branding, writing blog posts, keyword research, basics of starting a blog, and so much more. You can read my review of Blog by Number here.
Printables by Number.If you want to create your own printable products for sale on your site, and even just opt ins to get email subscribers for your blog, this course is for you! You can read my review of Printables by Number here.
I really hope you enjoy starting your own blog! The biggest piece of advice I can give you is ENJOY IT!
If you have ever thought about starting your own blog, whether it is just for a hobby, or you want a profitable side hustle or a new permanent job replacement for your current job, read this article!