17 Genius IKEA Hacks Your Kids Will Love!
IKEA hacks are for all areas of your home and lifestyle. But IKEA hacks for your kids and kids rooms are especially awesome.
Here are 17 Genius IKEA hacks. These hacks are perfect for your kids and their bedrooms and playrooms. If you need to create more space, make something more beautiful, and make something far more useful, you need these amazing hacks!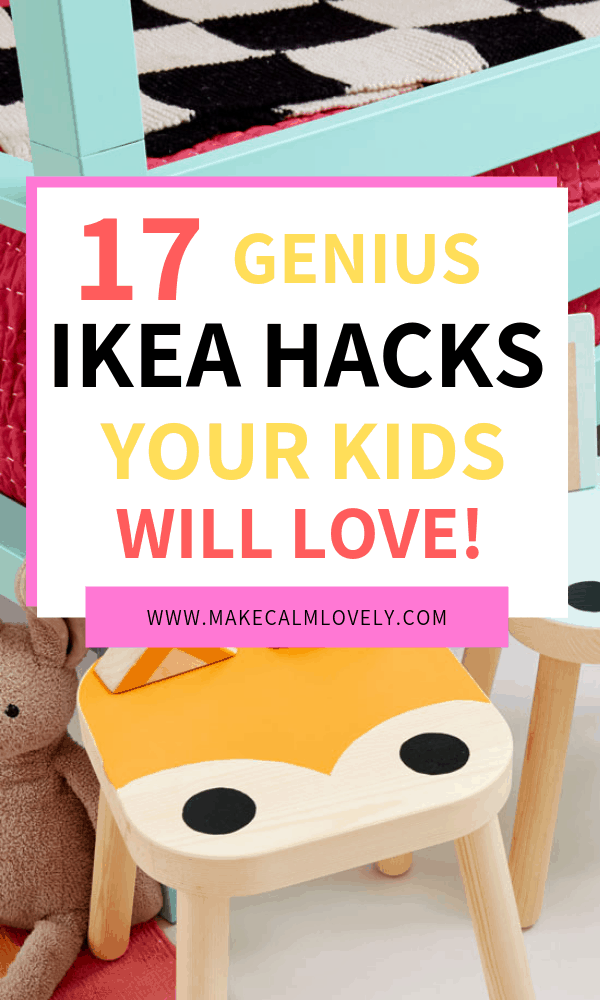 Train and Activity Table
I especially love this hack for a train and activity table. Not only does it have space on the top for an entire train set to be set out, and left out, to play with.
But it also has tons of storage underneath. So you can keep all those extra bits they need to play with every now and again in one place! This is pretty genius! You can see the full post here.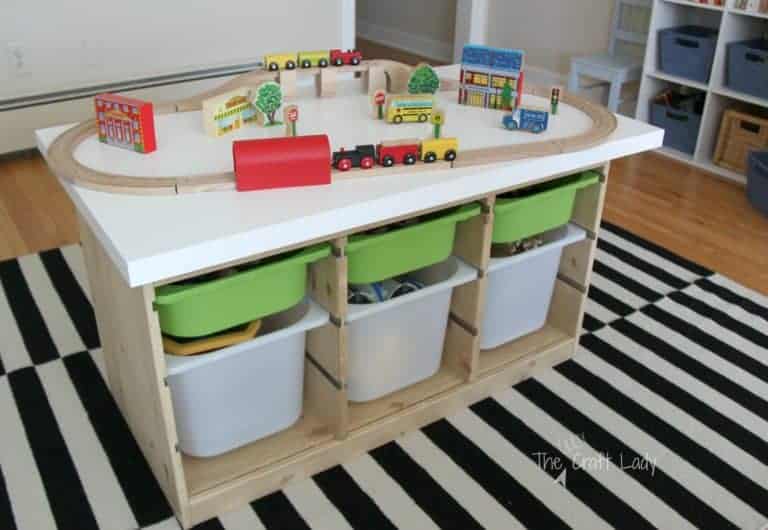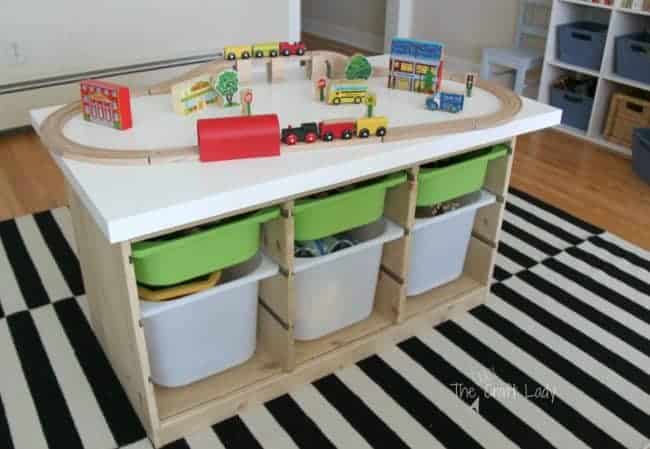 Photo: The Crazy Craft Lady
Cute Little Animal Stools
Now this one is absolutely adorable! Taking the basic Flisat stool, this hack has turned them into something quite incredible: Cute animals!
The stools are the perfect size for kids, and you really only need to know how to paint something to do this great hack. You can see the complete DIY right here.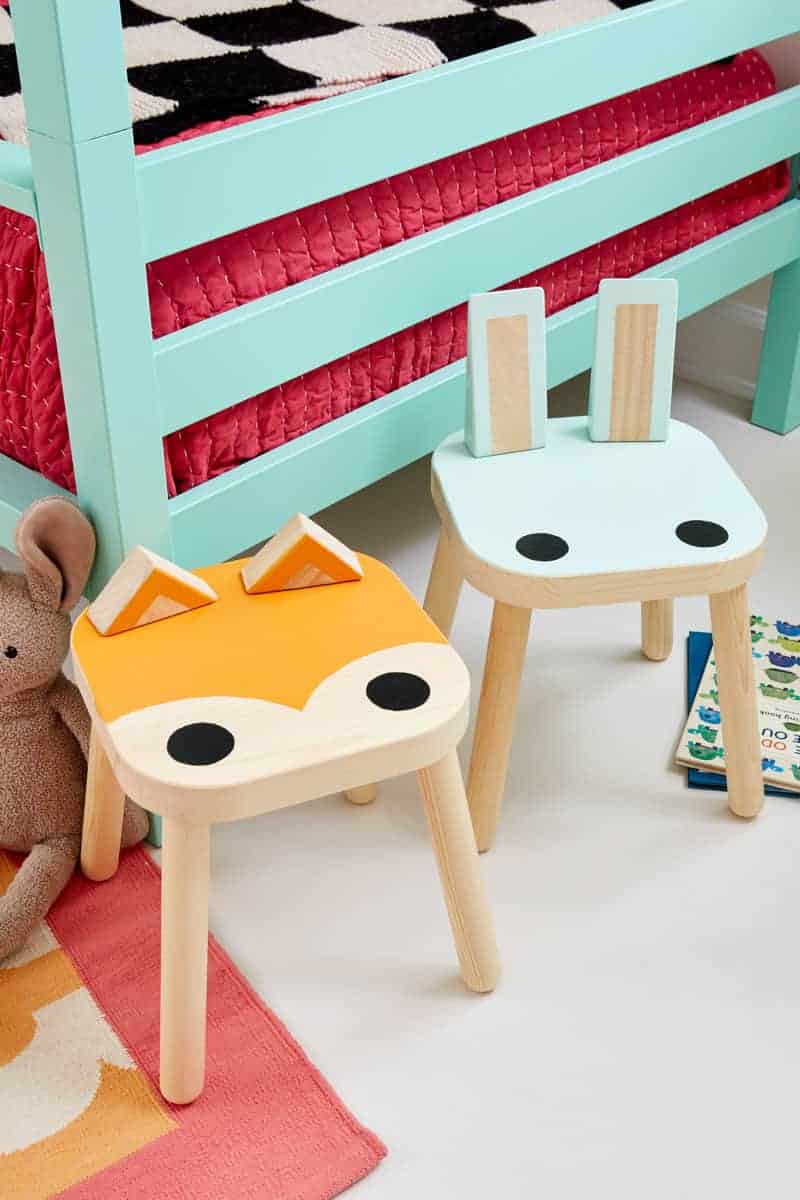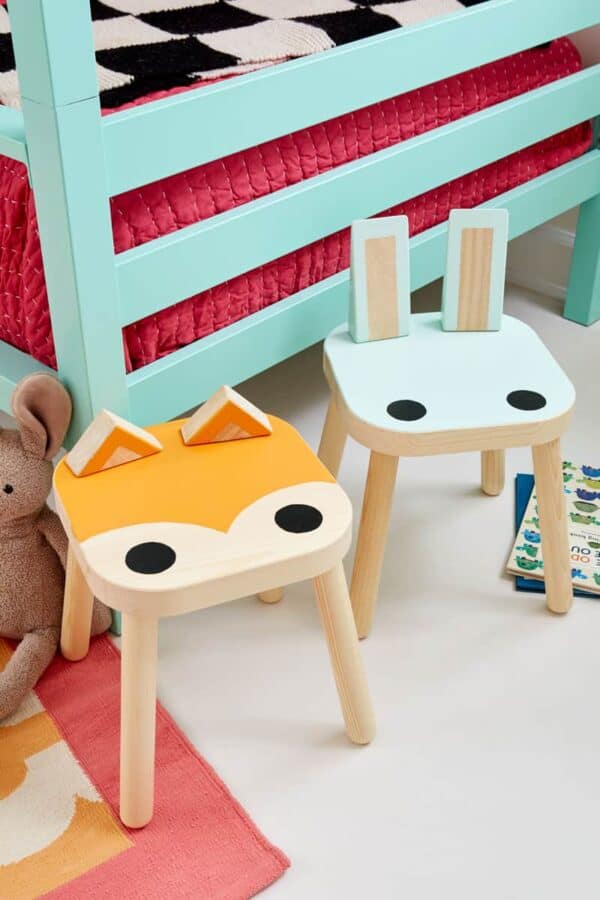 Photo: Project Kid
Magnetic Maskros Hack
This hack uses the IKEA Maskros pendant lamp. It comes with some flowers, so you just remove those flowers and you can stick whatever you want on there! This particular hack is replacing the flowers on the lamp with magnetic alphabet magnets. You can see it right here!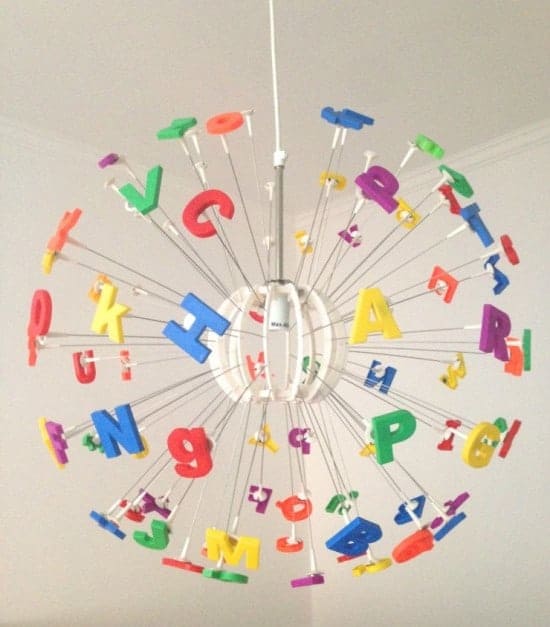 Photo: IKEA Hackers
DIY Kids Table Makeover
This hack is using the IKEA Latt kids table. We actually had one of these tables in our home for years for our kids, and they spent hours and hours at it doing various craft projects.
They are really great little tables and chairs, that last, and can withstand a lot of wear and tear. The basic table and chairs is lovely, but why not make it even lovelier with a hack? You can see the complete DIY instructions here.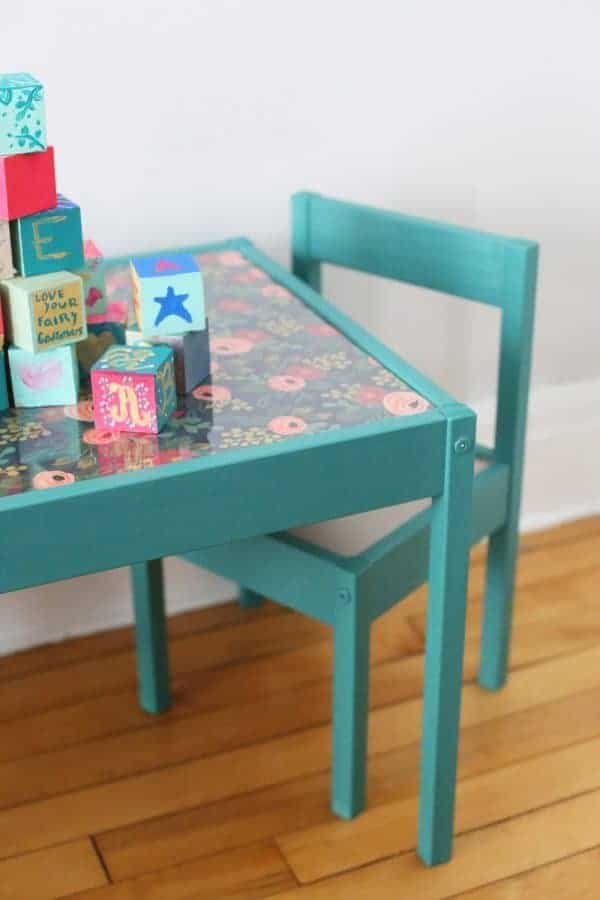 Photo: The Sweetest Occasion

Art Cart
This hack is featuring what is most probably my favorite piece at IKEA – the Raskog Cart. I absolutely love this cart! It can be used in any room of your home, for any purpose.
I have used one as a bar cart, as a coffee cart, and a cart to store craft supplies. They are inexpensive, they come in some great colors – and they can be hacked so amazingly – by painting them and more. This hack is taking this amazing cart and making it into a kids Art Cart. See the post here.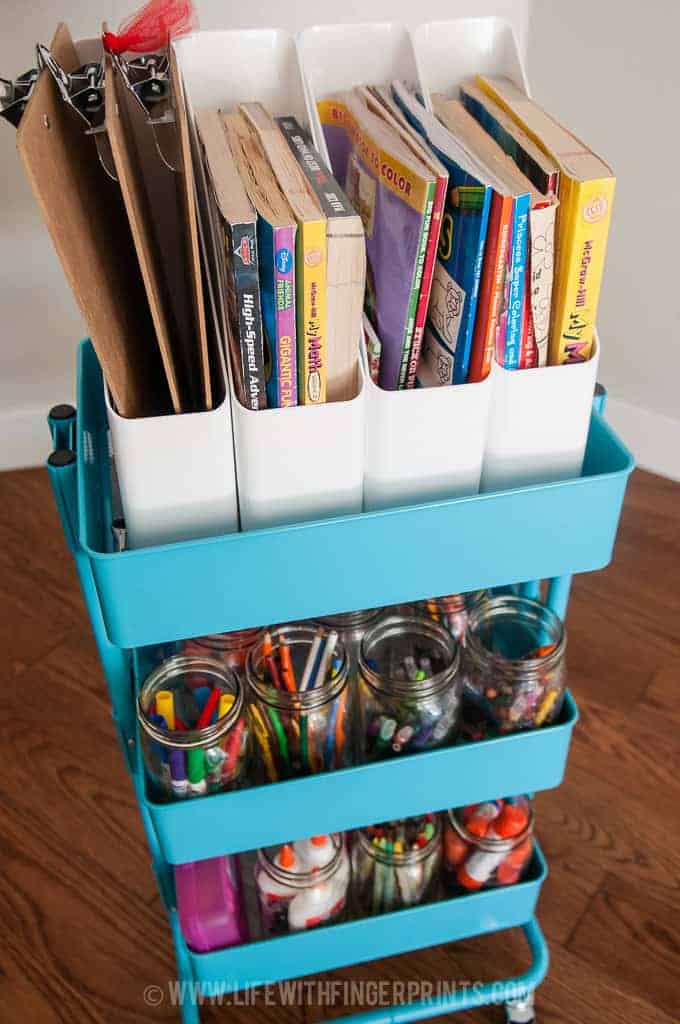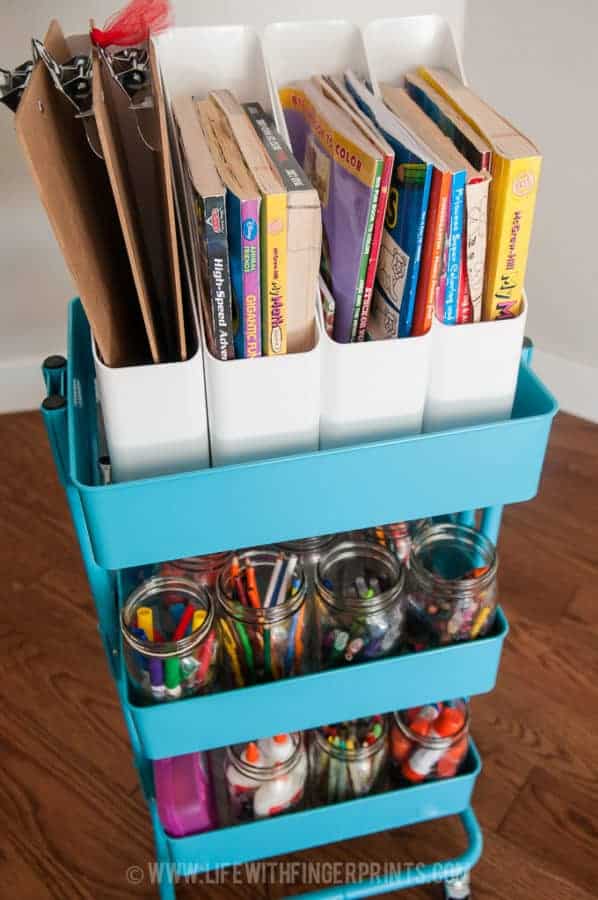 Photo: Life With Fingerprints
Awesome Lego Table
Here is a great hack to get control of all that Lego that is probably all around your home! This hack is taking a simple IKEA Lack table, and turning it into a great Lego table.
There is room for storage under the table, and the top can be used to build all those wonderful amazing creations that kids love to come up with in Lego. You can see the post right here.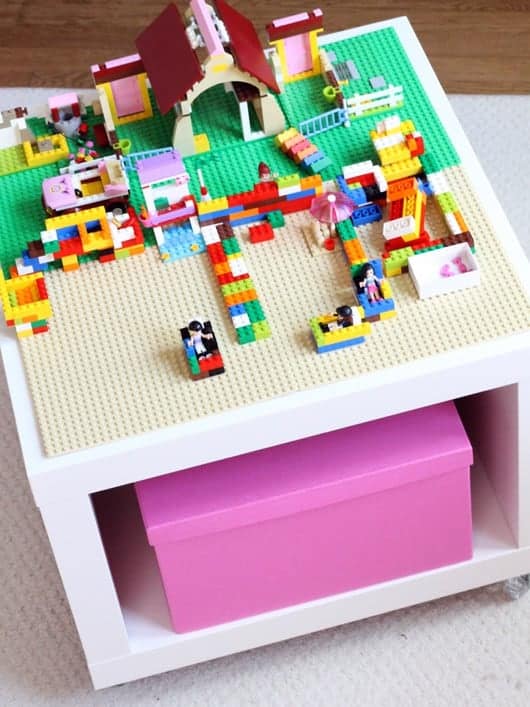 Photo: The Decorated Cookie
Pretend Play Sweet Shop
This is an awesome little hack that makes a pretend play sweet shop. Any child would be so happy to have this to play with! You can see the DIY right here.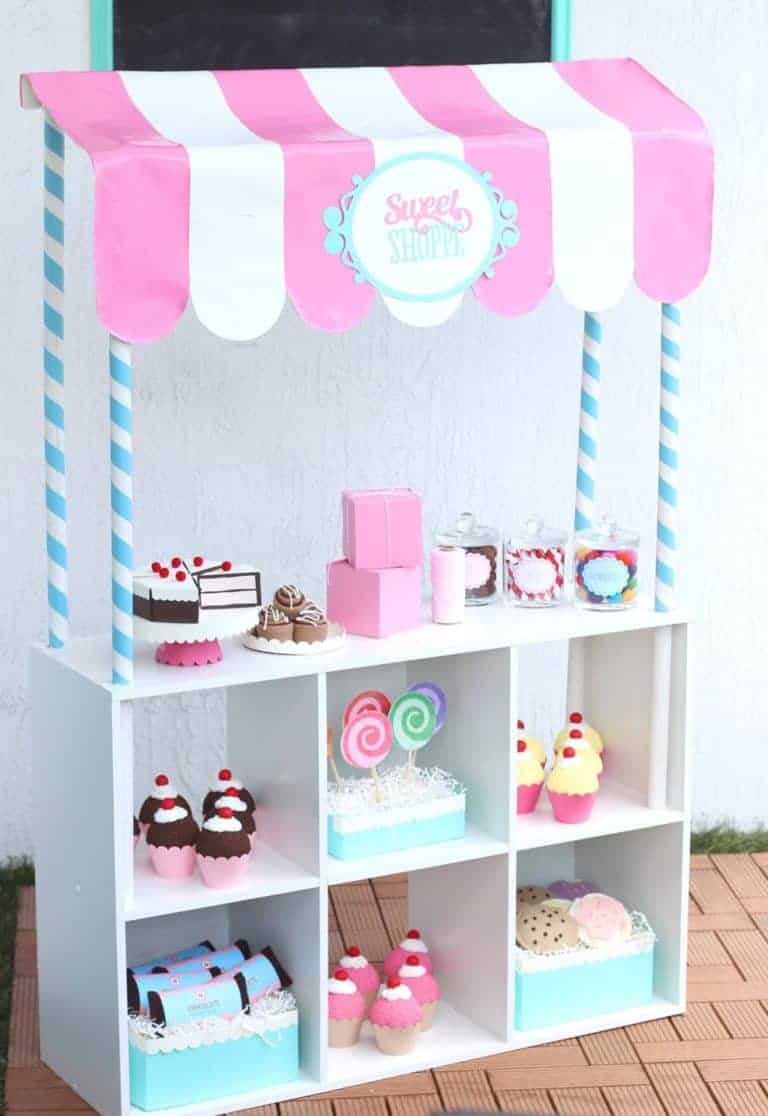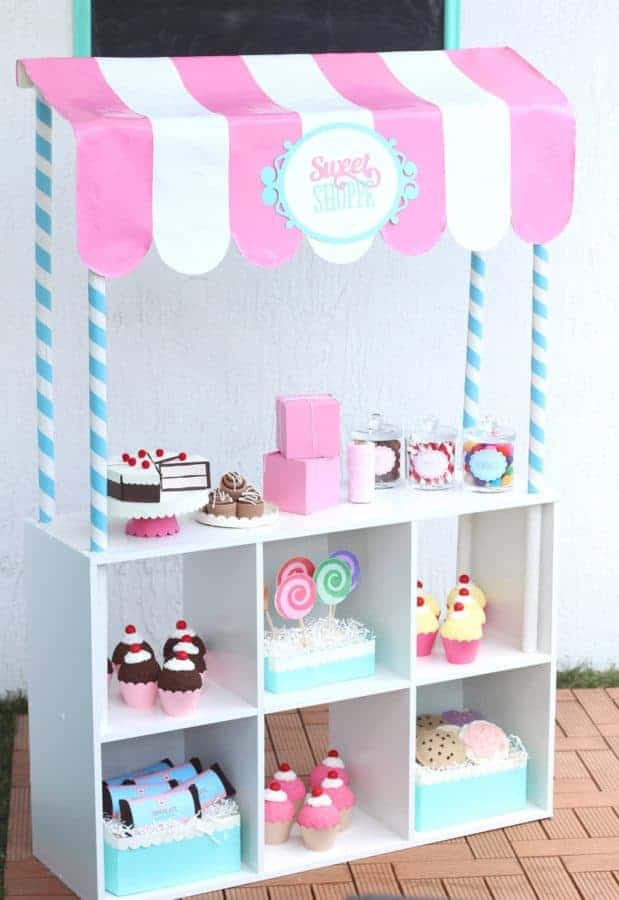 Photo: Damask Love
Mosslanda Ledge Book Holders
Mosslanda ledge frame holders make perfect shelves to hold children's books. They will be able to see their books clearly, and access them easily. See the hack here.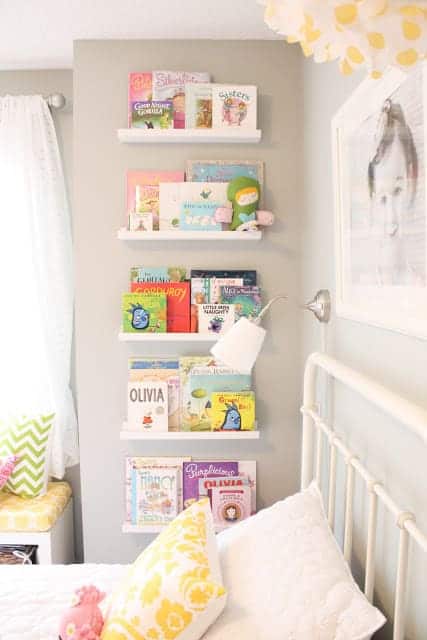 Photo: Daffodil Design
Kallax Reading Nook
This is an amazing little reading nook made with IKEA Kallax shelving units. Every child needs a little reading nook! See the DIY here.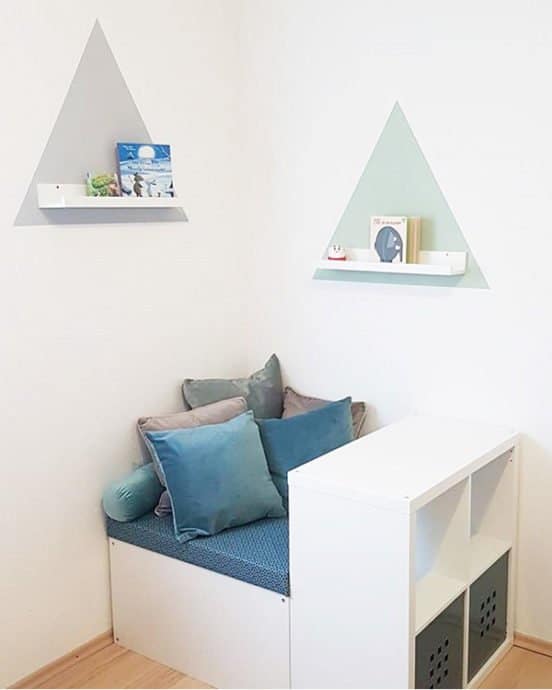 Photo: Limmaland
Desk Tidy/Organizer Hack
This is a really simple hack to create extra storage space on a kids desk. These Sunnersta containers from IKEA are the perfect shape to store pens, pencils, crayons, or anything at all that they want to store at their desk, so they are ready to use and so organized! See the DIY here.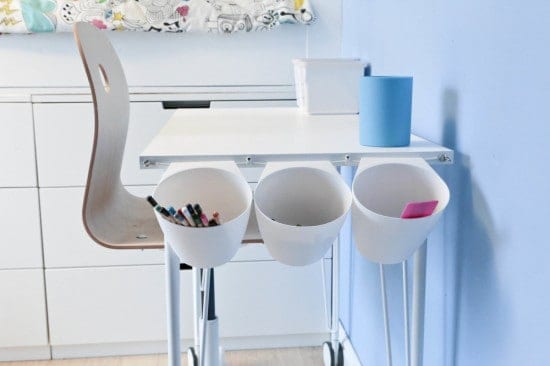 Photo: IKEA Hackers
Perfect & Bright Wall Hangers
These wall knob hangers, using Losjon hanging knobs, doesn't just look bright and cheerful. They are also so incredibly useful for hanging all kinds of stuff, including their bags, coats, and anything at all they want to hang on their walls for easy access. See it here.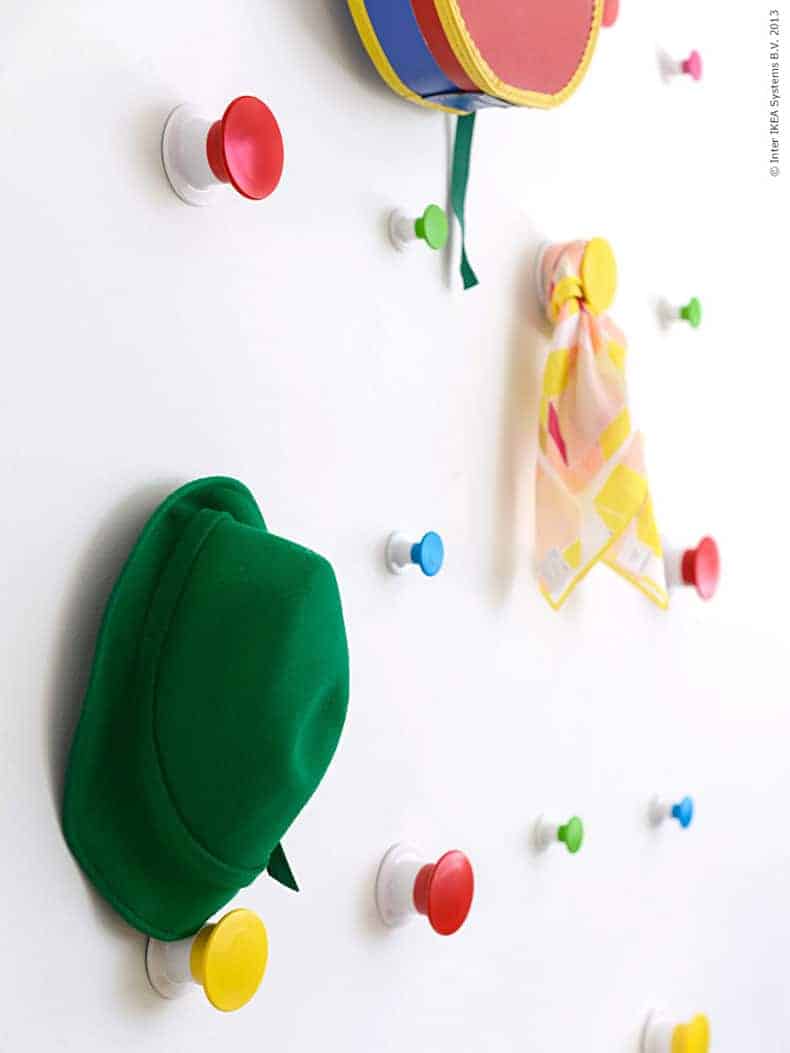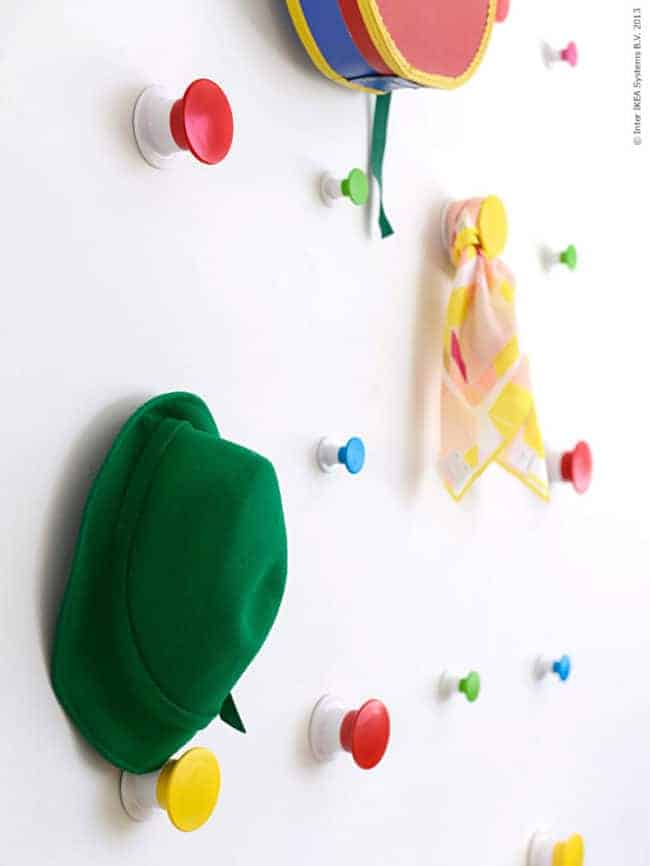 Photo: IKEA
Play Kitchen DIY Makeover
This is a really cute makeover of the IKEA Duktig play kitchen. Scroll to the bottom of the post to see the before and after pictures so you can really see how amazing this DIY is! See the complete DIY tutorial right here.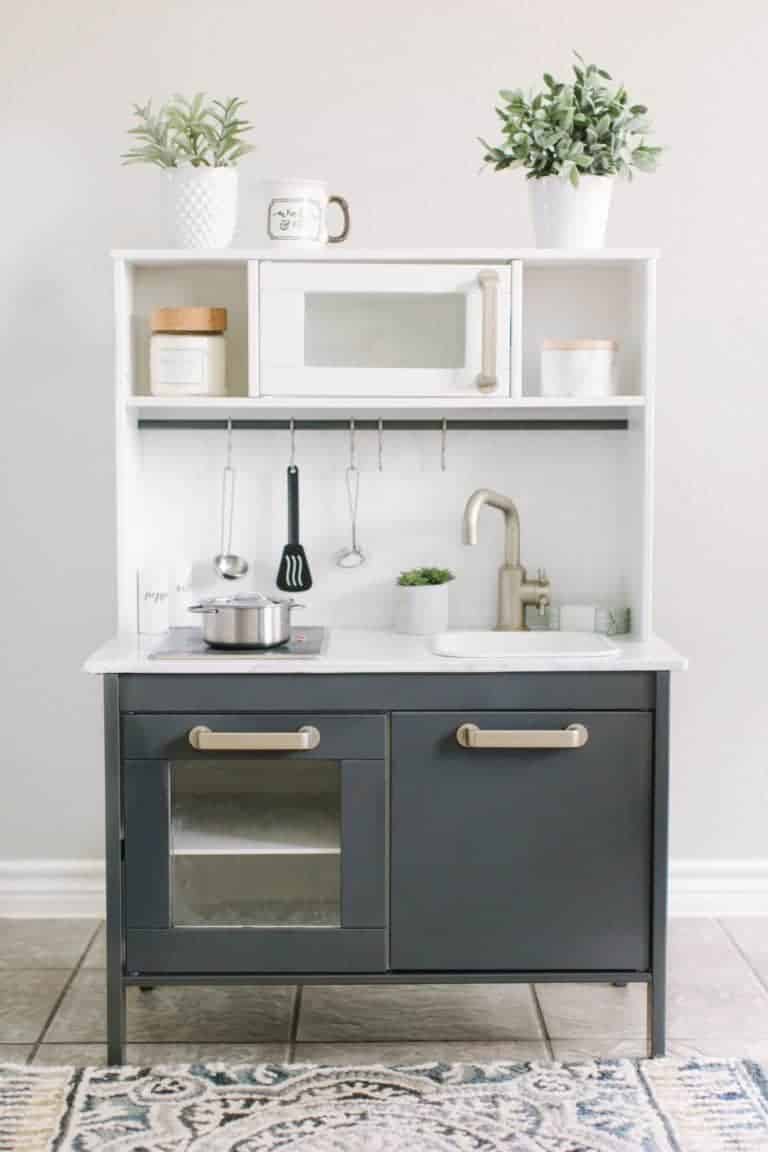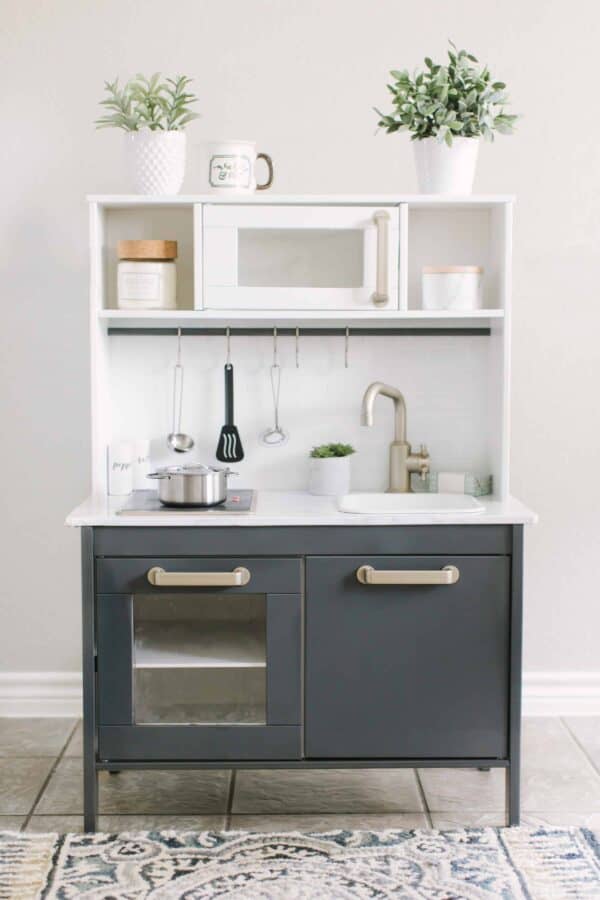 Photo: Katie Lamb
Related: See these great IKEA Duktig Play Kitchen Hacks
House Bed
This is an amazing hack that turns the IKEA Mydal Bunk Bed into this amazing House Bed! See the complete tutorial here.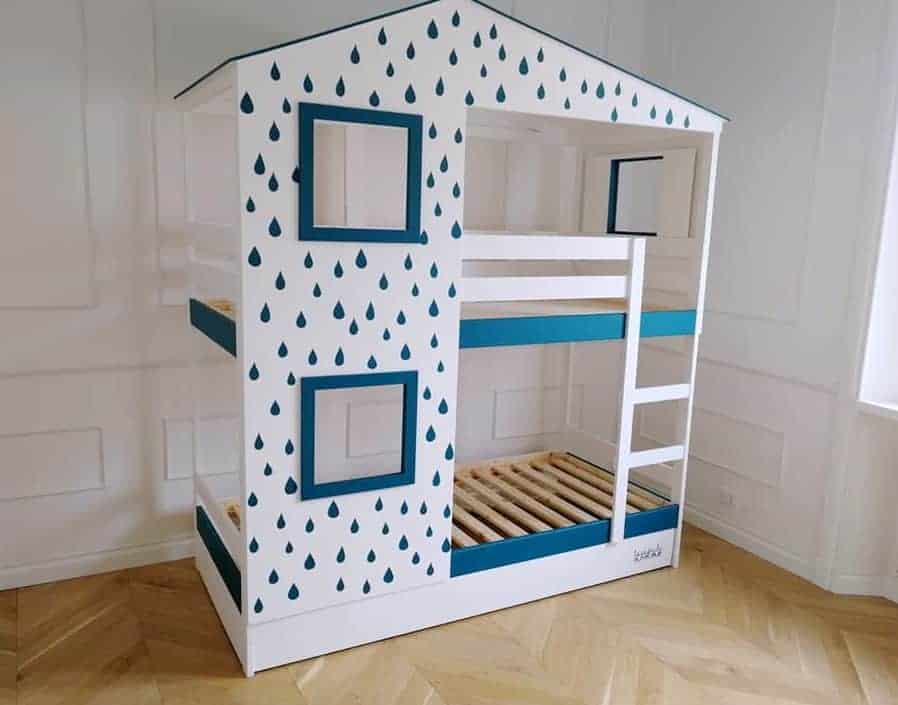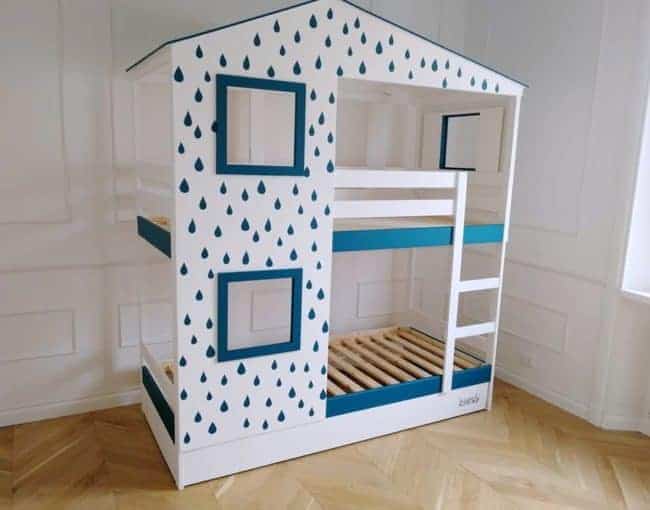 Photo: IKEA Hackers
Color Block Storage Units
This hack isn't actually for kids, but how great would these colorful units look in a kids bedroom?! This hack IKEA Besta units. See the full tutorial here.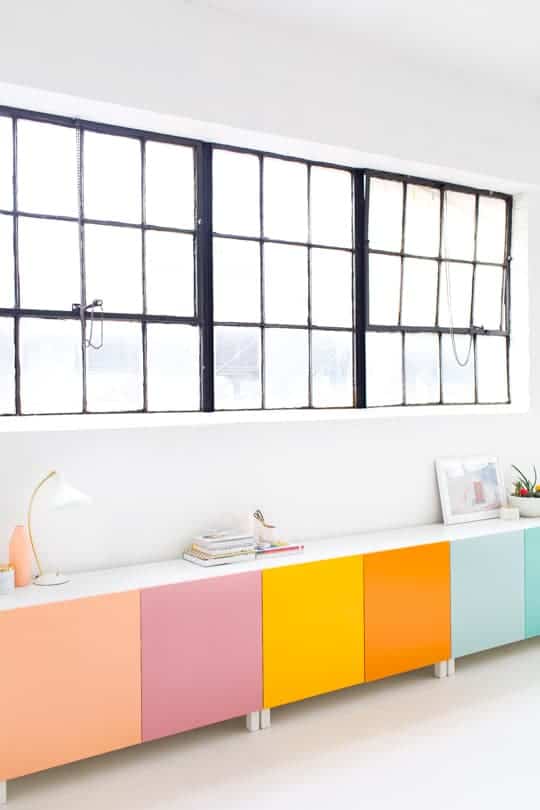 Photo: Sugar & Cloth
Upholstered Kids Chair
This is a lovely hack for an upholstered chair, using the IKEA Sundvik chairs. You can see the complete DIY tutorial here.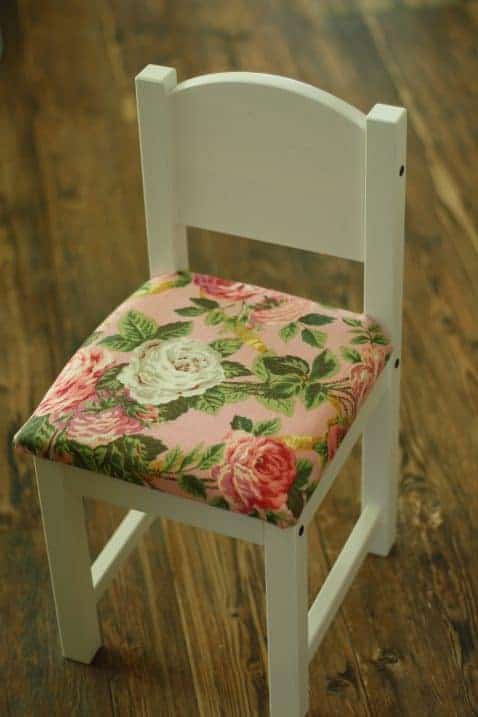 Photo: Fancy Ashley
DIY Balloon Lamp
I love love love this Balloon Lamp hack! You can see the full DIY tutorial here. You may need to translate it into English, but that is easily done with online translation tools.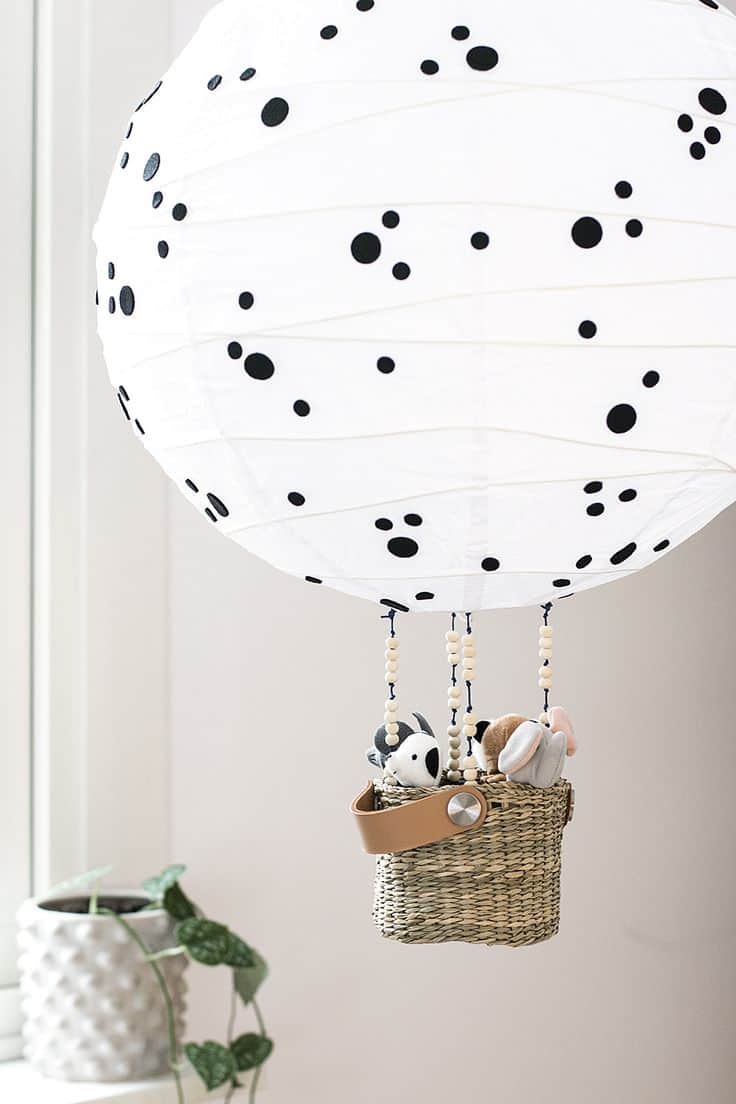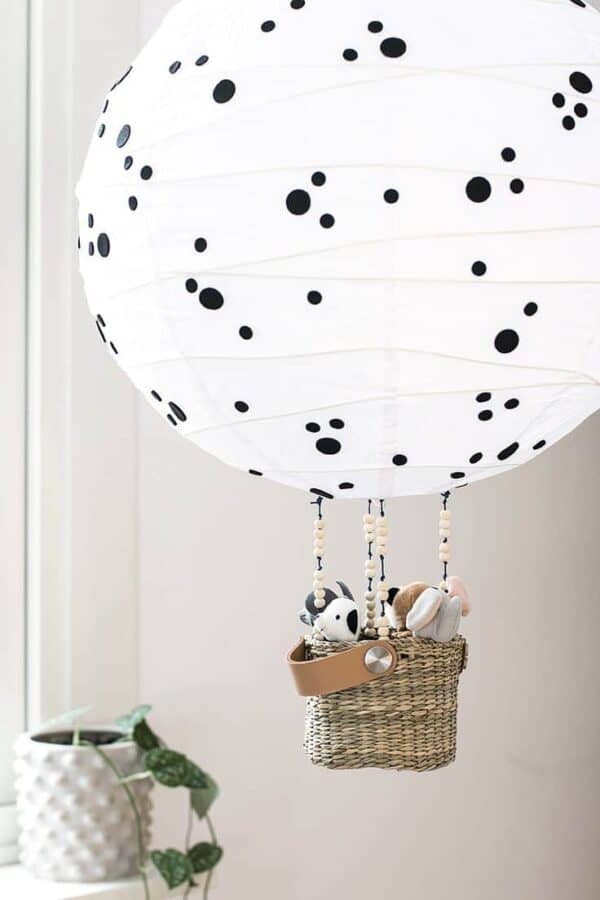 Photo: Husligheter
Watch this video here for more IKEA Toy Storage hacks! This video is full of even more suggestions for hacks for kids toy storage.
I really hope you loved this round-up of 17 genius IKEA Hacks that kids will absolutely love!
IKEA products are beautiful and versatile enough as they come. But if you hack an IKEA piece you can make it into something more amazing!
Want more IKEA hacks?
15 Amazing IKEA Bekvam Step Stool Hacks
15 Great Home Storage items available at IKEA