IKEA furniture and items are great to hack for just about any style of home decor. If you love farmhouse style you can even hack IKEA for that!
The great thing about IKEA hacks is that they really take something so available, and so affordable and turn them into remarkable unique pieces. This is so true with farmhouse style decor pieces.
All these pieces featured in this post do not look like they were originally IKEA items. They look expensive, well-made, and even heirloom quality!
Here are 11 ideas for hacking IKEA furniture and items into great fantastic farmhouse-style pieces!
Farmhouse Table
Photo: East Coast Creative
This hack is absolutely amazing. It takes a plain Ingo table from IKEA (which retails at around $69). It turns it into an absolutely stunning, beautiful farmhouse table.
It really does make a truly beautiful and timeless piece of furniture. So perfect for your farmhouse kitchen or dining room! See the complete tutorial here.
Farmhouse Mirror Hack
Photo: Savvy Mom
This wonderful hack takes an IKEA mirror, and turns it into a beautiful farmhouse style mirror. Really, you would never imagine that this was once a basic IKEA mirror.
Even brackets have been added to make it look more rustic and authentic. You can see the complete hack right here.
Check out all our other IKEA hacks here!
16 Amazing IKEA Hacks you can do in a Weekend
17 Genius IKEA Hacks your Kids will Love
15 Amazing Bekvam Step Stool Hacks
Entryway table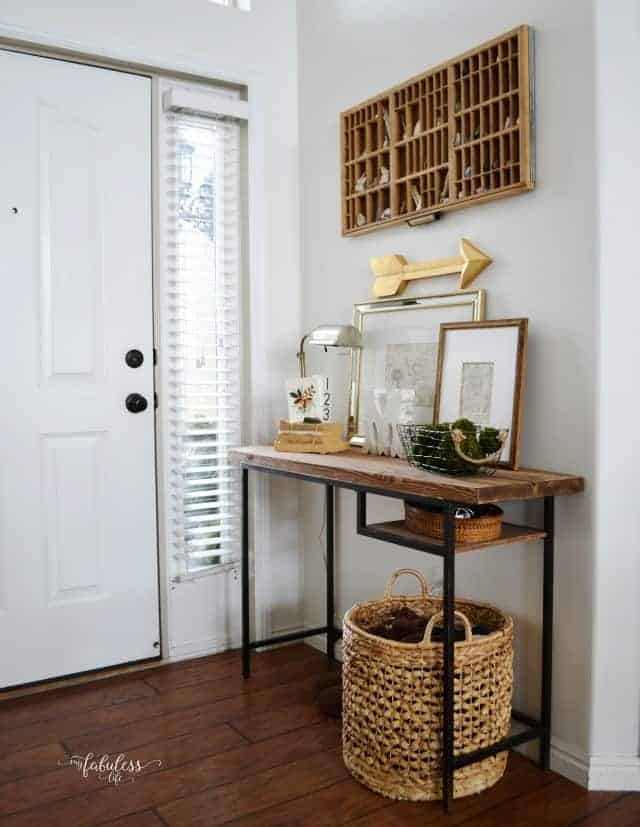 Photo: My Fabuless Life
This hack turns the IKEA Vittsjo desk/table, and turns it into a beautiful table that is perfect for your entryway. This would make a great weekend project. It does involve using some power tools, but hey you can do this! See the full hack right here.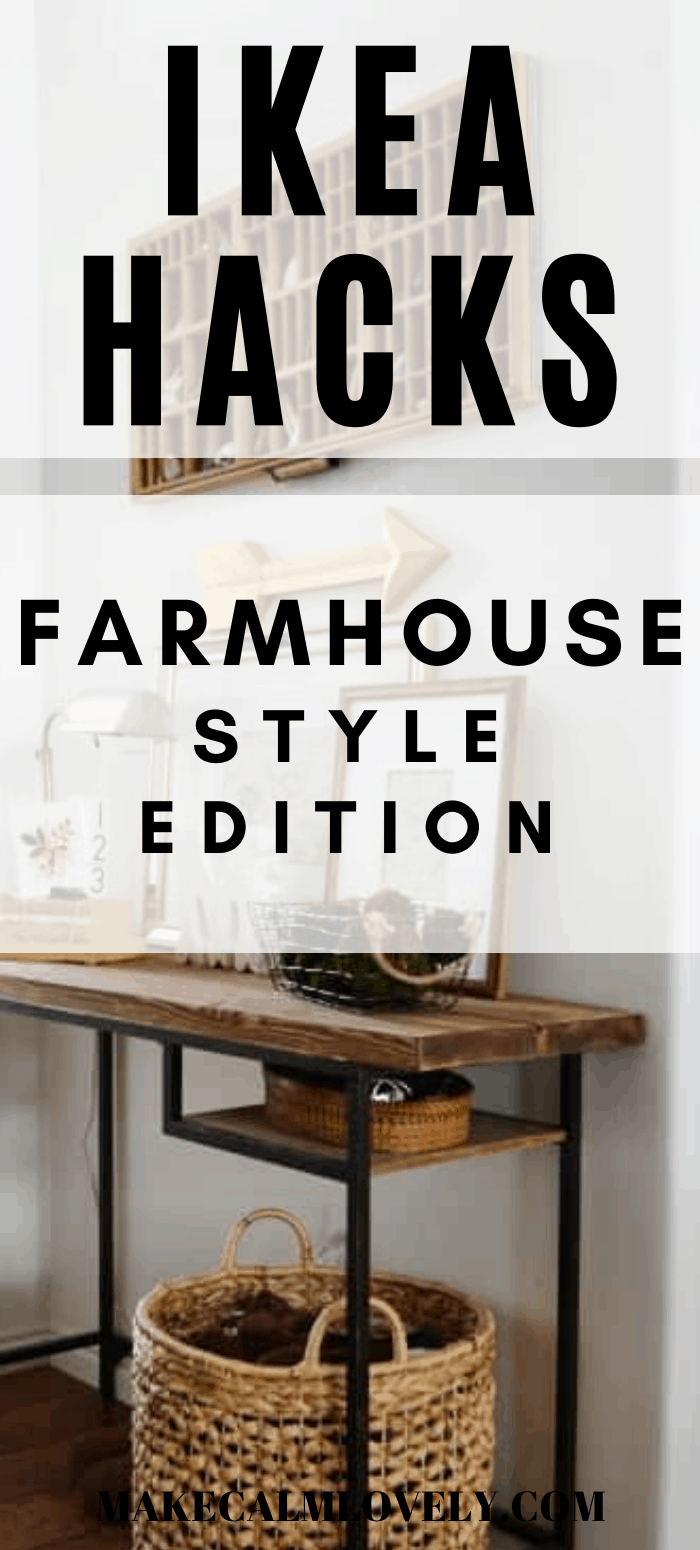 Cart/Island Hack
Photo: Homeroad
This hack takes a plain IKEA wooden cart, and makes it into a farmhouse worthy rolling island/storage cart.
You can do this DIY in a day. Perfect for that extra storage or work station you need in your farmhouse kitchen! See the full tutorial right here.
Rustic Apothecary Cabinet
Photo: Sawdust 2 Stitches
This is an amazing hack. I just love all those old apothecary cabinets, and this hack is so good you would never know it was a hack and not the original piece!
This does take a little work, but if you want a great weekend (or longer) project to create an absolutely beautiful piece for your home, give it a try! See the complete hack tutorial here.
Fjell Wardrobe Hack
Photo: The Thinking Closet
This hack takes a simple, but unamazing wardrobe, and turns it into an amazing piece of furniture. It has been redesigned a little bit and white washed, to give it that great rustic farmhouse look. You can see the complete tutorial here.
Potato and Vegetable Bin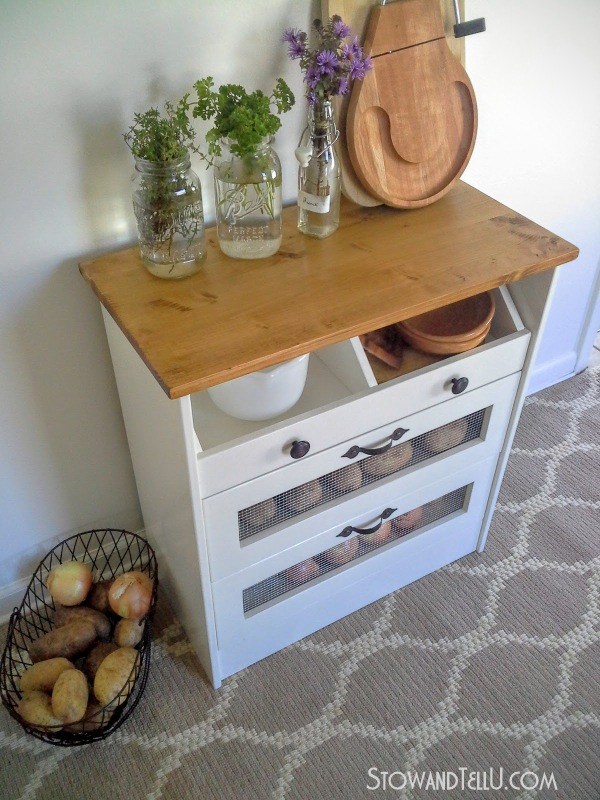 Photo: Stow and Tell
All the best farmhouses would have one of these potato and vegetable storage units! It takes the very available Rast chest of drawers, and turns it into this work of art! You can see the complete tutorial for this right here.
Rustic Wood Sideboard
Photo: Lolly Jane
This hack takes an affordable piece of furniture, and turns it into an expensive piece of furniture! You can see the full hack and tutorial right here.
Buffet Makeover
Photo: Little House Big Plans
Here is another remarkable hack. Taking the dark IKEA buffet sideboard, this hack has turned it into a beautiful farmhouse style, expensive-looking, piece of furniture for your home. See the full tutorial right here.
Rustic IKEA Tarva Dresser
Photo: Cherished Bliss
This is a plain and simple IKEA Tarva dresser. Just by staining it it becomes this amazing farmhouse decor piece for your home. You can see the full tutorial to make this awesome dresser right here.
IKEA furniture items make amazing farmhouse decor pieces for your home!
You can see every IKEA hack that Make Calm Lovely has featured right here!