15 Great Home Storage Items available at IKEA
IKEA has many great items, not to mention really great affordable storage items, for all areas of your home that need organization.
IKEA is the go to place for so many things, and that includes its range of beautiful and stylish storage items. I am featuring just a tiny selection of the storage items that IKEA sells.
But I have chosen these items as they are my favorites for storage. They are all inexpensive, but beautiful design and just so practical for storing items all over your home.
Vardagen glass jars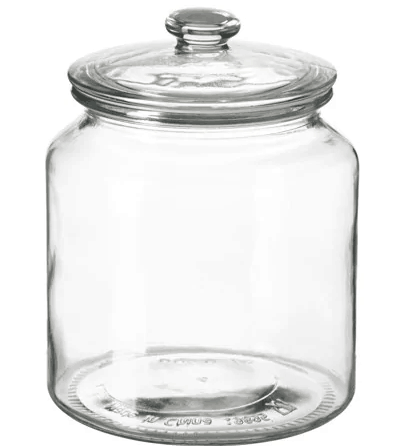 These Vardagen glass storage jars with lids are so functional and so stylish. They can be used to store foods in your pantry or on open shelves, and also used to store objects – try using them to store cookie cutters etc on display in your kitchen!
I use these jars in my craft room to store washi tape and cotton reels! They look so pretty that whatever you store in them will look beautiful.
Rabbla Storage Box
This is a soft fabric box, with a great stylish bamboo lid. These boxes are stackable – they can be used on shelves or closets, or freestanding on the floor.
The material the box is made of also allows air to circulate, which means you can use these boxes to store clothing and things such as blankets and quilts. This box comes in different sizes too. See them here.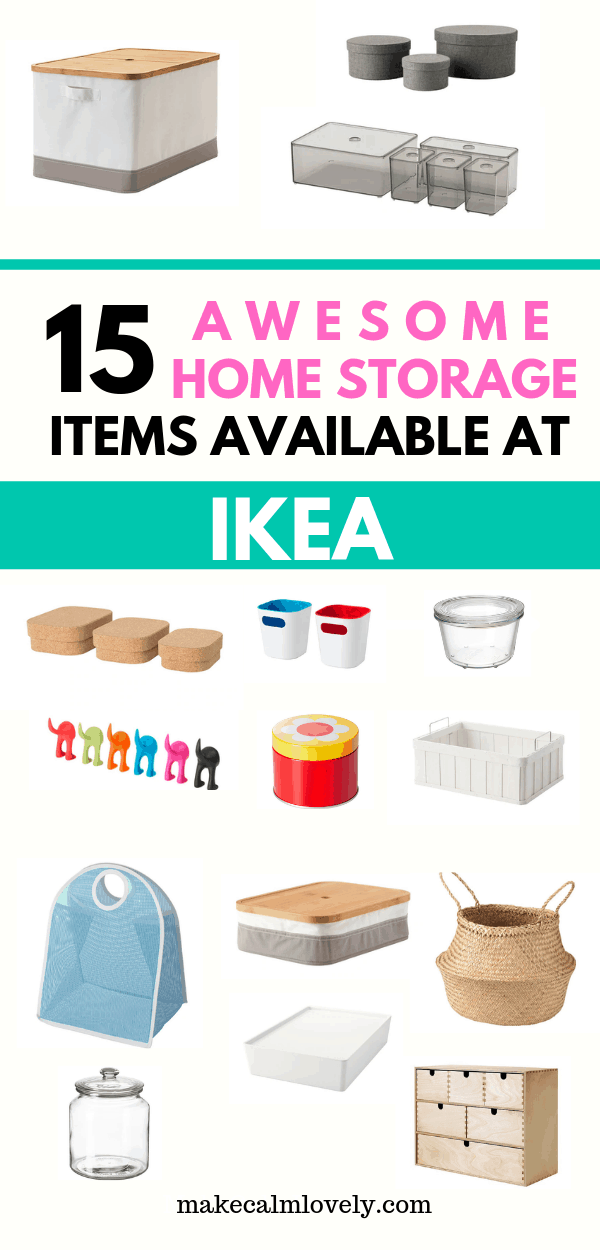 365 Containers with Lids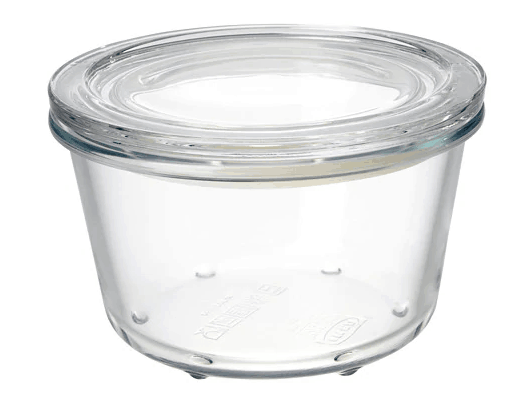 These IKEA 365+ food containers with lids make great storage for your kitchen and food products. It is made of oven-safe glass and it can be used as an oven/serving dish. The tight fitting lid keeps food fresh and preserves aromas and flavors.
Somma tins with lids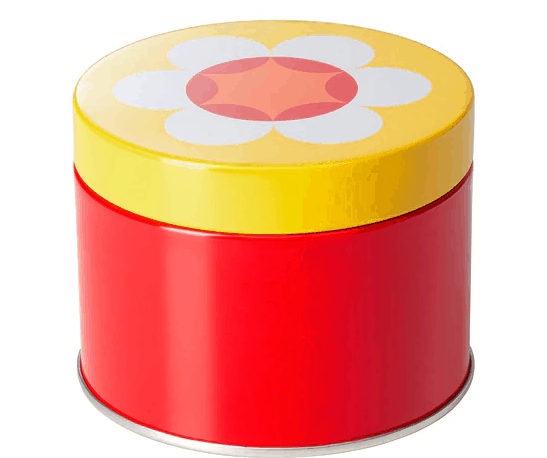 These pretty colorful tins are part of a new range just introduced by IKEA. They are useful for storing coffee and tea and any dried food. The tight lid keeps food much fresher for longer.
They have a beautiful colorful 70s and Scandi design which is so pretty and bright in any home.
Moppe Storage Chest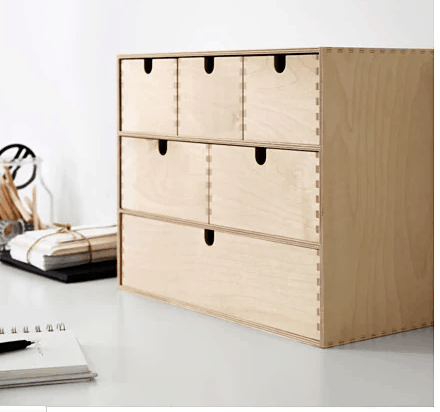 This is one of my most favorite IKEA pieces! The Moppe storage chest can be used in any room, for pretty much any type of storage. Use it in your office for paper, flash drives, stationery, pens etc. Use it in your garage for storing nails and tools.
Use it in your craft room to store craft supplies, art supplies etc. You get the idea! It can be used to store just about anything in any room, and it can be hacked so perfectly by being painted etc.
See how to upgrade IKEA Moppe right here into a beautiful Apothecary style storage chest!
See lots of hacks here featuring IKEA Moppe
Kvarnvik storage boxes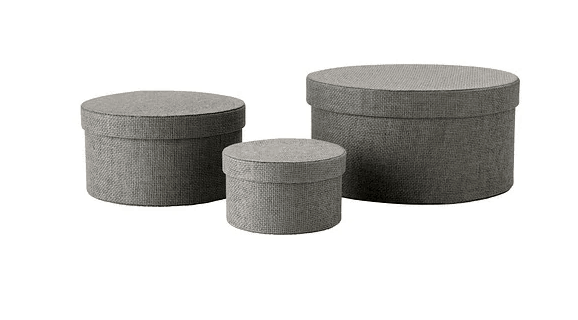 Kvarnvik storage boxes come in sets of 3. They are perfect for storing smaller items, such as scarves and other accessories. The outside is woven paper, which gives the boxes a lovely look. They are easy to keep clean, by just wiping with a damp cloth.
Sammanhang Boxes with lids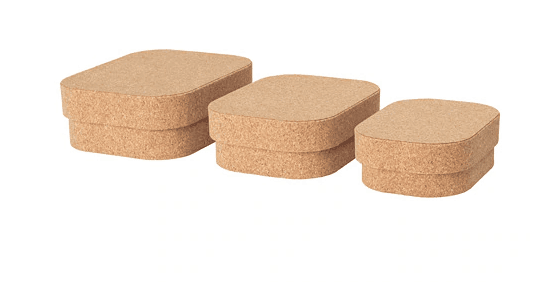 These Sammanhang cork storage boxes are so pretty to look at. They come in sets of 3, and they are made of recycled cork, cardboard and paper. They have a really pretty black and white pattern inside, and they make great storage for smaller items, and especially in your bathroom.
Kuggis box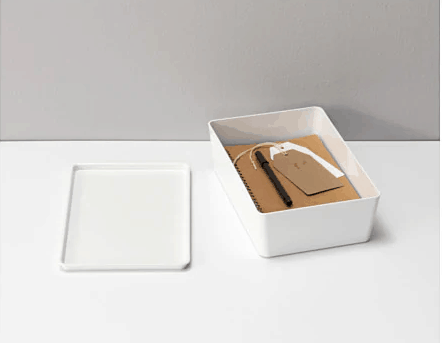 These Kuggis storage boxes are beautiful in their simplicity. These boxes come in varying size. The smaller ones, as shown in this picture, are really handy for storage smaller electrical gadgets, cables, and even pens and pencils. These boxes can be stacked, as they are all made to fit inside each other.
Fladis Seagrass Basket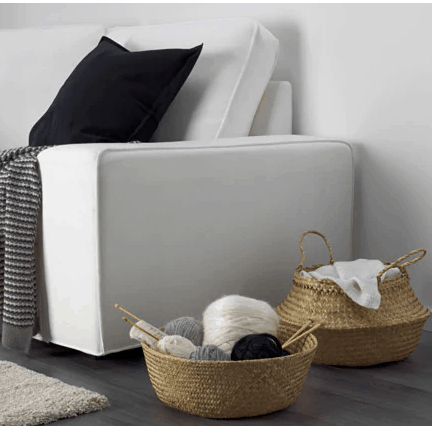 These Fladis seagrass baskets can be used to store just about anything in your home. The handles can be turned up or down – up they hide things more, down they show things more. They look so pretty, and each one is unique, as they are all hand made.
Brankis Basket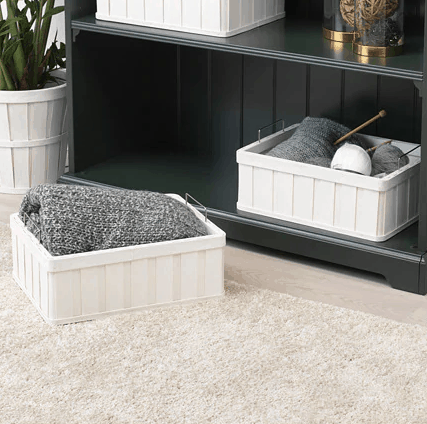 These Brankis baskets are beautiful and simple, and come in natural colors or white. They are reminiscent of harvest baskets and can be used in any room of the house to store things. They are made of light solid wood with metal handles.
Laddan Storage Bag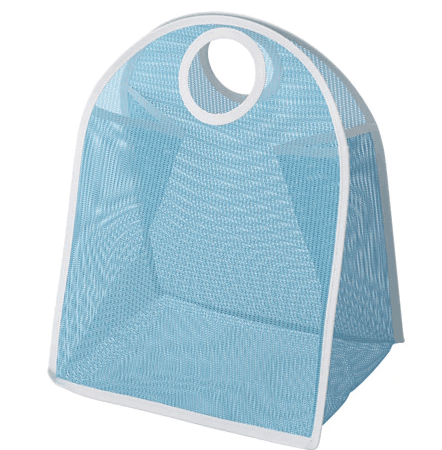 The IKEA Laddan Storage Bag is such a versatile useful bag. It makes a great storage bag for the bathroom. You can keep your kids toys in it, dirty (or clean!) laundry, toiletries and other supplies. It would also make a useful bag to keep in your closet for your dry cleaning etc!
Gessan Boxes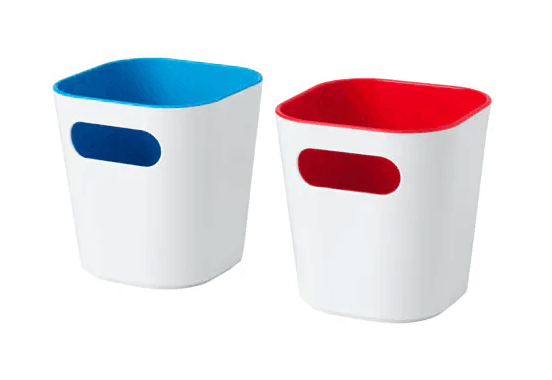 These Gessan boxes come in packs of 2 – one with blue inside, and one with red inside. They can organize toothbrushes and toothpaste in the bathroom, or anything else you need to have organized and available, such as hair ties and hair appliances.
Godmorgon lidded boxes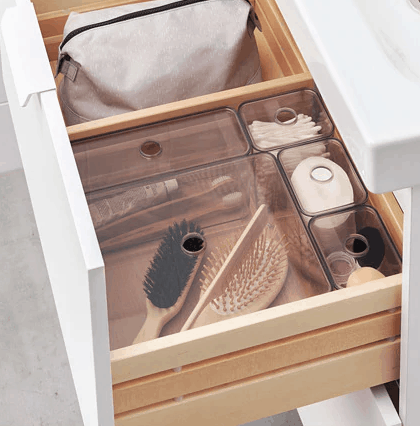 These Godmorgon lidded boxes are such an awesome way to get your bathroom drawers organized. Each one is made from recycled 16oz bottles. There are 5 total lidded boxes in the set, of varying sizes. You can easily see your contents inside, and everything is kept handily together in one place with perfect organization!
See the best IKEA storage items for your bathroom here
Bastis Hooks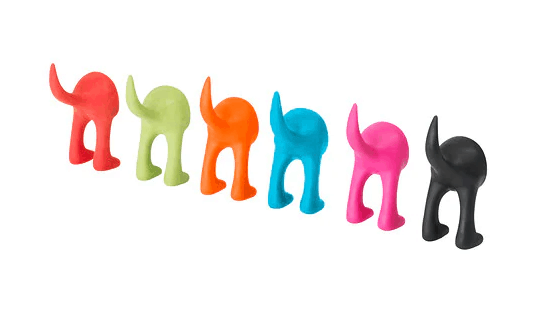 These colorful Bastis hooks are going to look so great in your home! Who wouldn't want to hang their stuff on the rear of an animal! Each hook is a different color – you could display varied colors, or several hooks all of the same color.
Kids will especially love using these hooks (and it will encourage them to hand their stuff if they are tall enough!). Each hook is made from soft rubber, so there are no hard edges.
Rabbla Box with Compartments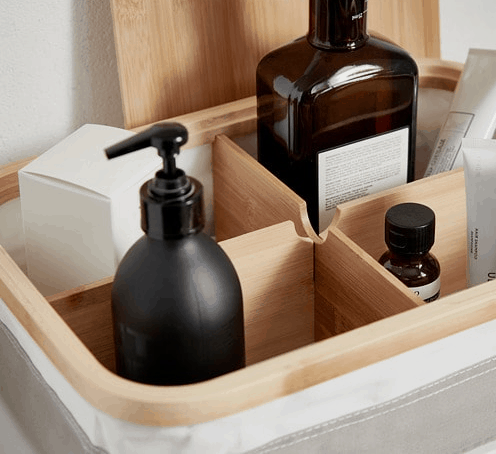 This Rabbla box with compartments is just so pretty to look at, and so useful too. It is so pretty inside that you will be happy to display whatever it is you store in it – kitchen cleaning items, bathroom items, toiletries, in your laundry room etc. The soft fabric box has a bamboo lid, and it is easy to clean and keep. Such a stylish option for storing and displaying items!
There is no need to spend a fortune on storage items, when you can get beautiful, inexpensive and well designed items from IKEA.
You may also like these posts on IKEA:
14 great IKEA hacks for your kitchen
IKEA products and hacks to help organize your bathroom
How to have the very best IKEA shopping experience.
The 10 Best IKEA bed frame hacks