IKEA products & hacks to help organize your bathroom
Ikea sells some great products for your bathroom, that will not only keep it organized but also look great and stylish.
But people have also come up with some great hacks for Ikea items that will help with your bathroom organization and eliminating that clutter!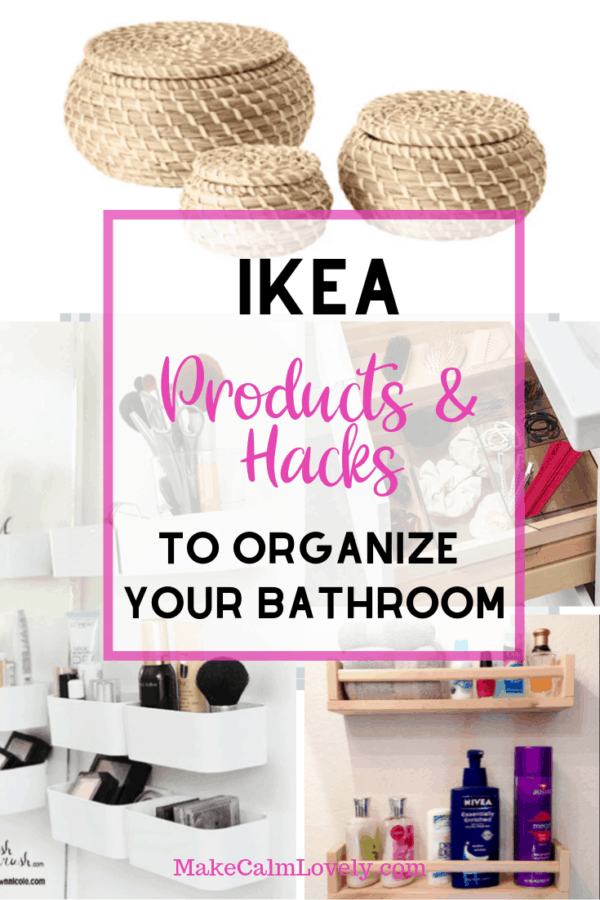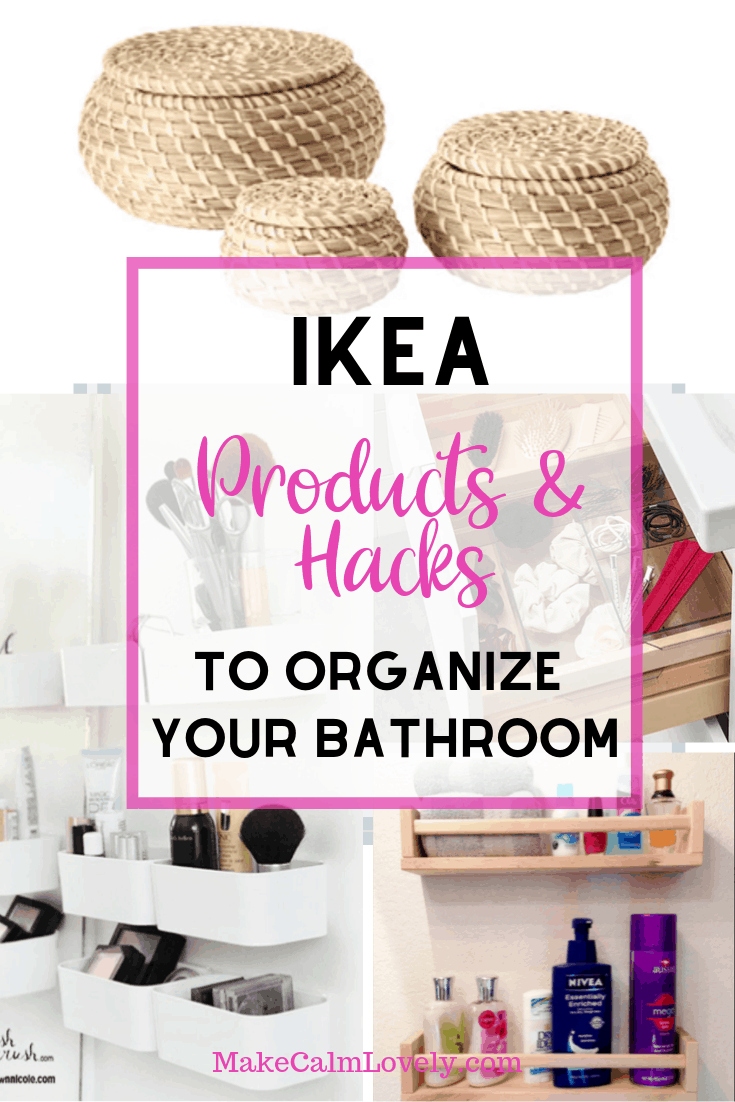 Do you have problem areas in your bathroom that need attention?
If you have a cabinet under your sink is it overflowing with everything you just shove in there? Are you using the area all around your bathtub to store all those jars and tubes of products you use (and some that you don't use?).
Do you have limited storage around your sink and no bathroom cabinet? Now is the time to really get your bathroom organized and looking great!
Here are some of the most common bathroom organization and clutter problems, with ideas for what you can buy or hack from Ikea to turn those problems around and create a stylish beautiful bathroom space for your home!
Problem: The Cabinet Under the Sink
Yes the cabinet under the sink! I am starting here because this is one of the biggest bathroom clutter problems.
How does yours look?! Is it beautifully organized and arranged? (if so – please send me a picture I really want to see how you do it!), or is it just a mad mess, and every time you need something you have to dig around to find it?
Do you even know what you have under there exactly? I bet you have no idea of most of its contents do you??!!
Solution: How to make it more organized
Use storage baskets. With storage baskets you can group items together in one place, to make finding things easier, such as shampoos, hand towels, and bath items.
Not only will the space under your sink look tidier and you won't wince every time you open the cabinet, but you will also be able to find what you are looking for so much easier.
Try these Nordrana baskets from Ikea. They come in a set of 4 of assorted sizes: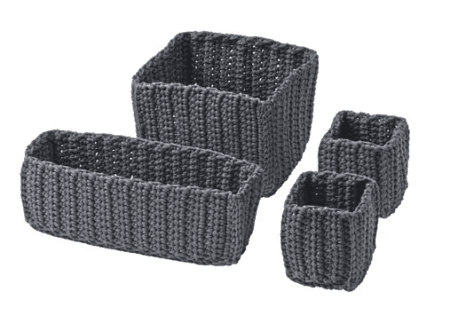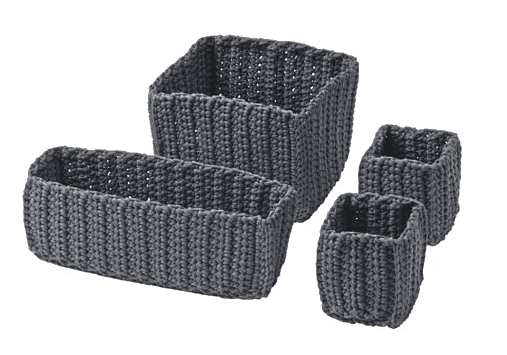 and these Nordana ones come in a set of 2 and are larger (they can also be hung):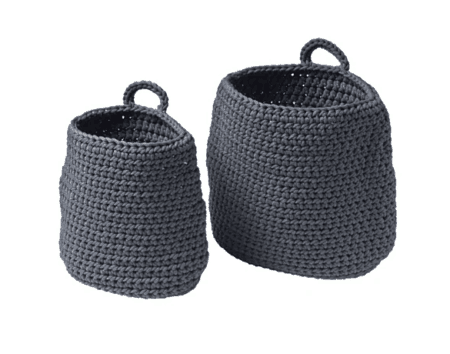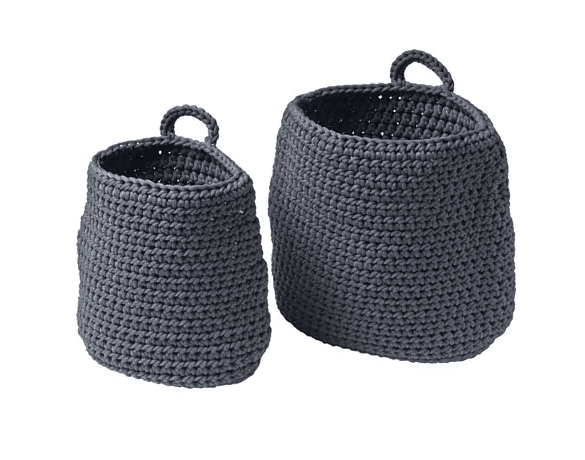 Use storage boxes. These Brogrund storage boxes from Ikea are completely transparent, so not only will they store your items neatly, you will be able to see what is in there. They are also easy to wipe down and keep clean, in case of any spills.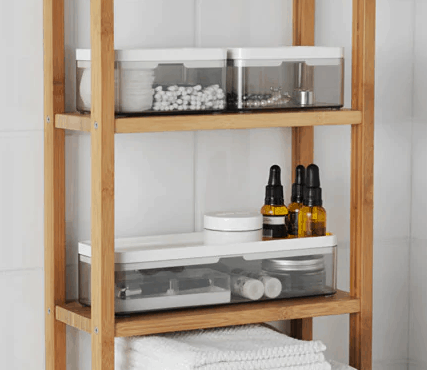 These Dragan boxes are made of natural bamboo and come in a set of 3. They are perfect for storing all your little items and keeping them all in one place.
Store toilet rolls in a plastic bag dispenser
The Ikea Variera plastic bag dispenser can be attached to the inside of your cabinet door to store extra toilet rolls. It will fit about 4 toilet rolls inside.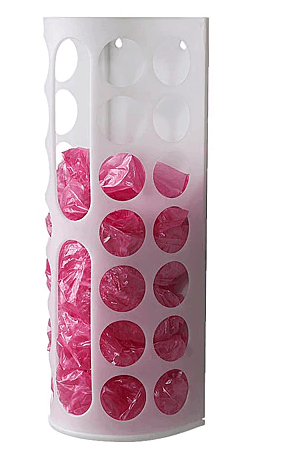 Problem: No storage around your sink
Solution: Hack some Ikea products!
This could be a problem for you if you don't have a cabinet, or even room for a medicine cabinet to be mounted above the sink. You need storage or just somewhere to place certain items, but you don't have room. Here are some Ikea products and hacks that can help with this:
Use a picture ledge as a shelf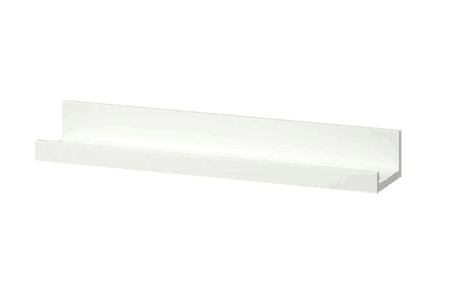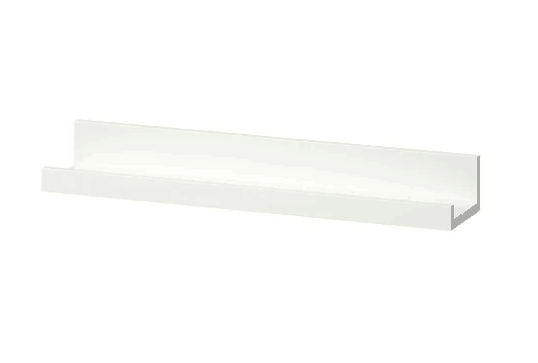 Ikea's Mosslanda picture ledge isn't just for displaying your pictures, it can also be 'hacked' to create a great storage shelf for around your sink:
Use a storage cart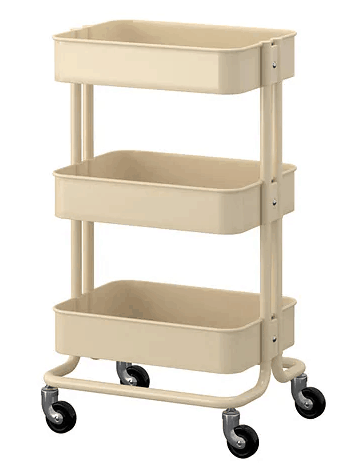 Ikea's Raskog storage cart is truly a star item that Ikea sells. It can be used anywhere in your home, but if you have some space next to your sink it would make the perfect storage area for your bathroom needs.
Use Plastic Storage bins around your sink
IKEA Pluggis recycling bins have more uses than just to house your recycling products, they can be hacked to make wall mounted storage containers for your makeup – a great way to create much-needed space around your sink!
BEFORE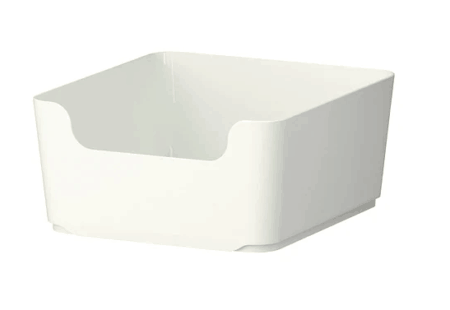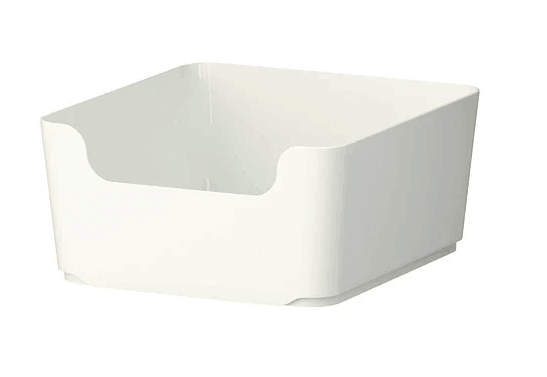 AFTER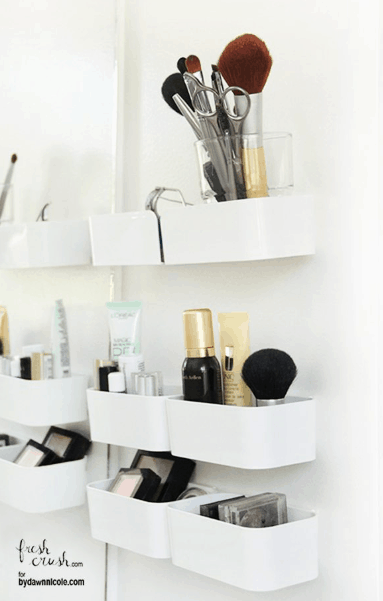 Photo: FreshCrush.com by DawnNicole.com
Use a spice rack as a storage shelf
The Ikea Bekvan spice rack can be wall mounted to create lots of needed storage around your sink:
BEFORE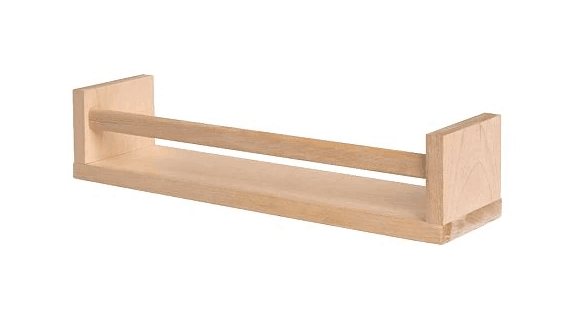 AFTER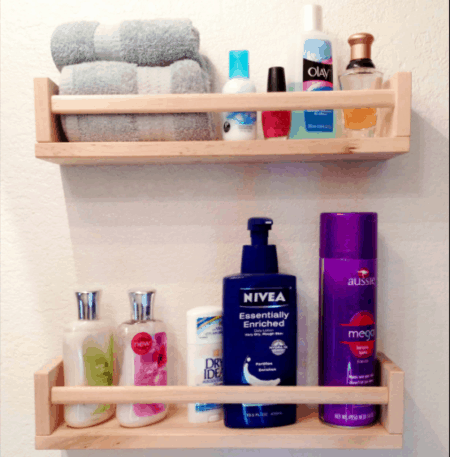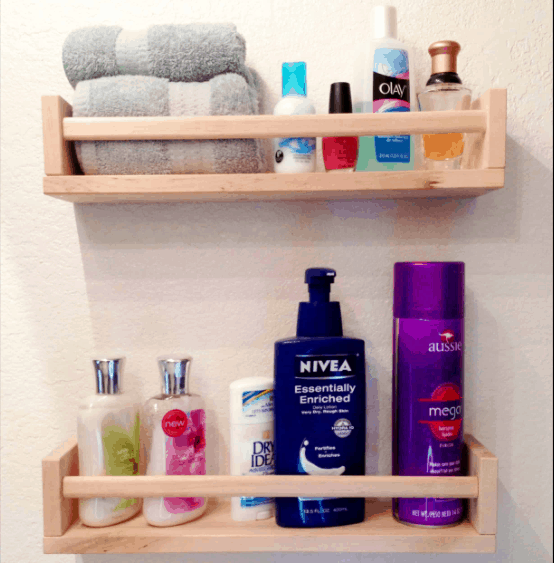 Photo: Simply Seasonal
Use a Pegboard behind your sink
The Skadis pegboard combination lets you keep all kinds of stuff behind your sink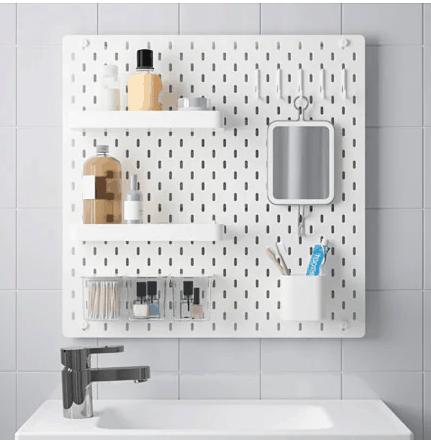 Problem: The space around your bathtub is cluttered
Solution: Use pretty storage baskets
Around your bathtub you probably have a mixture of different things – shampoos, bubble baths, and other toiletries. It may be a huge mess and you really don't know what you have sitting there.
Use some pretty storage baskets
Storage baskets look nice and tidy, and can hide away a variety of things. Keep some of your toiletry items that you need for bath-time in these baskets to make that space around your bathtub look much less cluttered.
These Ikea Fryken basket boxes with lids come in sets of 3 different sizes.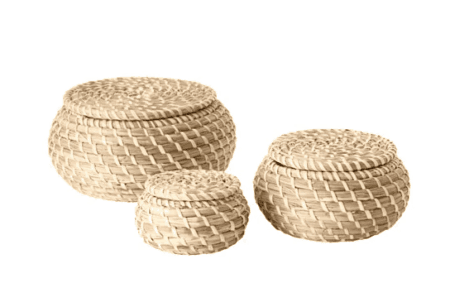 Problem: Your Bathroom drawers are an untidy mess
Solution: Use drawer organizers
Use storage units to keep your things tidy.
These Godmorgan storage units sit neatly inside your drawers and can hold all your smaller items, not only making your drawers tidier and looking nicer, but also enabling you to actually find your stuff!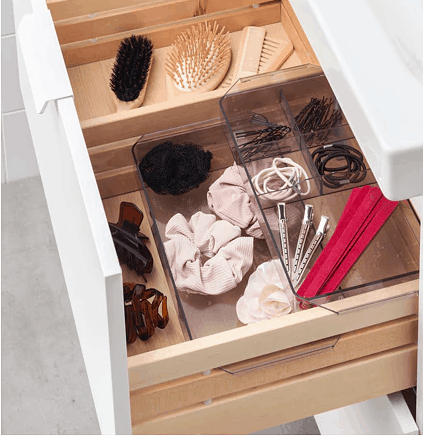 Godmoran also has boxes with lids, which look really good in your drawer and keep everything organized.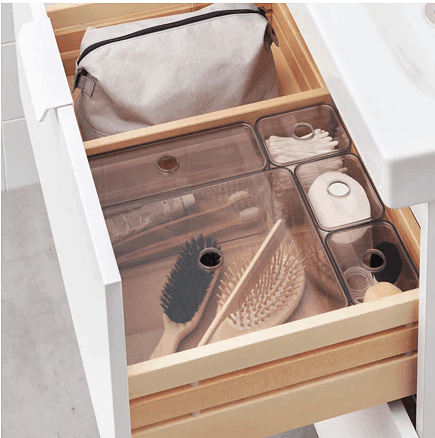 Problem: Your bathroom is so small, you need to create storage wherever you can
Solution: Use the space on the back of the door
The back of your bathroom door is a place that can be used perfectly for extra storage.
Nordrana hanging basket storage racks are perfect for the back of your bathroom door. They create extra storage for items that you just can't find a home for.
The IKEA Fintorp range can be used on the back of your bathroom door: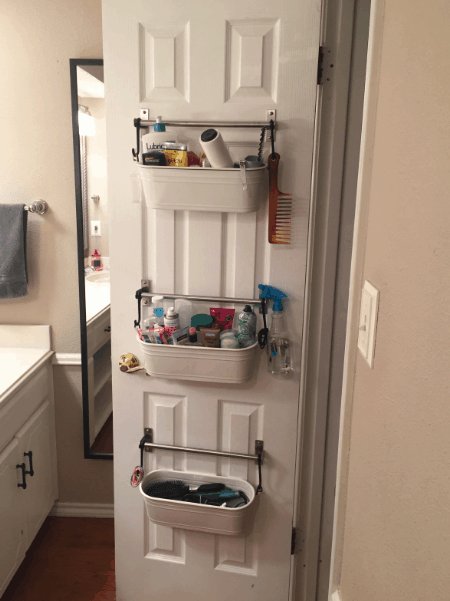 Photo: Alicia PerCo
Hope this article has given you plenty of ideas for products you can buy at Ikea, and also products that are not traditionally sold for a bathroom, but which can be hacked and made into great bathroom organization and storage items.
Love IKEA? You may also like these articles:
14 Great IKEA Hacks for your Kitchen
10 Products that you don't expect to find at IKEA
IKEA items that designers rave about