Practically everything that IKEA sells is hackable, which means it can be changed and made better,even though most of the time it is great anyway. Beds are no exception – an IKEA bed is incredibly hackable, and you can create all kinds of looks and decor styles by hacking a basic IKEA bed. Here are 10 of the best IKEA bed hacks that we have come across, using all different styles and models of Ikea beds.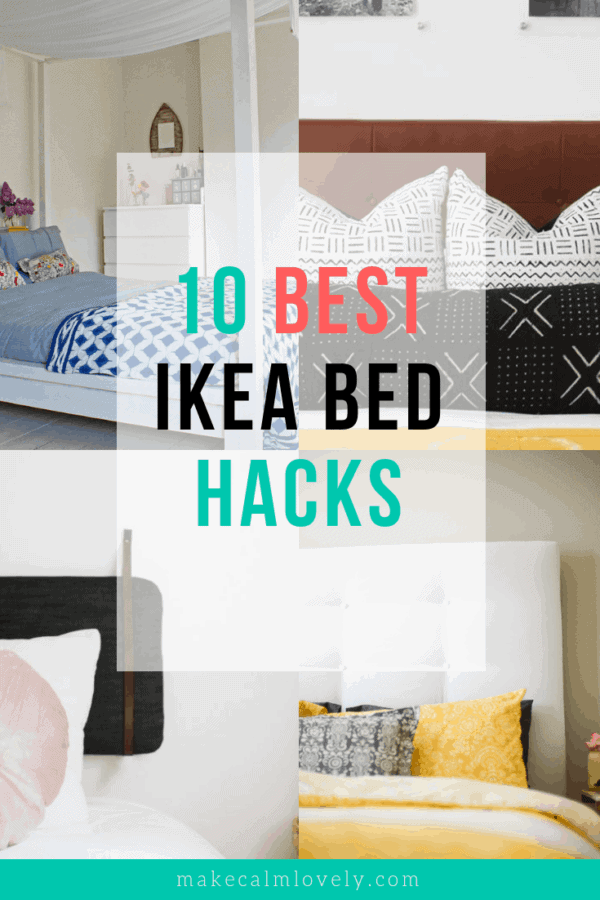 Upholstered Malm Headboard
The Malm bed frame is one of the best selling Ikea products, and this beautiful hack turns a basic bed into a lovely upholstered softer looking bed. See the how to here from Place of My Taste.
Photo: Place of My Taste
Upholstered bed using Ikea Fjellese bed frame
An Ikea Fjellese bed frame is a very simple pine bed frame. But with some upholstery fabric you can turn it into a beautiful and expensive looking upholstered bed. Check out the How To here from Manhattan Nest.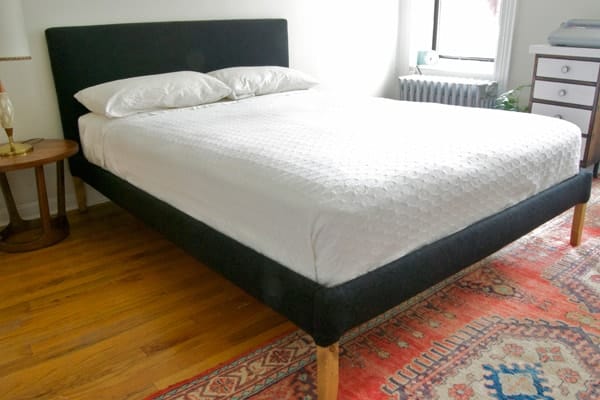 Photo: Manhattan Nest
Cane Bed using Fjellse bed
Here is another hack using the basic pine Fjellse bed. Taking cane webbing this bed is incredibly transformed. You can get the complete how to here form Apartment Therapy.
Photo: Dabney Frake/Apartment Therapy
IKEA Malm bed turned into a four poster bed
This is a gorgeous hack that turns the best-selling and simply designed Malm bed into a more elaborate four poster bed. Get the details here from Hesters Handmade Home.
Photo: Hester's Handmade Home
Silkwood Bed Headboard for Malm bed
Here is another Malm bed makeover – this one using Silkwood, which is basically adhesive backed wood pieces. You can see the how to here from Sugar & Cloth.
Photo: Sugar & Cloth
Rustic Look Malm bed frame
This is a great rustic look hack for a Malm bed frame. See it here at Hester's Handmade Home.
Photo: Hester's Handmade Home
Ikea Tarva Bed Hack
This is a lovely colorful hack using the Ikea Tarva bed frame. See it here at Green Healthy Cooking.
Photo: Green Healthy Cooking
Leather Tufted Headboard using the IKEA Hemnes Bed
This is a beautiful hack producing a lovely leather tufted headboard. It looks so stylish and expensive. See it here at Then We Tried.
Photo: Then We Tried
DIY Cushion Headboard
This is a simple but so effective hack taking an Ikea cushion. See it here at A Pair & A Spare.
Photo: A Pair & A Spare
Brass Pulls to Brimnes Bed
This hack is extremely simple – it is just adding brass drawer pulls to the drawers on the Brimnes bed. But it completely changes the look of the bed and the room decor. See it here at One-O.
Photo: One-O