15 Great uses for the IKEA Raskog Cart
The IKEA Raskog cart has got to be one of the most versatile and multi-tasking products that IKEA sells. It can be used anywhere in your home, for a variety of uses. Here are 15 suggested uses for this amazing cart.
IKEA products are great design, affordable, and so versatile. While you can hack so many IKEA products, the Raskog cart doesn't need to be hacked. It is such a versatile design that it can be used for so much around your home.
The Raskog cart comes in several different stylish colors: black, cream and blue. But you can even spray paint it and change the color to whatever color you want it to be. You can match your existing home decor, or paint it a glorious color, such as gold or silver!
You can't go wrong with a Raskog cart. So here are 15 great ways to use Raskog around your home!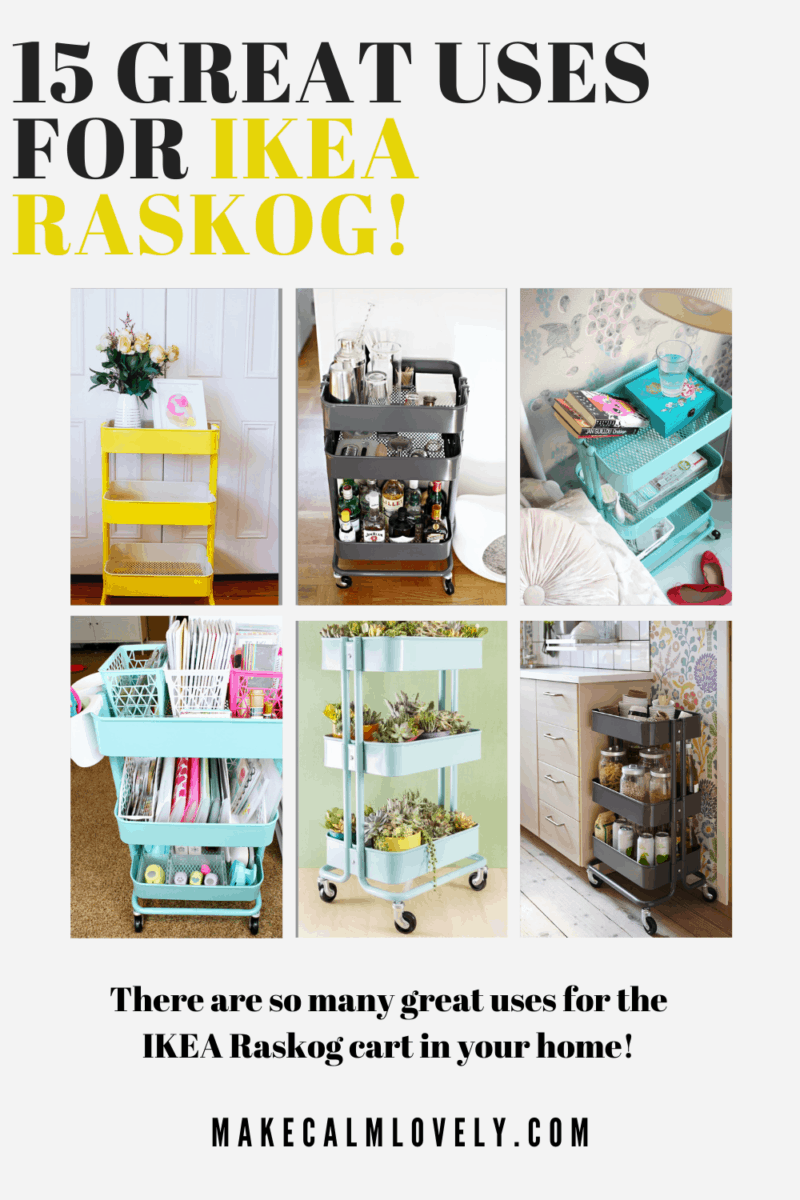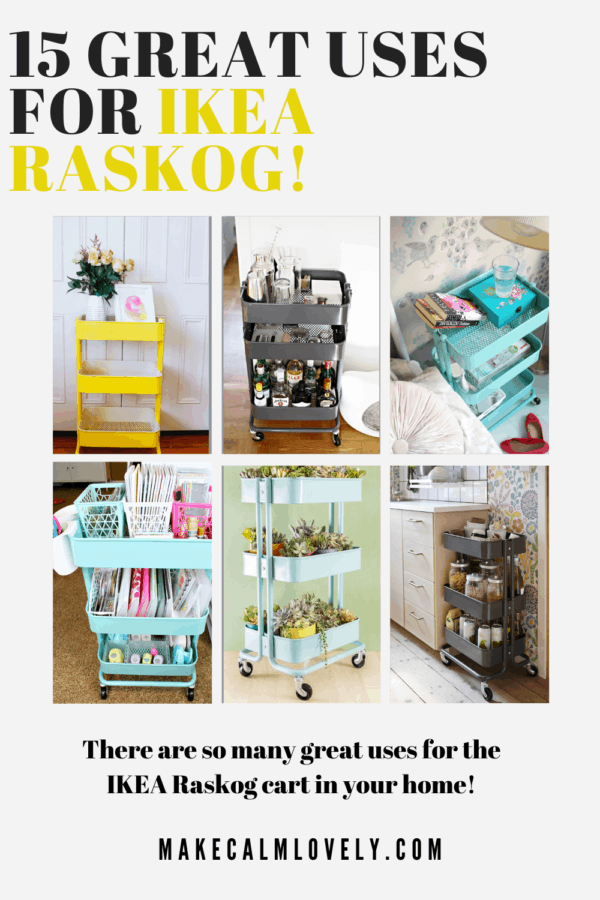 The Perfect Bar Cart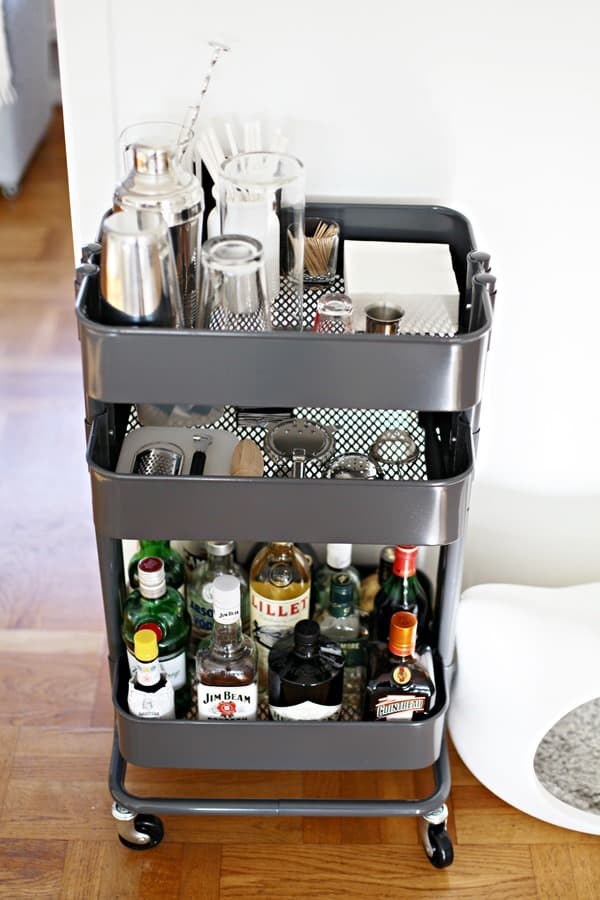 The IKEA Raskog cart makes the ideal bar cart! It has 3 handy shelves for keeping your drink, glasses and cocktail supplies. It also moves around so easily, and it looks stylish. You could even spray paint it in the color of your choice.
This would make the perfect, inexpensive, bar cart set up for your dining room or kitchen. If you are not happy with the available colors, just spray paint it!
A Beautiful Accent Table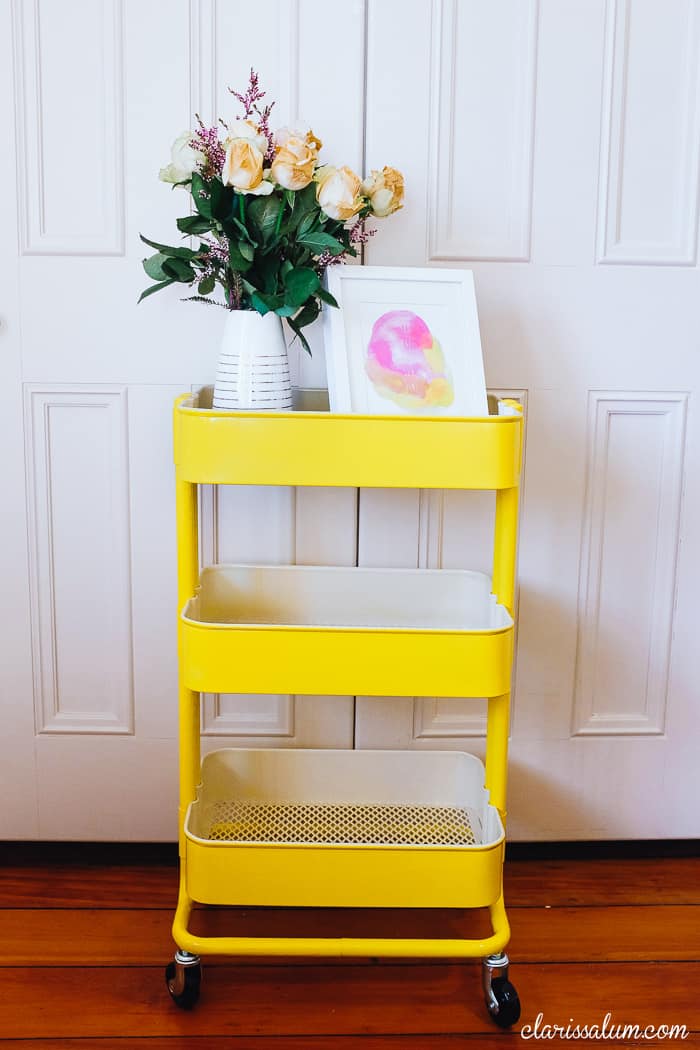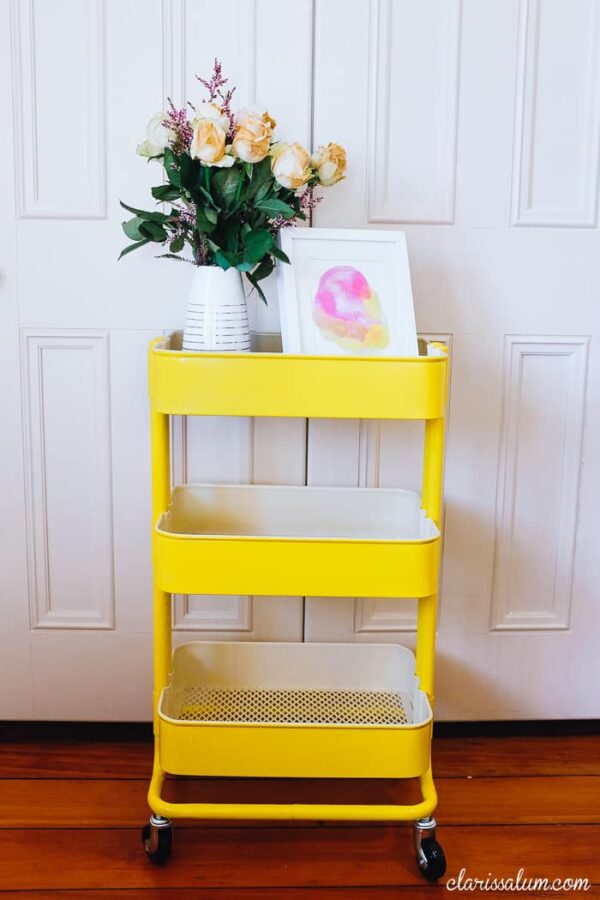 Here is the perfect example of how painting Raskog can completely change the way it looks. This hack turns Raskog into an absolutely beautiful accent table, that will look beautiful anywhere in your home.
The Raskog cart is beautiful to look at, so don't be afraid to use it on its own as a piece of stylish furniture in any room of your home!
Related: 16 Amazing IKEA Hacks you can do in a Weekend
Related: The Top IKEA Hacks in Germany
Related: 10 Must Have IKEA Products you can Buy for Less than a Cup of Coffee!!
Related: The Most Colorful IKEA Hacks
Related: Beautiful and Stylish IKEA Rattan and Cane Hacks
Rose Gold Raskog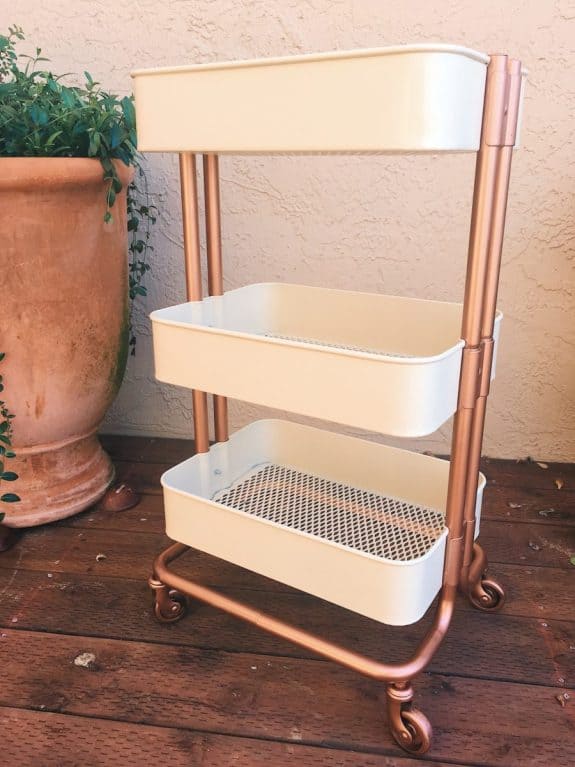 Another way to jazz up the Raskog that involves spray painting it is this DIY project. It creates a beautiful looking cart that can be used anywhere you wish. Use it as another accent table, a cart for your bedroom or bathroom, or anywhere and for anything you wish.
Store your Planner & Journal Supplies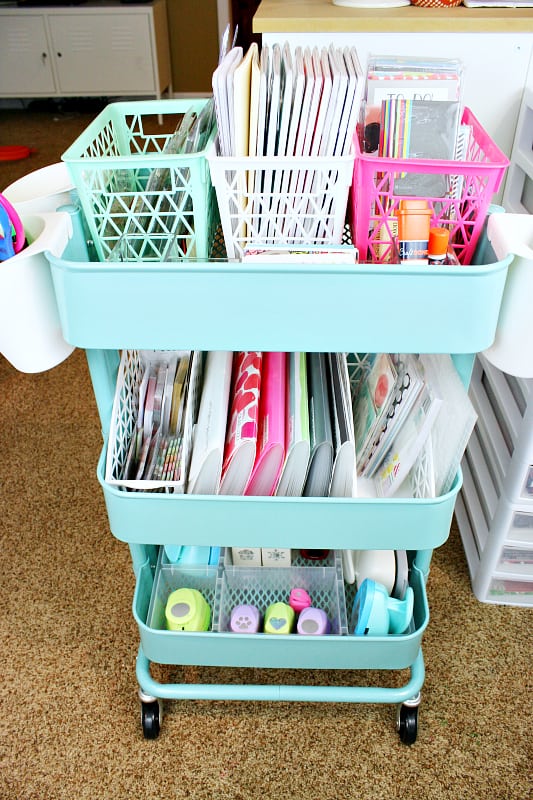 If you like to journal, and you have a planner (or many planners) you will need somewhere to store them, and all the (what can be an enormous amount of!) supplies associated with them. Enter Raskog for the perfect solution!
Related: 40 IKEA Mid Century Style Hacks for Your Home
Related: 14 Great IKEA Hacks for Your Kitchen
Related: IKEA Hacks that look Vintage & Antique, but Aren't!
Store your Craft Supplies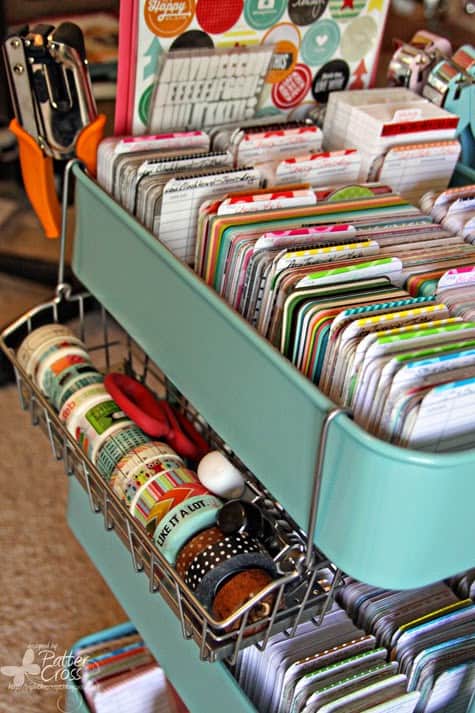 Another great use for the Raskog cart is for storing your craft supplies. If you do crafts and DIY projects you know only too well how crafting stuff can very quickly accumulate. This cart is a perfect place for store all those supplies, and they will be readily on hand.
Succulent Planter Cart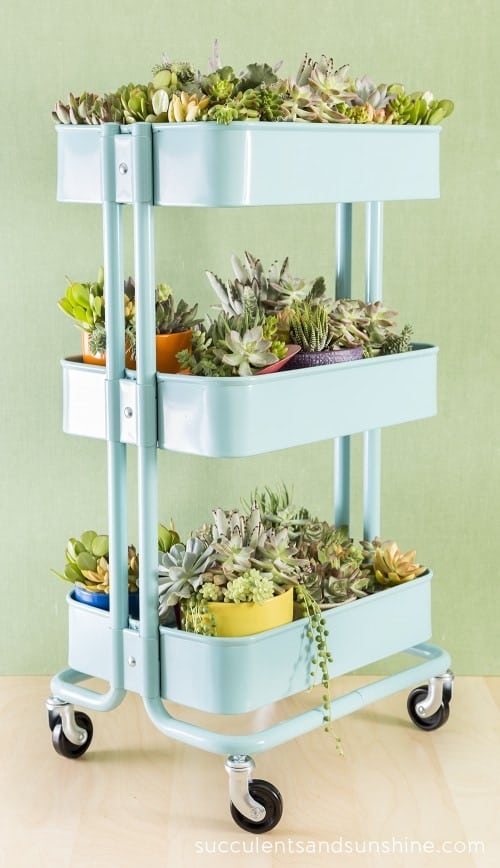 This is an unusual, but fantastic idea, for using an IKEA Raskog cart: plant a succulent garden. Succulents are great to plant (especially if you don't have a green thumb!). This is a great use for a great cart. See the post here.
Coffee Cart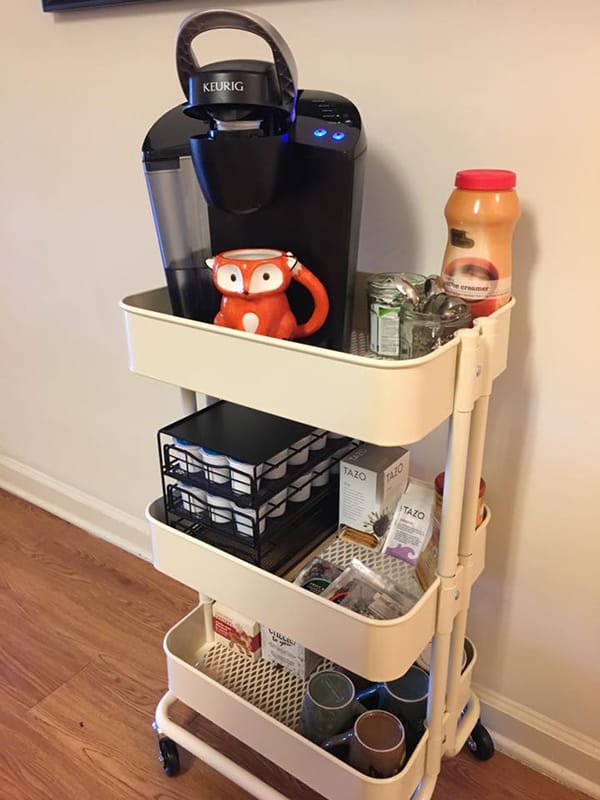 A coffee cart is another great use for Raskog. In addition to a bar cart, your coffee needs to be organized too! If you are a coffee lover you will know how much stuff you acquire to make that perfect cup of coffee! See the great Instagram account featuring this cart!
Game Night Snack Station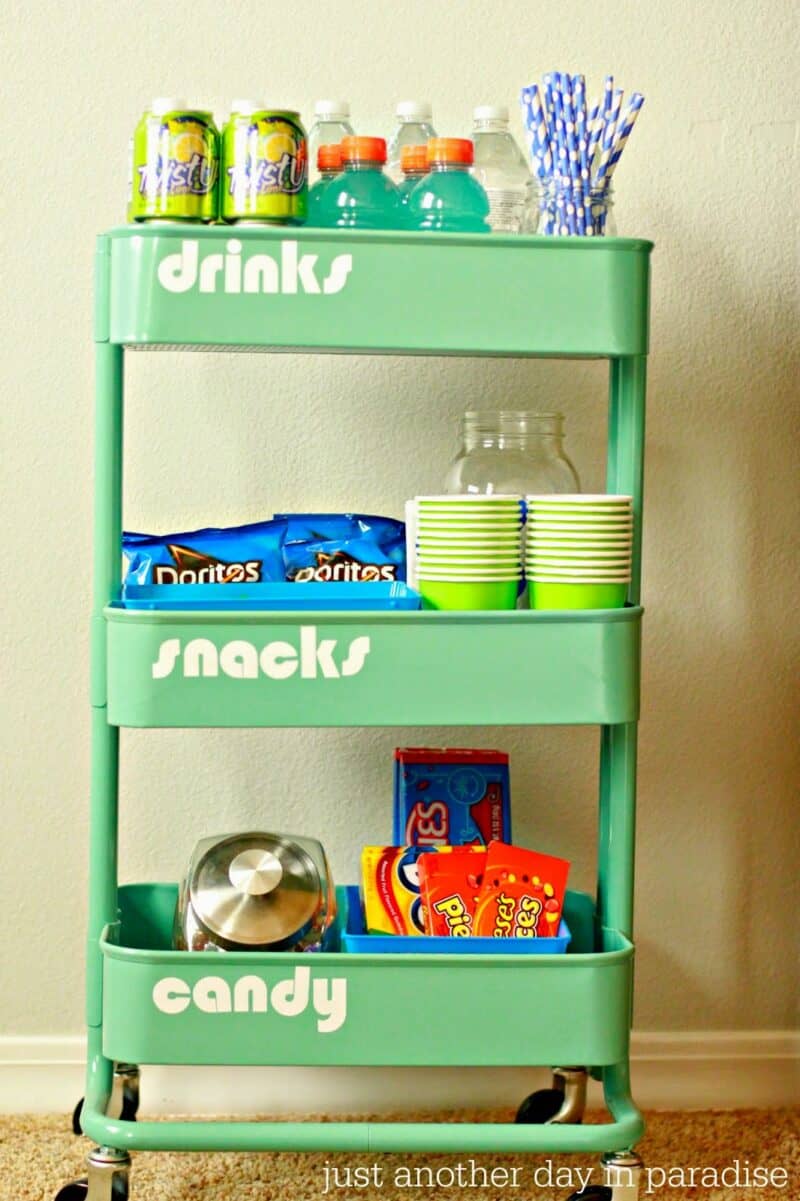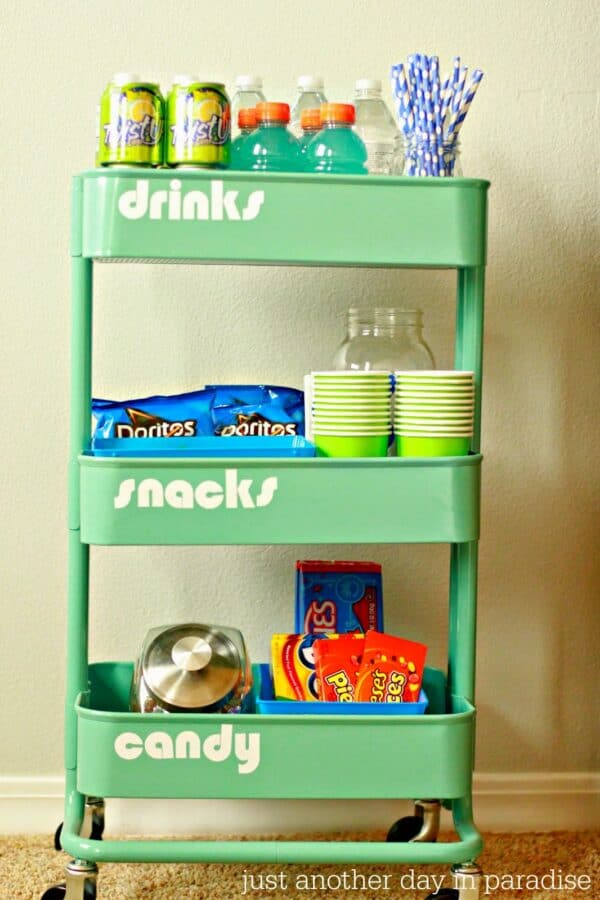 This Game Night Snack Station is an unusual and interesting use for the Raskog! Store all the snacks they will need for game night, together in one place, and easily accessible. You could also use this idea for a general snack station for every day!
Portable Pantry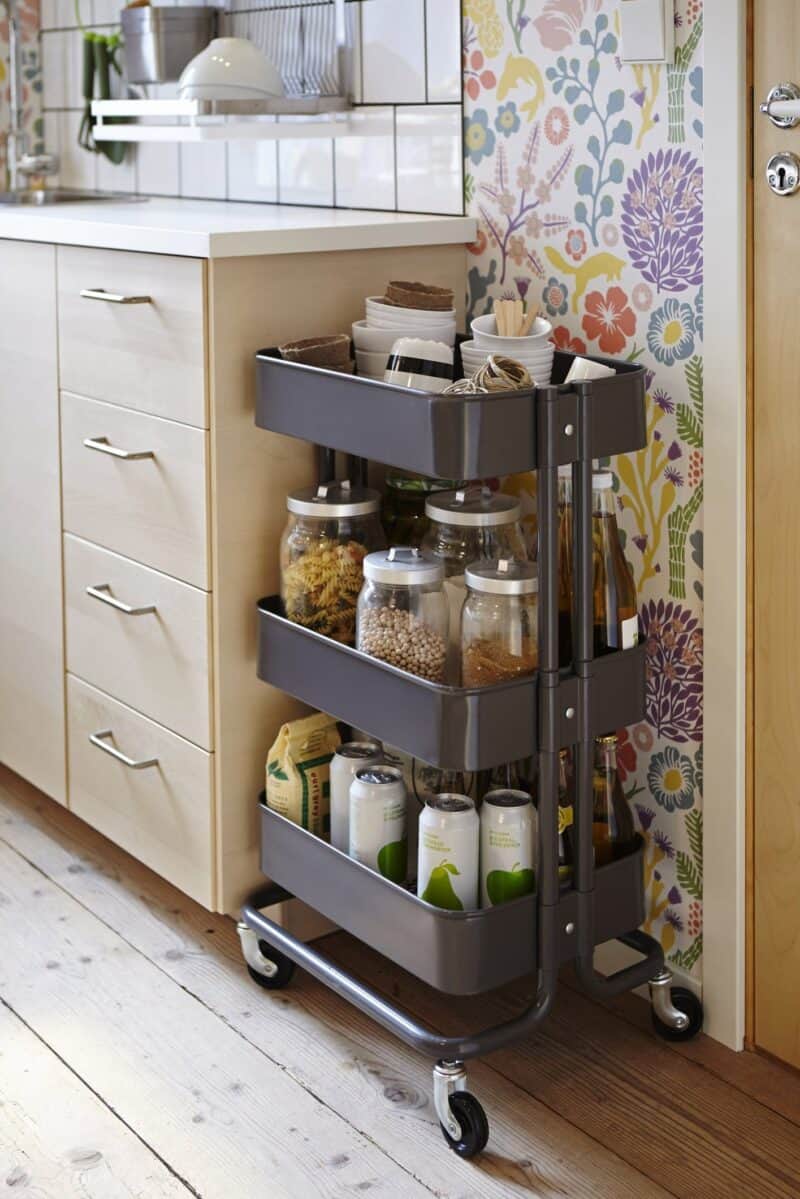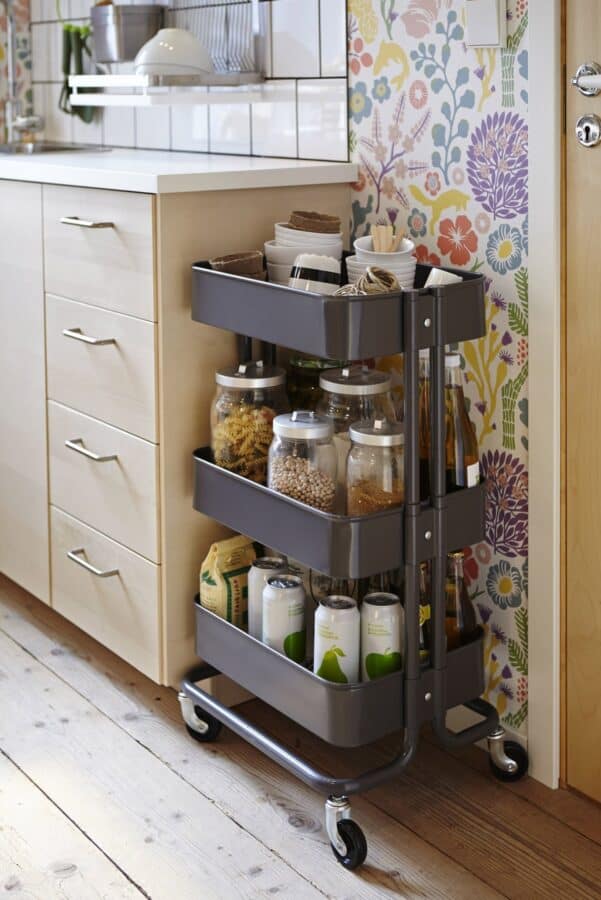 If you don't have a pantry, or just need extra kitchen storage space, Raskog makes a great portable pantry! You can store just about anything on the cart, and it will always be close to hand. Raskog is so stylish, it will be an outstanding piece of decor in your kitchen!
Hot Cocoa Cart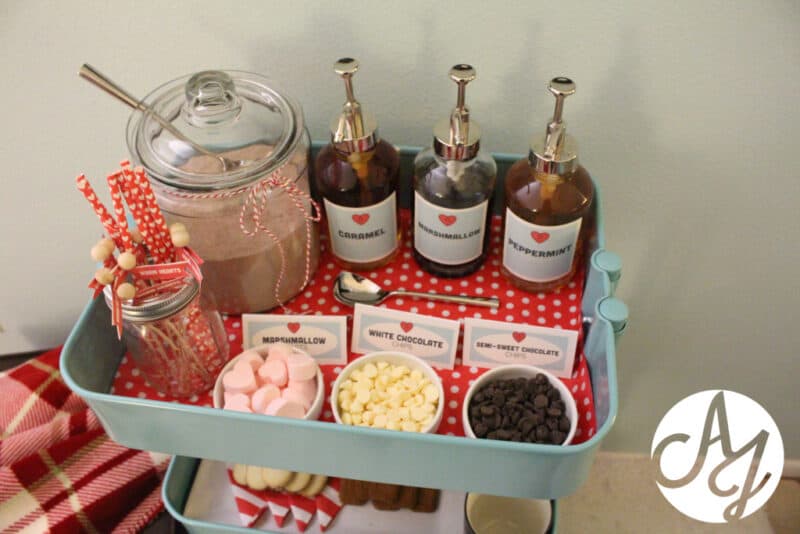 This is a wonderful way to use the Raskog cart! Create a hot cocoa station! Have everything you need to make the perfect cup of hot chocolate with this cart!
You could put this cart out for a special occasion, or just use it day to day for ultra decadence!
Use it as a Nursery Cart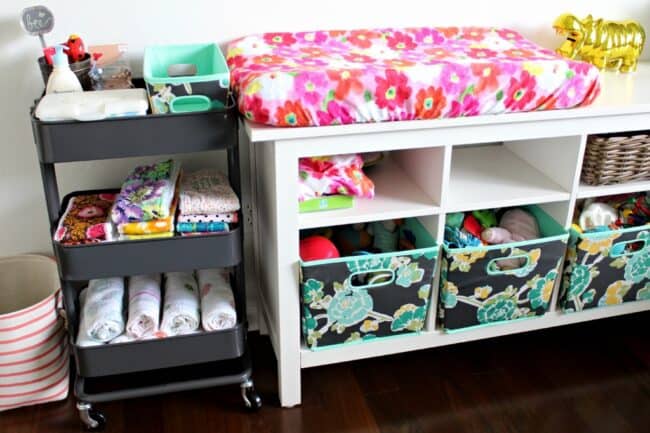 Raskog makes a great nursery cart! it is perfect for storing diapers, burp cloths, toiletries and all the things you need to have close at hand for baby! See how it is used perfectly in this post!
Homework Station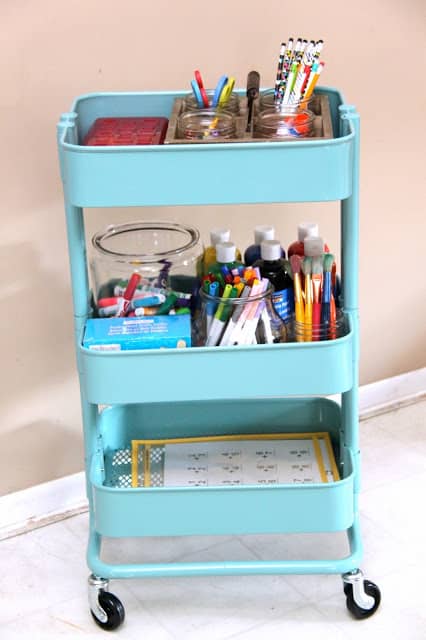 It is good to have all the supplies they need to hand when your kids are doing their homework. Raskog can store all those homework supplies in one place. What's more, you can move the cart from room to room as needed when homework is being done!
If you are home schooling right now, this of course can be a great way to store all those materials you need close to hand too.
Art Cart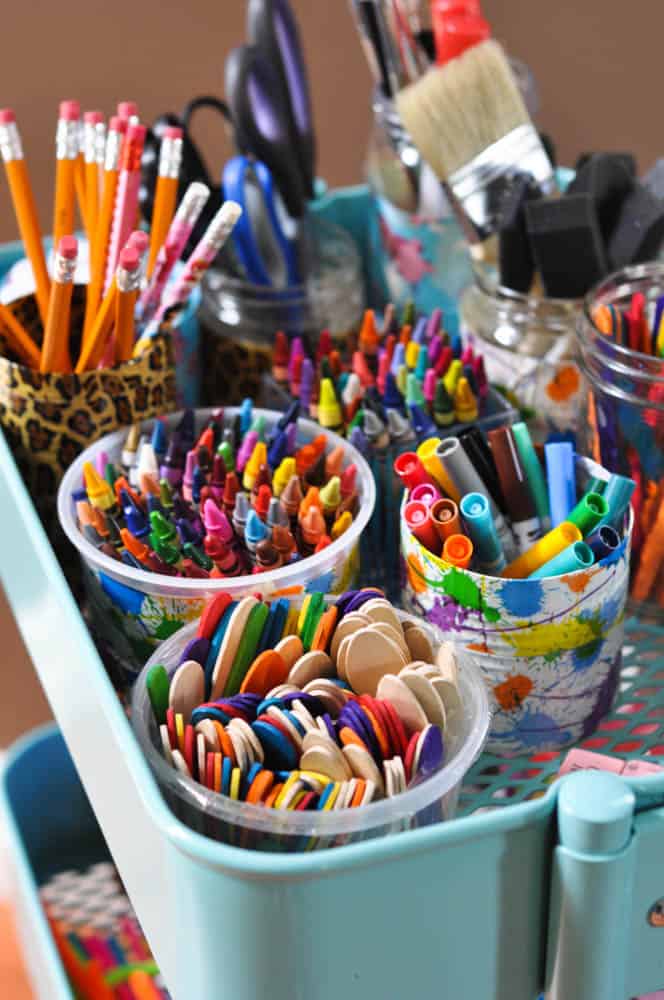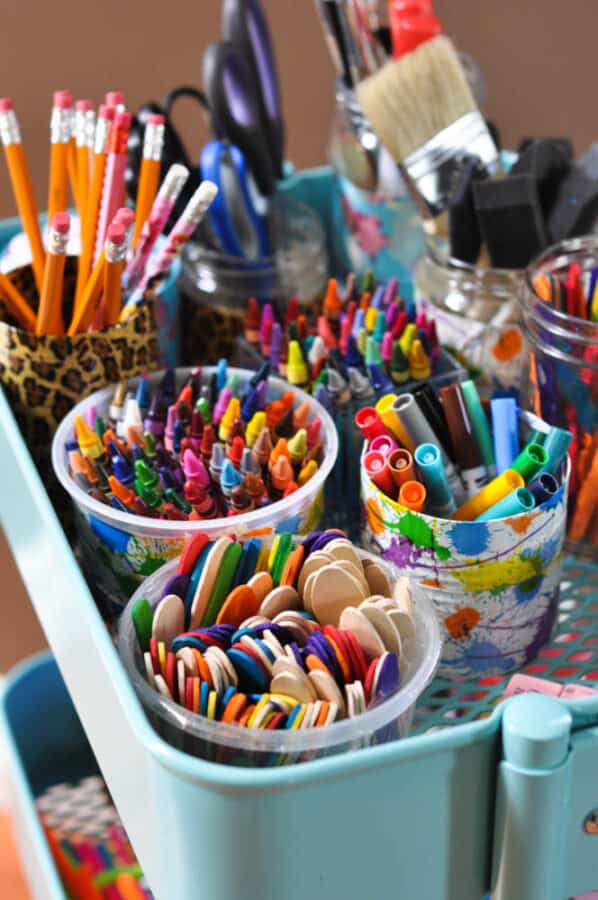 An art storage cart is one of the most perfect ways to use Raskog. It will store so much on its 3 ample shelves, and you can roll it to whoever needs to use it! Store all their markers, crayons, pencils, paper and more art supplies!
Bedside Table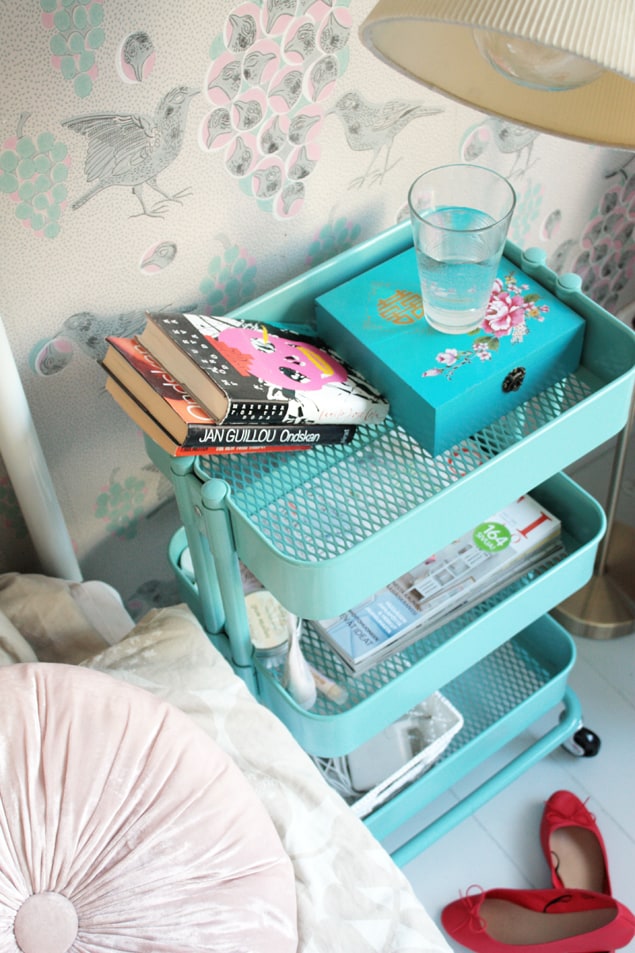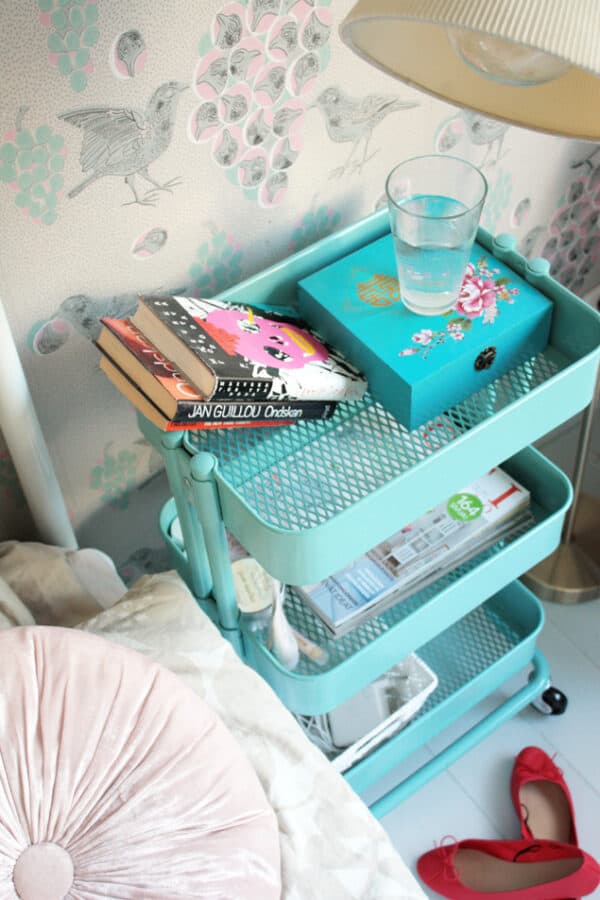 Raskog also makes the most beautiful and useful bedside table. The 3 shelves mean you can store just about anything you need to have at hand. You can paint it any color you wish also, if the colors it comes in don't match your bedroom color scheme and decor!
Bathroom Storage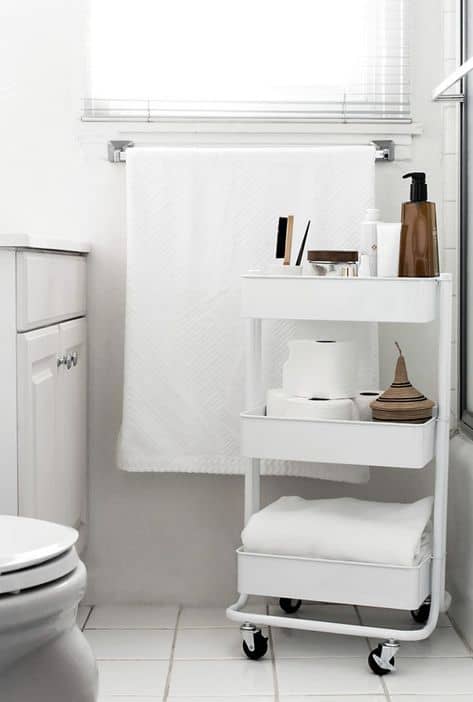 Photo Credit: Popsmservice.ru
The Raskog cart also makes the perfect bathroom storage cart! You can store towels, spare toilet rolls, toiletries and more on this cart! It might just be the perfect storage saver for your bathroom.
The IKEA Raskog cart has got to be one of the most versatile and multi-tasking products that IKEA sells. It can be used anywhere in your home, for a variety of uses. Here are 15 suggested uses for this amazing cart.