Gorgeous thrift store furniture makeovers
The old saying "One man's trash is another man's treasure" really applies when it comes to thrift and second hand stores! You can find old discarded no longer loved furniture, and with a little time and work you can turn those items into something wonderful and loved again. Check out these beautiful thrift store makeovers here!
Thrift stores can house both treasure and trash it seems, and those treasures are not always so obvious when you first look round a thrift store. With a little imagination and some elbow grease and time you can turn an ugly duckling into a beautiful swan!
It is so satisfying to purchase an item at a thrift store that is ugly and unloved, and turn it into something for your home that you will love and cherish. For some ideas on how to turn around an item from a thrift or second hand store, take a look at these great before and after projects.
These furniture makeovers will show you how to turn something old and bland into something new and special.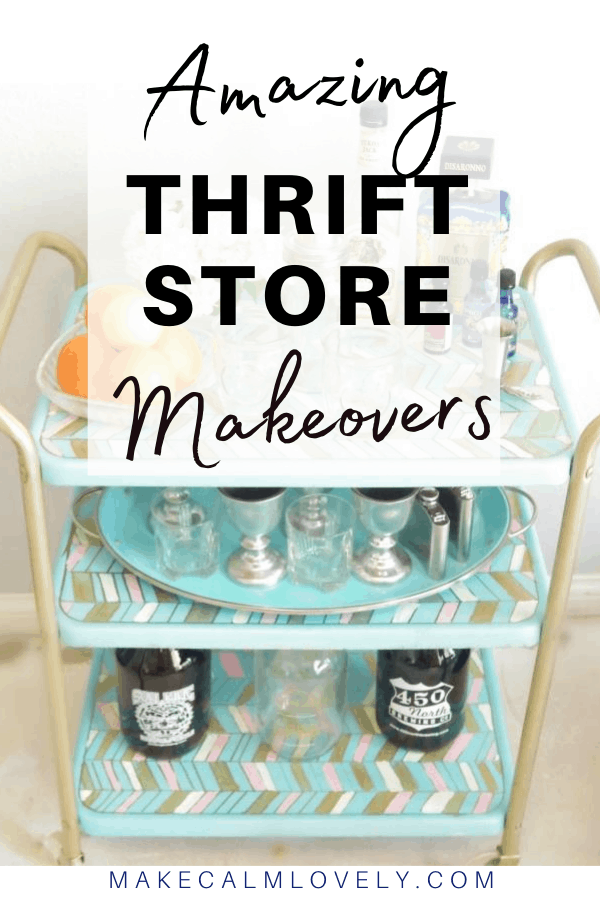 Here are all the gorgeous projects to show you just what you can do to breathe new life into old pieces of furniture!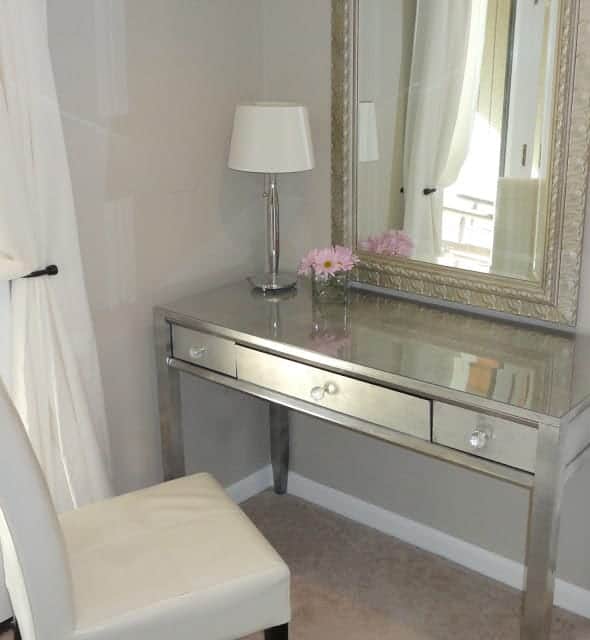 Photo: LiveLoveDIY
DIY Silver Leaf Vanity from LiveLoveDIY.
This was just a simple, beaten-up, wooden desk before it was turned into this silver beauty!
Using silverleaf adhesive sheets and silver spray metallic paint this vanity desk now looks absolutely beautiful.
This would make a beautiful dressing table vanity unit for a bedroom or bathroom, or even a more stylish desk for your home office! See the post here.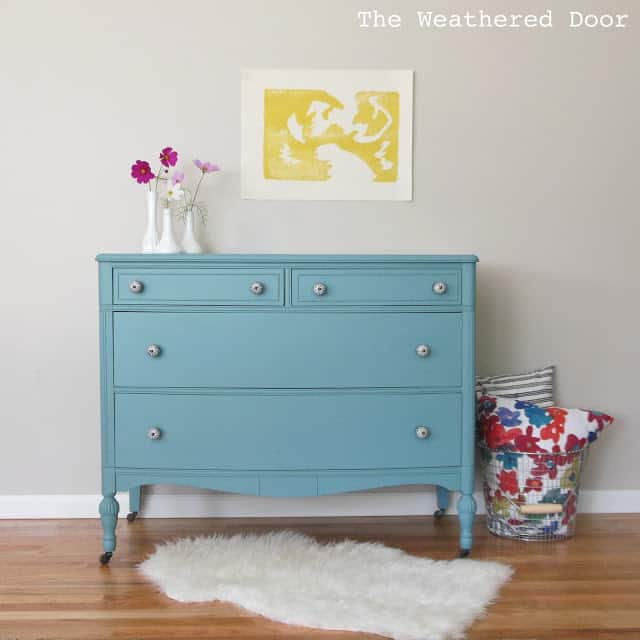 Photo: The Weathered Door
Bayside Blue Dresser from The Weathered Door

Taking an old wooden dresser, sanding it and painting it produced this gorgeous blue dresser that would look great in any room in your house.
This dresser would make an especially great dresser for your entrance hallway. It is pretty so everyone will see it, and it is so useful too! See the full post here.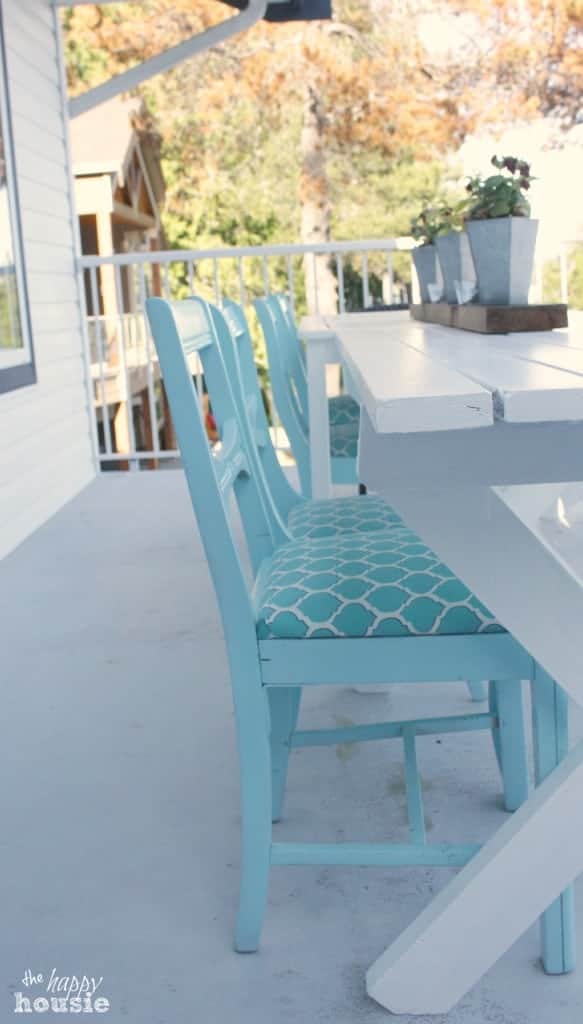 Photo: The Happy Housie
Thrift store dining chairs into outdoor dining chairs from The Happy Housie.

This is how to take boring old unloved dining chairs and turn them into beautiful vibrant chairs for your deck or patio.
Painting and new fabric seats really upgrades these chairs! See the complete post here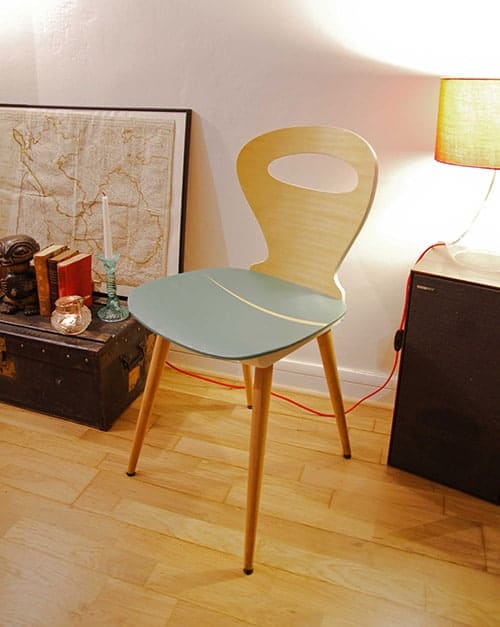 Photo: Design Sponge
A broken chair, refurbished and Rejuvinated from Design Sponge

This is an incredible before and after DIY project with an ugly old chair to a beautiful designer expensive-looking modern chair. See the complete post here.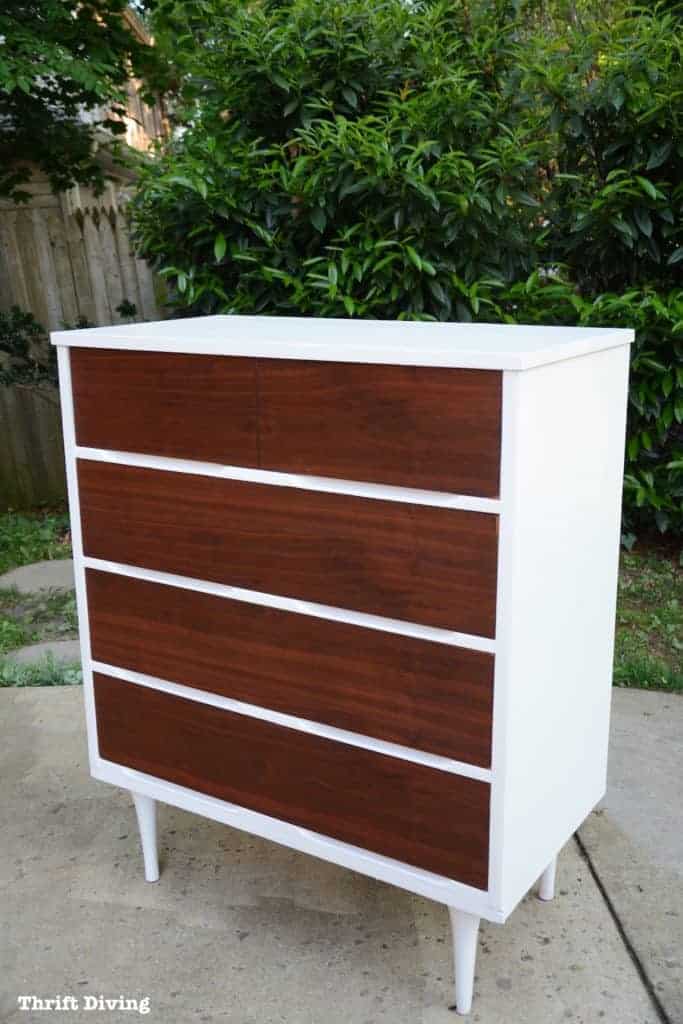 Photo: Thrift Diving
Mid-Century Modern Dresser Makeover from Thrift Diving

Mid-Century is all the rage again now, and from this post you can get great inspiration for turning around your own Mid-Century dresser. See the complete post here.
Related: IKEA Mid-Century Modern Hacks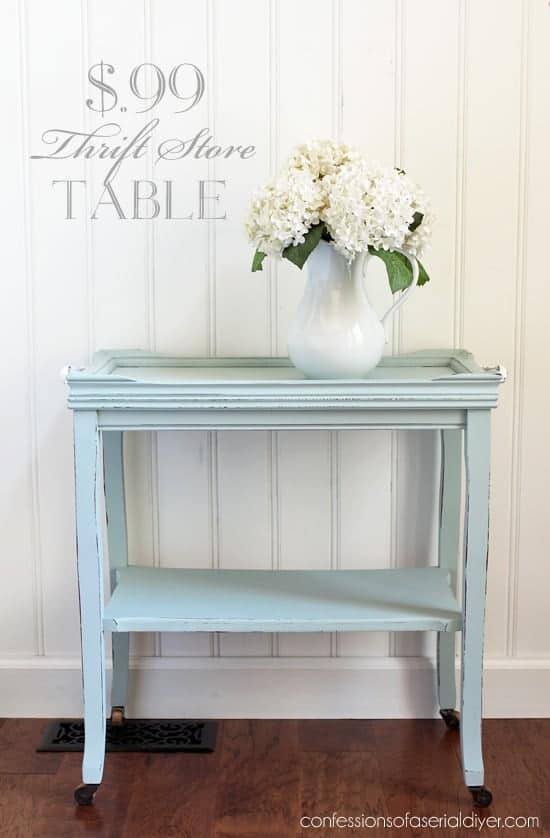 Photo: Confessionsofaserialdiyer.com
99 cent Thrift Store Table Makeover from Confessions of a Serial Diyer

It is amazing to see how this ugly old table transformed. It has turned into a beautiful blue shabby-chic table, for pretty much any room in your house.
This would make a great console table, as well as the perfect little table for your entrance hallway! See the complete post here!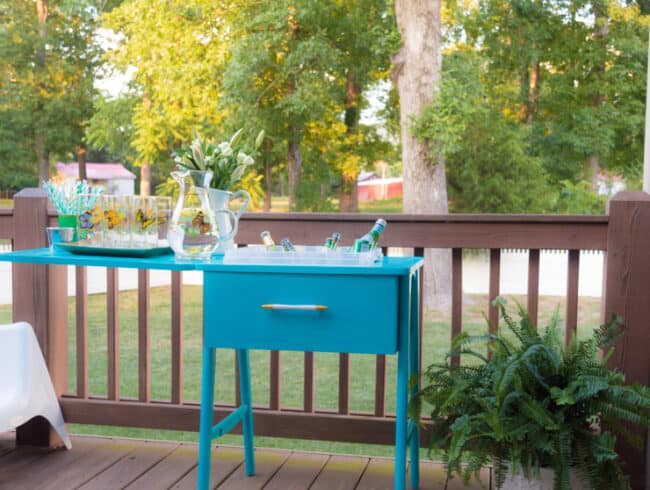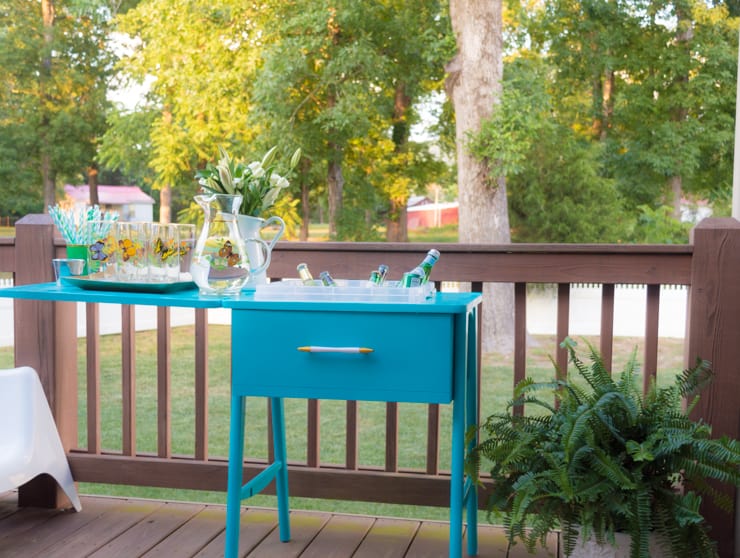 Photo: The Home I Create
Sewing Table Turned into Drinks Table
This is a pretty amazing furniture makeover! An old no longer loved wooden sewing table has been repainted, and re-purposed for something completely different!
This pretty drinks table will get many admiring comments and looks when you are entertaining!
This is a great example of how you need to see one item, and look beyond what it is already is to create something more amazing and different! You can see the DIY of this right here.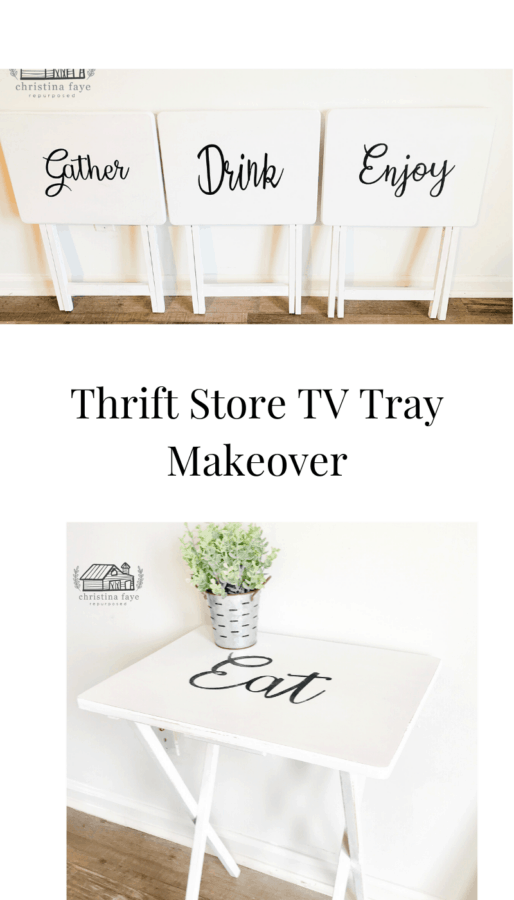 Photo: Christina Faye Repurposed
Thrift Store TV Tray
An old distressed TV tray table gets a great makeover with this renovation. It is painted, and a slogan created for it to make it really special.
Tray tables are so useful, as they can be moved around and take up less space. But many of them look drab and boring! So here is a way to create something more unique.
You can see the complete rehabilitation of this tv tray table here!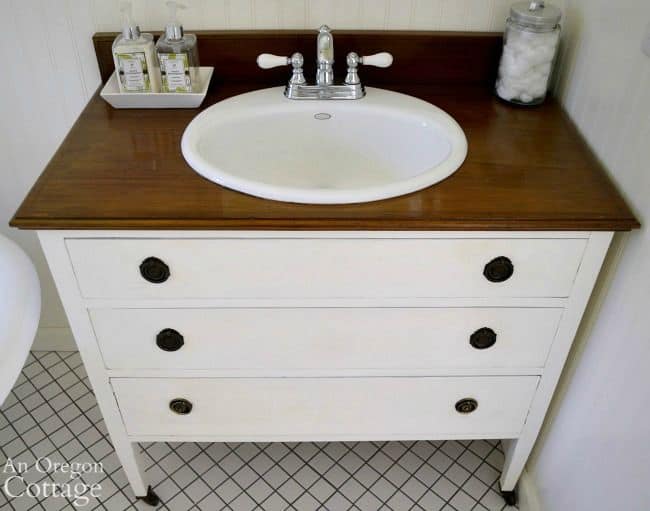 Photo: An Oregon Cottage
Dresser Into Vanity
This dresser has been repurposed and turned into a vanity unit for a bathroom. It is an amazing use for an old dresser, and it creates a beautiful and unique piece for your home. You can see how it was done here.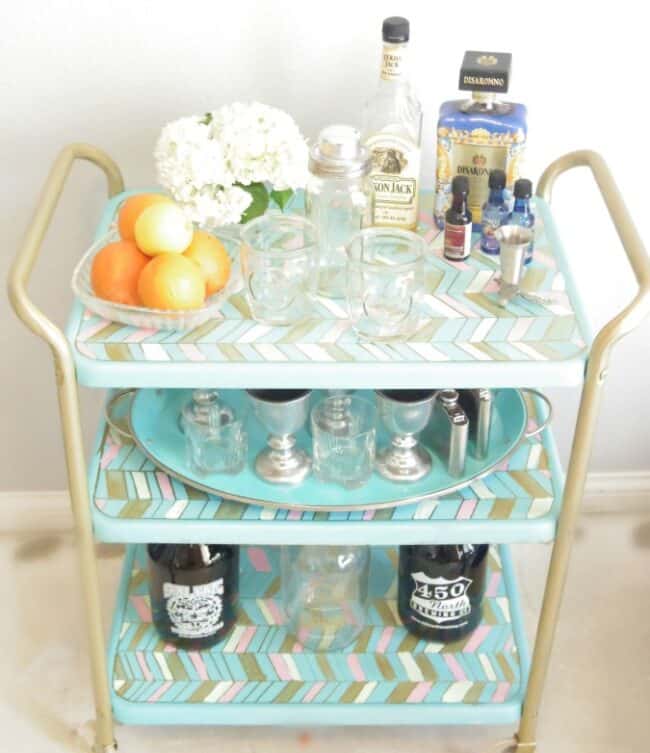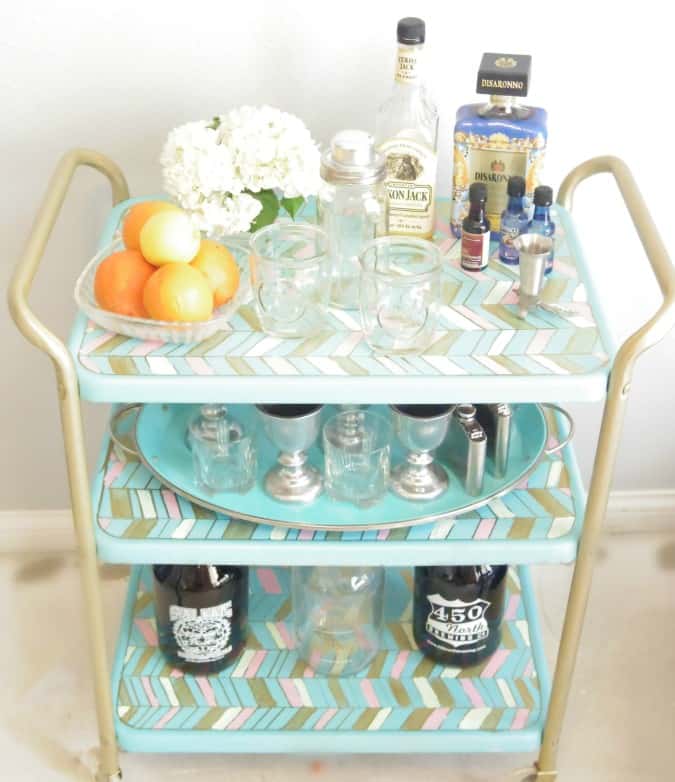 Photo: Addison Meadows Lane
Bar Cart DIY
You won't believe the transformation of this old bar cart! It was one just a rusty pile of metal, and look at it now! It is such a great example of how you can transform something so amazingly. You can see the complete DIY right here.
Related: DIY IKEA Bar Cart Hack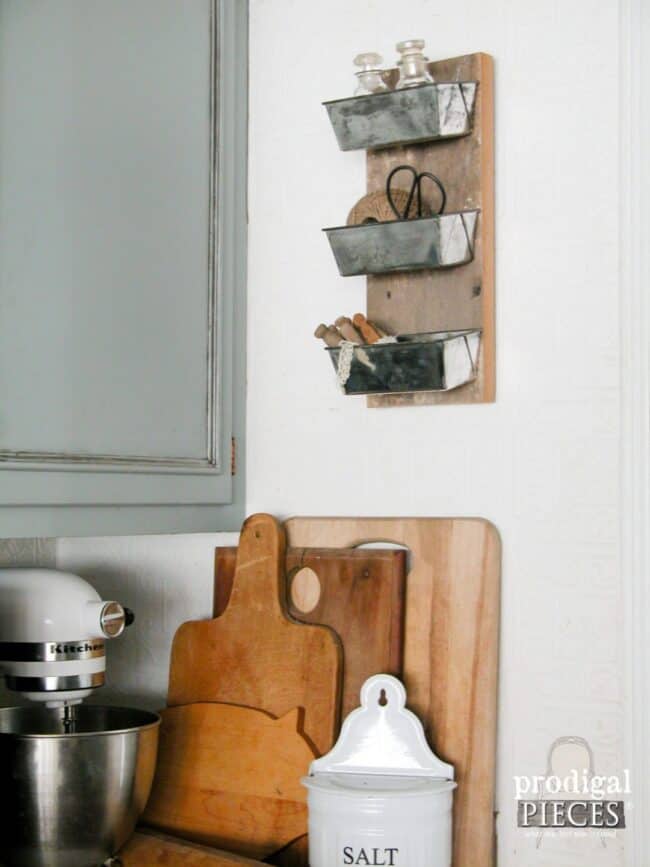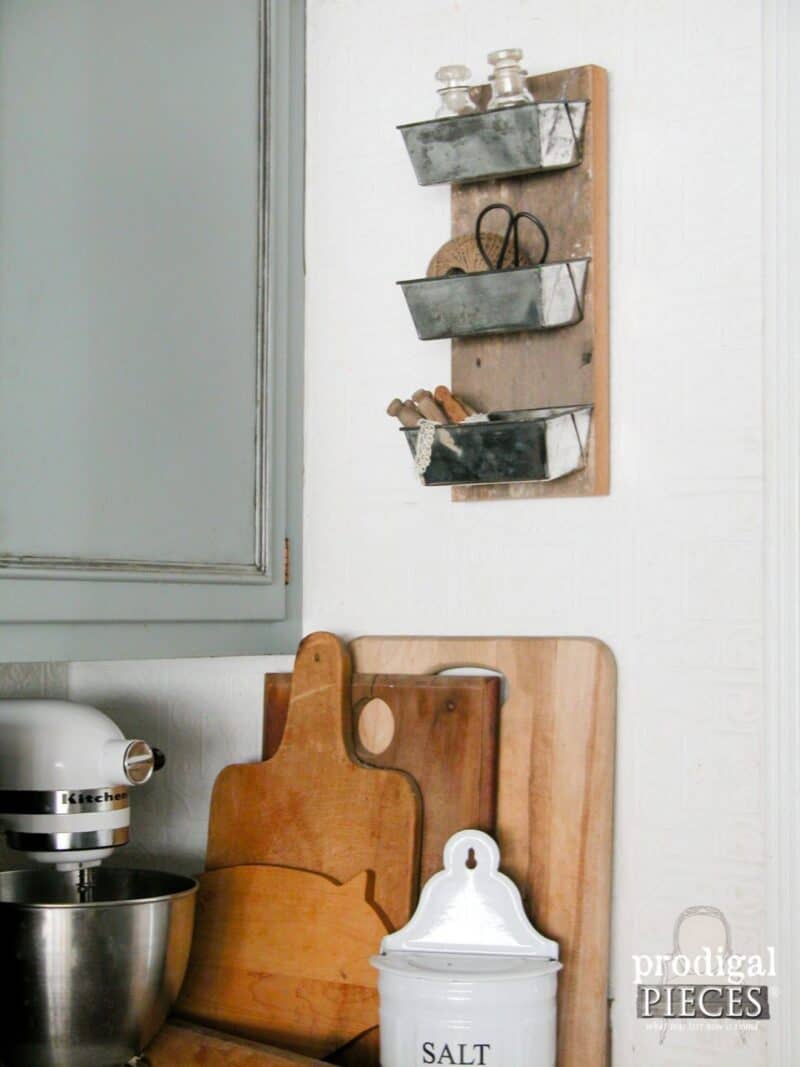 Photo: Prodigal Pieces
Vintage Cake Pans into Shelving
When you go into a thrift store and find all those old cake pans and baking pans, do you usually just walk right past them, thinking there is absolutely nothing you can do with them? You are not alone!
But take a look at this DIY project that takes old baking pans, and turns them into amazing shelves and storage. You can see the complete DIY here.
Hope you enjoyed this round-up of thrift store projects and that it has inspired you to undertake your own!
You may also like!
Anthropologie inspired DIY ideas