Beautiful DIY Copper Pipe Creations for your Home
Copper Pipes can make beautiful DIY projects for your home! Here are some amazing and beautiful copper pipe creations to create for your home
The humble copper pipe, so useful to plumbers, can also be used to beautify your home instead of being hidden away for boring old plumbing needs!
Anything copper-colored is very on trend right now, and when you take a look at these gorgeous DIY projects you will rush out to your local hardware store to purchase as much copper pipe as you possibly can!
All these projects are fairly easy to do, and you won't believe how great the end results are! Nobody will ever suspect you made these items yourself. Go ahead and treat your home by making these great DIY projects!
Copper pipe is easily available, and comes in all different lengths and widths. It makes unique, yet so stylish and attractive pieces for your home.
Here is our complete round-up of copper pipe DIYs that make beautiful things for your home.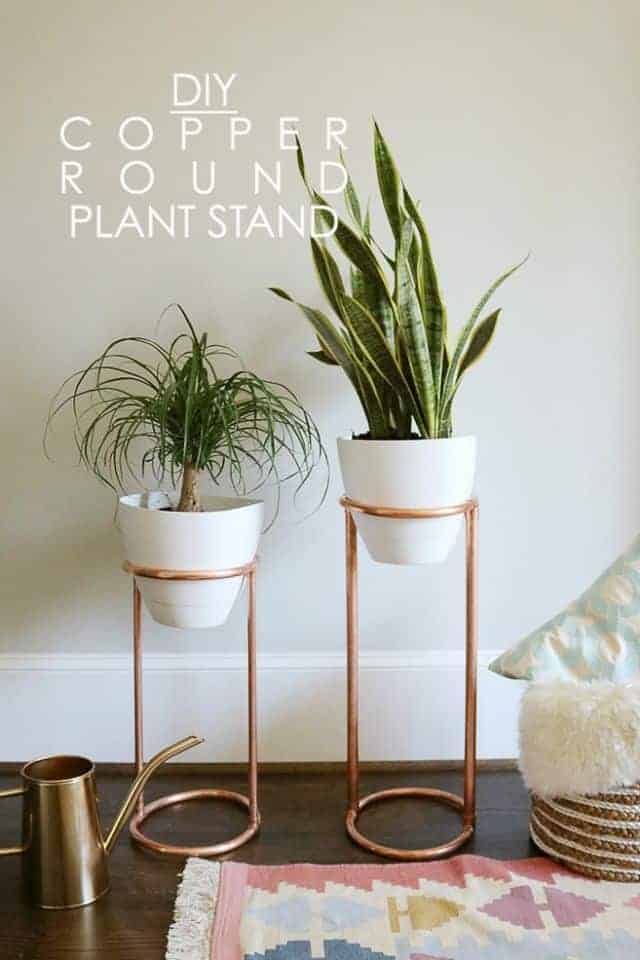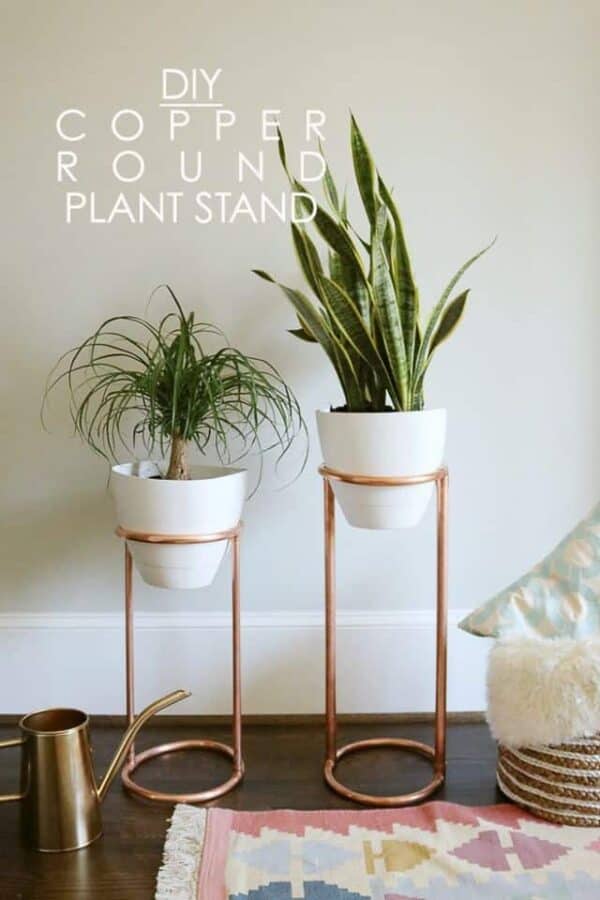 Photo: Darling Darleen
DIY Round Plant Stand from Darling Darleen
These plant stands have a modern mid-century look to them, and this DIY only takes about 30 minutes to put together. Plants are so great to have around your home for added greenery and comfort, and plants are especially on trend right now.
These plant stands look just like you bought them from an expensive modern store!. See the complete post & instructions here.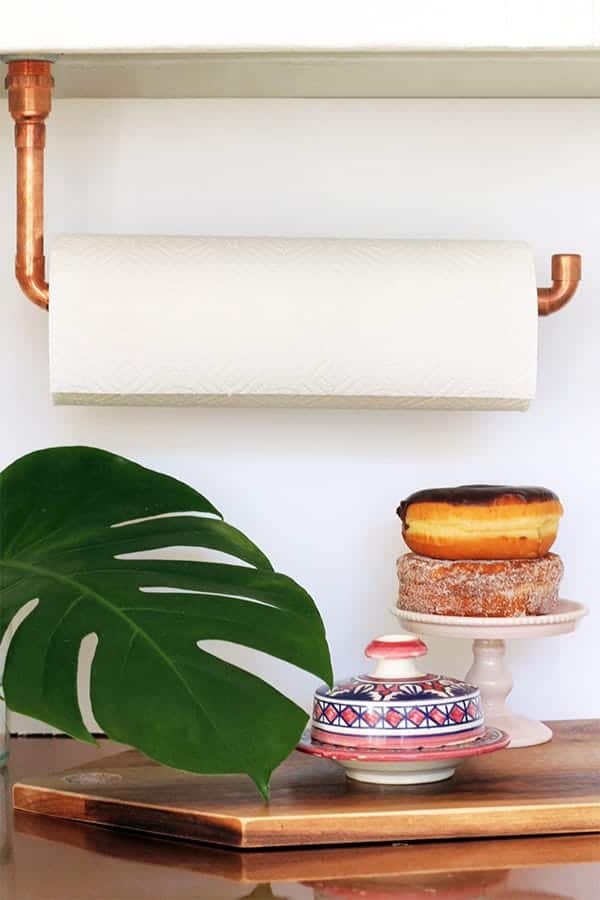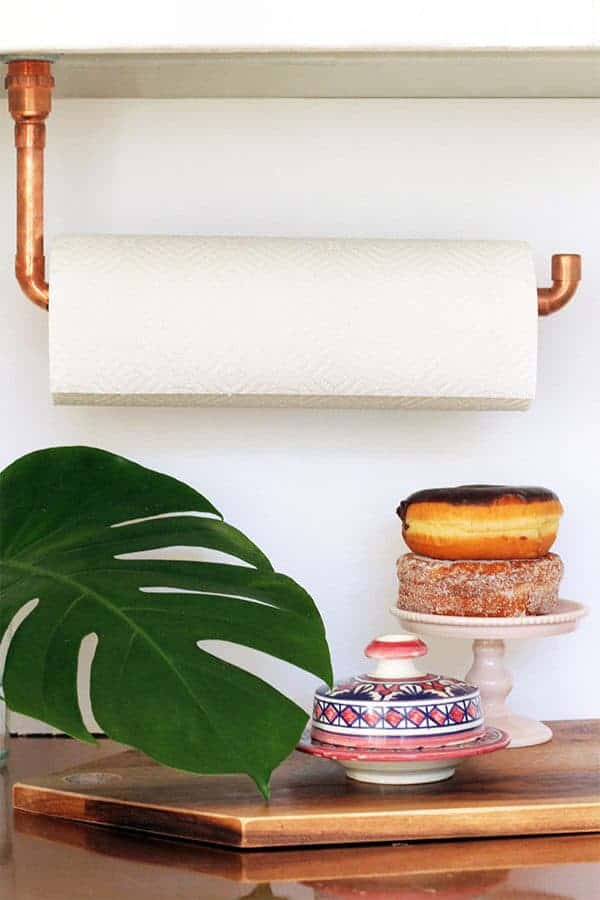 Photo: Life as Mama
Suspended Paper Towel Holder from Life as Mama
This is a simple project and the end result looks modern and beautiful. This is just perfect for under your kitchen cupboards to use up that empty space there.
It is hard to find really unique modern looking paper towel holders, so this is just perfect, and easy to make. For the full DIY post click here.
Copper Pipe Jewelry Holder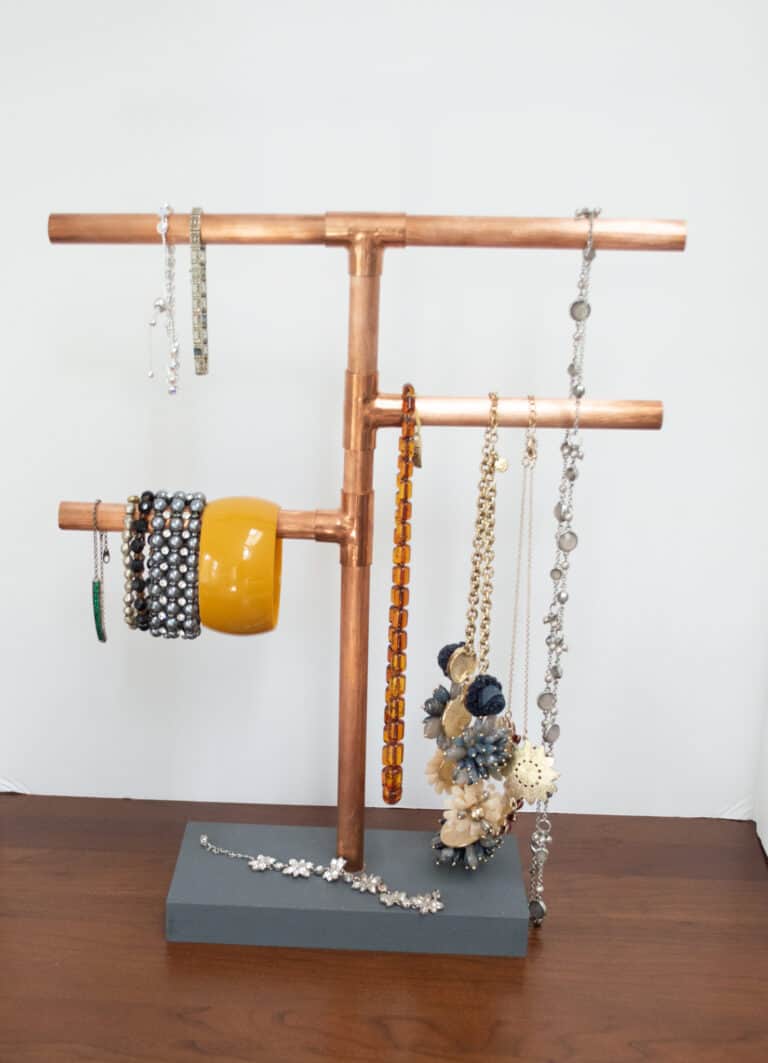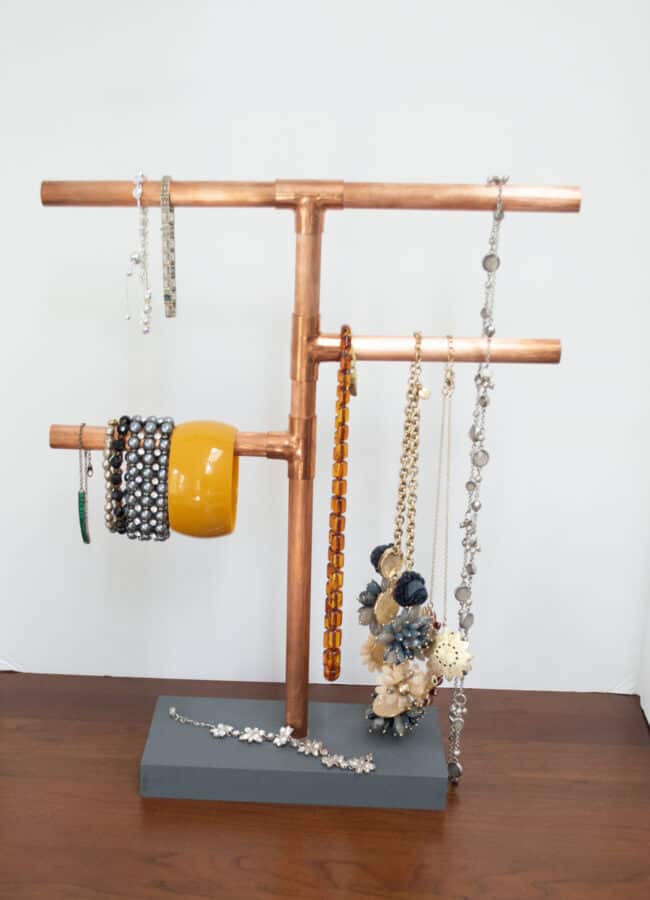 This pretty copper pipe jewelry stand is perfect and stylish for hanging and holding all your jewelry. See the post here.
Related: Make these beautiful Copper Candles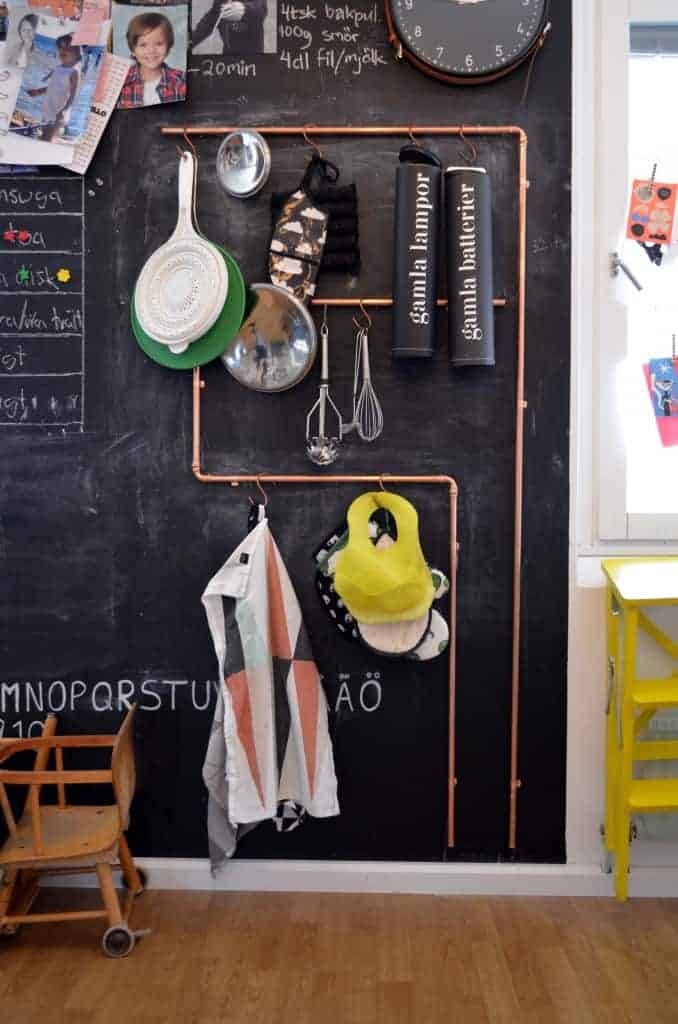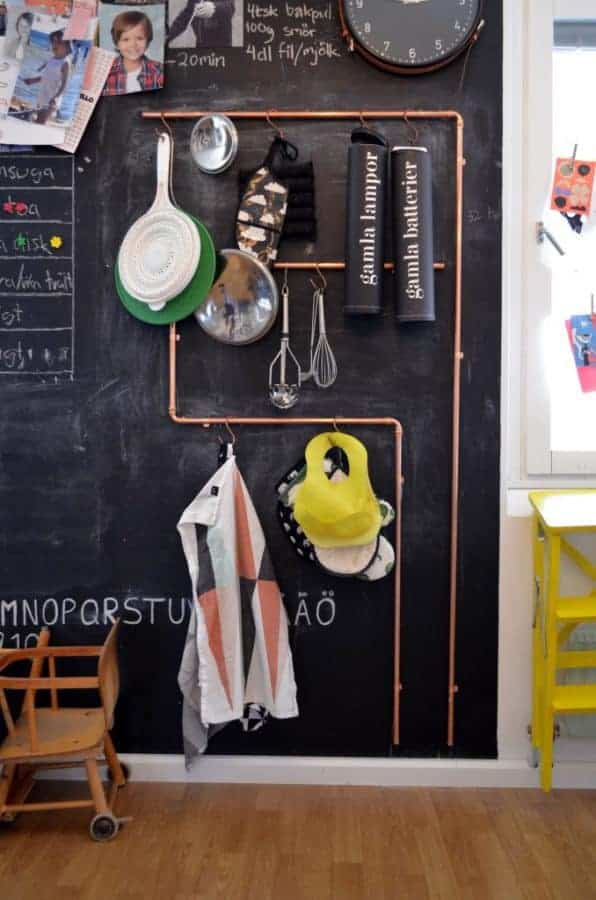 Photo: Hemma Trivsel
Copper Tube Wall Organization Unit from Hemma Trivsel
This lovely and practical copper wall organization unit will add a modern industrial look to your home. The instructions are not in English, but it is possible to translate the page (just use Google translate!).
This is such a unique looking great organization idea for your home.
For the full DIY instructions click here.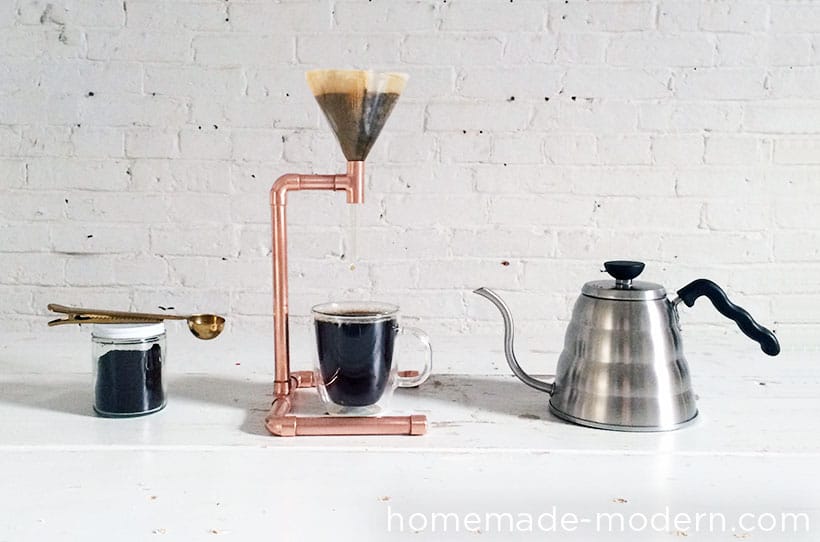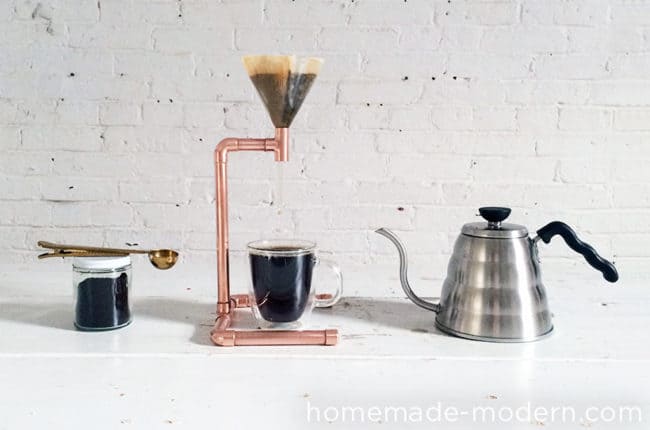 Photo: Homemade-Modern.com
Coffee Maker from Homemade-Modern
This is a pretty amazing DIY using copper-pipe! It is not only incredibly useful, but really looks great in your kitchen. It is all held together with epoxy – no soldering required.
Once again it looks just like you paid a fortune for it in one of those modern furniture and goods stores! For the full DIY click here.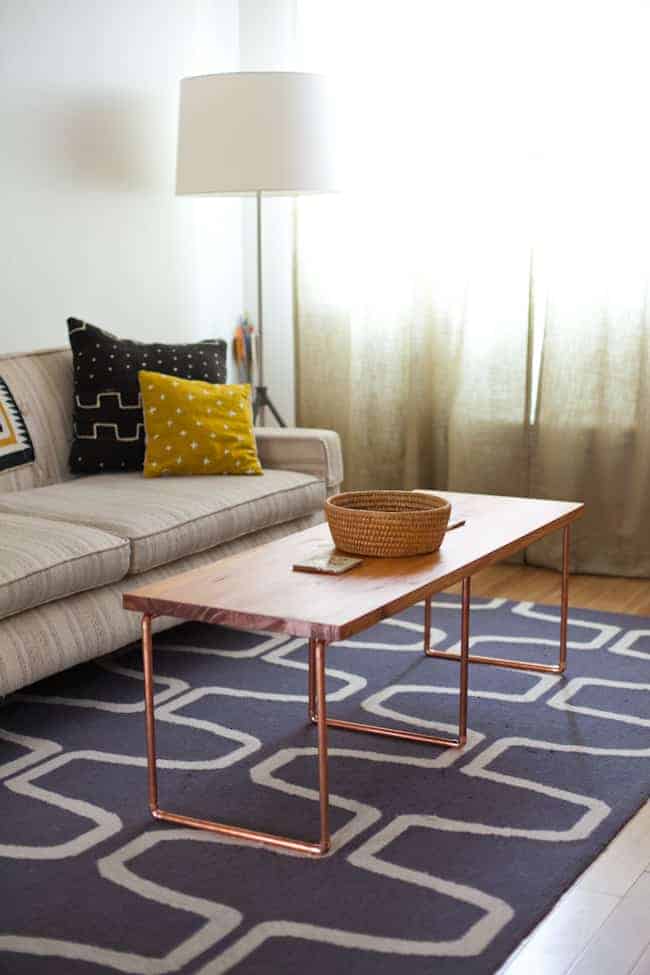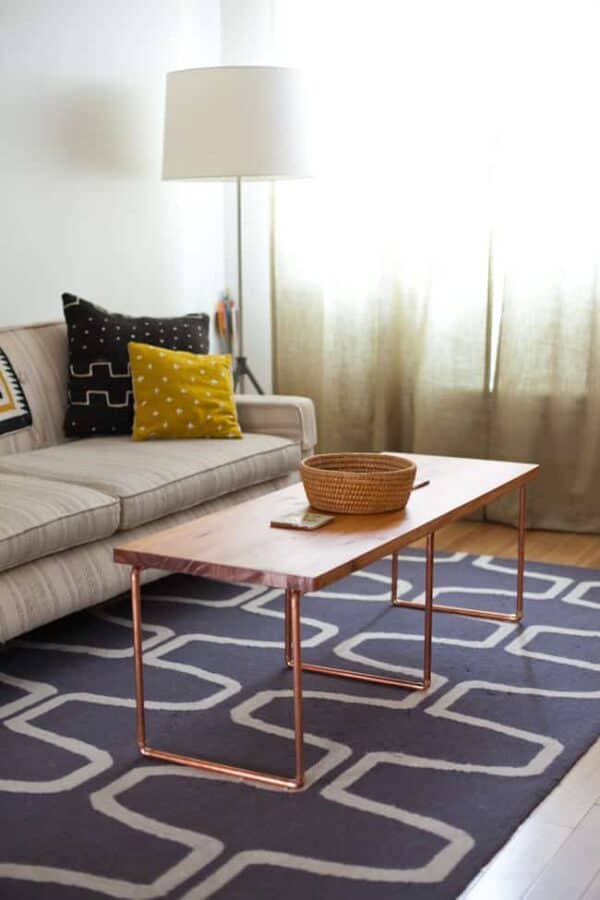 Photo: For Me, For You
Coffee Table from For Me, For You
This is an absolutely gorgeous looking coffee table with copper-pipe legs. It looks modern, designer and expensive.
This table will really be the centerpiece of any room in your home, and everybody will admire it! For the full DIY click here.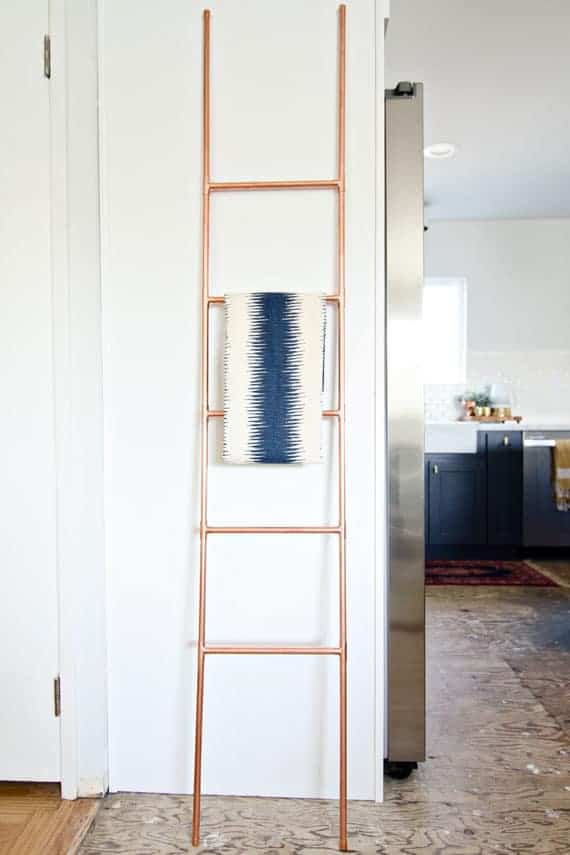 Photo: Brittany Makes
DIY Copper Pipe Ladder from Brittany Makes
This is a great ladder to put in an otherwise unused boring space in your house. You can use it to hang towels, pictures, pretty much anything.
It not only creates great organizing space, but it also adds interest and productivity to any room. Click here for the full DIY.
Photo: Sarah M. Dorsey Designs
Tripod Floor Lamp from Sarah M. Dorsey Designs
This is a beautiful looking floor lamp that looks so modern and expensive. It really will look great in any room in your home. The how to post on this is long gone, but it is really just taking 3 copper pipes of the same length, that are attached to the lighting unit. The cord has been pulled through one of the copper pipes.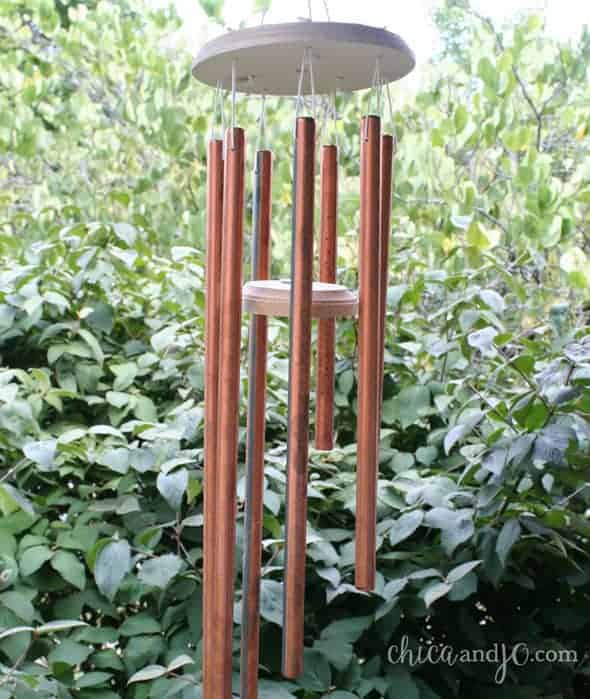 Photo: ChicaandJo.com
Wind Chime from Chica and Jo
Here is a great copper pipe DIY for outside your home, because the outside is important too! This will jazz up any space on your deck, porch, balcony or in your garden. For the full DIY post click here.This is a great use for different sized copper pipes that you may have.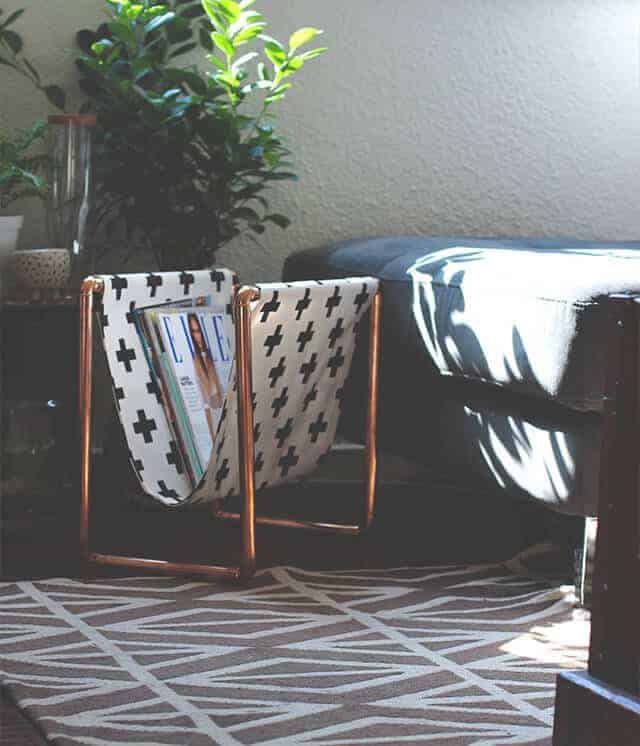 Photo: Zana Products
Magazine Rack from Zana Products
This copper magazine rack is easy to make and looks wonderful in any home!
Magazine racks are such a great way to organize all those magazines that you have floating around, and you will always now where to find them. For the full DIY click here.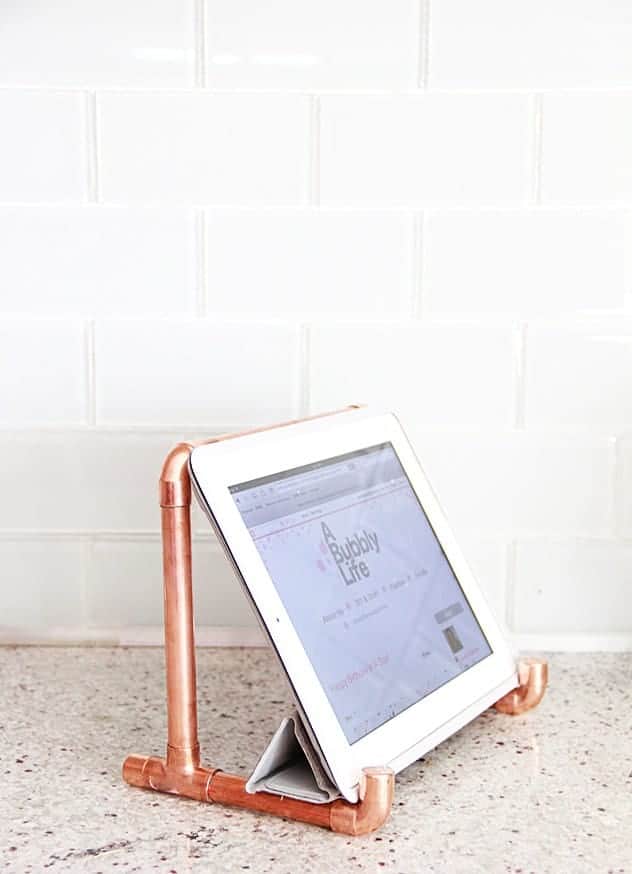 Photo: A Bubbly Life
DIY Copper Pipe iPad Holder from A Bubbly Life
Here is a really useful iPad holder for your home – and it looks great! Very useful for your kitchen for holding your ipad as you follow along with recipes. It has such a modern industrial look to it, which will look great with any kitchen decor. For the full DIY post click here.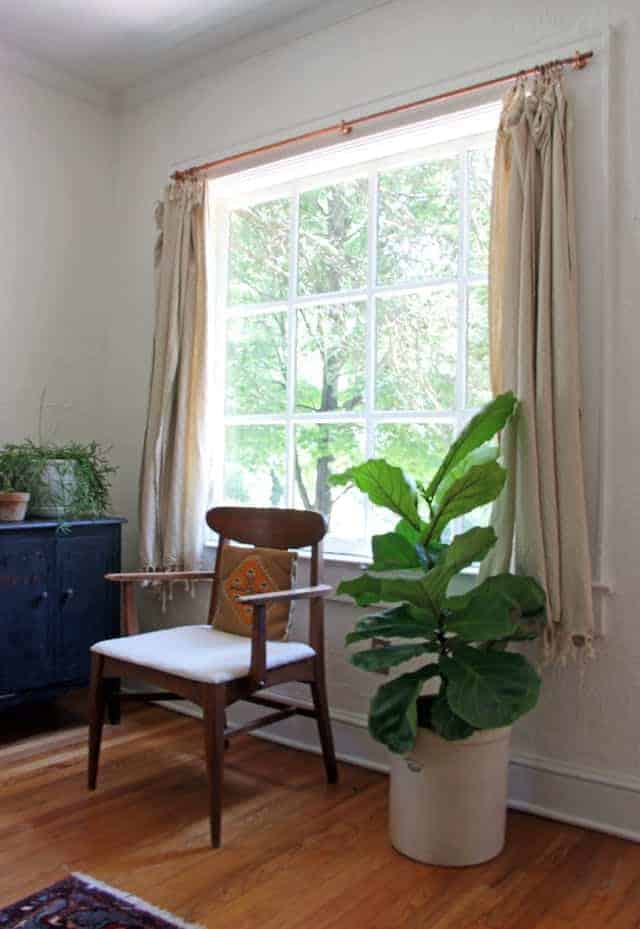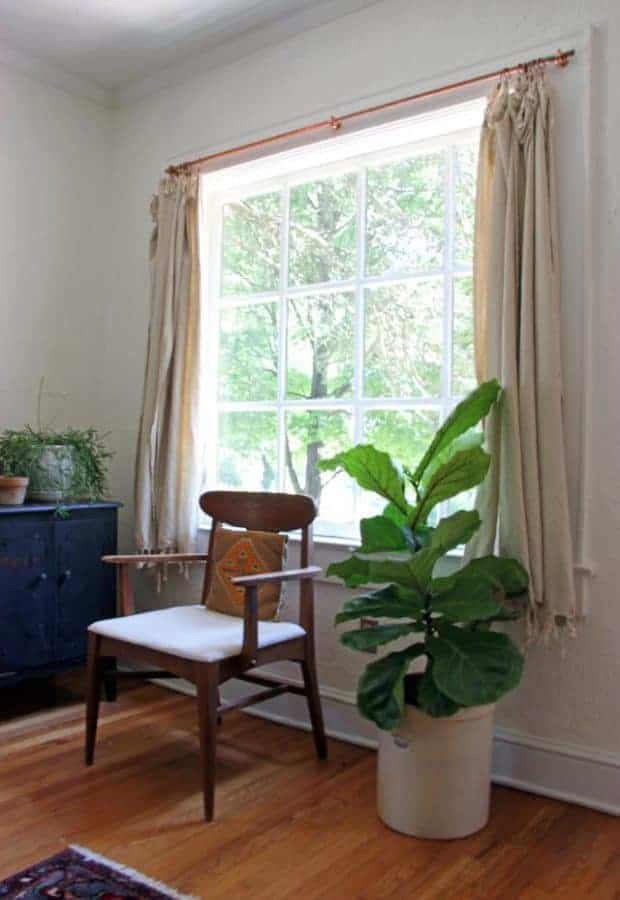 Photo: Apartment Therapy
Curtain Rod from Apartment Therapy
Another awesome idea for copper pipe! A lovely curtain rod. Curtain rods can be so boring and predictable – but not this one! All you need to do is take a length of copper pipe in the measurements that you need it in, and mount it above your window. This is an incredibly simple DIY!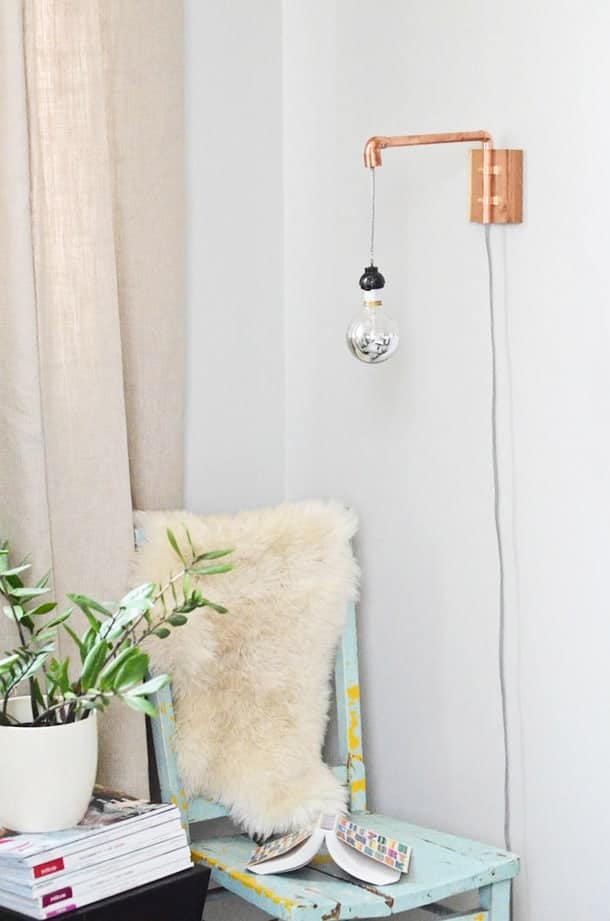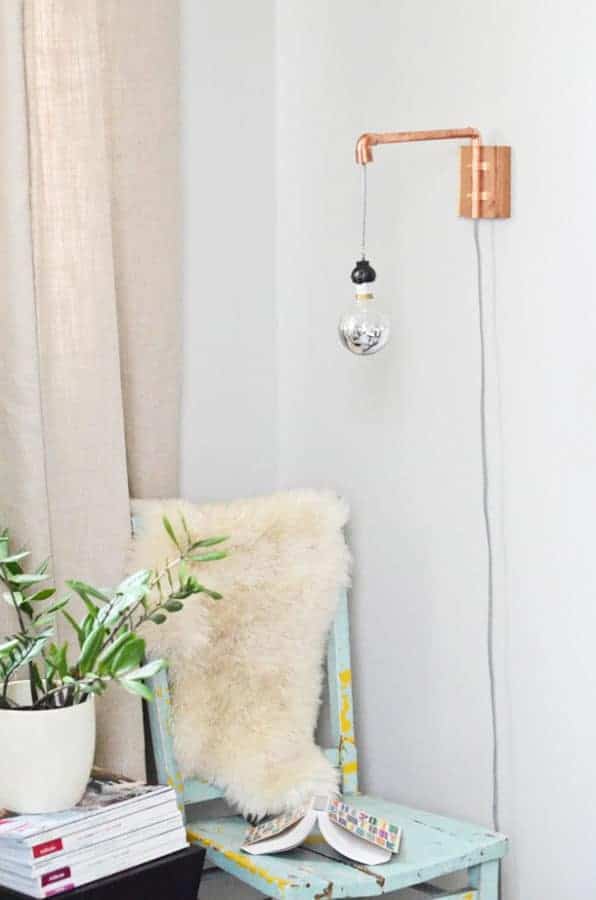 Photo: Camille Styles
Copper Pipe Wall Sconce from Camille Styles
Here is another great lighting idea using copper pipe! This is a pretty amazing wall sconce and hanging light. It will add a modern touch to any room of your home – and it is so easy to make! See the full post and instructions here.
You may also like these other DIY projects for your home:
The Most Colorful IKEA Hacks for your home
IKEA Rattan and Cane Hacks for your home
Stylish bar carts to DIY for your home
IKEA Hacks that look Vintage and Antique, but Are'nt!
19 sewing projects for your home that are fast and easy
Copper Pipes can make beautiful DIY projects for your home! Here are some amazing and beautiful copper pipe creations to create for your home