Stylish Bar Carts to DIY for your home
Bar Carts are not only great for home organization and storage purposes, they also look beautiful in your home!
Bar carts are everywhere right now! Suddenly it is ok again to display your drinks and alcohol and all the best homes now have bar carts!
Although of course they don't have to be for your alcohol – you can put just about anything on your cart, including non-alcoholic drinks, make a coffee center, or even use it as a spare storage area in your kitchen.
The carts featured in this post are beautiful to look at, and easy to DIY and put together. Drool over these great pictures, then check out the associated posts for tips and tutorials on making and putting together your own special bar cart!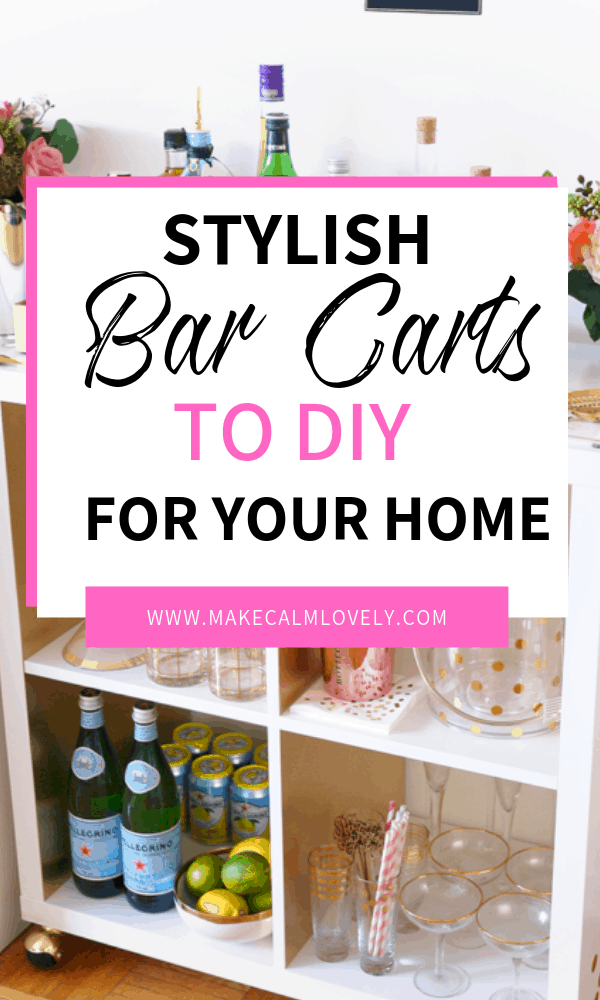 The great thing about a bar cart on wheels is that you can wheel it anywhere in your home as it is needed. I keep mine in my dining room, but it can easily be wheeled through to my living room, kitchen etc when I have guests over.
Bar carts remind me of the 50s when drinking cocktails with friends and neighbors was quite the norm, with drinks trolleys and carts! (Think Mad Men!).
I have rounded up some of the best DIYs out there for creating your own special cart. As you can see, once you see these gorgeous carts you will definately want one for yourself!
One of the great things also about bar carts is that you can make them completely unique to you. Everybody's cart should technically be different. You can really put your own personality into your own cart!
Old carts can be picked up in thrift stores, or online places such as eBay. You don't need a cart that is especially a 'bar cart.' Any cart will do, as these DIYs prove.
You can also choose furniture from stores such as IKEA and make them over into a bar cart (see the posts further along that have done just that).
These DIYs are an easy way to put a little bit of glam into your homes. If you really hate the idea of having your alcohol out on show, or you just don't drink, no worries. Just make over a special cart for your dining room, living room, kitchen or whatever room you choose in your house.
You can make an entertainment cart, a coffee station, an extra serving station, a bookcase, pretty much anything at all that can be displayed on a revamped cart.
IKEA Nissafors Cart Turned Bar Car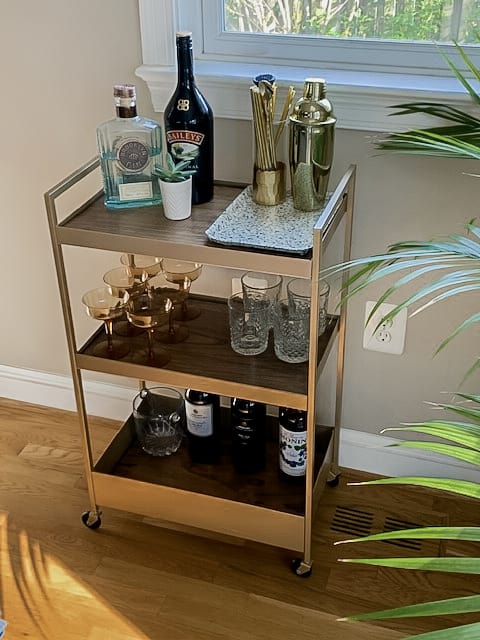 The IKEA Nissafors rolling cart can easily be spray painted and turned into a beautiful bar cart. Here is the DIY I did myself for this great looking bar cart!
Gold and Faux Marble Bar Cart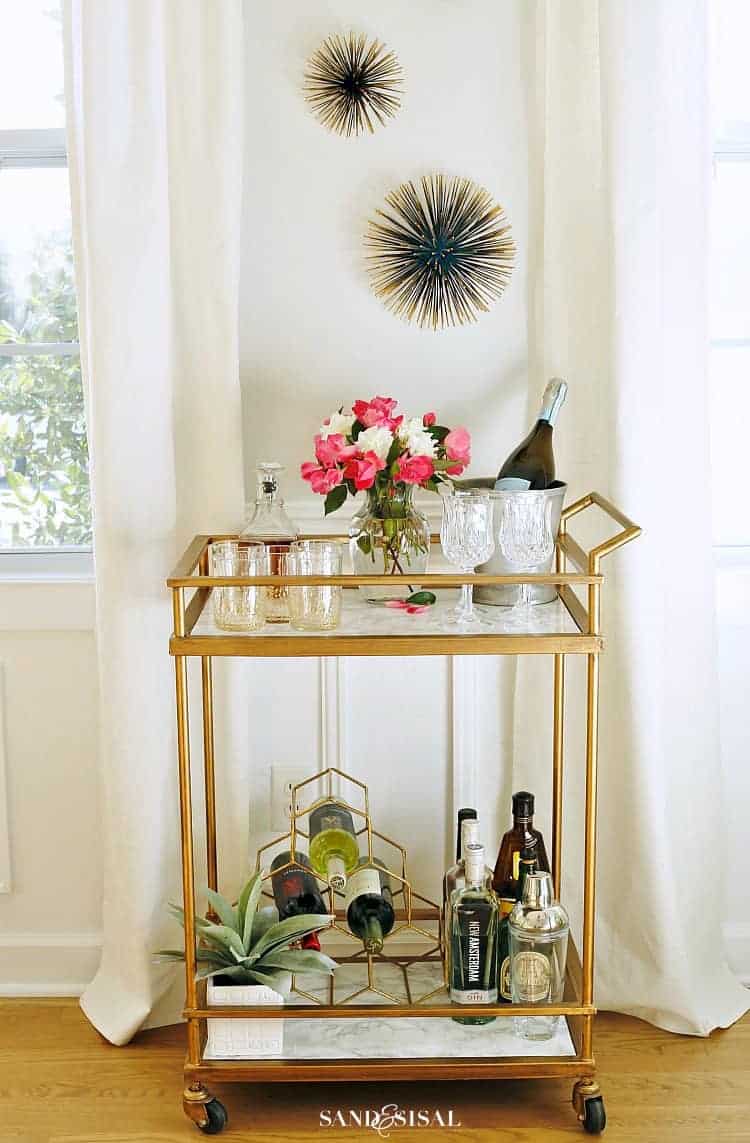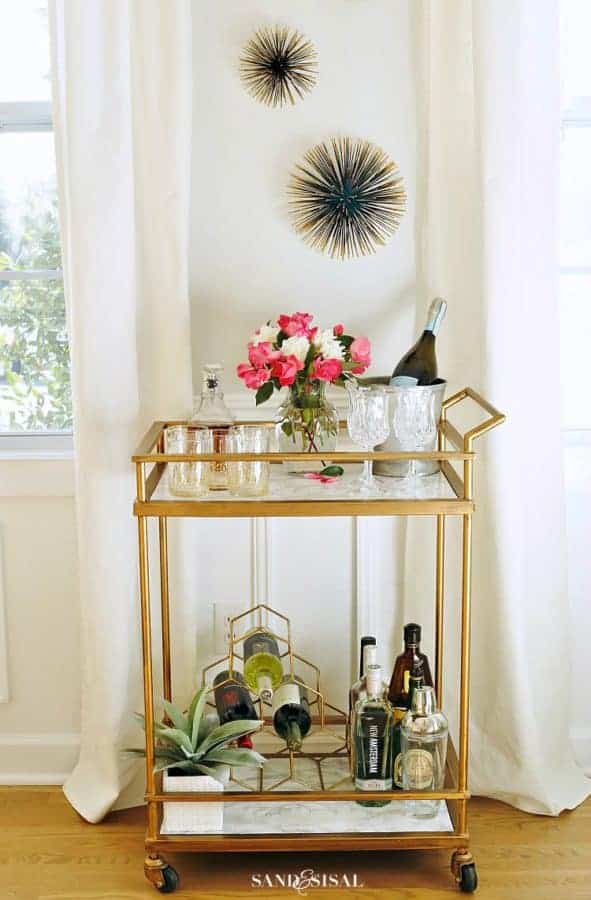 Photo: Sand & Sisal
This bar cart from Sand & Sisal is complete with a tutorial to make-over a bar cart with faux marble. The full post is here.
I love the color of this bar cart, and the marble adds some class to the way it looks. As you can see the other additions to the cart, such as the wine rack and plant etc, are all things you can add to personalize it and make it completely your own.
Gold Bar Cart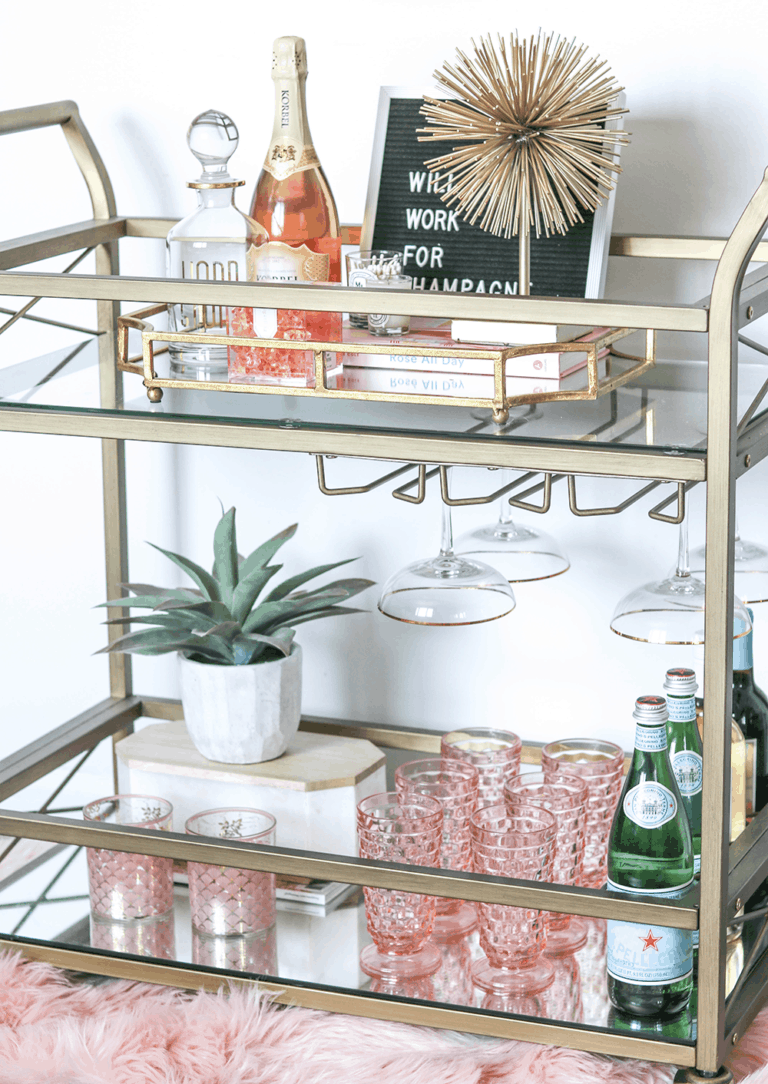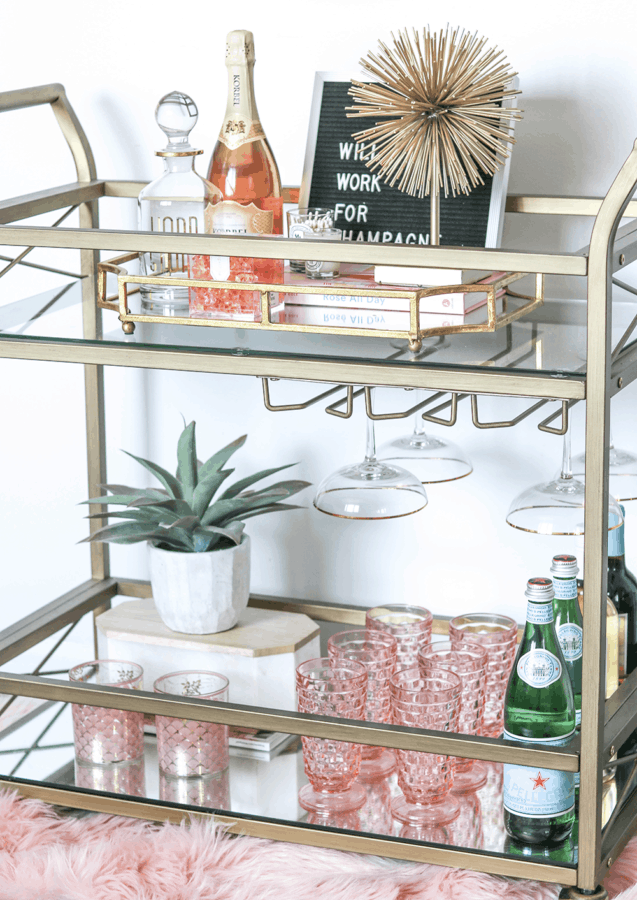 Photo: Money Can Buy Lipstick
This cart from Money Can Buy Lipstick has been lovingly put together, complete with a fur rug! See the post here.
Once again there are great personal touches here on this cart – with pink glasses and a memo board. The mirror on the cart adds dimension and elegance to the overall look.
Revamped old Cart into Bar Cart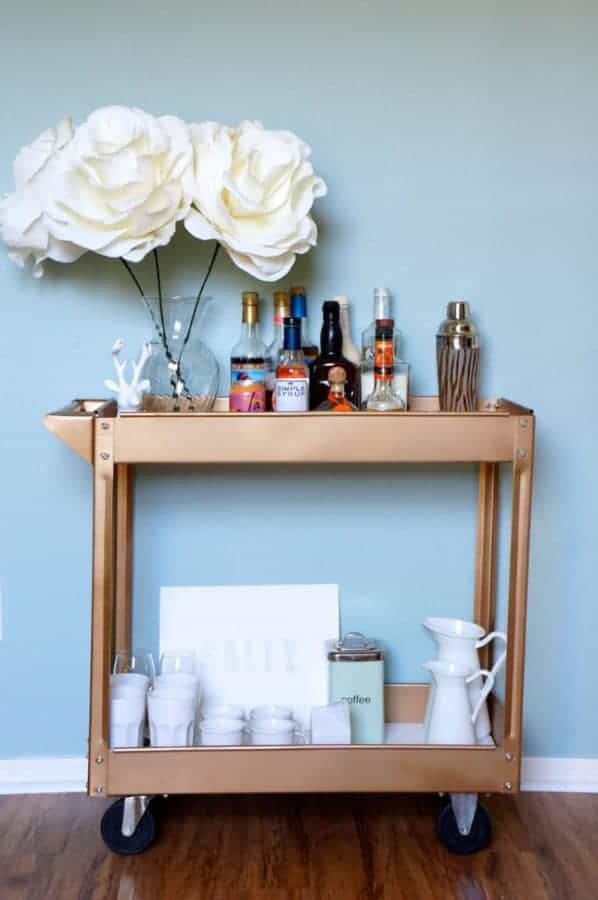 Photo: Brit+Co
This gold bar cart is a DIY from Brit+Co. For this DIY bar cart they took a $40 cart and spent a weekend upcycling it into this gold dream! See the post here.
This is such a simple little cart, but by painting it they have given it a completely new look. As you can see this cart is multi-tasking between alcohol on top, and coffee supplies on the bottom, which is another great idea for your own cart.
Gold Holiday Styled Bar Cart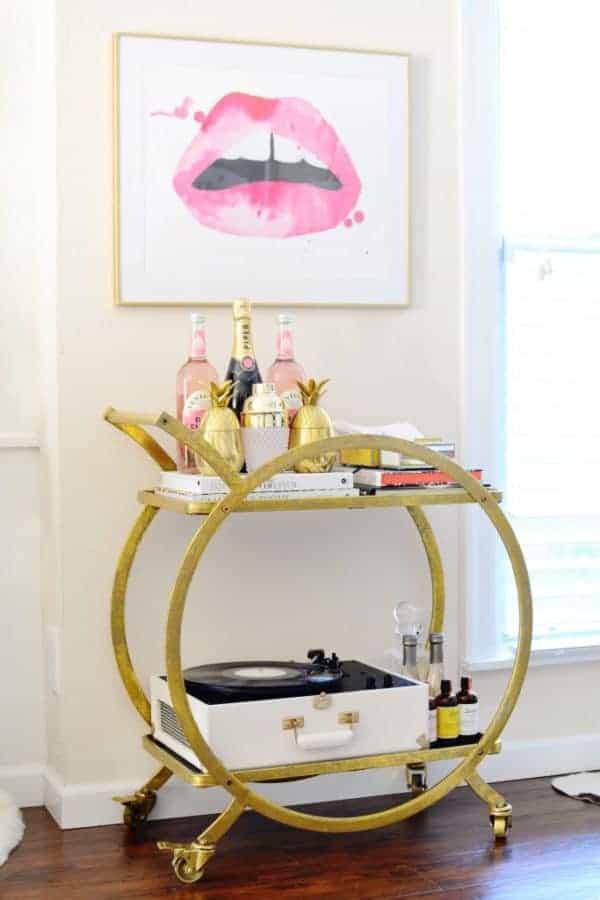 Photo: Chronicles of Frivolity
Another gold bar cart: this one is a special holiday-styled bar cart from Chronicles of Frivolity. I absolutely love the way this cart is also being used to house an old record player also.
This is another great example of a multi-tasking bar cart. Serve drinks to your guests while you play old vinyl records! See the complete post here.
IKEA Hack Mini Bar Cart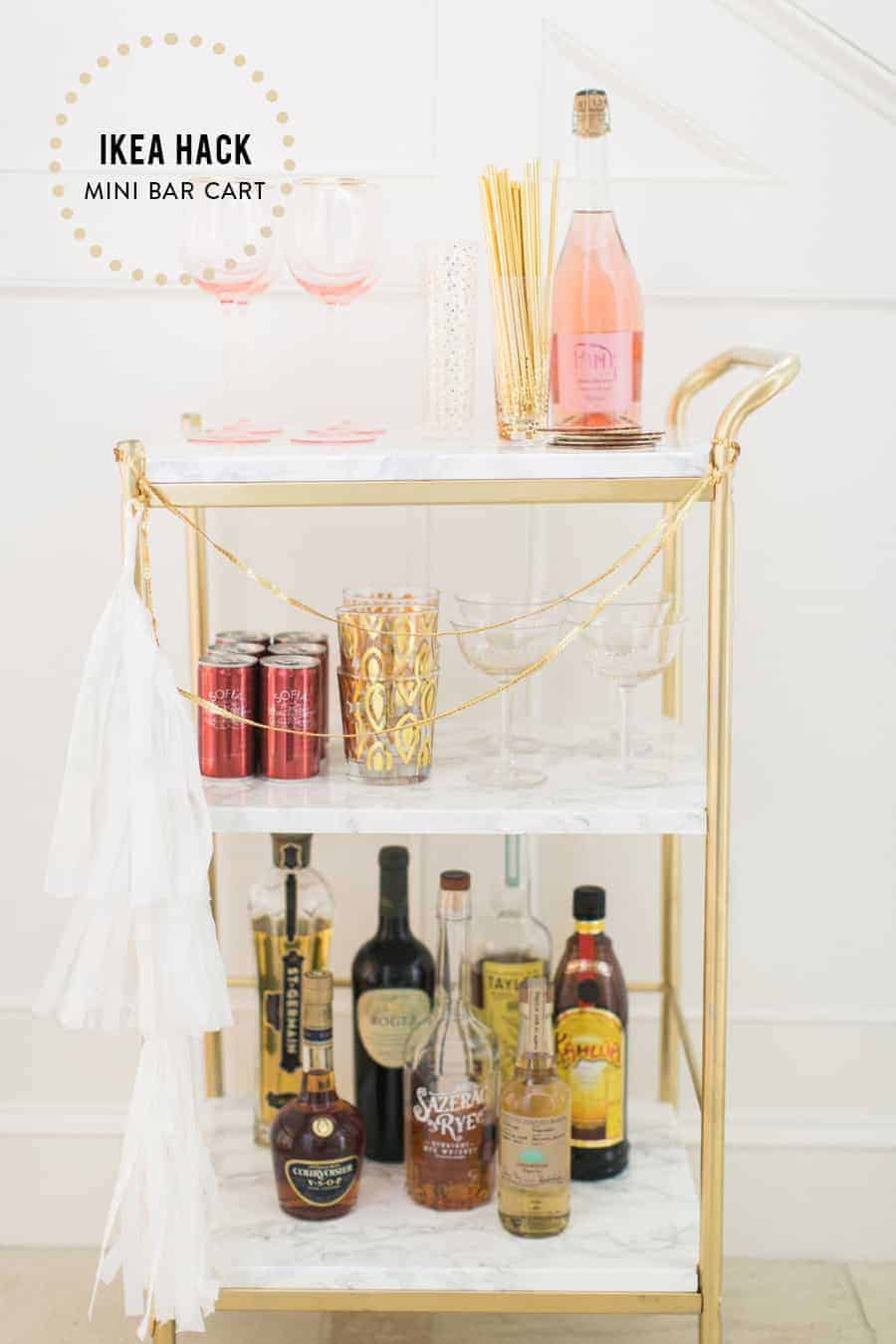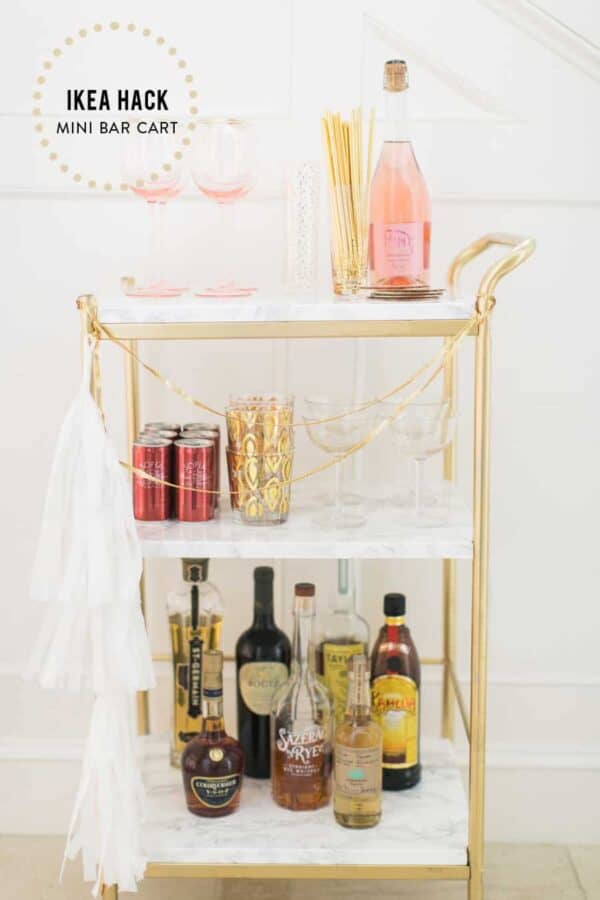 Photo: Style Me Pretty
Here's an IKEA hack for a mini bar cart from Style Me Pretty. IKEA hacks are just the best! There is so much you can do with a basic IKEA piece of furniture, and this bar cart is no exception.
In this post they have given a simple $30 cart a glam makeover to make this great bar cart. See the full post here.
IKEA Hack Kallax Bar Cart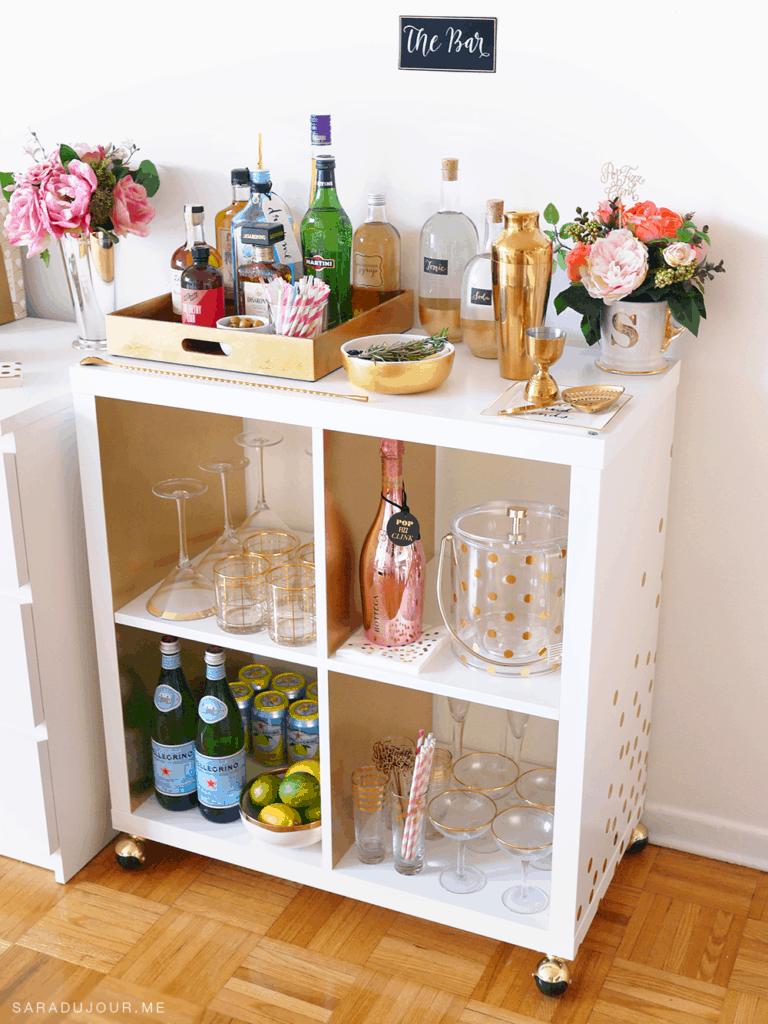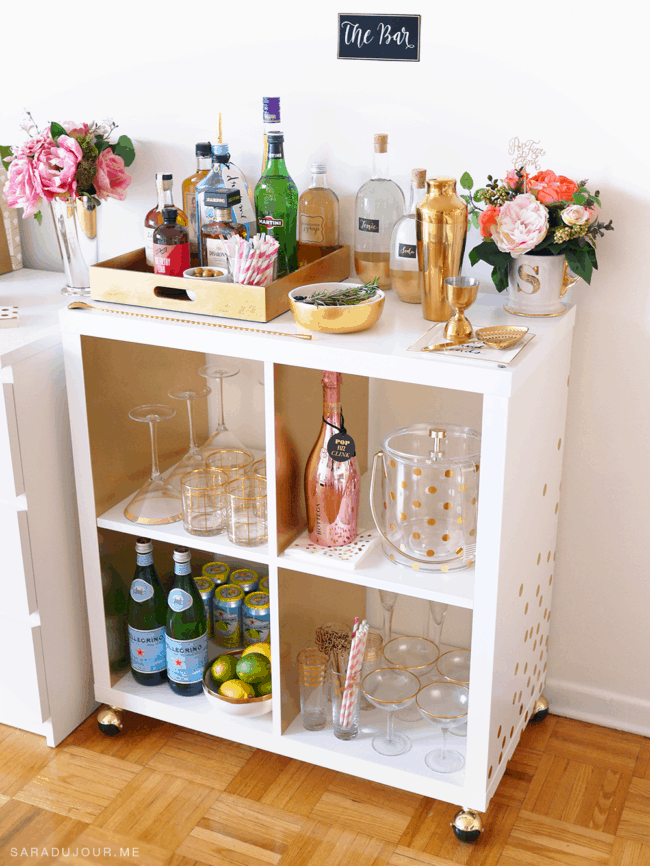 Photo: Sara Du Jour
Here's yet another IKEA hack for a bar cart from Sara Du Jour. This time using an IKEA Kallax shelf unit, all glammed up! I love the way they have been able to incorporate so many gold features on the cart, including the wheels and the gold dot stickers.
All the different compartments of this cart also make for great storage for all kinds of items for your cart. See the full post here.
Rustic Style Bar Cart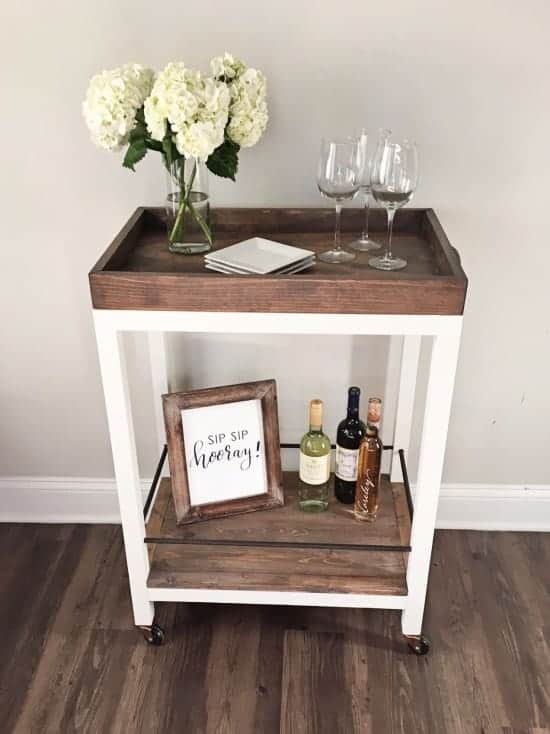 Photo: Angela Marie Made
Here's a rustic-style DIY bar cart from Angela Marie Made. If you feel up to a bit of woodwork then this is the DIY for you! See the full post here.
This DIY is going a bit further than the other DIYs, as you will have to get down and dirty and make this one completely yourself. But it isn't that difficult, and if you would love to have a more rustic, farmhouse-style looking bar cart this is definately the cart for you!
Restyled Bar Cart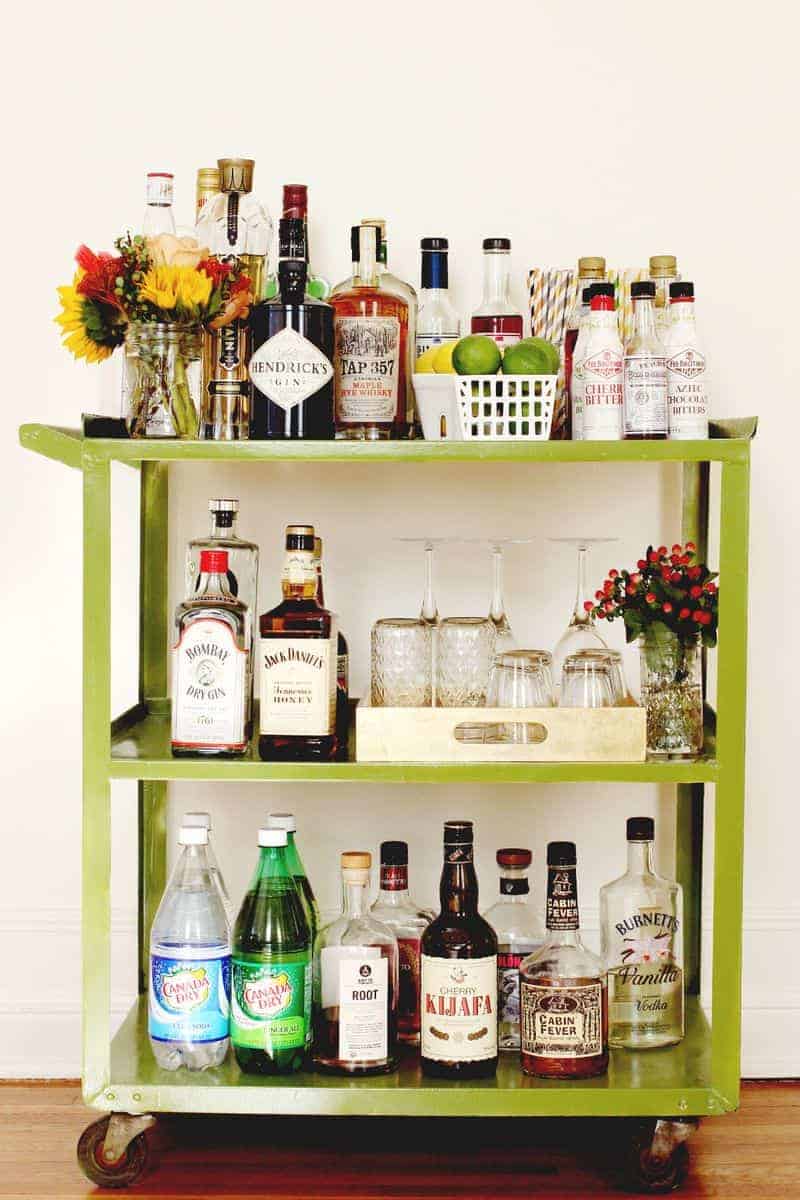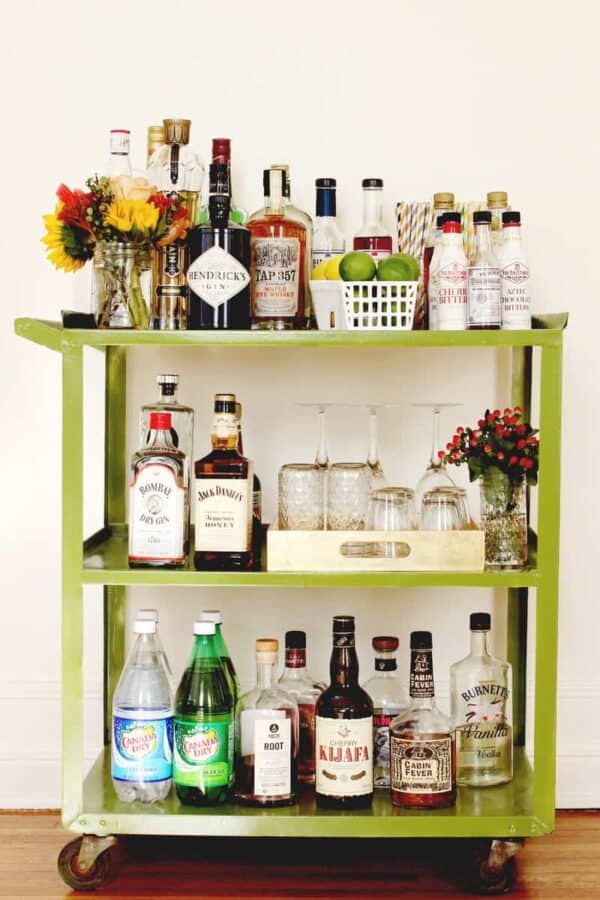 Photo: A Beautiful Mess
Here is a restyled bar cart from A Beautiful Mess. Some spray paint and imagination has totally transformed a boring old cart. See the full post here.
The color of this cart also shows that you can really paint your own cart any color that you wish, including either coordinating it with your decor, or having it work well in conjunction with your own existing decor.
I would absolutely love to see your bar cart if you have made it yourself, or just bought one and styled it!
Bar Carts are not only great for home organization and storage purposes, they also look beautiful in your home!
You may also like these posts:
Gorgeous Thrift Store Furniture Makeovers
De-cluttering solutions for your home's shoe problem.