Make Easy & Beautiful Gold Celebration Donuts
Gold celebration donuts! Perfect for a special occasion!
Who doesn't love donuts?! Donuts are great for any occasion, they are tasty, and you can make them in all different flavors and with all different and varied toppings. If you have a special occasion coming up, try making celebration donuts!
There are many things on my recipe 'bucket list' that I hope to get around to making one day. These are mainly things that I love but seem like they can't be easily made at home. On that list is bagels, croissants, Dobos Torte, and Chocolate Babka among many other things. But in the top part of the list is definitely donuts!
I experimented with some donut recipes and found that this recipe seemed to produce the donuts I (and others) like the best. Because it was a special occasion in our home that I made them for I went all out and made dazzling gold donuts! You could use any topping of your choice, but there is something about gold that adds a more ritzy and expensive look to donuts, which is perfect for a celebration!
These donuts are light and fluffy. Each bite is delicious and buttery. They are not stodgy and heavy tasting at all, so you will want to eat quite a few of them! Sorry, they aren't low calorie, but they are for a special occasion!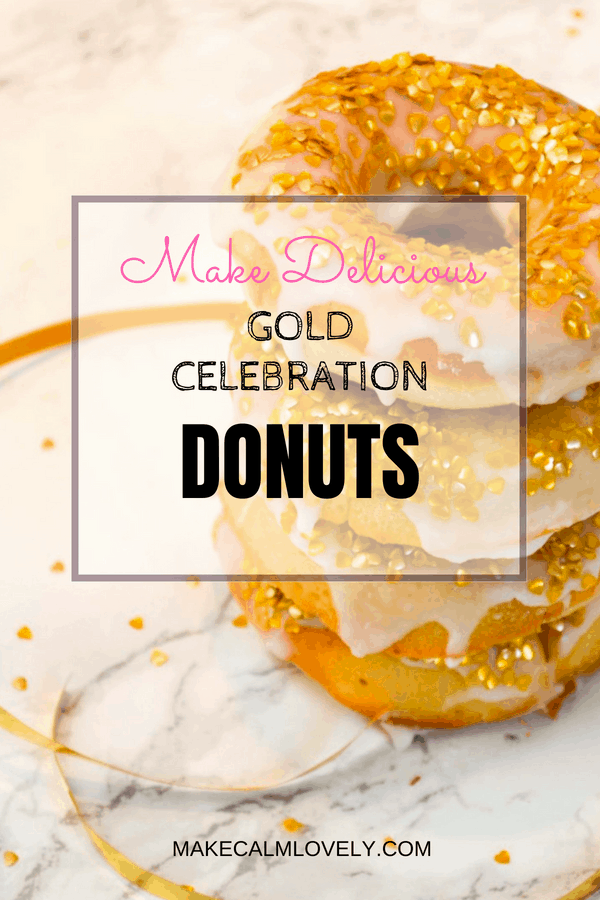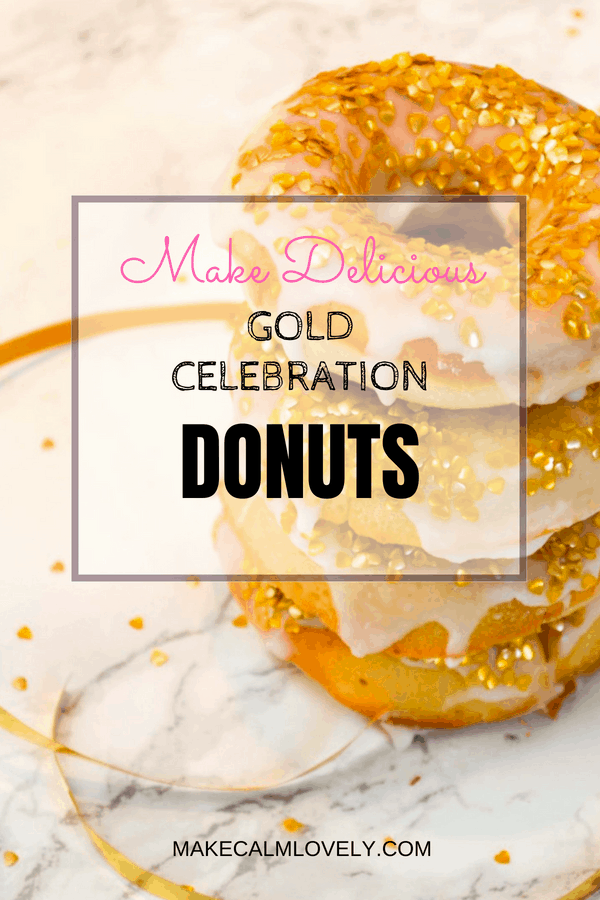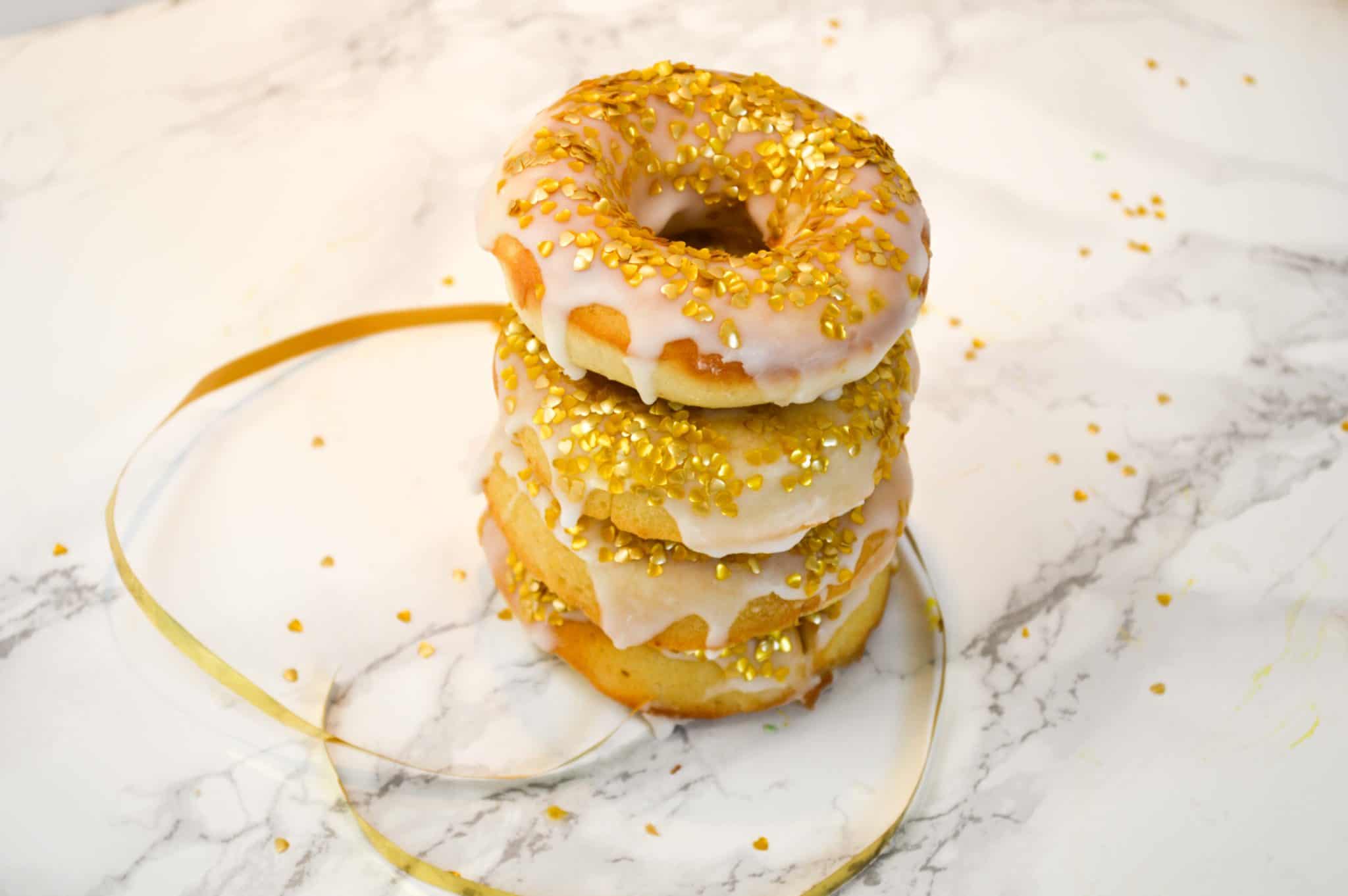 The verdict now that I have finally made donuts? They were just so easy – and fun – to make! Now I know how easy they are to make I am going to be making them more and more (uh oh, waistline…).
For a special occasion, if you are making lunch, brunch or just having a general little get together, make special celebration donuts!
This post contains affiliate links. This means that if you click on a link and purchase something I may receive a small commission, at no additional cost to you.
Recipe for Gold Celebration Donuts
Nonstick cooking spray
1 1/2 cups All-Purpose Flour
1/3 Cup Milk
1/3 Cup Buttermilk
6 Tablespoons Unsalted butter, melted
1 teaspoon vanilla extract
1 Egg
1/4 teaspoon salt
3/4 teaspoon Baking Powder
1/4 teaspoon Baking Soda
1/2 cup granulated sugar
For the toppings/decorations:
Confectioner's Sugar
Assortment of sprinkles
Equipment Needed
Donut pan
This recipe makes about 16 donuts.
Instructions for making the donuts:
Preheat the oven to 375F. Spray the donut pan with the nonstick cooking spray, making sure to spray it down well into the wells of the pan. A tip for doing this is to take a piece of paper towel and spread the oil around the pan with the paper towel.
Whisk together the flour, baking powder, baking soda and salt in a bowl. Add the milk and buttermilk.
Beat the sugar and butter together, either by hand or in a mixer. The mixture should be fluffy and light. Add the egg and the vanilla. Mix again until all combined. Combine together this sugar/butter mixture and the flour mixture. Mix well.
Pour around 2 tablespoons of the batter into each well of the baking pan. Spread the mixture out a little once in the well to ensure it is evenly distributed.
Place in the oven and bake for around 10-12 minutes. Rotate the pan halfway through that time to ensure even baking.
The donuts are ready when a toothpick inserted into the center comes out clean.
Let the donuts cool down then decorate.
For the Gold Donut Decorations
I mixed together confectioner's sugar and water to form a thick paste, then spread over the top of the donuts.
I used edible gold sprinkles, and a gold sprinkles mix. There are also many sprinkles/toppings usually available for purchase in grocery stores and craft stores, and also on Amazon.