Decluttering solutions for your home's shoe problem!
Every home has its dysfunctional, unorganized hot spots, and shoes and footwear is usually one of those hot spots in every home. So how do you deal with your home's shoe problem?!
Do your kids come home from school and kick their shoes off and leave them where they fall? Is your entrance hallway, and every available closet just stacked and full of shoes and other footwear?
Are you tired of that shoe 'graveyard' in your home and all those shoes just piling up? Do you need a great storage system to take care of the problem?
If out of control pairs of shoes are a clutter problem hot spot in your home, check out these ideas for shoe storage.  These include DIYs that you can make  yourself, and shoe storage solutions and items that you can buy.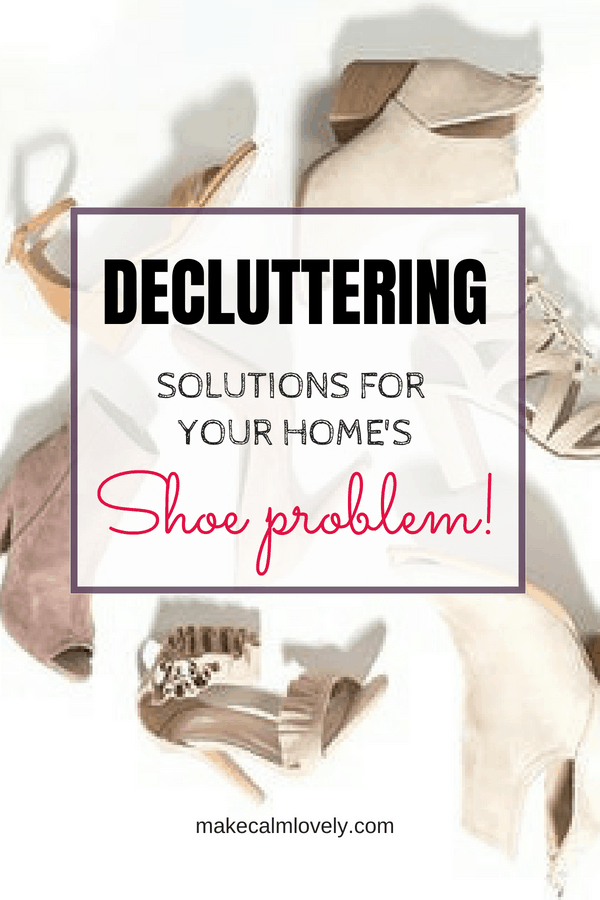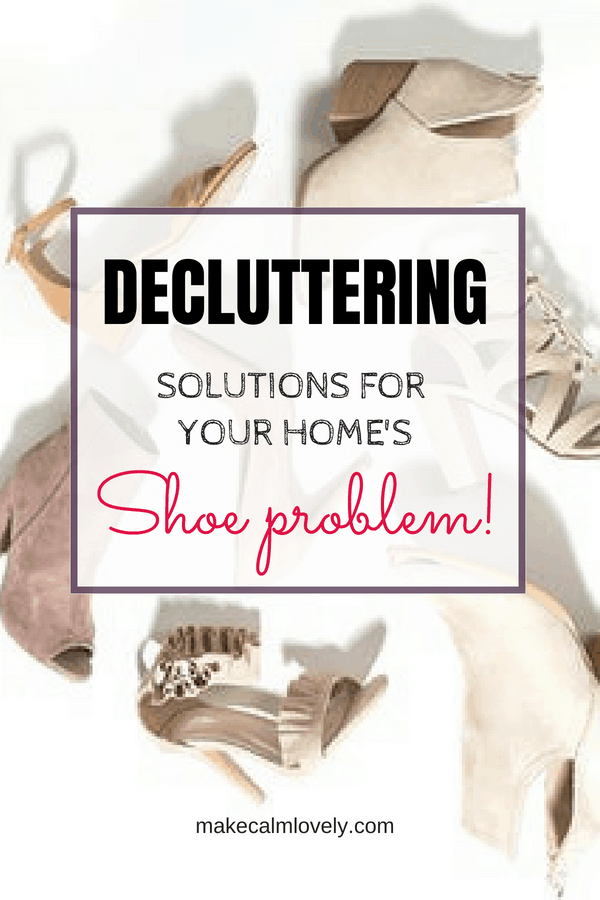 This post contains affiliate links. If you click on a link and purchase something via that link, I may receive a small commission – at no additional cost to you.
Bench and Basket Shoe Storage
This bench with baskets underneath shoe storage is very simple to assemble, but looks really attractive and is quite unique and very functional.  You can see the full post here from Trey and Lucy.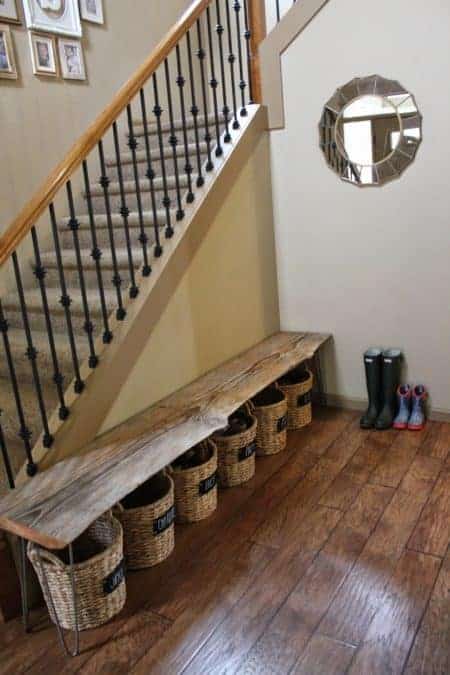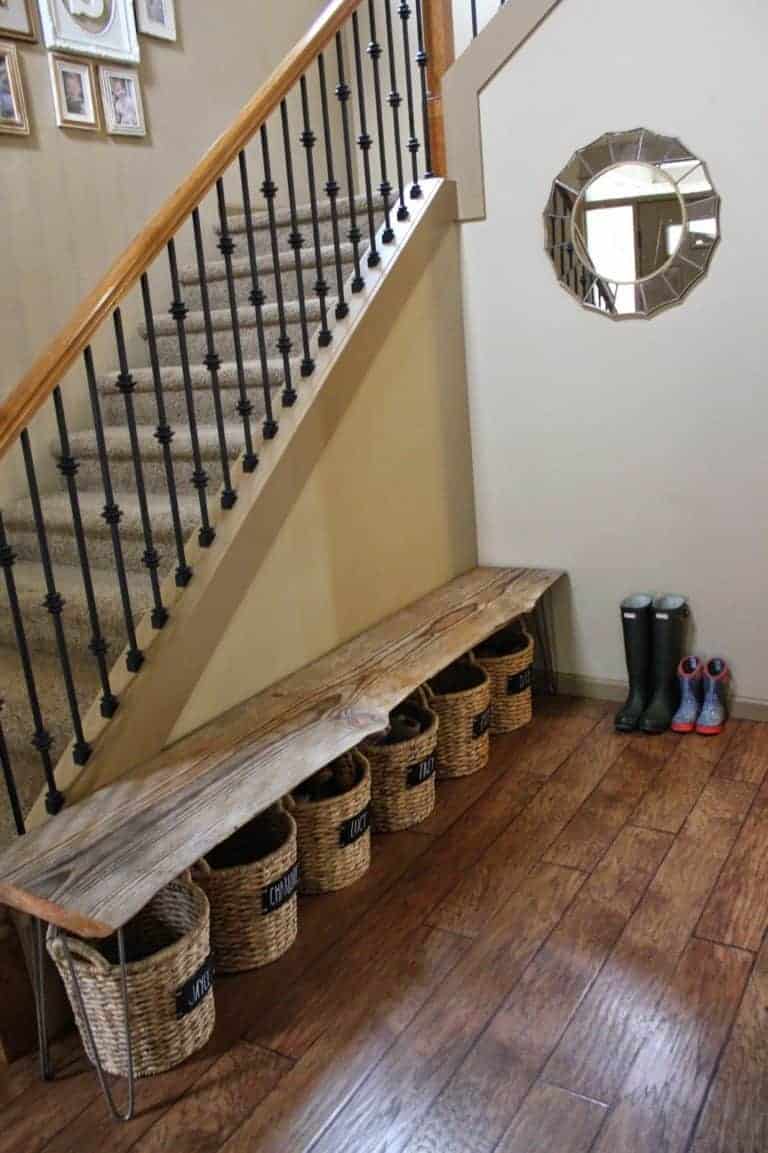 Photo source: Trey & Lucy
Join the Free 30-Day Decluttering Challenge! Get an Email per day for 30 days with Decluttering tips, suggestions, free printables and more!
Shoe Storage under the stairs
This is an absolutely genius way of storing your shoes, using that 'dead' space that lies behind your stairs. Get the instructions and full DIY here.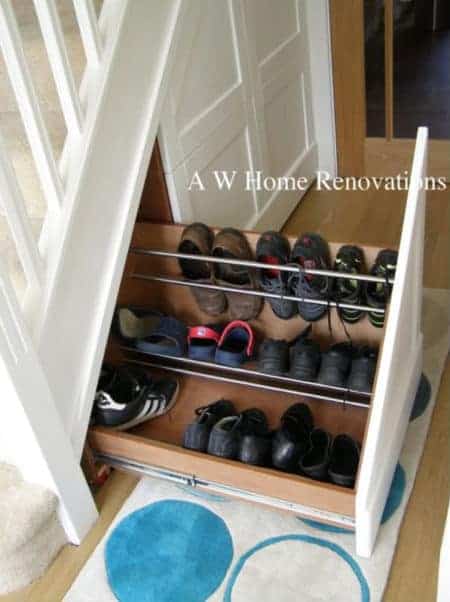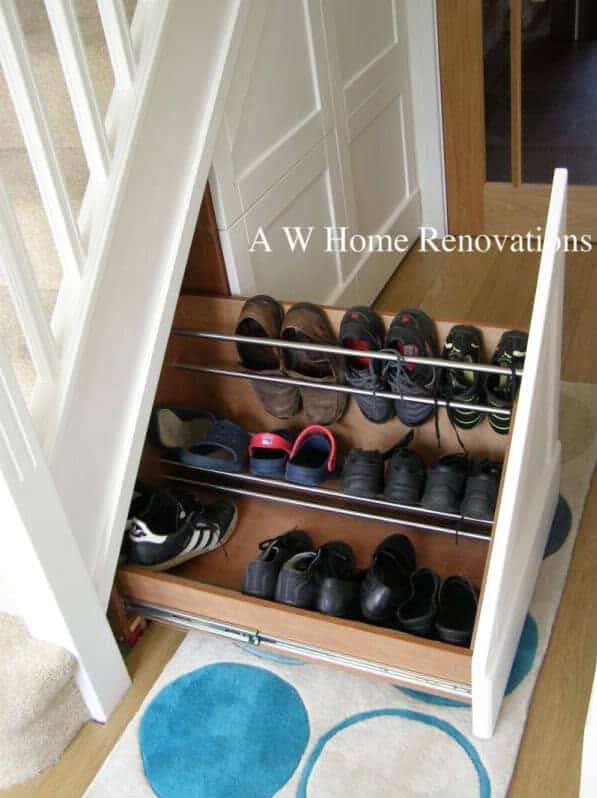 DIY Ladder Shelf Shoe Storage
This is an easy fast DIY that will create attractive storage for your shoe problem.  You can follow the very easy DIY instructions here at Design Sponge.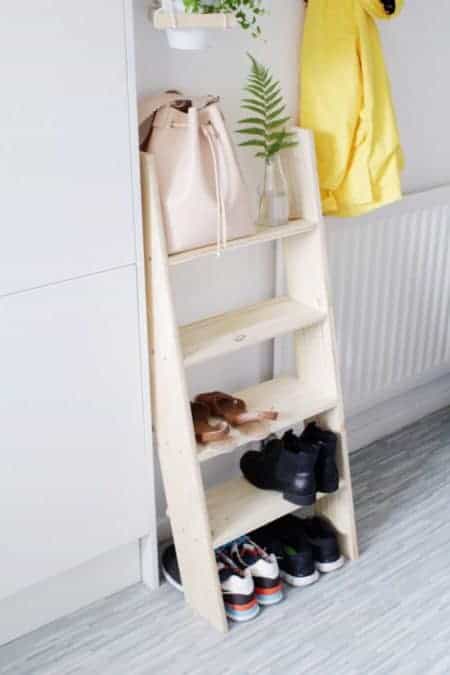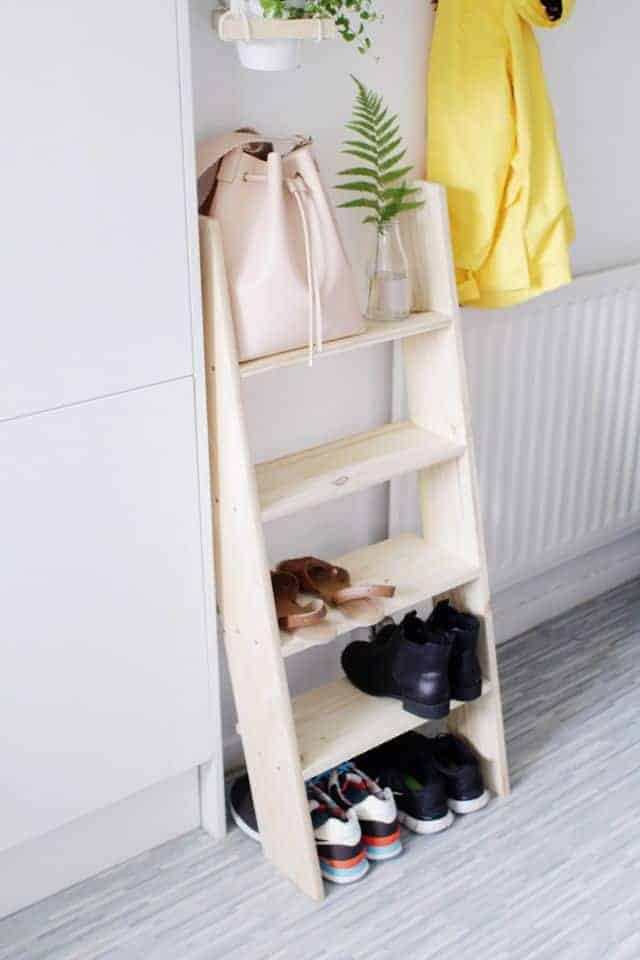 Photo source: Design Sponge
Shoe cabinet from IKEA
The Hemnes shoe cabinet is one of IKEA's best-selling products.  It comes in white, black/brown or gray stained colors.  It holds at least 12 pairs of shoes, and your shoes will get the ventilation that they need. It also has a great drawer at the top that you can use for storing your phone, keys etc. Perfect for entryways or other spaces in your home where your shoes pile up.
Here is a very fascinating video on how to assemble the cabinet (and the guy assembling is quite cute also!!):
Built-into the wall shoe storage
This site is not in English (but can be translated), but I think you can get a pretty good idea for this. This is a great idea of how to create space that just isn't there. 
By cutting shelving into the wall by the place where shoes are discarded and need to be stored, you can create not just a nice looking storage place, but also a fully functional storage place.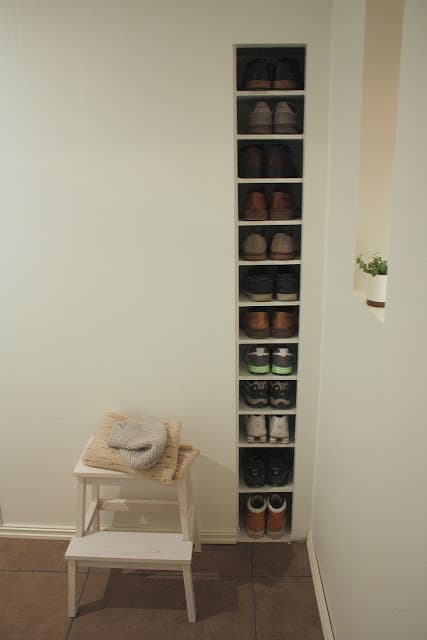 Rotating Shoe Organizer
A lazy susan for shoes! Will work well free-standing or in a closet in your home.  Watch the full DIY video below! (don't fancy making it yourself? You can buy a similar one from Etsy!).
Floating Copper Shoe Rack
A great idea, and a simple DIY create this unique and useful floating shoe rack. You can see the full post and instructions here.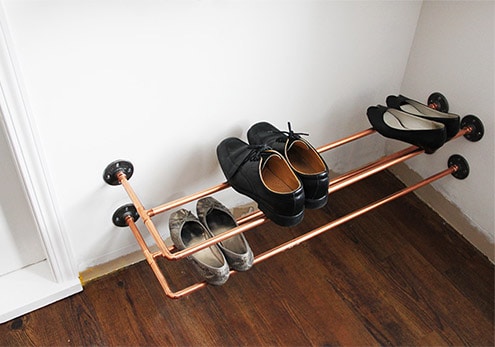 DIY Rolling Shoe Rack
This DIY from Home Depot makes up a great rolling shoe rack.  Versatile for every day use for your family, and if you have guests over, or ever need it in another room, you can roll it away to hide or be used somewhere else! Get the full DIY tutorial from Home Depot here.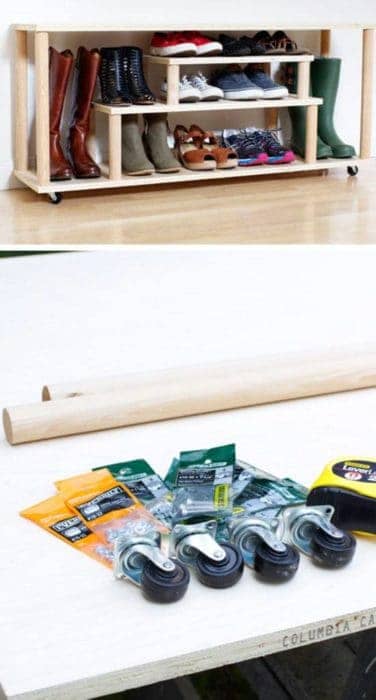 Photo: Home Depot
Hide behind a curtain
If you have shelves that can be used to store your shoes, you can easily hide them behind something like an attractive curtain. It will be hidden and accessible, yet your home won't look cluttered and unattractive.
Hidden storage inside your stairs
This is an amazing unique way to store your shoes and other things – directly inside your stairs! You can see the information about this here.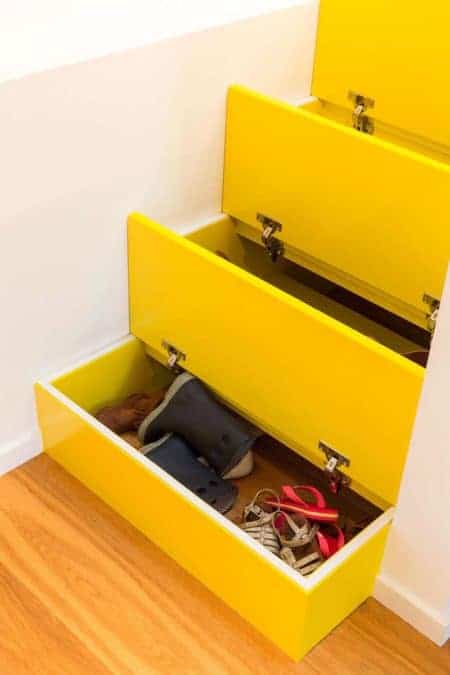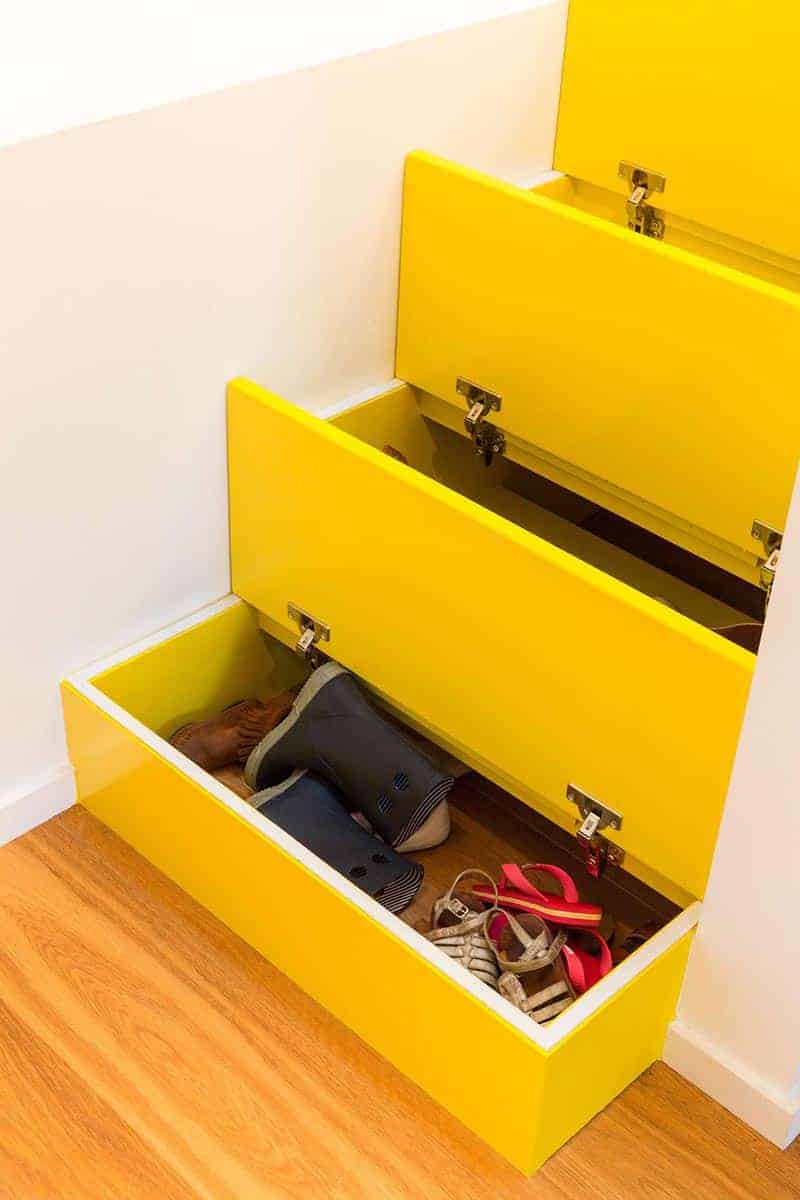 Another inside the stairs storage idea
Just because this is such an amazing idea! Here is another photo of storage INSIDE your stairs!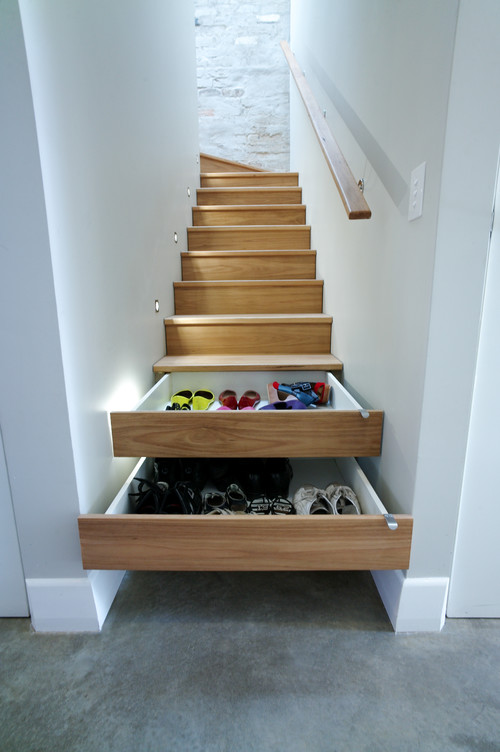 Modern Wooden Shoe Holder
This shoe holder, available from Etsy, is handmade from wood, and easily assembled. It has a nice Scandi modern look to it.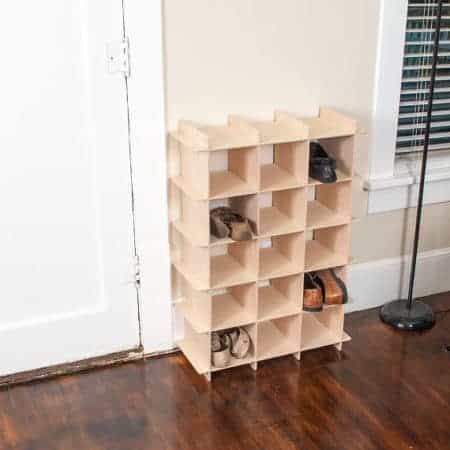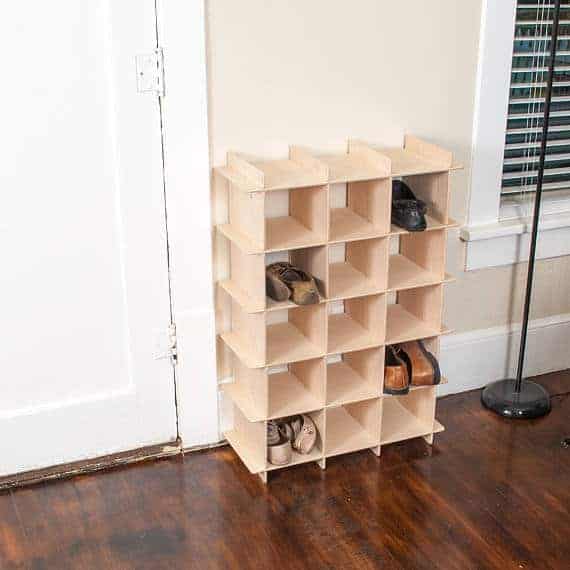 Over the door shoe organizer
This is the basic, trusty and inexpensive way to take care of storing and hiding away your shoes. It is very basic and not attractive unless you place it on the inside of a closet door, but it works well for a fast fix to your shoe problem. Available from Amazon.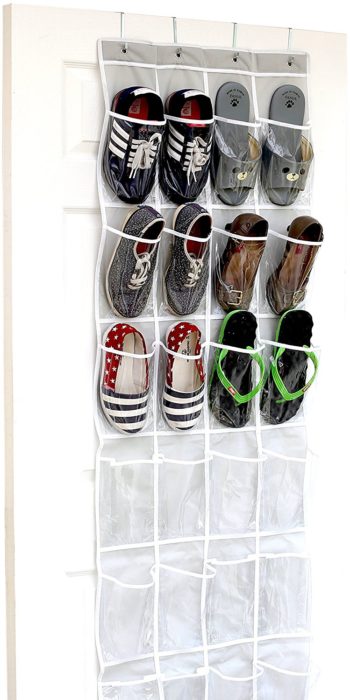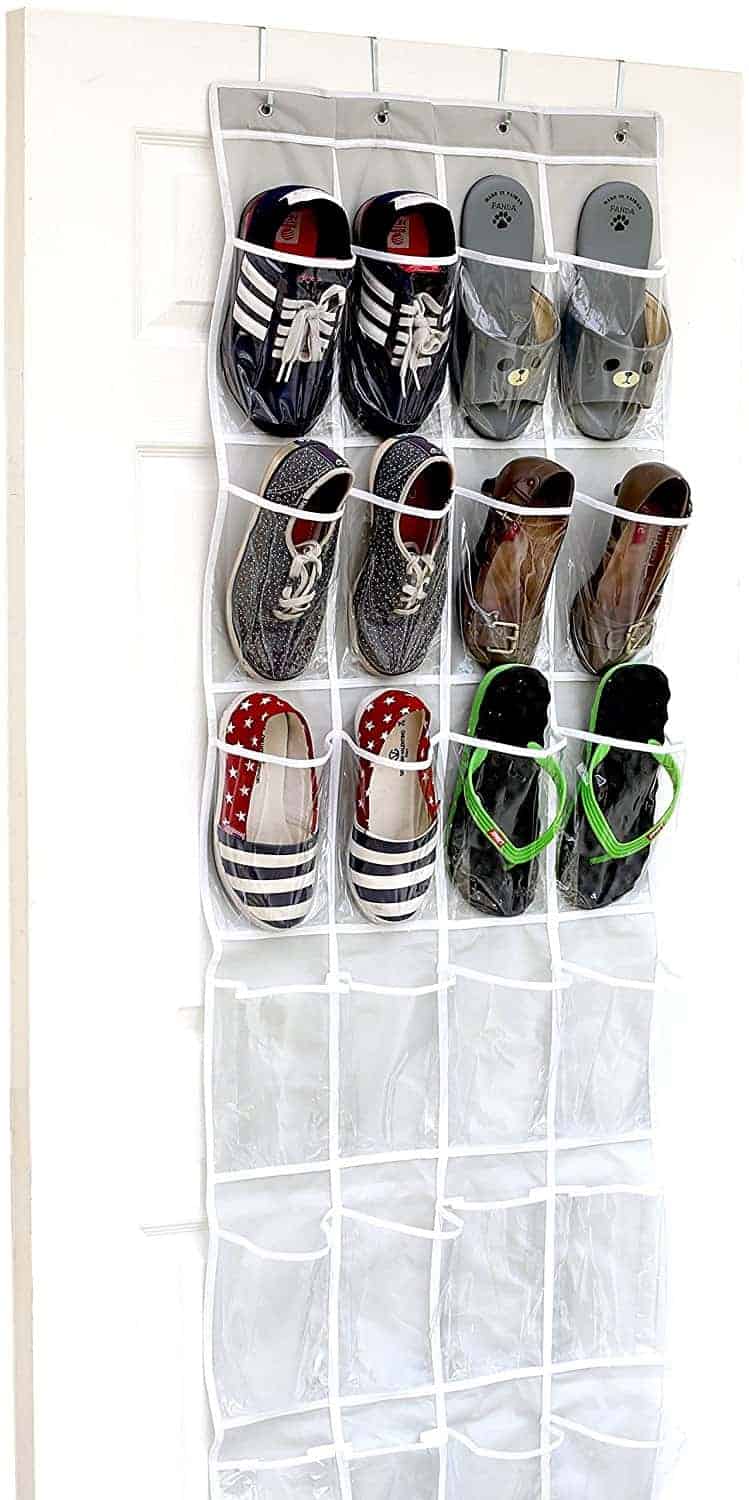 DIY Adjustable storage bench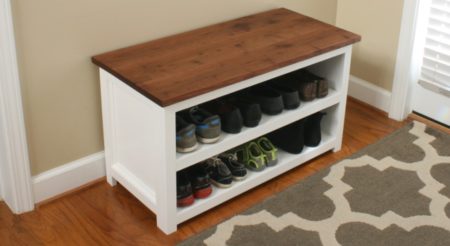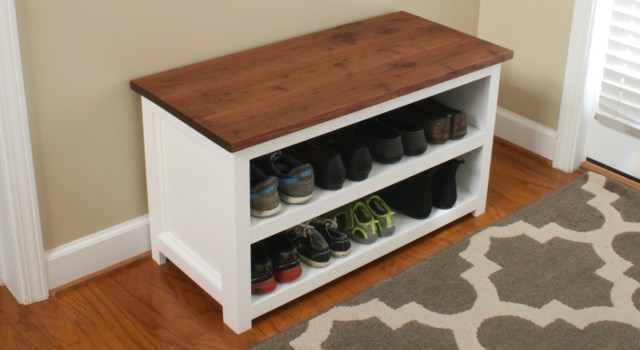 Hexagon DIY Shoe rack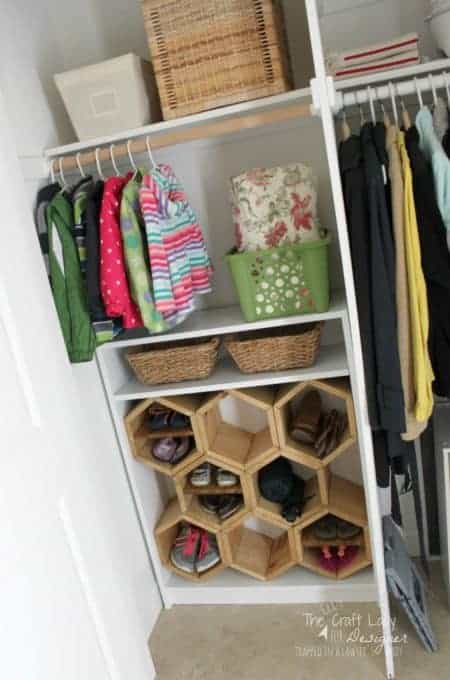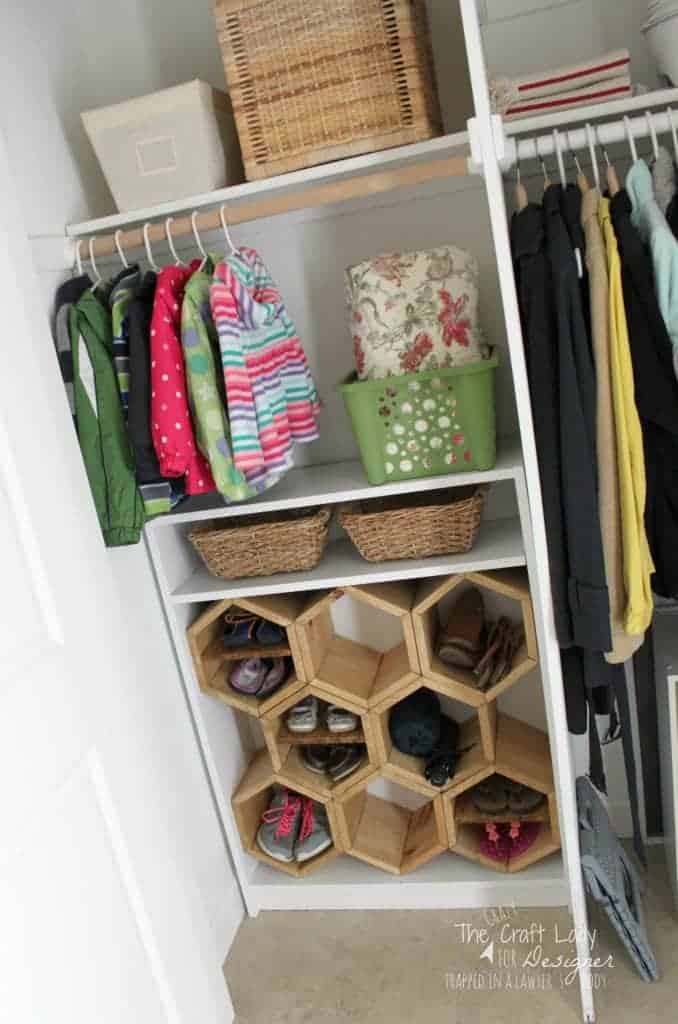 I hope this post gave you a lot of ideas for dealing with the shoe graveyard problem in your home! If you have a great solution to this problem that I bet practically everyone has, please share it!
You may also like:
Every home has its dysfunctional, unorganized hot spots, and shoes and footwear is usually one of those hot spots in every home. So how do you deal with your home's shoe problem?!