IKEA's Secret DIY Website: You will be amazed by these ideas!
I love IKEA and IKEA hacks, so I like to trawl the web for all kinds of IKEA inspired ideas and hacks constantly. However I wasn't aware of IKEA's own DIY website until I came across it by accident! So I had to share it with you!
If you are a regular reader of Make Calm Lovely you will know how much I love and promote IKEA hacks. They are just the best for creating your very own stylish, inexpensive, and unique DIY projects for every area of your home.
If you haven't seen any of these amazing IKEA hacks, I encourage you to check out some my top IKEA hacks posts:
IKEA Mid Century Modern Style Hacks
14 IKEA Hacks that Look Antique & Vintage
The 10 Best IKEA Bed Frame Hacks
14 Great IKEA Hacks for your Kitchen
IKEA hacks take something already great, and turns it into something different, unique and even more great and amazing.
IKEA hacks can be as hard or as easy as you want them to be. They can involve paint, wallpaper, paper, and more. They can need the use of power tools, or be simple to do without any additional tools or help.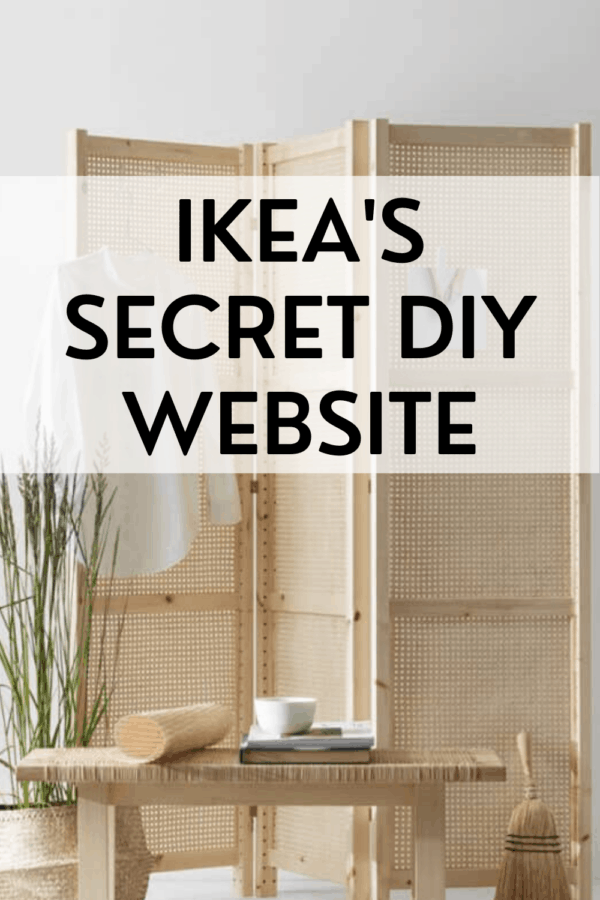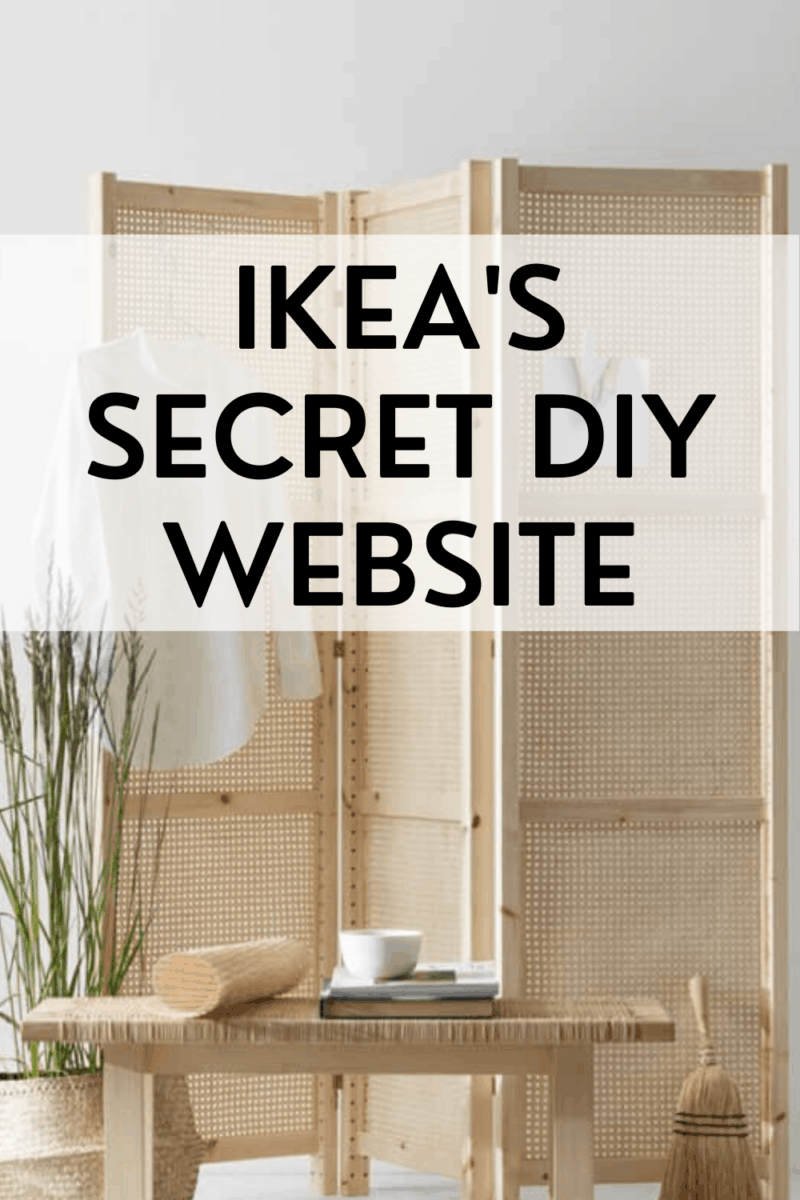 The Secret IKEA DIY Website
The secret IKEA DIY website is this one here – Livet Hemma. Well, it's not actually really that secret. You don't need a special password to get in, or anything like that. It is just that it doesn't seem to be widely publicized, and it really should be!
IKEA touts the Livet Hemma website as "another page of IKEA." See – even they are playing it down! It is certainly more than just another page.
One of the reasons it probably isn't really easily found and known about is that it is completely in Swedish. But no fear, if your native tongue is not Swedish, just go to the site using Google Chrome, which has its very own language translator. It will immediately translate the site into whatever your native language requirement is.
Livet Hemma translates to meaning Life at Home, and the Livet Hemma site is not just a DIY site using IKEA products in DIY projects. It is also full of inspiration and tips for how to use and make the most of many IKEA products, that includes new, as well as, old favorite IKEA products.
This is an amazing website. If you love IKEA, and you love IKEA Hacks, and you love DIY and Home projects, you are going to be lost inside this website for hours and hours!
Get IKEA Products from Amazon!
Some Great IKEA Hacks from Livet Hemma
Here are some of my favorite hacks and DIY projects from the website, Livet Hemma.
Rattan Room Divider Screen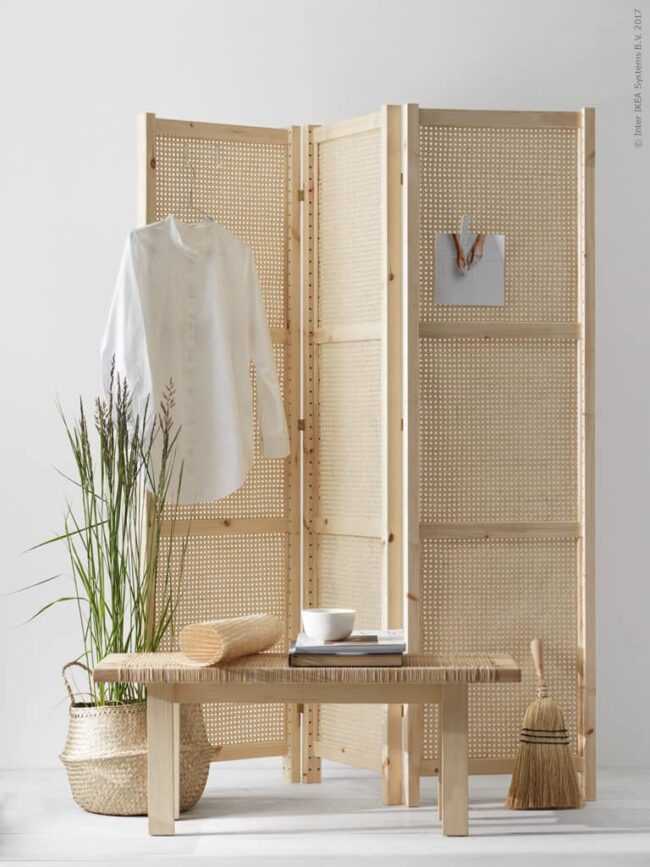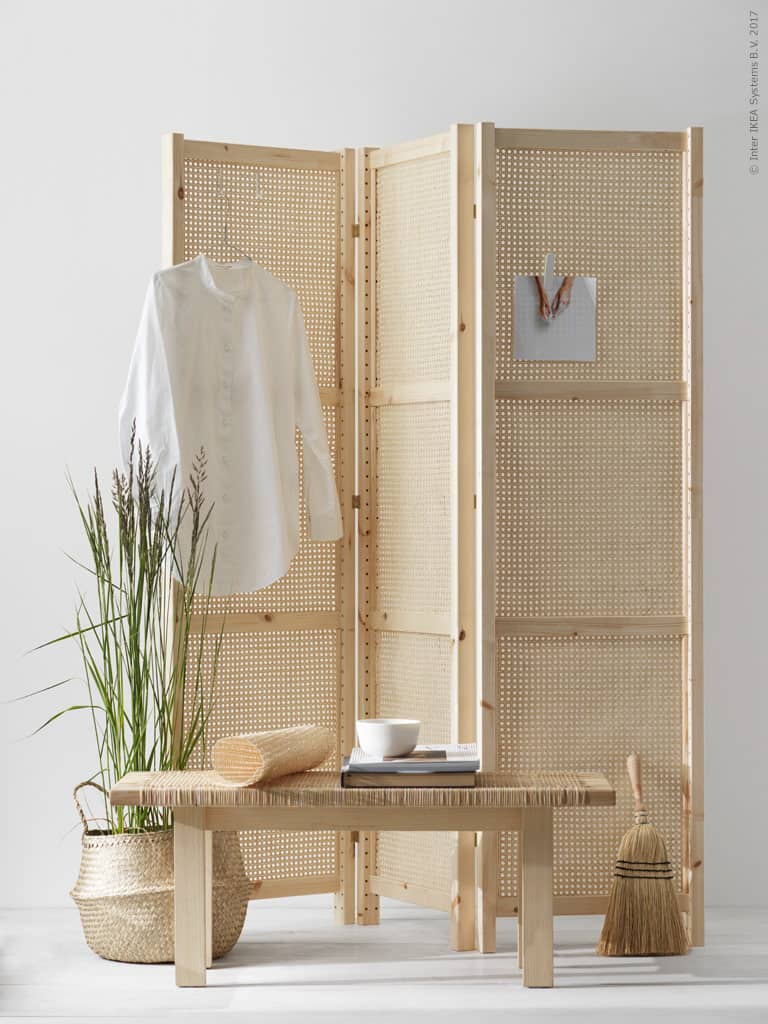 Photo Credit: IKEA
This is such a beautiful hack for your home. It is especially great if you are short on privacy space in your home. A room divider screen is perfect for that, as well as being a really attractive back drop to any room.
This DIY that is covered on the website, is actually pretty easy. It uses an easy to find base piece from IKEA, and then is just fitted with cane webbing. You can see the full hack on the website here.
DIY Loose Fit Headboard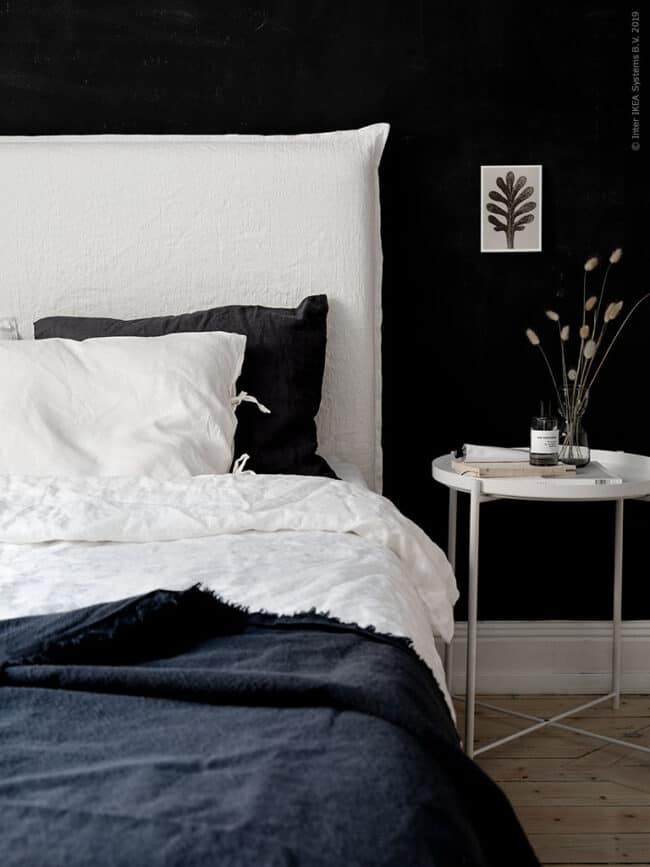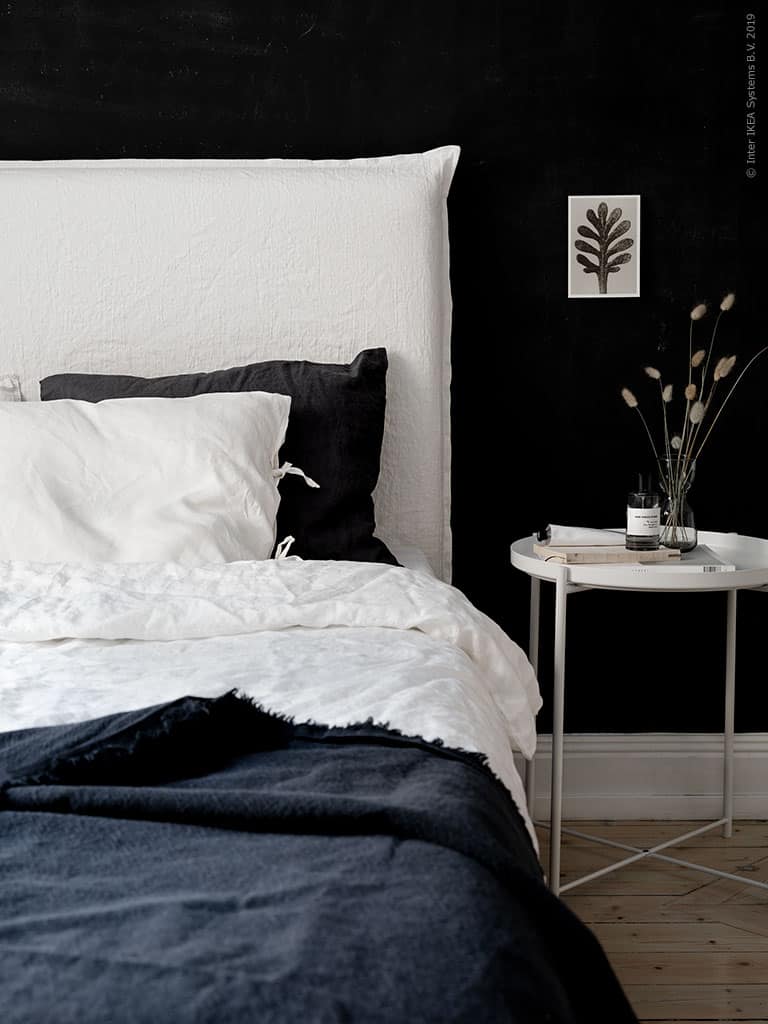 Photo Credit: IKEA
This is a beautiful DIY project from IKEA's very own pages to make a gorgeous cloth headboard.
If you want a different kind of headboard, that fits in more with your home decor, this is a wonderful hack. You can see the DIY here.
Want to make your own upholstered headboard?
See our very own DIY here!
Pax Cork Wardrobe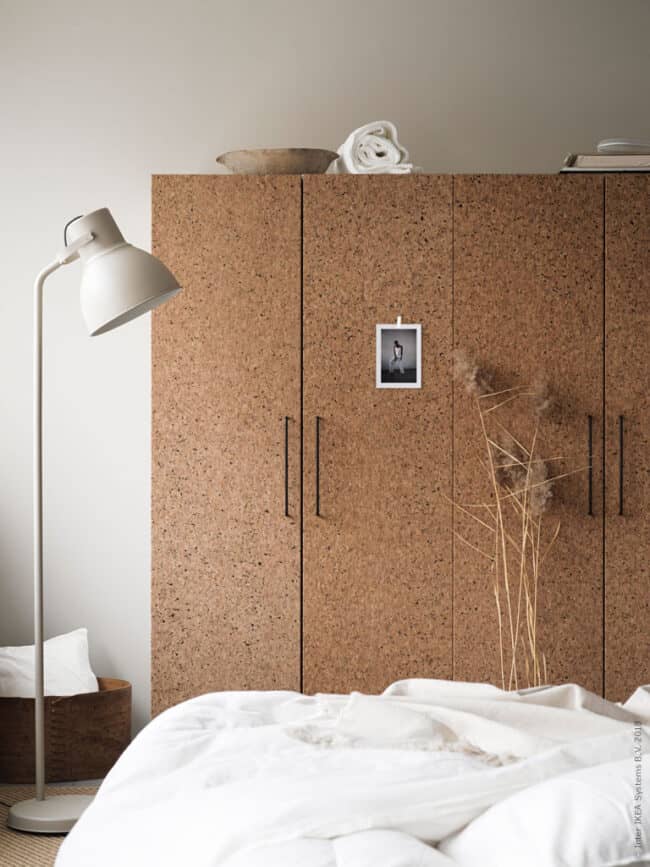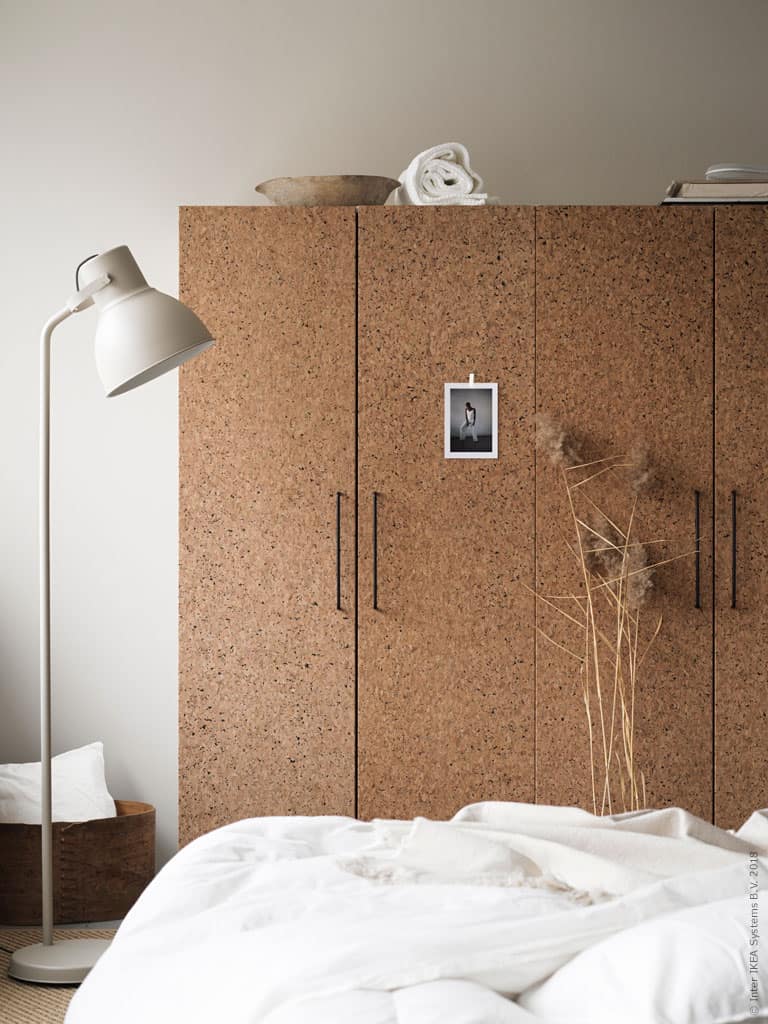 Photo Credit: IKEA
This hack takes the IKEA Pax wardrobe system, and adds a touch of flair and style to it. The cork on the wardrobe doors adds a great stylish look.
This is a fantastic hack for a wonderful product anyway.You can see the DIY here.
IKEA Tarva Dresser Hack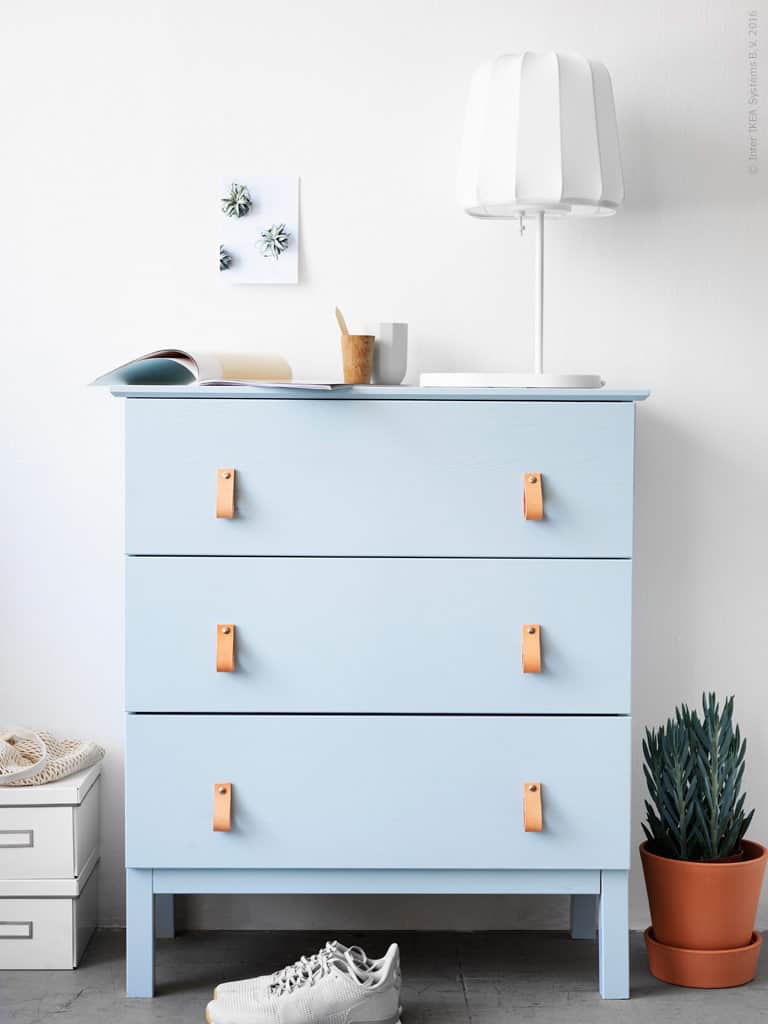 Photo Credit: IKEA
This great hack from the site takes the Tarva dresser and turns it into a beautiful stylish and colorful dresser. This is a great example of an IKEA hack – take something already great and make it even better!
Simply by painting it, and adding leather handles, you can create such a stylish piece for your home. You can see the hack right here.
Ivar in Black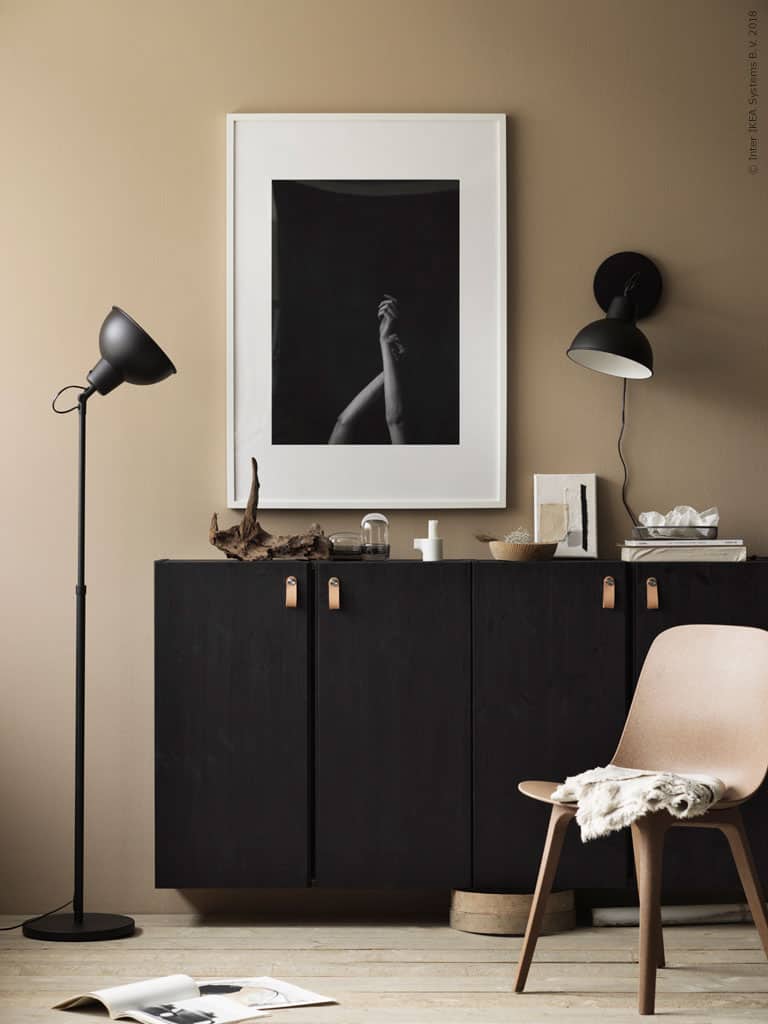 Photo Credit: IKEA
Just add some black paint and some new handles and IKEA Ivar is completely transformed in dark mysterious black!
This cabinet would be such an amazing centerpiece to any room, and would fit in with absolutely any home decor and style. You can see the DIY right here.
Some Great IKEA Inspiration Ideas
There are many great inspiring ideas on this Livet Hemma site, and here are some of the ones I found that are my absolute favorites:
Home Theater Under the Sky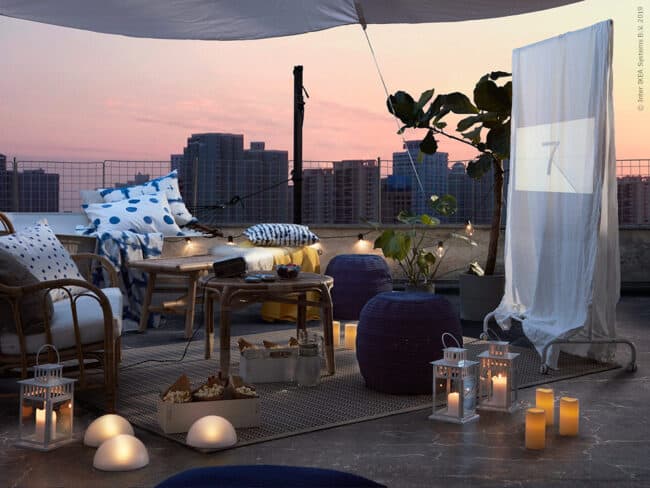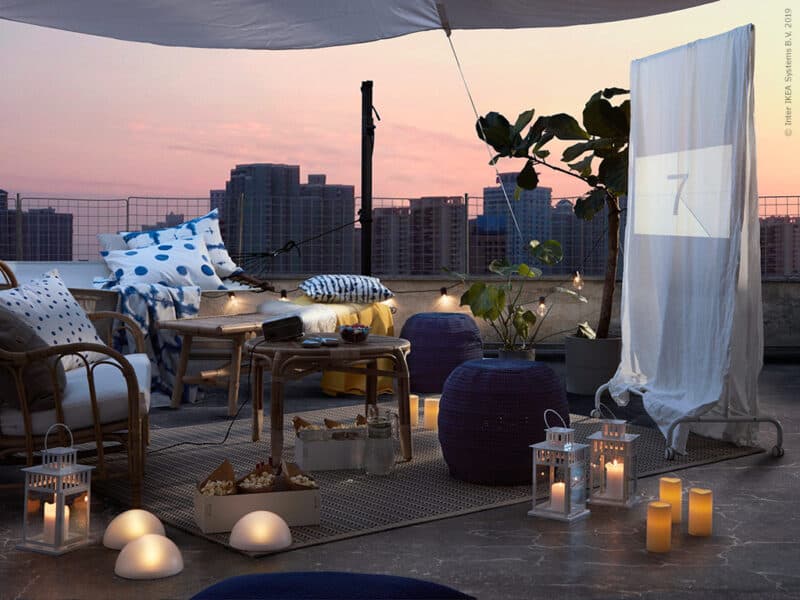 Photo Credit: IKEA
Create an outdoor home theater using popular IKEA products! This is an amazing space that has been created, using nothing but easy to obtain IKEA products.
Outdoor Bathroom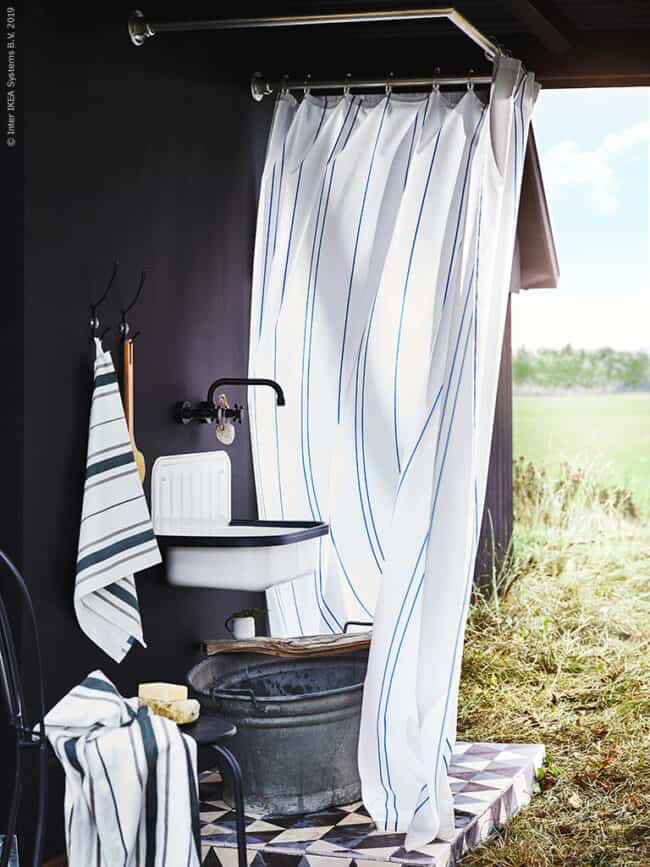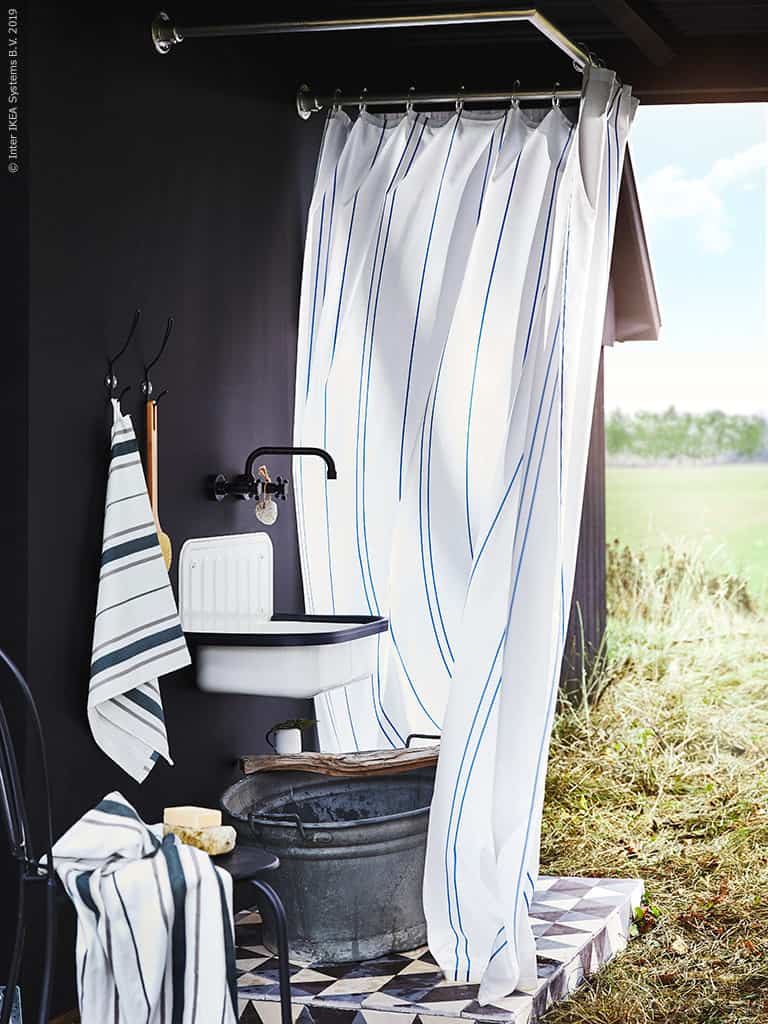 Photo Credit: IKEA
An amazing outdoor bathroom that has been created using IKEA products. Create extra space around your home, or fix up something for outdoor camping and living!
This outdoor bathroom has a vintage vibe to it. Is there truly anything that you cannot create with IKEA products?
As you can see, this secret website from IKEA is full of amazing hacks, DIYs, Ideas and Inspiration! I can't believe I didn't find this sooner! But now I have, it will be bookmarked and visited often!
Lose yourself in the Livet Hemma website, IKEA's up to now quite secret website! Discover all kinds of DIYs, hacks and ideas to do and make with IKEA products and furniture!
I love IKEA and IKEA hacks, so I like to trawl the web for all kinds of IKEA inspired ideas and hacks constantly. However I wasn't aware of IKEA's own DIY website until I came across it by accident! So I had to share it with you!