The 10 IKEA Product Staples you Need for Your First Home
Your first home is exciting and you want to make it your own! So you need stylish and beautiful things for your home, that are affordable too. Here are 10 items from IKEA that you definitely need for your first home!
Your first home is such an exciting event in your life! Whether you are renting or buying, or moving into an apartment or a house, you are excited to get a place of your own, that you can actually furnish and decorate yourself!
But when you get your own home, money is usually tight. You want stylish lovely products. But you need affordable products too, especially when there is so much to buy at first.
That is why I always advise anyone I know getting their first home to start out with some IKEA staples. IKEA is affordable good design. You can't beat the Scandi style of IKEA.
IKEA furniture doesn't go out of style, and if it ever does you can paint it or hack it to completely change its look!
Here are 10 great staples for your first home that are all available from IKEA
1.Raskog Cart
I love the Raskog cart from IKEA. It really is the most amazing piece of furniture. I love it so much because it can be used in any room of your home. It can also be used for absolutely anything at all.
In your first home you can use the Raskog cart for extra storage in your bathroom. You can use it in your kitchen if space is tight as an extra counter and shelves for storage. You can even use it in your bedroom as a bedside table!
A Raskog cart is a perfect piece for a new home. It is affordable, good design, and it is a piece that will grow with you. You can move it into any other room at any time, and use it for anything that you need storage and organization for.
See 15 Great uses for the Raskog Cart Here
2. Bekvam Stool
The Bekvam stool is a really handy basic piece of furniture that IKEA sells. It is very affordable and it comes in 3 basic colors to start. It is also extremely easy to hack and turn into something else.
The Bekvam stool is ideal for your first home, because you can use it for extra seating if you ever need it. You can use it as a plant stand. You can even use it as a bedside table. It can also be used a side table if you need one.
Because it is so hackable too, you can totally make it into a unique piece for your own home and your own style.
See 15 Amazing Bekvam Step Stool Hacks
3. Billy Shelving Unit
The Billy shelving unit has been sold by IKEA for years and years. It is a basic shelving unit, available in different sizes and different colors.
What I love about Billy for a new first home is that it is so affordable and will create much needed storage space immediately. But just because it is plain doesn't mean it isn't a lovely piece of furniture.
Billy can also be hacked and changed. Billy can even be turned into built-in cabinets in your home, with a little bit of DIY.
4. Storage Baskets
Storage baskets can be used for everything and anything around your home. They keep things neat and tidy. They keep things organized. They can even keep things hidden.
Storage baskets can be added to existing shelving to change its look and function. They can be used in any room of your home – bathrooms, bedrooms, living rooms, kitchens and more.
IKEA sells a fantastic range of all different storage baskets – at such affordable prices.
5. Mirror
You always need a mirror or two in your home. IKEA has a lovely range of affordable mirrors, such as the Lassbyn and Stockholm models below. They can be placed in bathrooms, bedrooms, hallways and more.
In my experience, mirrors can be so expensive, so why not check out affordable ones at IKEA, that are also so stylish too.
6. Skogsta Bench
A bench is a good basic piece of furniture to have in your home. It works especially well in your first home when you need storage, or a piece of practical furniture, that is affordable and stylish too.
The Skogsta Bench is a really pretty wooden Scandi-style bench. It comes in a beautiful hue of wood, and it is solid and sturdy.
The best thing is that you can use it anywhere in your home. It can be used inside your entrance for keeping shoes under, sitting on when you take your shoes off and on, and if you place a coat rack on the wall above it it makes for the perfect mud room area.
The Skogsta bench is also great for a bedroom, and anywhere you need a bench in your home. You can add a cushion to it for comfort too!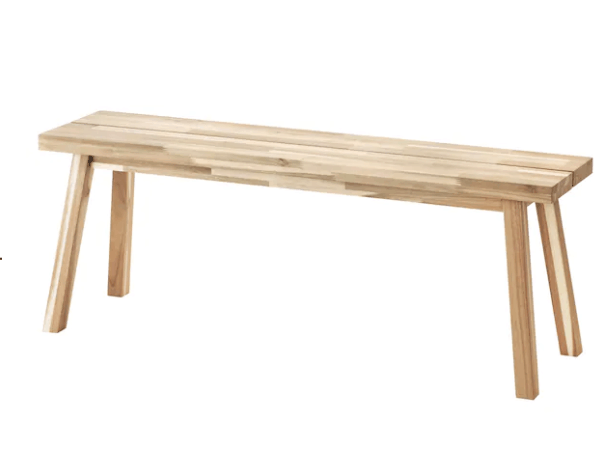 7. Kitchen Cart
If your kitchen is on the small size, and you lack storage space, a kitchen cart can be an excellent choice for your home.
IKEA sells the gorgeous Forhoja kitchen cart, which is a beautiful birch wood cart. It features 2 handy drawers, 2 shelves, as well as a great counter-top area.
It can give your kitchen so much more room, especially if you like to entertain. But it doesn't just stop at being great for kitchens. I have seen Forhoja used beautifully for a hallway table, and even for a craft room too!
8. Coffee Table
A coffee table is a pretty basic need in a home, but they can be pretty expensive to buy. Once again – you need something affordable, but also stylish and functional too.
There are two coffee tables that IKEA sells that I absolutely love. One is a bit trendier with its Mid-Century Modern style, and the other is practical and a time-honored staple coffee table.
Lack coffee tables cost under $50, and they come in black/brown, white, or a white stained oak effect. That means you will find a Lack that fits in with your own home decor. They also have a handy shelf to give you more storage.
Stockholm is a pricier coffee table. But it is absolutely beautiful. It's sleek Mid-Century Modern design will make it the focal point of any living room. It also has a handy storage shelf too.
9. Sleeper Sofa
If you don't have a spare bedroom, but you would like to have friends stay over in your new home, a sleeper sofa is a must!
But you don't want any old stuffy sleeper sofa! Sleeper sofas can be pretty boring and not as stylish as other sofas. But not these IKEA ones!
The Friheten Sleeper Sofa is a modern attractive looking sofa, that is so comfortable to sit on. It also has built-in storage, which means you can even store spare bedding in there ready for guests!
10. Glass Jars
There is nothing more stylish in its simplicity than a glass jar! Glass jars can be used around your home for pretty much anything. They can store foods in your kitchen, cosmetics and toiletries in your bathroom, even make-up and jewelry in your bedroom.
IKEA sells some gorgeous glass jars in their Vardagen range. They come in different sizes – including tall ones, short ones, wider ones and narrower ones!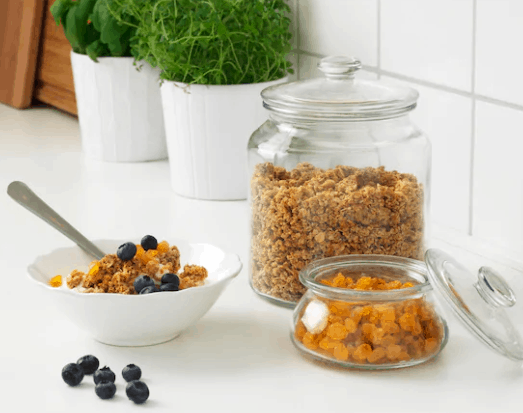 You can't wait to get your first home, and furnish your first home too. So check out these great stylish, lovely and affordable staples that are all available at IKEA.
These pieces will grow with you as you get even more homes. Because they are staples they will work in any style home, and they will stand the test of time!
See the 10 best IKEA Products to hack here!
Your first home is exciting and you want to make it your own! So you need stylish and beautiful things for your home, that are affordable too. Here are 10 items from IKEA that you definitely need for your first home!