Day trip from Rome to Pompeii
A day trip to Rome to Pompeii is entirely possible. Here are the steps we took from Rome to Pompeii, to visit the amazing ruins.
I had wanted to visit Pompeii ever since I was a child and watched a TV show all about it.  Pompeii was high up on my bucket list of places to visit, so I was very excited when we visited Rome and it was apparent that a day trip to Pompeii from Rome was very do-able.
In case you are not familiar with Pompeii, it is an entire Roman town which was buried under ash and lava when Mount Vesuvius erupted in 79AD.  The town has been excavated (in fact parts of it are still not fully excavated) and it is an amazing experience to wander around a real Roman town yourself, and view the surviving sights.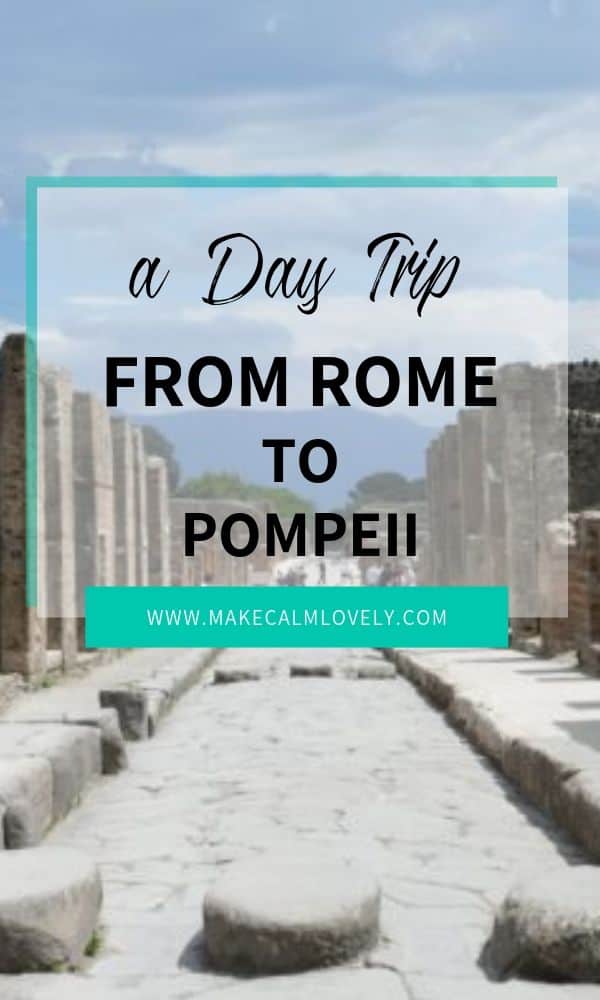 We started the day by leaving the Roma Termini, the main train station in Rome, on a Eurostar train to Naples, which left about 7:35am.  We had booked our tickets in advance on this train online, as reservations are required (you can book on the day itself but it is more expensive and if the train is packed you are not guaranteed a place)*. It was so early that we were part of only a handful of people on the train.  The train ride was smooth and quiet, and the refreshment car offered all kinds of great coffees, not the nasty generic coffee offerings on US and UK trains!  The train took about 1 hour, 10 minutes down to Naples, and I have to say was very enjoyable (but could that be because I was so excited?!)
At Naples Centrale station (Napoli Centrale) we followed the signs to the Circumvesuviana* (across from track 13, downstairs, and down the corridor to the left).  There is a ticket office and info booth, and it was extremely easy to purchase tickets for our family of 4 – even though none of us spoke Italian.  We asked for tickets to "Pompeii, andata e ritorno" (ahn-DAH-tah ay ree TOR noh). There are 2 trains per hour to Pompeii, running every 30 minutes (final destination is Sorrento).  Just beyond the ticket office is a gate where you insert your ticket and walk through. Once you walk through the gates there are stairs to go down onto the platforms.
We waited on the platform for the train to arrive, which quickly began to fill up with tourists, locals and complete families.   The total trip to Pompeii is about 45 minutes, and it is quite a rickety old basic train, more like a NY City subway train – nothing like the lovely Eurostar train we had just taken to Naples!  These local trains can get very crowded, and today was no exception. None of us got seats (and there are no seat reservations), and the train was full of a lot of people on that particular day heading out to the beaches of the Amalfi coast.  It was fun to look out of the windows as we sped along (I remember being surprised at all the laundry hanging outside apartments to dry!).  We got our first glance of Vesuvius from the train window – which was really exciting! It is also possible to see the island of Capri off in the distance.
The stop for the actual ruins in Pompeii is the Pompeii Scavi,Villa Dei Misteri, stop (there are 2 Pompeii stops but Scavi is the one with the ruins, the other Pompeii stop is the modern city). We turned right out of the station and walked down a road to the entrance to the ruins, about a block.  Along the road are various vendors selling drinks, food and souvenirs. We were accompanied down the road by a stray dog, who obviously made this trip many times a day.
The ruins are open every day of the year, from 9am. The main website for Pompeii is here.
On entering the ruins there were lines for the ticket office. There were many tour guides standing around all ready to be hired privately (which we were actually told was the best way to do things).  One of the guides, a woman wearing a bright red hat, took us into her group. She actually went up to the ticket office with our passports and purchased the tickets for us.  We were in her group of maybe around 10-15 people. Our guide toured us through the ruins, stopping every now and again to explain some point of interest to us.
We first entered the ruins up a cobbled street and through an archway, which gives you a great approach to how the town was originally entered.   The ruins truly are amazing.  The main square or Forum was Pompeii's commercial, religious and government center, and it is possible to see the brick and mortar (a Roman invention) of the buildings.  Because Pompeii was built on a grid system, and very well designed and organized, it is very easy to get around and find the places you want to see.  The cobblestone streets are fairly easy to walk along and there are stepping stones along many of them, which enabled the residents to get across without stepping on the ever-flowing water down the streets. You can even see chariot marks in some of the cobblestones.  There are many remains of homes and businesses, which enable you to see a glimpse of what life was like in ancient Pompeii.  The House of the Vettii, which was the house of two very wealthy merchants – a real Pompeii mansion, is absolutely beautiful.  The house is built around two compluviums, which are centers open to the sky, and is full of remarkably preserved colorful wall frescoes.  The baths building was a place where Romans went to relax, be pampered, and be social, and this was probably my favorite building in Pompeii.  There is a beautiful decorated original ceiling in the building and inside would have been a cold bath, hot baths, massage room and steam room. Patches of bright colors still adorn many of the walls. It was lovely walking from room to room imaging life in this place.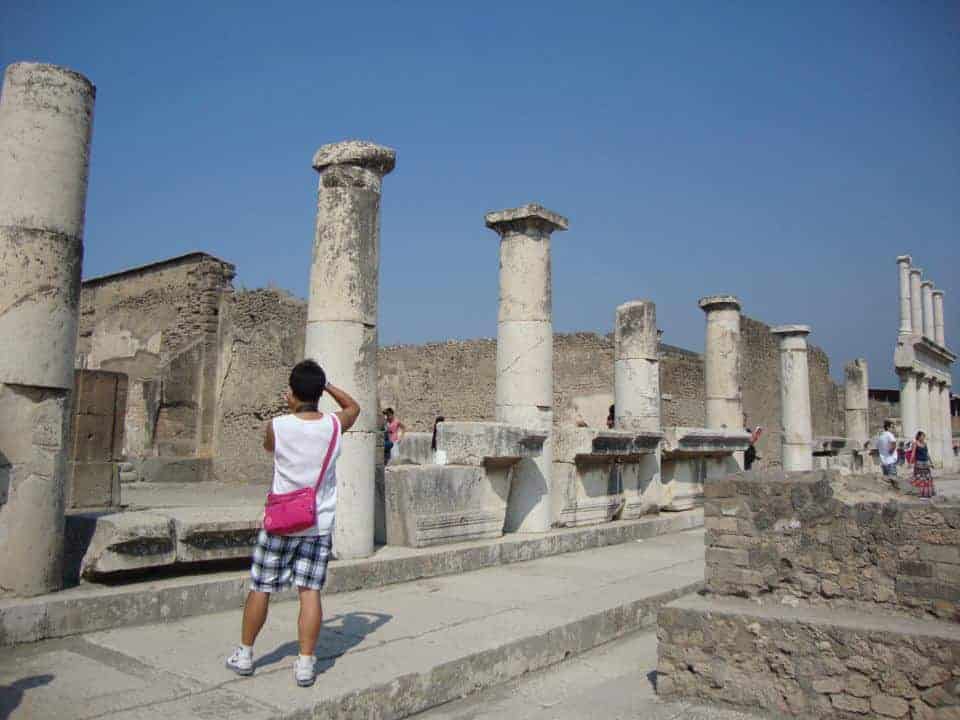 One of the most memorable places was actually one of the brothels.  The brothel has some original erotic pictures inside, which I tried to steer my children away from! (but thankfully they were far more interested in the dog that lay curled up asleep inside!).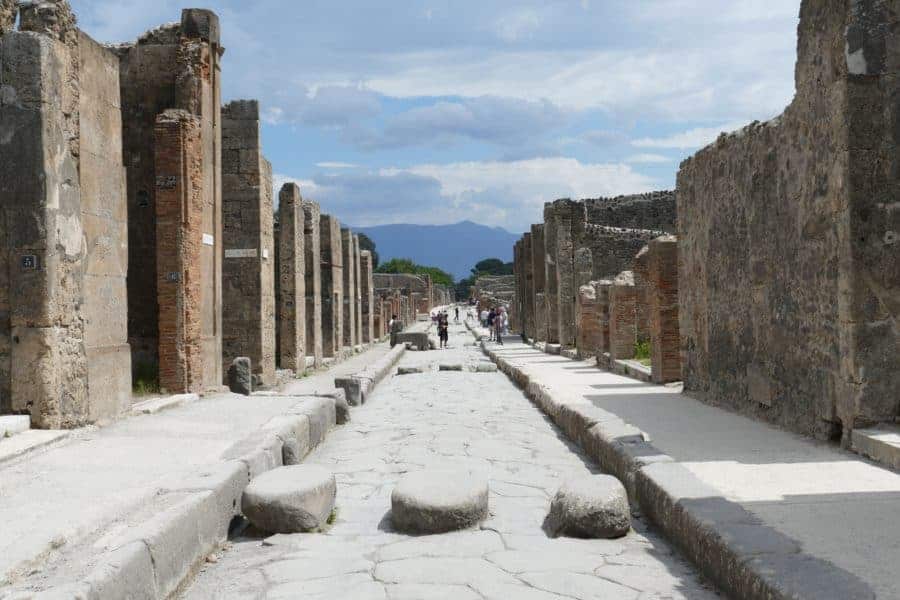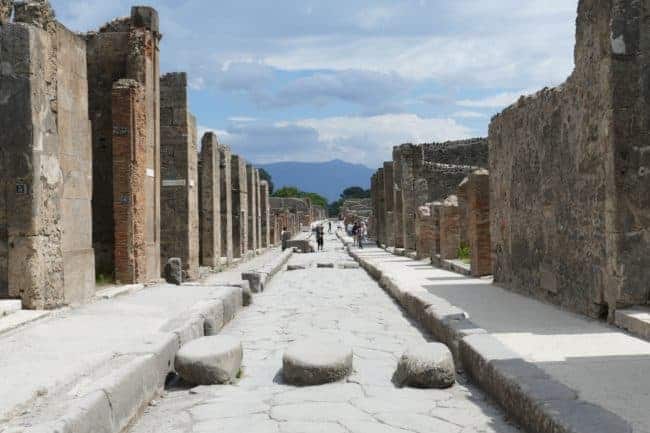 But the most memorable and unforgettable part of Pompeii were the casts of the people who died during the eruption.  They are preserved in many glass cases scattered throughout the site, their twisted and contorted bodies reminding us of the horror of Pompeii's end. After our tour ended we walked to the Garden of the Fugitives, which is on the outskirts of the excavations and can be quite difficult to find.  There are more casts of bodies here, including several children.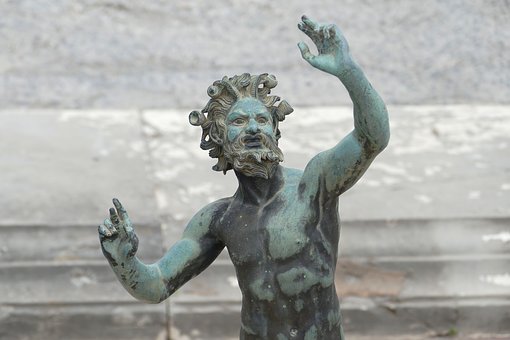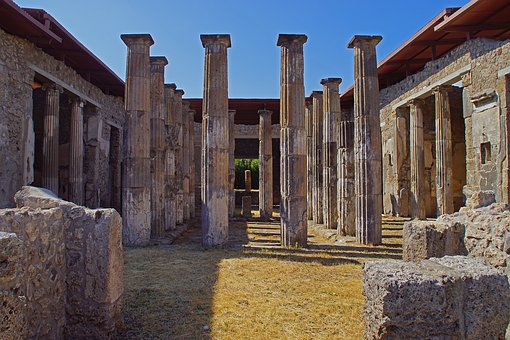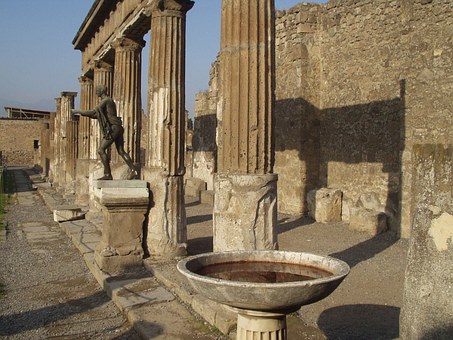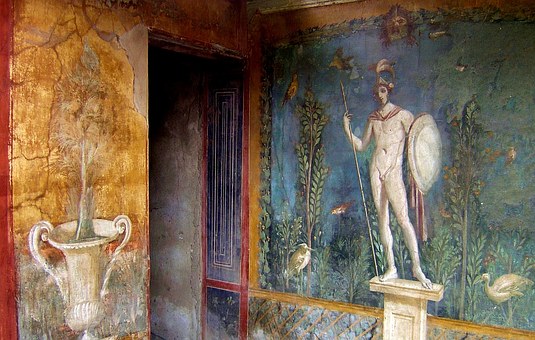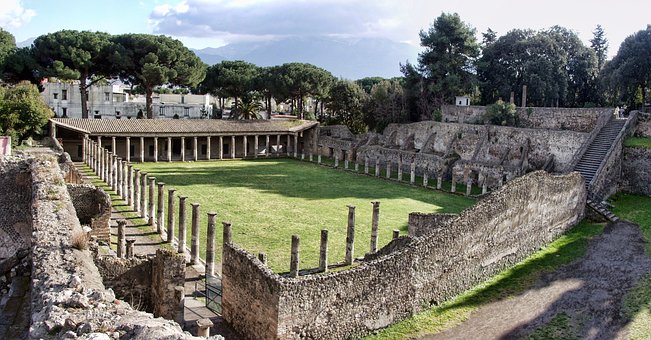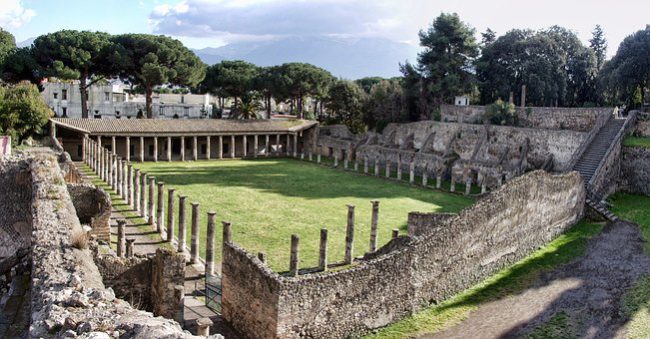 We were visiting Pompeii not only in August, but also during a heatwave in Italy. We consumed so much water touring around Pompeii, which was completely possible because there are original water fountains scattered all throughout the site where we could fill up  our water bottles constantly.  There is a large restaurant where we could purchase lunch, which was absolutely packed on this particular day. It was hard to get a seat, and we eventually pulled up some chairs at a table where there was another family of 4, only to discover what a small world it is as they were from a place only about 20 minutes away from us back at home!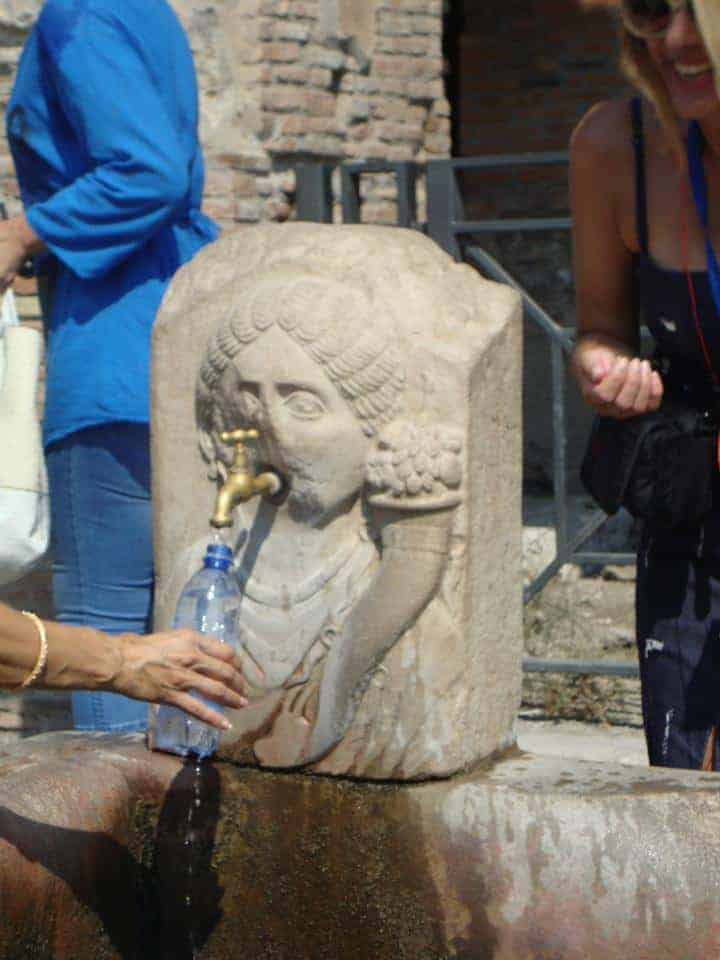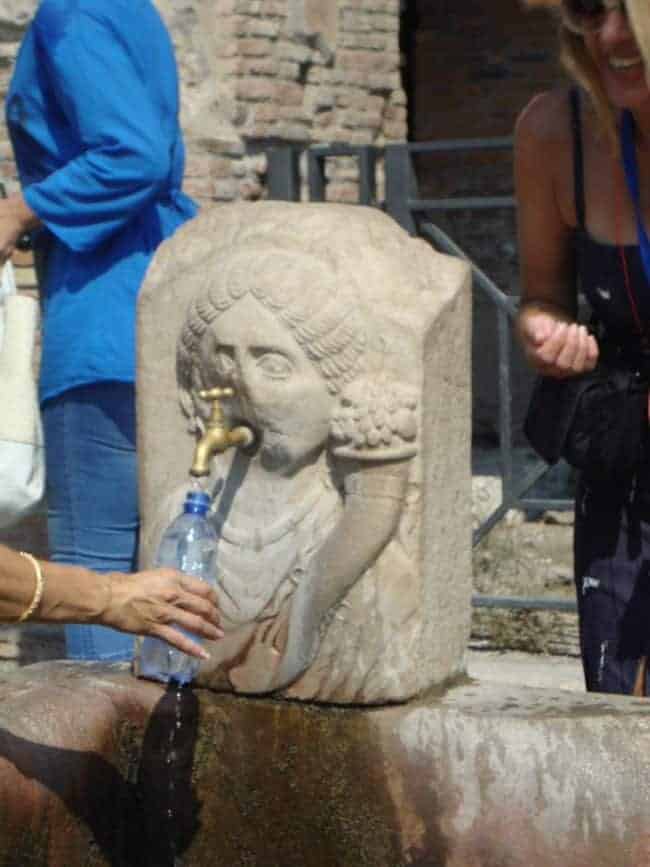 A water fountain
The site is full of stray dogs, who on this hot day were either ambling along looking the worse for wear, or curled up asleep in any shaded spot they could find.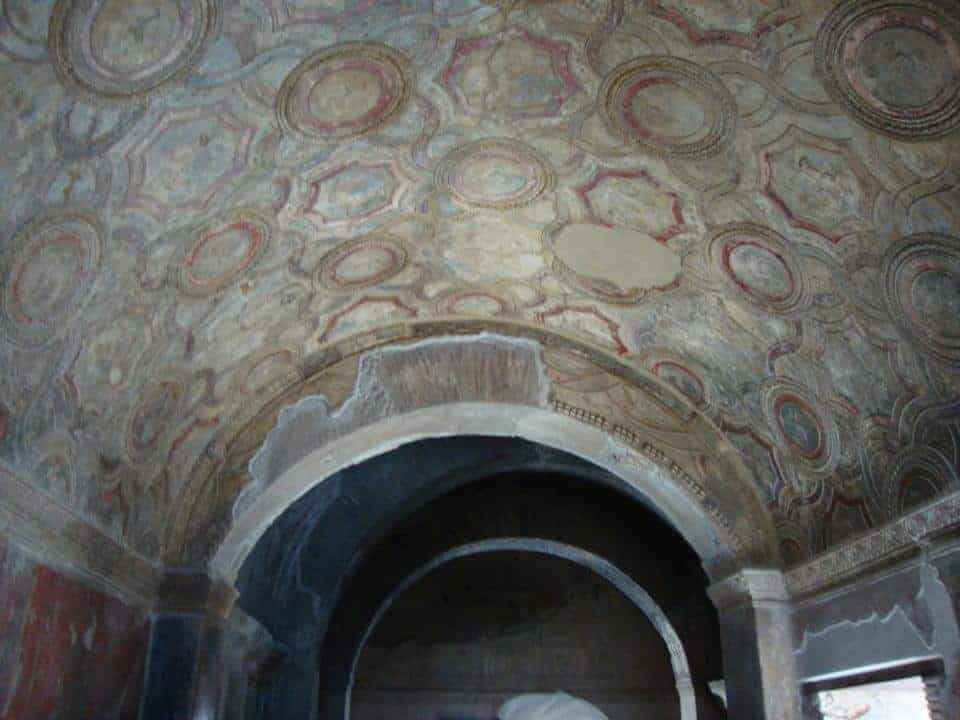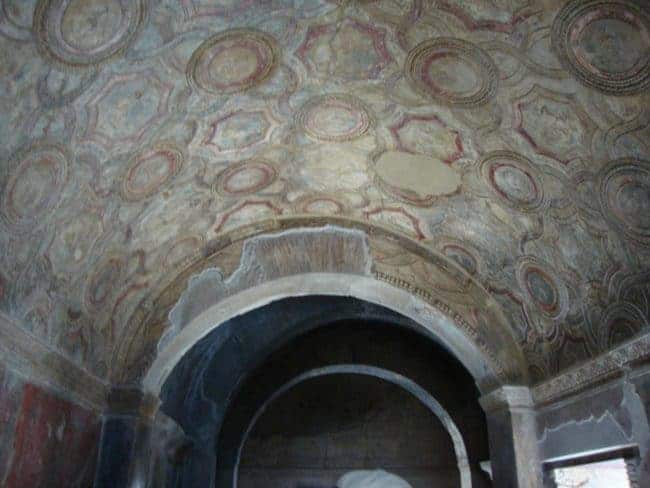 On the way back from Pompeii we decided to stop in Naples at the Naples Archaeological Museum, where most of the pottery, frescos and actual items from Pompeii are now housed, pretty much the riches from the Pompeii site.  We got off the Circumvesuviana train at Garibaldi, and the Naples Centrale station is just up the escalator at this stop.  We then took the Metro (Metropolitana), which is located downstairs at the Garibaldi station to the Archaeological Museum of Naples, buying our ticket at a tobacco shop first of all in the station.
Exiting the Metro it is just a five minute uphill walk along a busy street  to the museum (but it seemed like more because by this point we were very tired!). The museum is housed in a very grand looking old pink building. The building is absolutely beautiful inside, with grand marble staircases and many statues.  The rooms containing the treasures from Pompeii are full of glorious artwork, statues, mosaics, paintings and frescoes, including the statue of the drunken fawn.  Looking around at the artwork and statues it was abundantly clear that Pompeii had been a prosperous wealthy place, where people enjoyed life and had fun for the most part.
The Secret Room (Gabinetto Segreto) houses a collection of erotic arts from Pompeii.  Pompeiians saw the penis as a good luck symbol, and that fact is evident in the collection housed in this room. It was common-place in Pompeii to have a penis on the wall outside your house (like a house number plaque we have today!), and these were everywhere throughout this room. We were able to enter the room without an appointment, and as it was late in the afternoon it was not busy at all.
Before catching the 7pm train back from Naples to Rome, we stopped to have a pizza at a little cafe in Naples, close to the train station.  As pizza was invented in Naples, it seemed only fitting for us to sample a pizza in that city.
A day trip from Rome to Pompeii is easily done, although a pretty tiring, feet aching day! But totally worth it!