DIY Modern Cork Candlesticks IKEA Hack
This is an easy and fast IKEA hack that creates modern and stylish cork candlesticks for your home. See the complete DIY tutorial here.
This weekend I had a bit of a DIY weekend catch up! I had so many DIY projects that I wanted to do, and I finally was able to do several of them and create posts for them! This is quite a win win for me!
I had so many supplies sitting around my home office, just waiting for me to get going on these DIY projects. I only do a DIY project if it is something that I want for myself and my own home, so they were all things I really wanted to make.
One of the DIY projects I had in mind was cork candlesticks made from IKEA Cork coasters. As you know I love an IKEA hack and that is a small simple hack that also creates something great and unique!
IKEA sells cork coasters in abundance. They are sold in packs of 2, and so many people must have IKEA cork coasters in their homes because they have been sold for years in every store in every country!
IKEA has packs of cork coasters scattered all throughout its showroom and marketplace, so it is easy to grab several packets of them next time you are at your local IKEA. They are also only a couple of dollars per pack!
I had some old cork coasters sitting around my home, that have been replaced over the years by other coasters (although those cork ones are pretty fab, as they also absorb any spills!).
So knowing that I had some of those old coasters sitting around, on another trip to IKEA I picked up several more packs of them.
Candlesticks are one of those things I always need in abundance in my home. I am always picking up candles, and many of them are not in containers or jars.
Loose candles need to be placed in something to stop the wax dripping down onto whatever surface they are placed on, and to hold them steady. Not to mention to add something stylish to the candle to make the candle even better looking in your home.
So those cork coasters stepped in so well to create this fast, easy and simple DIY IKEA Hack!
Cork is such a great material to have in your home. It fits in so well with the current Boho style trend. It looks stylish and decorative, and adds a bit of interest to your home decor.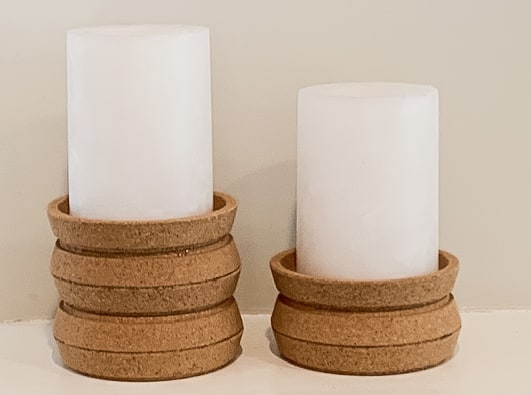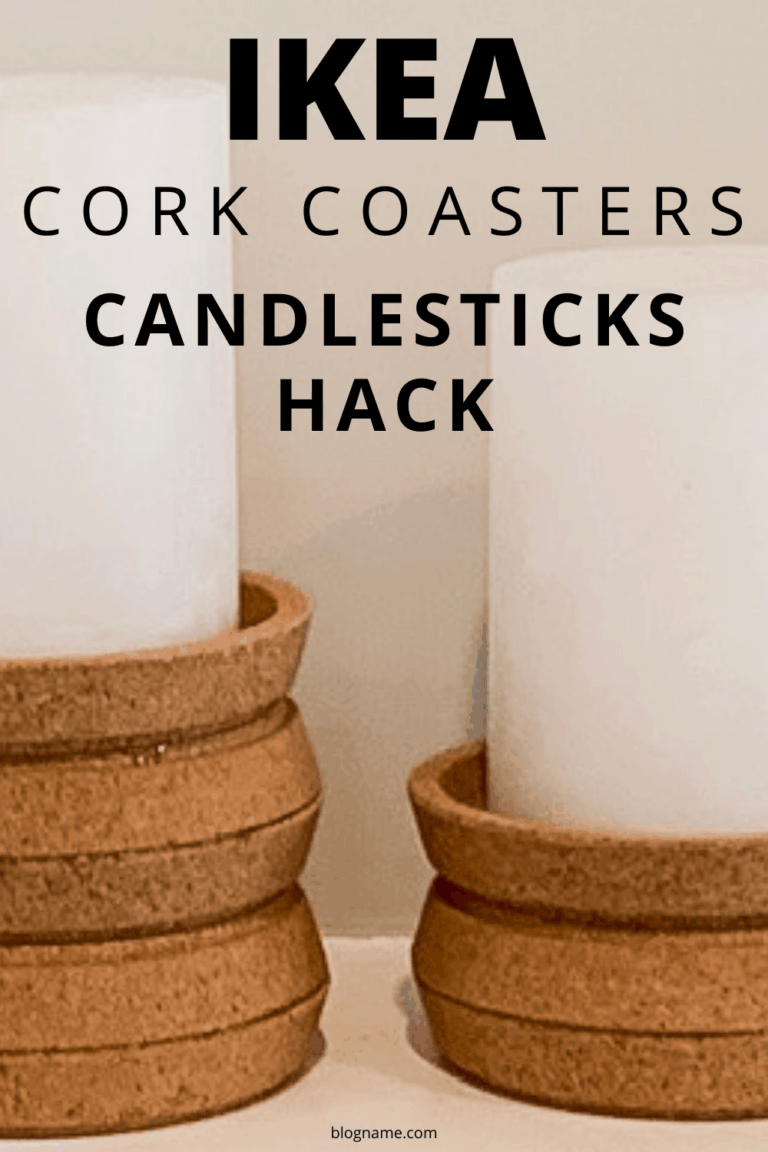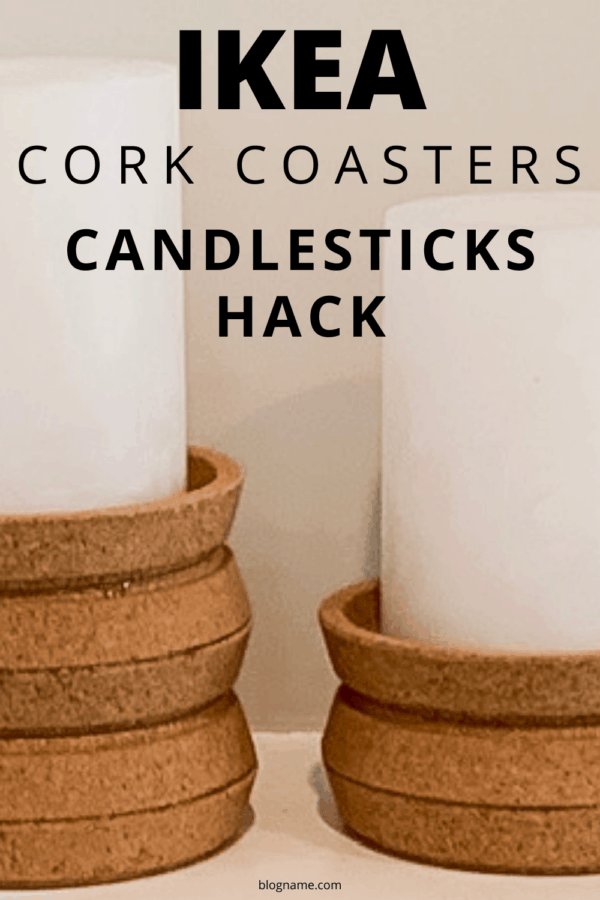 This post contains affiliate links. This means that if you click on a link in this post and make a purchase via this link I may receive a small commission, at absolutely no additional cost to you. You can view my disclosures here.
Supplies Needed for Cork Candlesticks
IKEA Cork Coasters (as many as you need – see information below)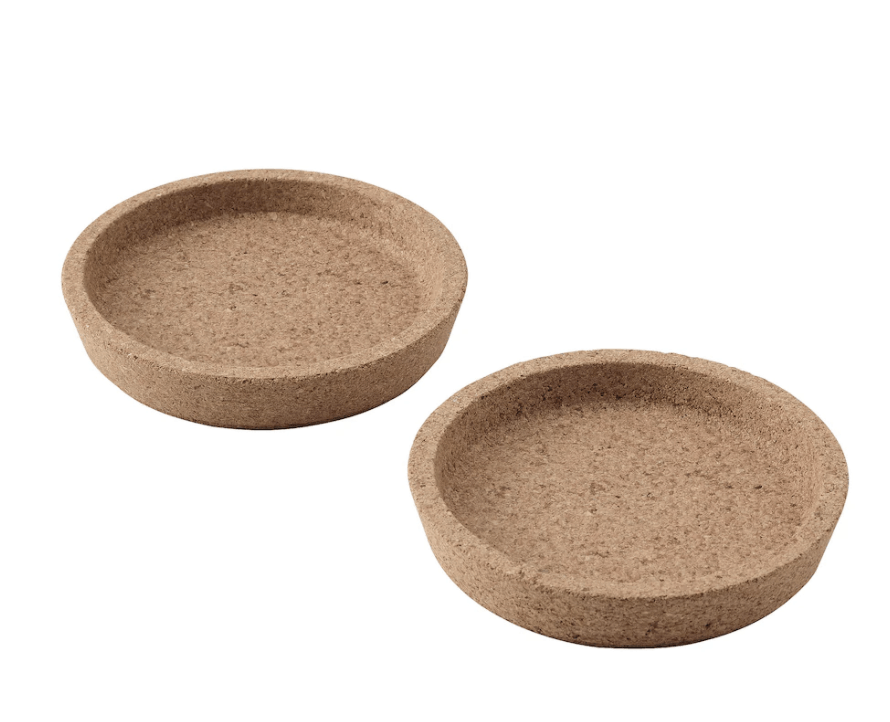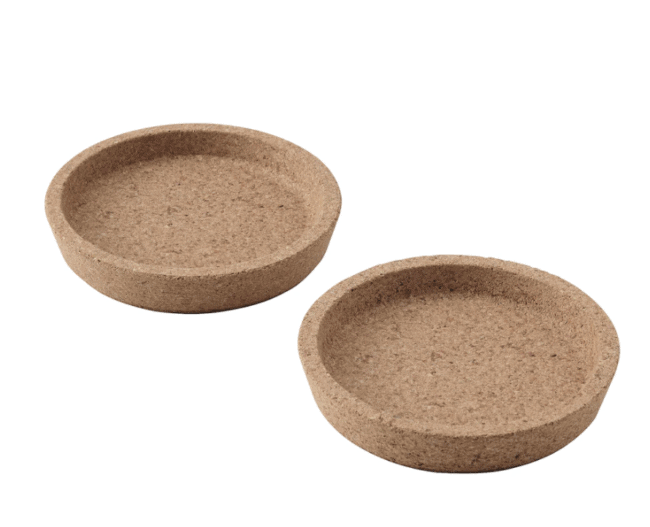 Related: IKEA Cork Trivet Noticeboard Hack
How to make Cork Coaster Candlesticks
You can really use as many cork coasters as you want to for your own candlesticks. It all depends on how many you have available to use, and also how high you want your own candlesticks to be.
For my candlesticks I used 5 cork coasters for one candlestick, and 3 cork coasters for another candlestick.
The candlesticks are so easy to create that you can go as high as you want to. I felt that the 5 coaster and the 3 coaster candlesticks that I created were just the right size, and looked great placed side by side.
You may want to create the same sized candlesticks, or create several different sizes for stylish effect.
First of all, unpack your coasters and figure out how many coasters you want to use for each candlestick. It may help to stack them one of top of another to create the height that you want first.
Once you have decided on the correct height for your candlesticks, start to glue together the cork coasters.
You are going to glue your coasters into place to each other. Depending on which way you place your coaster, you will either be glueing around the lip of the coaster, or the entire bottom of the coaster.
LOVE THIS IKEA HACK? PIN IT FOR LATER!
Follow MAKE CALM LOVELY on Pinterest!
Related: 10 Anthropologie Copycat DIY Projects
Keep glueing and placing coasters until each candlestick reaches the desired height. Once all the coasters are placed leave to dry. Do a final check before the glue dries to make sure that each coaster is placed centrally and straight.
It should not take too long for each candlestick coaster to dry. Once it is dry you can place your candle on it and start using it!
I absolutely love these candlesticks! They add just the right Boho style decor to my living room, and to be honest nobody has even realized that they were created from IKEA cork coasters!
Related: 17 IKEA Home Office Ideas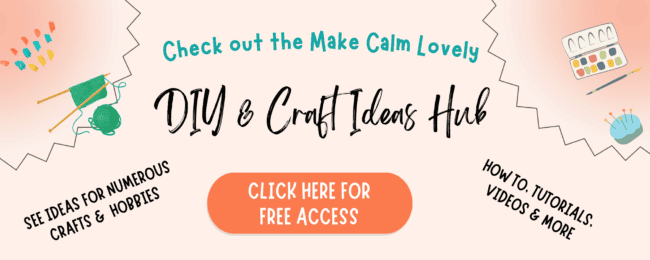 This is an easy and fast IKEA hack that creates modern and stylish cork candlesticks for your home. See the complete DIY tutorial here.
About Make Calm Lovely
Make Calm Lovely is a lifestyle blog specializing in IKEA DIY hacks, DIY & craft projects, home decor and so much more! Check out all the amazing things you can do and create to make your life calmier and lovelier at Makecalmlovely.com!