IKEA Gladom Terrazzo Table Hack
This IKEA Gladom Terrazzo Table is an easy, fast and simple DIY hack that creates the perfect stylish side table for your home!
IKEA hacks can be as simple as you want them to be, or more of a project if you want to take on something much more. That is the great thing about IKEA hacks – there is a hack for whatever time and money investment you want to make.
This hack today is a really simple IKEA hack, that takes about only an hour of your time.  But the end result doesn't look fast and simple – it looks more elaborate and stylish than that!
I really love terrazzo side tables.  They are just so stylish, and the great thing about terrazzo is that the colors in terrazzo can really pick up on any existing decor that you have.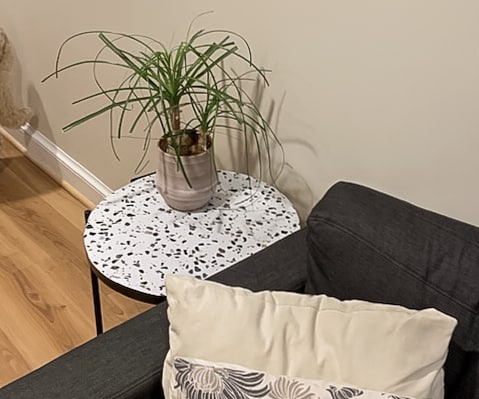 The IKEA Gladom tray table was perfect for this hack. It comes in 4 great colors that are all stylish already, but it is easy to spray paint another color if you want to.
The Gladom table is exactly the right size for a perfect side table. It fits perfectly in beside a sofa or chair, and it is also so lightweight that it can be moved around easily.
The Gladom table is also incredibly inexpensive. It costs around $19.99 in US IKEA stores.  
This post contains affiliate links. This means that if you click on a link in this post and make a purchase via that link I may receive a small commission, at absolutely no additional cost to you. You can view my disclosures here.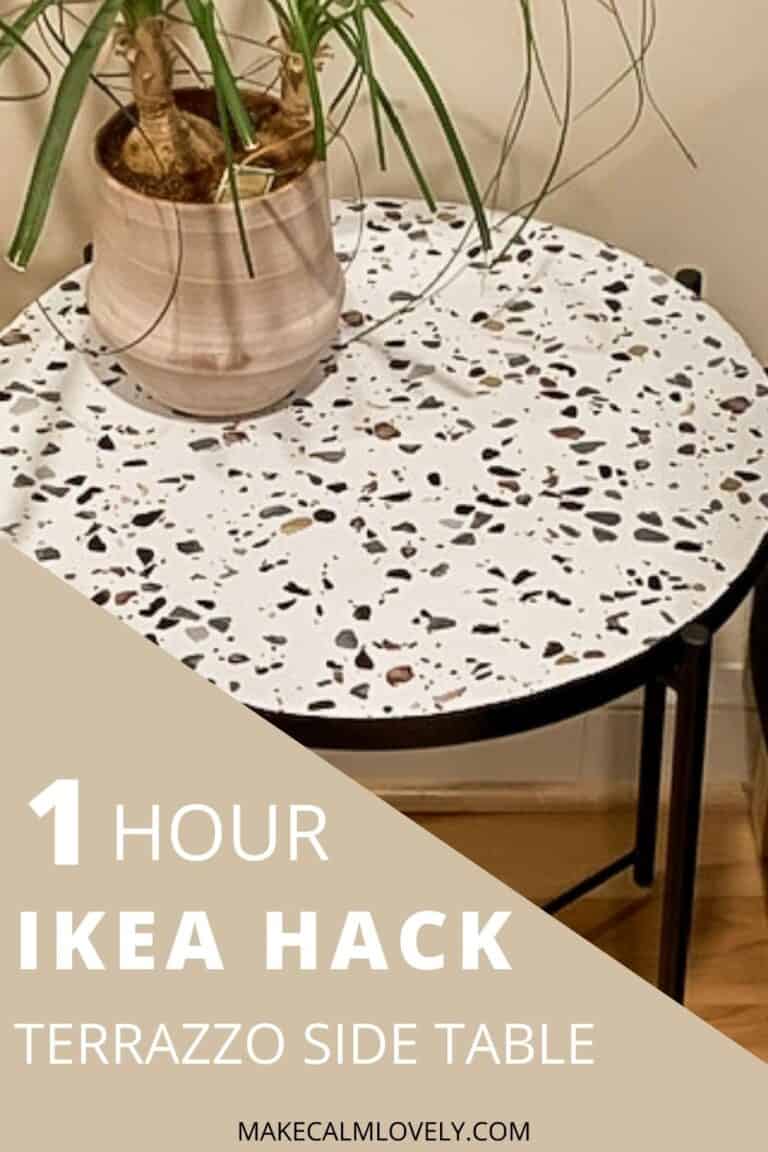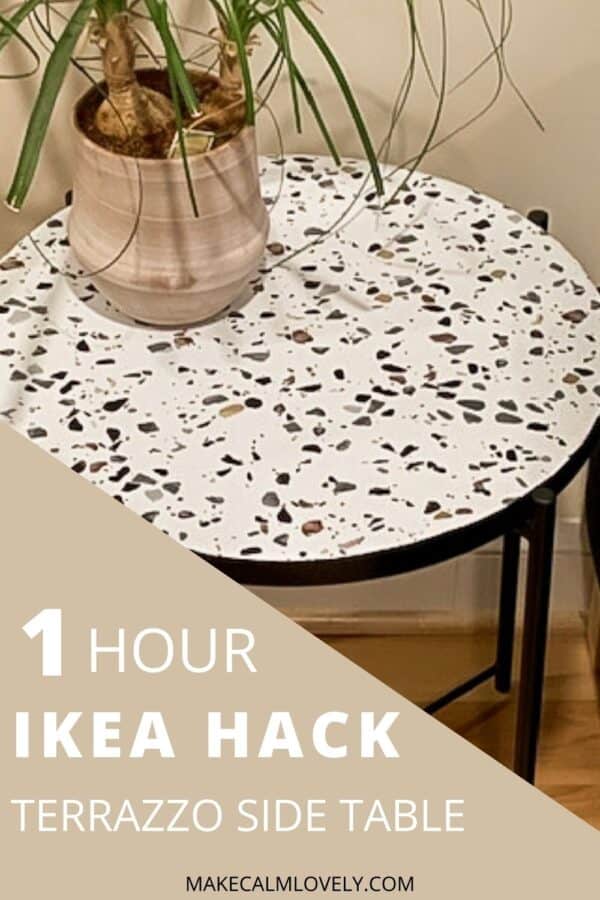 As you can see from the photo below, Gladom has a tray table top, which can easily be removed to create a serving tray.  For this hack I turned that table top around, so that it is a solid table top, and no longer a removable tray.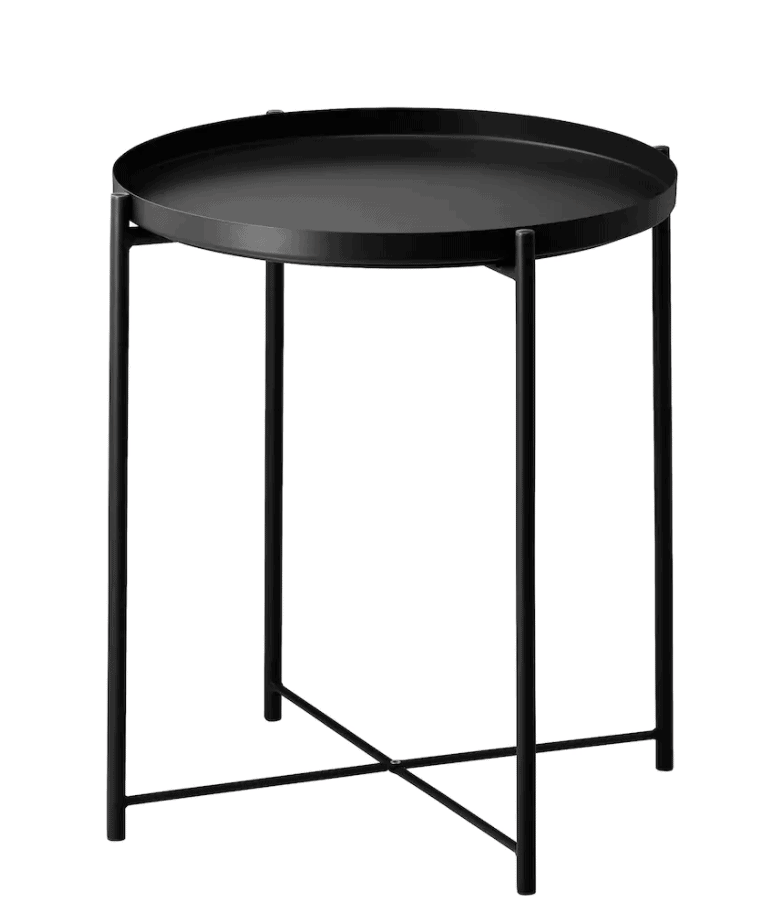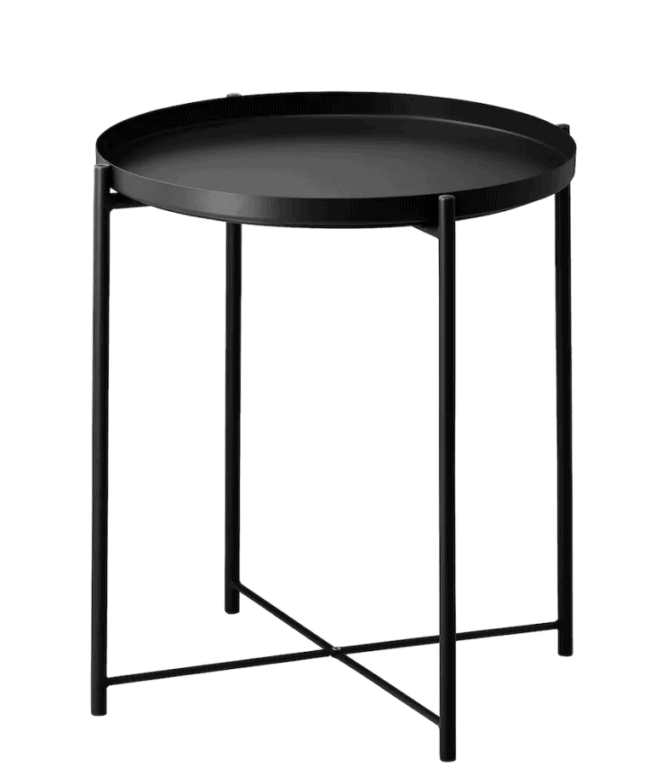 When I first started this hack I considered spray painting the table first, and then adding the terrazzo contact paper to create the terrazzo top.
But once I had assembled the Gladom table, which I had purchased in black (it is also available in blue, green, and white) I realized that it would look just so great un-painted.
If you want to spray paint the table in something like a gold color (I recommend this gold spray paint if you want to do that – because it is a beautiful shade of gold that is stylish and pretty), you can of course do that too.  
If you do want to spray paint your table, I would recommend assembling it completely first, then spray painting it somewhere outside. Wait for it to dry before you place the contact paper on the top for the tabletop.  
Related: DIY IKEA Bar Cart Hack
Supplies Needed for the Gladom IKEA Terrazzo Table Hack
IKEA Gladom Tray Table in your color of choice (I purchased a black one, it also comes in blue, green, and white).  Available from all IKEA stores. You can also purchase it from Amazon.
Terrazzo contact paper (I used this one)
Wallcovering Smoothing Tool (or use a credit card)
For the full list of supplies needed and where to purchase them see here
Related: 17 IKEA Hacks that look Designer & Expensive
How to Hack the Gladom IKEA Terrazzo Table
First of all assemble the tray table according to IKEA's instructions, but without the tray top part attached at this point. It is very simple and easy to assemble, and the table comes with the screws and parts that you need to do this. You should be able to do this in mere minutes.
Once the table is completely assembled (minus the top tray part), place it to the side while you work on the terrazzo top.
Now taking the tray table top part, roll out your terrazzo contact paper and trace around the top of the tray table, clearly marking on the contact paper where you will need to cut out.
The Gladom table is designed to have a tray top, which means that the top is placed on the table with a rim all around. However for this hack we are going to turn it around and have the rim on the bottom – so that it is a flat table top.
Cut out the circle of contact paper ready to place on the tray table top.  Try to match up the contact paper as neatly as possible and smooth into place on the table top.
Contact paper sticks very easily to the metal of this table top.  It was very easy to work with, and if you do make a mistake it is also easy to pull up again and re-do.
Using the wall-covering smoothing tool or a credit card, smooth the contact paper tightly and smoothly onto the metal of the table top.  This device is great for getting out any air bubbles that may form under the paper. Just pull the device and "chase" any bubbles that may form to the edge where they will disperse.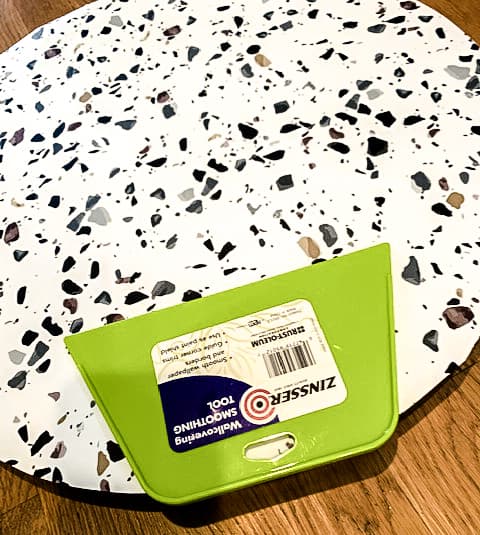 LOVE THIS IKEA HACK? PIN IT FOR LATER!
Follow MAKE CALM LOVELY on Pinterest!
Once the contact paper is attached to the table top, you can go around the edges with something like a stanley knife and trim off any uneven pieces that there might be. But if you cut out and placed the contact paper well you should have a pretty good fit of the contact paper to the table top.
The last step is just to place the table top on top of the assembled table.  There are slotted pieces that slot the tray top into place on the top. Just insert the table top into those slots. Or you can just lay the table top on the top. It should stay put firmly and be secure.
Related: The Best Boho Style Finds from IKEA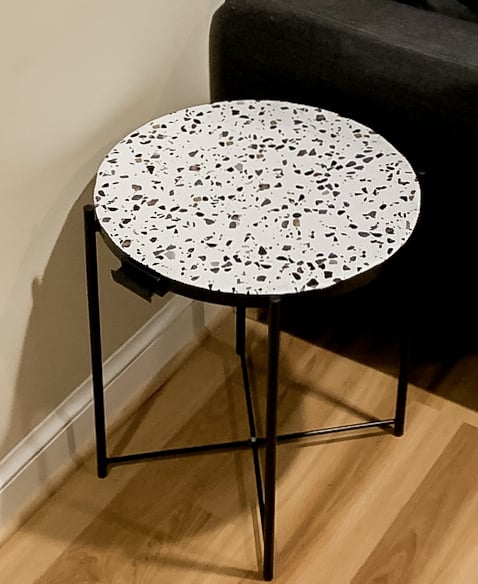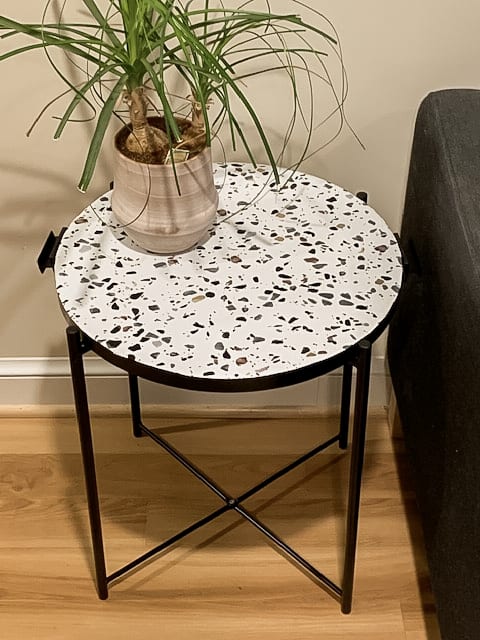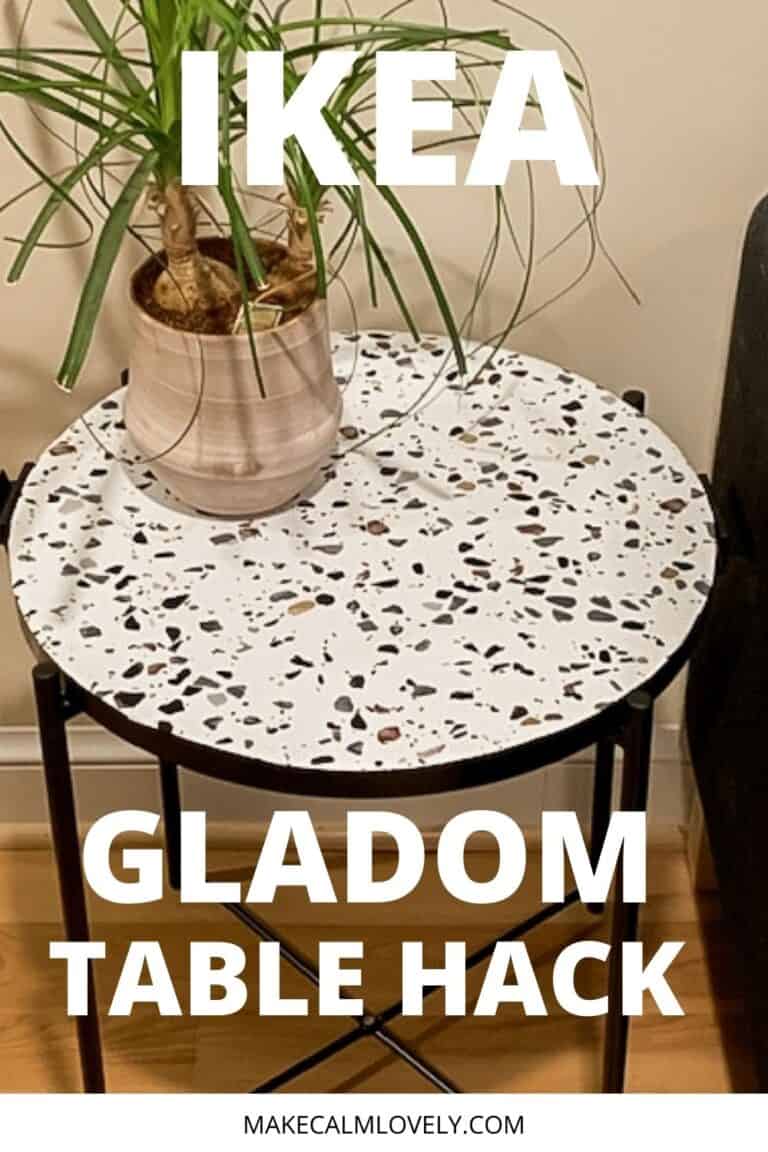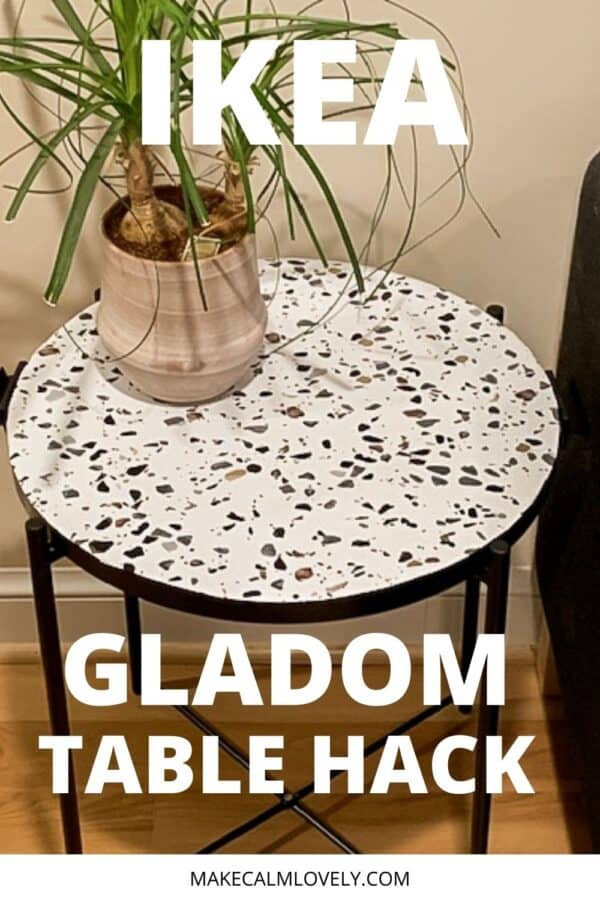 This IKEA Gladom Terrazzo Table is an easy, fast and simple DIY hack that creates the perfect stylish side table for your home!
About Make Calm Lovely
Make Calm Lovely is a lifestyle blog specializing in IKEA DIY hacks, DIY & craft projects, home decor and so much more! Check out all the amazing things you can do and create to make your life calmier and lovelier at Makecalmlovely.com!