17 IKEA Home Office Ideas
Furnish your home office with these 17 IKEA items that are functional and stylish, and also so affordable!
Whether you are creating a new home office, or updating an old one, you want it to be comfortable and the place that you want to be, after all you spend so much time there!
Here are 17 IKEA products that can be used to set up the perfect functional and stylish home office.  Not only are these items useful and well designed, they are also affordable too!
Practically everyone has an IKEA store close to them, so all these items are widely available and easy to find.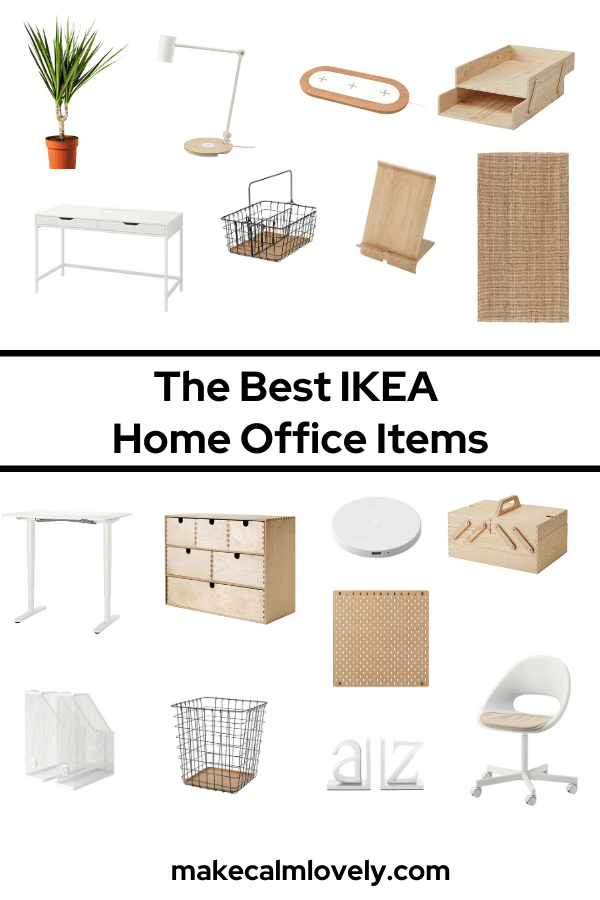 This post contains affiliate links. This means that if you click on a link in this post and purchase something via that link I may receive a small commission, at absolutely no additional cost to you. You can view my disclosures here.
Bekant Sit/Stand Desk
You may prefer to sit at your desk, or you may prefer to stand. With the Bekant Sit/Stand desk you can decide on a whim whether it is a standing or sitting session!  This stylish desk has a generous sized work surface, and even a clever solution built in to keep cords tidy and hidden. 
Related: IKEA Desk Hacks
You can get many IKEA products on Amazon too! Click here to see IKEA products currently available on Amazon!
Skadis Pegboard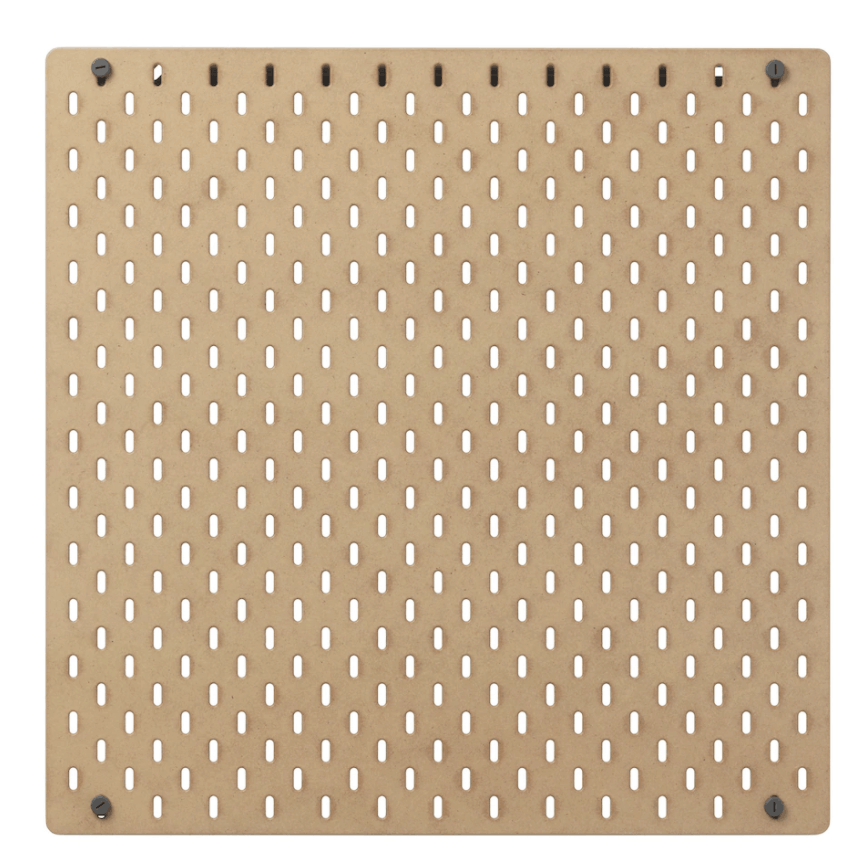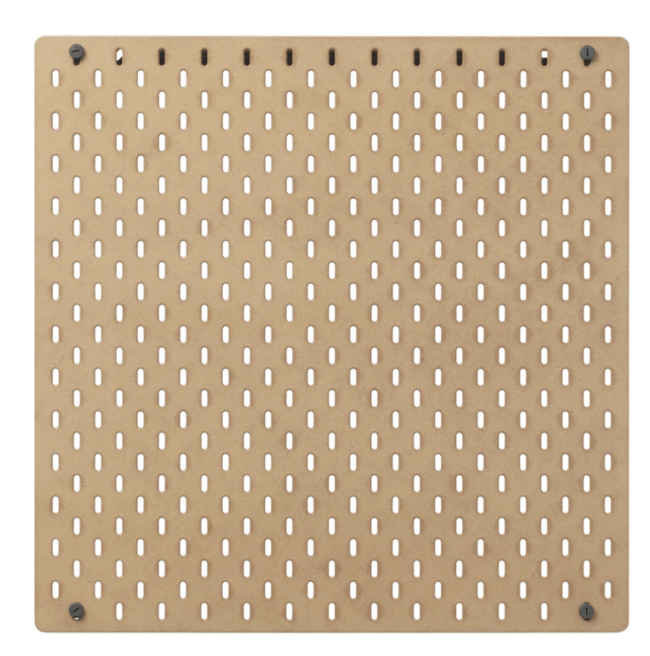 A pegboard is a perfect piece of office equipment to give you much needed extra storage space.  A pegboard is far better than a regular notice board, because you can attach shelves and containers to it too.  The Skadis Pegboard comes in brown or white.
Dronjons Magazine Files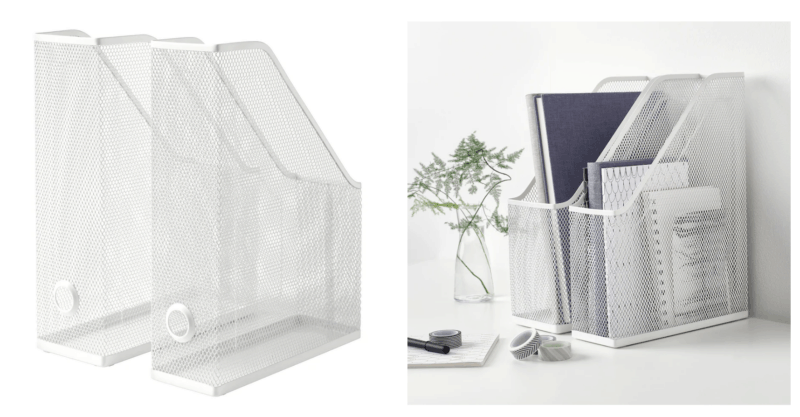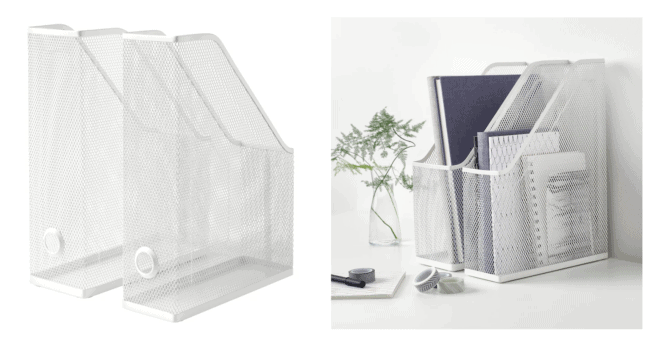 The IKEA Dronjons magazine files are beautiful white metal mesh storage containers that look great with any decor.  They not only look great and stylish, they are sturdy and roomy for all you need to store.  You can easily see what is stored inside too, which will save you much needed time.
Moppe Mini Storage Chest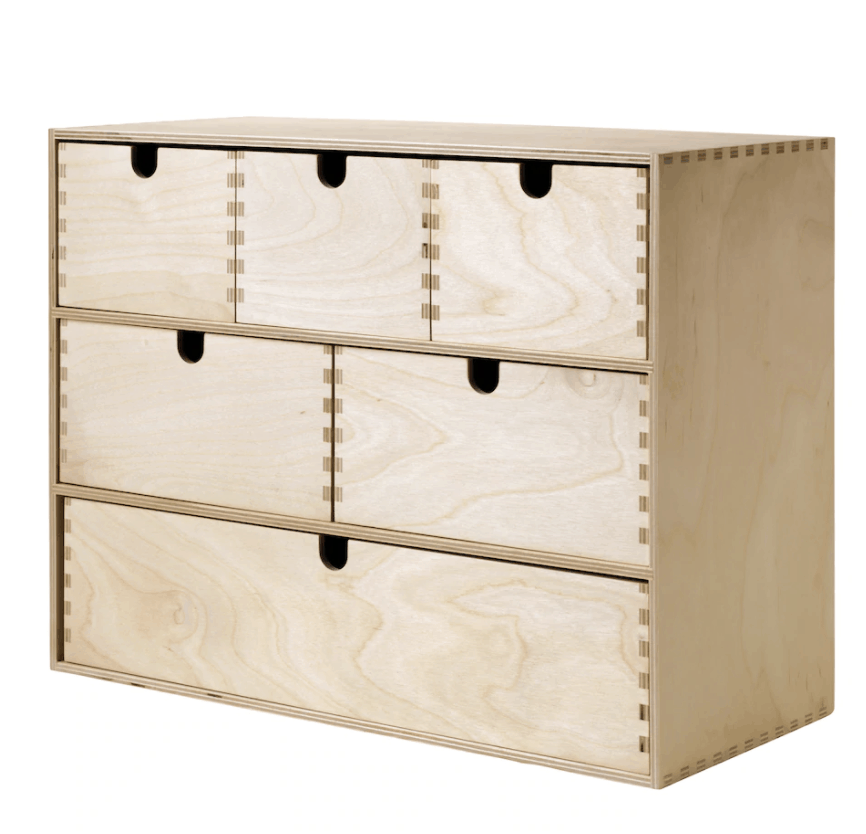 One of the best things that IKEA has ever created in my opinion is the Moppe Mini Storage chest!  This pretty chest is the perfect storage for absolutely anything at all, anywhere in your home. What's more it can also be decorated, hacked and changed if you don't want to use it in its already pretty natural state!
Related: DIY IKEA Moppe Apothecary Storage Chest Hack
Klammemacka Letter Tray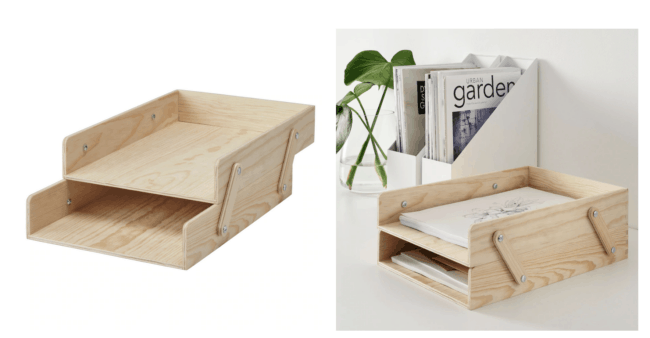 The Klammemacka letter tray is a pretty natural plywood tray that is so useful in any office.  You can use it in its natural state or paint it or decorate it too. The natural look of this tray makes it the perfect Scandi style office accessory.
Klammemacka Desk Organizer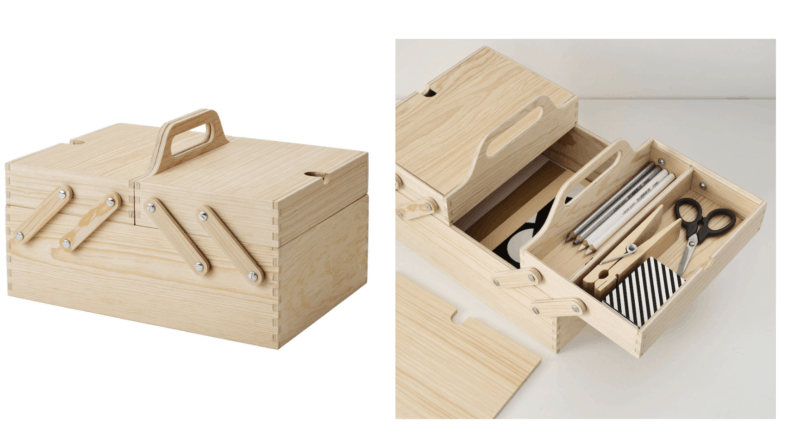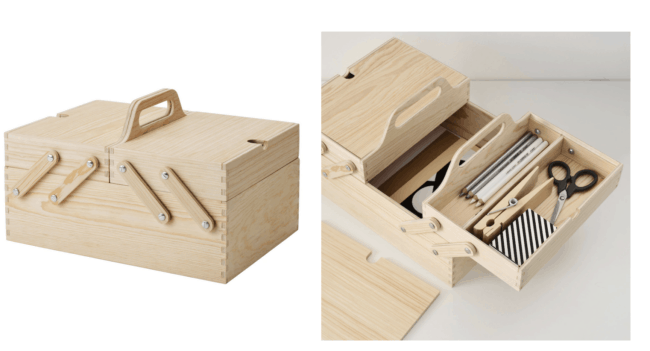 The Klammemacka desk organizer is a pretty natural plywood storage box that you can store so much in.  It matches the Klammemacka letter tray too!  The compartments inside are different sizes, which means you can store just about anything in this box. Keep everything neat, tidy and close to hand in your office!
Pleja Wire Basket with Handles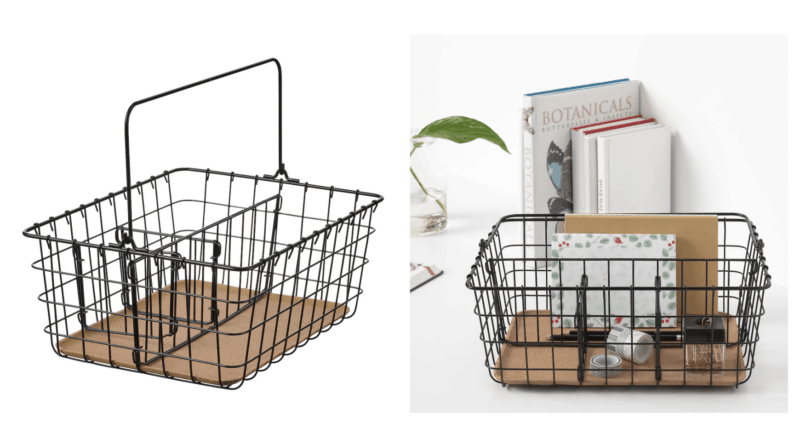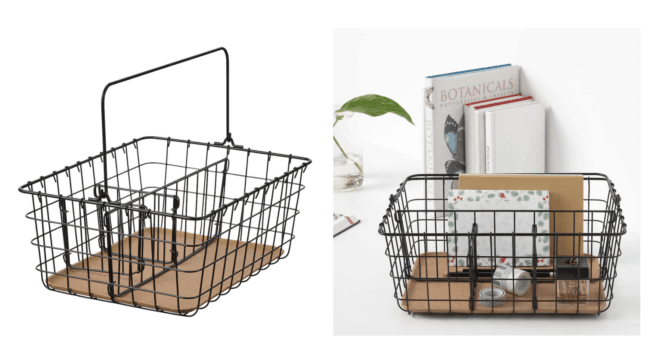 The Pleja wire basket is a handy storage basket that works pretty much everywhere in your home, in any room, and for any purpose. But it especially works well in a home office! 
This is particularly handy if you have to carry things from place to place. If you don't have a static home office this could also be the solution you need – especially if you are working on your kitchen table!  Just pack up when you are finished and still keep your office supplies to hand.
Sigfinn Mobile Phone Holder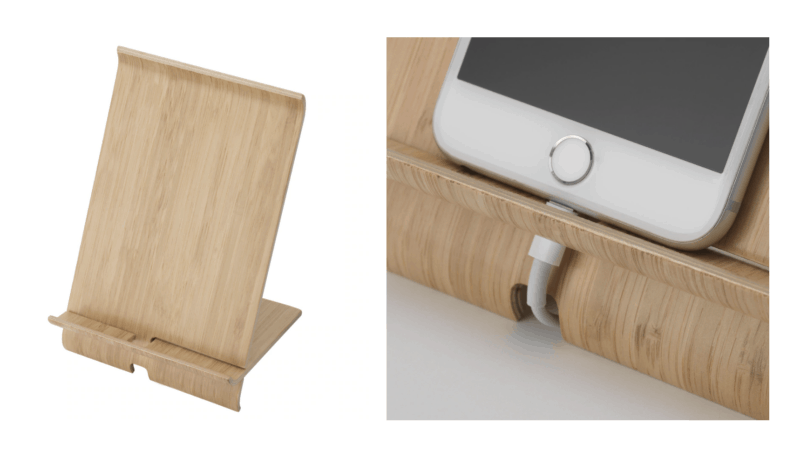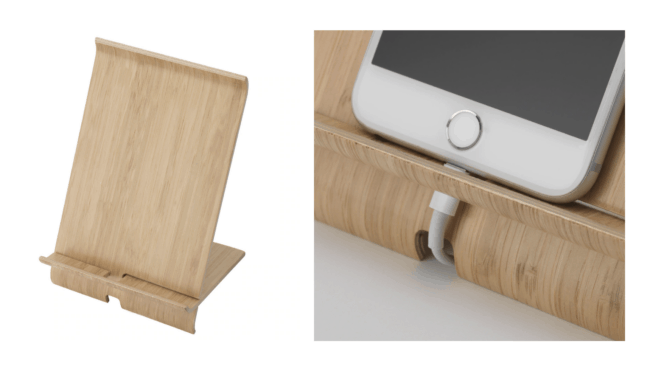 The Sigfinn mobile phone holder is a pretty and useful bamboo wooden holder that will keep your phone to hand and easily accessible at all times.  You can also charge your phone at the same time as it is being held ready for use too.
Related: My Favorite Zero Waste IKEA Products
Inkilning Bookends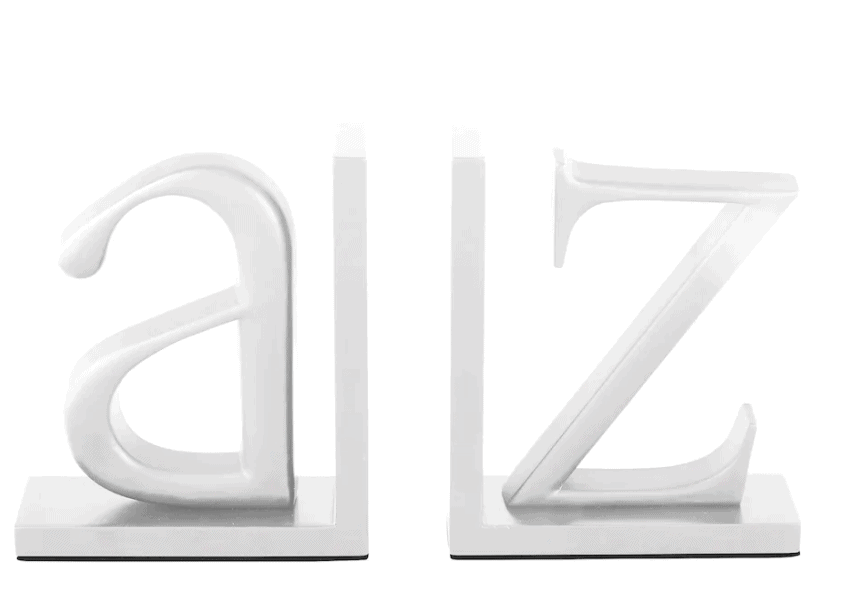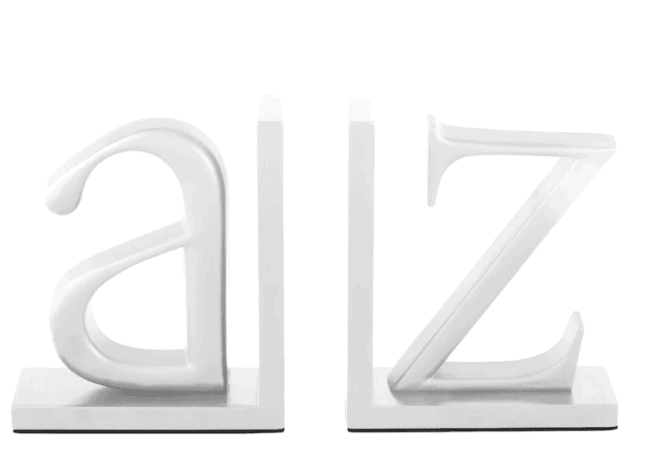 Bookends are so useful to have, and IKEA has the best stylish bookends available. These Inkilning bookends are sturdy, made of aluminium.  They come in both white and black.
Pleja Wastepaper Basket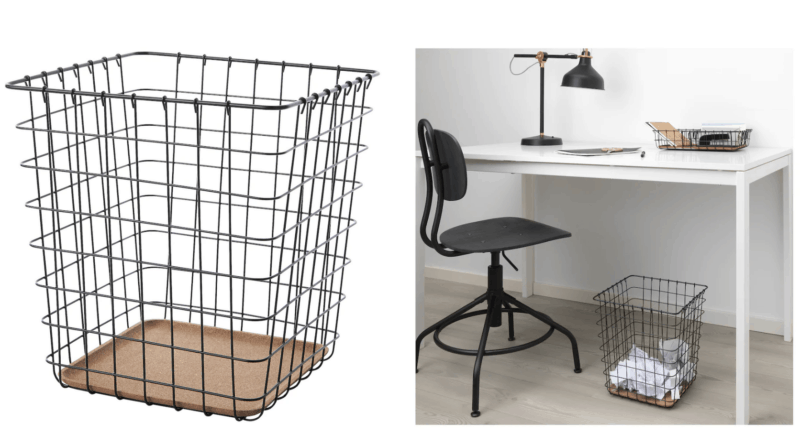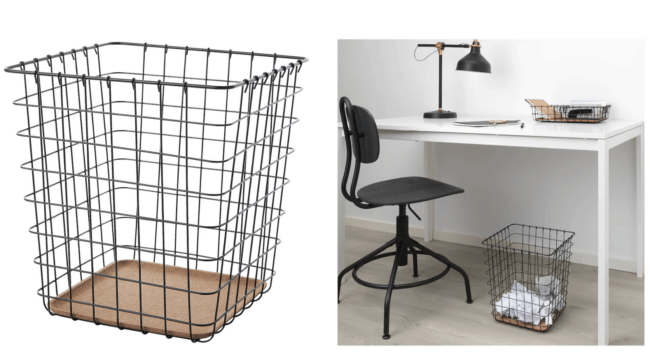 The IKEA Pleja wastepaper basket is just the perfect office wastepaper basket!  Not only is it stylish (and it matches the Pleja storage basket), but its design also means that you are more likely to empty it more often!  
Riggad LED Work Lamp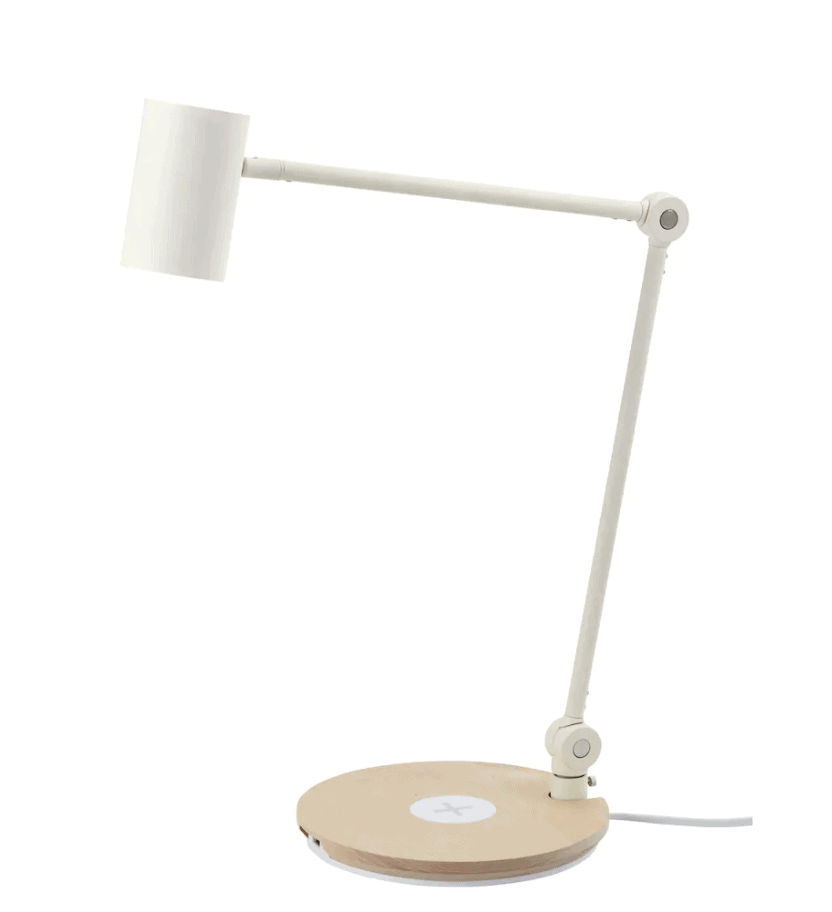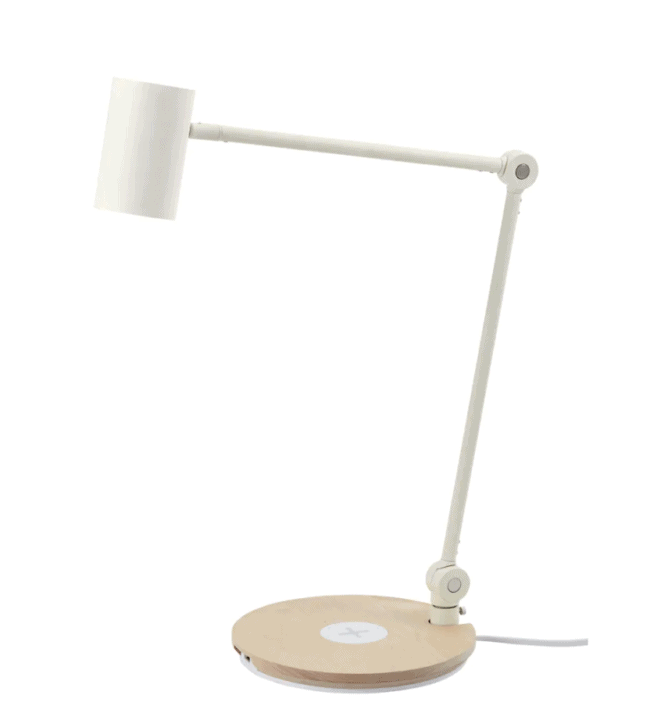 The Riggad LED work lamp is such a stylish lamp, and it is also such a useful lamp too. Not only does it give you great LED powered light, but it also doubles as a charger for your electronics. 
On the base of the map is handy wireless charging for your cell phone etc, and there is also a plug to plug in a charger too.
Loberget Swivel Desk Chair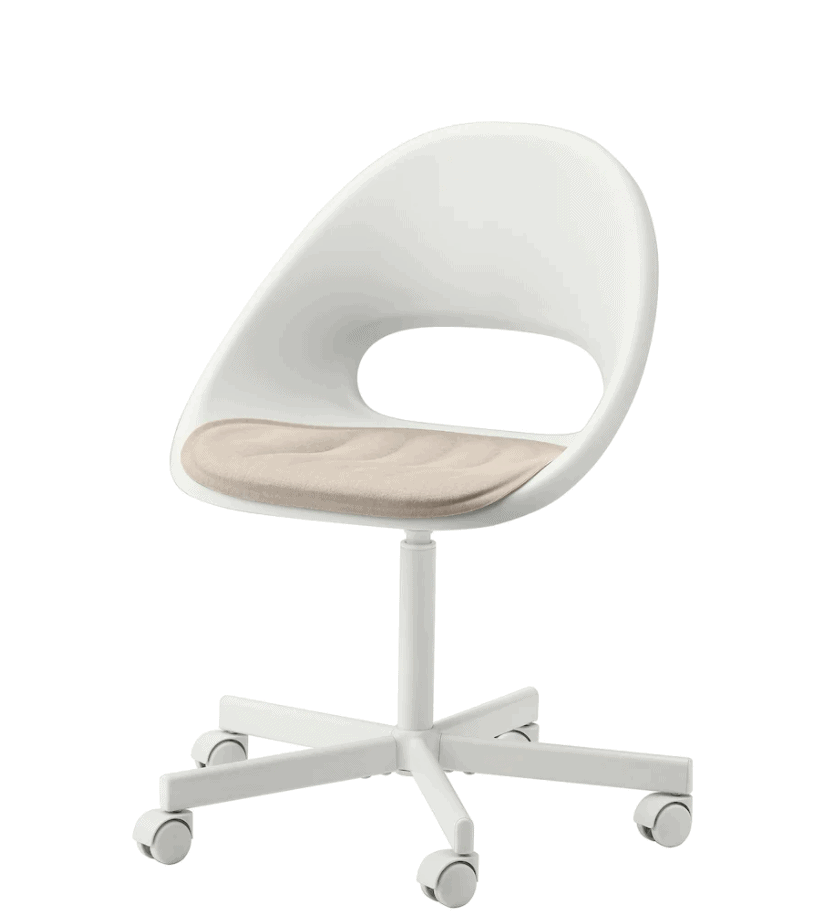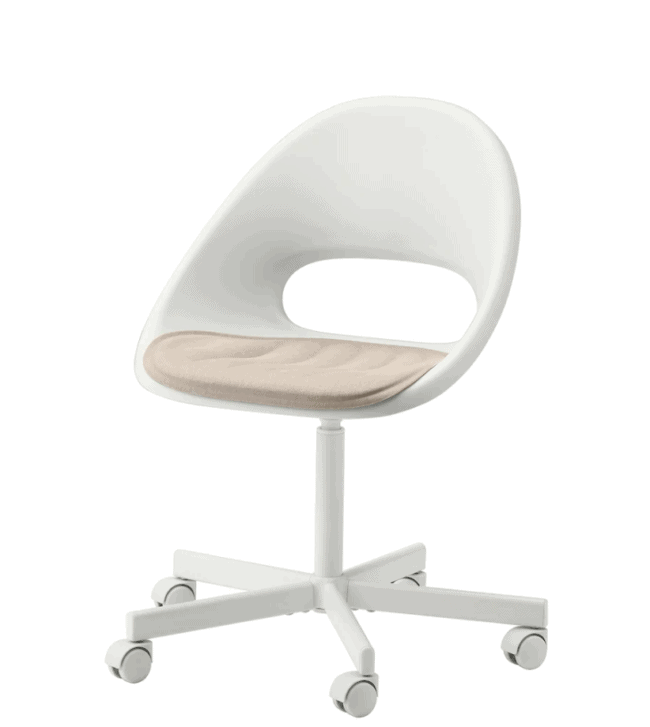 The Loberget swivel desk chair is a stylish and comfortable desk chair that is perfect for your home office.  It is an affordable chair that that looks as great as it feels to sit in.
Alex Desk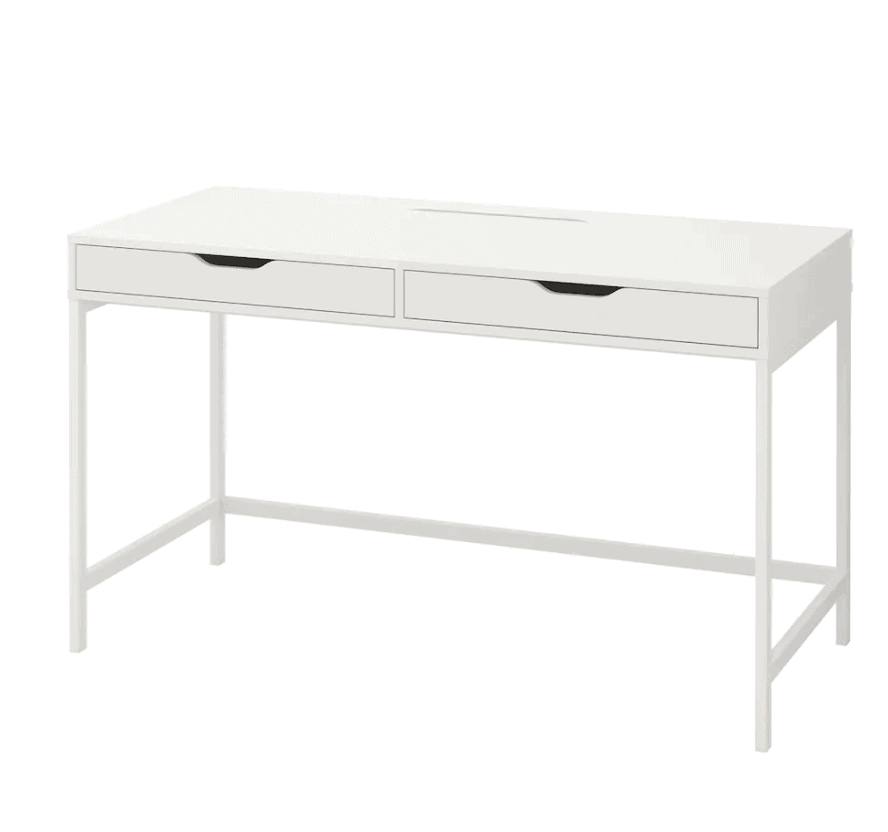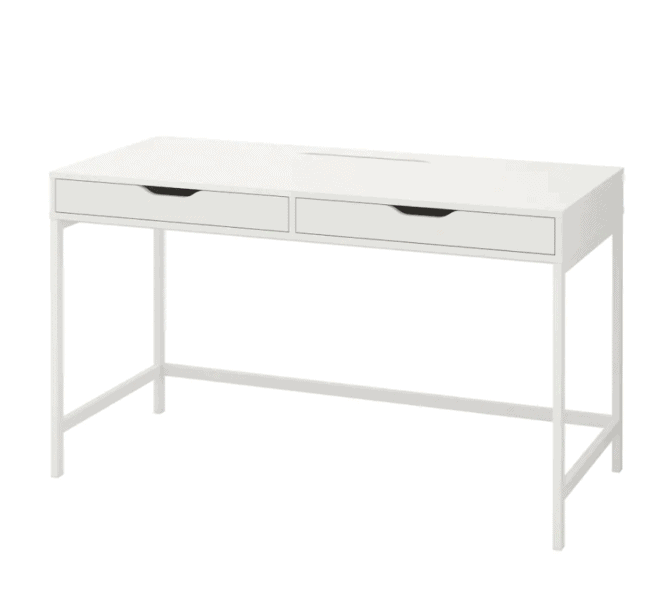 The Alex Desk is such a stylish desk that comes in beige, white, black/brown, blue and gray.  It is designed in such a way that you can even place it in the middle of a room, because the back is just as beautiful as the front. It also cleverly hides cables away.
Lohals Rug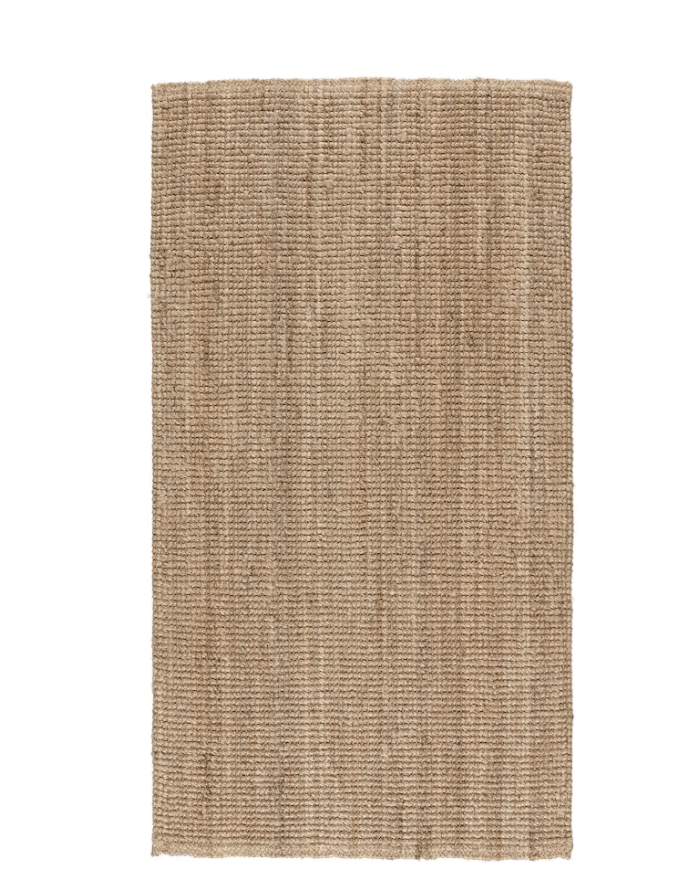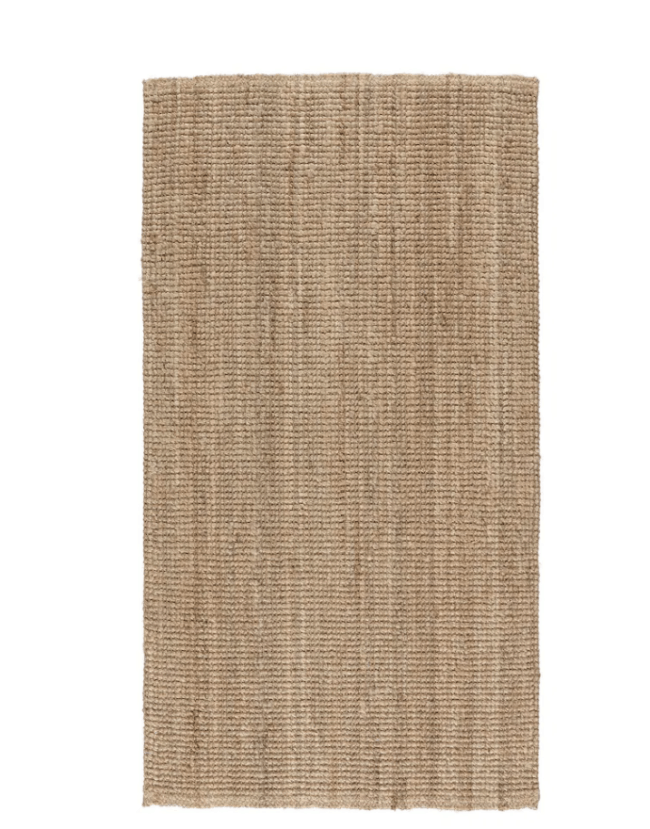 A rug is a vital part of any office decor. I absolutely love this Lohals rug because it is a great color that goes with everything, it is stylish, and it is also really easy to keep clean.  The natural jute fabric brings a calm look to any room, especially your busy home office!
Livboj Wireless Charger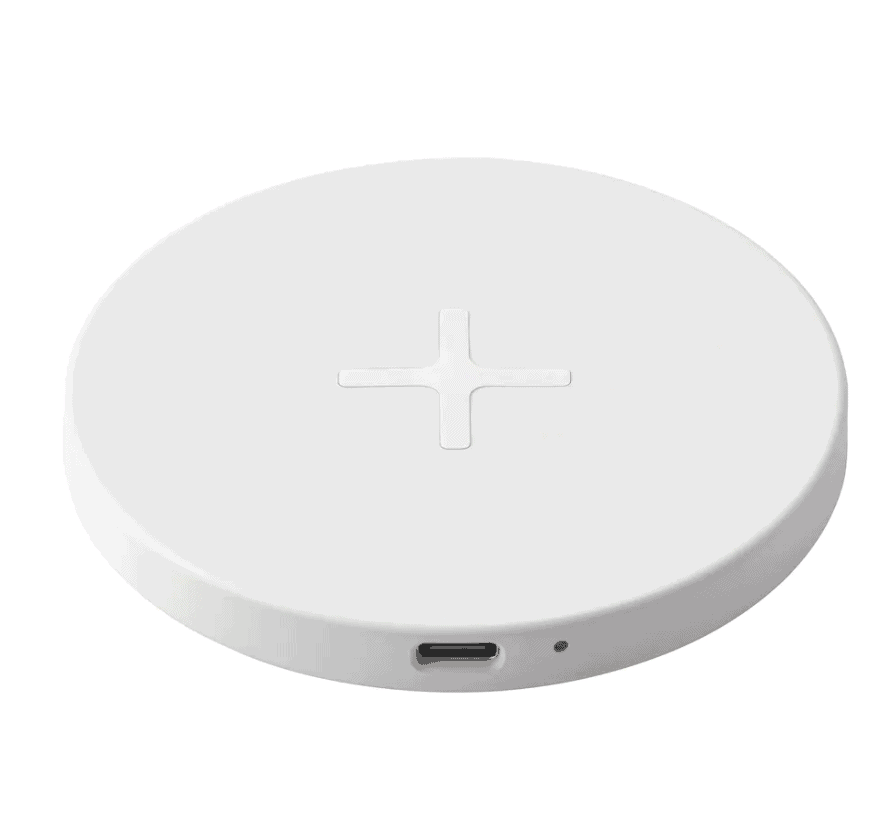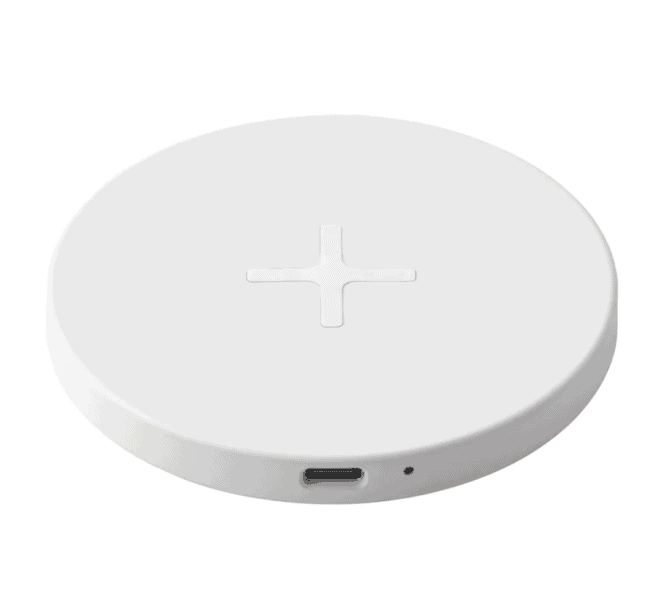 IKEA has an amazing range of wireless chargers, that are so useful for your home, especially for your home office.  Livboj will blend in with your desk and quietly do its job!
Nordmarke Triple Wireless Charger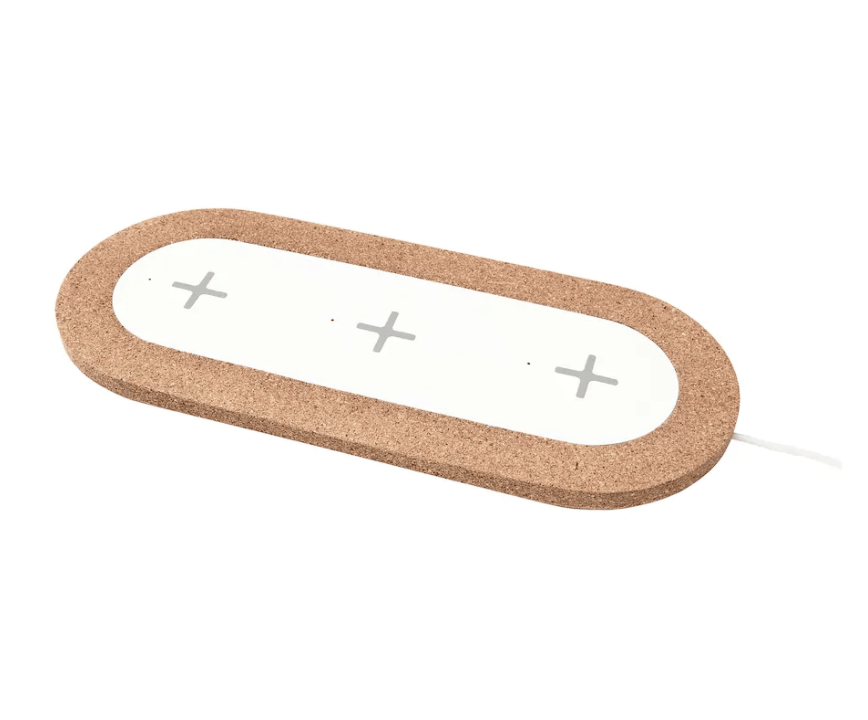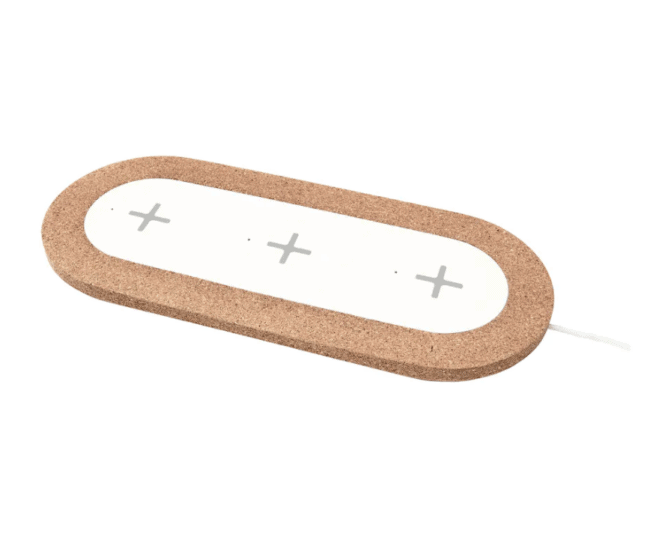 This Nordmarke triple wireless charger is so useful in an office space. Charge 3 electronic devices at the same time. The cork and white combination is pretty and stylish too.
Potted Plants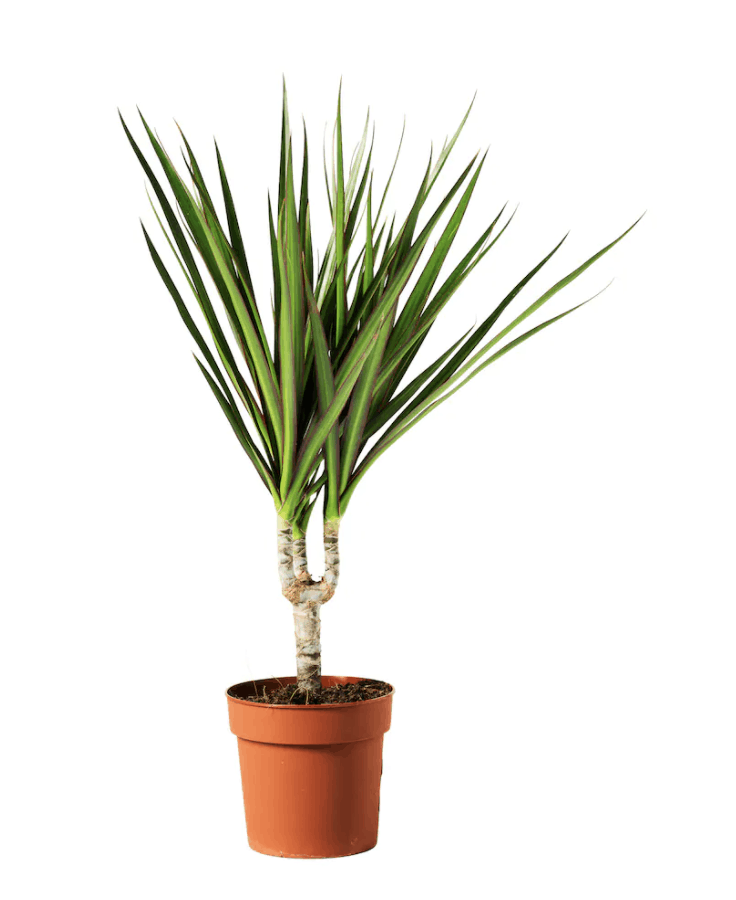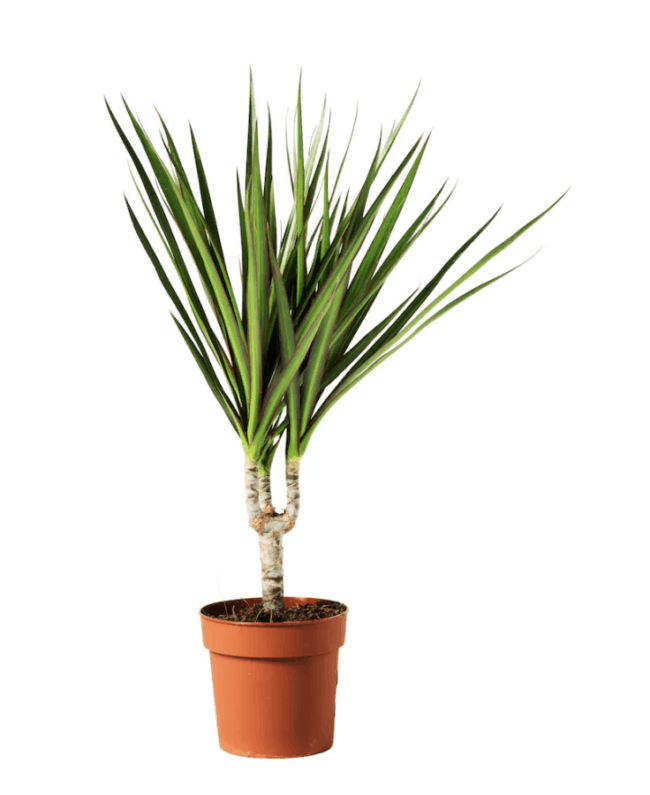 IKEA sells an amazing range of plants, both real and artificial.  A touch of greenery with a plant or flowers also brightens up and cheers up an office space too.
Related: 22 Perfect IKEA Hacks for your
Furnish your home office with these 17 IKEA items that are functional and stylish, and also so affordable!
About Make Calm Lovely
Make Calm Lovely is a lifestyle blog specializing in IKEA DIY hacks, DIY & craft projects, home decor and so much more! Check out all the amazing things you can do and create to make your life calmier and lovelier at Makecalmlovely.com!