15 Farmhouse Style Weekend DIY Projects for your Home
Here are great farmhouse style weekend DIY projects for your home! Make something special & amazing for your home!
Weekend DIY projects are the best! You can make something in the extra time you have on a weekend, and create something special for your home.
This article combines two of my favorite things – DIY projects and farmhouse style!
Farmhouse style is so stylish right now, and if you are up for a little bit of work you will love these projects!
What is Farmhouse Style?
Farmhouse style is a very American style which encompasses vintage, distressed and 'worn over time' decor.
Farmhouse style furniture is hand-crafted and sturdy – made from wood and metals. The look is one of comfort and the warmth of home.
There is a large focus on up-cycling and recycling in farmhouse style. Re-purposing pieces to become something else or serve another purpose is common place.
Color schemes tend to be more neutral – using colors such as white, navy, gray and cream. Farmhouse style is muted and not bright or flashy.
Farmhouse Style DIY
The farmhouse style is perfect for DIY projects, because it makes use of recycling and re-purposing.
It is ok for things to look a little distressed or not quite perfect. DIY projects can involve painting and staining, re-creating something new out of something old, and creating something that looks handed down rather than new and pristine.
So here are those 15 DIY projects for farmhouse style items in your home!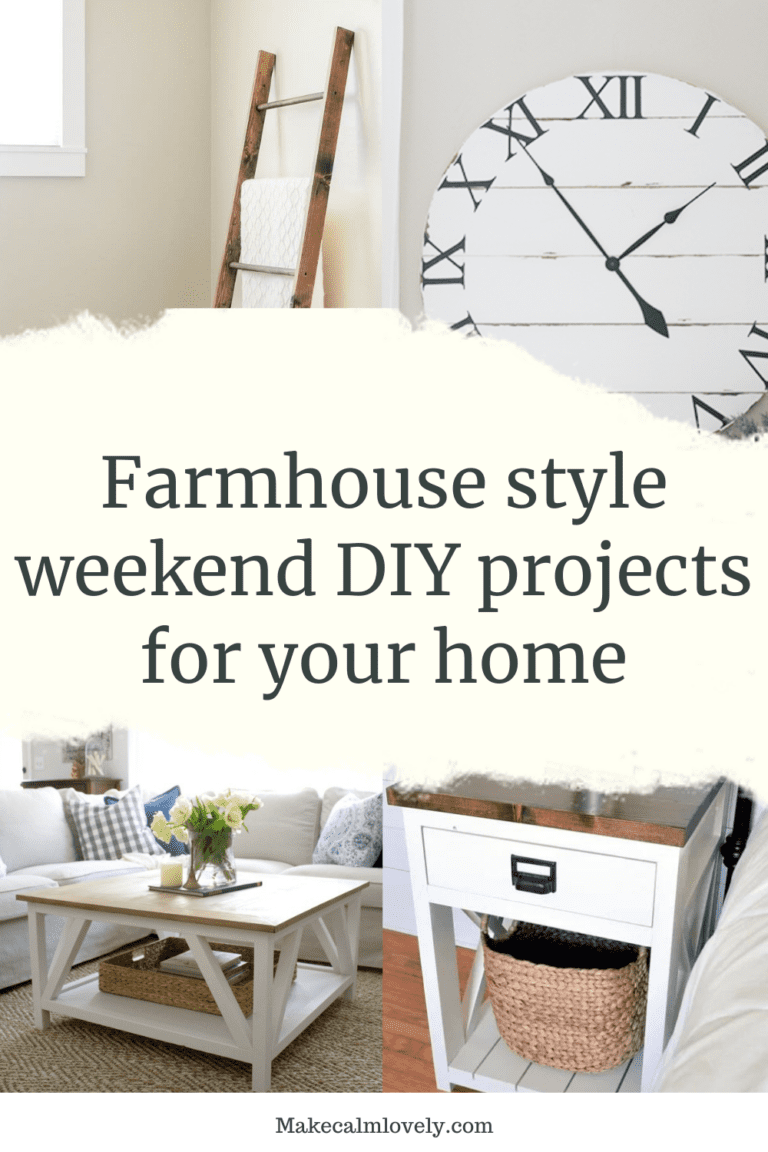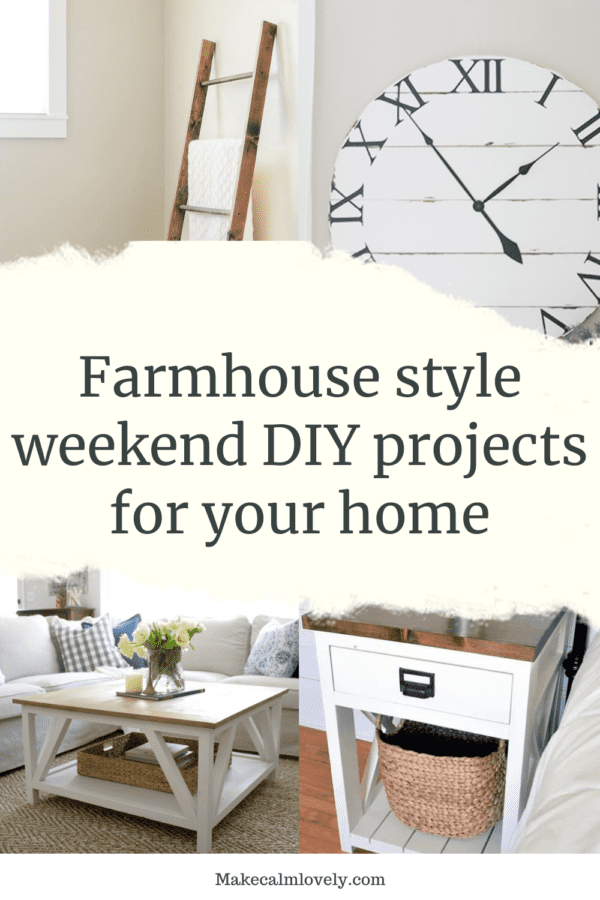 Dutch Door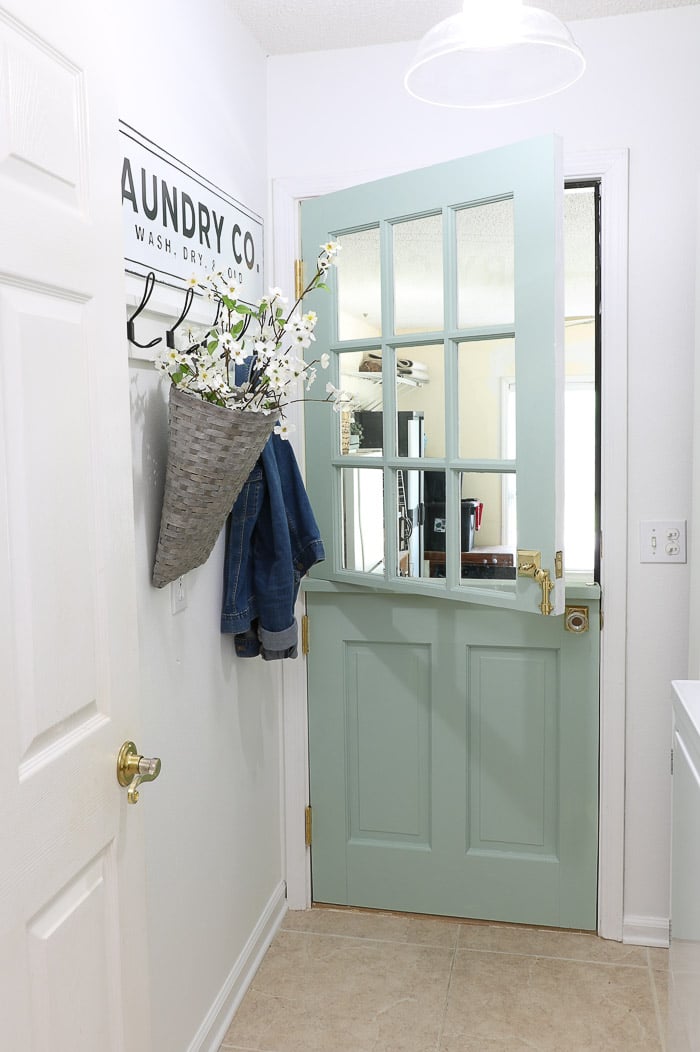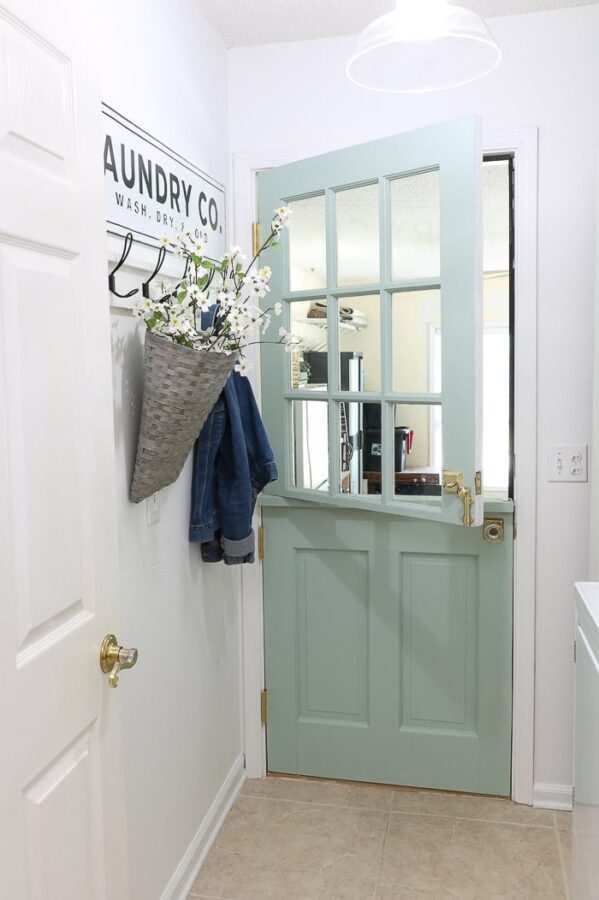 A Dutch Door is a perfect farmhouse style feature for your home. They are incredibly practical too.
If you have a room in your home that could benefit from a dutch door, this is the perfect weekend project for you! See the DIY right here.
DIY Bar Cabinet Hutch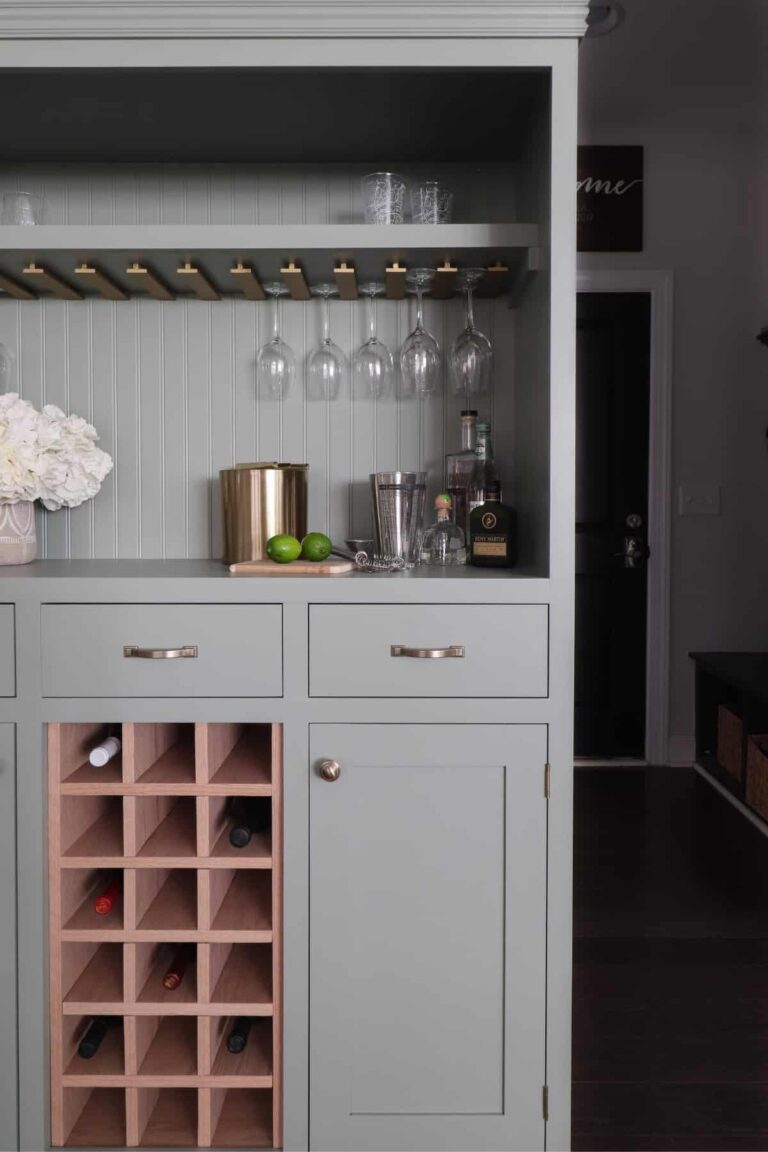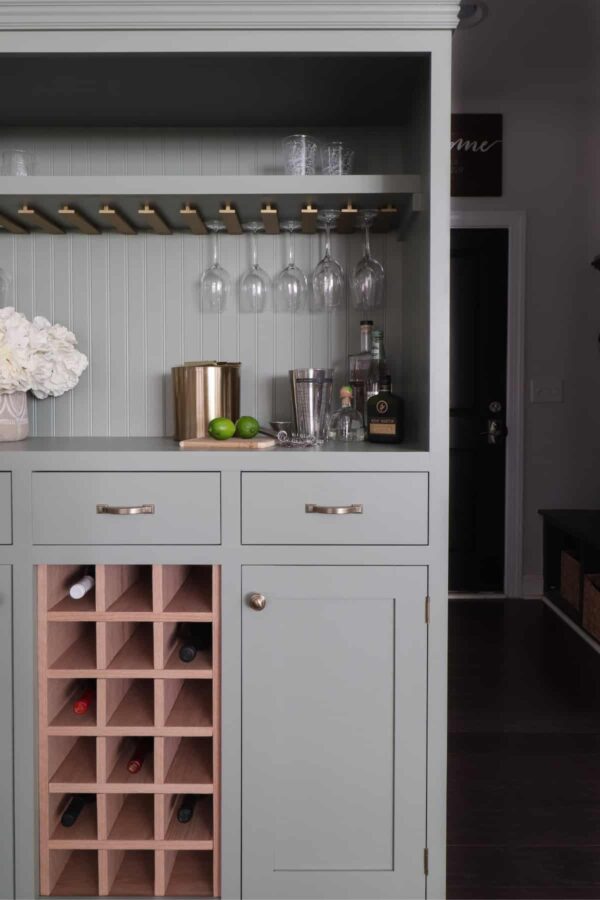 This beautiful bar cabinet hutch is perfect for any farmhouse style home decor. It does require a fair bit of work however, but is perfect for a great project to sink your teeth into.
You probably can't finish this entire project in one weekend, but you could certainly take several weekends to complete this project. See here for how to DIY Bar Cabinet with Tons of Storage.
Farmhouse Nightstand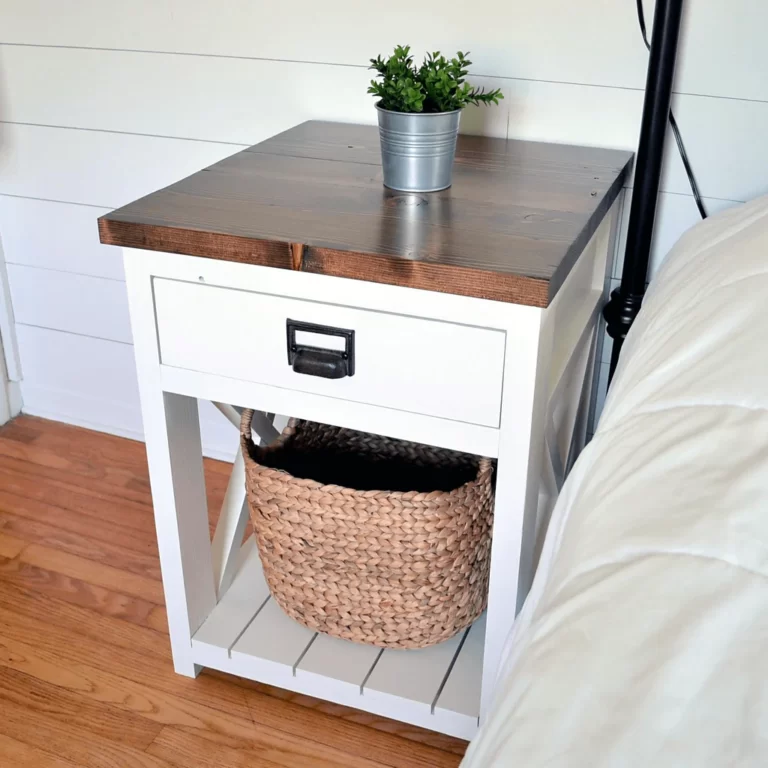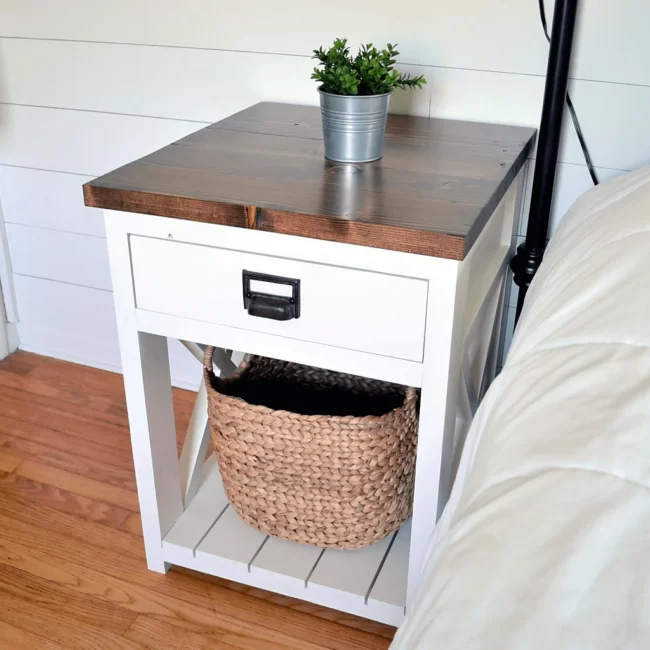 This pretty farmhouse nightstand is perfect your farmhouse style bedroom, and is a really great weekend DIY project too! You can see the DIY right here.
Huge Chalkboard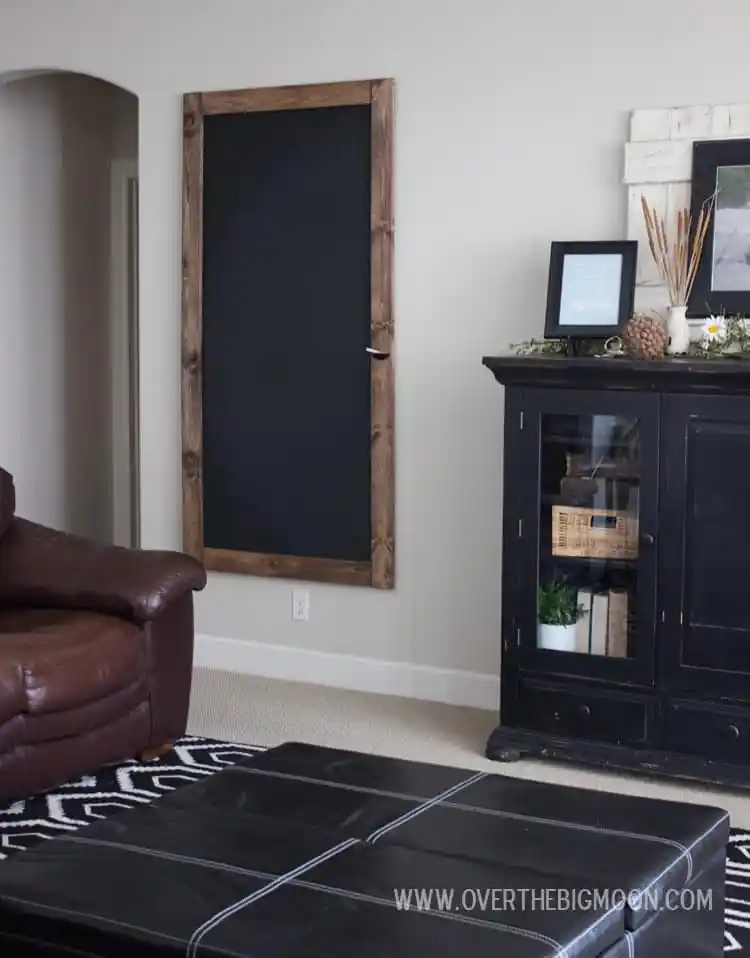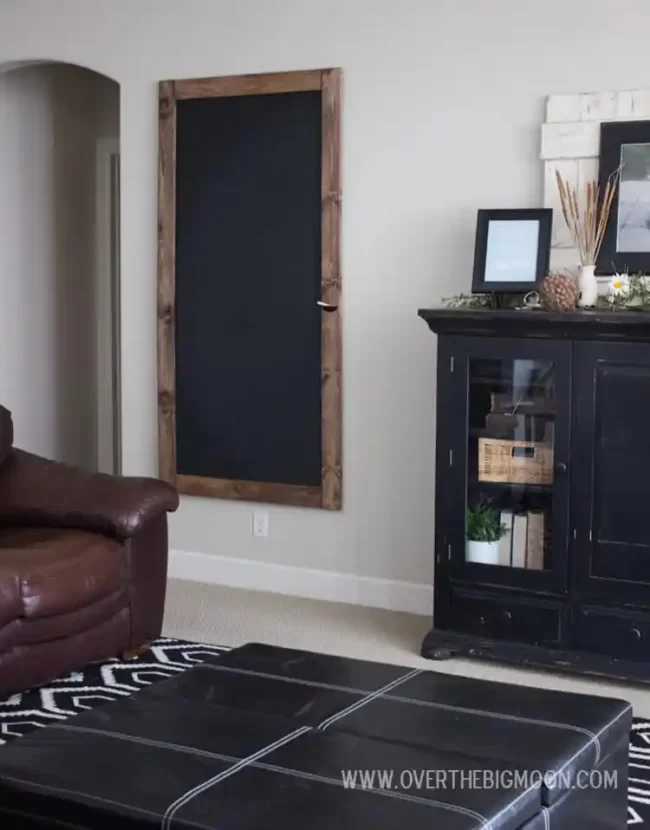 A large chalkboard can be a great focal point for any room, and it can be incredibly useful too.
In a kitchen it can house your shopping list, meal plan and more. In any room it can be a great piece of farmhouse style decor. You can see the DIY for this right here.
DIY Butcher Block Countertop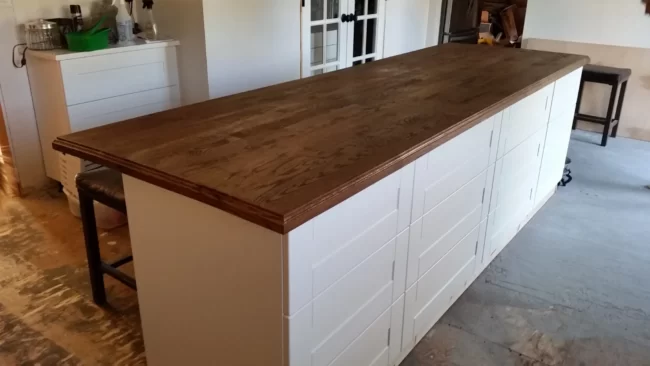 A butcher block countertop is perfect for any decor style in your home, and so practical too, but it is especially great for a farmhouse style kitchen!
This is another perfect weekend project to really get your teeth into. See the complete DIY here.
Shiplap Clock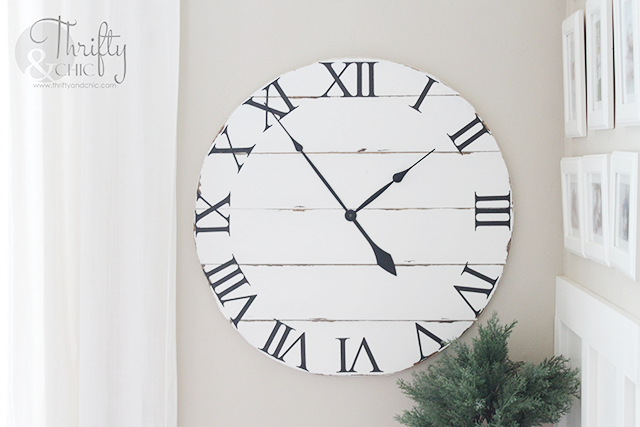 This shiplap clock is the perfect farmhouse wall decoration. This can easily be made in a weekend, and what an amazing piece of wall art you will have at the end of it! See the DIY right here.
Want more Farmhouse Style DIY ideas? Check out our post here on IKEA Farmhouse style DIY hacks!
Farmhouse Table and Bench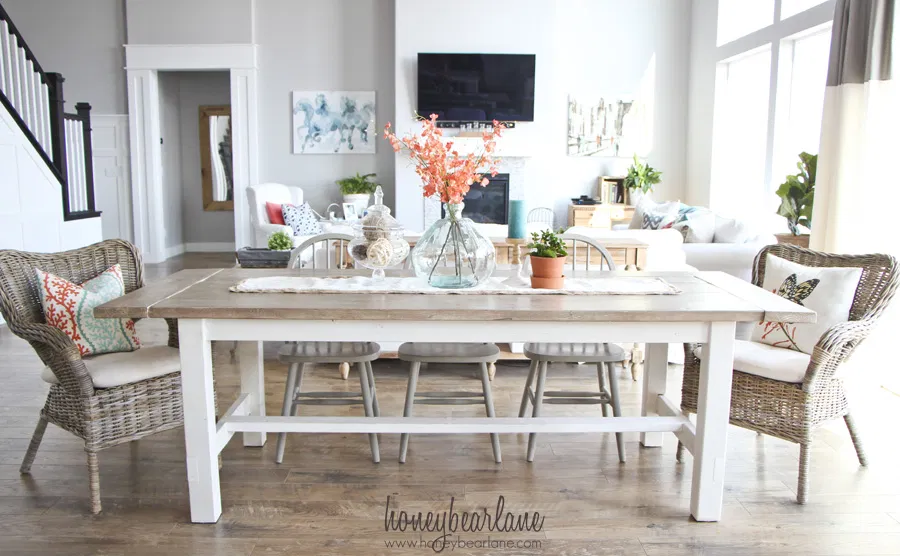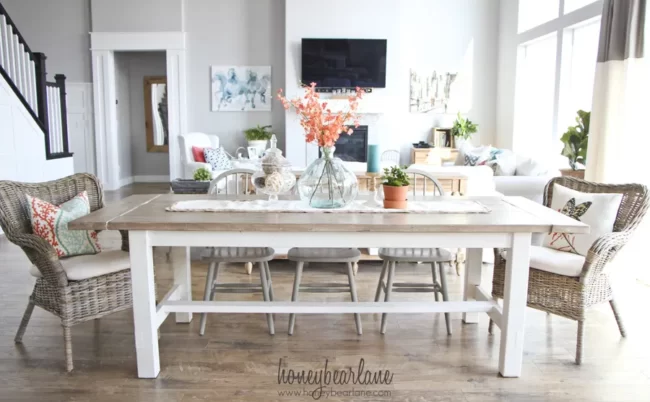 Another great weekend DIY project that you will be so proud of afterwards, and use every day, is that farmhouse style table and bench.
Get stuck into this great weekend project and create something amazing! See the DIY right here.
Apothecary Storage Chest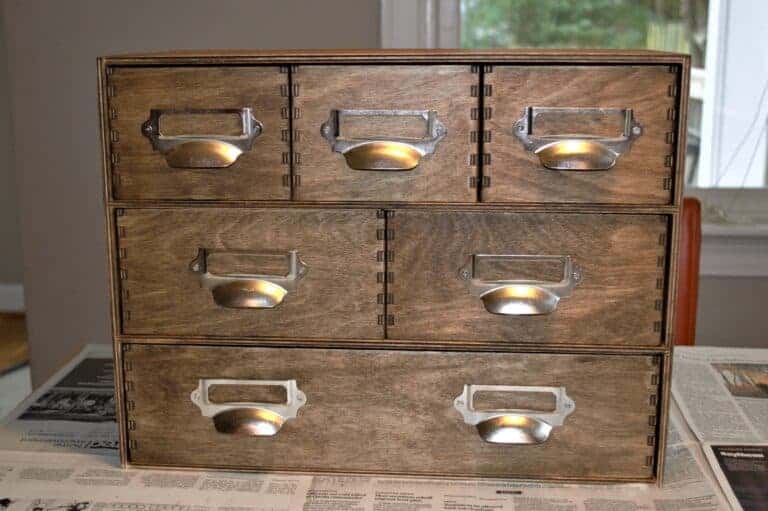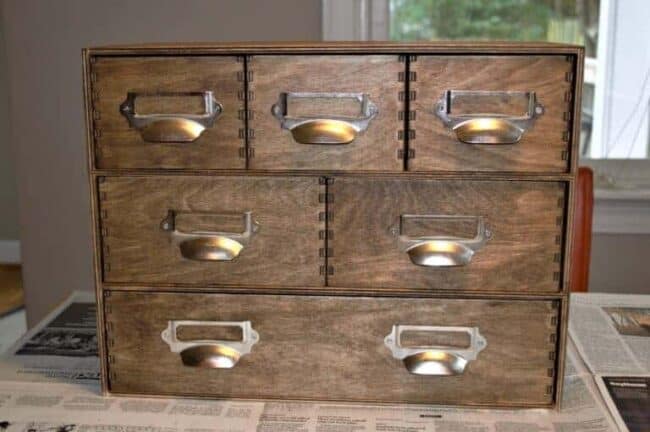 This project is one of my favorite things – an IKEA hack! This apothecary storage chest looks vintage and old and is perfect for a farmhouse style in your home! See the IKEA Moppe DIY Apothecary Storage Cabinet here!
Stylish & Affordable Wooden Bead DIY Projects for your Home
Farmhouse Style Coffee Table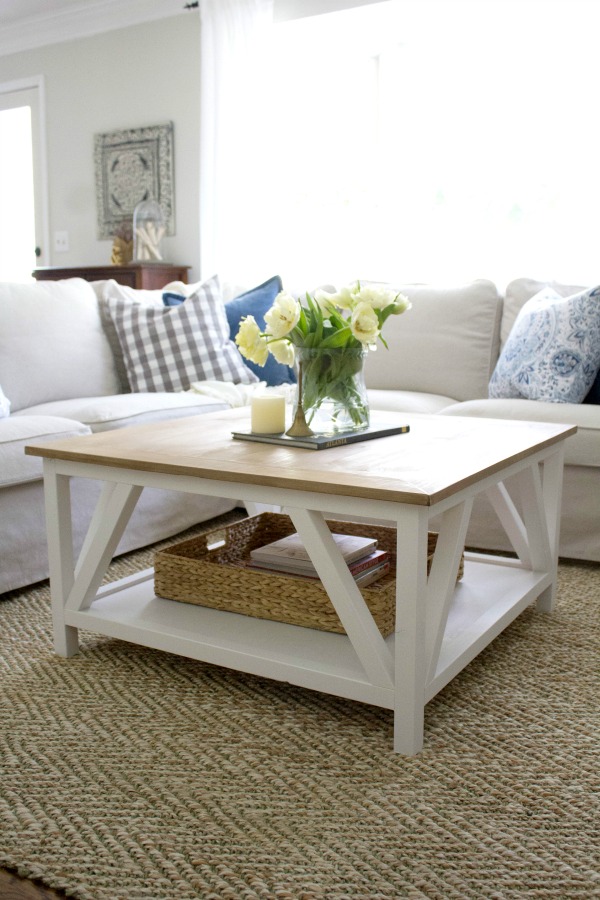 This farmhouse style coffee table is the perfect centerpiece for your living room. This is a great project that you can be proud of. See the DIY right here.
Butcher Block Wood Countertops: All you Need to Know
Farmhouse Bench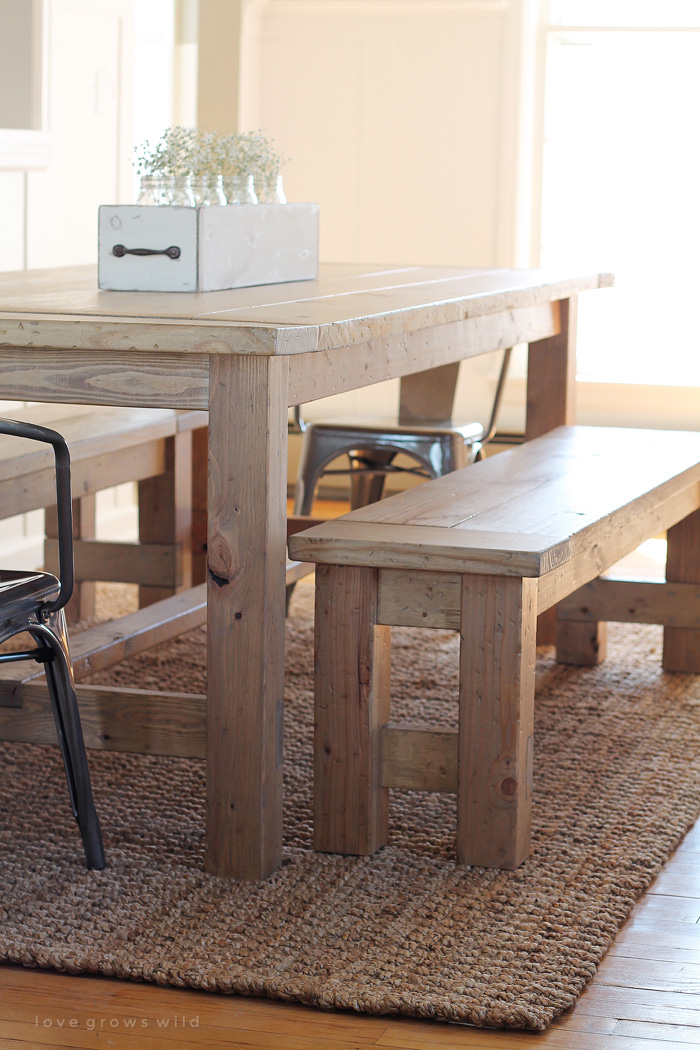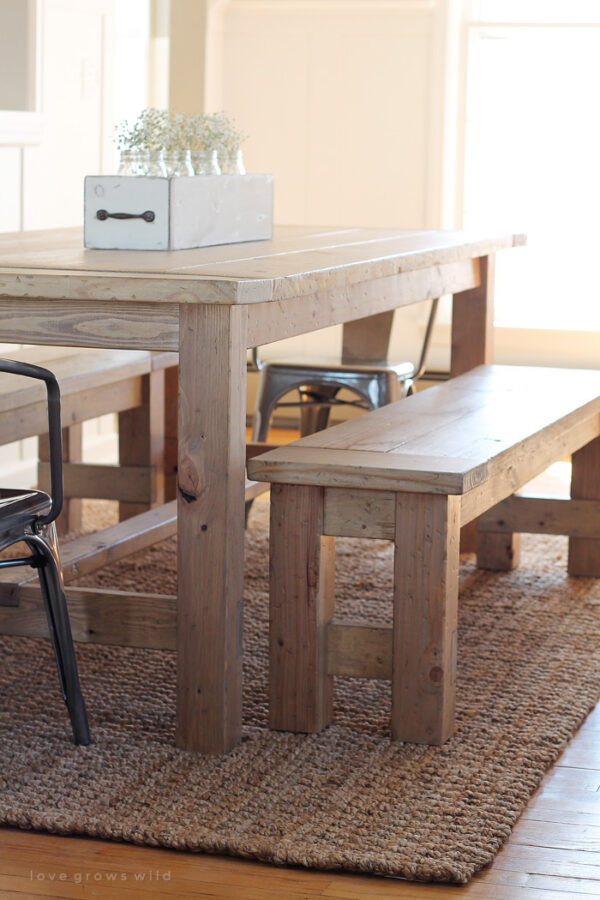 These pretty but simple benches are a great DIY for your weekend. Perfect to go with your farmhouse kitchen table, or they can also be used as a hallway bench or bench somewhere else in your home. See the DIY here.
Rustic Bar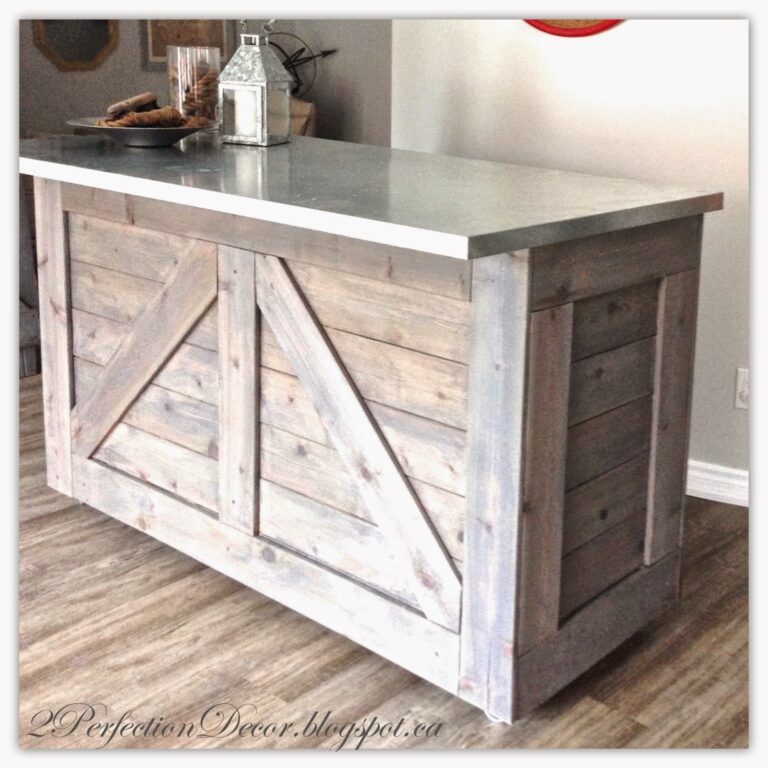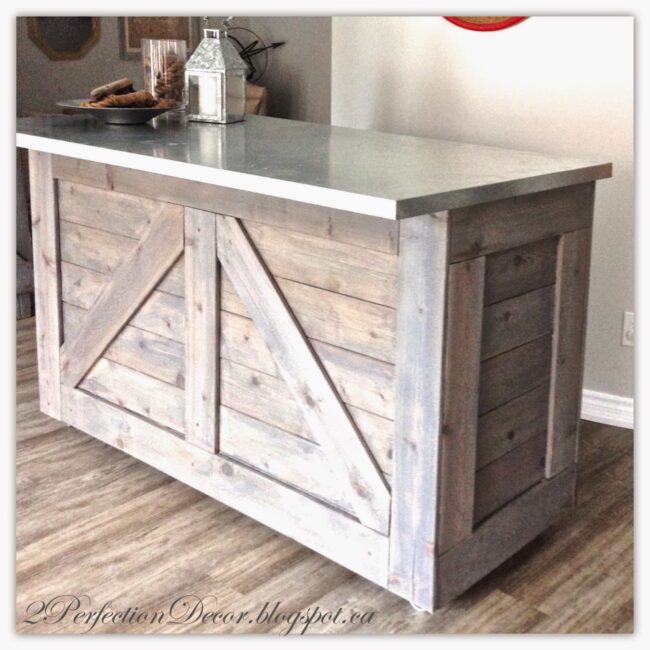 This rustic bar is a stand-out feature for any room, especially if you need an entertaining corner. You can see the DIY here.
Farmhouse Message Board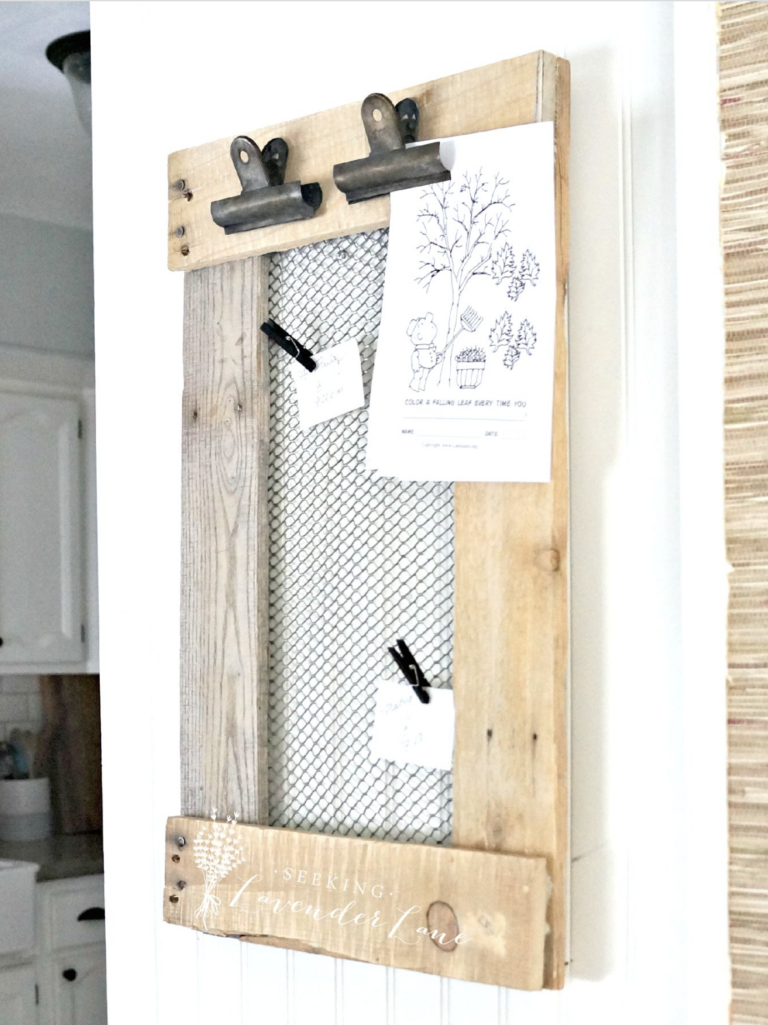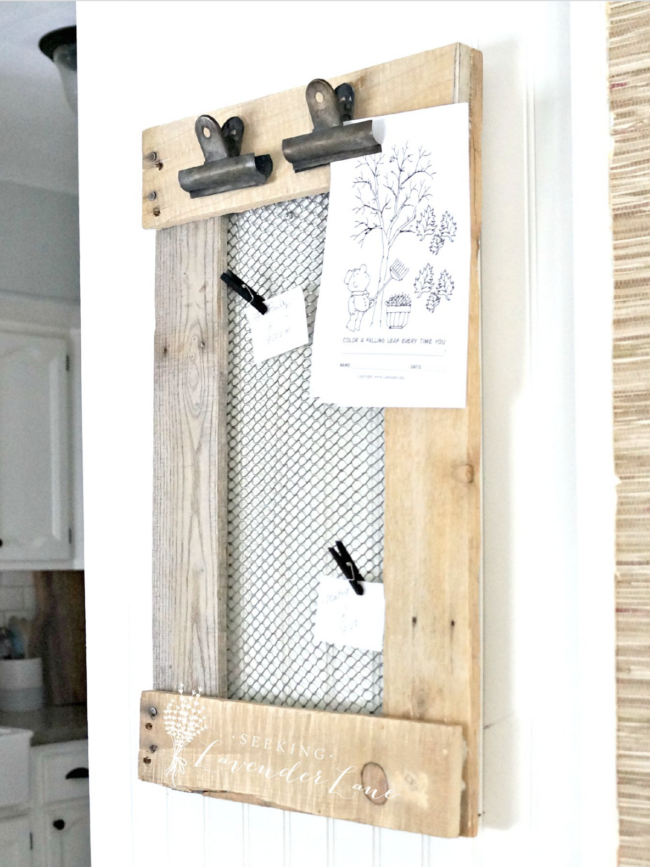 This farmhouse message board has the perfect rustic look to it for farmhouse style in your home.
It can be made up very quickly and easily, and it is perfect for a kitchen where you have to stage an area for organization for your entire family. See here for the DIY Farmhouse Message Board.
Sawhorse Lamp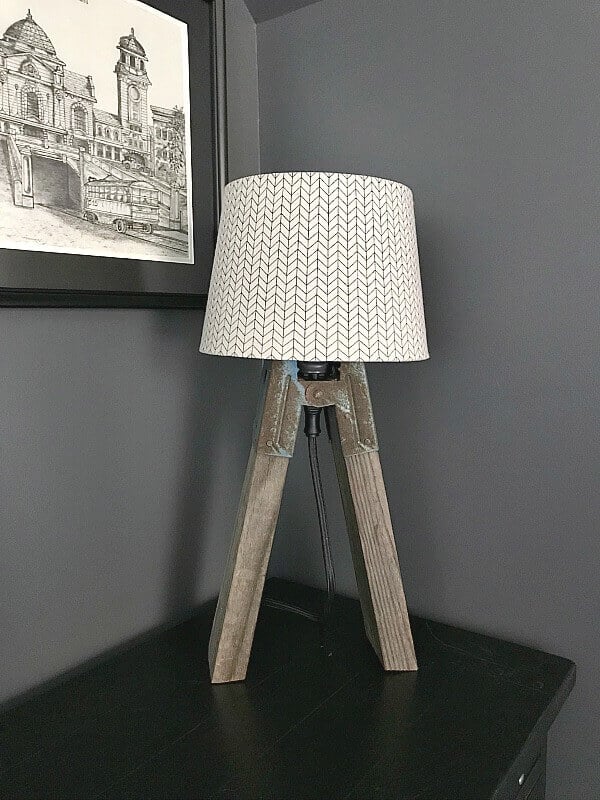 These sawhorse style lamps are incredibly easy to make, and they look so amazing too.
This DIY is a perfect example of farmhouse style – made from wood, old and re-purposed looking. You can see the DIY for the Sawhorse Lamp here.
Blanket Ladder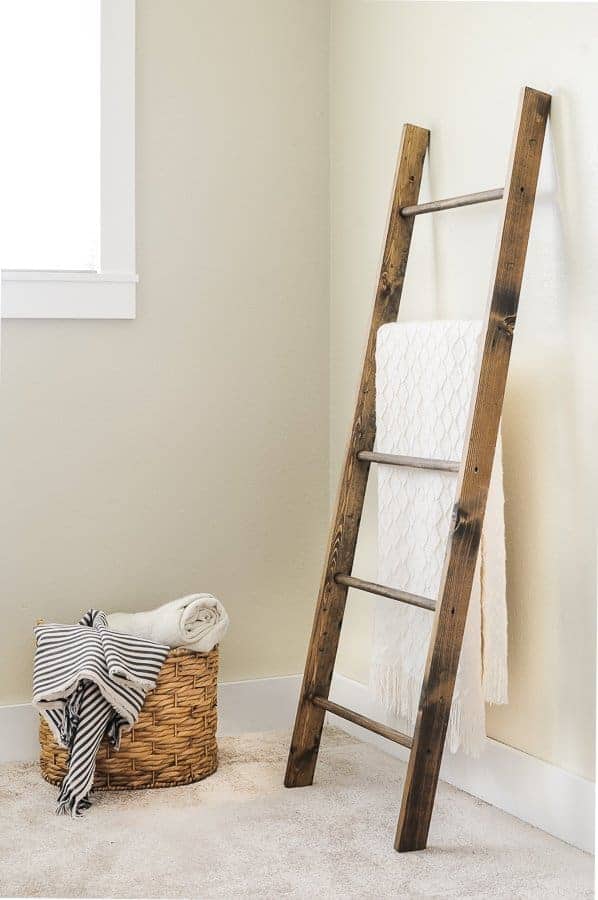 A blanket ladder is a great farmhouse style project. This blanket ladder not only creates interesting storage, it looks old and vintage too – exactly what a farmhouse style DIY ordered! You can see here for the DIY Blanket Ladder.
Wire Laundry Hamper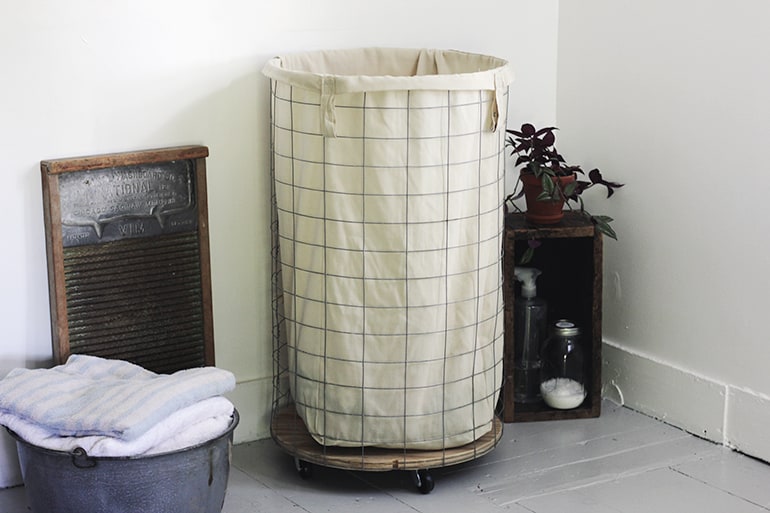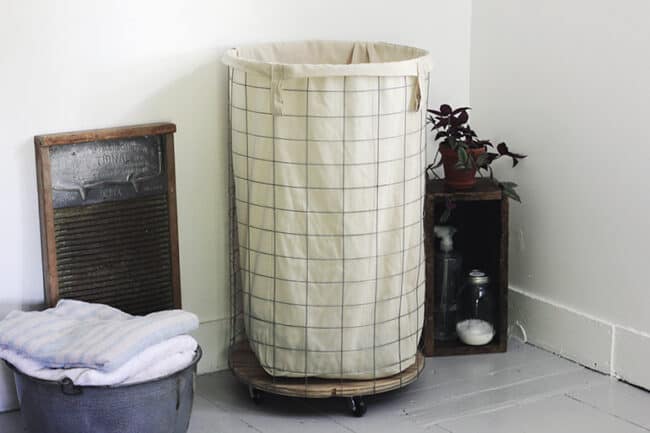 This wire laundry hamper is right on the money with farmhouse style. This is a fun DIY project that creates a special looking laundry hamper, that looks old and recycled too. See here for the DIY Wire Laundry Hamper.
I hope you enjoyed all these great farmhouse style DIY projects for your weekend!
Here are great farmhouse style weekend DIY projects for your home! Make something special & amazing for your home!