Butcher Block Wood Countertops: All you Need to Know
Butcher Block countertops are wood countertops for your kitchen and other rooms in your home. See my guide here to everything you need to know to see if they are right for your home!
There are many different countertop choices for a kitchen, including granite, soapstone, marble, Corian, ceramic tile, stainless steel, and laminate.
In addition there are also wood countertops, which are known as Butcher Block countertops.
Every kind of countertop variation has its pros and cons. Some surfaces can be scratched more easily, some can stain more than others. All have their good and bad points.
But wood countertops can be a fantastic choice for your kitchen. However you may have many questions about wood countertops, especially if you have never had them before.
For instance, is wood safe for food? Will it stain easily? Will it get scratched easily?, will it absorb liquids too easily?
But I can assure you that wood countertops are the perfect choice for your kitchen. If they are properly sealed and well maintained they will look amazing in your kitchen for a long time, and you can easily deal with all those things you worry about with wood.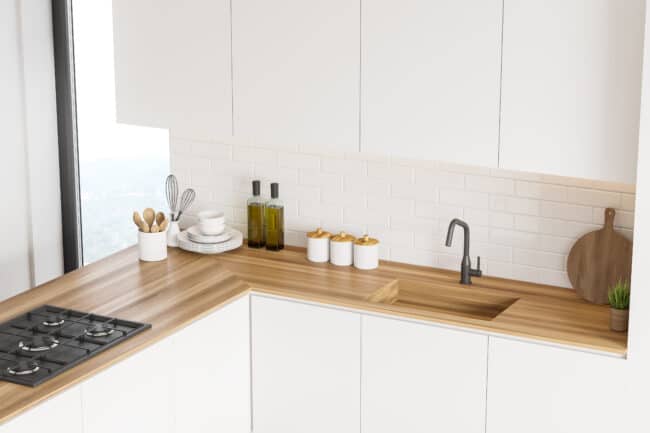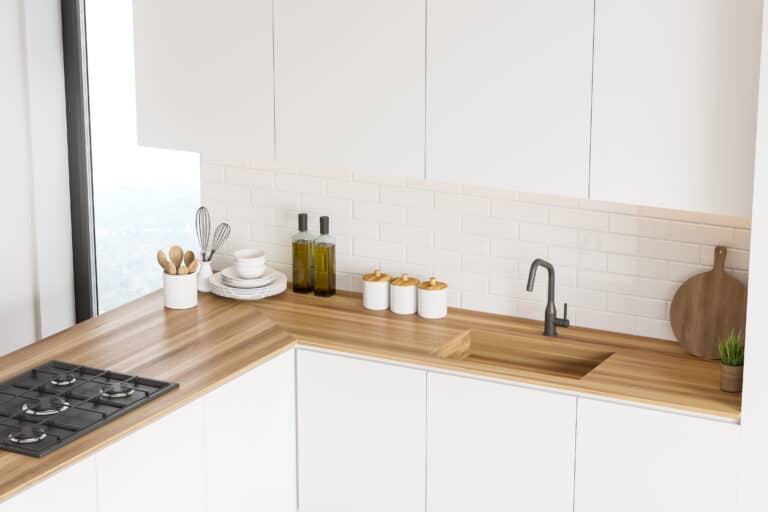 What is Butcher Block?
Butcher Block or Butcher's Block is a wood surface material. It is actually made of narrow strips of wood that are glued together to create one thick piece of wood.
Butcher block countertops can be made of various types of wood. They can be maple, walnut, hickory or cherry. Maple is the most common type of wood butcher block countertop however.
In addition, the wood can be stained absolutely any color/shade that you want. Many people just stain them in their natural color. Or they can just be sealed with a polyutherane.
There are two types of grain with butcher block wood. There is edge grain or end grain. Edge grain is the most common type. This way the lengths of wood are glued together so what you see are narrow long strips of wood.
End grain has the look of a checkerboard. Here the wood strips are stacked and glued together vertically.
End grain butcher block requires more maintenance than edge grain. It is more porous and requires frequent oiling and conditioning. Therefore you may prefer the more commonly used edge grain finish for your butcher block.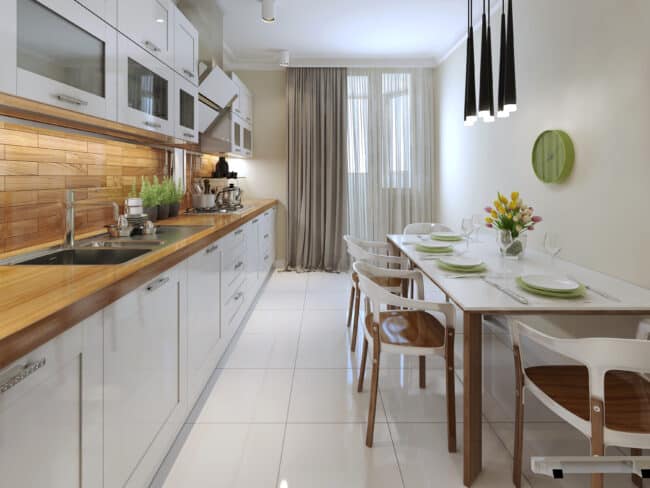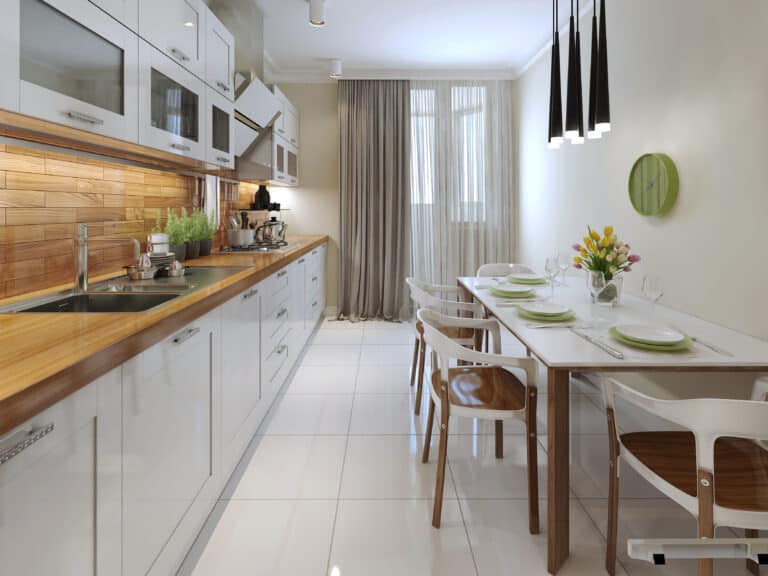 Where in your home to use Butcher Block Countertops
Butcher Block countertops can be used just about anywhere in your home. But they work especially well in kitchens and utility areas, such as laundry rooms.
The only space in your home that wood countertops are not recommended is the bathroom, as you need a more water resistant countertop in a bathroom.
Kitchen
Wood countertops work perfectly in a kitchen. They can make a kitchen seem warmer, and wood goes so well with so many different colors of cabinets.
You can also use wood for a kitchen island top. It is a great durable material for a much-used kitchen island countertop.
Laundry Room
Butcher Block wood can look great in a laundry room. There isn't as much moisture in a laundry room as in a bathroom, so wood countertops can work really well in here.
Office Desk
Butcher Block also makes a great office desk top. It is durable and hard wearing, and looks great too.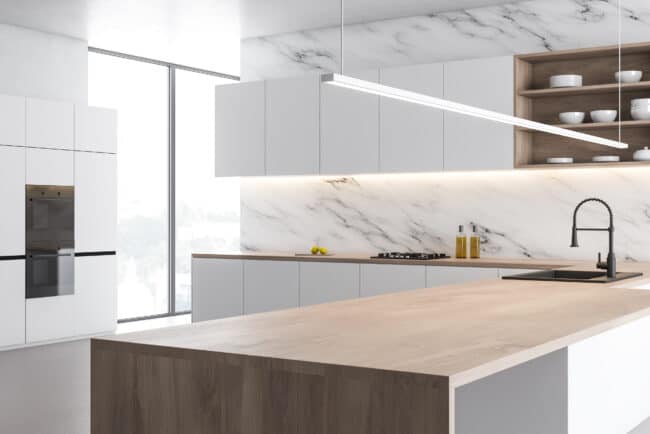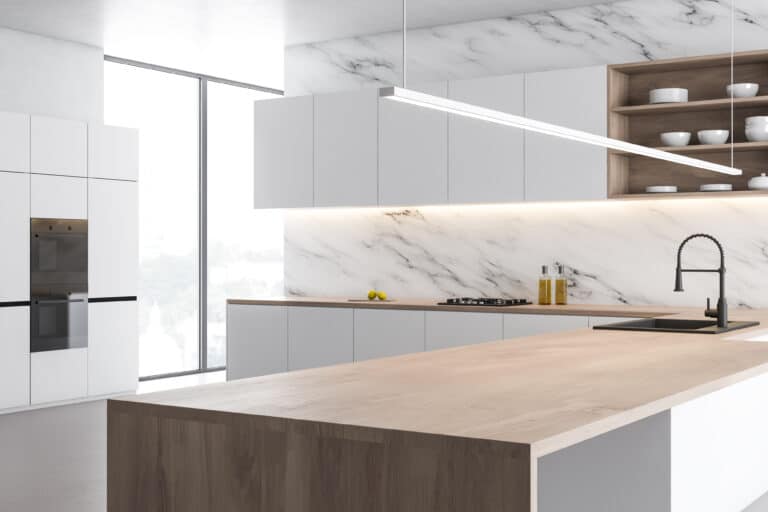 How to Maintain Wood Countertops
There is no doubt that wood countertops do require some level of care, and probably more care than other countertop options.
If you spill anything onto the wood countertop it is best to clean it up immediately – before it can soak into and penetrate the wood (sealing and finishing your countertops will help with this, but just in case).
Use something gentle to get up messes, such as a plastic spatula. Don't use anything with a blade or cutting edge. Wood can be easily cut.
Wood countertops should never be completely saturated with water. If you are cleaning up a spill or stain you should use the minimum of water that you can.
You will have to oil and condition them every now and again to keep them looking their best and to prevent the wood from cracking. But it is very simple, fast and easy to do. This mineral oil is perfect for oiling them.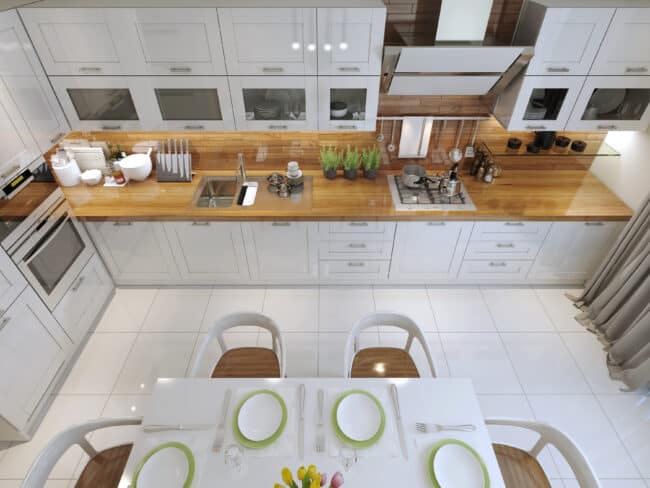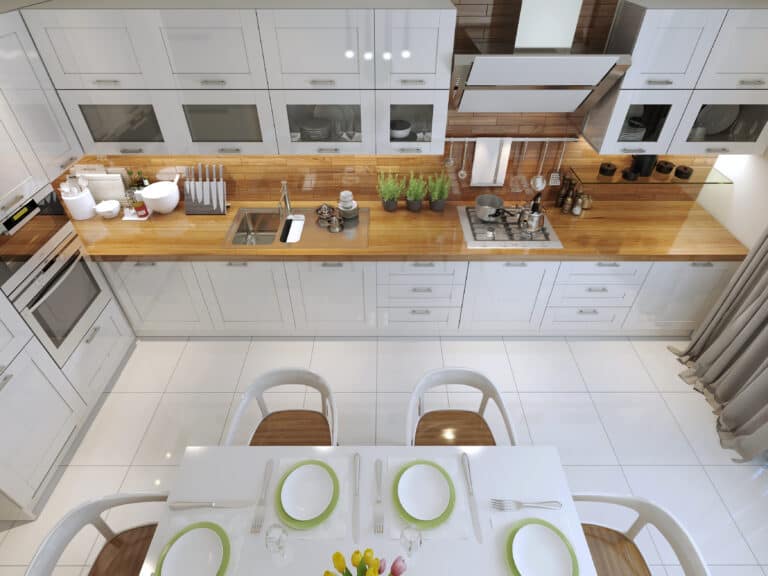 How to Finish Butcher Block Wood Countertops
You can do a lot of things to finish your wood countertops – stain them with a wood finish, seal them with polyutherane, or you can just condition them with a special oil, wax or cream.
If you use something like a mineral oil to finish your countertops you will need to keep up with this and use it about once a month, to keep them in top condition.
Just like anything that is beautiful to look at, you need to be prepared to do some upkeep. But this really isn't that time consuming at all.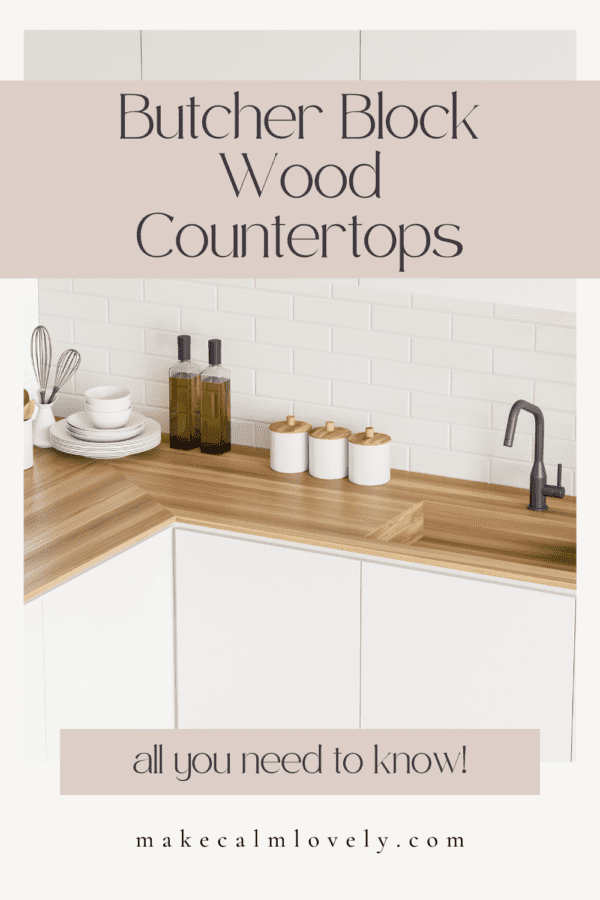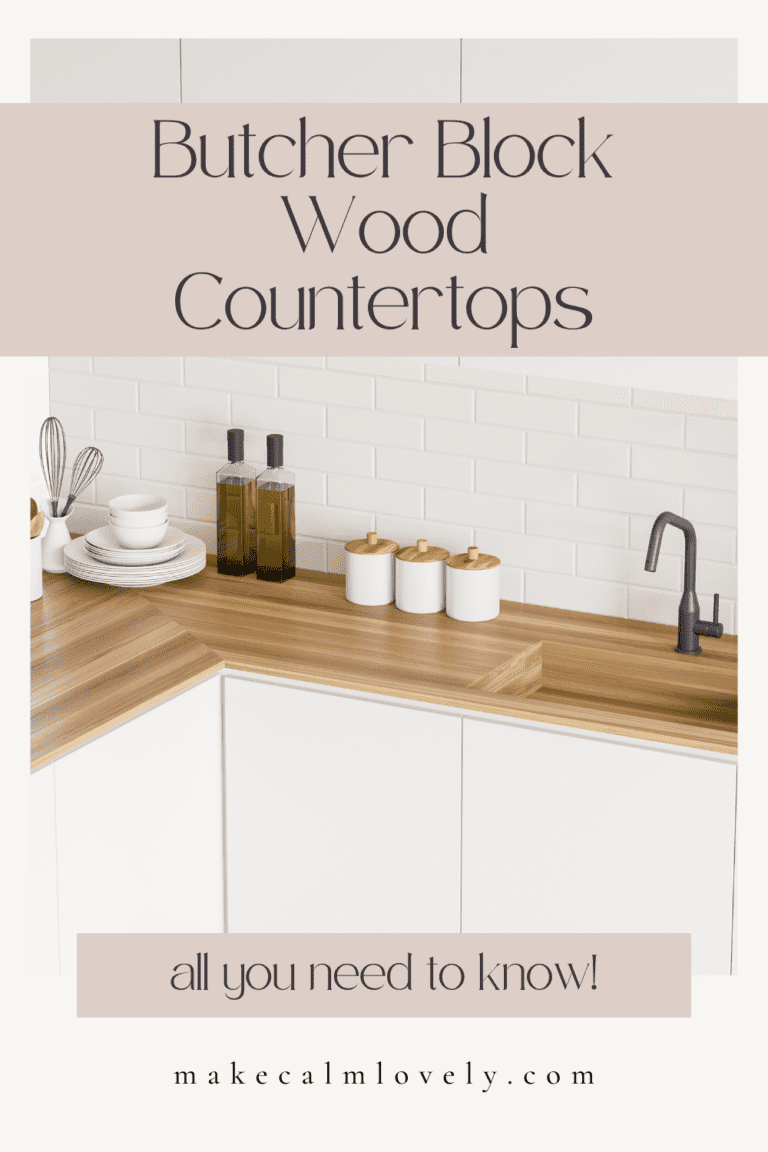 What Style of Kitchen Looks great with Wood Countertops?
Wood countertops can look good with pretty much any style of kitchen.
They especially look great with a farmhouse style kitchen, as they have a slight rustic look to them that fits the farmhouse aesthetic.
But wood also looks great with a modern kitchen, a vintage-look kitchen and so many more styles.
Wood goes so well with many different colors too, so whatever color your kitchen cabinets are, chances are the wood will look great against them.
The Pros & Cons of Butcher Block Countertops
Pros:
Has a nice warm color that creates the look of warmth

You can install them yourself fairly easily

They are relatively easy to clean

They can be sanded and resealed

They have a long lifespan, when cared for properly

You can customize them – choosing the wood you want, the shade you want etc

They are a relatively low cost countertop option

They give a great look to farmhouse and vintage style kitchens
Cons:
They are not completely waterproof. They cannot be saturated with water.

They can dent fairly easily, and also scratch

They can be damaged by water over time

Must be oiled and sealed frequently so the wood does not crack

They can burn easier than many countertop materials

They can expand and contract in heat and cold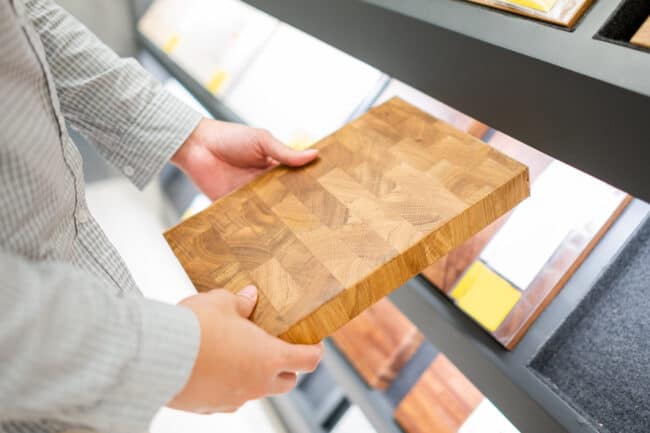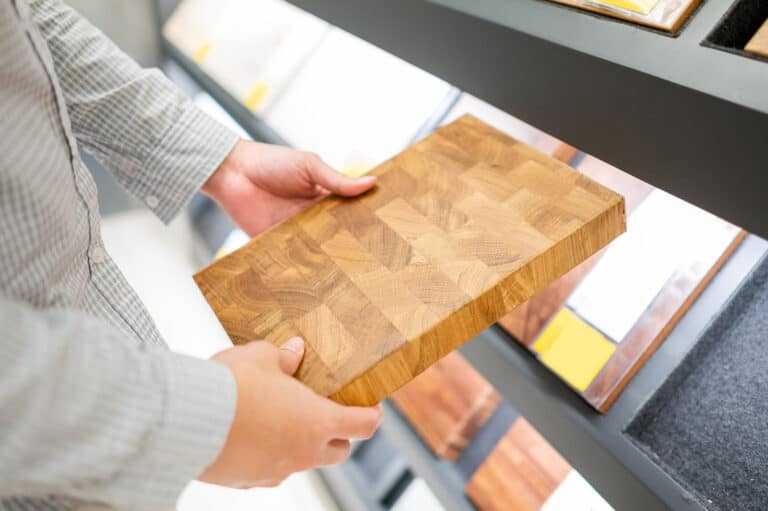 Where to Buy Butcher Block Wood Countertops
You can buy butcher block wood countertops in many different places, especially Home Depot, Lowes, and many major hardware store chains.
You can also get them on places such as Amazon. But you will probably need more custom sizes that you can get at hardware stores, or have them cut them to size for you.
Choose wood butcher block countertops for your kitchen for a warm look and feel to your kitchen.
With a little upkeep your wood countertops can look beautiful and be durable for years.

Butcher Block countertops are wood countertops for your kitchen and other rooms in your home. See my guide here to everything you need to know to see if they are right for your home!