17 Brilliant IKEA Besta DIY Hacks
IKEA's Besta storage cabinets are stylish and beautiful cabinets that are perfect for any DIY hack! See these brilliant ideas for how to change your Besta cabinet!
The IKEA Besta range is a collection of storage cabinets – in different sizes and colors.
Besta cabinets are one of the best selling items from IKEA that you can buy, and also one of the most hackable things they sell also!
They are one of the best IKEA items to hack, because they are basically a box – so you can do pretty much anything to them!
Left un-hacked, as they come, they are simple beautiful cabinets anyway, but there's so much more that you can do to them!
Some of these DIY hack creations you will agree look completely custom-made – it is truly so amazing what you can do with an IKEA DIY hack!
Fluted Sideboard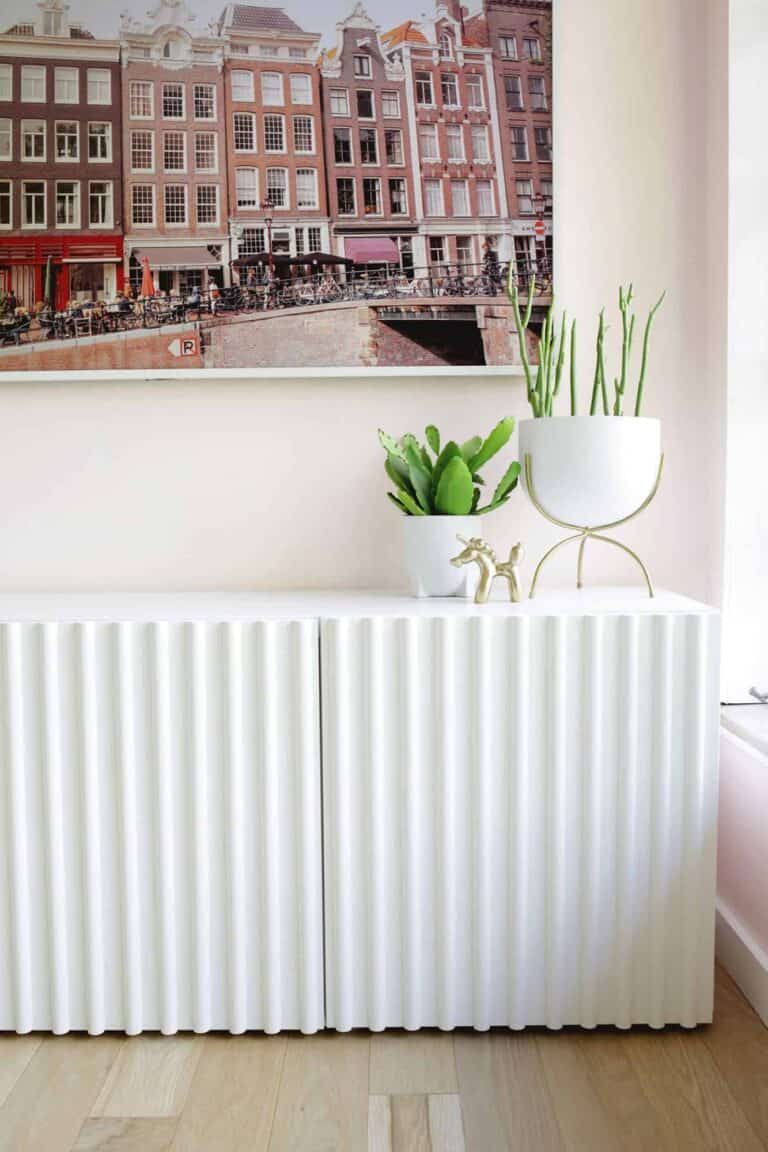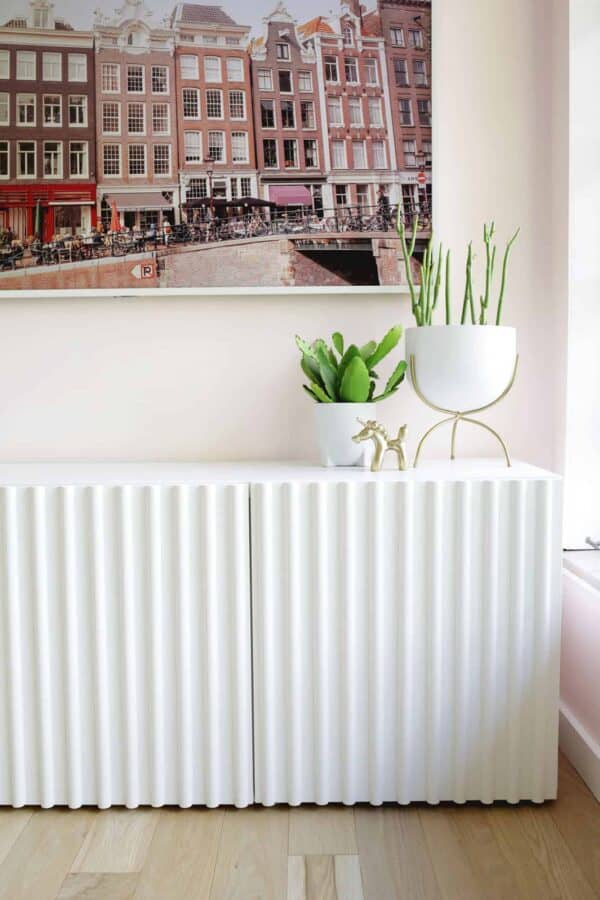 This fluted sideboard, which is so on trend right now, was created with IKEA Besta.
This DIY takes a little bit of work, but can easily be done in a weekend. See the DIY Fluted Sideboard IKEA Besta Hack here.
Cane Besta Cabinet Hack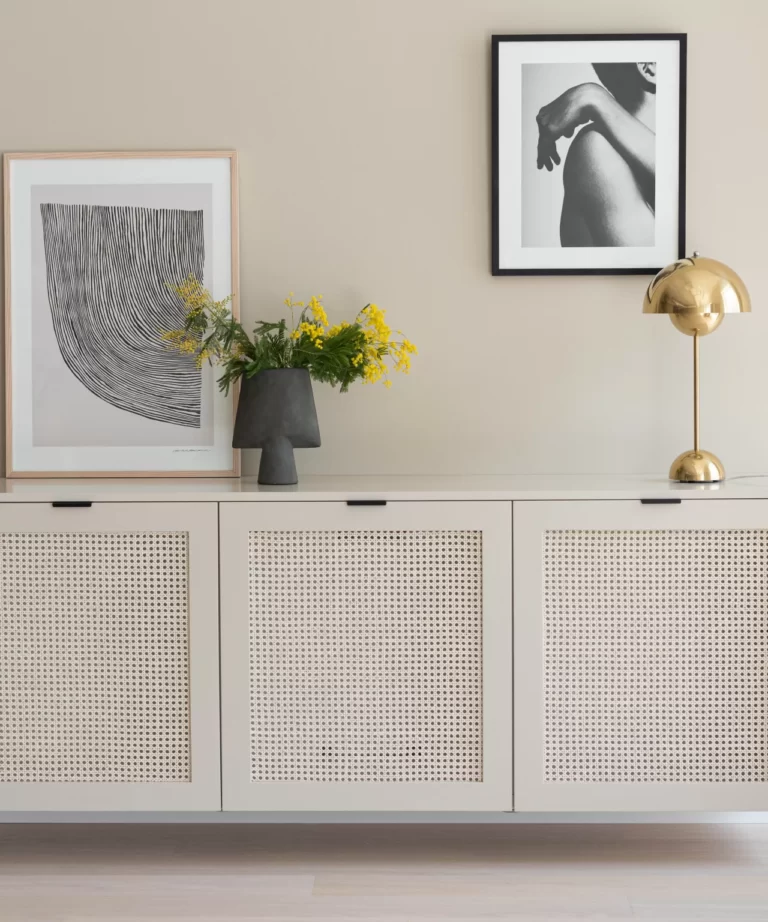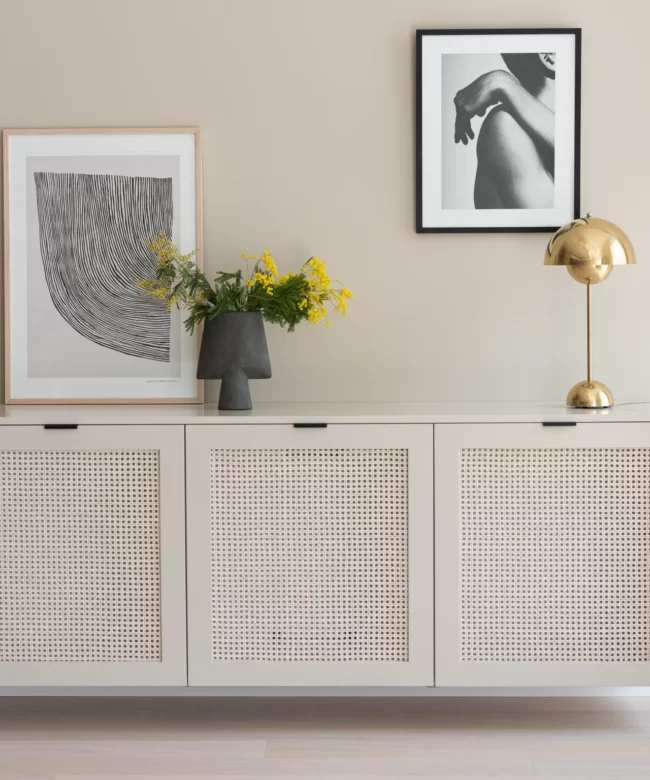 This is a stylish beautiful Besta hack that has created a gorgeous cane cabinet. See the DIY Cane IKEA Besta Cabinet hack here.
Minimal Marble Besta Cabinet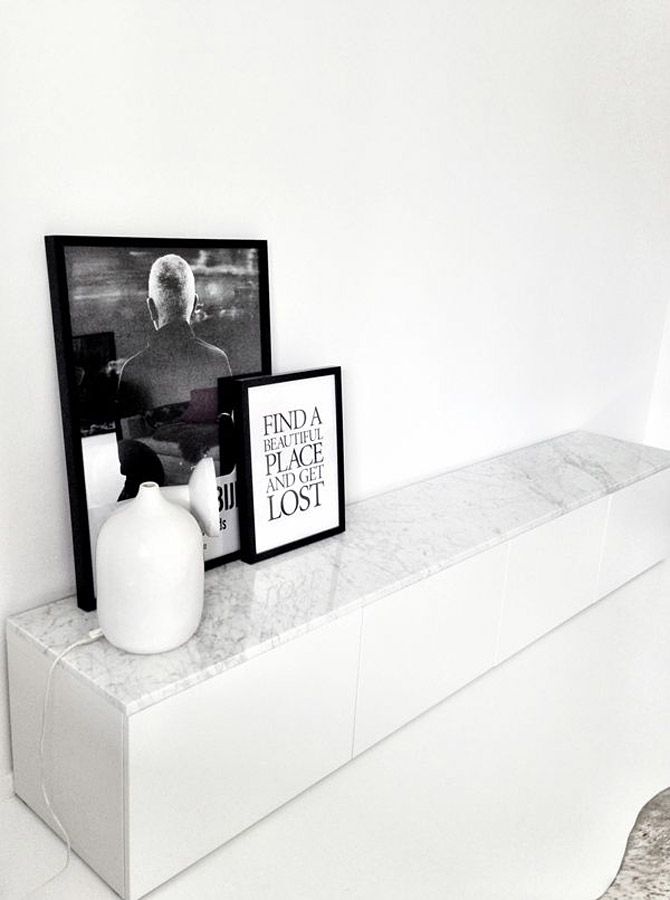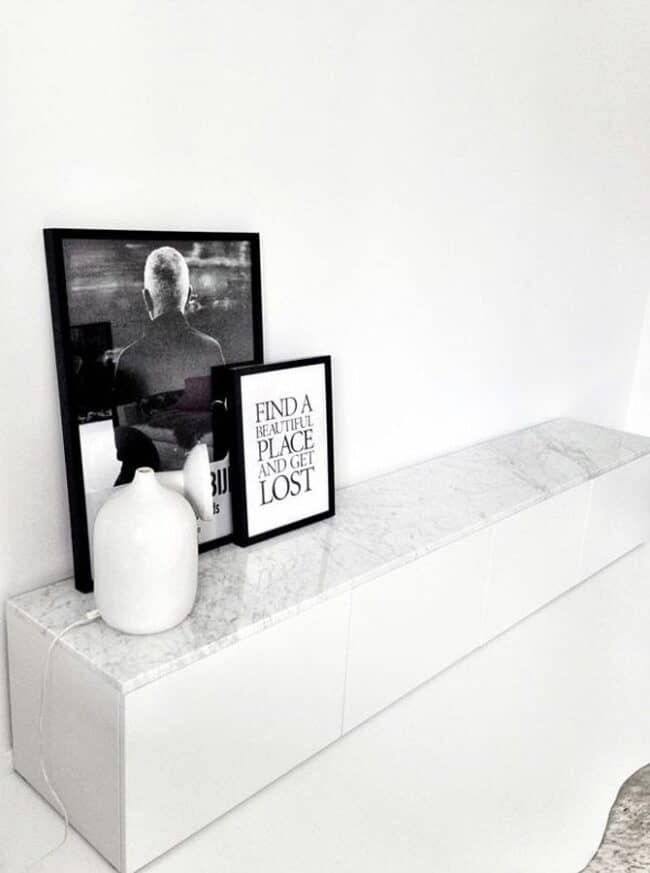 This is really just a Besta cabinet with a slab of marble placed on top. It is such a low-effort hack to a Besta cabinet, but as you can see it is just so chic and stylish. See the Minimal Marble Besta Cabinet here.
Floating Media Console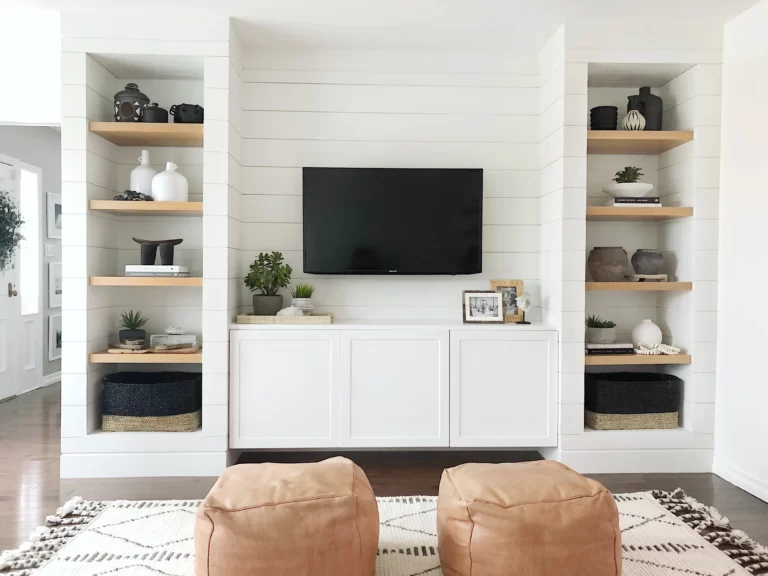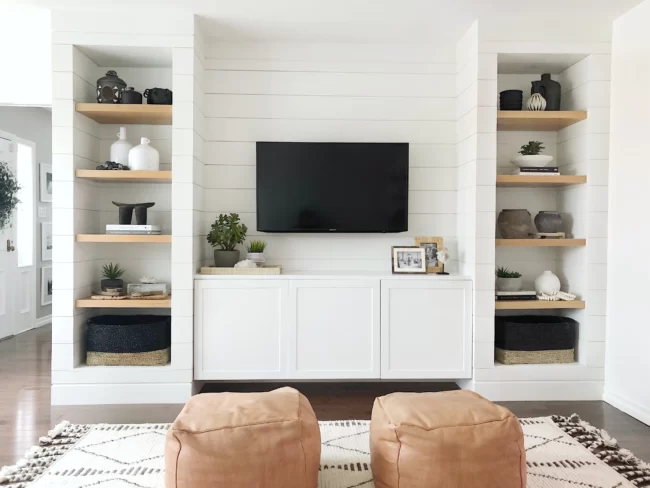 This is a really beautiful stylish cabinet made from a basic Besta unit. It is so effective as a media unit, which because you are constantly looking at the TV needs to be pretty to look at! See here for the DIY Besta Floating Media Cabinet IKEA Hack.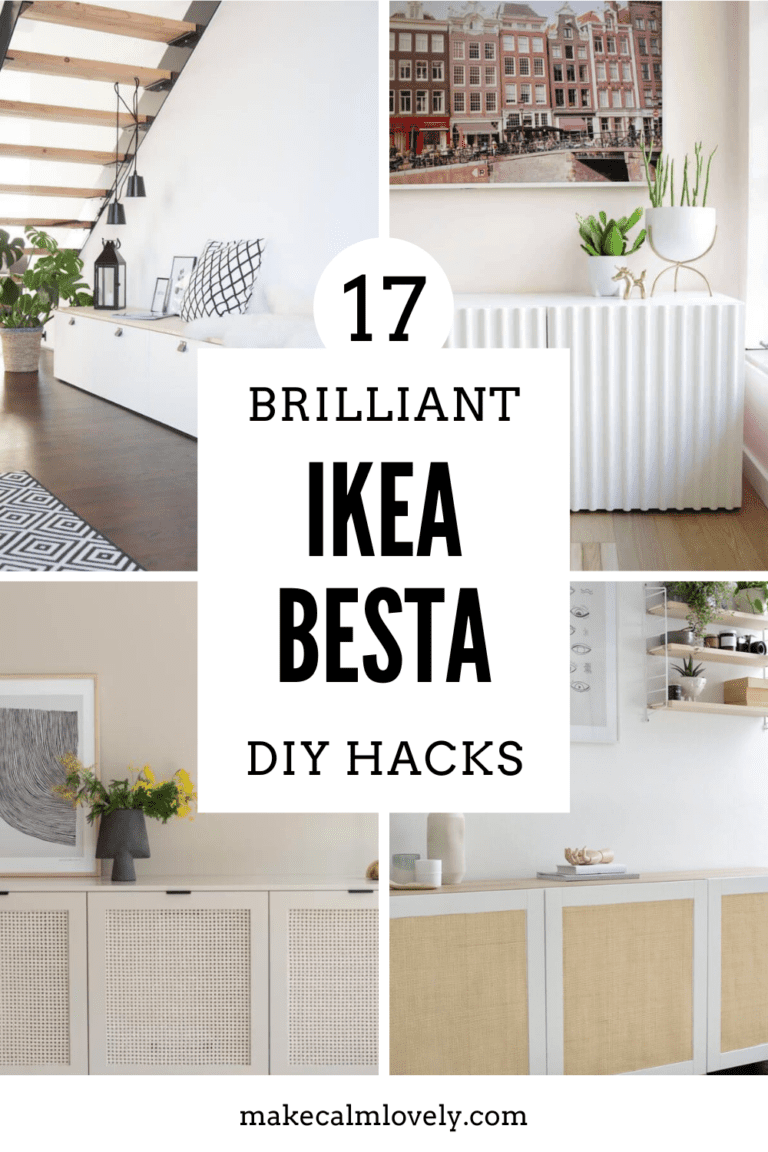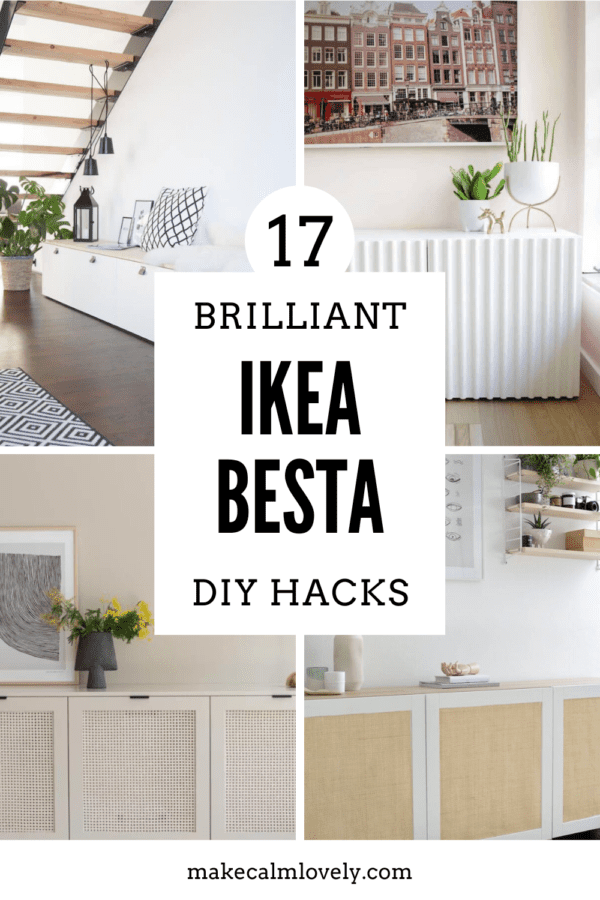 Color Block Besta Cabinets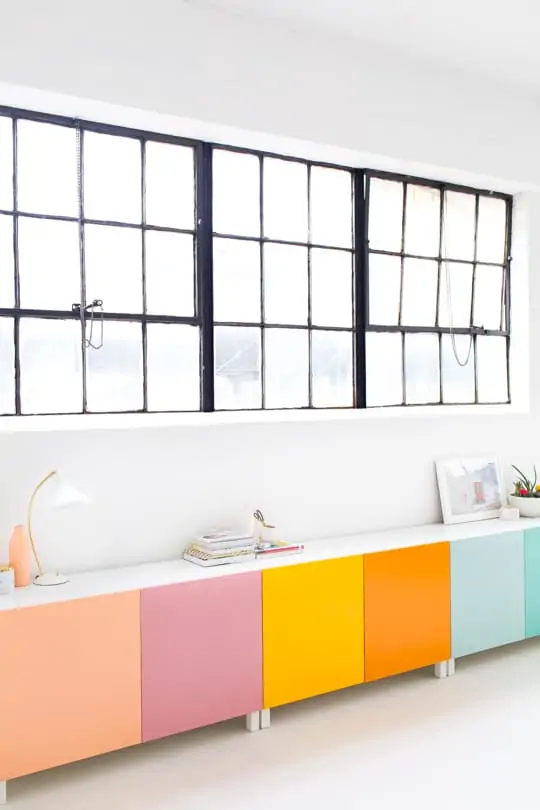 These color blocked Besta units are just so pretty. They are perfect for any room that you want to make stand-out with a modern color twist.
This hack really just involves painting the Besta doors different colors – which is done, then the unit assembled. You can see how to do the DIY here for Color Block Besta Units.
Mid Century Modern Style Besta Cabinet Hack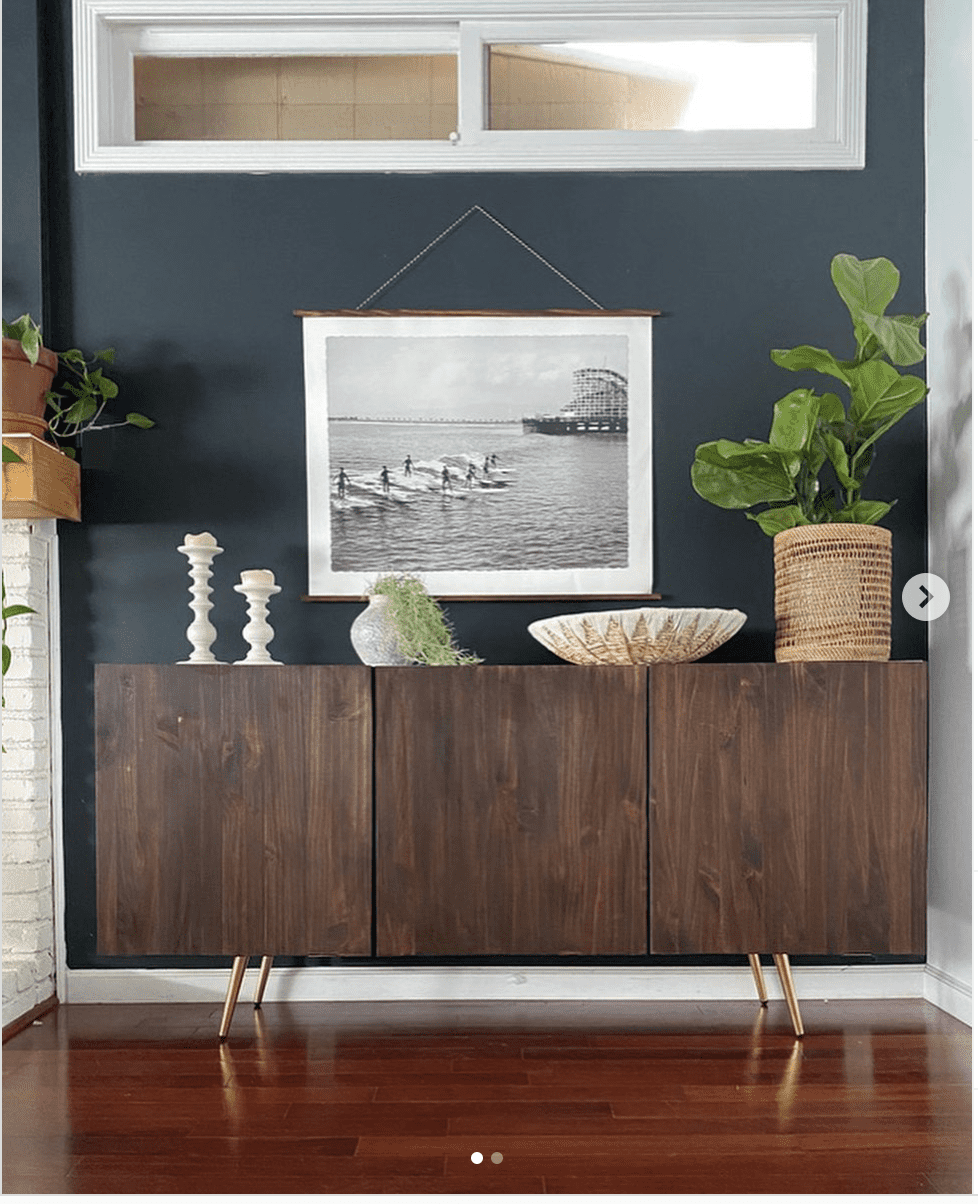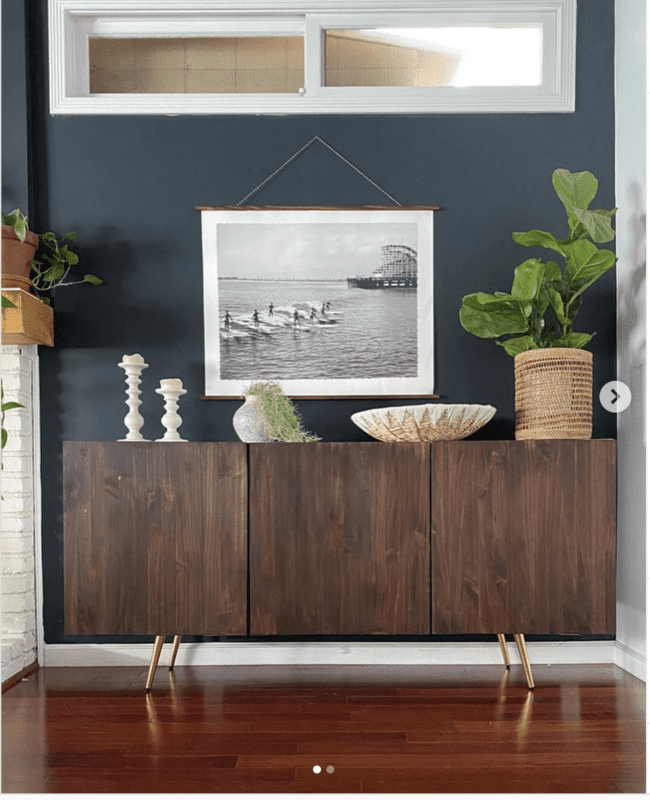 This DIY hack turns Besta into a beautiful Mid Century Modern style cabinet. From @houseofwrigly on Instagram.
Low Wooden Top Cabinet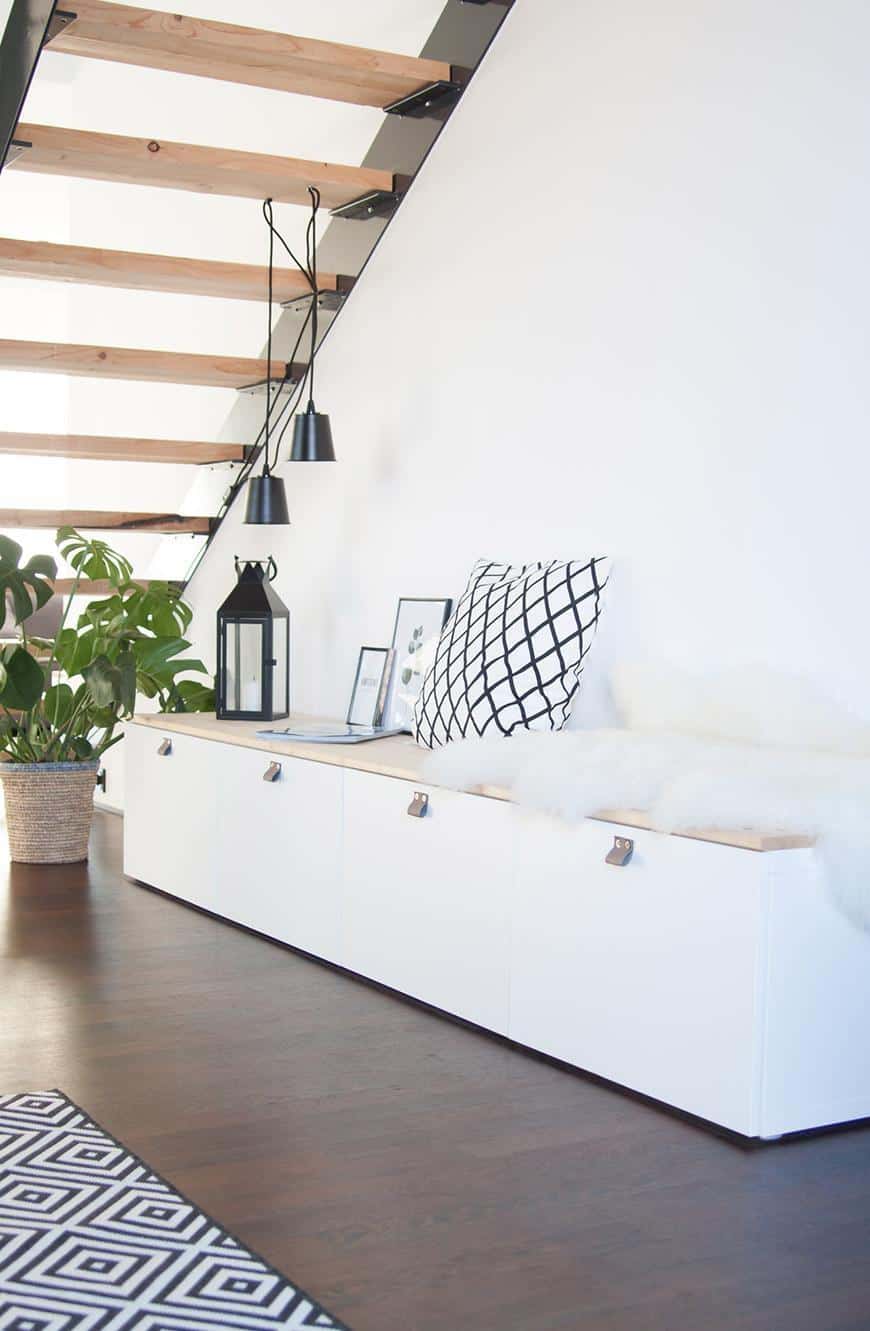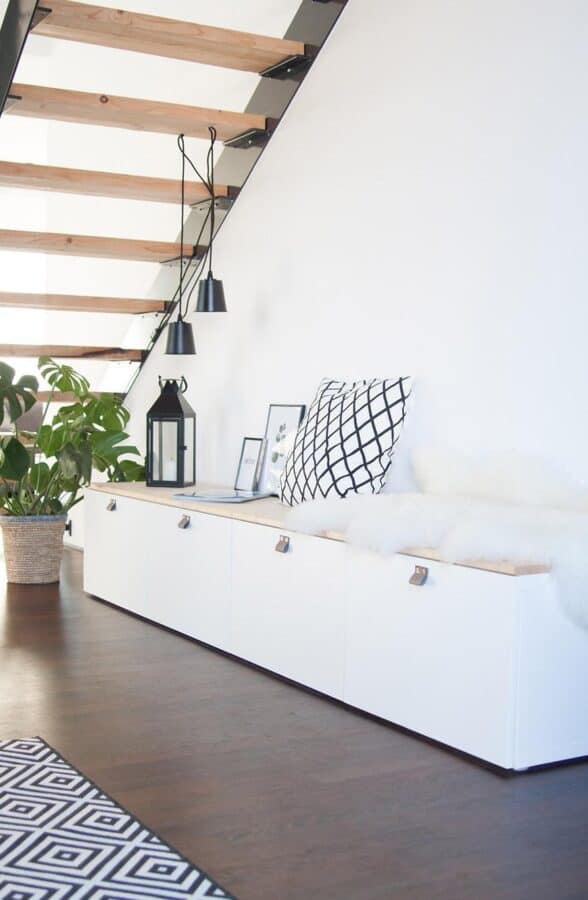 This is a very simple hack to do to Besta – but is looks so incredibly stylish and designer.
This hack just takes a new wooden top for the cabinet, and adds leather handle pulls to the doors. That is it! See here for how to DIY a Low Wooden Top IKEA Besta Cabinet.
Reclaimed Wood Buffet Cabinet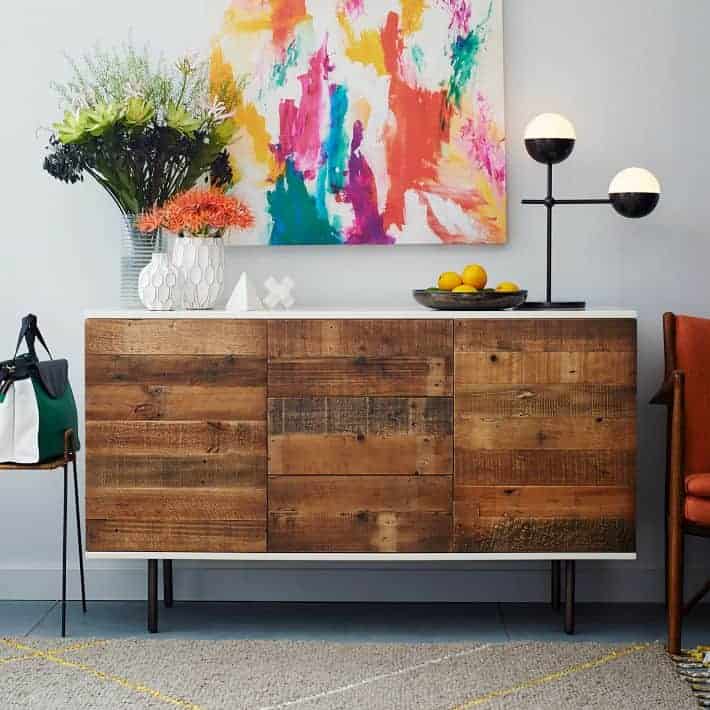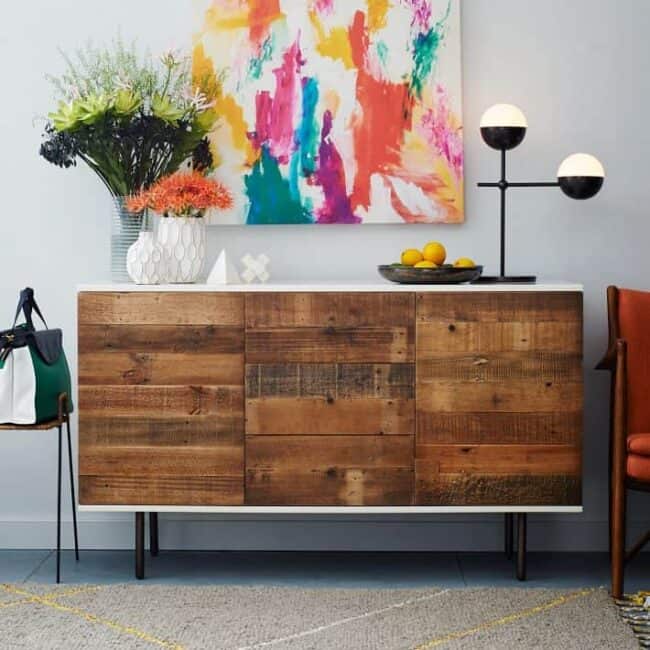 In this hack Besta is turned into a beautiful reclaimed wood buffet cabinet, which looks just like something high end that you would get for a high price at West Elm!
This is actually very simple too, rustic strips of wood are glued to the cabinet doors, and the whole thing is finished off with a thin lacquer coat. See here for the DIY for Reclaimed Wood Buffet Cabinet IKEA Hack.
Cane Sideboard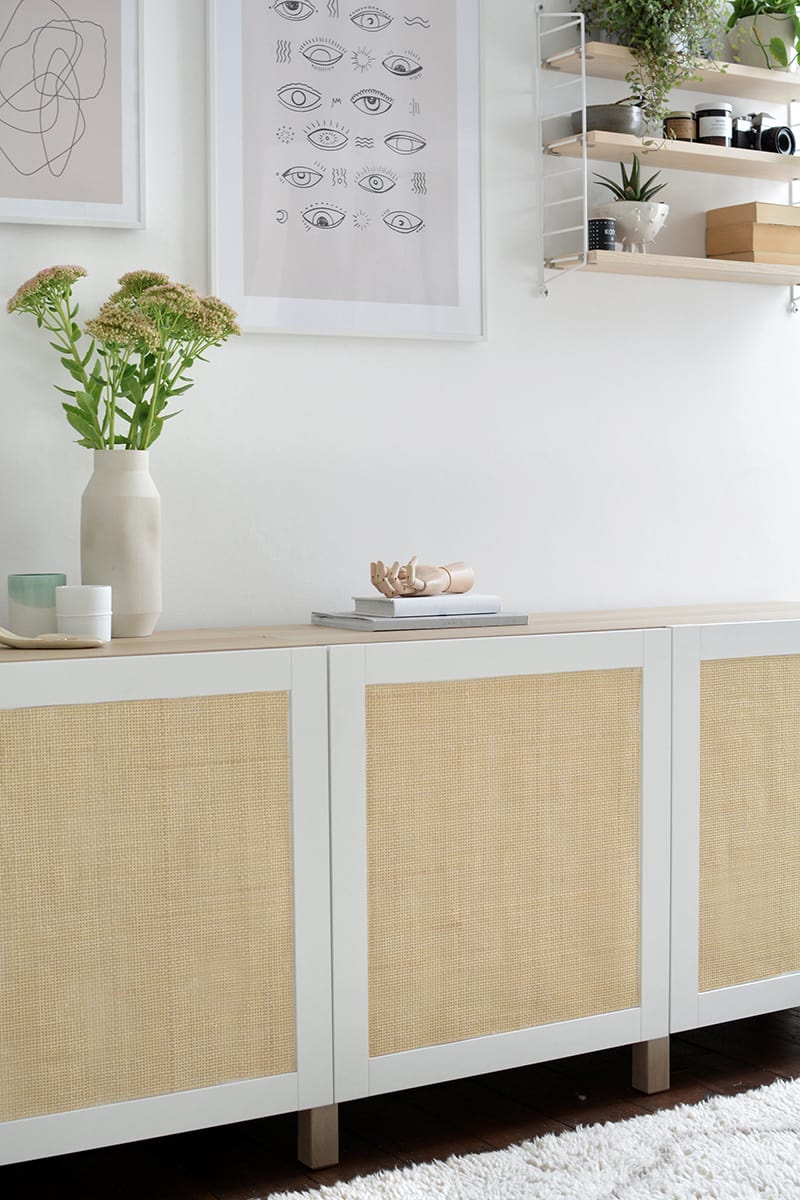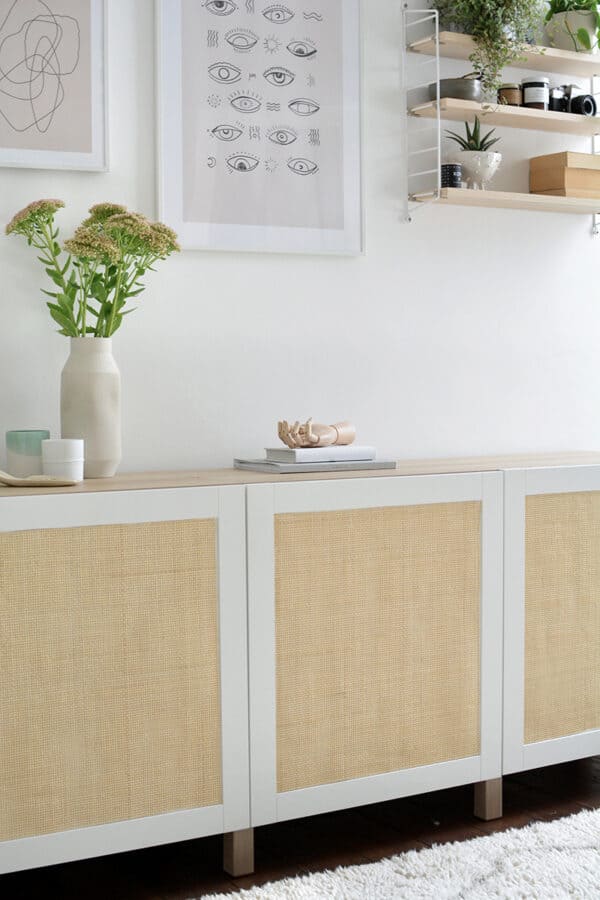 This beautiful stylish cane sideboard is a Besta cabinet hack. This actually is a fairly simple DIY hack to do.
The cane sheeting is cut to size and then glued onto the Besta doors. See the DIY hack here for IKEA Besta Cane door Cabinet.
Modern Media Console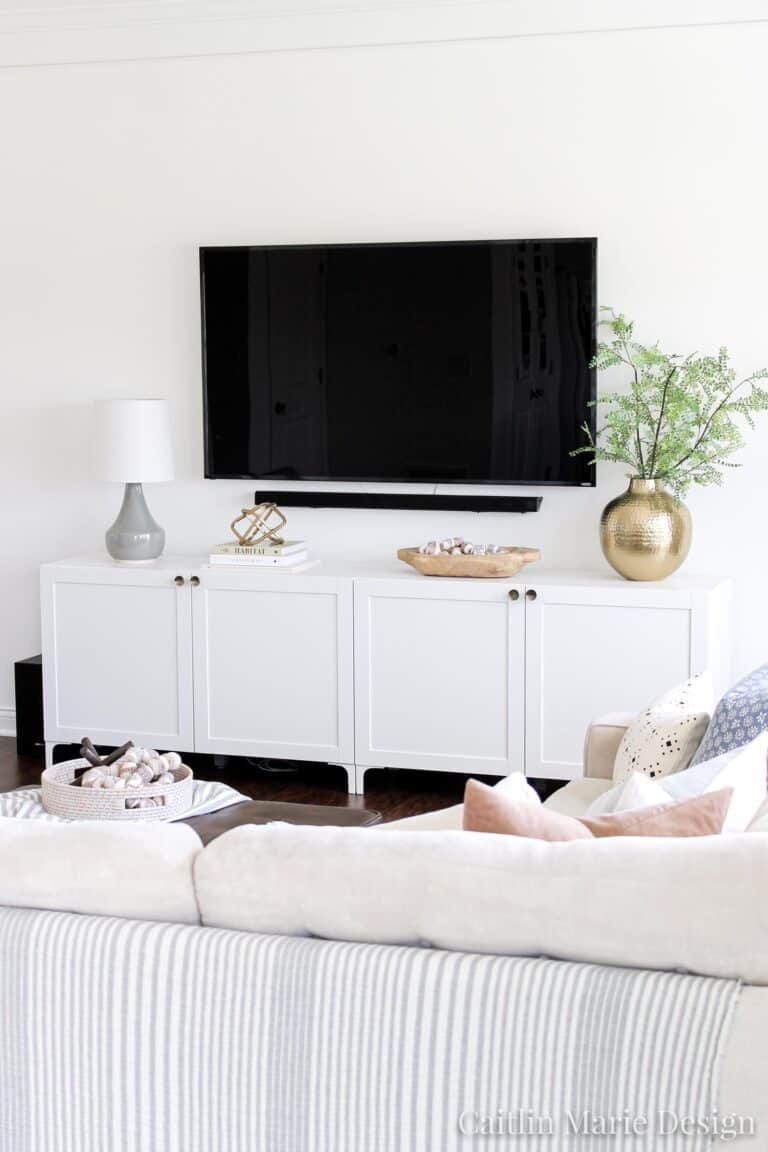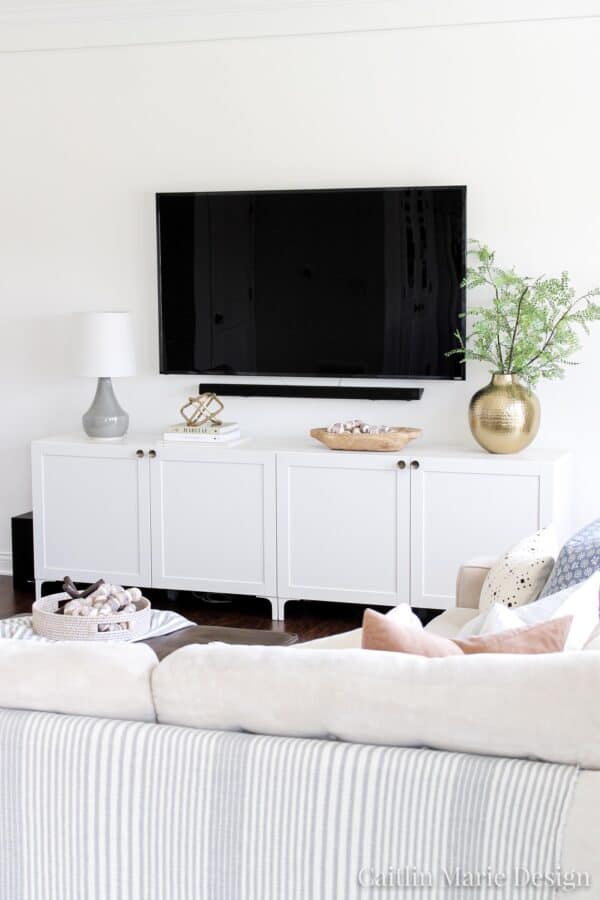 Here is another beautiful and stylish media cabinet, created completely from Besta.
This is a great budget hack – the total cost for this hack is far less than purchasing a similar looking unit at a high end store such as West Elm. See here for the DIY Modern Media Console IKEA Hack.
Custom Office Storage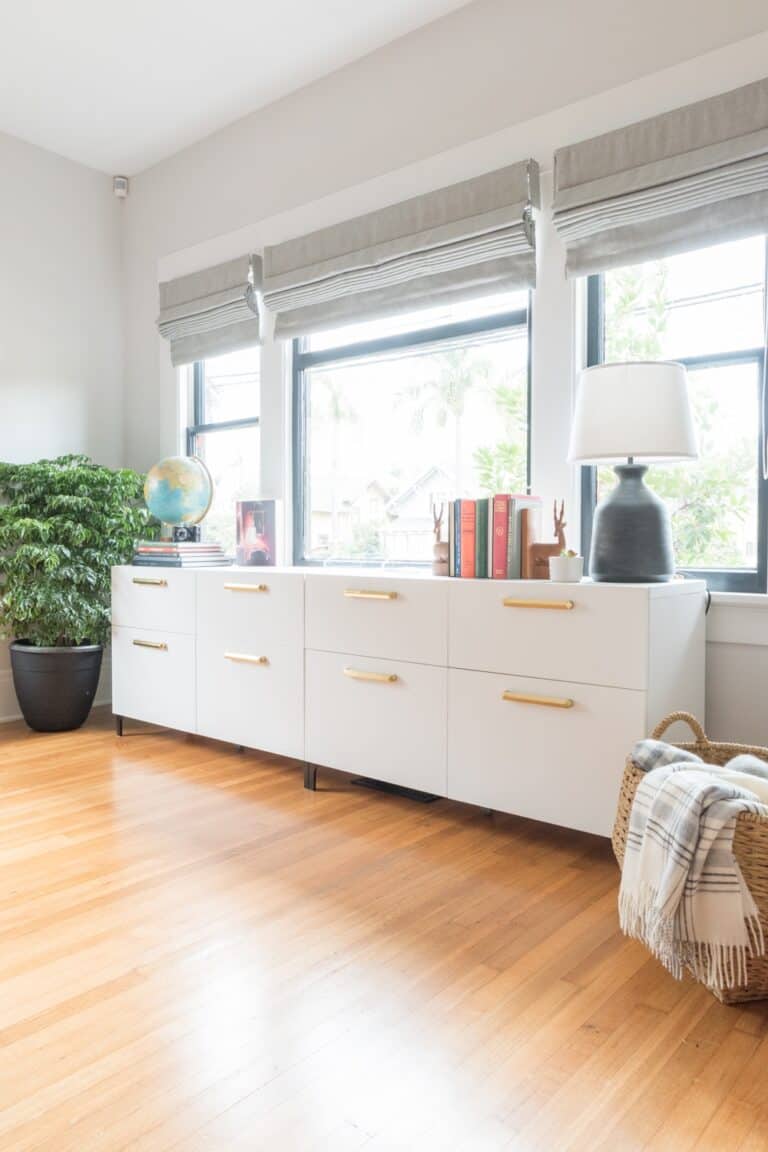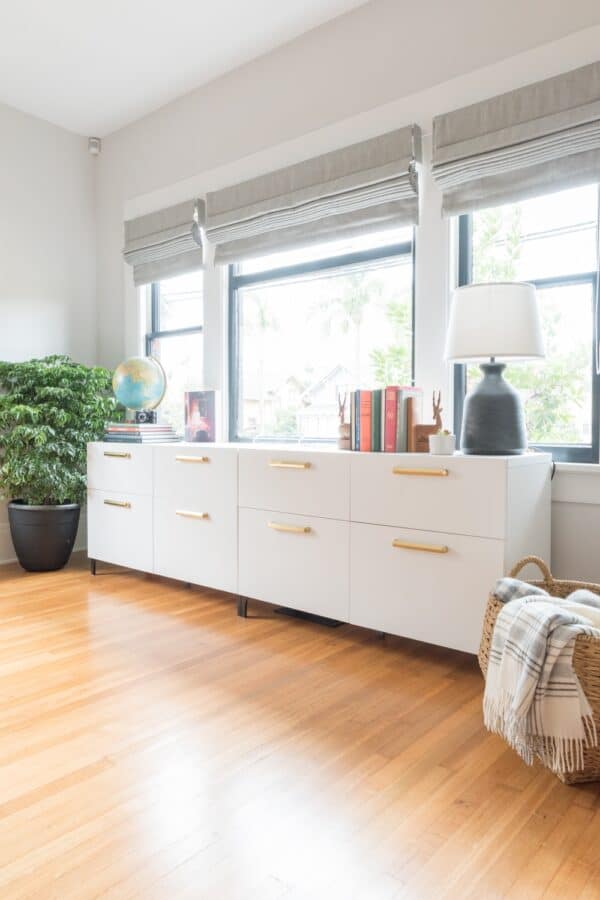 This great Besta hack creates beautiful office storage for any home office or living space. This hack has added pretty gold handles for an elegant touch. See here for the DIY Custom Office Storage IKEA Hack.
Fluted Besta Hack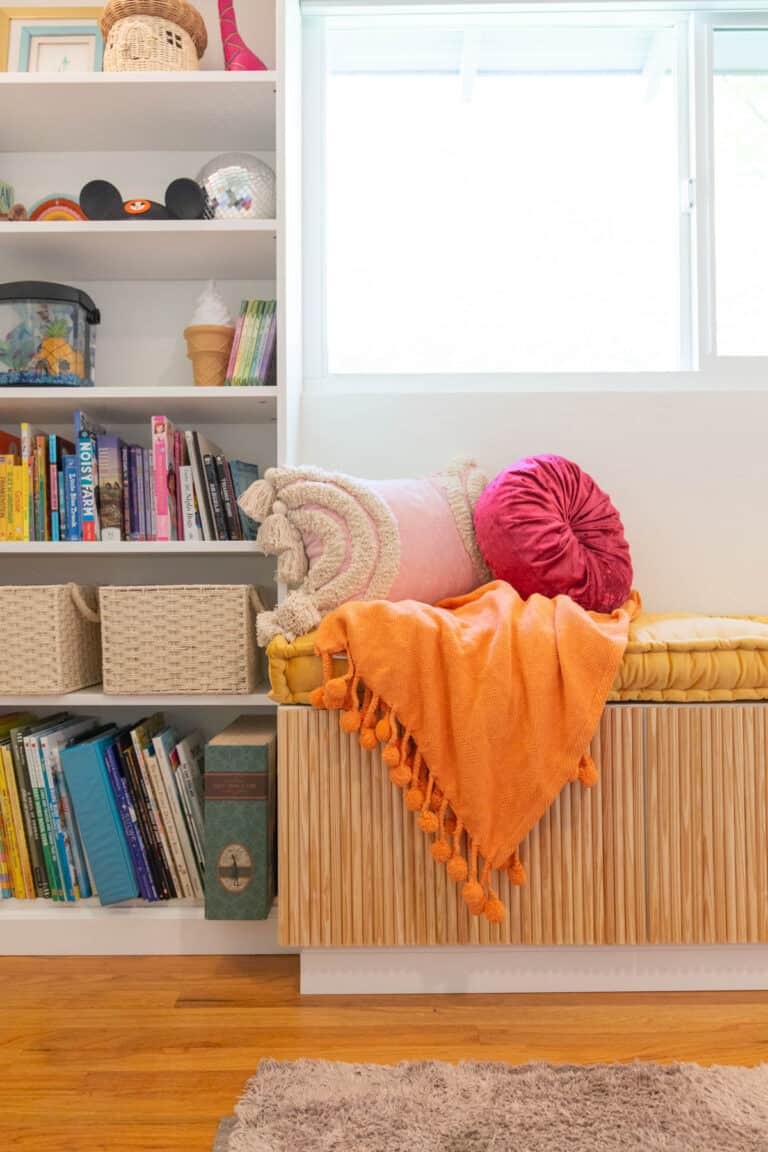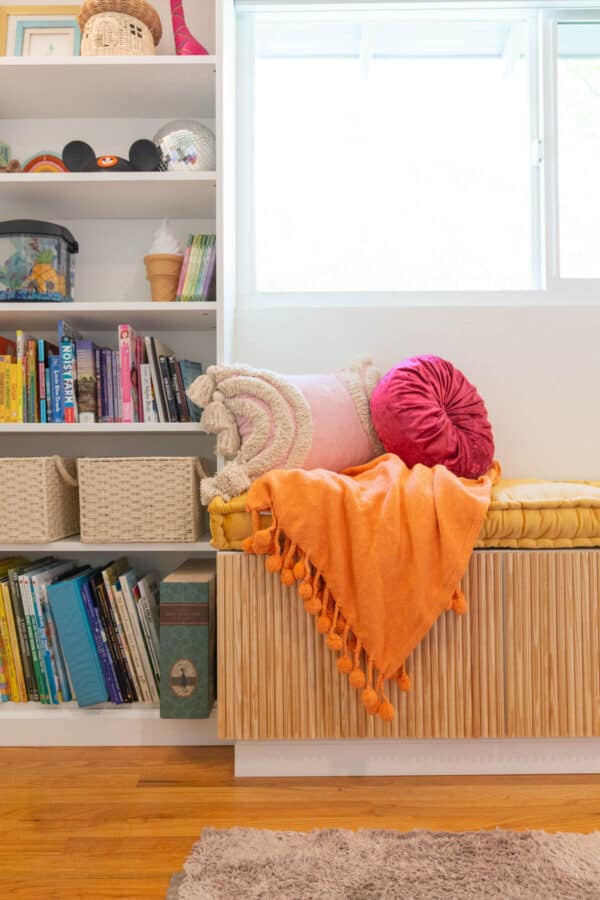 This hack has fluted wood glued onto the front doors. You can use this cabinet for just about anything – a media unit, window storage unit, or pretty much anything at all in any room of your home. See the DIY Ikea Fluted Besta Hack here.
Besta Cocktail Cabinet Hack
This video has several great IKEA hacks, but the one we are focusing on right now for this post is the gorgeous black fluted cocktail cabinet hack.
Watch the video to see how to do this amazing hack!
Window Seat Besta Hack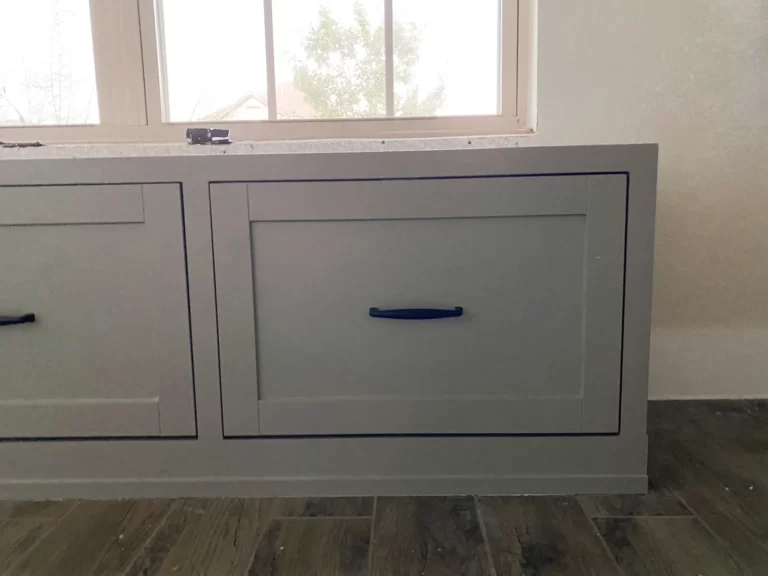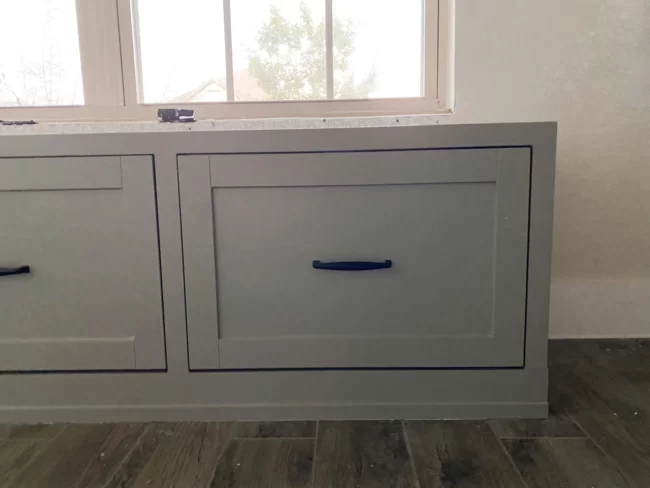 Here the Besta unit is being used for a great window seat hack. It is so chic and stylish and will look wonderful in your home. See the DIY IKEA Besta Window Seat Hack.
Record & Media Console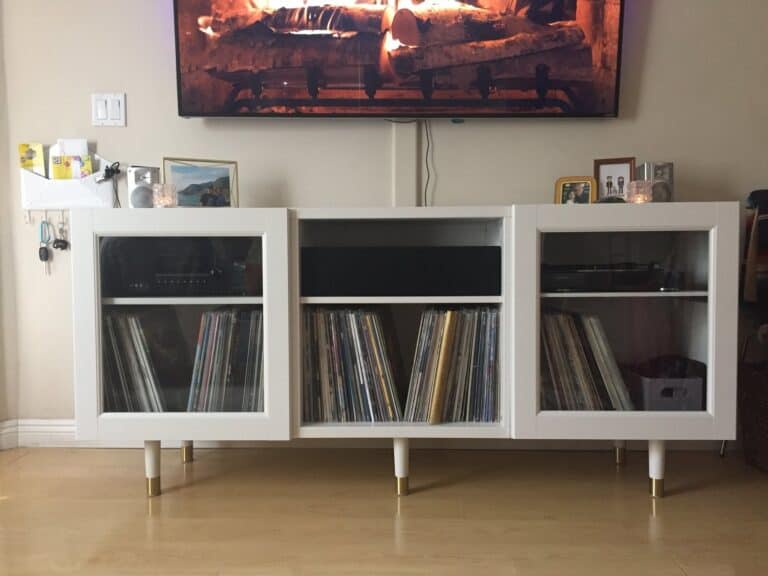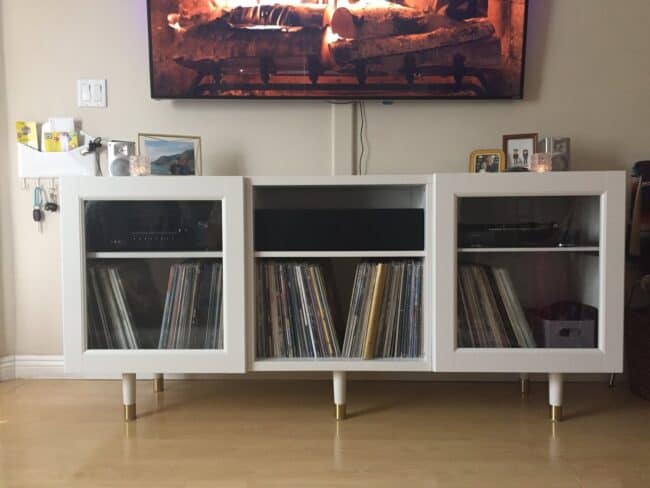 Here Besta has been turned into a beautiful media and record storage cabinet. This stylish cabinet can be so easily DIY'd by you! See the DIY Ikea Besta Media & Record Storage Unit.
Bench Hack with DIY Cushion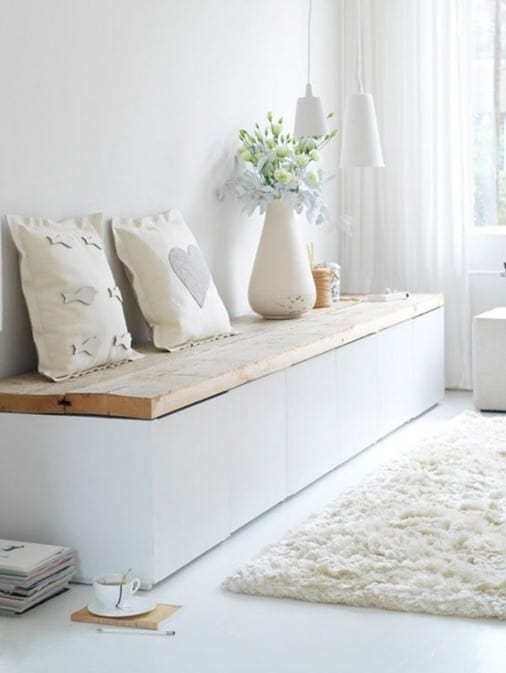 This is a beautiful bench created out of the Besta unit. It is so simple, yet beautiful and minimal.
Backlit Media Console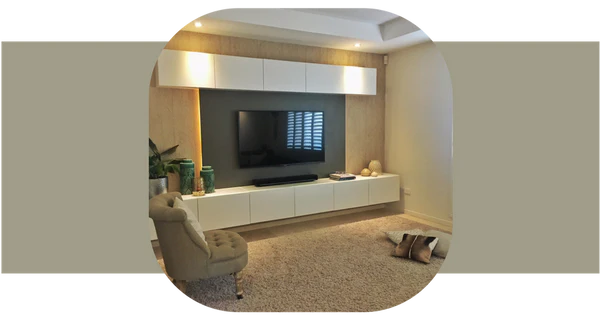 Here in this hack Besta cabinets have created a great media storage unit that is backlit and so useful and stylish.
I hope you enjoyed this round-up of 17 great IKEA Besta DIY hacks! If you enjoyed this you may enjoy these other IKEA hack round-ups too!
How to Hack the IKEA Lack Side Table – see these many ideas!
Fluted IKEA DIY hacks that are so stylish & beautiful
12 Magnificent IKEA Mudroom Hacks
IKEA's Besta storage cabinets are stylish and beautiful cabinets that are perfect for any DIY hack! See these brilliant ideas for how to change your Besta cabinet!