An Easy Guide on How to Create & Sell Printables on Etsy
This is an easy guide that shows you how you can create and sell Printables on Etsy, as a side hustle business idea.
Creating and selling Printables on Etsy can be an amazing side hustle and great online business for you!
Etsy is a great online marketplace of items for you to purchase – including handmade unique items. It is also one of the best places to sell Printables and other digital products online.
I created an Etsy shop to sell Printables that I create. I already have many many sales, and I am planning and designing new Printables to list constantly.
Creating and selling Printables is passive income – you create the product, then sit back and watch the sales coming in.
But you may be reading this and have questions, such as what is a Printable? So read on!
This post contains affiliate links. This means that if you click on a link in this post and make a purchase via that link I may receive a small commission, at no additional cost to you.
What are Printables?
Printables are digital products, which as the name suggests, are designed to be printed off and used.
Some examples of Printables are printable planners, printable journals, wall art, stickers, coloring pages, and e-books, among many other possibilities.
Printables are usually designed in a graphic design software and converted into PDF form. This PDF is then easily downloaded to be printed out and used.
It is very easy to learn to create and sell Printables. It is one of the best side hustles you can do that requires very little knowledge or monetary output up front.
Why is Selling Printables a Good Side Hustle?
The top reason why selling Printables is a good side hustle is that there is a very short learning curve to create Printables.
Once you learn how to create a Printable it will become easier and easier, and you can just keep doing it numerous times for different products.
The other great thing about selling Printables is that you don't have to carry a physical inventory.
You design a Printable, list it for sale, and that's it! You don't need to package something, ship something, or do any extra work!
You also don't need to invest in anything especially. You can use a free graphic design software, such as Canva (see further along), and that's really it!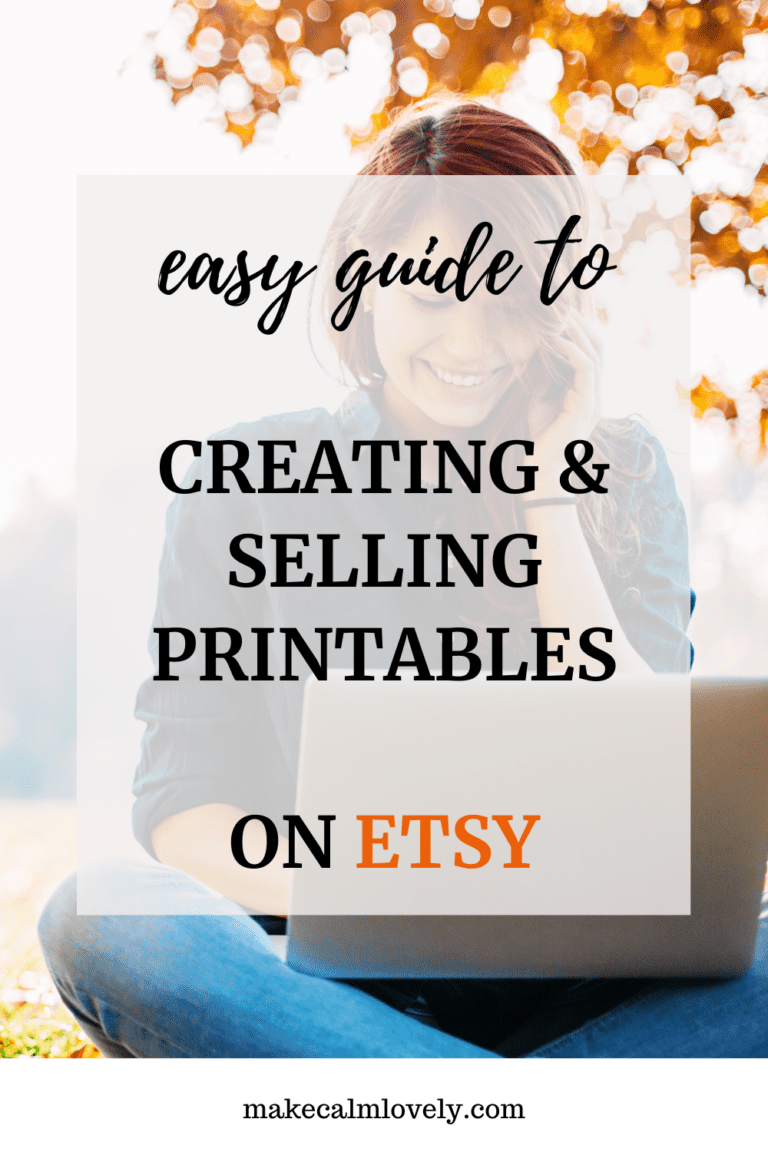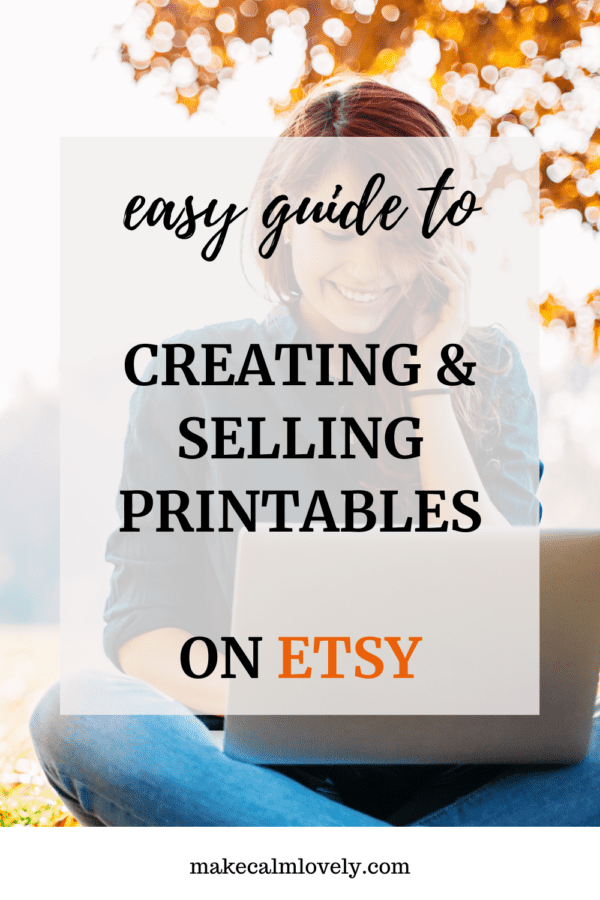 How Much Money can you Make Selling Printables?
The answer is a lot! For instance, you may create a planner that sells for $5. If you were to sell 100 of these Printables you would make $500.
The amazing thing about Printables is that you create them once, post them for sale, and then you just sit back and watch them sell!
Printables are total passive income. You do the work creating and listing them, and then save for very scant customer service you can just sit back and see your income coming in.
You do need to create a product that people actually want and need. But there is a way to research this and know you are coming up with the right products (the Printables by Number course detailed below goes into this in a lot of detail).
Why Sell Printables on Etsy?
There are many different sites and places where you can sell your Printables, but Etsy is just the ultimate place to sell Printables for many reasons.
To sell on Etsy you don't need your own website. All you need is an Etsy account. Etsy is a marketplace with potential customers all over the world, therefore there is already a built-in audience that you can tap into.
An account on Etsy is also completely free. There is a very very small listing fee for each Printable that you list on Etsy but that's it.
Etsy does everything for you – it delivers the product to the customer, handles money transactions and more!
What Kind of Printables Sell Best on Etsy?
As long as you are targeting a particular need, you can sell Printables successfully for just about anything and any topic.
Printables such as Baby and bridal shower games and signs, scavenger hunts, invitations, and greeting cards generally sell really well on Etsy.
People love planners, and planners sell really well on Etsy. Just do a search of Printables on Etsy to sell what comes up as best sellers!
How to Create a Printable to Sell on Etsy
The graphic design software that I use and recommend is Canva.
There are other graphic design software programs out there that you can also consider using, including PicMonkey, Adobe products, PowerPoint and Google slides, to name just a few.
I love love love Canva because it is so easy to use (and learn for the complete beginner), it has a very small learning curve, and it has so many great features.
Canva is completely free to use. But I recommend paying for Canva Pro. This is a small charge each month but worth it completely, as you have access to more premium features, clip art and more.
See here for what the difference is between the Canva free version and the Canva Pro upgrade.
Please note – some of the elements available on Canva that you may want to use in your Printable designs are not allowed to be used for commercial use. So be sure to check Canva's terms and conditions as to what you can and cannot use.
How to Create a Printable in Canva
Canva is the graphic design software that I recommend. It is free and easy to use, and has a very small learning curve.
It also does not require that you have any prior graphic design experience or knowledge, which makes it ideal for the complete beginner.
You can see my detailed instructions here on how to create a Printable in Canva.
How to Sell a Printable on Etsy
To sell your Printable on Etsy you first need to open an Etsy account (it is completely free).
Once you have an Etsy account you should open an Etsy store for selling your Printables.
After you have created your Printable to sell, you need to convert it to a PDF format that is ready to sell.
You then need to create mockups to use to list your product for sale on Etsy. Mock-ups show your Printable and the pages it contains, so that potential customers can see what they are buying.
You will list each Printable that you have for sale in your Etsy store. Each listing will include photos/mock-ups, a description of the product and more.
I cannot honestly do justice to the entire process of setting up an Etsy store and listing products for sale better than the Printables by Number course by Start a Mom Blog.
That is why I completely recommend taking this course if you are serious about creating Printables to sell on Etsy. This course covers absolutely everything you need to know about this, in incredible detail.
Finding Fonts & Graphics for Commercial use
You can find numerous fonts, photos, clip art and other elements to use in your Printables in many places.
This way you can ensure that what you are purchasing comes with a commercial license and can be included in your creations for sale.
Some of my favorite places to get commercial use elements are:
Creative Market
Etsy
Design Cuts
Design Bundles
One of the great things about purchasing from these places is the wide array of clip art that you can purchase.
Clip art can really make your Printables stand out and be more attractive.
How to Price your Printables for Sale on Etsy
On Etsy most Printables sell in the price range of around $2 – $5. But there are many variables.
If you can bundle products together (customers love bundles!) you can make more per sale. For instance a bundle of 2-3 products might sell for around $10 – $15.
If your planner is also editable you can earn more for that planner.
Just take a look at current Printables offered for sale on Etsy to see what kind of prices are being charged. I would personally recommend charging something around the middle range of what you are seeing for sale to start out.
Courses for Learning to Create Printables to Sell
There are numerous courses available to teach you how to create and sell Printables. There is one course however that I promote above all others and I have personally learned so much from this course:
Printables By Number
Printables by Number from Start a Mom Blog teaches you how to research, design, create and sell Printables specifically on Etsy.
Printables by Number shows you how to design many different types of Printables using both Canva and Powerpoint.
The course recently went through a complete revamp and is now bigger and better than ever! It teaches you how to do market research to know what will sell, how to create many different types of products, marketing strategies, and how to sell on Etsy – in many different phases and stages.
I wrote a review on Printables by Number that you can read here!
How to use PLR Products to Create Printables
PLR stands for private label rights. These PLR products are professionally designed products such as planners, journals and coloring pages that have commercial rights.
This means that you can edit these products to fit your needs and audience. Many times these products are designed in Canva or Powerpoint, so they are very easy to edit.
Using PLR to create Printables can save you time creating those products. If you are eager to get your Etsy shop set up as fast as possible, PLR could save you some time in the beginning.
There are many companies and sites offering PLR products for you to purchase and use. However, one of my most favorites is Simply Couture Designs.
Here are some of my favorite designs from Simply Couture Designs: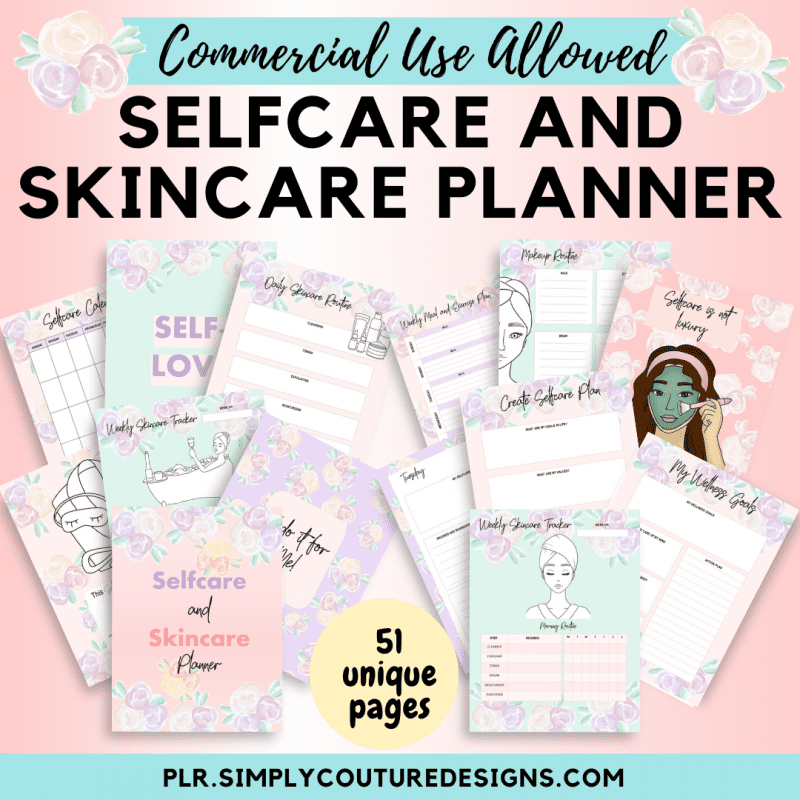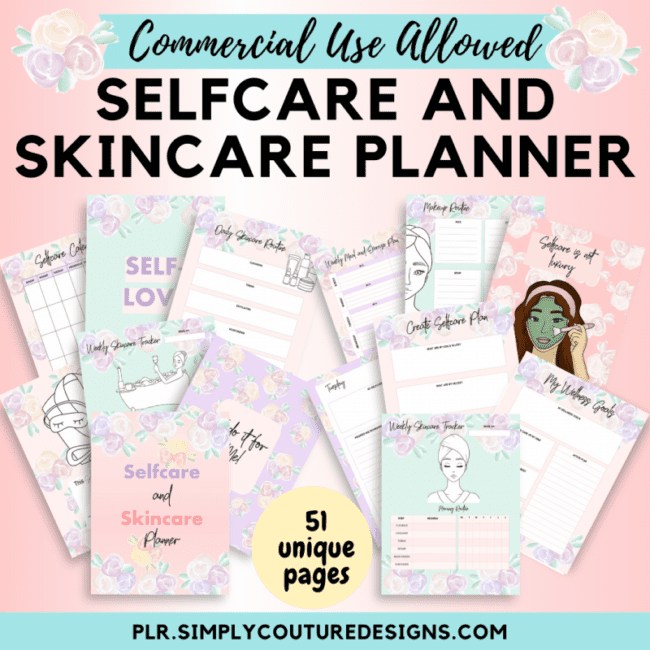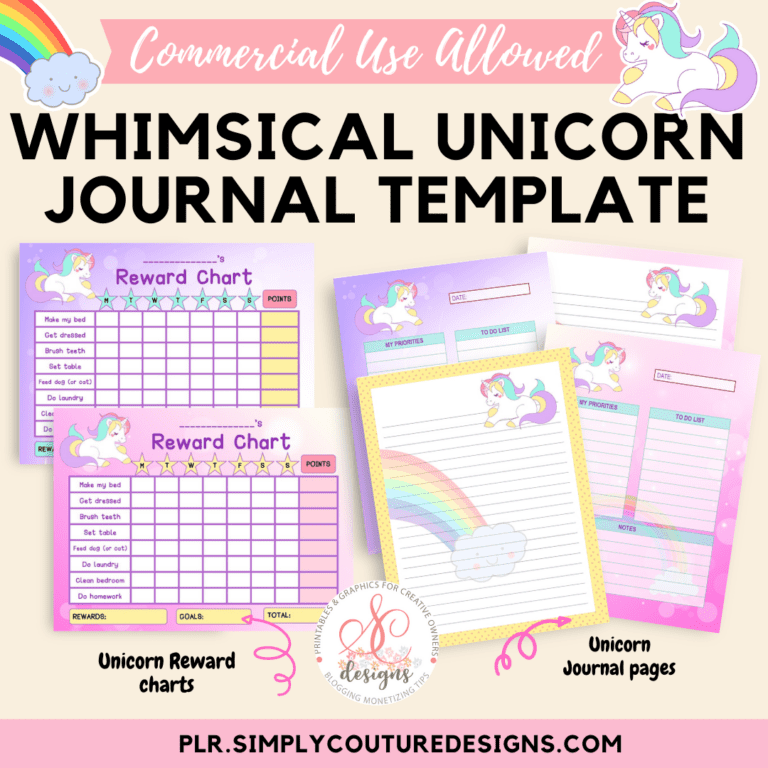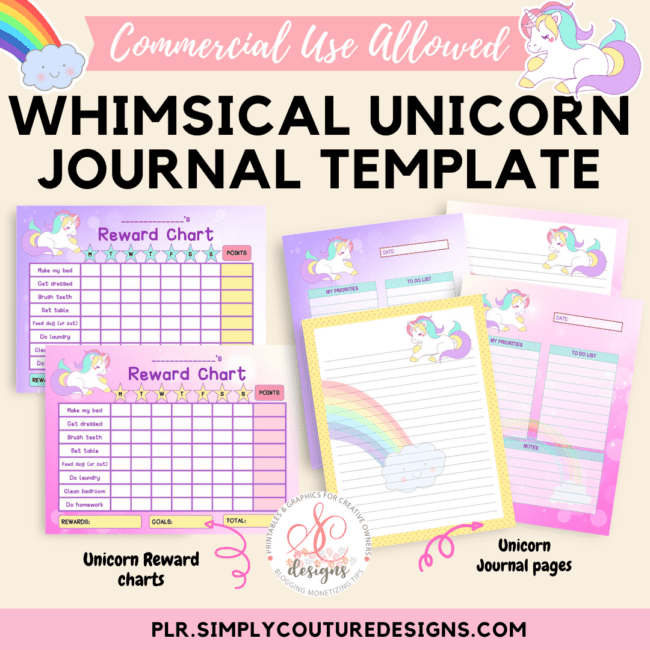 Creating and selling Printables on Etsy is an excellent side hustle business idea for you.
If you want to start a business that makes passsive income, that requires no physical inventory, no packing, no shipping etc, an online Etsy store would be perfect for you.
Creating Printables is easier than you may think, even if you are a complete beginner without any graphic design experience.
This is an easy guide that shows you how you can create and sell Printables on Etsy, as a side hustle business idea.