10 knitting patterns for gorgeous sweaters you will love
Knitting patterns for sweaters you have been looking for that are lovely, comfortable and fun to make.
We all need a collection of great knitted sweaters for Fall and winter. These sweater choices listed here are all great knitting projects.
Cozy, comfortable sweaters are a must, no matter what you are doing – outdoors and indoors.
But it can be hard to find the ideal sweater in stores that fits perfectly, makes you feel wonderful and that you get compliments on. So why not make your own beautiful sweater?!
These patterns are all for beautiful, gorgeous and cozy sweaters. They give you a great calming project to work on, you will have a real sense of accomplishment after making these, and you will have a beautiful knitted sweater for years and years afterwards!
Knitting your own sweater means it will fit you perfectly and you can choose from a larger range of colors, than you get choices for in stores to suit you and work for you.
There is nothing quite like a hand knitted sweater! Check out these gorgeous Fall and Winter sweater patterns and get knitting today!
Check out my choices for 10 beautiful sweaters right here!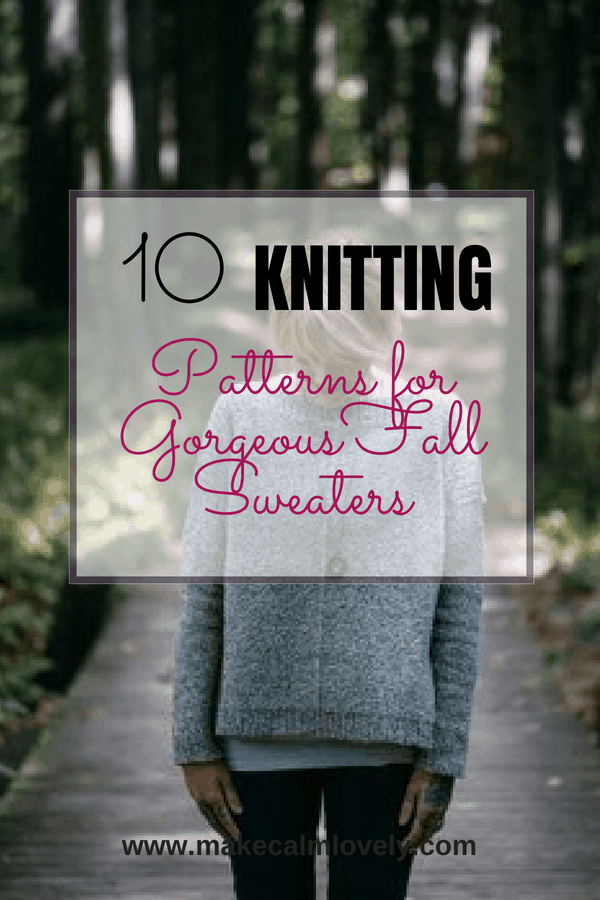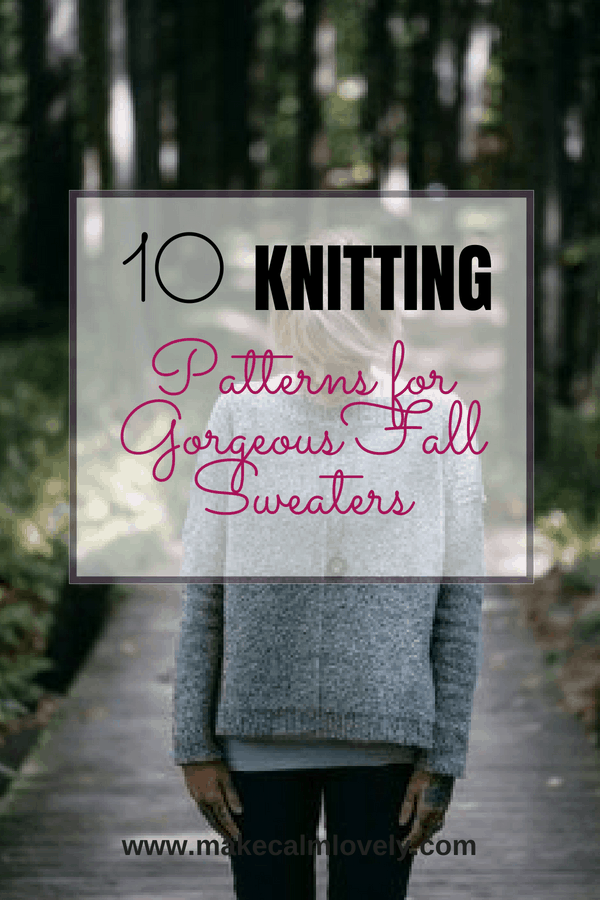 This post contains affiliate links. You can read my disclosure & policies here.
Heavenly sweater
This sweater is made with a beautifully soft yarn (70% baby Alpaca, 20% silk and 10% cashmere). It's named Heavenly for a reason! You can download the pdf pattern for this here.
This sweater is gorgeous and soft, and has a slight light shine to it. The yarn used for this knitting project includes natural shades and beautiful jewel colors.
The perfect Fall and Winter sweater for when you need to feel cozy and warm! This sweater is going to become your go-to sweater for years and years!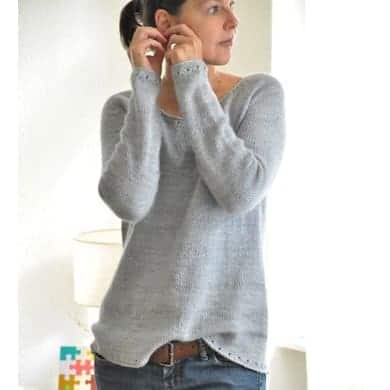 The Weekender Sweater
This Weekender sweater is the perfect sweater for the weekend! It has a lovely drop shoulder design, and is perfect for a weekend hike, wearing out to a cafe or whatever you do on your weekend!
It has all the perfect requirements for a sweater that looks great and feels warm and cozy too. You can get the downloadable pattern right here.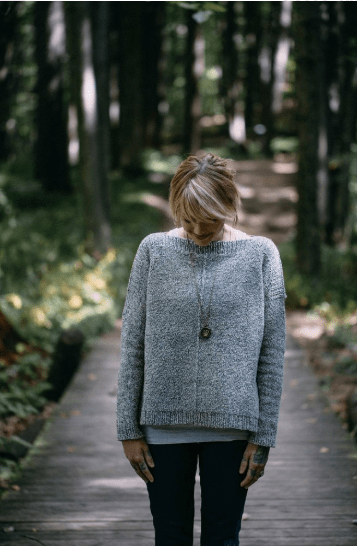 Ease Sweater
The Ease sweater is the perfect Fall or Winter sweater. A cozy sweater, but with lines that fit you and flatter your body shape.
You have two options for the neckline, either the drawstring collar shown in this picture, or a classic scoop neck. You can get the downloadable pattern here.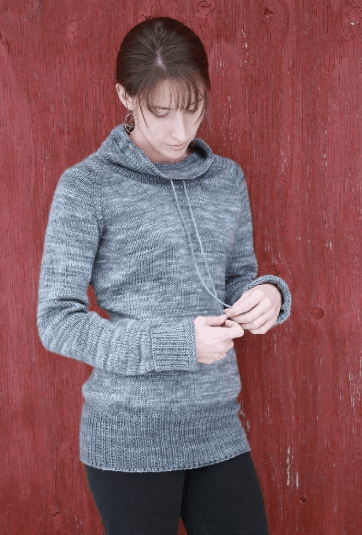 In Stillness Sweater
This is a cozy Fall sweater for you to feel so comfortable in! There is extra length in the sleeve, and subtle A-line shaping which all add a lovely touch to this gorgeous cozy sweater. You can download the pattern right here.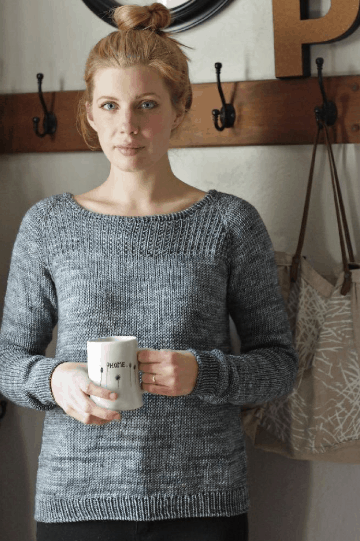 Jen Sweater
This sweater is comprised of lovely monochrome stripes, and it can be made in both a short and a long version.
You can also make this sweater in a plain version if you don't want the stripes. This is a great easy sweater knitting project! You can download the pattern right here.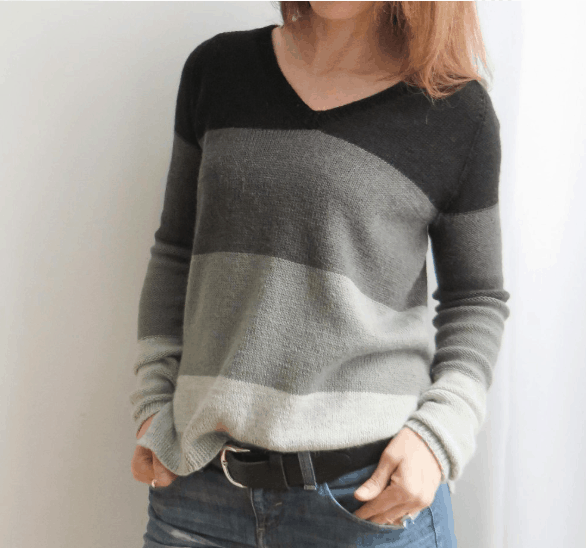 Knife Grinder's Daughter Sweater
This sweater is a lovely crew neck sweater, which has a continuous stripe of ribbing running from the neck to the hemline, creating a lovely shape and design.
The designer of this pattern worked in her family's knife grinding business, and that is why this knitting pattern has that unusual name! You can download the pattern here.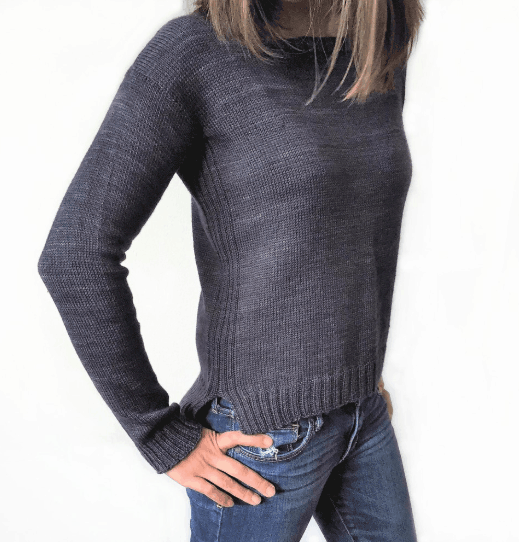 Amory Knitted Sweater
This Amory knitted sweater is worked seamlessly in rounds from the top down, so is a perfect knitting project if you don't want to sew seams together.
It has a lovely lacy pattern towards the hemline which adds a nice decorative touch to this knitting pattern. You can download the pattern here.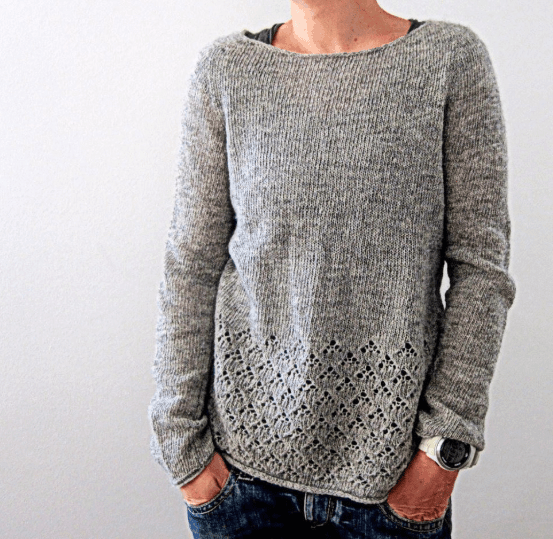 Llevant Sweater
This is another sweater that is worked seamlessly from the top down, so no sewing up needed at the end of the project.
It is made with a beautiful yarn mix of baby Alpaca, linen and silk, and it comes in so many beautiful colors. You can download the pattern here.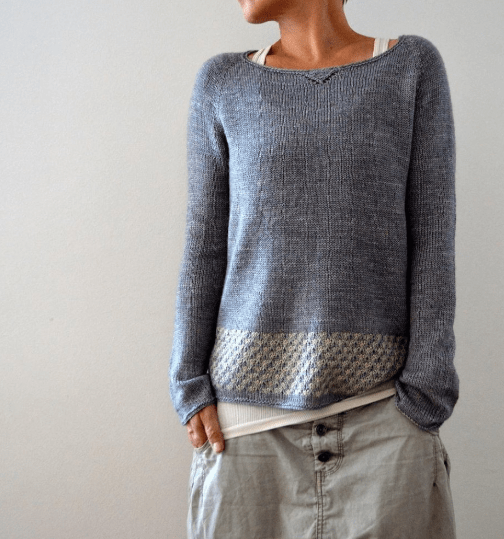 Stopping Out Sweater
This sweater has a deeply scooped neckline, fitted sleeves with flared cuffs, making it a beautiful chic and cozy sweater.
It has a beautiful lacy pattern which also makes it quite a unique knitting pattern. The fit is gorgeous – it will flatter you completely! You can download the pattern here.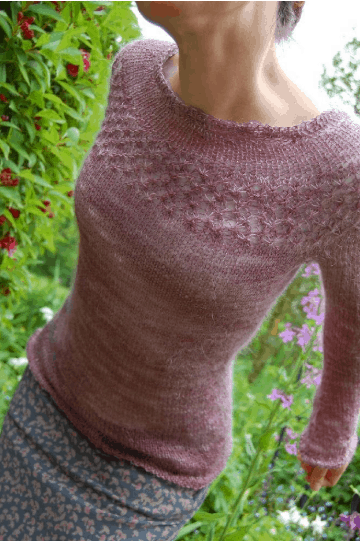 8 Days a Week Sweater
This is a lovely cozy cowl-neck sweater that will really keep you warm and comfortable. It has a lovely feminine fitted shape, and comes in an array of beautiful yarn colors. You can download the pattern here.
Hope you enjoyed this round-up of these 10 beautiful and gorgeous sweaters that you can make as your Fall and winter go to sweaters to keep for years and years!
These patterns not only give you a great calming project, but you will be making something beautiful that you will have for many years to come!
You may also like these knitting & Crochet posts:
Knit something fun this weekend!
Everything you need to know about Arm Knitting
Knit these great beautiful and cozy sweaters for Fall and Winter!