IKEA Hacks & Ideas for Vinyl Record Storage
See these IKEA hacks and ideas for attractive places and pieces to store your vinyl record collection!
If you have a collection of old vinyl records, you will want to keep them somewhere to hand and readily available. 
But you also want to keep them in something that is not only useful, but that keeps your records safely and securely and looks great too!
IKEA sells many pieces of furniture that can be used to store your vinyl records. Some of them can be used as is as you buy them, but some of them require a little bit of 'hacking' to make them even better.
The great thing about IKEA products is that you can hack them any way you want to.  That means you can create something that isn't sold anywhere else. So you can hack and turn something into the storage piece that you need.
Here are some IKEA pieces, hacks and storage ideas for your vinyl record collection!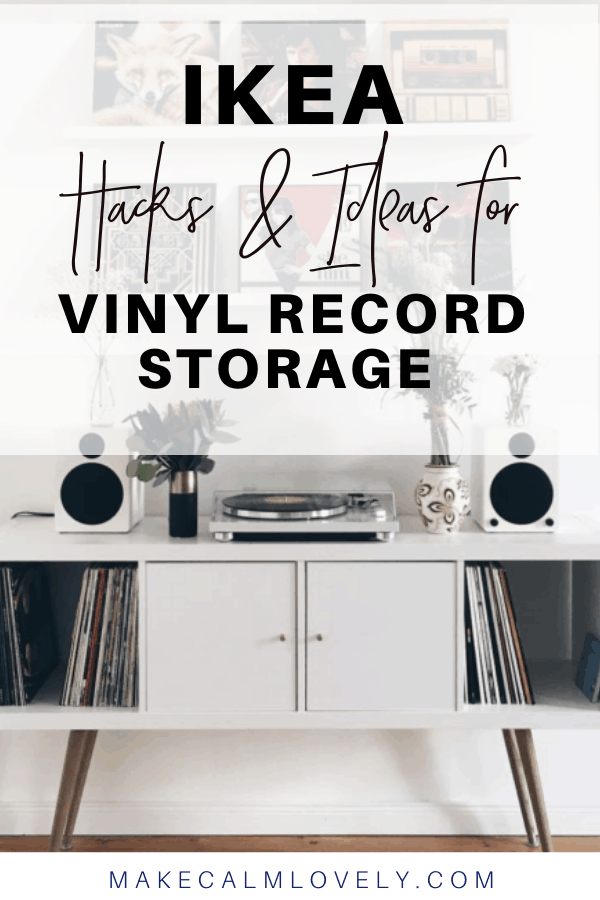 This post contains affiliate links. This means that if you click on a link in this post and purchase something via that link I may receive a small commission, at absolutely no additional cost to you. You can view my disclosures here.

Kallax Unit
The Kallax unit has openings that are just the right size it seems for storing old vinyl albums (or LPs). 
You could store a lot of vinyl on this Kallax unit, and you could also place your record player on the top.  You won't need to do anything else at all to the Kallax unit, unless you want to change the color or something else.
Therefore Kallax makes an ideal record storage unit, as it comes as is and you won't need to do much to it!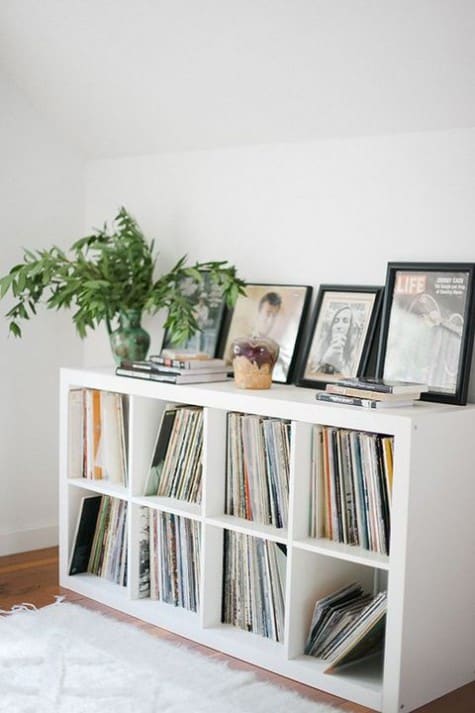 You can also get some great Kallax shelf inserts, available here on Etsy, for the Kallax unit.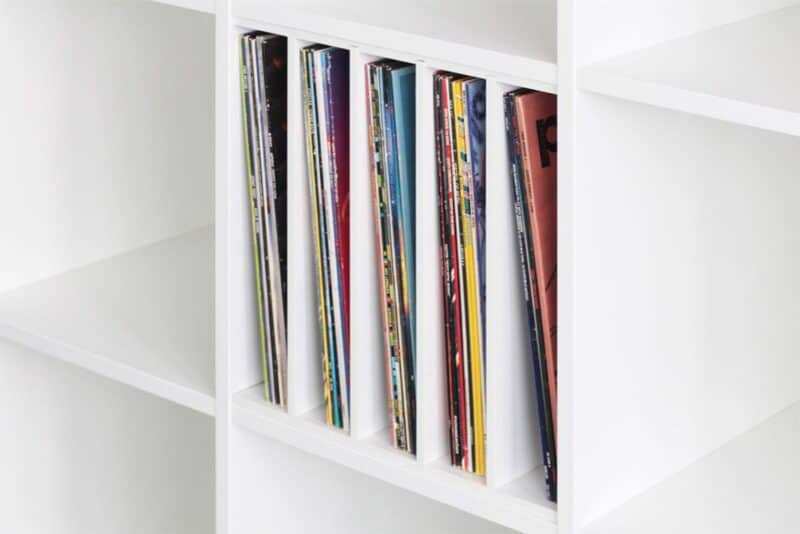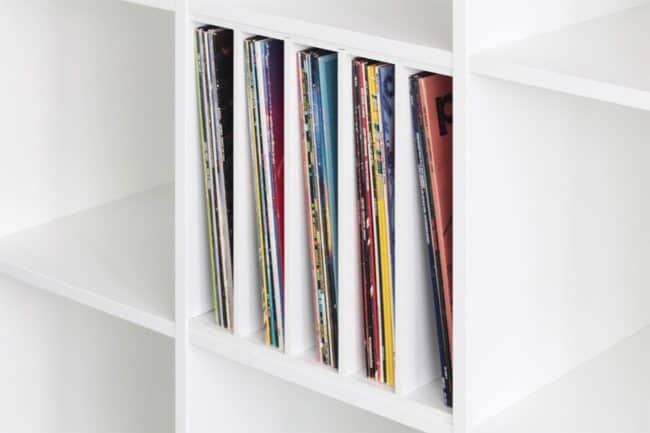 Here is another use of Kallax, but this time it has been hacked a little bit, with legs added to it. This raises it off the floor and gives it a slightly different look.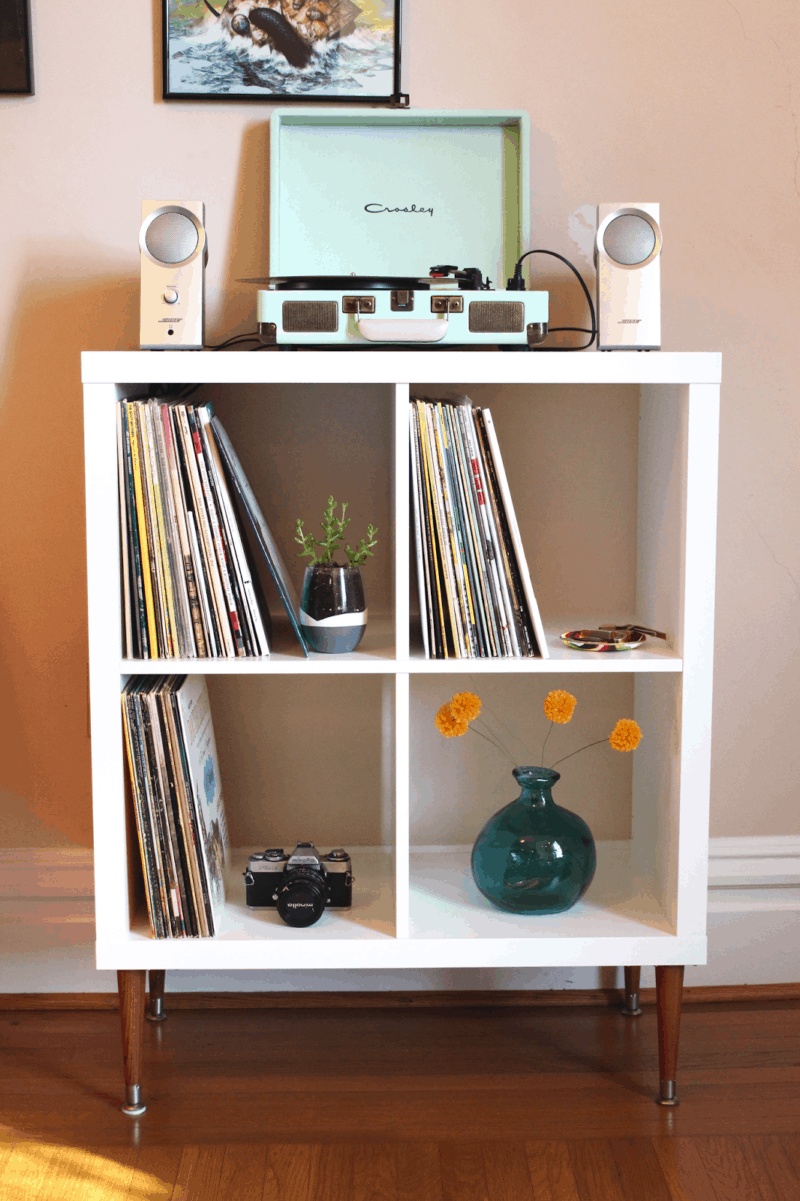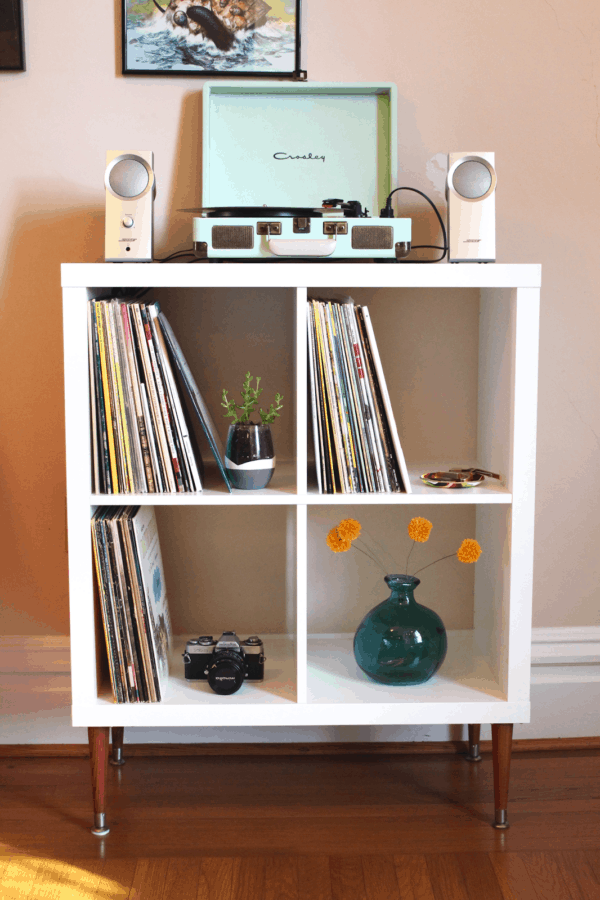 Storage Bench Vinyl Storage
Here is yet another idea using Kallax. This time it is using the single row storage unit from the Kallax range. They have covered a piece of foam with fabric to create a seat to the top of the bench.  
Storage baskets have been added to the shelves below, to contain and store all your vinyl records. You can see how they did it right here.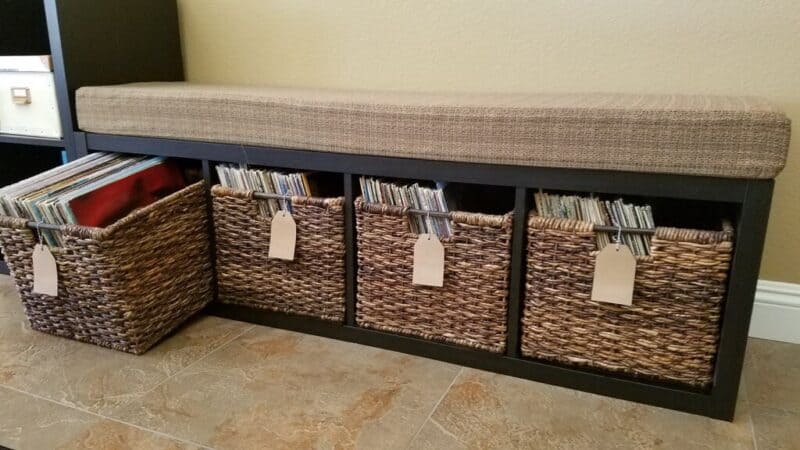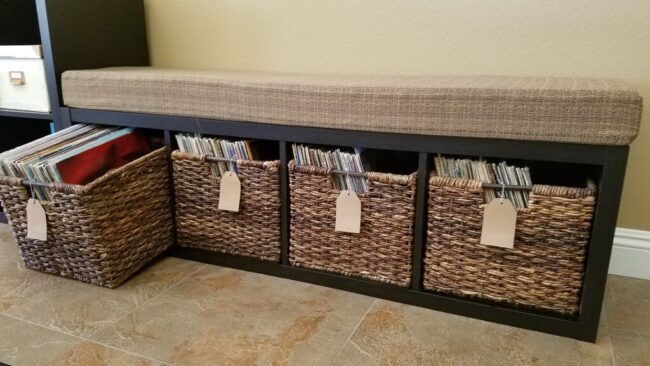 Mid Century Modern Record Storage Console
Here is yet another hack using the Kallax unit, that this time turns it into a Mid-Century style console.
This makes a beautiful console unit to store your vinyl records in.  The Kallax unit has been wrapped on all sides with plywood, which is what creates this great look. You can see how it is done here.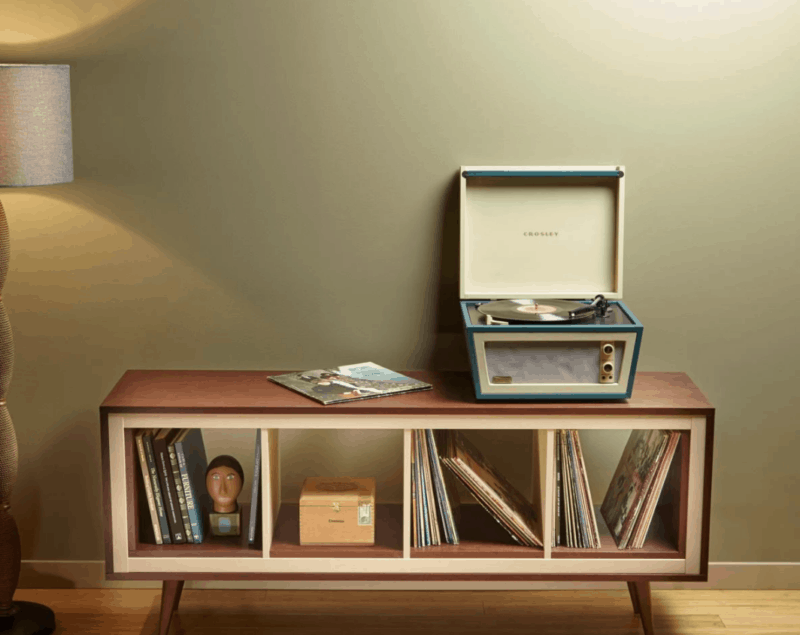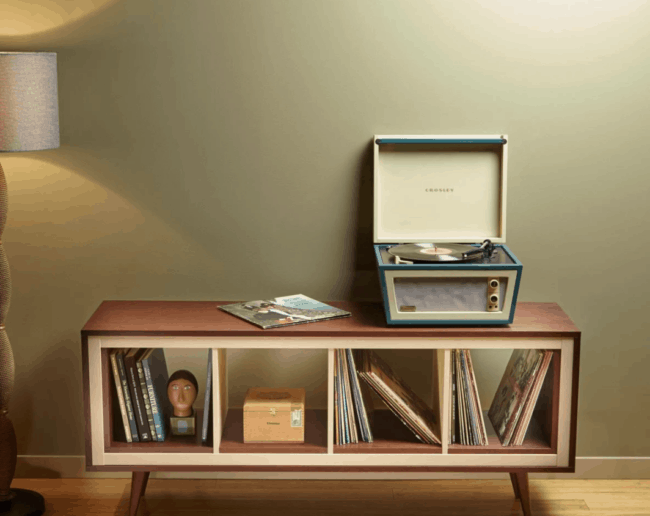 Another Mid Century Style Storage Unit
Here is another Mid Century Modern style storage unit. There are no instructions with this, but it is clearly using the Kallax unit again, with 2 doors mounted in the middle, then legs have been added.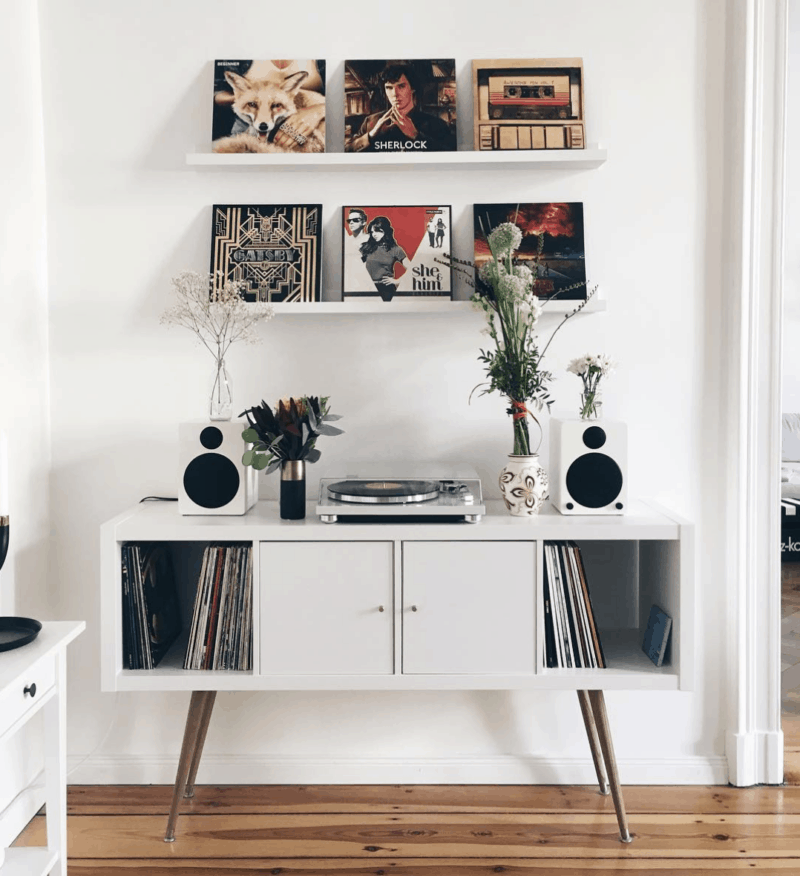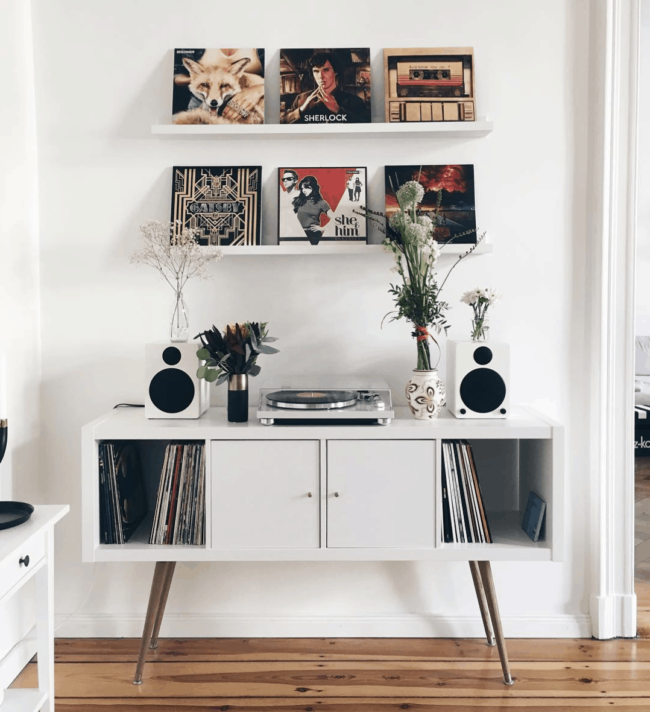 Related: See 40 IKEA Mid Century Modern Hacks for your home
Want to see how to effectively use Kallax for complete record storage?  This video shows you how somebody stores tons of vinyl records using IKEA Kallax!
This hack takes the IKEA Besta unit, and turns it into a beautiful Mid Century Modern console unit, perfect for storing your vinyl.  
A shelf has been added onto the top, and the interior divider has been moved over. You can see the complete hack right here.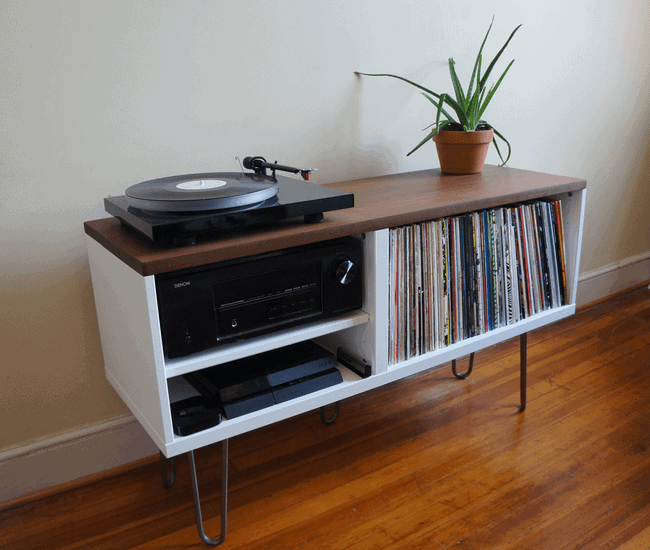 Eket Storage Unit
This storage idea for vinyl is using the IKEA Ekert storage unit.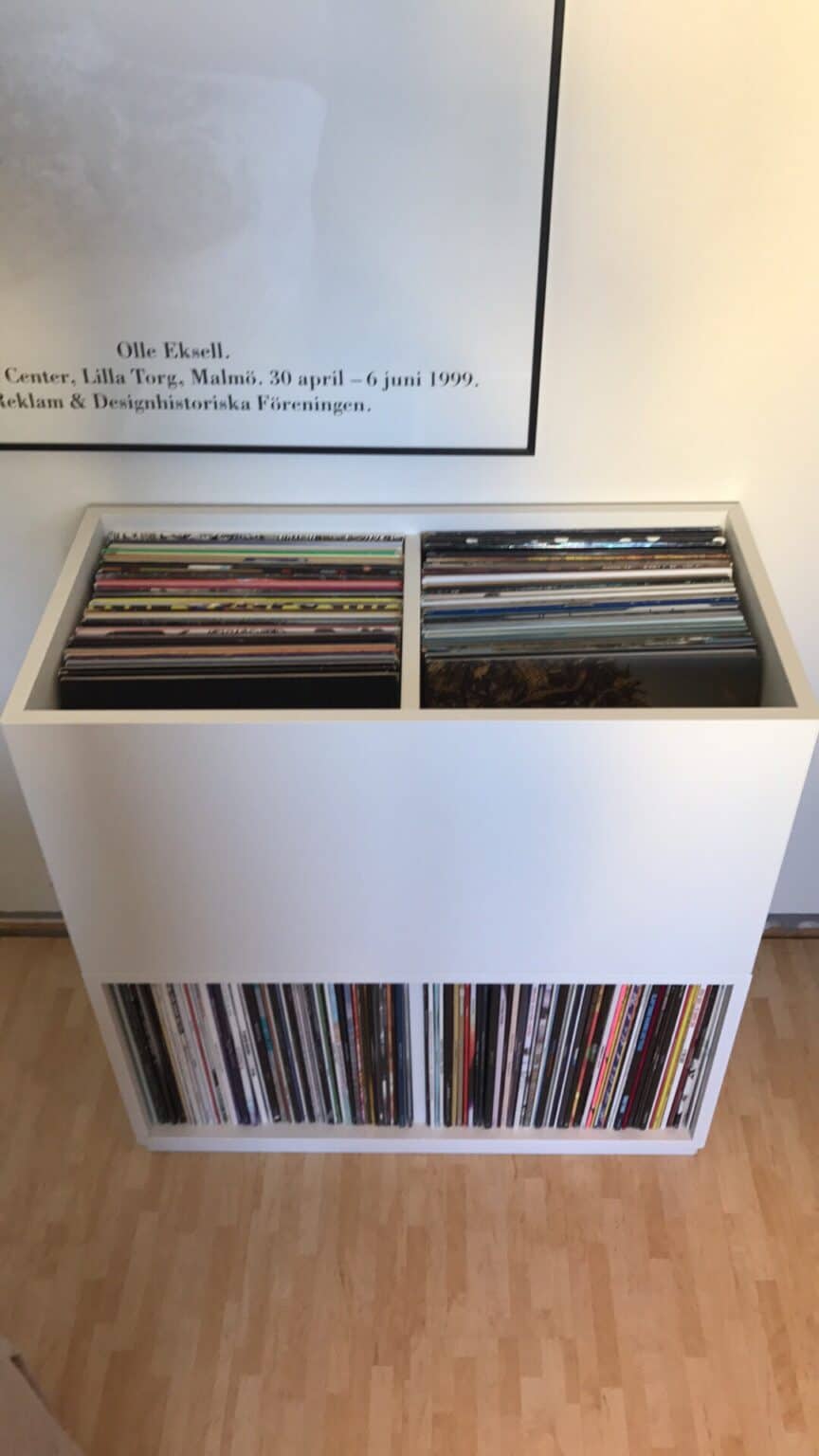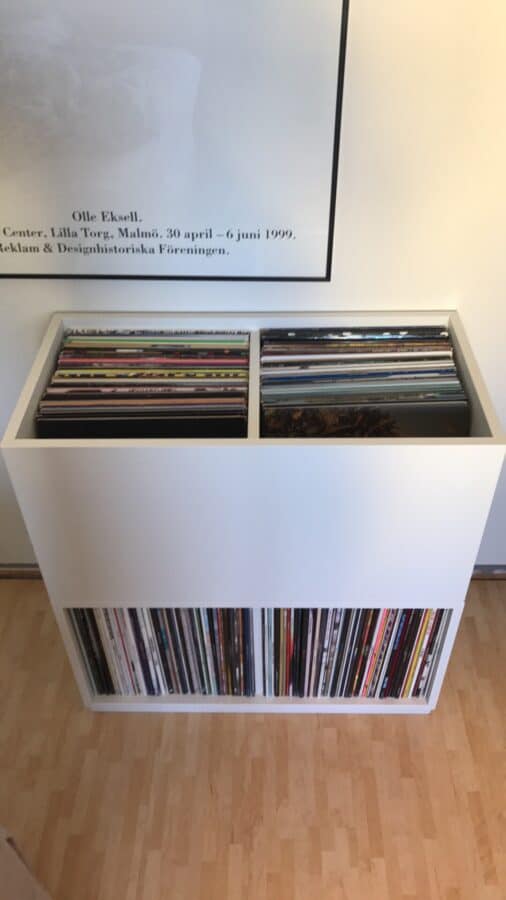 There are a couple of different variations to the Eket unit.  There is a cabinet with 4 compartments, and also a cabinet with drawers and shelf.
Vinyl Bed Storage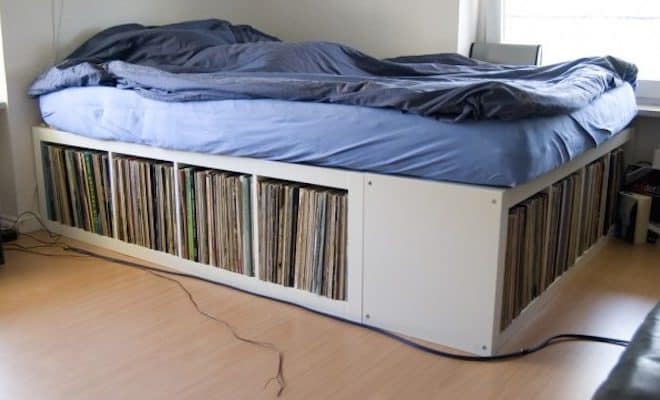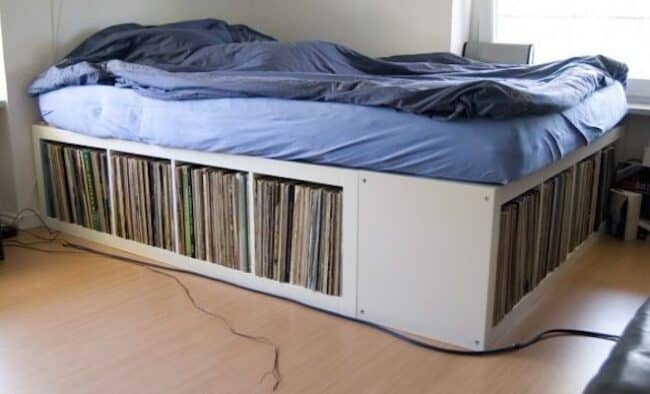 This hack is using Expedit IKEA shelves, nailed together for vinyl record storage. You could do the same with IKEA Kallax shelves too. Just attach those shelves together all around, and create a little record storage oasis!
Billy Record Shelf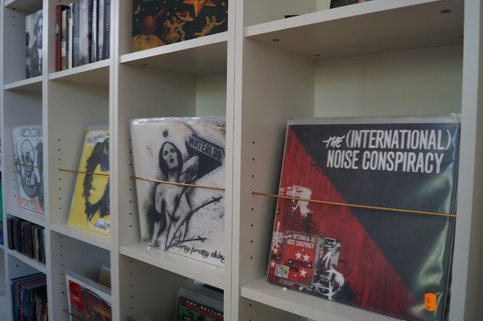 The ever-popular IKEA favorite the Billy shelf can also be used for vinyl record storage creatively!  In this hack here, Billy has been adapted for great record storage and display!
Store Like Vinyl Record Storage Cabinet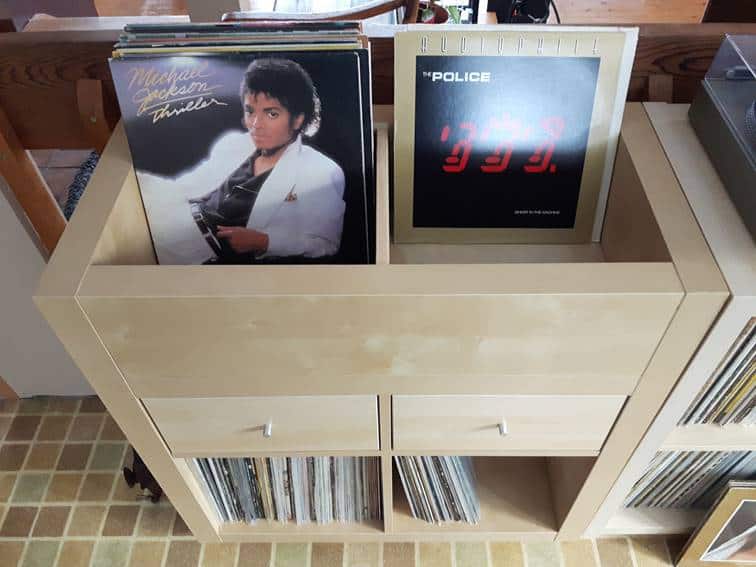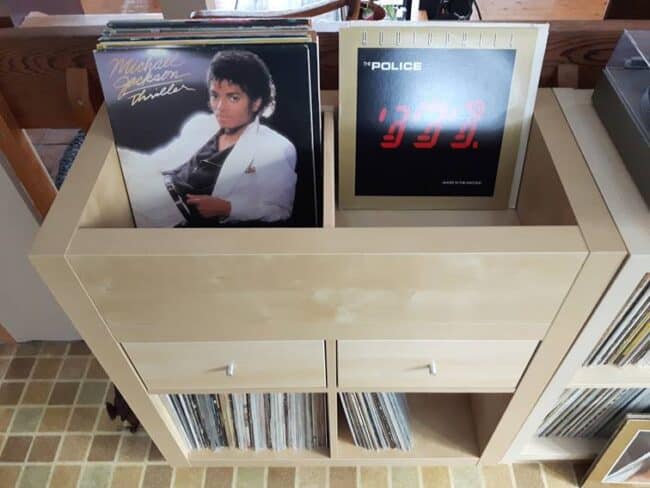 Remember how you used to go to record stores, and flip through the albums to buy?  This IKEA hack creates a cabinet, with a flip storage unit at the top just like all the vinyl records stores used to have! You can see the hack right here.
IKEA Besta Record and Media Console Hack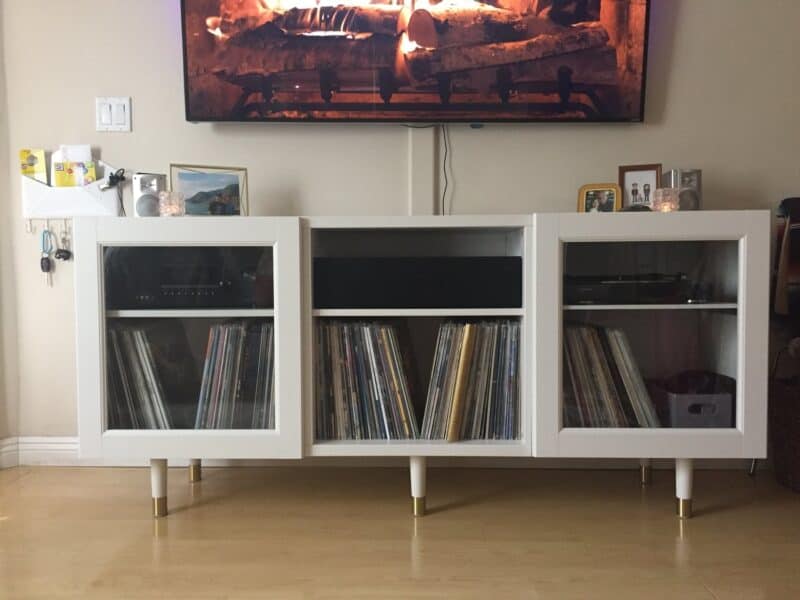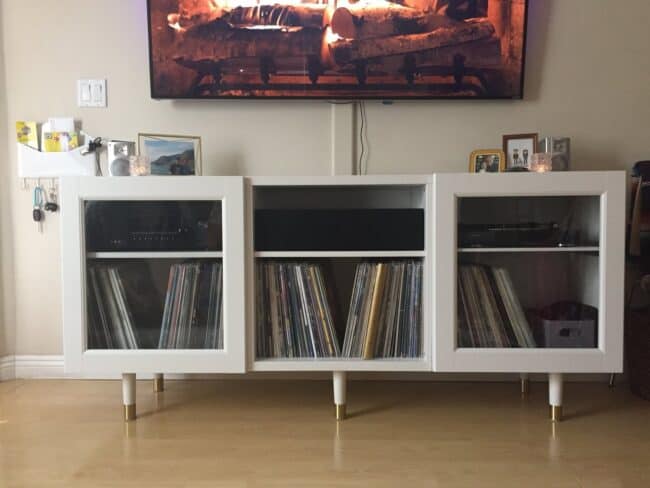 In this DIY hack, the IKEA Besta unit has been turned into a great record storage and media console unit. You can see the DIY hack here.
Look no further than IKEA stores for pieces of furniture and items that you can hack to store your precious vinyl record collection!
IKEA sells pieces that can be used as they come (such as the Kallax units), as well as pieces that you can totally hack and change to create unique one of a kind furniture pieces to store your record collection.
Related: See all the IKEA hacks that you can do in a weekend!
See these IKEA hacks and ideas for attractive places and pieces to store your vinyl record collection!
About Make Calm Lovely
Make Calm Lovely is a lifestyle blog specializing in IKEA DIY hacks, DIY & craft projects, home decor and so much more! Check out all the amazing things you can do and create to make your life calmier and lovelier at Makecalmlovely.com!