DIY Hanging Planter IKEA Hack
This attractive hanging planter is made using the popular IKEA Heat cork trivet!  All you need for this DIY is a cork trivet and some yarn – to make a beautiful planter for your home.
I have had a set of IKEA Heat trivets for years and years. In fact I still have the same set that I first purchased many years ago! They are so useful for holding hot pans and dishes, especially during the holidays.
As a DIYer however I am always looking for ways to use things in a different way to their original use. That is why I love IKEA hacks so much, because I enjoy the challenge of turning something into something completely different!
I also love DIY projects because you can make something yourself and save so much money. Hanging planters are all over Etsy, but it is much cheaper to make your own, and much more fun too.
So with the IKEA Heat trivets so many ideas come to mind about what I could create with them! I made this simple cork notice board for one hack with these cork trivets.
This hanging planter DIY seemed like a logical way to use the Heat trivets for something else!  
This is actually a very simple DIY to do. You only need two items – a Heat cork trivet (or two), and some yarn.  I had yarn left over from making this chunky knit throw blanket, so I used that for this planter.
I should add that I used one Heat trivet for this DIY project, but if you have a heavy pot and plant you could also use two, to make it extra sturdy.
Really that's it. You don't need any fancy supplies. If you have leftover yarn laying around, try to use as chunky a yarn as possible.  I braided the yarn to make the hangings, but you could also just twist it into shape.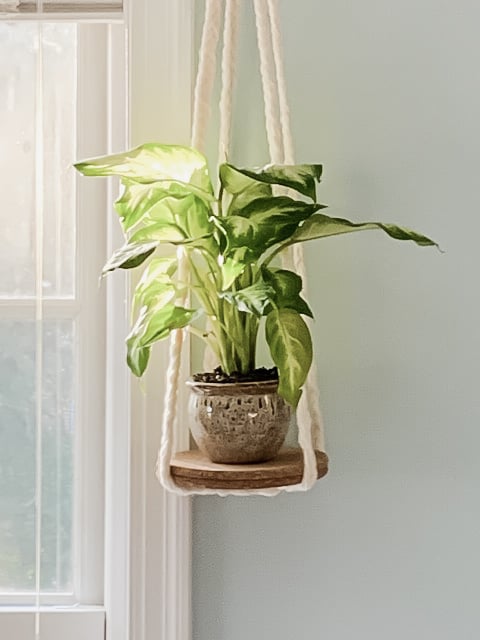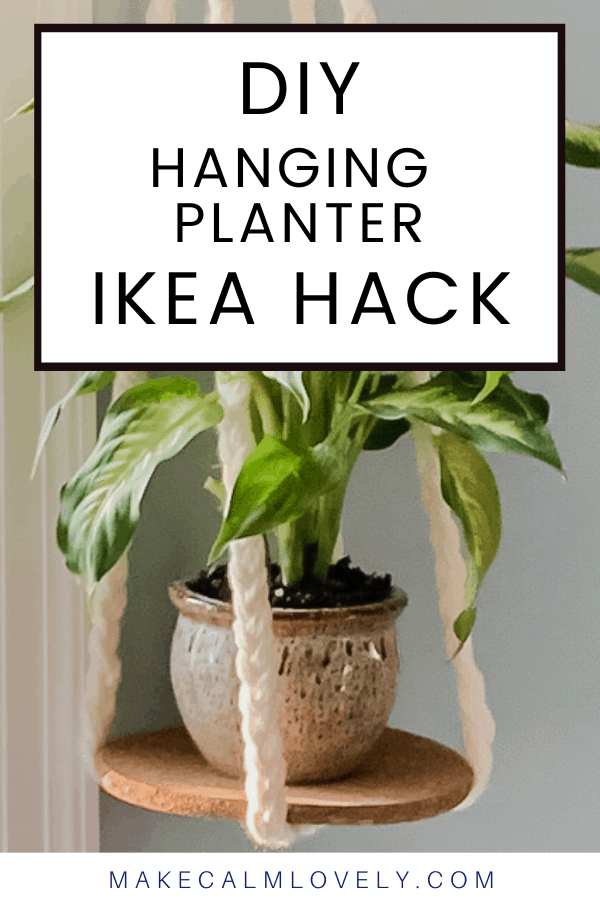 This post contains affiliate links. This means that if you click on a link in this post and purchase something via that link I may receive a small commission, at absolutely no additional cost to you. You can view my disclosures here.
Supplies Needed for the Hanging Planter
Chunky yarn (cream or off-white)
Scissors
Tape measure or ruler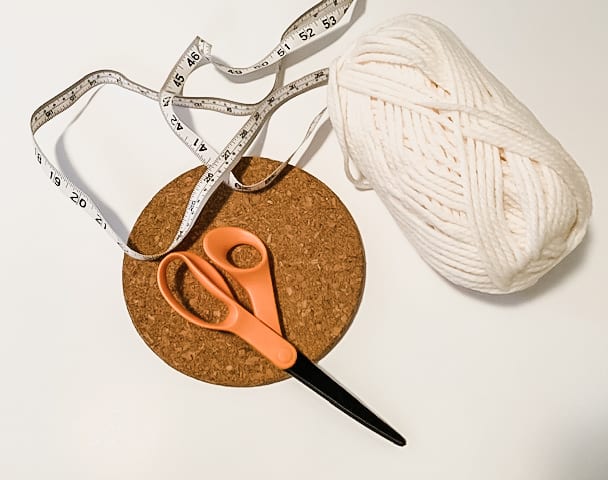 How to Make the Hanging Planter
Step One
Measure and cut 24 pieces of the yarn. Each piece should measure 3 and a half yards.  (Note, there are 36 inches in a yard).  This measurement was a bit longer than my tape measure!
It may seem that these lengths are really long, but when you braid/or twist the yarn the length gets smaller. So bear with me here!
Step Two
Fold all the pieces of yarn in half, by draping them over your hands. Directly in the middle where the centre point is tie a knot with another small piece of yarn. This is the direct center that is going to form the base of your hanger (the base the cork mat will sit upon).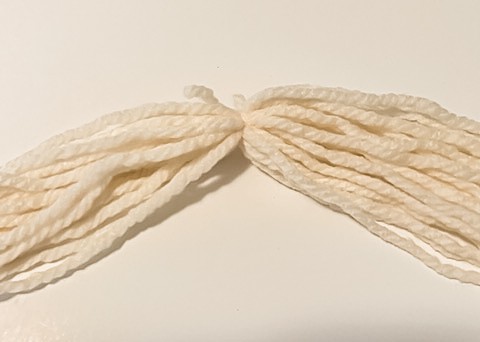 Step Three
From that center of the yarn that you tied, divide the yarn into 4 segments.  These should be four equal segments, of about 12 strings of yarn each.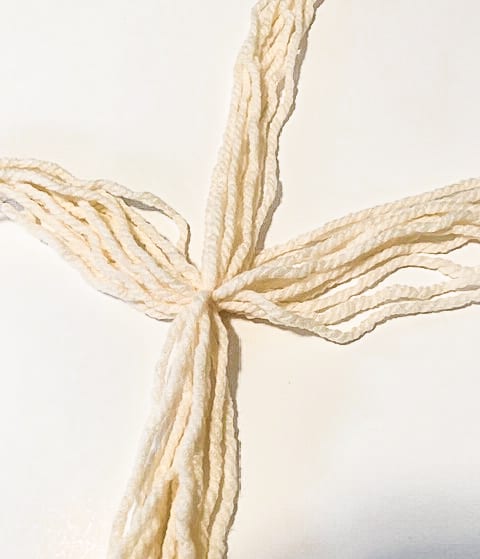 Step Four
Divide each of the 4 segments into 3 equal parts. You will be braiding these parts together to make a braided string.
Note: It may help you if you hang this from something higher up, so that you can do this more easily than laying it flat and doing it on a surface.
Braid each segment, so you will have 4 braids at the end.
Step Five
Once you have braided each segment, tie a knot in the end of the braid. You should now have four braids.
Step Six
Place your braided ropes on a flat surface, and spread them out into a kind of octopus shape. Place the cork Heat trivet on top of the middle knot, and make sure all the braids are evenly spaced out around the cork trivet.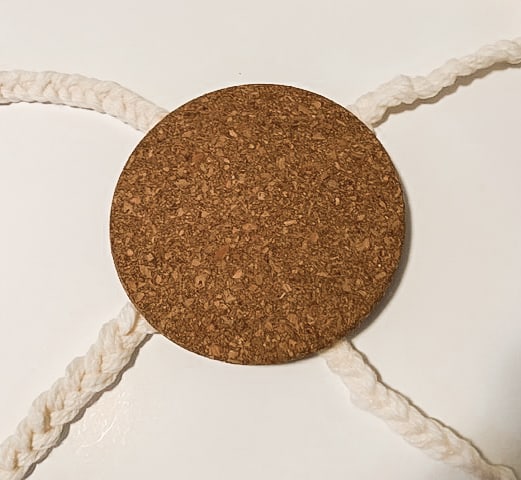 Step Seven
You will now raise up each braid, holding all 4 of the braids at the very top. Now tie a knot in all 4 of the braids to hold them all securely together.
Once you have tied the knot, and it is secure, you can trim the yarn as needed to create a neater looking top.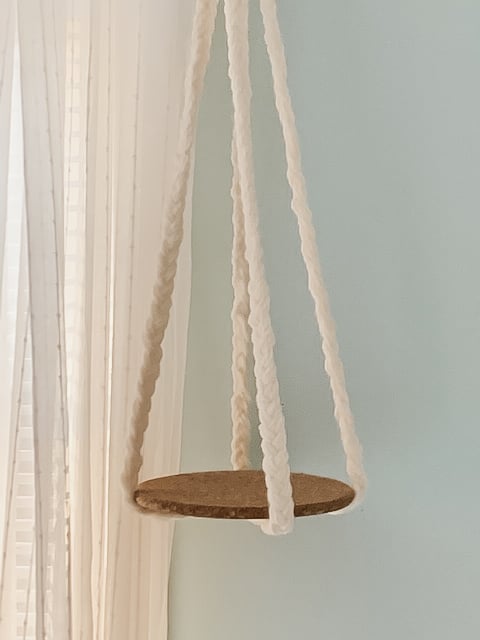 You now have a beautiful hanging planter! As I mentioned previously, you can use either one cork trivet or two, depending on how heavy your plant and pot is.
Attach the hanging planter to either a curtain rail or rod. Or you could fix a hook to the top and hook it to hang anywhere you want it. It should be pretty sturdy to hang most plants from this hanger.
Related: Bright and Colorful IKEA Hacks
Related: IKEA Upholstered Wooden Bench Hack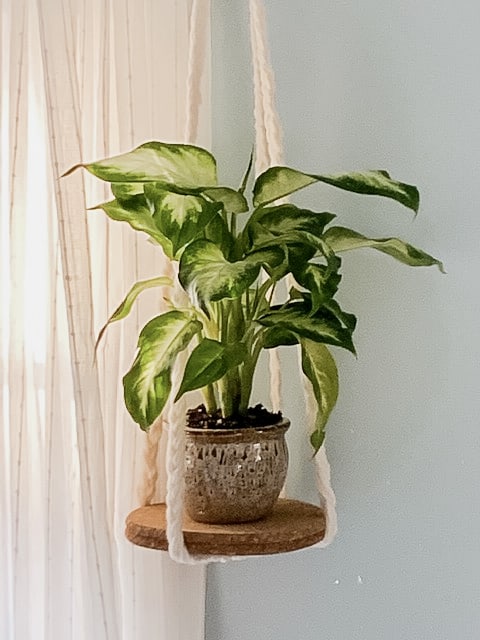 This attractive hanging planter is made using the popular IKEA Heat cork trivet!  All you need for this DIY is a cork trivet and some yarn – to make a beautiful planter for your home.
About Make Calm Lovely
Make Calm Lovely is a lifestyle blog specializing in IKEA DIY hacks, DIY & craft projects, home decor and so much more! Check out all the amazing things you can do and create to make your life calmier and lovelier at Makecalmlovely.com!