Review of Printables By Number 3.0 Course from Start a Mom Blog
Printables By Number is a course on creating your own Printables to sell in order to bring in more income to your blog. This is my honest review of the course.
Updated November 21, 2022
Note: This review now covers the brand new update of Printables By Number 3.0.
This post contains affiliate links. This means that if you sign up for something via one of the links in this post, I may receive a small commission, at absolutely no additional cost to you. You can view my full disclosures here.
Why You Need to Create Printables
You started a blog. You love your blog and you have loyal regular readers, you get comments and shares on social media. But you are not bringing in a regular income from your blog – does this sound like you?
You keep reading other bloggers income reports and they are all making a great regular income – but you just can't crack the code for making money with your blog. Does that sound like you again?
You keep questioning why you are not bringing in an income with your blog (aside from perhaps display advertising). But deep down you know the reason – you need to create and sell products.
It's not that you haven't tried perhaps. You designed a few Printables in a graphic design program, but they looked – well – blah! and if people can get that information online anyway why would they buy from you?
But what if you could just learn how to design the right Printables – that your readers and others actually need and want? What if you could design beautiful Printables that people can't resist?!
This is exactly what the Printables by Number course can do for you!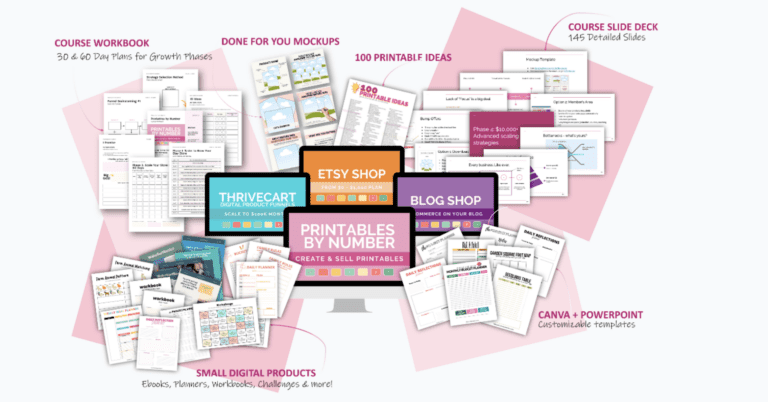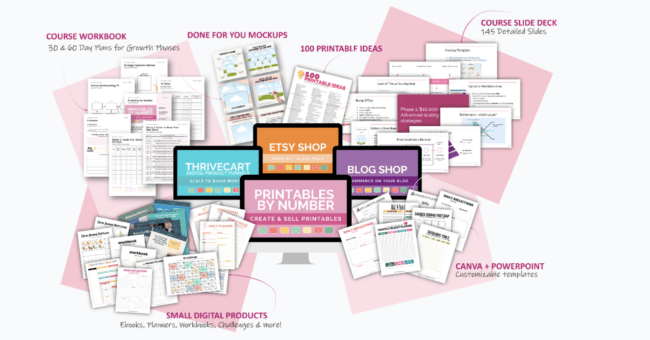 What is Printables By Number?
Printables By Number is an online course that covers everything you need to know about designing and selling Printables.
A Printable is something that a customer can download on their computer and print out at home for their own use.
Printables can be absolutely anything – e-books, planners, journals, workbooks, templates, challenges, digital stickers, calendars, coloring books, schedules and more!
Printables by Number is now on its 3rd revamp. The previous versions of this course were amazing, but the new 3.0 version now includes many more great tutorials, more awesome advice and much more guidance.
The course is an offering from Start a Mom Blog, and this course is not just any old Printables guidance course.
Suzi and Jon who created and run the course have thousands and thousands of Printables sales to their names. They really know their stuff – not just the designing and selling, also the tech side of things that can be so confusing to so many.
The course breaks everything down so easily and simply, so that no matter what level of tech or design experience you have – you can do this!
There are also graphics and templates included for you already, so you can quickly get started with your own Printables, and start selling them in no time.
Why you Need Printables By Number
You need to know exactly what products to create for your readers and others.
That means doing some market research. But don't be scared by that – it isn't as complicated as it actually sounds, and this course breaks it all down beautifully for you.
This course follows Suzi and Jon's exact market research strategy, so that you know that when you put all that time and effort into creating a product it will actually sell.
You have designed and created a great product – now what! This course covers everything you need to know about selling your product – including the best places to sell (Etsy, your website, Amazon etc).
This is where the tech can get REALLY scary. But not with this course! Because they guide you through all those scary tech aspects of starting a store and selling and delivering your Printables and products.
Sales funnels are gold, but like me you probably get palpitations when you hear those two words! But this course will take you through setting up those sales funnels step by step – you can actually do this!


The Pros of Printables By Number
This is an extremely in-depth course covering all aspects of designing, creating, marketing, selling and delivering Printables.
The course has lots of informative, follow-along instructional videos – over 9 hours of easy to follow videos.
The tools recommended in the course are free or reasonably priced, so they suit every budget.
The course has full instructions on learning both PowerPoint and Canva to design your Printables.
It has an easy to follow course format and structure.
There is excellent student support. Good email and Facebook support from the Start a Mom Blog team.
Regular updates. The latest update to the course is 3.0. As with all courses from Start a Mom blog you buy them once and get all the updates automatically when they are updated. You get lifetime access.
The course is really affordably priced for all that you get – over 9 hours of instructional videos, done for you graphic and design templates, Blog Shop course, course slide deck and workbook, & so so much more.
There are so many student success stories with Printables by Number. Here is just a selection: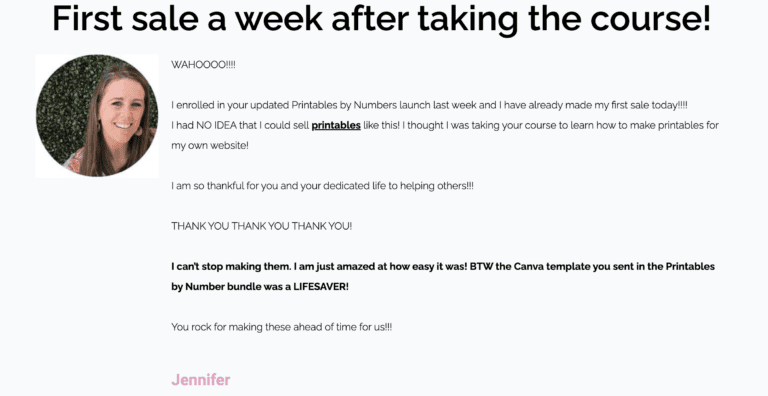 What is Included with the Printables By Number 3.0 Course?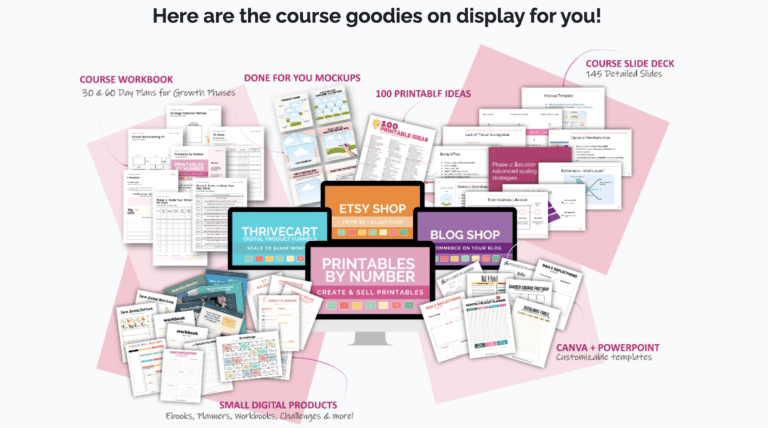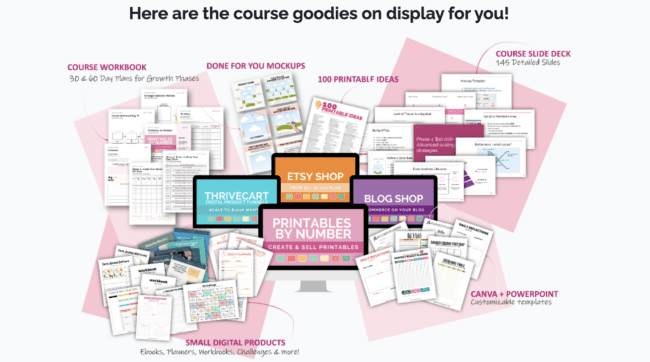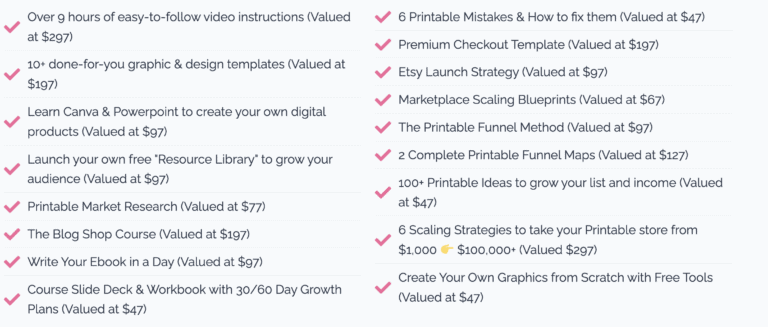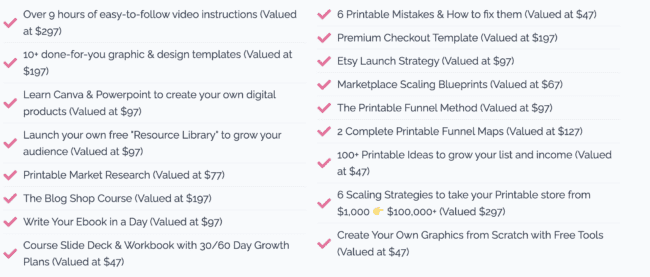 Course Modules of Printables By Number Broken Down in Full
These are all the course modules of Printables By Number 3.0 broken down in full:

Course Workbook & Slide Deck
Why Little Digital Products?
The Mindset behind a Successful Digital Product Shop
Market Research with Google
Market Research with Etsy
Market Research with Pinterest and Others


Introduction to Product Creation
Rules of Selling Printables
Where can I get Graphics to Sell?
How to create your Own Graphics
How to create Printables
How to create e-Books
How to create Workbooks
How to create Planners
How to create Challenges
How to create Coloring Books
How to create Digital Stickers
How to create Templates
Different programs you could use when creating products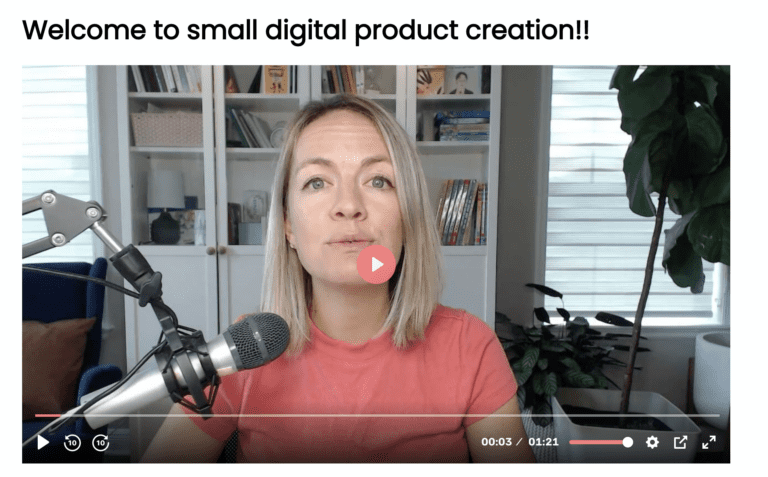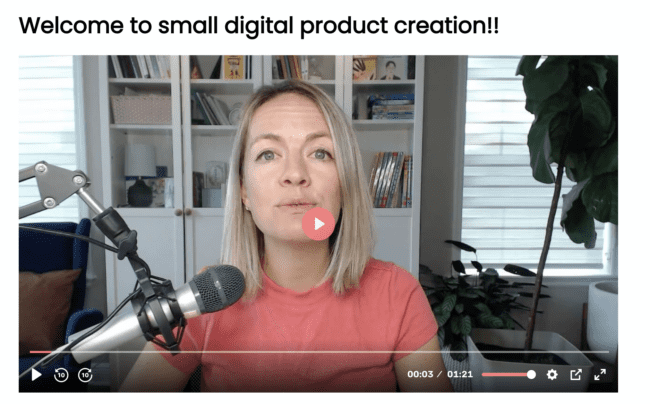 Getting Ready – Marketing & Strategy
Getting ready to make money
How to make your product stand out – Hero Images
Introduction to the 4-phase selling plan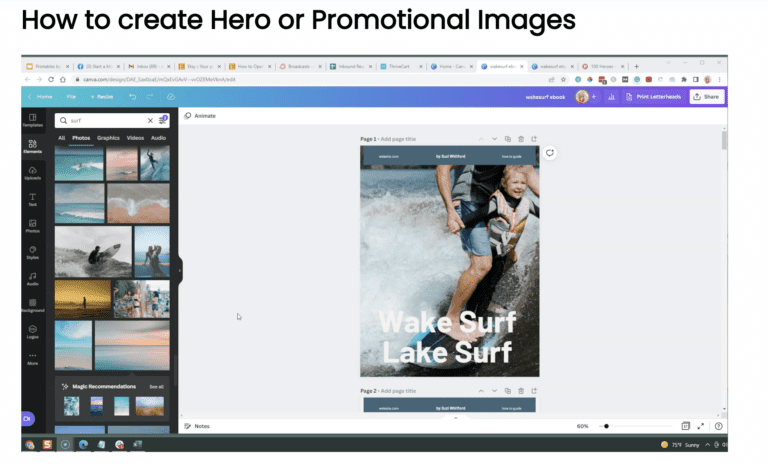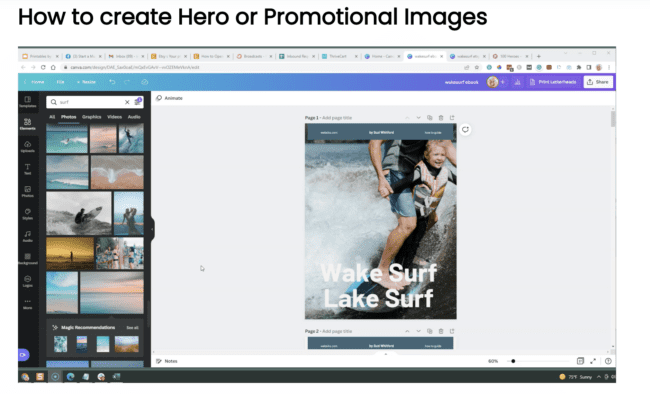 Phase 1: $0-$100 with Simple Tools
Welcome to Etsy
How to set up your shop
How to make your first sale
Day 1 – Setup
Day 2 – 12 – Listings
Day 13 – Sales
Day 14-16 – Share
Day 17-29 – Repeat and grow
Day 30 – Homework & Celebrate!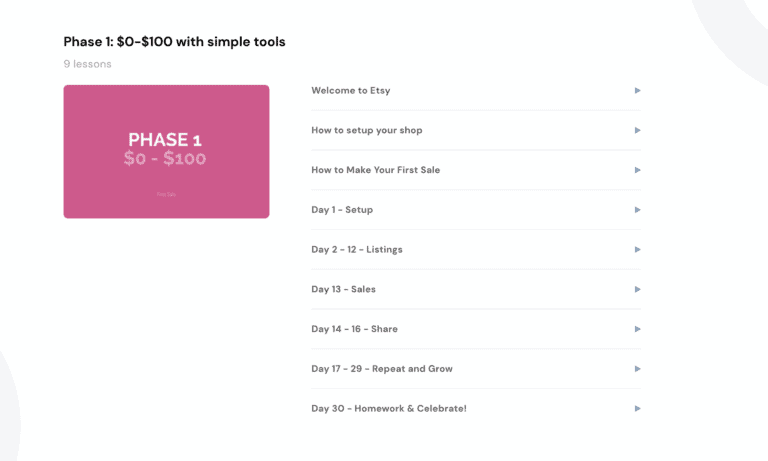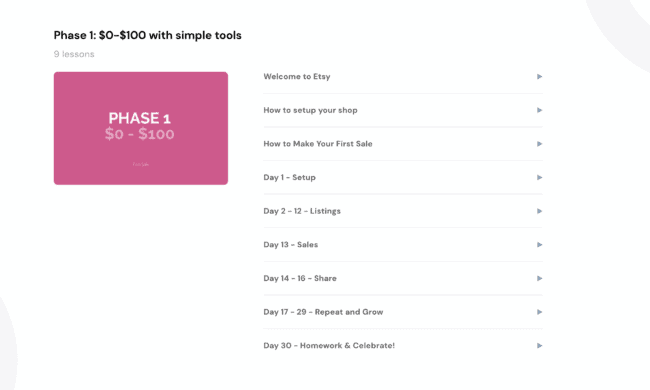 Success Stories – Amazing Success
How to use this module for success
The Everyday Farmhouse – $1,000 + with Printables on Etsy as a Beginner
How to make $6k+ Per Month with Printables
700+ Etsy Sales in 1st Year
Almost $1m on Etsy – SEO Techniques
Bachelorette Printables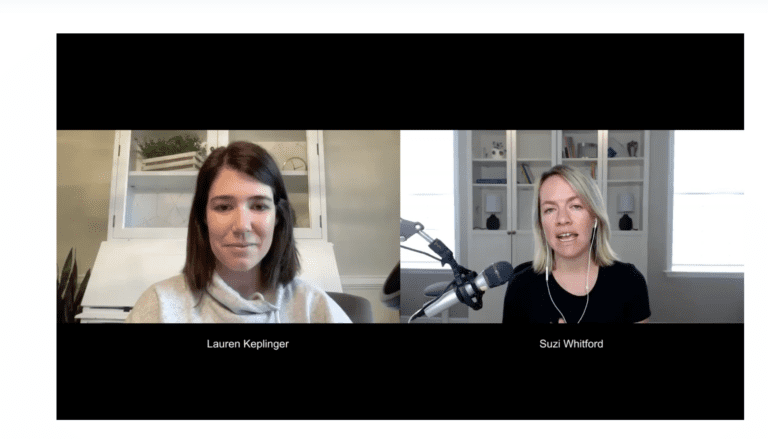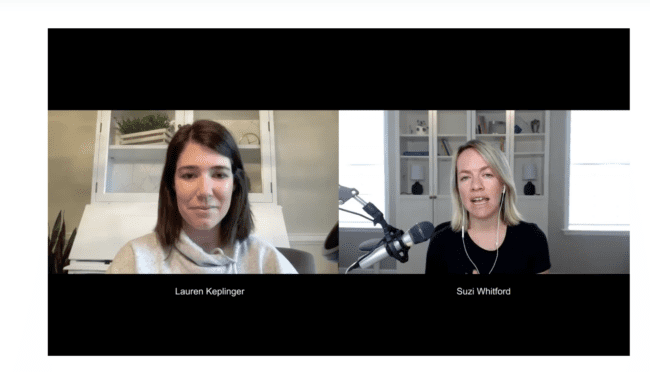 Welcome to Phase 2
The 60 Day Scaling Plan
Etsy Scaling Tips to $1000+
20 + Ways to get Traffic to your Product
Traffic Workshop
Day 60 – Homework & Celebrate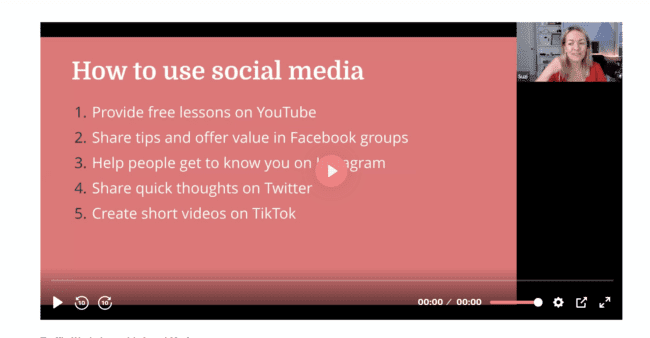 Module Objectives
What are Sales Funnels? (and why should you care?)
Sales Funnel Components
Funnel Math (don't miss this!)
Delivering your Products in a Premium Way
Set up your Funnel Framework
How to create a high-converting sales page
Customize your funnel with these 3 components
Phase 3 conclusion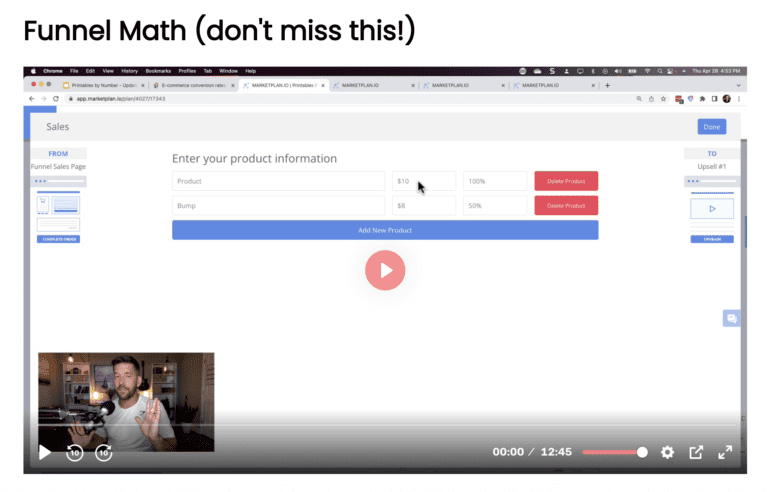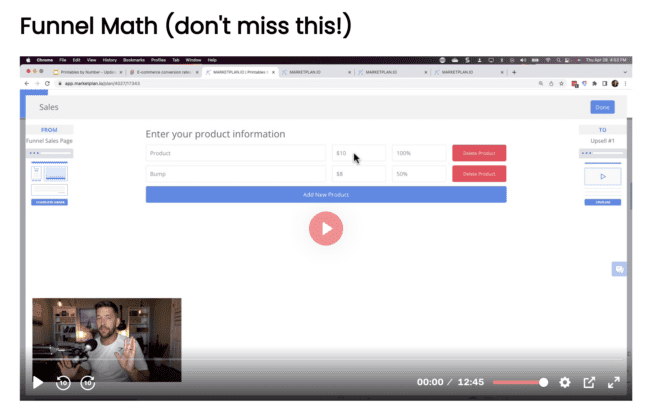 Phase 4: $10,000+ Advanced Scaling Strategies
Scaling strategies overview
The freebie funnel
Create an army of affiliates
Joint venture partnership – succeed together
Create your signature offer
Back-end services
Horizontal scaling (deep vs. wide)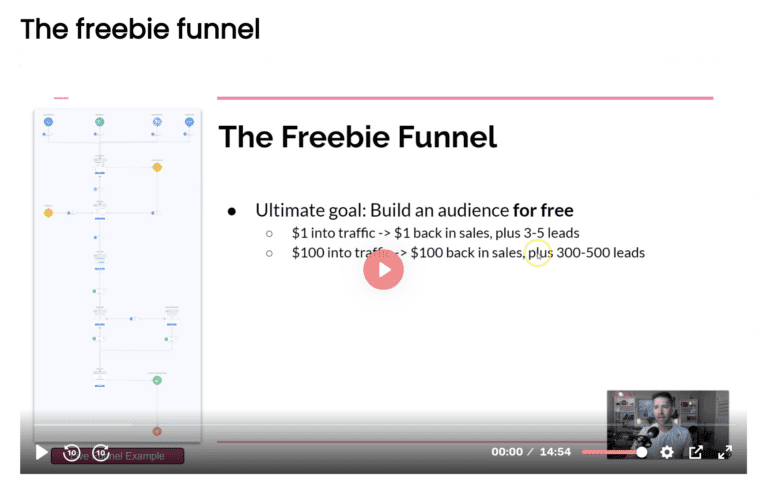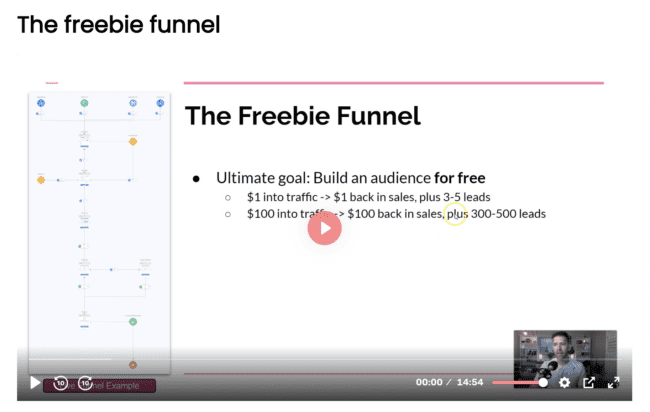 Congratulations – Thank You
Let me share your success with my audience
Become an affiliate
A simple and effective way to build your email list
How to present your Printables so they sell like hotcakes! (Canva training)
100 printable ideas
Blog Shop – how to create an online store and sell your Printables from your own website – step by step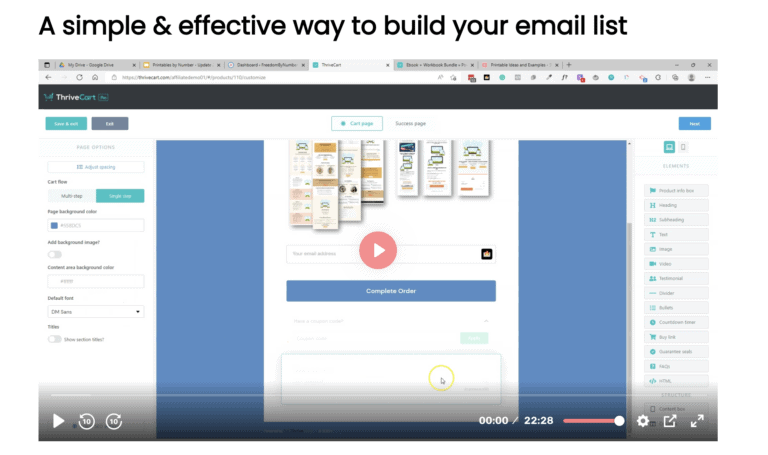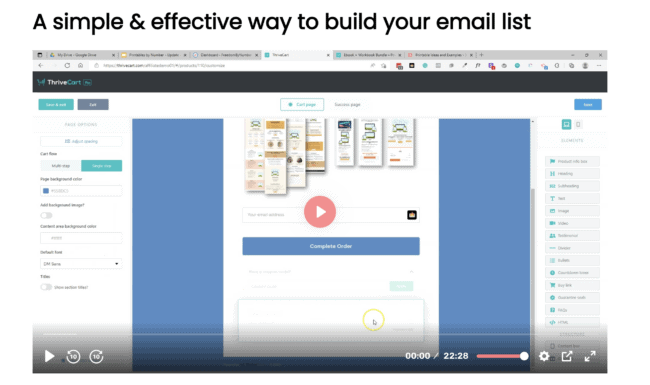 More Strategy – Keep Learning
How printables lead to high priced products to build your business
6 huge mistakes and why your printables do not convert
Elements of high converting printables that sell!
How to deliver your printables through e-mail
How to sell your Printables from your WordPress site beautifully using Thrivecart
How to sell your small digital products on ConvertKit for free!
PowerPoint files and templates
Benefits of PowerPoint
How to set a Default Template
How to import a fancy font into PowerPoint
The magic tool inside PowerPoint called SmartArt
How to save a printable as a pdf
How to make a pdf editable for free
How to make gorgeous presentations
How to easily create an infographic
How to create a monthly calendar
How to create a weekly calendar
How to create a 'year at a glance' printable
Powerpoint: Meal Planner Printable
PowerPoint: Budget Planner
PowerPoint: Daily Reflections Bible Planner
PowerPoint: Project Planner
PowerPoint: Nursery Art
PowerPoint: Kids Activity Printables
PowerPoint: Gardening Planner
PowerPoint: Reading Log Printable: PowerPoint & Canva Tutorial
Printables with PowerPoint: Bonus Lesson
How to create a 3D layflat overlay image (boost conversions!) (PowerPoint)
How to create a Coloring Book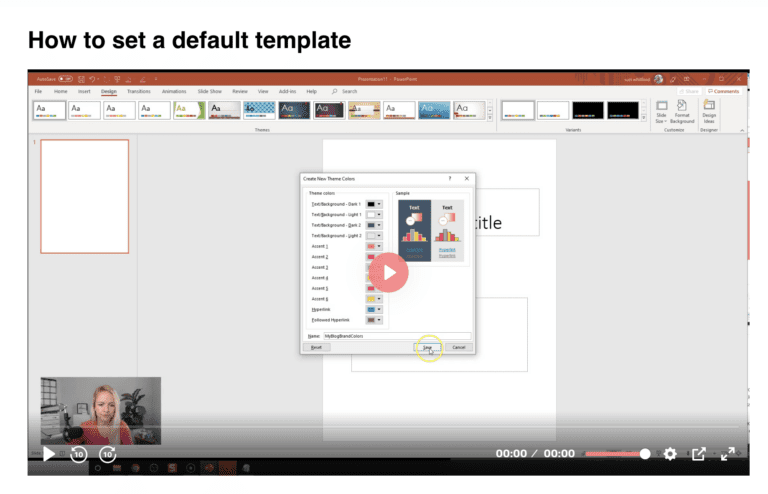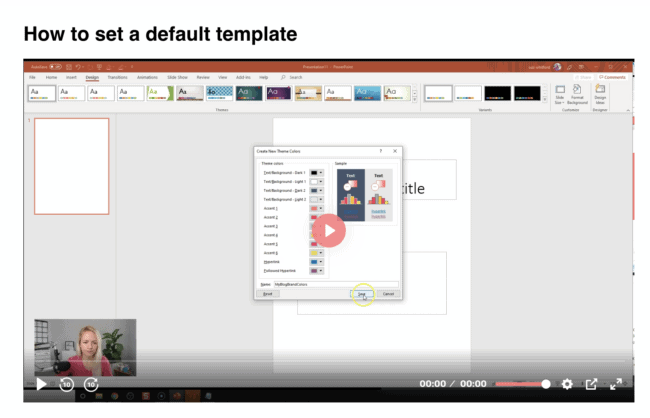 How to sell multiple or large products in Etsy
How to make Printables in Canva
Should you upgrade to Canva Pro?
How to combine templates in Canva
How to change the orientation from vertical to horizontal
Canva: Gardening Planner
Canva: Budget Planner
Canva: Daily Reflections Bible Planner
Canva: Project Planner
Canva: Nursery Art
Canva: Kids Activity Printables
Canva: Weekly Meal Planner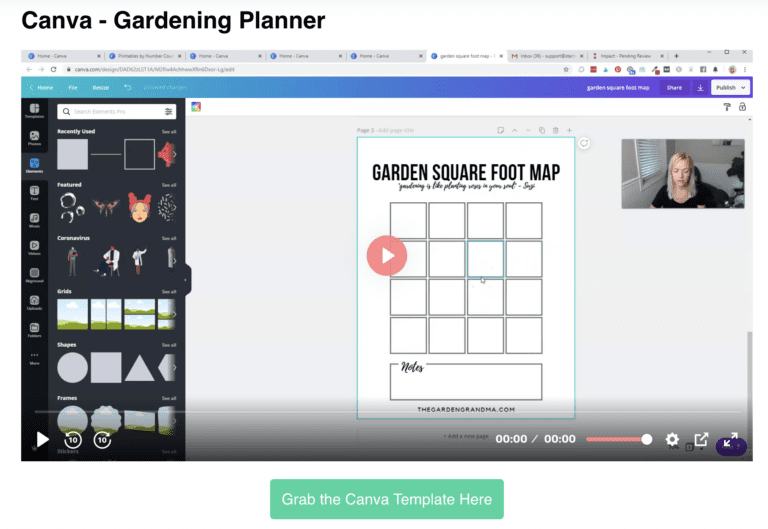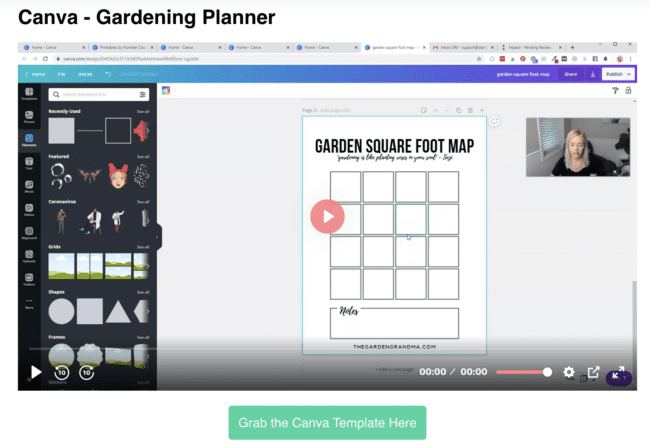 Additional Resources that come with the Course
Course Slide Deck. You can print out the entire course deck of over 140+ slides, so you don't need to take notes separately when going through this course, or you can take further notes on these.
Course Workbook. The course workbook has 30 and 60 day step by step plans to help you grow in the course. This means that you won't get stuck and you will always know what to do.
Course Bonuses
The course also comes with some fantastic bonuses: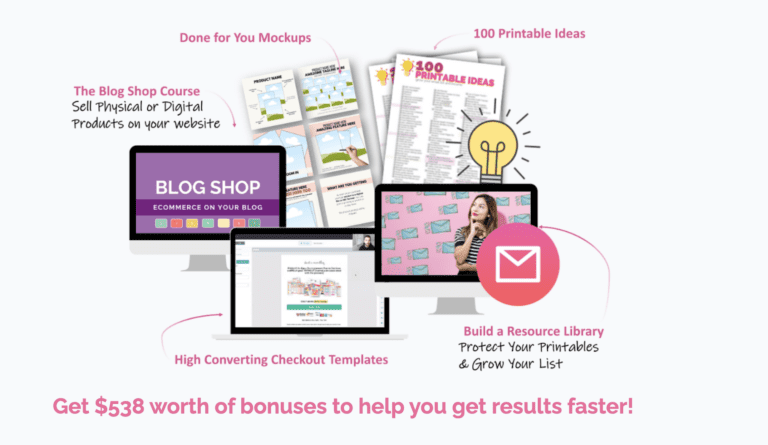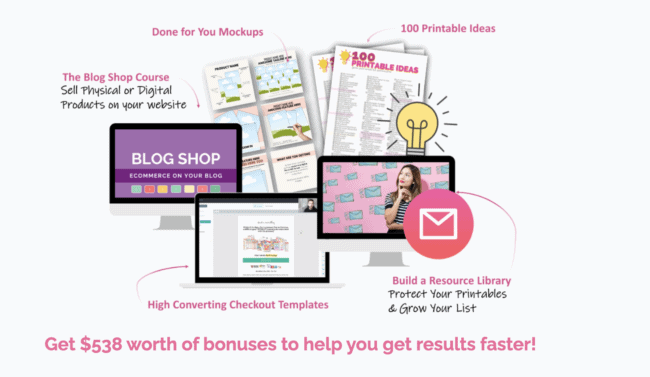 The Cons of Printables By Number
This is a thorough, really quite overwhelming course which may seem daunting to some. But this also puts it in the pros category too. Because it is a complete, in-depth course for everything you need to know and do about creating Printables.
This is a big course, but don't try to take the entire course in a short amount of time. Dedicate an hour here and there to doing a lesson or watching a video. The course is so easily broken down, and each video is labelled with how long it is, so that you can very easily do that, bit by bit, over time.
You will need some software to undertake the Printables design in this course. However the course does cover two different graphic design software options that are affordably priced or free, so you can choose.
You may want to use different graphic design software such as Adobe Illustrator, PhotoShop, or even PicMonkey, and no tutorials on these are included in the course. (However Suzi does have a free course on using PicMonkey that you can sign up for separately!)
About Start a Mom Blog
Start a Mom Blog is a very successful blog that was started by Suzi Whitford. The blog was so successful in fact that Suzi's husband, Jon, gave up his corporate job and joined her in running the blog.
Suzi is the mom of 3 small children. She was an engineer by profession and gave up her career to raise her 3 children. But as with so many successful women, she still wanted to do something and also bring in money for her family. Hence the creation of Start a Mom Blog.
Start a Mom Blog is aimed at showing women, mothers, how to start and run a successful blog. But if you are not a woman, or a mom, don't let that name put you off. The blog has education, courses and information for every blogger, in whatever niche, gender, or age you are or blog about.
Start a Mom Blog has taught over 50,000 students all aspects of blogging, and the blog itself has brought in over a million dollars over the past few years.
Try a Start a Mom Blog Free Course First
If you are just not sure about signing up for Printables By Number, I would encourage you to take one of Start a Mom Blog's free courses first.
There are a lot of free courses that they provide, and by signing up for one of these it will let you see the style of teaching, and you will get to know Start a Mom Blog more.
Here are some of their free courses you may want to take:
Start a Blog Course. This free course is a step by step plan on how to start a blog for beginners.
How to use PicMonkey as a Mom Blogger. This free course shows you how to use the PicMonkey graphic design software, to create graphics and Printables.
My Overall Impression of Printables By Number
Printables by Number is a very thorough course on all aspects of designing, creating, marketing, and selling Printables.
In my opinion this course is a must-have course for learning all aspects of creating and selling Printables for your blog and business. It is affordably priced, easy to follow and implement, and you will return to this course time and time again.
Once you purchase this course you will also be given lifetime access and sent all updates that are made to the course as they are released.
Frequently Asked Questions
How long will this course take to complete? The course is set up in phases. Each phase will take a few hours to work through. There are daily plans included to help you work through each part. The recommended approach to taking the course is to dedicate 30 minutes to an hour each day to it.
How soon will I make money? This depends on a lot of things – including how much you are putting into the course, doing your market research correctly, and how you market your own products. However the course has been set up to get you up and running in just one weekend starting a store and selling your products.
What if I am not tech savvy at all? That's fine! The course creators know this is an issue for so many people, so they designed the course to take account of that and really show you how things are done, guiding you through each step.
For more information and to sign up for Printables by Number just click here.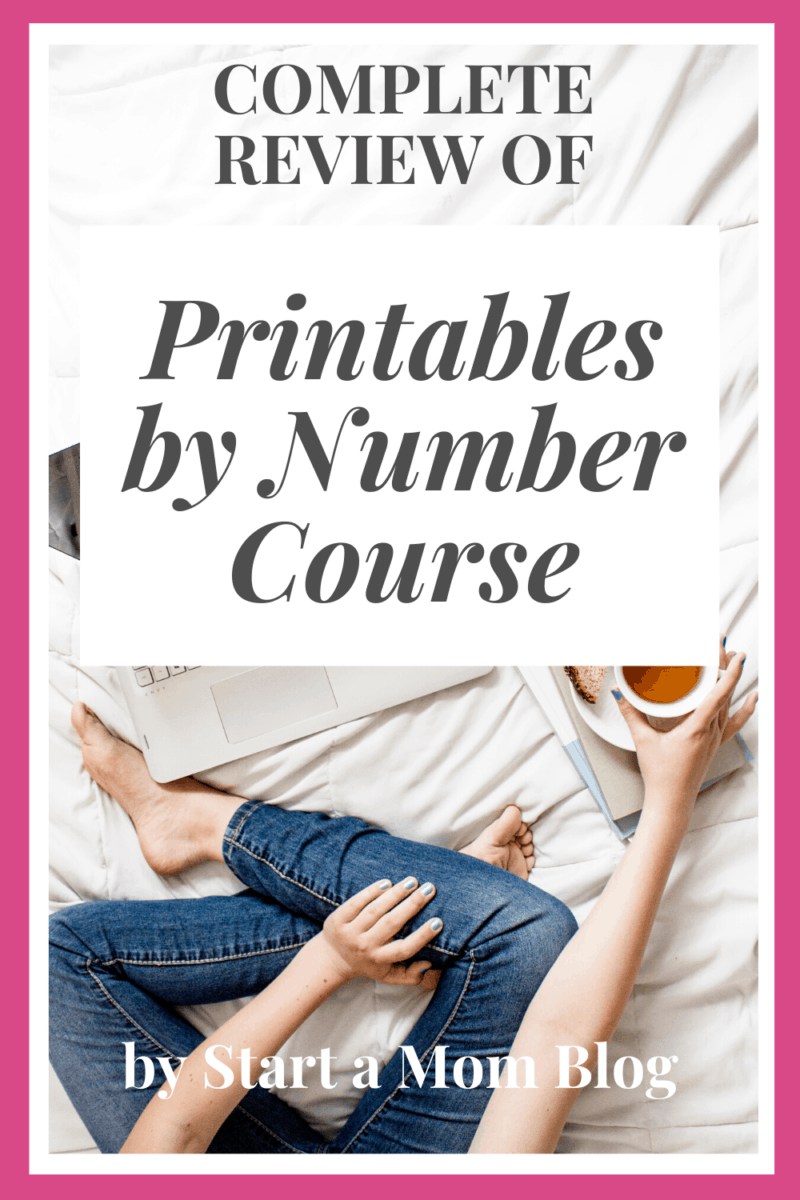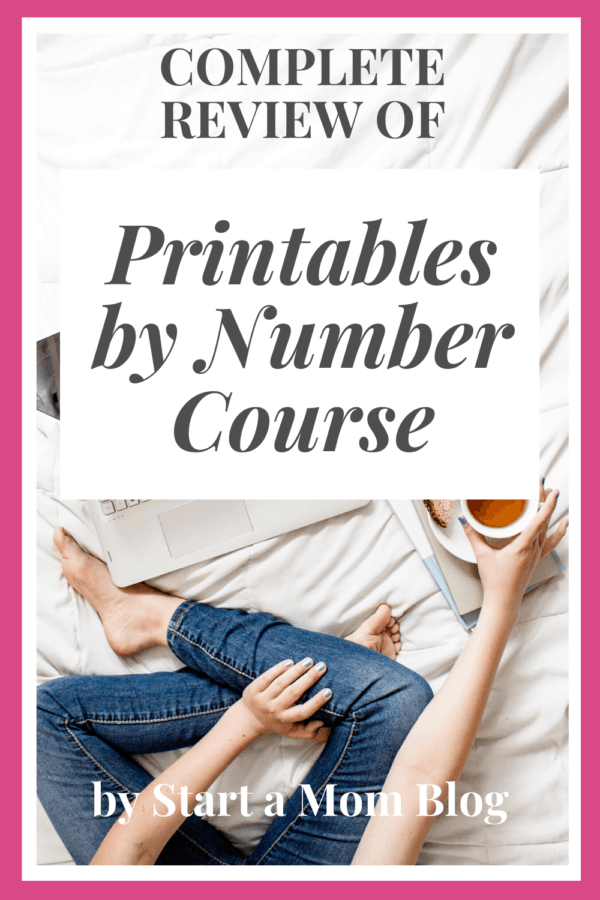 Printables By Number is a course on creating your own Printables to grow your email list and income. This is my honest review of the course.