DIY Rattan Cane Pen Holder
A fast and Easy to make pretty Rattan Cane Pen holder to make your desk look stylish and beautiful!
OK so I am apparently really into rattan right now! I just keep finding all kinds of projects to make with rattan and cane webbing!
After making this Cane Earring Holder I had some of the cane webbing left over. It was just the right amount of cane webbing to use for something like a pen/pencil holder.
Right now we are all spending so much time in our home offices it seems. So we really need to make our home work spaces pretty and work the best for us. So pretty accessories, just like this rattan pen holder, are perfect.
This rattan pen holder is really easy to make. I made it in one evening. It only took as long as an evening because I had to leave it overnight for the glue to completely dry.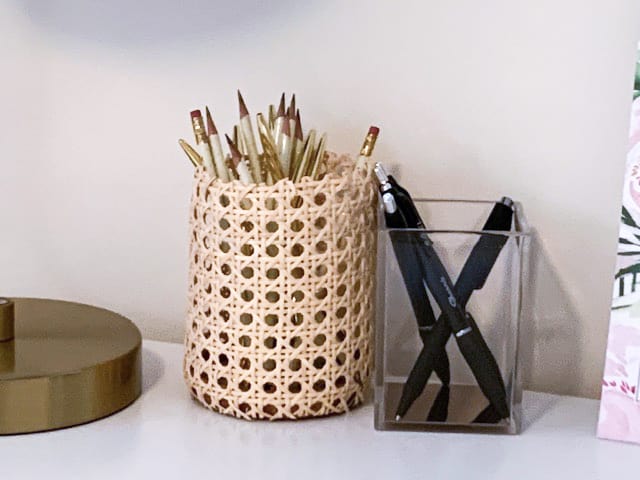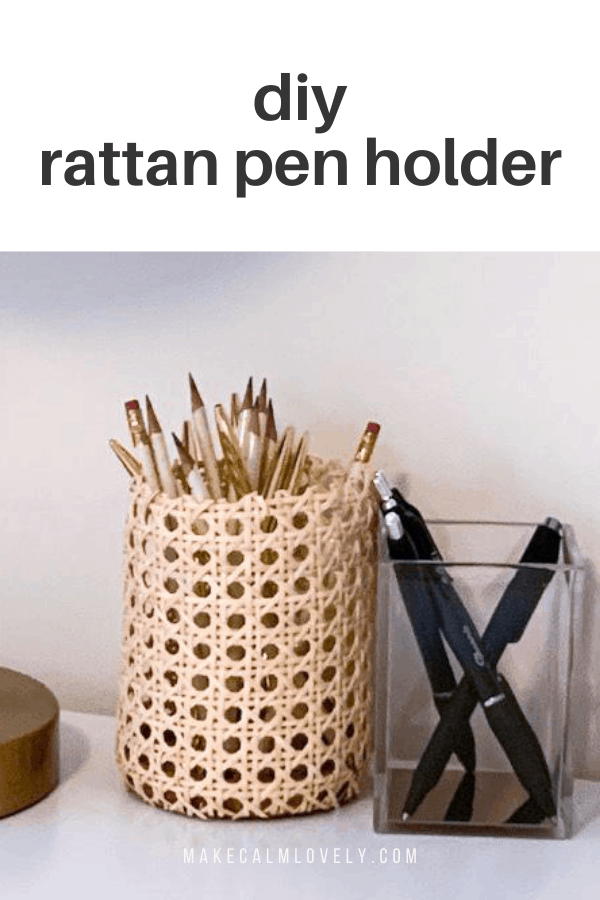 This post contains affiliate links. This means that if you click on a link and make a purchase via that link I may receive a small commission, at no additional cost to you. You can read my full disclosures here.
Supplies Needed for the Rattan Pen Holder
Glue (I used this one). If you are using a wood disk you could use a wood glue.
IKEA Cork coaster or a wooden disk
The Cork Coasters are sold in packs of 2 by IKEA. They are inexpensive at only about $1.99 for the 2-pack. They make a great base for the pen holder cup.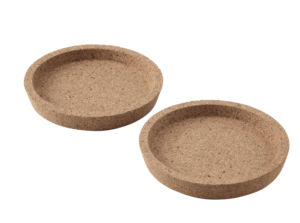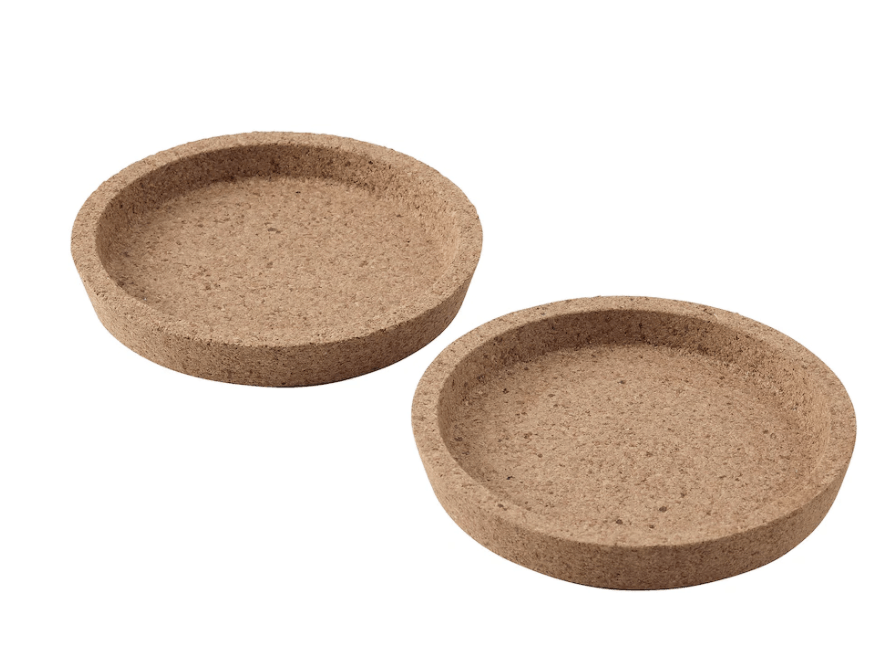 How to make the Rattan Pen Holder
First of all, cut the piece of rattan cane webbing to the size you need it. Mine was automatically the size I made the pen holder in as a leftover piece that I had. But take a pen or pencil and figure out the height that you need your pen holder to be.
Whatever size you make your piece of rattan cane webbing, bear in mind that an inch or so of it will be glued to the cork coaster bottom disk, so you will lose a little of the height during that process.
Leave a little overlap on the sides of the rattan where they meet together in the round. You will need to attach both ends together, so you need enough overlap to work with.
Before working with the rattan cane webbing you can spray it with a little water to soften it up. This will make it easier to work with and manipulate. But don't spray too much water on it. You don't want it to be dripping wet – just moistened.
You will need to glue the bottom of the rattan webbing to the cork disk. Glue it along the outside edge of the cork disk.
Now, I did find it quite tricky during this part to keep the rattan completely glued to the disk, as the glue was still wet and obviously not as effective at sticking well yet.
So what I did was place glue on a small section of the cork disk. Then I placed the rattan to the glue, and then I placed a push pin into the rattan cane webbing, to hold it in place.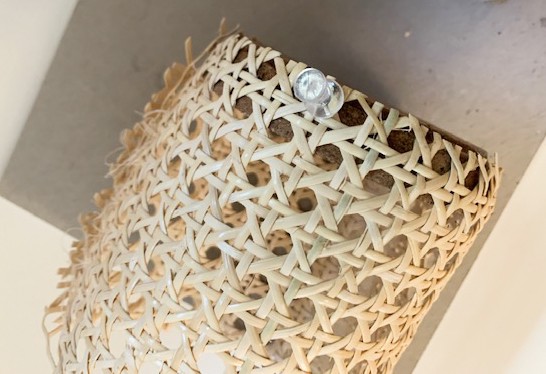 Go around the cork disk, gluing a little at a time, placing the rattan cane webbing over the glued part, and then sticking a push pin into it to hold it in place.
You are going to leave these push pins in place until the glue is completely dried. You can also use a rubber band to do this – just place it around the outer edge to hold it all in place.
I found push pins quite easy to use as I was using a cork base. But if you are using wood or other material, a rubber band may be better.
Once you have glued the rattan cane webbing to the base, you can glue the sides of the webbing together. This bit can be quite tricky. Overlap the two ends and glue them together.
You can also sew the ends together with a sewing cotton in a color that matches closely to the rattan webbing color. You should only need a few stitches to bring it together.
If the top edge of the pen cup is uneven after you have glued it all together, just take a pair of scissors and trim the top as neatly and evenly as possible.
If your pen cup looks a little out of shape after it is glued into place, just dampen the rattan cane webbing a little, and pull it into shape.
Leave the glue to dry completely overnight. Once it is dry, remove the push pins from the base. Or if you are using rubber bands remove those.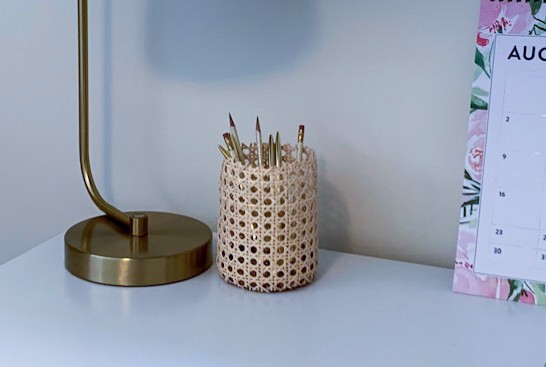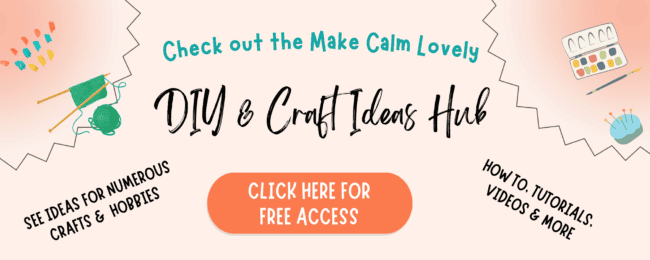 This rattan pen holder should be durable enough to store your pens, markers, pencils, scissors and more.
A fast and Easy to make pretty Rattan Cane Pen holder to make your desk look stylish and beautiful!