How to Research & Plan an IKEA Hack
An IKEA hack is a wonderful way of transforming something from IKEA into something new, amazing and different! But how do you research and plan an IKEA hack? Follow our guidelines below!
What is an IKEA Hack?
An IKEA hack is a DIY project that takes a piece of furniture or other item from IKEA and completely transforms it into something new and different.
See here for a complete explanation and examples of IKEA Hacks!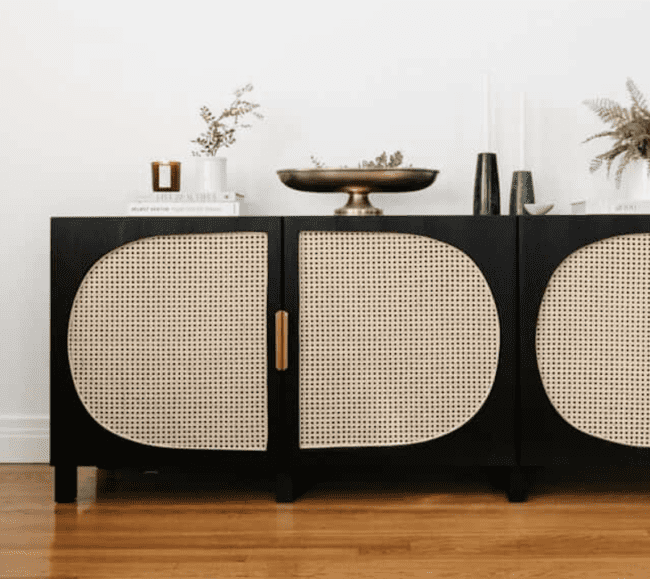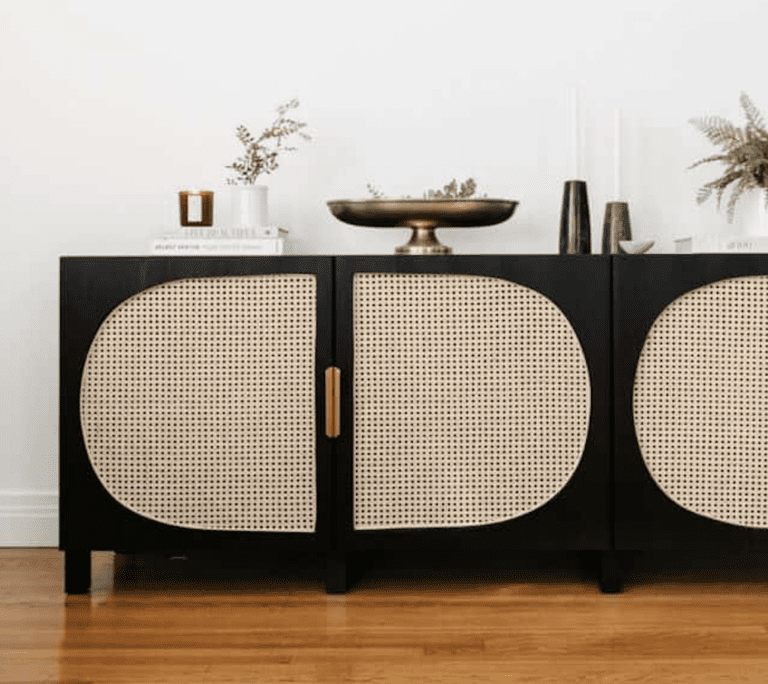 Why Do You Want to Do an IKEA Hack?
There are several reasons why you may want to do an IKEA hack:
You have seen a piece of furniture you love in a store, but you can't afford it and therefore want to recreate it yourself

You have a piece of furniture from IKEA that you want to re-design/make better

You have seen an IKEA hack and really want to do it yourself

You need a certain piece of furniture for your home, but can't find that piece anywhere, so you will create it!
How to Research an IKEA Hack
Method One: Find something you like somewhere else
This method applies to things that you may have seen somewhere else. For instance, you may have seen a beautiful dresser in West Elm that you love. But it is just so expensive – there is no way you an afford that beautiful dresser. But you really really want it!
An IKEA hack can take a piece of IKEA furniture and turn it into something else. So taking that piece that you love from somewhere else – try to recreate it with an IKEA product and some DIY!
Step One: Research What you Love Elsewhere
If you love a piece of furniture that you have found elsewhere but can't afford, just do some research on how you can possibly recreate that piece yourself with an IKEA hack.
For instance, I was searching for a dresser/cabinet for my home, and I found this gorgeous dresser for sale in West Elm.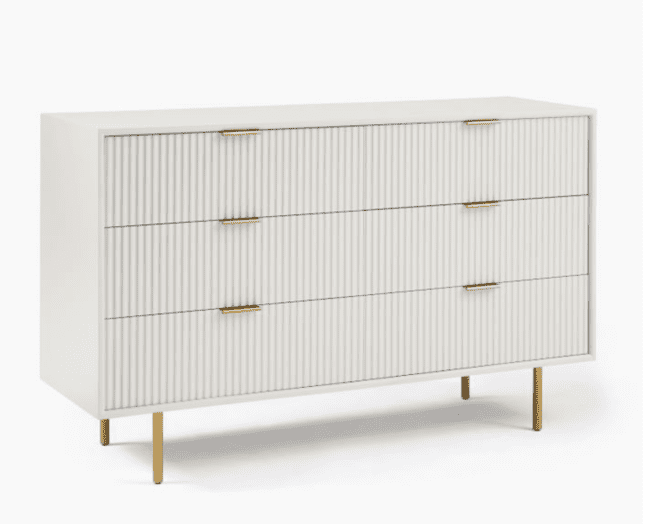 Now I love this dresser! But in West Elm this dresser costs $1,749! I'm sure it is worth that – but I just cannot afford it!
So how could this piece be recreated using a piece of IKEA furniture?
If you are able to look at the piece that you really want in the store itself, check out how it appears to be made. See what the finish is, how it appears to be put together and constructed.
Brainstorm how you could recreate that piece. For the dresser I love from West Elm there is a fluted pattern to the front of the drawers that is very unique.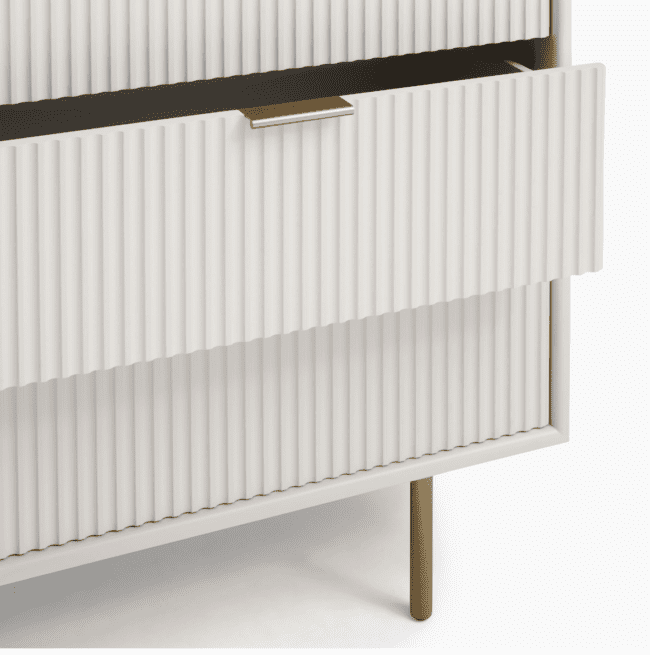 Could you recreate that pattern? Start brainstorming different ways you can recreate a pattern like that yourself. This applies to whatever you want to recreate – could you actually do it yourself?
You may decide that you just cannot do this yourself. That is fine – if you can't do it you can't do it. Move on to another project instead and always remember that piece you loved but couldn't afford!
But if you feel that you think you can definitely recreate the piece that you love, start planning for what you will need in order to do that.
You should also consider what tools you may need for the project. It may require some advanced power tools that you don't have or know how to use for instance, which will make the project too difficult for you.
Take photographs of the item you want to recreate in the actual store if you are able to, from all angles. Also take screenshots from the website.
You will need your photos and descriptions of the piece you want to hack to use for planning and actually doing your IKEA hack project.
For this West Elm dresser I realized that I could recreate that fluted wood look, because I had already created a similar look in another IKEA hack I had done previously.
Related: IKEA Fluted Furniture Hacks that Are Stylish & Unique

Step Two: What IKEA Product can I use for my Hack?
Take a look at IKEA products that you can use as the basis for the hack that you want to do.
For this project I am featuring here as an example, this is a dresser that I want to hack, therefore I need to take a look at dressers that IKEA sells to see which one I can use as the basis for my hack.
You can either search online on IKEA's website for products that you can use for your hack, or go to an IKEA store and look around in person at the products.
I would recommend doing both. Actually looking at a piece in person can really help a lot with deciding if that piece is right for your hack. You can get a far better idea of something in person.
Take the photos of the piece that you like along with you to compare against the IKEA product. See if you can actually recreate that with an IKEA product that they sell.
What do you need in an IKEA product that is similar/the same as the piece you are trying to recreate?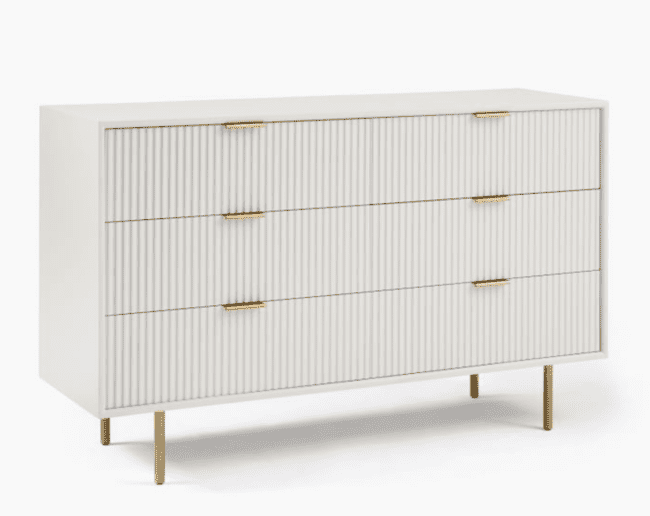 The West Elm dresser I love has 6 drawers, 3 on each side of the dresser. It is 34 inches high, 56 inches wide, and has a clearance at the bottom where the legs are 7 inches.
I don't need to find everything exactly the same as the piece I am trying to recreate. If it isn't quite the same size, but similar that will be ok.
The IKEA dresser I am choosing doesn't have to have the same legs, or even any legs, as I am going to add my own legs to it.
In the case of the dresser that I am trying to recreate from West Elm, I found that IKEA sells the following similar dressers/cabinets:
As you can see all these dressers are very similar to the one I am trying to re-create. So I need to narrow down my choice.
The Tarva dresser that I found in the pictures above would work well, but can I take those legs off?
The Malm dresser would work. Malm comes in 3 colors. I could either choose the natural looking dresser, as it will be painted, or I can choose the white Malm dresser as the dresser I am recreating is white.
That narrowed my choice down to either the Tarva dresser or the white Malm dresser.
The white Malm dresser is 30 inches high, 4 inches shorter that the West Elm dresser. It is 63 inches wide – which is 7 inches wider that the West Elm dresser.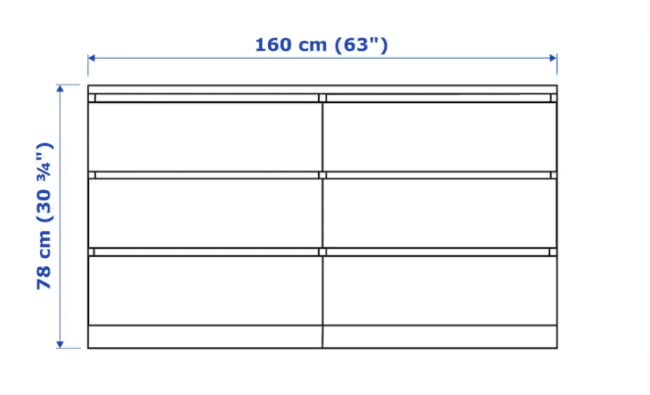 The Tarva dresser is 59.5 inches wide, 36 and a quarter inches high. That makes the Tarva dresser 2 inches higher than the West Elm dresser – but the Tarva dresser does have legs which makes it taller.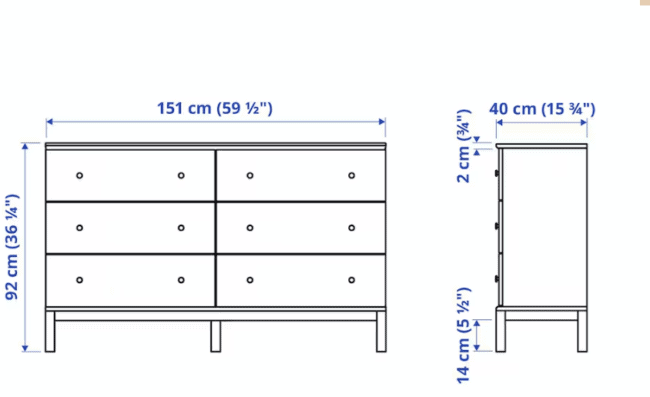 The sizes of both the dressers really weren't a big factor in which dresser to choose, as the dimensions were so similar to the West Elm dresser.
In comparing the Malm and Tarva dressers however I decided that I liked the body style of the Tarva better – as the West Elm dresser has a very flat look to the drawers, that Tarva has.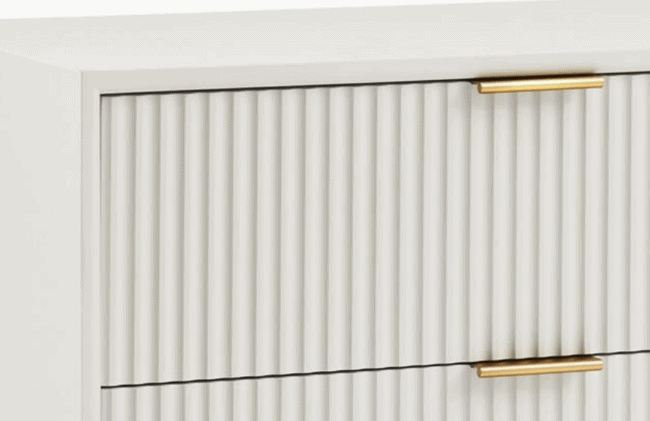 The Malm dresser (below) has a ridge that sticks out around the drawers, which would affect the final look of the dresser I am trying to recreate, so therefore would not work as well.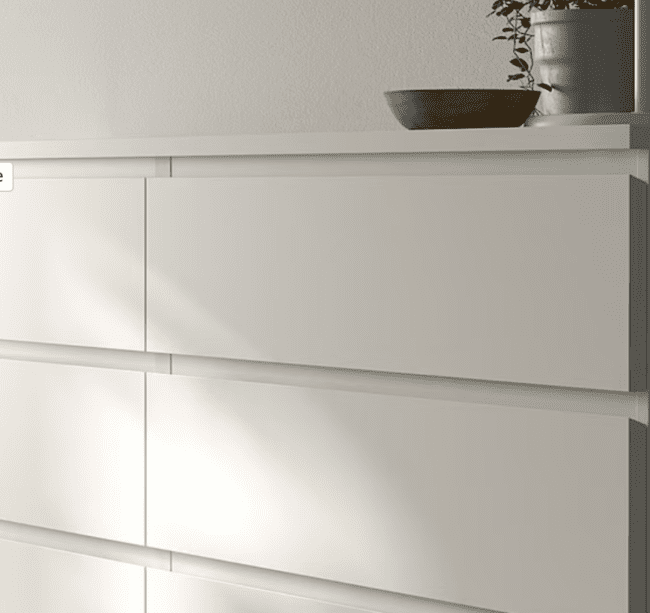 Therefore I knew that I wanted to use the Tarva dresser. But the important question was – will the legs come off the dresser?
To find out if this was a possibility I looked at the assembly instructions for the Tarva dresser that are online on the IKEA website (IKEA has every product's assembly instructions to view on their website).
I could see from the instructions that the dresser is assembled from the top down. The last piece to go on is the legs part and they are a completely separate part. Therefore I could just leave off the legs part when I assembled the dresser.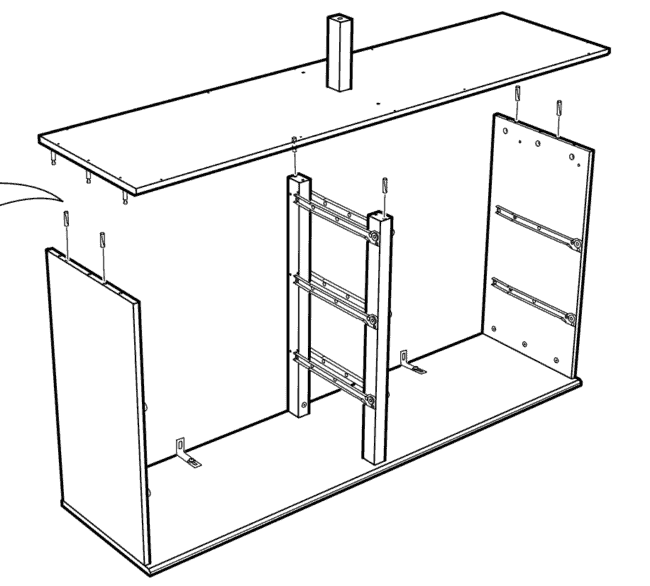 So I ended up choosing the IKEA Tarva dresser for my West Elm style IKEA hack!
Step Three: What Else Do I Need for My IKEA Hack?
The IKEA Tarva dresser has the very basic body of what I need for my dresser. For the base of the dresser I knew that I could purchase legs for it that matched the legs of the West Elm dresser.
I sourced handles like the ones on the West Elm dresser. They are pretty elegant gold handles on the West Elm dresser. The description of the dresser states that the handles are antique brass. The style of the handles is finger pull style.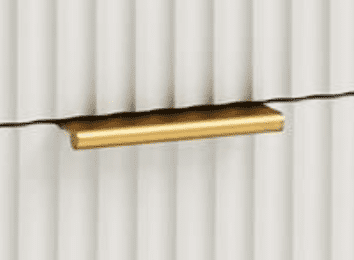 I found similar handles on Amazon. I also found legs that matched the handle pulls closely too. It was important to have the handle pulls and legs matching as closely as possible in color.
For the final finish of the dresser I would paint the entire thing white. I needed to make sure it was the correct white, so I took a selection of white paint swatches to the West Elm store to check which one was the closest match.
You also need to consider what tools and DIY supplies you will need to do the hack. For the dresser that I am trying to recreate I know that I want to use pole wrap for the front of the drawers.
Pole wrap needs to be cut to size, so I will need something to cut it with (I used a circular saw for a similar DIY project with pole wrap).
I will also need glue to attach the pole wrap to the drawers, and definitely a screwdriver to attach the legs and pull handles to the dresser.
In addition I need paint and painting supplies too.
You may already have the tools that you need at home. Or perhaps you can borrow a certain tool from somebody else, or rent that tool.
Step 4: Complete the IKEA Hack
This is the really fun part – actually creating the IKEA hack!
Gather all your materials that you need for your hack. You should have sourced everything before you even decided if you could do that hack.
You will need to assemble the IKEA piece you are using first. Being mindful like I had to be of maybe having to leave a certain part off the actual assembly to do the hack your way.
Then you are going to complete your hack. In the case of the West Elm style dresser hack I would have to apply the pole wrap that I knew would replicate the fluted wood look to the drawer fronts.
I would then need to paint the entire dresser white. After the paint was dry I would need to attach the new legs and handles to the piece.
So that is how you can research and plan to completely recreate another item of furniture that you love with an IKEA hack.
Now for the interesting part! The dresser in West Elm that I loved was $1,749. In hacking the piece with an IKEA dresser and other supplies the cost came to about $490!
Method Two: Create Something you Want But Can't Find
Another method of undertaking an IKEA hack is to create something that you want and need, but just can't find anywhere else.
This may be something for instance such as a cabinet for your entrance hallway. You know you want a certain style and a certain color, but no stores you have searched seem to sell anything that would work for you.
With this method you need to think about what you want exactly. Make a list of what you need, for instance let's say I want a fancy gold painted cabinet for my entrance hallway, in an Art Deco style.
Step One: Make a List of What You Need and Want
My list of wants might be:
Square/rectangular cabinet – width & height desirability
Gold painted finish
Two door cabinet
At least 2 shelves inside
Decorative design on front of doors in Art Deco style
Step Two: Source the Product from IKEA that will Work for you
Take a look online and also in an IKEA store to see what products would work well for what you are trying to create.
For the cabinet I am envisioning above, I may decide that the IKEA Besta unit works well for this: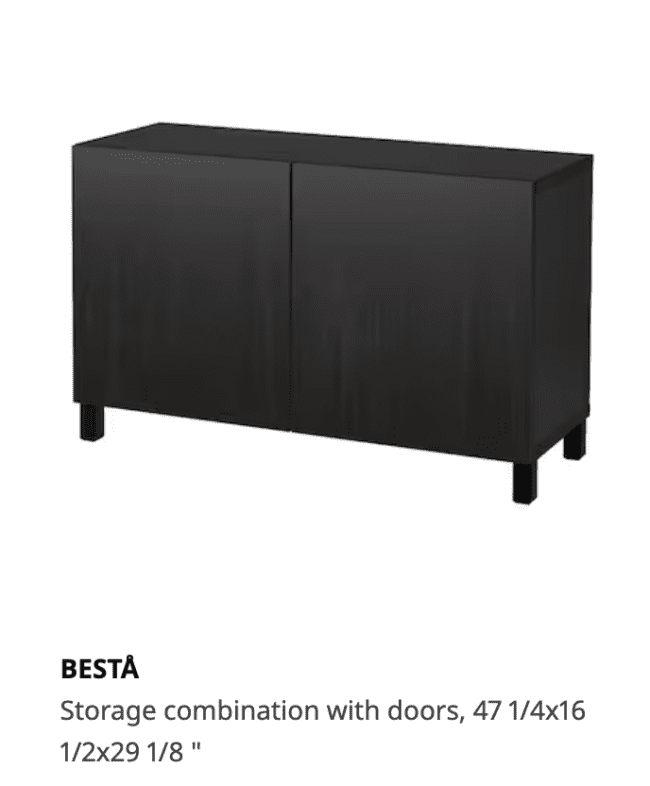 It is exactly the shape and size that I want. I know that I will need to repaint it and add new legs to it.
For the Art Deco design I can find designs that I like and then recreate those designs on the doors somehow. For instance a starburst design using wooden pieces glued onto the front of the cabinet.
Step Three: Purchase All Supplies & Do Your IKEA Hack!
Once you have all the designs you need, you can turn that IKEA product into the product that you really want and need!
The great thing about IKEA furniture is that much of it is clean simple lines, therefore it can easily be turned into something else with some creativity and DIY!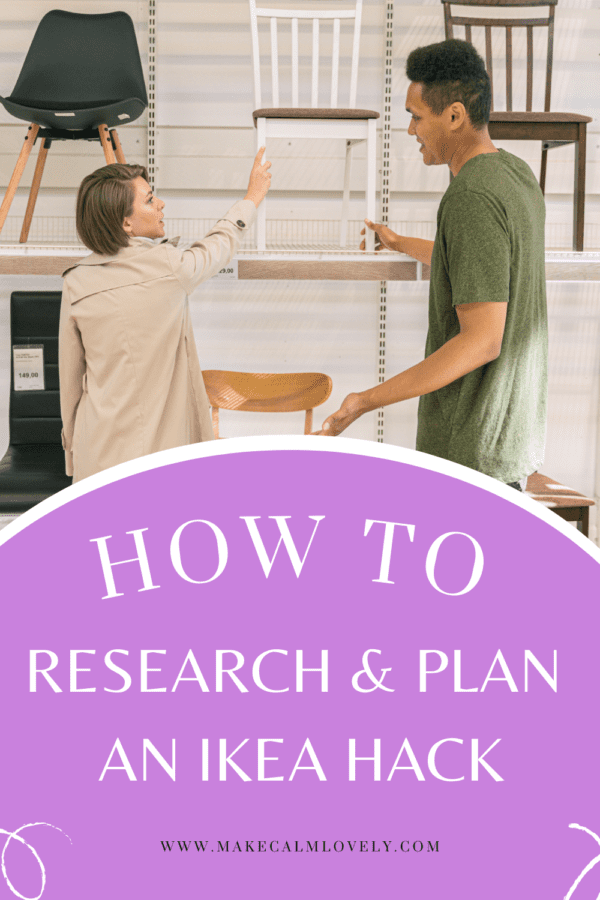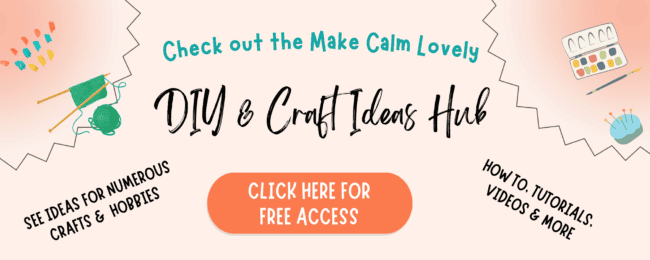 An IKEA hack is a wonderful way of transforming something from IKEA into something new, amazing and different! But how do you research and plan an IKEA hack? Follow our guidelines below!