How to Have a Lovely Picnic
A picnic is a wonderful way to enjoy the outdoors, either alone or with others. See our guide here on how to have a lovely picnic!
Picnic season is really any season where the weather cooperates. But the best picnics tend to be in the spring and summer.
Picnics are perfect entertaining opportunities. All you need is some food and drink that is relatively simple to make and/or gather. Invite some friends and you automatically have a gathering!
Picnics are a great way to enjoy the outside. You can picnic on your own or with friends. A picnic is a lovely way to hang out with others and enjoy some great scenery too.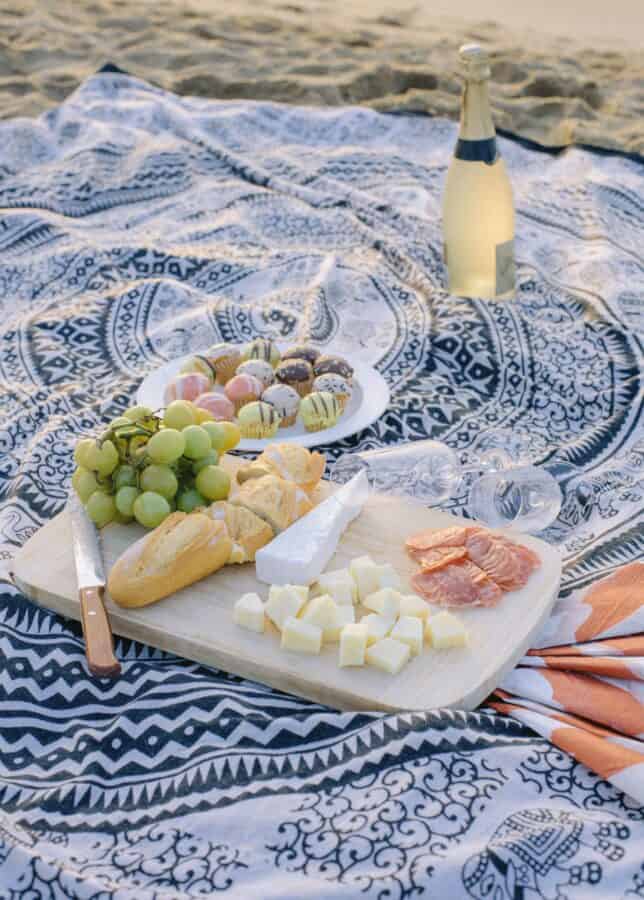 This post contains affiliate links. This means that if you click on a link and make a purchase via that link I may receive a small commission, at no additional cost to you.
Picnic Food, Drinks & Menu
If you are planning a gathering and your attendees will be bringing a dish, food or drinks, you may want to coordinate the menu beforehand so you don't get duplicates of things, or not get certain things that you need.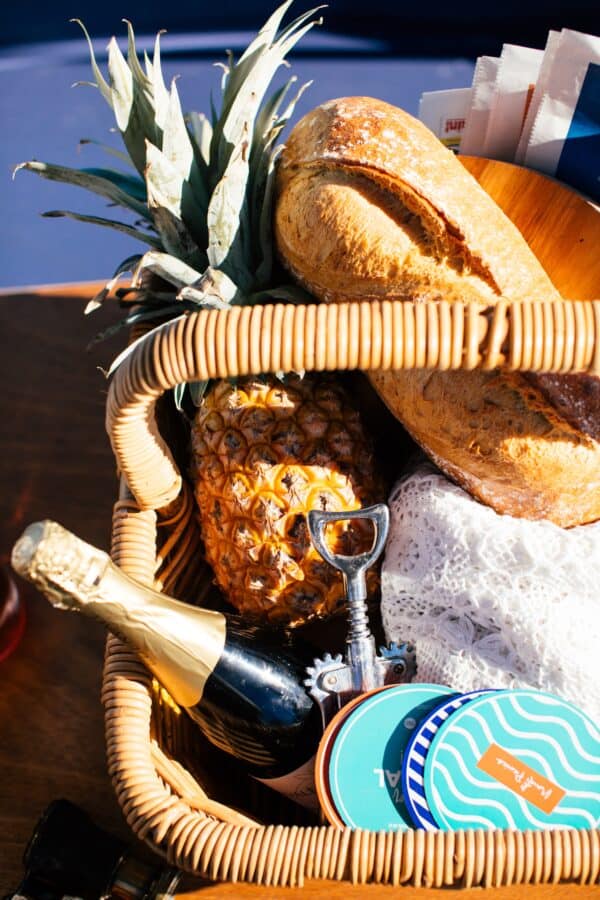 Typical Picnic Food & Drink
Dishes such as pasta salads and potato salad are great for side dishes at picnics. For main dishes you can take things like fried chicken, quiche, sandwiches, and even things such as tortillas.
Snacks can include potato chips and other items that are easy to grab and eat. See here for some great picnic recipes that are not sandwiches!
You can also take order and take pizza to a picnic, to make it easier for you in not having to prepare as much food (and everyone loves pizza!)
Popular picnic drinks are lemonade, iced tea, sodas, water, and alcoholic drinks such as wine and beer if you have adults attending.
Sweet treats are good too! Brownies and cookies always go down well.
Don't forget fruit too. Watermelon is a great picnic food, as are bananas, apples and melon.
Check out all these recipes for picnic food!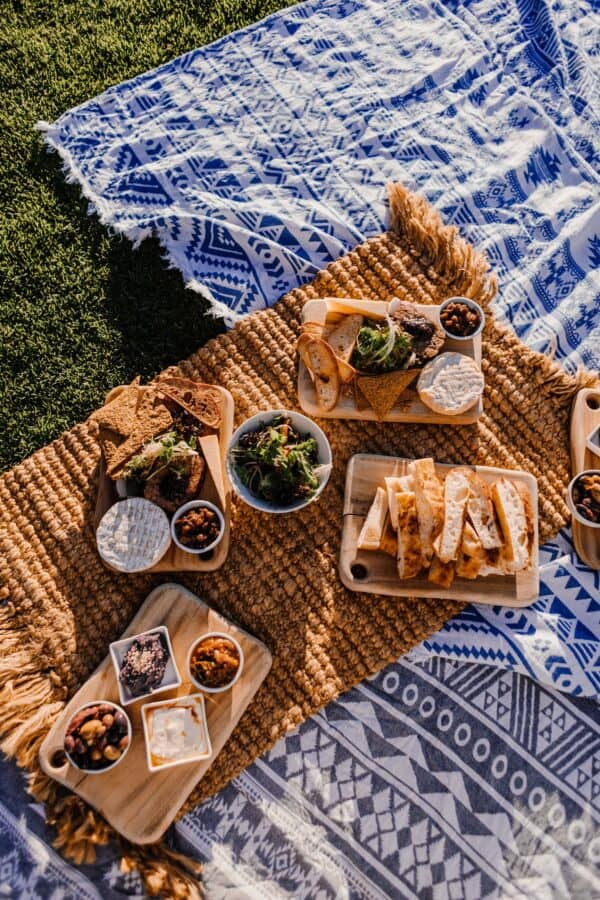 Find Your Picnic Spot
Besides the food and drink, the location of your picnic is the most important part of the whole event.
You can choose an outdoor spot in a park, or anywhere there is grass and soft ground for your blanket.
You can picnic in a park, by a lake, even on a beach. There are many great spots to have a picnic and enjoy the ambiance and scenery.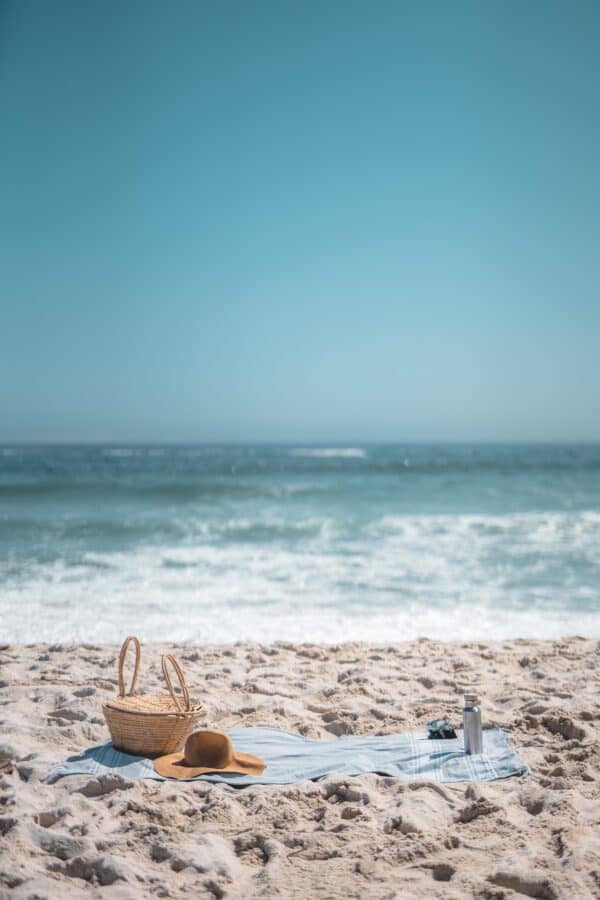 Choose a picnic spot according to the type of picnic that you want to have. If you want a quiet picnic choose a quieter spot away from the crowds. If you plan on inviting friends and playing games a park or larger space will be more ideal.
Scout around when you find what you think is the ideal spot. Make sure there aren't any ant colonies, beehives, wasps, and other annoying bugs around.
Try to find level terrain, so you are not sitting on a slope where it is not just uncomfortable to sit, but also risks your food and drink tumbling over.
If there is a picnic table around it will make it easier to avoid some bugs on the ground, and will also create a level easy surface for your food and drink.
Try to avoid other groups who may be picnicking and hanging out with loud music, if you want a relatively quiet and peaceful picnic.
You may need a permit for a particular picnic spot. Your local Department of Parks and Recreation usually issues these.
If rain is threatened, you may need to locate a nearby covered spot. Many parks will have places you can go to shelter.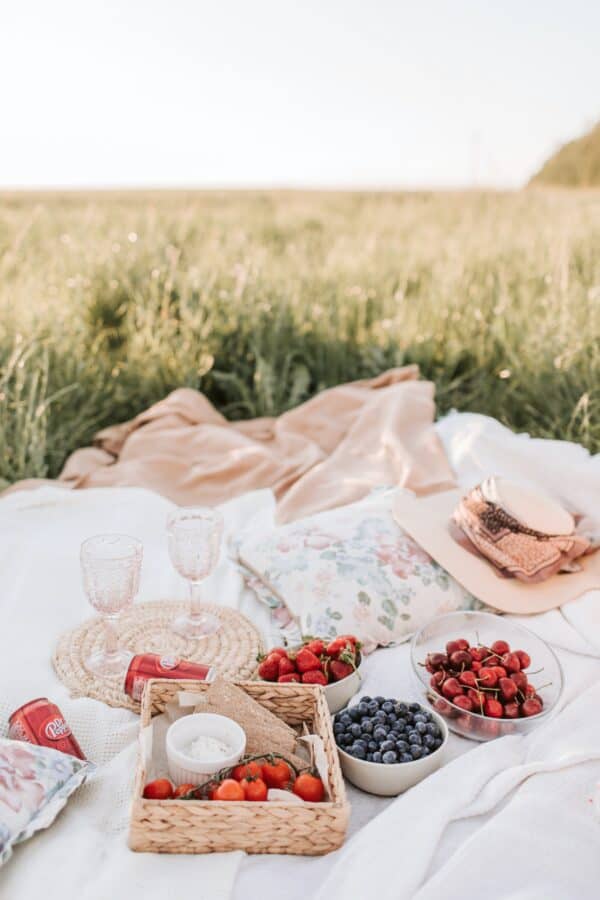 Picnic Amenities
If you are picnicking in a park, locate toilets and bathrooms that are in walkable distance.
If you are bringing lots of stuff for your picnic you may need parking in an easy spot to park to access your picnic area.
Look also for nearby shelter if it threatens to rain on your picnic parade!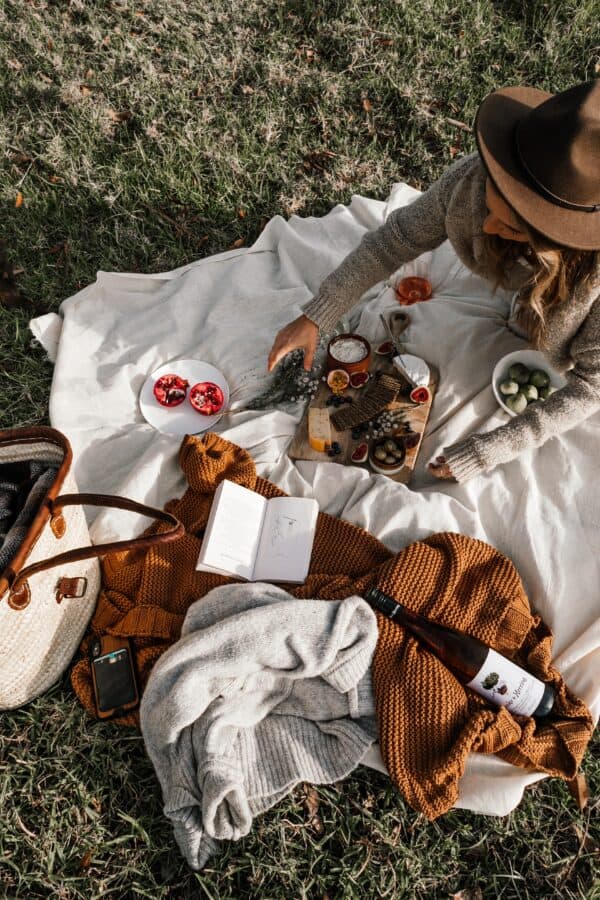 What to Take to a Picnic
Picnic Blanket
The perfect picnic blanket will be large enough, washable and waterproof. A rule of thumb for size is about 9 square feet of space per guest. You can either buy a blanket or make your own picnic blanket.
Picnic Basket or Container
You need a basket or container(s) to hold all your stuff. You will need to carry food, drink and other supplies for your picnic to the picnic site. Here is the best way to pack a picnic basket.
Picnic Baskets can be the traditional style picnic baskets, or more modern insulated baskets/carrying containers.
You can also buy special picnic backpacks that are really useful for carrying your stuff, especially from your car or hiking to your picnic site.
An insulated bag can work well for keeping certain foods and drink cold. Coolers are great for transporting and serving drinks.
You may need several containers and baskets to carry your items to the picnic site. Don't forget containers for carrying and storing leftovers after the picnic is over.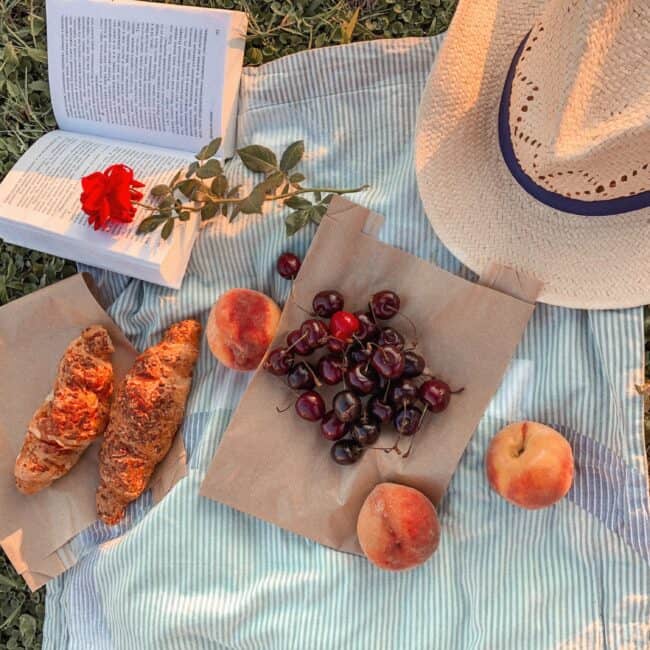 Eating Utensils
You will need plates, cups and cutlery. Either disposable or more eco-friendly alternatives.
Napkins or Paper Towels
Picnics can get messy! Make sure you have enough napkins and/or paper towels for spills and dirty fingers.
Bug Spray
In the summer it is likely to be buggy. Don't suffer during your picnic – take bug spray!
Trash Bags
You need to clear up after yourself so trash bags are a must.
Tablecloth
If you will be using a picnic table you need a large enough table cloth to cover the table.
Kitchen Tools
You will need tools such as a corkscrew, knives to cut things etc.
First Aid Kit
Just in case somebody gets stung, or hit by something flying! If you have allergies or a guest with allergies pack an Epi-pen too.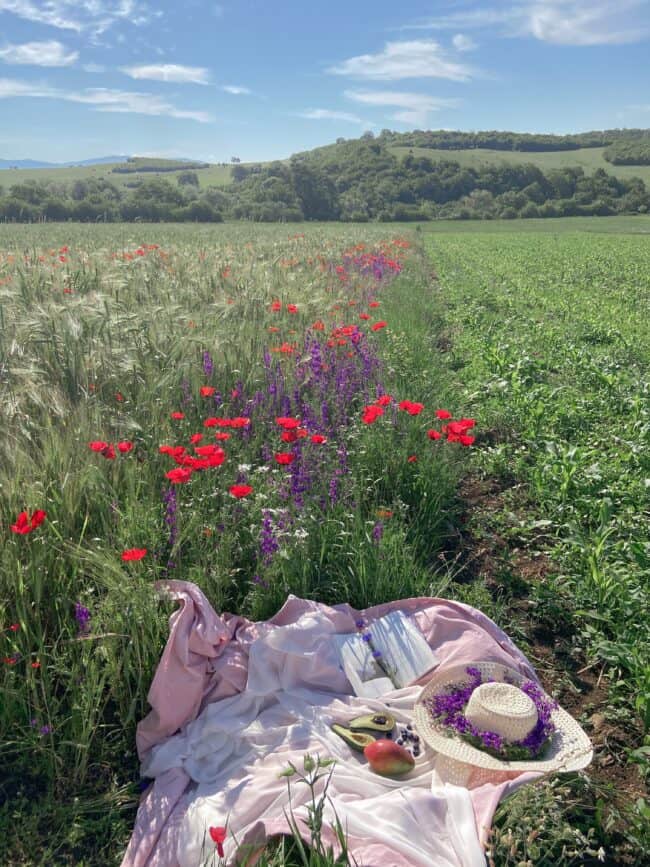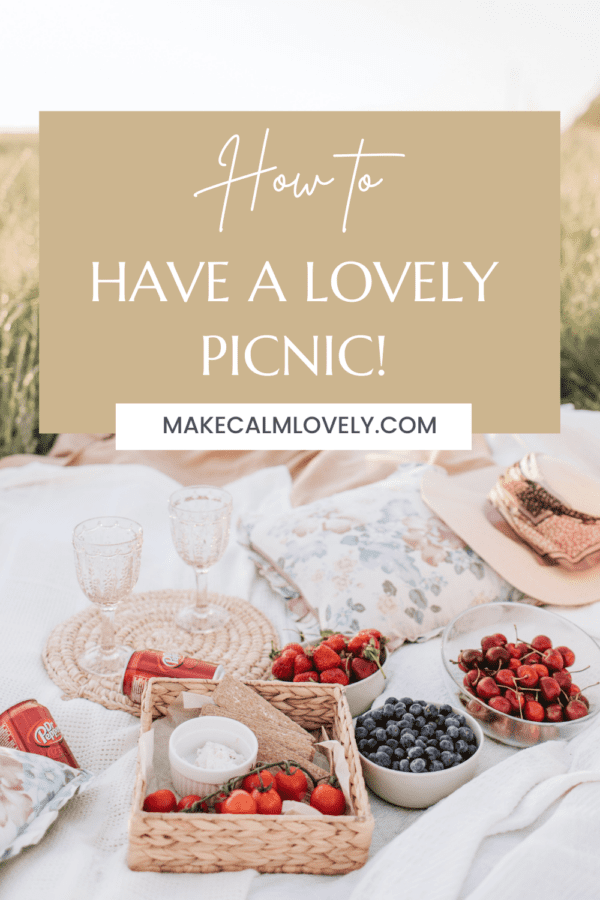 Enjoy a lovely picnic and spend time with friends, enjoy the outdoors, and have a lovely calm relaxing time!
A picnic is a wonderful way to enjoy the outdoors, either alone or with others. See our guide here on how to have a lovely picnic!