DIY Terrazzo Pattern Plant Pots
These pretty terrazzo plant pots are easy and fun to make. They add a modern stylish touch to any home decor.
I am always on the lookout for pretty and stylish vases and plant pots, especially smaller ones that can be used for plants such as cactus and herbs.
I usually find the best pots on Etsy, but I thought it would be fun to make my own this time, especially as I really wanted a terrazzo pattern (I have loved terrazzo for a while, and it doesn't seem to be lessening!), and I had some leftover Fimo clay that I could use.
I used old glass yogurt jars for this DIY project. I find them the absolute perfect size for cactus plants and also herbs, which is what I usually plant in smaller pots. But you can use any glass jars at all, or any small containers.
However, you will be placing these in the oven to set the clay, so I wouldn't recommend anything plastic, flammable or that can easily melt.
This is a really fun project. There is nothing more fun than rolling out and cutting clay! (remember all the hours of fun you had as a child with playdough!) Not to mention sticking smaller pieces of colored clay together to create a wonderful terrazzo pattern!
I love the look of these pots on my window sill! The gold colored Fimo clay used for the terrazzo pattern catches the sunlight and artificial light to create a beautiful look to these pots.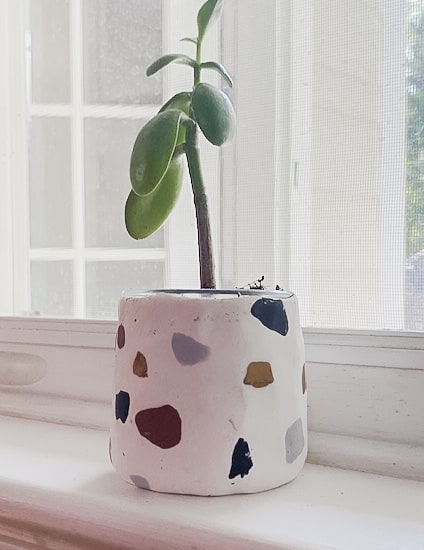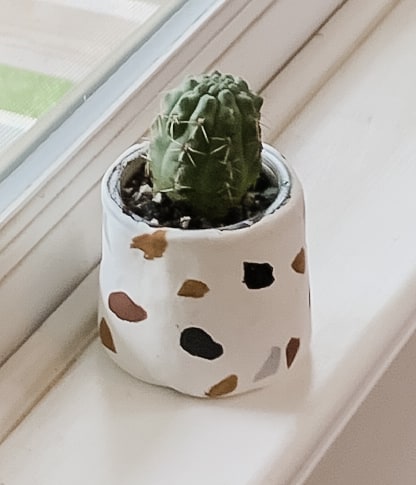 This post contains affiliate links. This means that if you click on a link in this post and make a purchase via that link I may receive a small commission, at absolutely no additional cost to you. You can view my disclosures here.
Supplies you need to make Terrazzo Clay Plant Pots
Small glass vases or jars.
Rolling pin
Fimo Modelling clay* in colors black, metallic gold, dolphin grey, white, and caramel
Craft Knife
*You only need one regular size pack of Fimo clay for the colors and black, but if you are using the regular sized packs you will need at least 3 packs of white, or one larger pack of white Fimo clay, as you are using the most of the white color.
How to make Terrazzo Clay Plant Pots
Taking the white Fimo modelling clay, roll out the clay into the desired size (based on the container you are using). You will need several packets of the regular sized white Fimo clay (see note on supplies needed above).
With the other colors of clay, using a craft knife slice off small pieces of clay. You want to have many small pieces in all the different colors.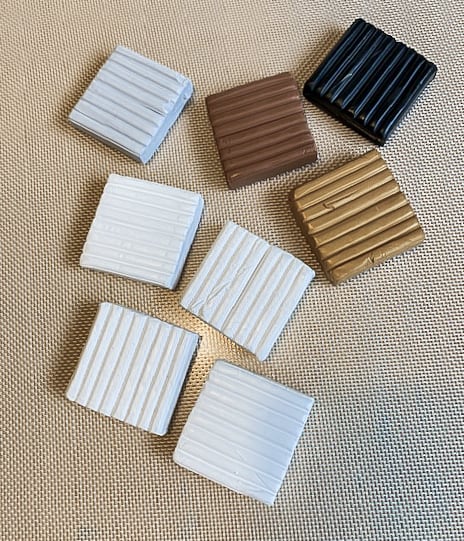 Now place these small pieces of colored clay onto the white rolled out clay. Space them out and place strategically for colors that you want together etc. You can have a lot of fun with this – creating your own pattern and color matches.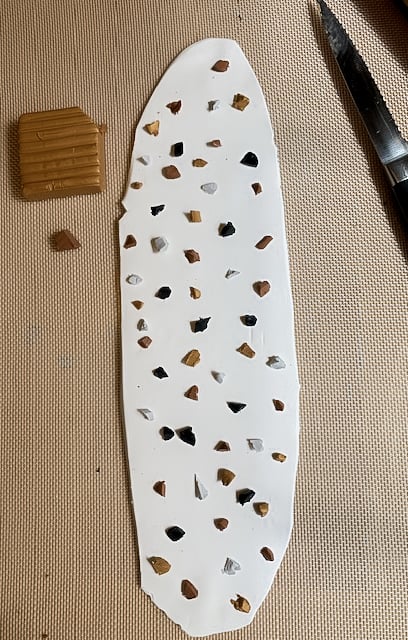 Once all the colored pieces are placed, roll out the clay again, which will blend the colored clay pieces into the white clay, and create a smoother finish. You only need to roll very lightly. If pieces of clay come out onto the rolling pin, just gently place them back onto the rolled out clay.
Using the glass jar (or whatever you are using as a base/inside for your pot), figure out the width and height of clay you will need to completely cover the pot on all sides and the bottom. You can slice off any excess that you don't need from your rolled out clay.
Carefully wrap the clay around the glass jar. You want to make sure that the decorated side is facing outwards, as that is the side that will be seen.
Smooth out the seam carefully using your finger tips. It may help to moisten your fingertips slightly to get a more smoother seam connection.
Trim off any excess clay from the glass jar. Trim around the top of the jar as carefully as possible to create a neat and even edge, as well as the bottom of the jar also.
Place the clay covered jar into a pre-heated oven at the recommended temperature given on the packet of Fimo. Bake for around 30 minutes or so, according to the directions.
Carefully remove the clay pots from the oven when the time is up. They will be hot, so use something such as an oven mitt to remove them carefully and safely.
Once the pots are completely cooled down you can start to use them for plant pots and plant whatever you love in them!
I hope you enjoy this fun project for terrazzo plant pots! Have fun creating gorgeous unique pots and patterns!
Other DIY Projects you will Love: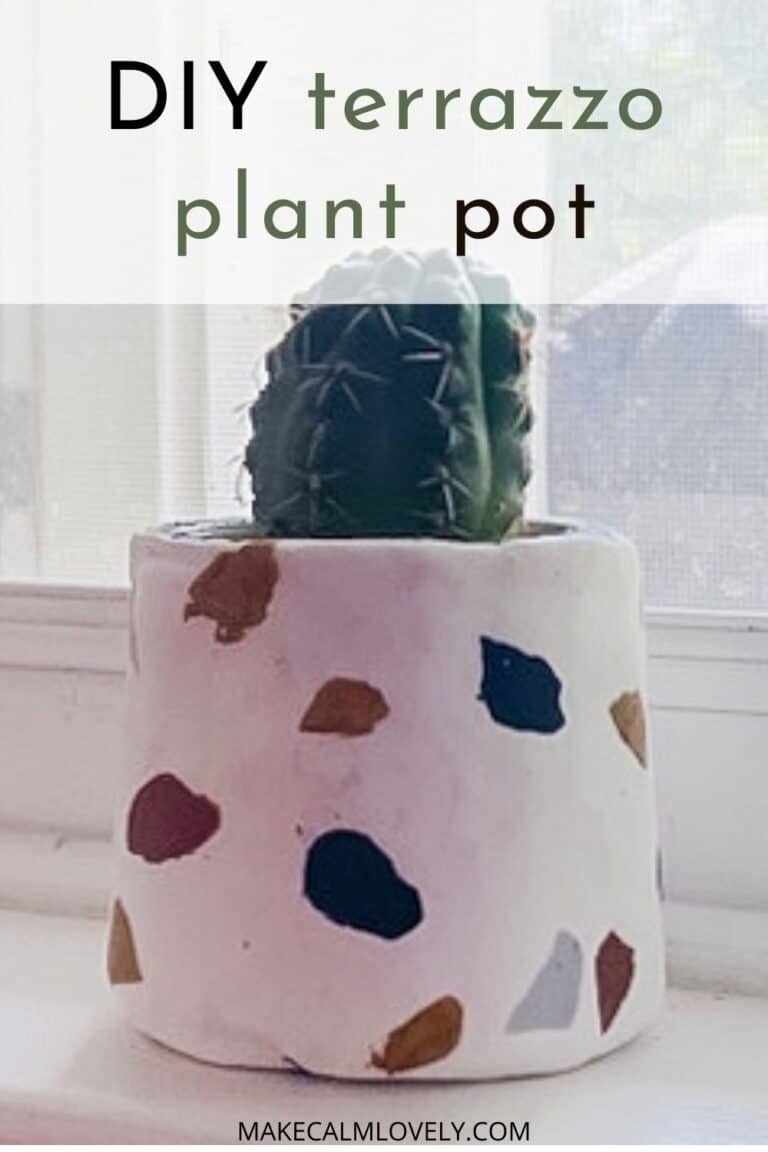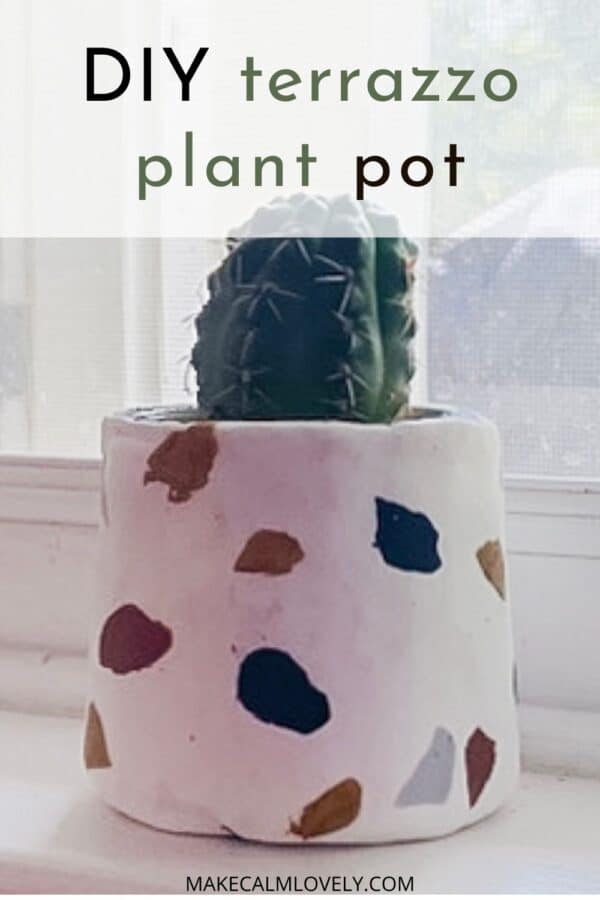 These pretty terrazzo plant pots are easy and fun to make. They add a modern stylish touch to any home decor.