DIY Painted Salad Servers
These pretty painted salad servers are a fast and easy stylish DIY! The salad servers are beautiful and just the thing to bring out & display when you have guests!
Whenever I have guests over I always want to pull out pretty salad servers if I am serving salad. But sometimes it is hard to find salad servers that match the bowls I already have.
It can also be hard to just find salad servers that you love. I like a modern stylish design, yet which is minimal and basic. Making your own salad servers means you can have whatever you want!
These salad servers are so pretty, modern and stylish, and should match pretty much any salad bowl you choose to use with them.
The white and copper mix together is so stylish looking. They are minimal, but so beautiful!
If you wanted to, you could replace the copper metallic paint with a solid color paint, such as a black or another color that will completely offset the white paint.
This is a really fast and easy DIY project. All you need to do is paint! There is such a small amount of painting too, so if you feel you are not the best painter, it doesn't matter! Plus you are using tape, that will guide the painting for you!
The great thing also about these salad servers is that they would make the perfect DIY gift for somebody too! (Check out my other DIY gift ideas here!) Tie them both together with a pretty ribbon and gift to somebody special! They would make a great hostess gift, or a new home gift for somebody.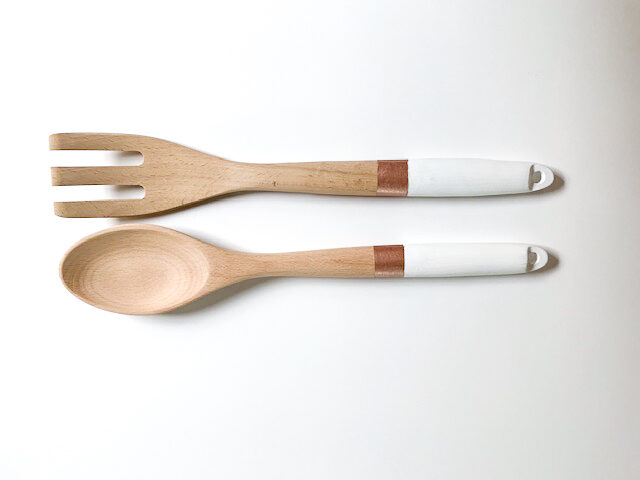 The wooden salad servers I used for this DIY project are actually from IKEA! IKEA sells these wooden forks and spoons for only about $1.99 each! (yes this is another IKEA hack!)
Related: IKEA Kitchen Hacks
I think the wooden salad servers look just fine as they are, if you like a nice simple natural look. But if you want to create something prettier, and more modern looking, this DIY creates the prettiest and stylish salad servers!
I have used a white paint, and also a metallic copper paint on these. I already had the metallic copper paint, I was waiting for a project to use it on. As I knew I wanted a contrast paint to these servers, using the copper metallic paint seemed perfect!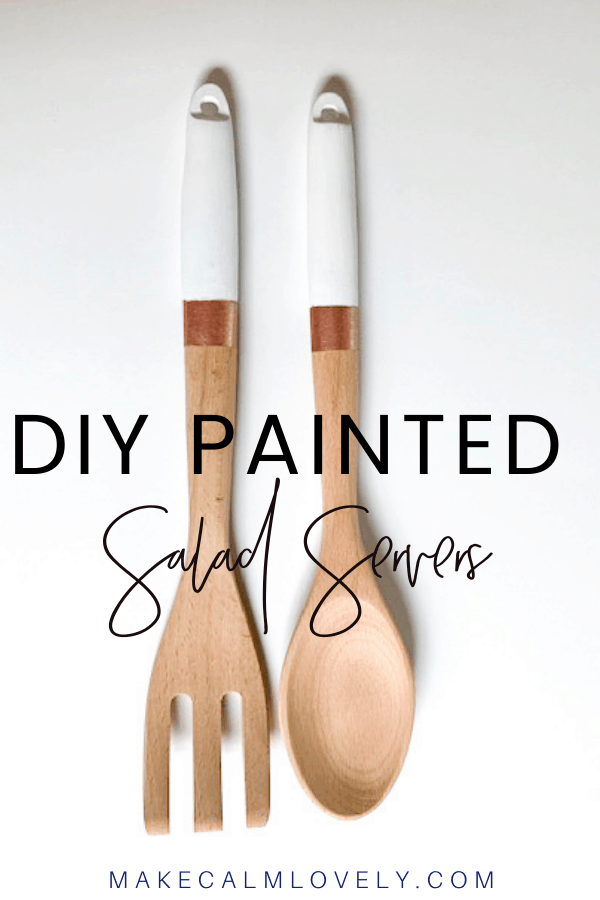 This post contains affiliate links. This means that if you click on a link and purchase something via that link, I may receive a small commission – at absolutely no additional cost to you. You can view my disclosures right here.
Supplies Needed for the Salad Servers
Large wooden spoon (IKEA sells these ones)
Large Wooden fork (as above for IKEA)
Paint Brush
Washi tape, painter's tape or masking tape
Acrylic Sealant (such as this one)
LOVE THIS IKEA HACK? PIN IT FOR LATER!
Follow MAKE CALM LOVELY on Pinterest!
How to make the painted Salad Servers
Mark off on the fork and spoon with tape where the paint will be applied. You are using more white paint for this DIY.
Once you know where you want the paint to go, mask off with tape the white handle painted part first.
Start out by using the white paint and painting most of the handle, including the end of the spoon and fork handles with the hole (if you are using the IKEA fork and spoon or another wooden fork and spoon with a hole in the handle).
When you paint the hole on the spoon and fork, you will notice that paint can build up inside the hole. Just brush away the paint as much as possible as you keep painting the layers. I took a pencil and inserted it into the hole to pull out some of the paint that was stuck inside the hole.
Paint about 3 layers of the white paint, allowing the paint to dry in between each layer. If you feel it needs more than 3 layers you can do more, but 3 should be ample.
Once the paint is dry on all the layers of the white handles, remove the masking tape and re-do the taping to make the copper band painted part.
Paint on the copper metallic paint, layer by layer, for around 3 layers also. Allow each layer to completely dry in between.
Once the copper part is completely dry, and all layers of paint have been applied, remove all the tape from the spoon and fork.
Touch up any pieces that need to be corrected with a smaller brush on each fork and spoon, especially if the paint has mixed a little. You want nice tidy clean edges to each painted part.
Apply an acrylic sealer to each painted handle of the spoon and fork, to make sure the paint stays in place. This will protect the paint, and ensure that it does not rub off when the servers are handled.
Note: These salad servers should be hand washed carefully. Do not wash the painted handles. If you need to clean the handles, spot clean them with a small cloth, trying not to rub hard.
I hope you enjoy your lovely new stylish salad servers! You get a beautiful pair of salad servers for a low cost, and an easy fast DIY too!
See some smaller IKEA hacks here too!
Check out some great IKEA hacks for your weekend!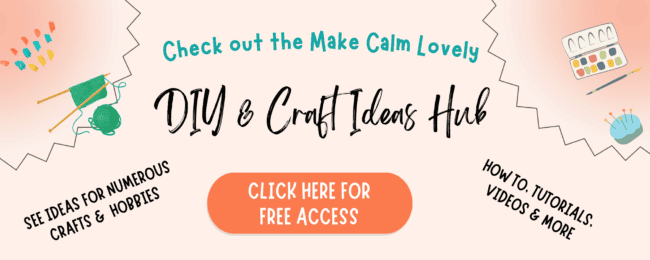 These pretty painted salad servers are a fast and easy DIY! The salad servers are beautiful and just the thing to bring out when you have guests!
About Make Calm Lovely
Make Calm Lovely is a lifestyle blog specializing in IKEA DIY hacks, DIY & craft projects, home decor and so much more! Check out all the amazing things you can do and create to make your life calmier and lovelier at Makecalmlovely.com!