IKEA Shopping Secrets that will give you the Absolute best Deals and Prices
You love IKEA and always shop there. But do you know how to find the best deals and know all the secrets to shopping at IKEA?  This post will let you in on all that insider information!
So you really love IKEA, and a shopping trip to IKEA is something that you really look forward to (or is that just me?!). IKEA has great design, great prices, and practically everyone on the globe has an IKEA close to them somewhere.
But when you shop at IKEA do you know how to get the best deals and the best prices?  There are many little secrets that you will be so glad to know, so you come out a winner every time you head to that blue and yellow store!
This list isn't a short one – because it covers pretty much every tip I could discover about shopping and discounts at IKEA.  If you want the best deals at IKEA I would encourage you to stay with me through the whole list!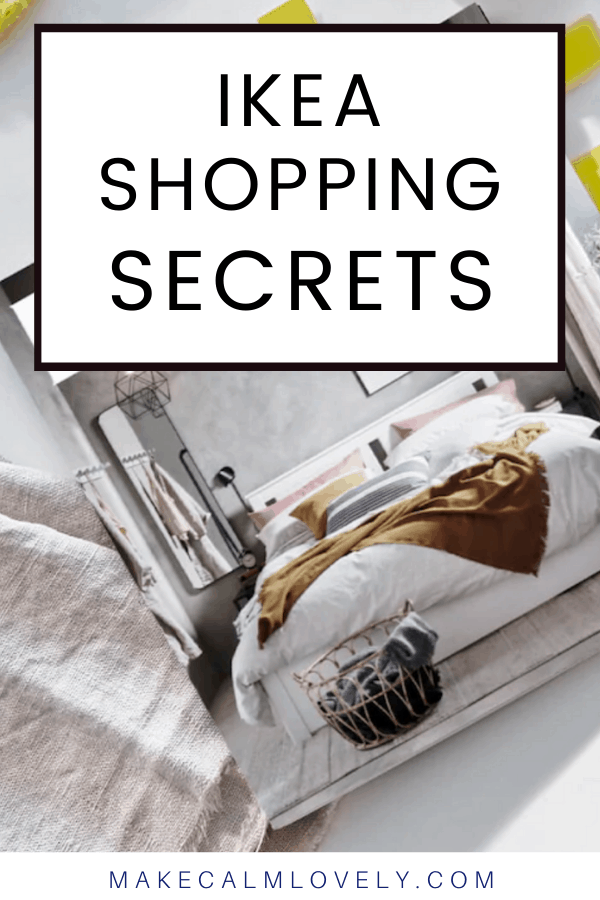 This post contains affiliate links. This means that if you click on a link in this post I may receive a small commission, at absolutely no additional cost to you. You can view my disclosures here.
Join IKEA Family
IKEA Family is IKEA's VIP program.  It is completely free to join and it gives you so many perks. It really is not a question of whether you should join the VIP program, it is more a question of why wouldn't you join it?
With an IKEA Family membership any purchase you make has a 90 day price protection. That means that if an item you bought drops in price within 90 days, they will refund you the difference in price.  
IKEA Family will also give you notice on sales, discounts and special offers, that are geared towards the store that you normally shop at. As you shop at an IKEA store look out for blue IKEA Family labels on items – they mean you can get a special discount on those items too.
The IKEA Family membership also means that you are entitled to a free hot drink (coffee or tea) in their restaurant every time you stop by.  If you have little ones, it also gives them extra time in Smaland. All these little things add up!
In addition, you also get a surprise for your birthday, and monthly chances to win a $100 IKEA gift card (just scan your card to enter).
Find Discounts and Coupons
As mentioned above, an IKEA Family membership gives you notice of any special discounts and coupons.  You can also ask IKEA sales associates in the store if they have any special discount coupons on items.
Buy IKEA Items on Amazon
If you can't get to an IKEA store, you can purchase many IKEA items on Amazon.  
But be warned – you can pay very high prices for those items, as many of them are sold by sellers other than Amazon directly.
There is a way however to get a legit IKEA item that is priced either the same as IKEA stores, or not much more. Just look for sponsored listings or products that are fulfilled by Amazon Prime (get a free trial of Amazon Prime here).
See IKEA items being sold on Amazon here
Related: IKEA's Secret DIY Website
Buy a Display Model
Sometimes that thing that you want is out of stock, and only the floor display model exists.
Many times you can buy a display model for a discounted cost.  But only IKEA store associates can advise you as to whether you can purchase a particular display model (don't bother asking the check-out people, they won't know).
So if you see a display model that you want, find an associate and have them check for you to see if it is available for purchase.
Ask an Associate
If you really need to know something about a certain product, ask whether it is on sale, discounted etc, find and ask an IKEA associate.
IKEA associates are incredibly knowledgeable about everything they sell.  When you go into an IKEA store you will likely see associates just standing around or doing other things.  Unlike most stores they won't come rushing up to you asking how they can help.
IKEA associates are trained that way. They are trained to be on hand when you need them, but not to pester you in case you don't. So never hesitate to ask an associate a question, because they are only too happy to help – when you decide you want the help.
You can Try Before You Buy!
If you are unsure as to how a piece of furniture or item might look in your own home, there is a way to find that out and try before you buy it!
IKEA Place is a free app that allows you to take photos of your room and home, and to see how a particular IKEA product would look in that room.
Last Chance
If you see an item with a yellow 'Last Chance' sticker you are likely to get a really good deal on that item.  Those stickers mean that this is the last time that item is going to be offered at that particular price.  So if you want a good bargain, grab those items!
Typically those Last Chance deals range from 15 – 50% off.
Head to the As Is Section
The best section of an IKEA store to find an amazing deal is in the As Is section.
The As Is section is where items that have been returned are kept and offered at reduced prices.  Because IKEA has a great return policy, many items are assembled at home and then no longer wanted and returned to the store already assembled. So you are likely to get a good deal on those items.
The best time to shop the As Is section and get the best deals is on a Monday morning.  Most returns are made at the weekend, so on Monday mornings you are more likely to get some great deals and more available stock.
Great Returns Policy
IKEA has a fantastic returns policy, so if you are not sure about an item it does give you a little more piece of mind.
IKEA's return policy is 365 days – a whole year!  Even if you have already assembled an item and used it in your home, you can still return it if it is within the 365 days since you first purchased it. Many of those returned items go straight to be sold in the As Is section…
Shop at the Best Time
Being so popular, IKEA stores can be quite packed and busy at times. So knowing the best times to shop will make your shopping experience so much easier.
Weekdays are better than weekends to shop, for obvious reasons. Most people are at work, and there is less traffic heading to IKEA.
Mornings are better than afternoons and evenings, especially when the store first opens in the morning. You are more guaranteed a leisurely walk around the store at that time.
If you have to return something, you can wait in line for quite a while if you don't pick the right time to do that.  The best days to handle returns is weekday mornings, as early as possible.
Get Extra Screws, Hinges and More
If when you assemble an IKEA product you realize that a screw or something else is missing, you can very easily get another one.
Just go to your local IKEA store and ask for those extra pieces. IKEA stores have a Spare Parts section that has all those pieces that you need. Or you can call them and they will mail you what you need free of charge to your home.
But one of my best tips for dealing with needing extra screws etc is to get them when you are actually in the store buying the item you need. Just go up to an IKEA associate and ask them if they have any spare screws etc for the item that you are buying. Associates should have extras, or know where they are found. Or you can check in at the Spare Parts section and ask for extras then and there.
You may also need more tools that you are provided with by IKEA in the packaging.  This tool here is a really handy tool to get to keep on hand for when you are ever assembling IKEA products (and other stores products too!)
Avoid the Crowds & Shop Online
If you really don't want to deal with crowds and crowded stores, shop online.
Everything IKEA sells is available to buy online.  You can also order online and request curbside pickup. For a flat fee of $5 IKEA will have your order ready, and you can just pull up outside and collect your items – then be on your way!
What's more, IKEA then refunds that fee in the form of an IKEA gift card – so it is essentially free!
Map out the Store Before you Go
Every IKEA store has a handy map available at the entrance, for your ease in getting around.
If you don't want to walk through the entire store, just check the map as you go in and figure out where you need to go.  Additional tip – take a photo of that map on your phone too!
IKEA stores are mapped out with arrows that you follow for the flow. But those arrows will take you through the entire store.  But stores do have handy shortcuts to get from one part to another without going through every section.  Those maps show you those shortcuts too! So take a photo of the map and you will get round the store much easier!
Take a Photo of the Item that you Want
For IKEA items that require you to stop by the warehouse at the end to choose your piece boxed, you can do this far easier by using your phone.
Just snap a photo of the ticket for the item you want. That will show you the section it is kept in, and the bin number etc.
That way when you get to the warehouse part of the store, you can pull up the photo and see where you need to go for that item, without having to memorize it.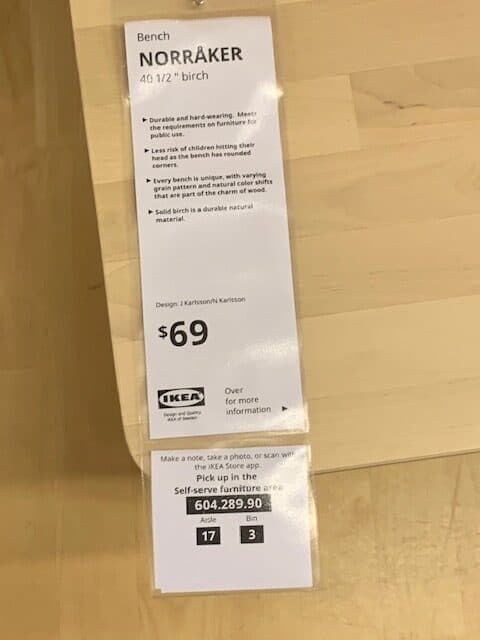 Be Aware of Impulse Shopping Strategies
IKEA counts on a lot of impulse shopping purchases as you walk through its stores. Those impulse purchases are usually made from the bins that are scattered with items throughout the store.
Be aware also, that those items go up in price as you go through the store. At the start of your shopping trip lower cost items will be available in those bins, but as you get towards the cash registers the items get more and more expensive.
Join the IKEA Moving Program
If you are moving home, IKEA has some great help for you.  If you join the Moving Program it gives you a $25 off coupon towards a $250 IKEA purchase.  IKEA will also send you handy checklists and emails to help you with the entire moving process.
Make your Shopping List First
IKEA has a great online feature that enables you to make out your shopping list before heading to the store and shopping.
Go here to this part of the IKEA site to make out your shopping list ahead of time.  You can also use this list as a favorites list to keep on hand whenever you need it.
Take your own Bags
IKEA doesn't supply bags, unless you purchase those iconic blue bags. So you can save money by taking your own bags to IKEA on your next shopping trip.
Get Free Daycare while you Shop
You may not be aware that Smaland is a great play section at IKEA for kids, where you can leave your kids to play while you shop.
This is perfect for busy parents who find it hard shopping with little kids in tow. My kids always loved trying out things in IKEA and loved going through the store, but unless you want a fun family day out you may want to use Smaland!
You get up to an hour in Smaland for your kids – long enough for most shopping trips. But if you are an IKEA Family member you get longer than that!
Find an Instructional Video
Many of us are stumped when putting together a piece of furniture. Even though IKEA instructions are pretty good, and completely visual, there may come a time when you just don't get how to do a certain thing.
So go online to IKEA and see if there is an instructional video available for that piece to help you.  IKEA knows that you may run into problems, and has a lot of instructional material available to help you.
IKEA tells you what is New
IKEA will always tell you what its new items are with tags and signs throughout the store.  If you want one of the newest products, look out for these signs as you go through the store!
IKEA has some Great Food
The IKEA food market actually contains some amazing food items.  Not only do they sell their famous meatballs, they also sell the most amazing chocolate.
Some of my favorite food items that I pick up on an IKEA shopping trip are their frozen pancakes (more like crepes), cinnamon buns, ginger thins, coffee and teas, frozen almond cake, frozen saffron roll, and their amazing frozen vegetable medallions.
IKEA are now also selling plant balls – which are their meatballs meat free!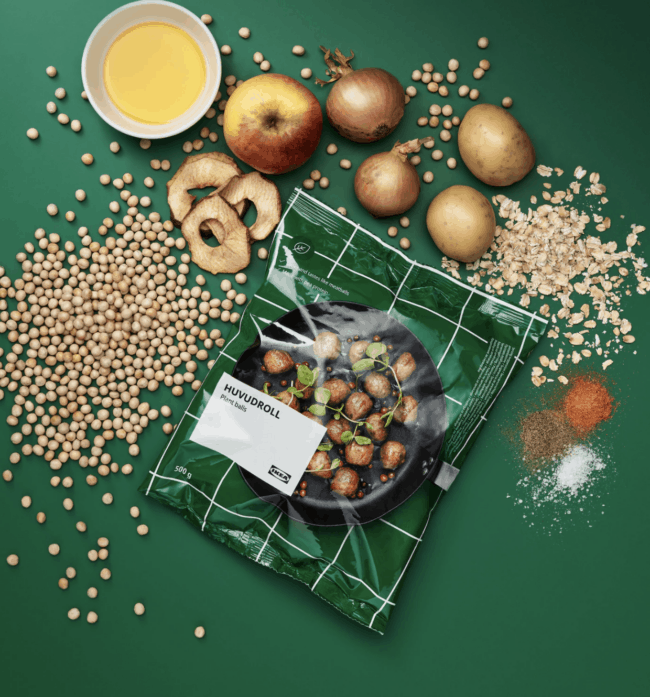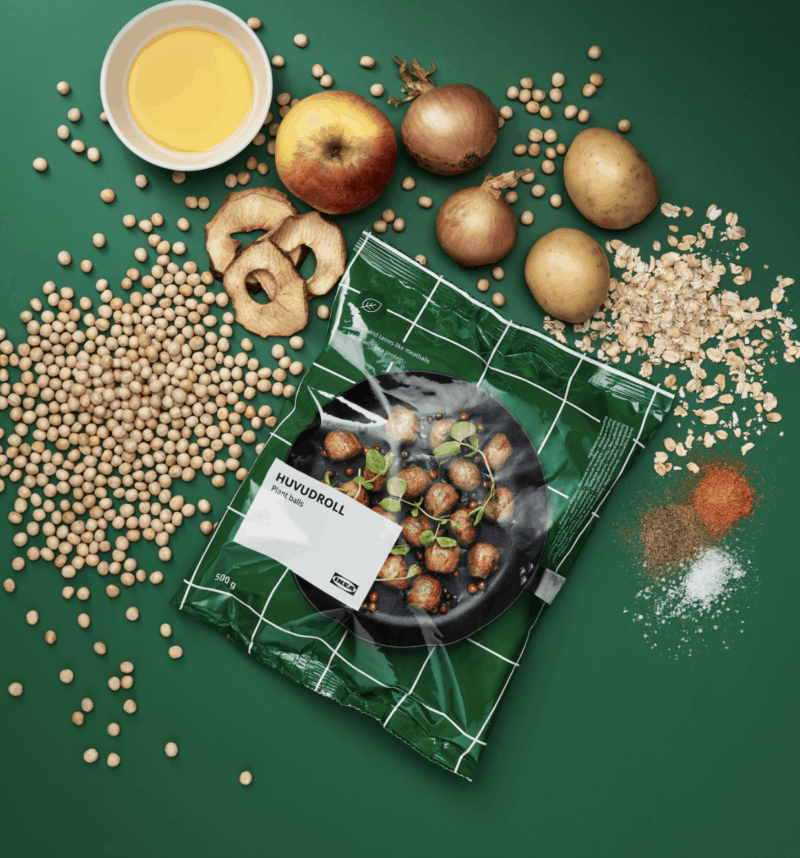 Photo:  IKEA
Have Someone Else Assemble your Product
If DIY and assembly just really isn't your thing, have someone else do it for you!
IKEA has partnered with TaskRabbit which helps you find a local assembly partner to do it all for you.
Check Something is Available Before you Go
If you want to avoid a wasted trip, you can check online to see if a product is available before you set out to your local IKEA store.
Select your local store online, and you will be able to quickly and easily see if that item is in stock at your local store. If it isn't you may be able to find it in stock at another IKEA branch.
Everything you Need to know is on the Price Tag
The price tags on IKEA items don't just give you the price.
They also tell you absolutely everything you need to know about a product. They tell you the size, measurements, material, features, and that item's location in the warehouse too.
You can Change Something that isn't quite what you want!
Yes – it's called an IKEA hack!  Practically everything you can buy at IKEA can be hacked – or changed – to be different.
You can change the color by spray painting something. You can turn a basic cart into an amazing bar cart. You can decorate items to change their look.
IKEA hacks are a big thing.  It creates something more unique and different. It could be the answer to something being great but not quite the same color for instance.
Related: IKEA Desk Hacks
Related: Amazing IKEA Hacks for your Weekend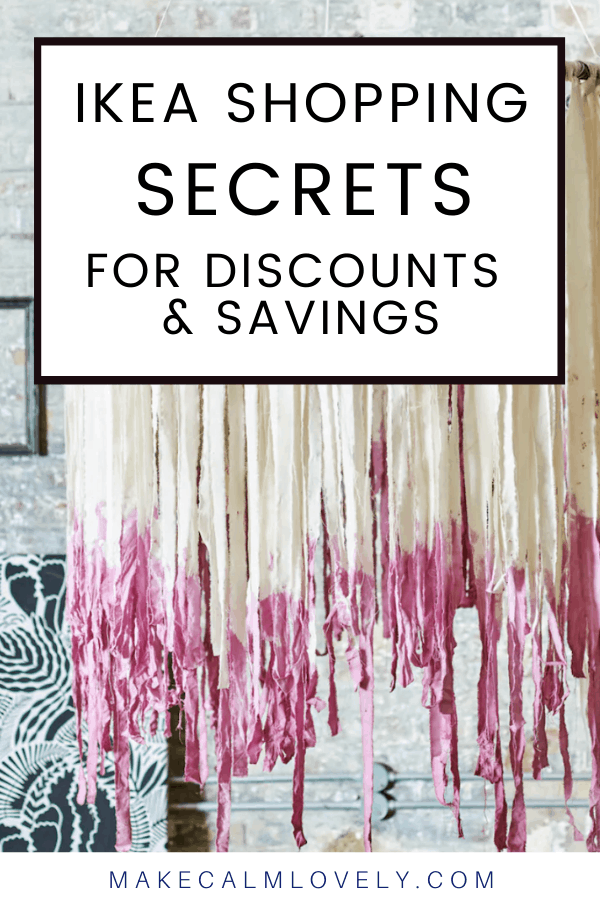 Hopefully these tips and suggestions will help you get more out of your IKEA shopping trip!  
You love IKEA and always shop there. But are you always getting the best deals, and do you know how to find the best deals and know all the secrets to shopping at IKEA?  I will cover all that here in this post!
About Make Calm Lovely
Make Calm Lovely is a lifestyle blog specializing in IKEA DIY hacks, DIY & craft projects, home decor and so much more! Check out all the amazing things you can do and create to make your life calmier and lovelier at Makecalmlovely.com!