My Favorite Zero Waste IKEA Products
Incorporating zero waste greener products into your home and family life doesn't need to be complicated or hard.  These 12 products are all available at IKEA stores everywhere, and they will be a great step in the right green direction for you!
Going green and being more aware of what you buy, use and waste doesn't need to be hard or intimidating.
It is actually very easy to choose and use greener products, and there are so many available. You may not even realize that a certain product you are using is made from a recycled product.
If you are focusing more and more on zero waste greener products for you, your family and your home, here are some great ideas for you.
All these products either replace something wasteful, or use ingredients and things that are usually just thrown away and wasted.
From rugs made from leftover textiles, batteries that can be recharged and used over and over again, and storage boxes and baskets, IKEA has so many products that are zero waste and greener.
Here are 12 of my favorite IKEA zero waste green products that are available from IKEA stores everywhere.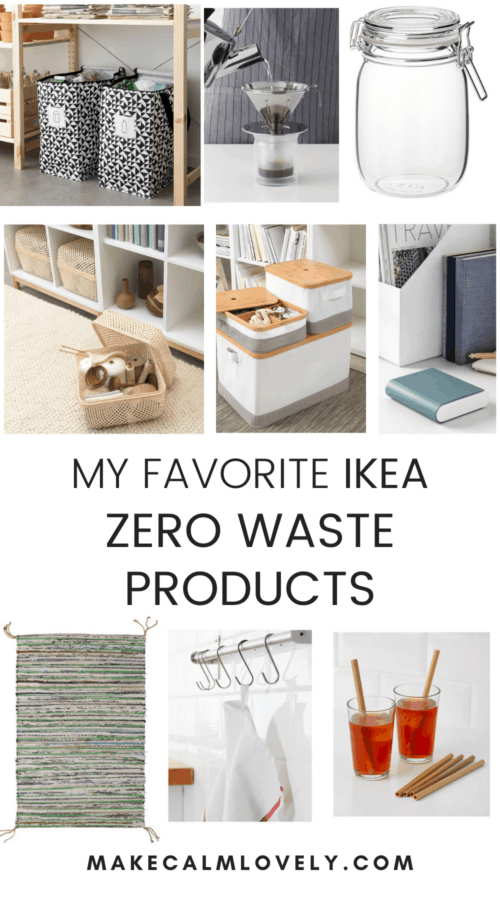 IKEA Zero Waste Products
IKEA has a policy to see waste as value.  Their goal is to use resources carefully,  and to create more from waste. The ultimate goal is a healthier safer planet.
IKEA's goal is to buy all its major materials from sustainable resources by 2020.  This was already achieved for cotton by 2015. 
98% of IKEA's home furnishing materials, including packaging, are made from renewable, recyclable, or recycled materials already!
Kungsfors Mesh Bags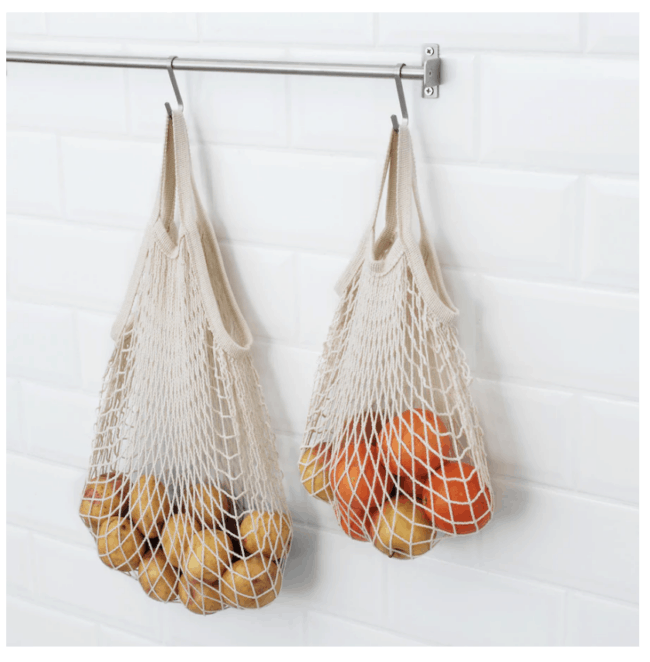 The Kungsfors mesh bags that IKEA sells are the perfect reusable grocery bags!  These bags come in a set. of 2, and they are made of cotton from sustainable plantations.  
By using these cotton mesh bags you can completely eliminate using plastic bags. They stretch and can hold an incredible amount of items too.
You can also use these bags to store fruit and vegetables, which makes them last longer too.
365+ Glass & Cork Pitcher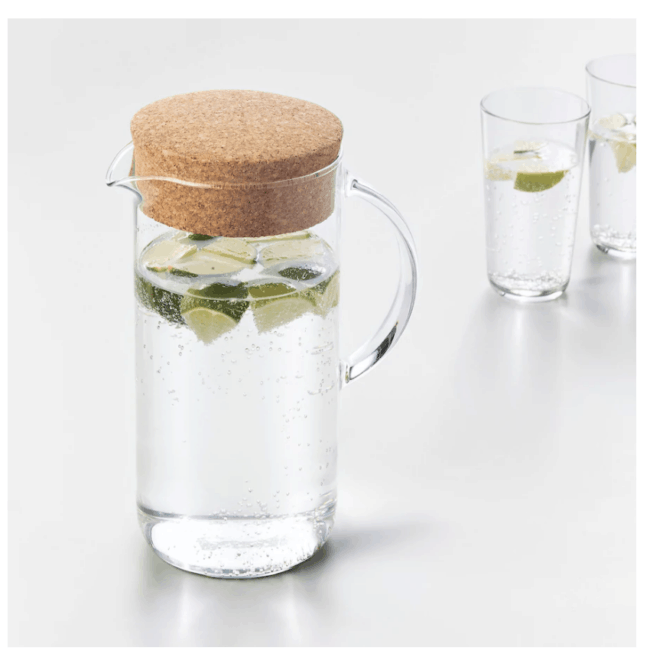 This glass pitcher can be used to store your drinks and juices, to eliminate having to use cardboard and plastic containers.
The cork lid is made from the bark of the cork oak, which can be stripped numerous times during its lifetime without harming the tree.
Bamboo Drinking Straws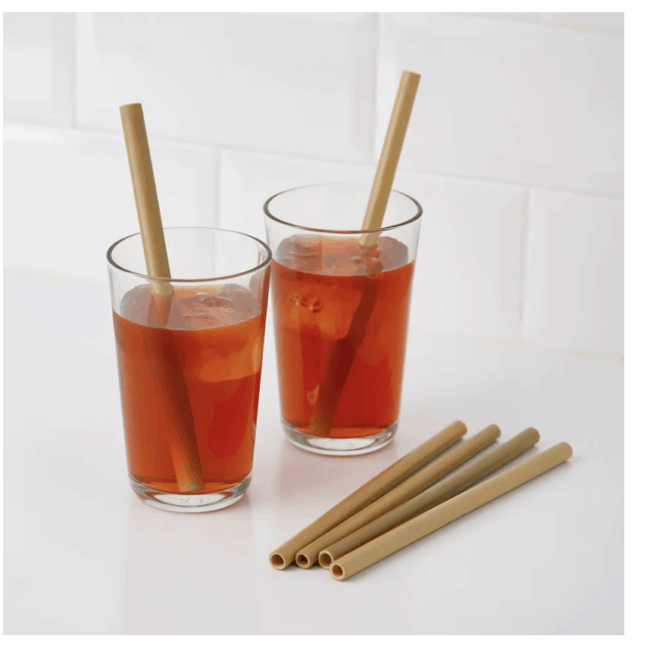 Eliminate plastic straws completely, with these Okuvlig bamboo straws.  You can use these straws time and time again, and they come complete with cleaning brushes also.
Battery Charger and Rechargeable Batteries
The Tjugo battery charger has storage also, and can recharge the Ladda rechargeable batteries.  This will reduce the waste of using and discarding regular batteries, and it will also save on money too.
If you are using electronics that need lots of batteries, this will be a life saver for you!
Tekla Dish Towels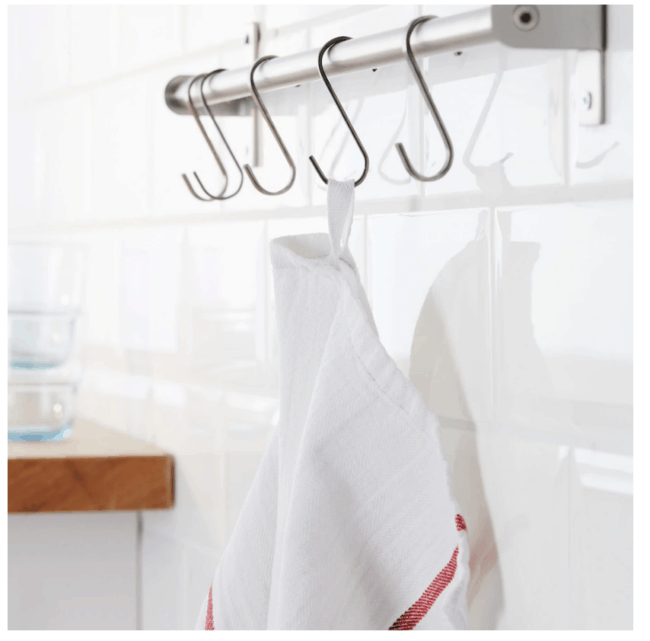 IKEA Tekla dish towels are made with renewable cotton, and they are inexpensive to buy. You could buy many of these and use them in place of paper towels.
Rabbla Storage Boxes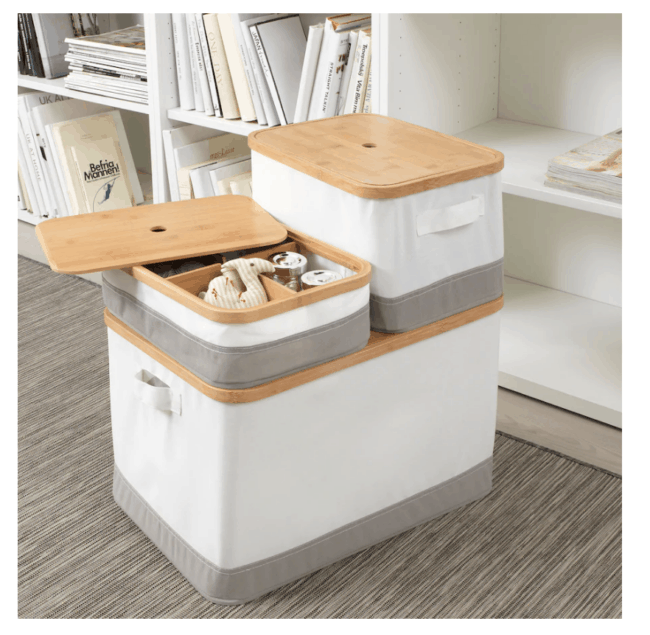 Rabbla boxes come in a variety of different sizes, and they are made from recycled polyester. The lids are made of natural bamboo.  
Korken Jars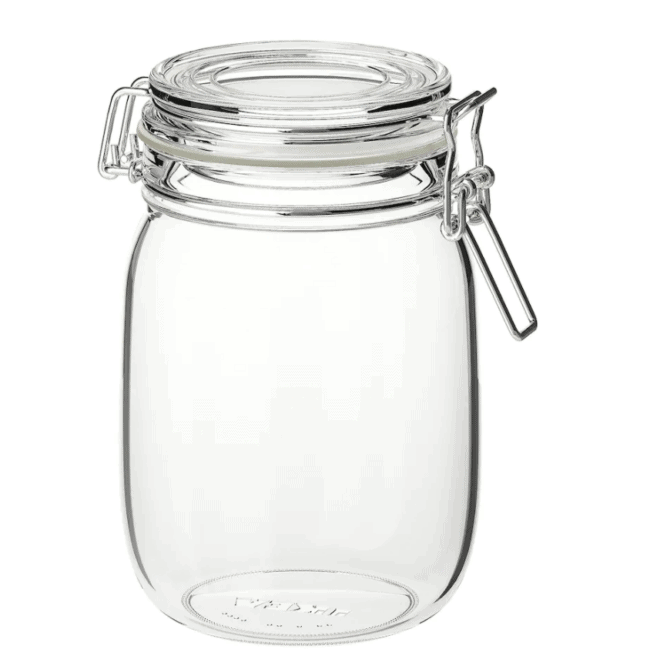 IKEA's Korken glass jars come in a variety of different sizes.  You can store all kinds of liquids and dry foods in these, and eliminate plastic completely.
Tanum Rug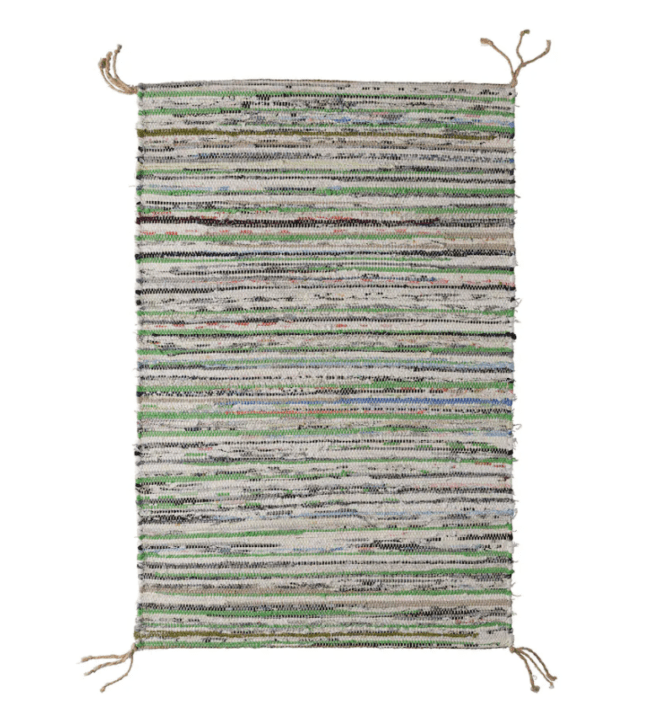 The Tanum rug is made from leftover fabric from IKEA's textile production.  Each rug is unique, and each is made from slightly different fabric leftovers. 
Knalla Bag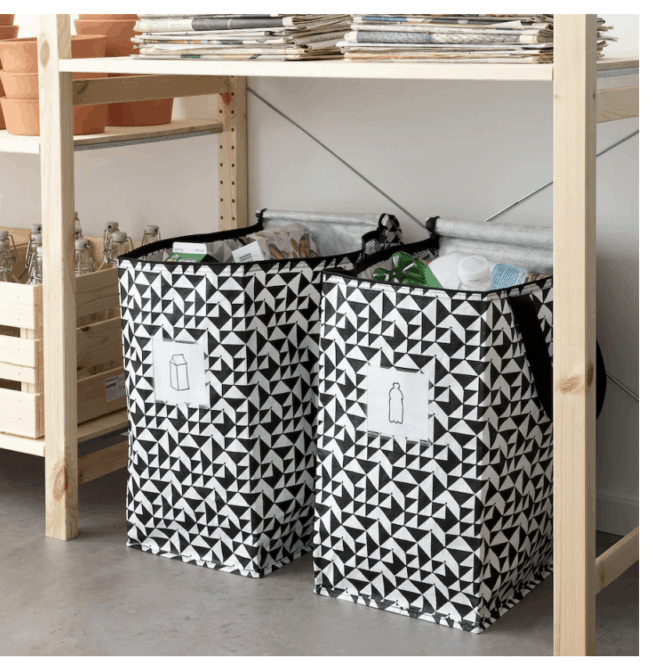 The Knalla bag is a fairly heavy duty reusable bag. Use it to store recycling, your laundry, take it to the grocery store and more! It is easy to wipe clean and use time and time again.
Overst Metal Coffee Filter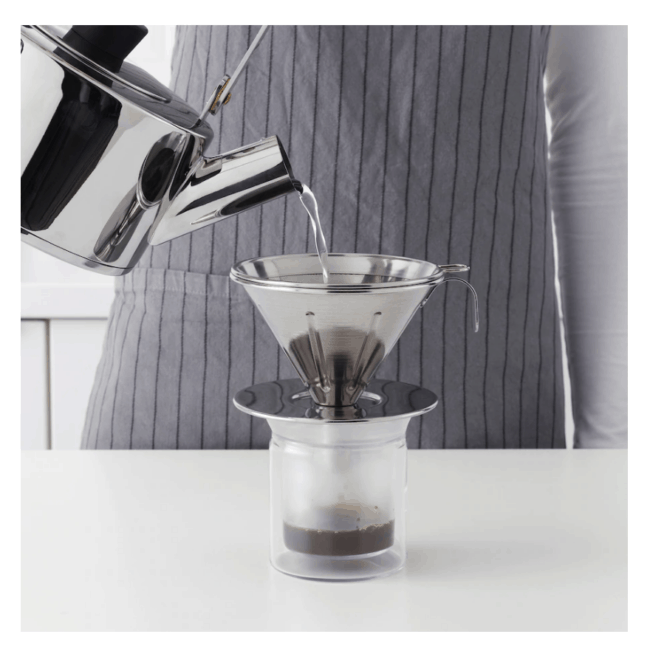 Don't contribute to waste with paper coffee filters. This stainless steel coffee filter will make the perfect cup of coffee, time after time!
Smarra Bamboo Box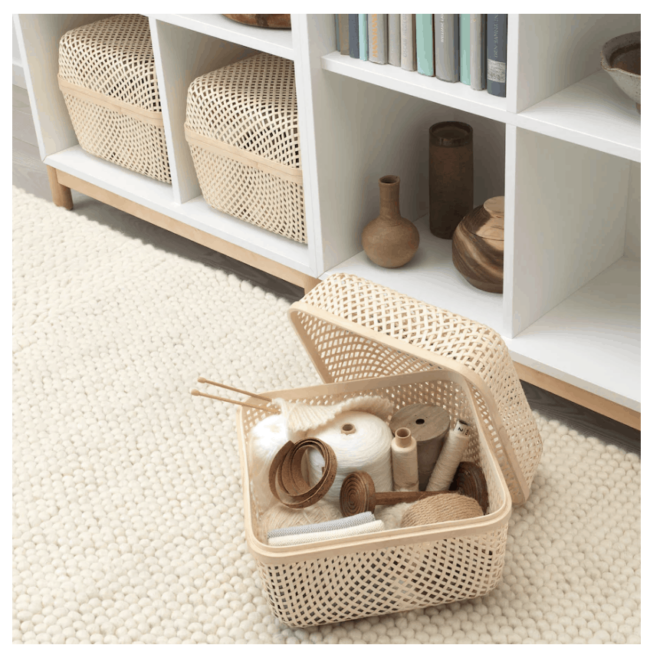 Smarra lidded boxes are made from natural bamboo. They can be used for a wide variety of uses in your home, including storage in pretty much every room of your home, and for any purpose.  They are so pretty that they look great used anywhere.
Pudda Basket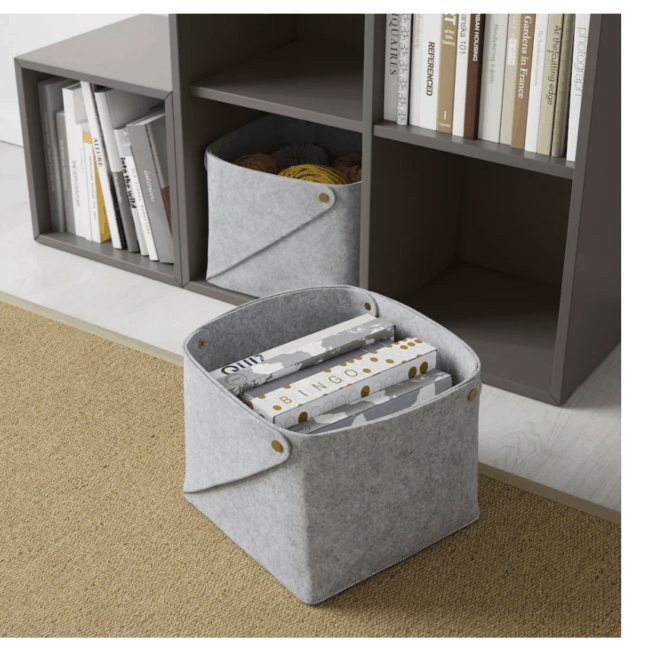 These storage baskets are made from recycled polyester.  They are so pretty and can be used just about anywhere in your home for much needed storage.
If you are not already, you can easily start incorporating more zero waste products and practices into your home and family life, especially with these widely available IKEA products featured here.
The great thing about IKEA products is also that they are wallet-friendly, and practically everyone has an IKEA store fairly close to them, whatever city they live in, and whatever country.
That means you can very easily start using zero waste greener products, and gradually replace what you normally use with greener options.
You may also like:
Great Farmhouse IKEA finds for your Kitchen
The Best Boho Style Finds from IKEA
You can view all about IKEA's zero waste policy right here.
Incorporating zero waste greener products into your home and family life doesn't need to be complicated or hard.  These 12 products are all available at IKEA stores everywhere, and they will be a great step in the right green direction for you!
About Make Calm Lovely
Make Calm Lovely is a lifestyle blog specializing in IKEA DIY hacks, DIY & craft projects, home decor and so much more! Check out all the amazing things you can do and create to make your life calmier and lovelier at Makecalmlovely.com!