12 Magnificent IKEA Mudroom Hacks
Mudrooms are great areas to have your home for all kinds of storage, especially shoes, bags and coats. Here are 12 magnificent mudroom hacks using IKEA products for your home.
A mudroom is a really useful space to have in your home, as well as being pretty desirable too these days.
Mud rooms can collect all those things that just clutter your home – coats, bags, shoes, even paper and more.
A mud room creates a space to keep everything in one place to hand at all times, and they are also a space where items can be easily found.
Mud rooms can be created so incredibly easily using IKEA products. IKEA benches, wardrobes, and more form a great base for a mudroom or mudroom area.
You could also create a mudroom inside your laundry room too – if you have an area that you can utilize for this.
Because IKEA hacks can be so amazing, a lot of those IKEA products incorporated into hacks look custom-made and built in too. Nobody would ever know that many of these mudrooms started life as IKEA products!
So here I am featuring 12 of the most magnificent IKEA mudroom hacks that I have come across!
I think you will agree that some of these hacks look so amazing, and you may be shocked to know they started their life as a readily available IKEA product!
New to IKEA Hacks? Start here for everything you need to know about IKEA Hacks!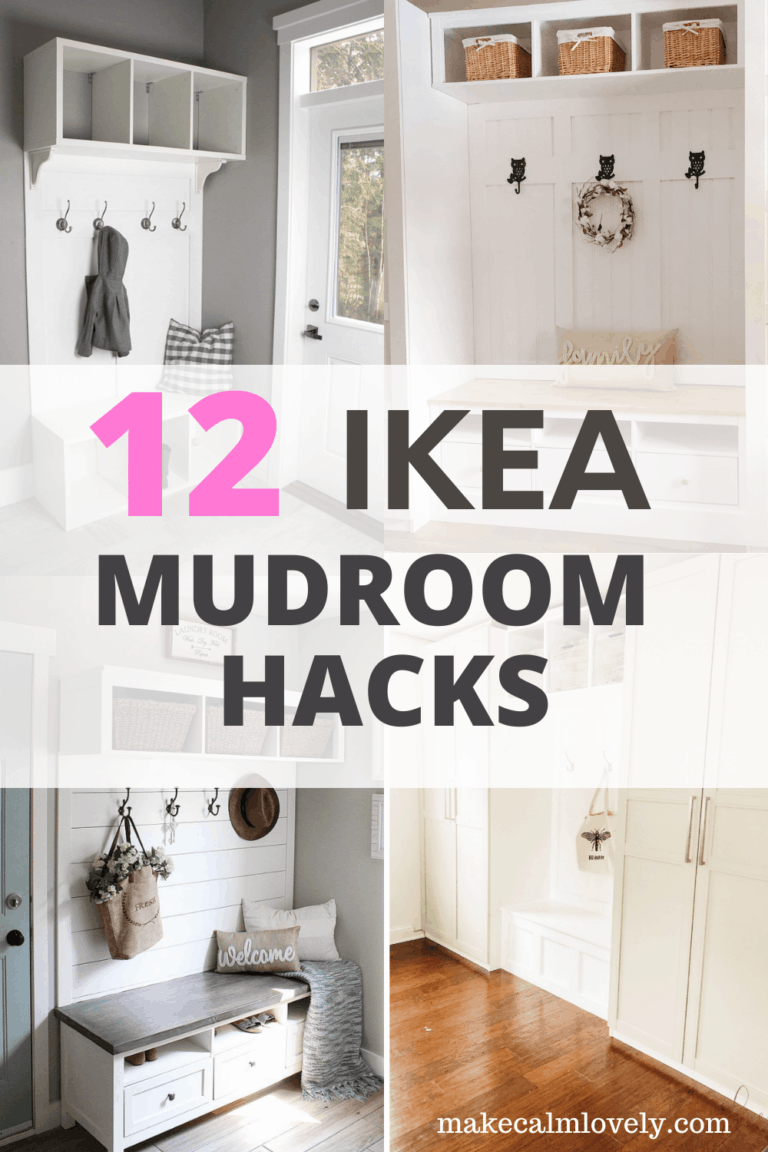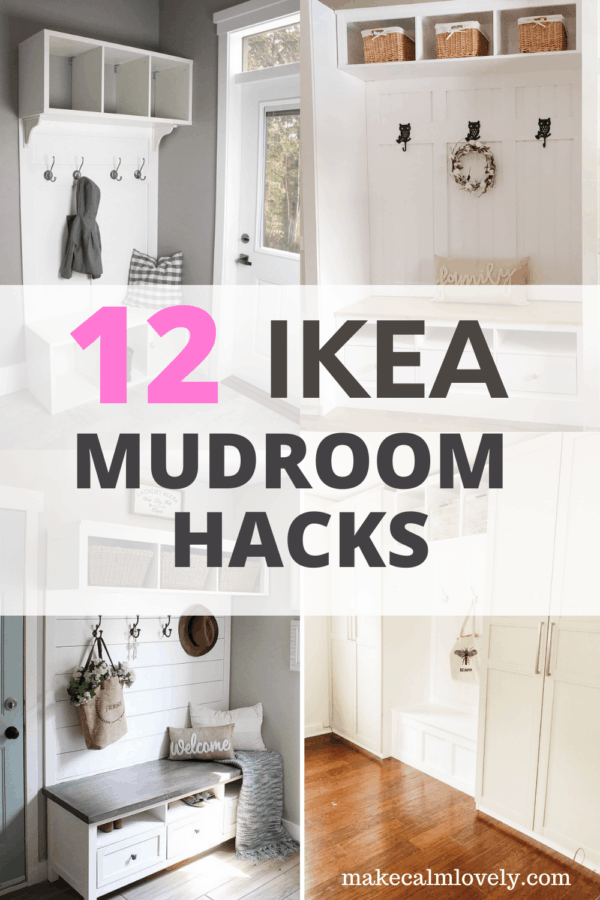 What is a Mudroom?
A mudroom is a place in your home where you can store and keep your shoes, coats and jackets, and park your bags too.
You can also keep all kinds of other things in a mudroom – such as your dog's lease and toys, things that your kids need readily to hand for school, as well as papers and important documents.
A mudroom can be a separate room or an area in your home inside a room or space. Mud rooms are often found inside entryways or close to entrance hallways in homes.
The goal of a mudroom is that it should be easily accessible as you first enter your home, so you are not dragging your shoes, coats and bags throughout the house.
A mudroom is a place where you know where to find something at all times, and can access those items quickly and easily.

12 Magnificent IKEA Mudroom Hacks
Here are all 12 of those hacks for mudrooms using IKEA products.
IKEA Hemnes Media Unit Mudroom Hack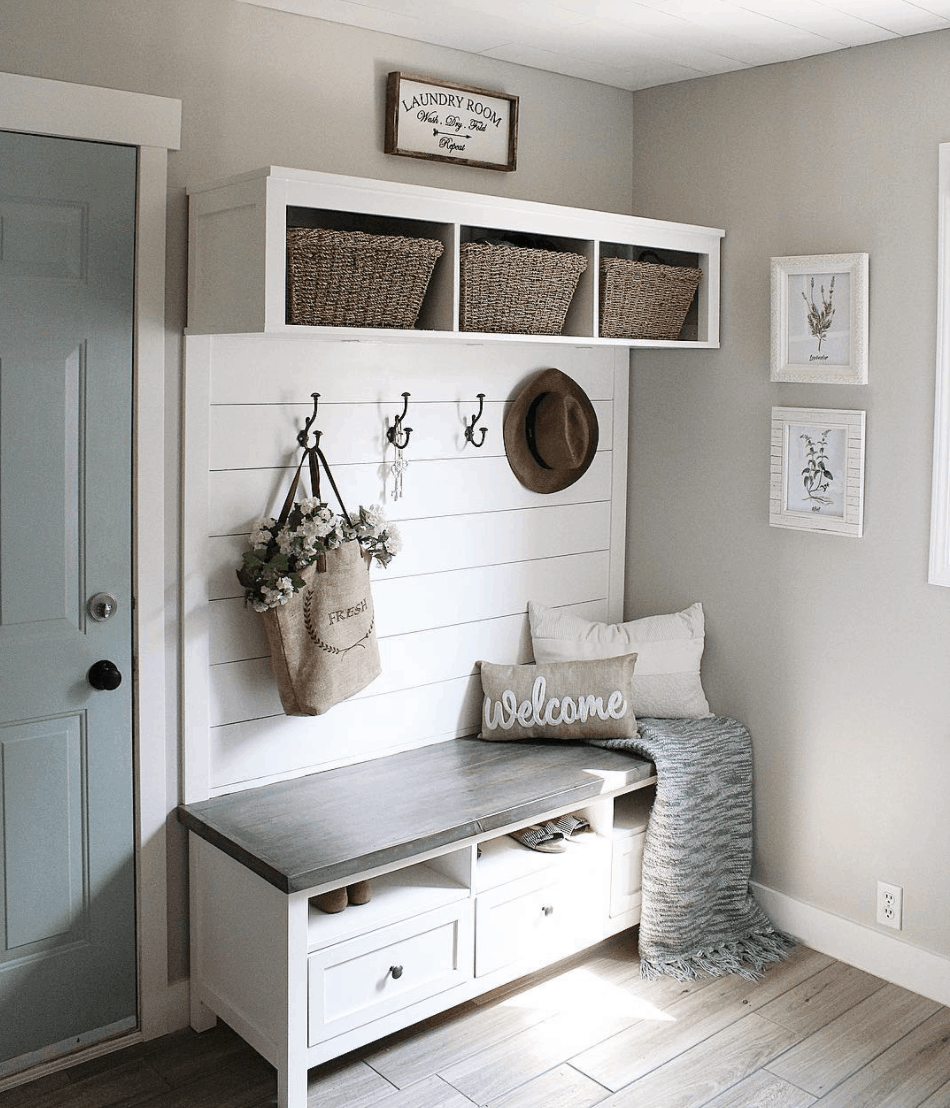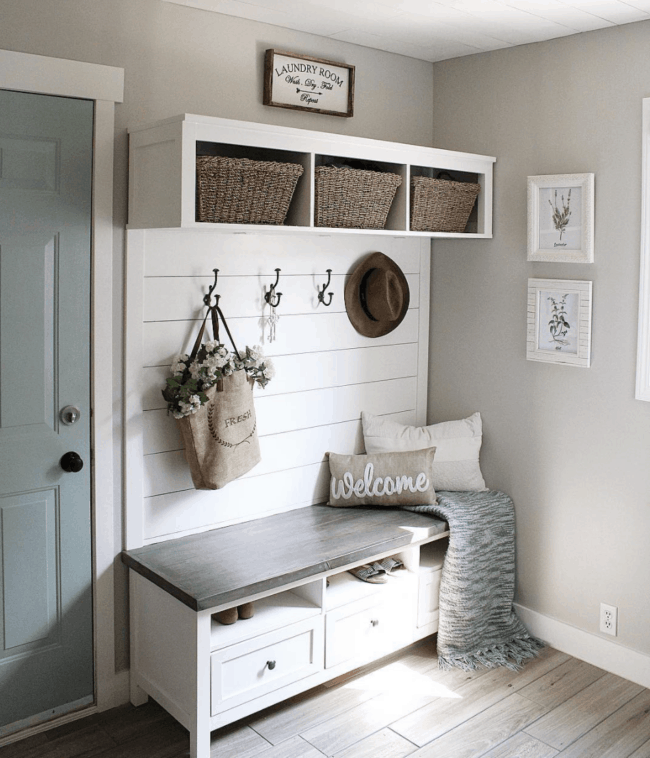 An IKEA Hemnes media unit forms the basis of this pretty and stylish mudroom hack. The wall behind has been framed and blocked with shiplap, with another IKEA unit added at the top. See it here.
This is the perfect little mudroom area to tuck away easily inside an entrance hall or other room.
Related: Beautiful & Stylish IKEA Bench Hacks
Mudroom Hack for under $200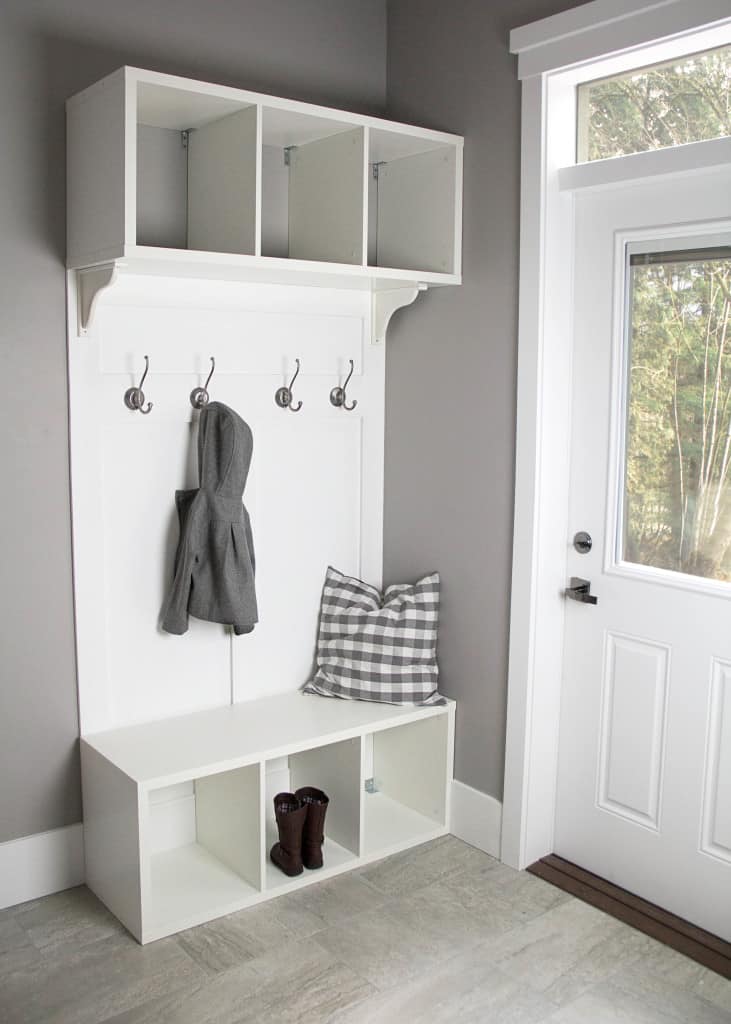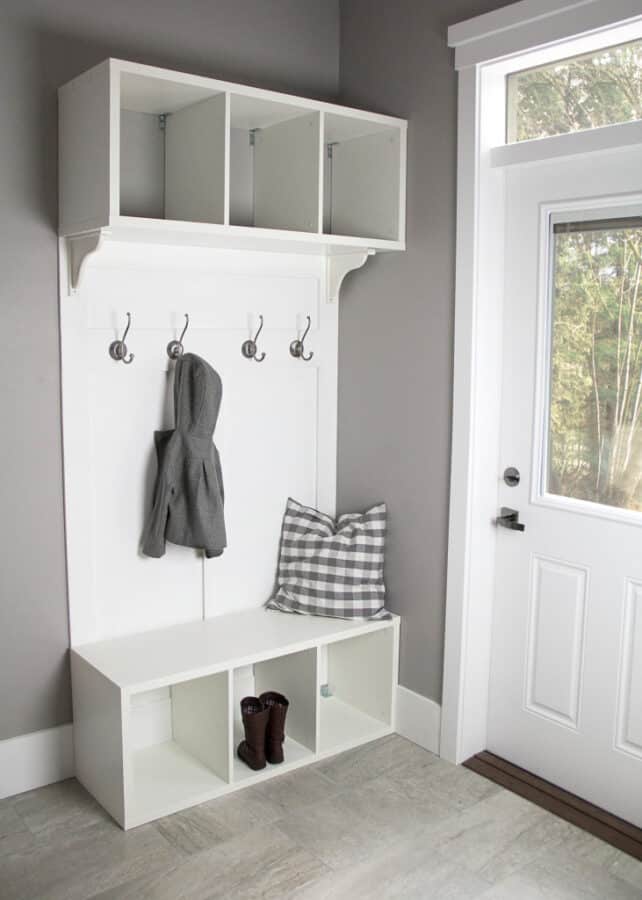 This mudroom is very budget friendly, as it was created for under $200. As you can see it is small, but has ample space for hanging coats and bags, storing shoes, and even bags. It uses IKEA Stolmen units. You can see the hack right here.
DIY Mudroom Bench & Storage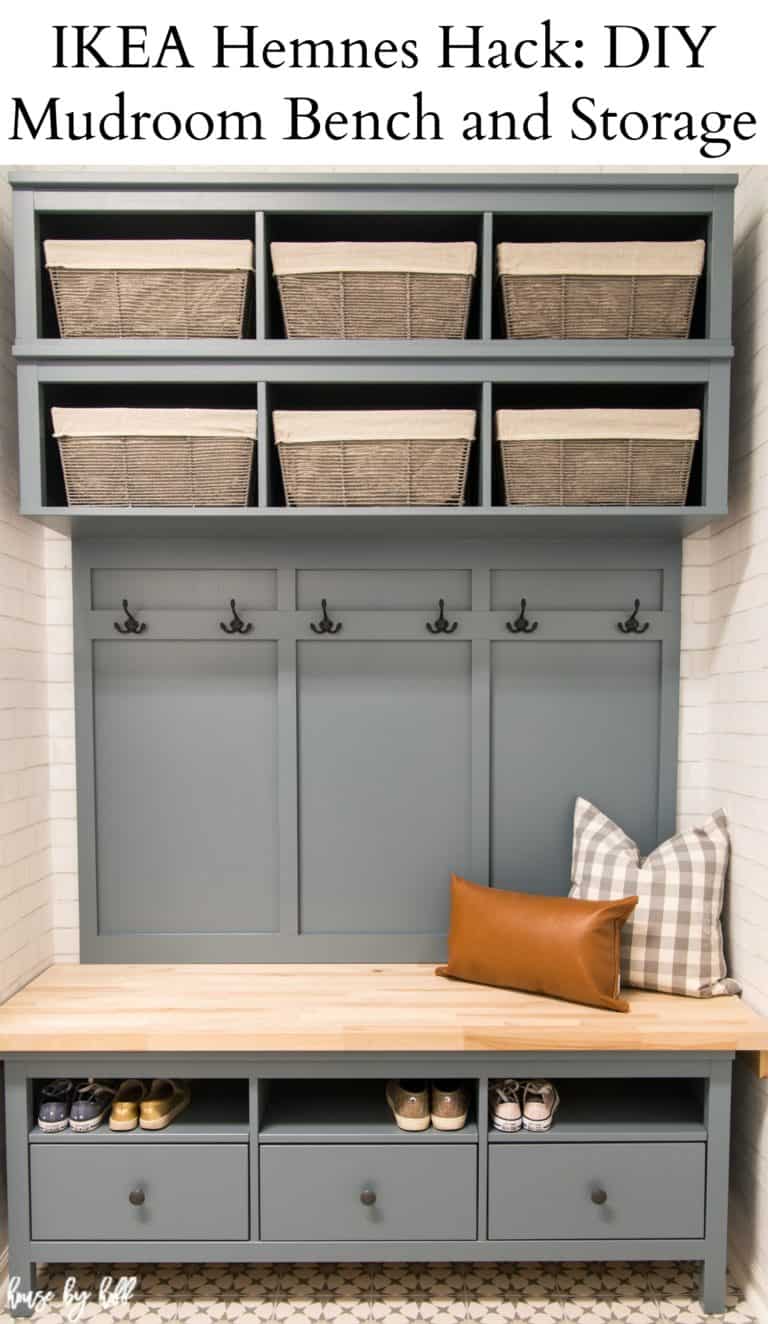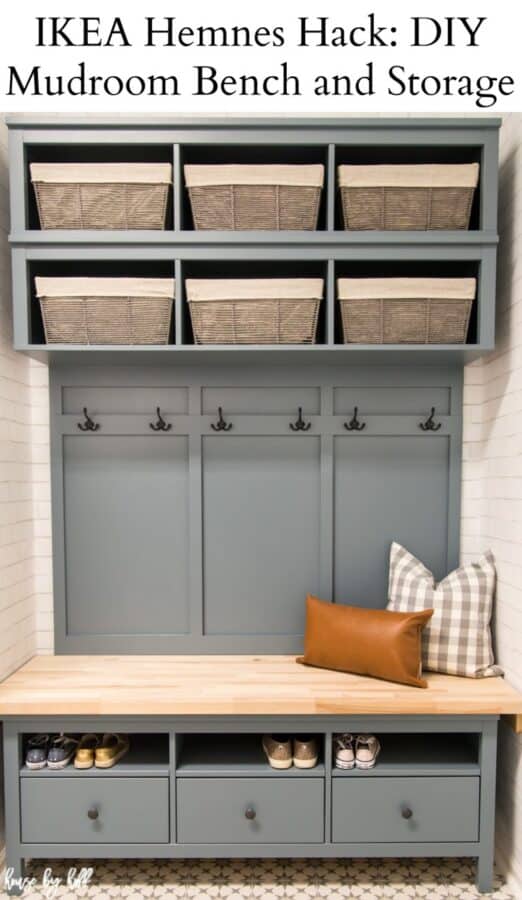 An IKEA Hemnes bench is again being used in this mudroom hack. There is ample space for shoes, coats, bags and everything else you need in a mudroom.
The drawers are useful and can also hide some things away. The top baskets can store so many things that you need to keep close by. You can see the hack right here.
LOVE THIS IKEA HACK? PIN IT FOR LATER!
Follow MAKE CALM LOVELY on Pinterest!
Built-In Mudroom using IKEA Pax Wardrobes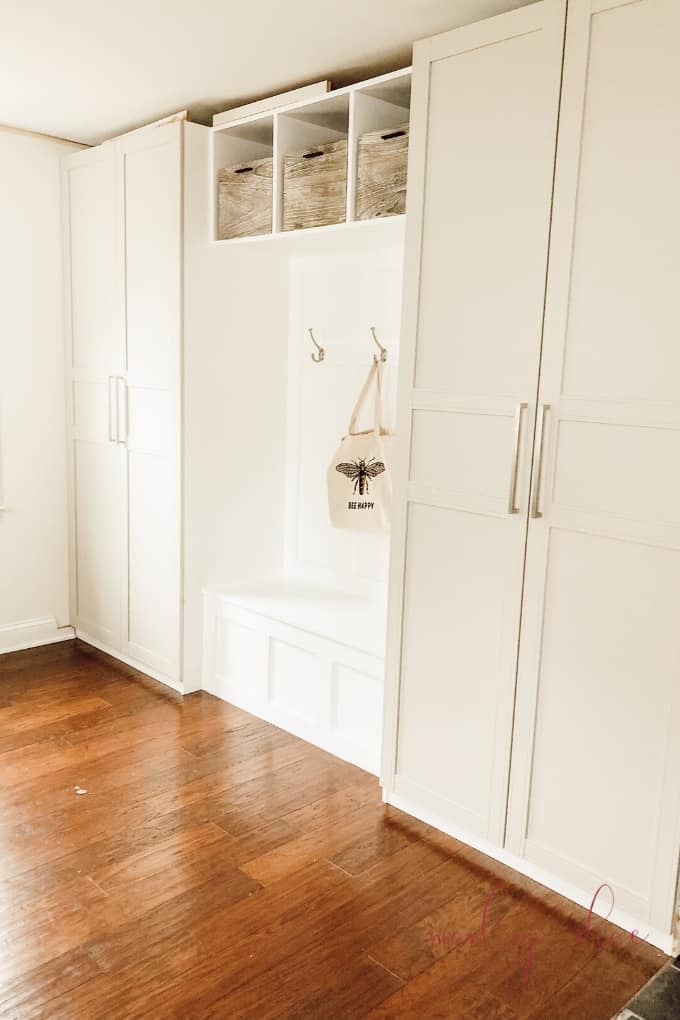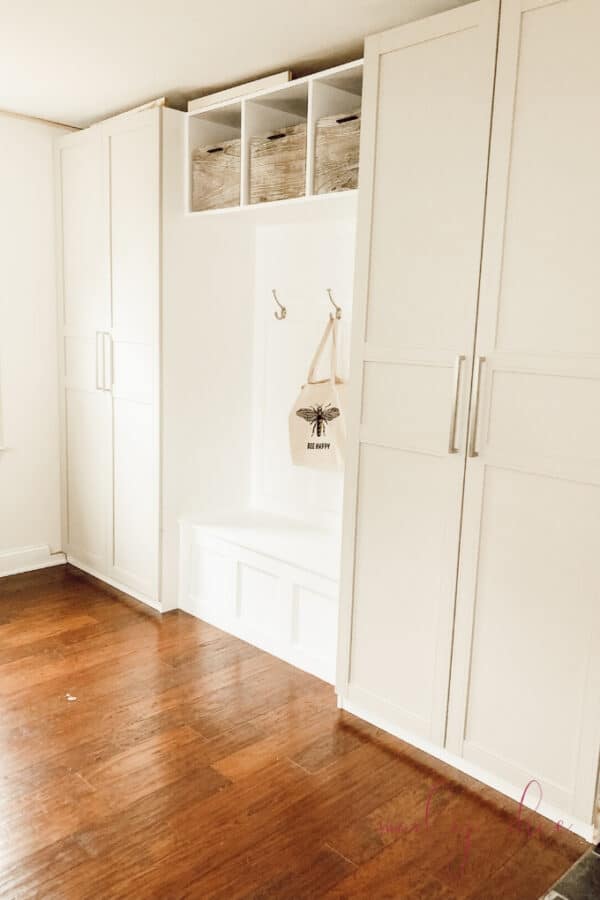 The main focus of this beautiful mudroom is IKEA Pax wardrobes. They create amazing and useful space for hanging your coats and bags, and storing all kinds of things out of sight and easily accessed.
These simple IKEA units are fitted onto the wall and look absolutely custom made and expensive. You can see the hack right here.
Related: 11 Amazing IKEA Shoe Storage Hacks
DIY Mudroom Cubby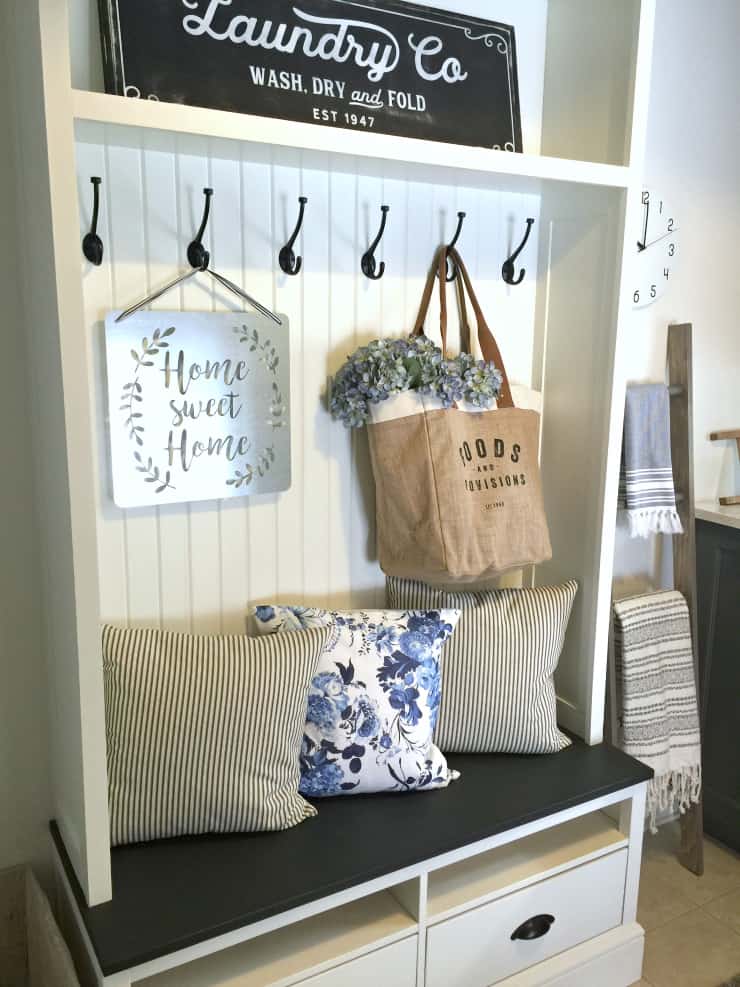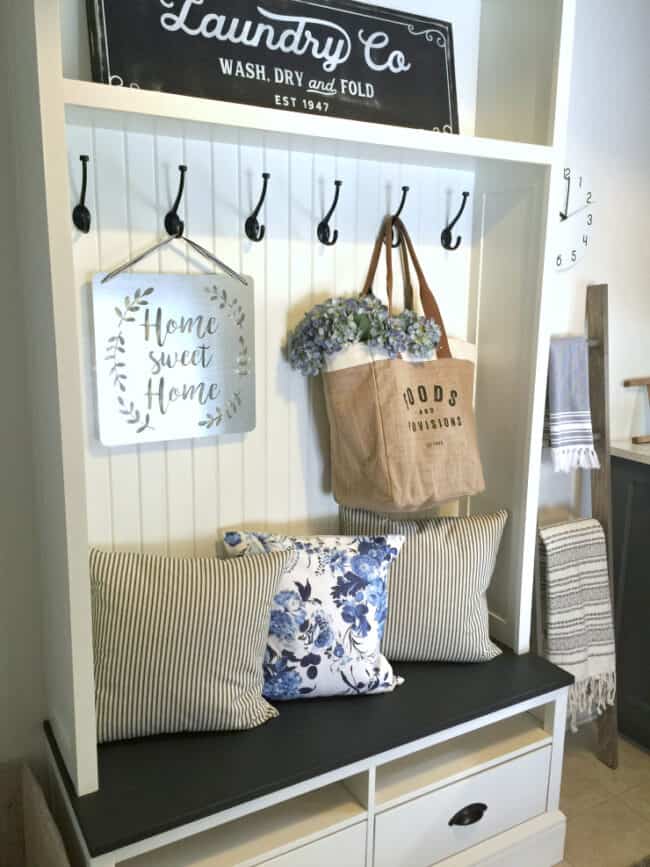 This pretty mudroom hack features an IKEA Hemnes TV media unit as its base. Then a mudroom has been built around it, complete with handy storage cubbies. You can see the hack here.
Easy Mudroom DIY IKEA Hack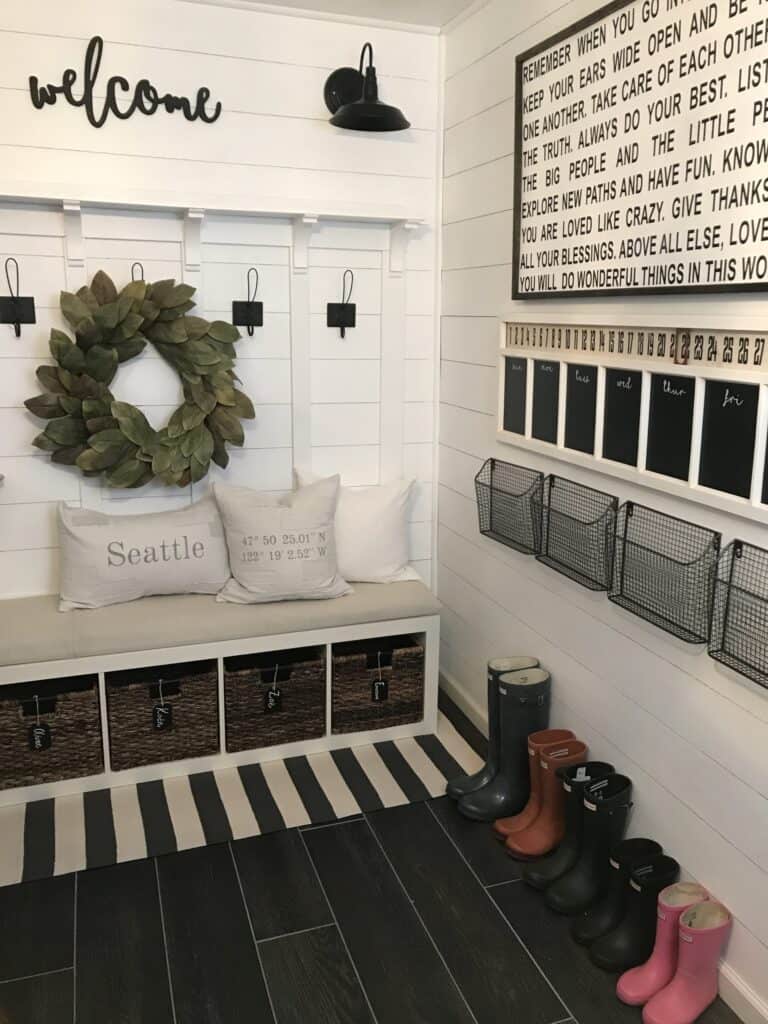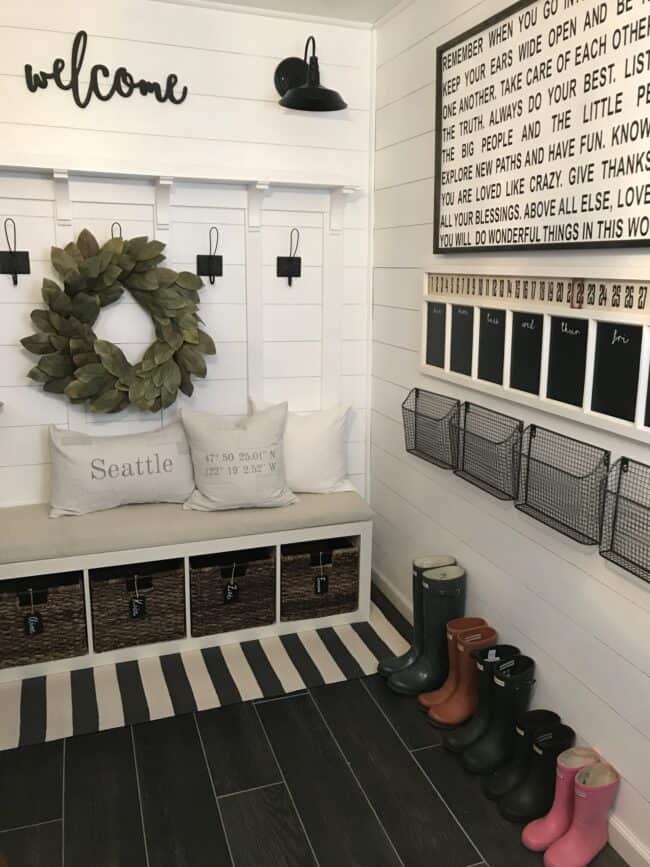 This really stylish and useful mudroom is created using an IKEA Kallax bench as its base. The rest of the mudroom is then built around this. You can see this hack here.
Simple Entry Cubbies IKEA Hack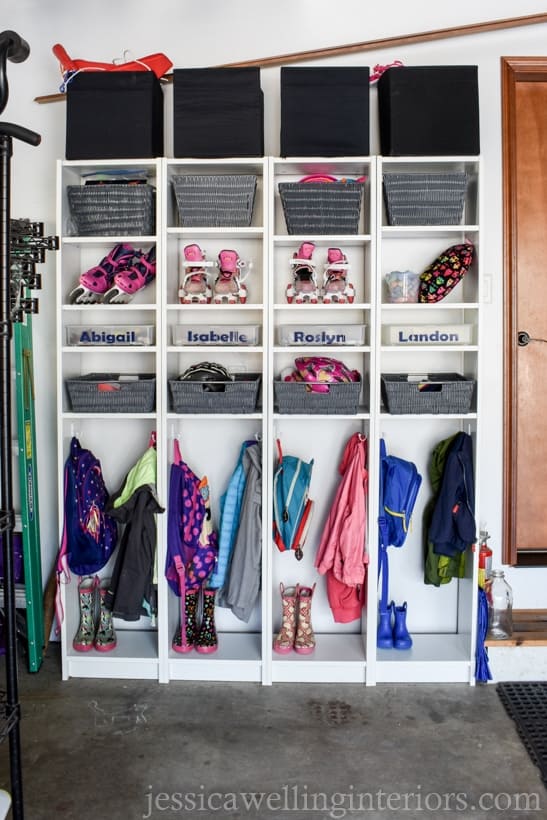 This hack creates cubbies for the entire family. This means that everyone knows where to put their shoes, where to hang their coats, and where everything else is!
This mudroom unit is especially great for larger families. Everyone knows their space, it is clearly labeled, and everyone will know where to find their things at all times!
Related: 17 IKEA Hacks that look Designer & Expensive
Pretty Mudroom Hack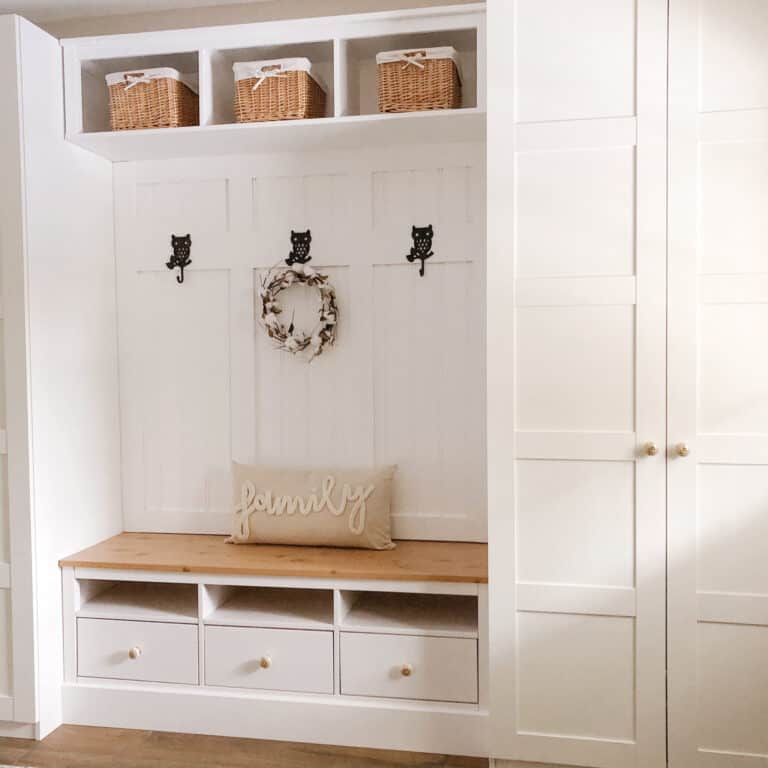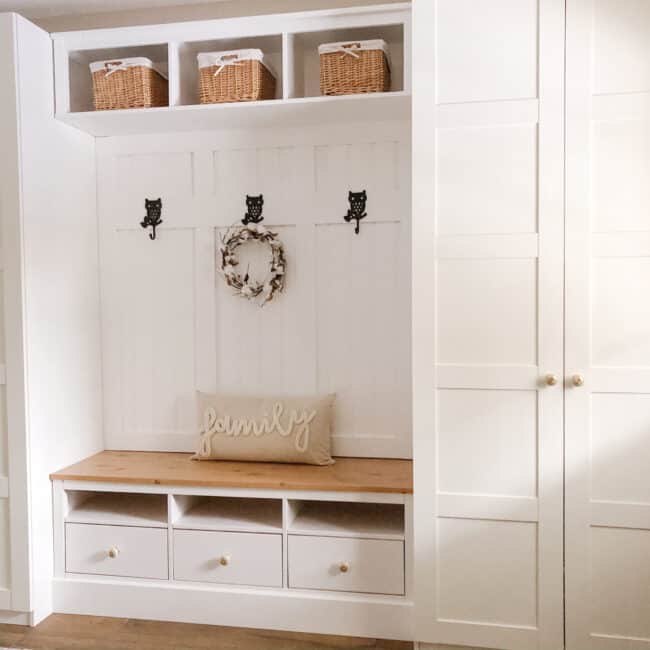 This pretty mudroom uses an IKEA Hemnes bench, Pax wardrobes and IKEA baskets. It is a great example of how IKEA furniture can look built-in and custom-made even though it isn't!
I love the look of the natural wood against the white paint in this hack. You could also put a cushion on top of the bench too.
Instant Small Mudroom Makeover
I will let this video tell you all you need to know about this mudroom makeover!
Pax Wardrobes IKEA Mudroom Hack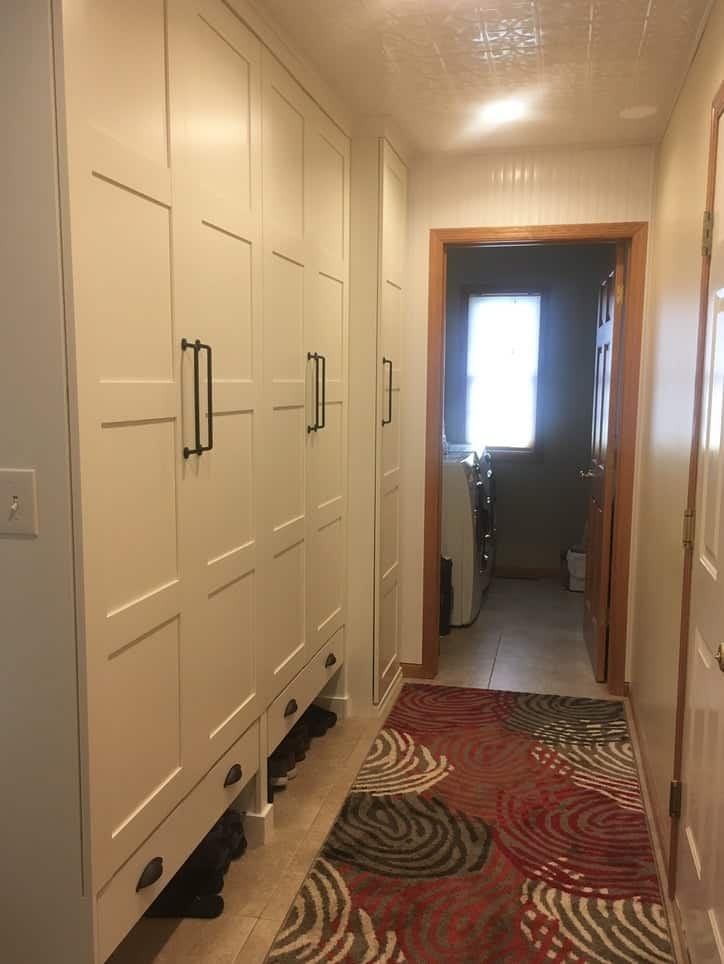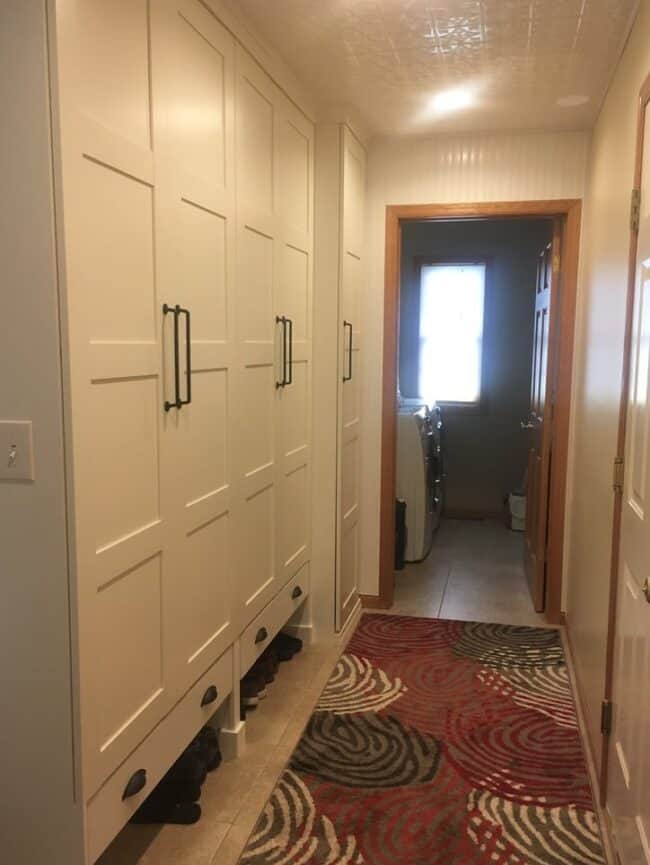 In this hack IKEA Pax wardrobes completely create a wall of useful and stylish storage. This is perfect if you would rather hide your stuff away instead of it being on display. You can see it here.
Large Mudroom Lockers and Bench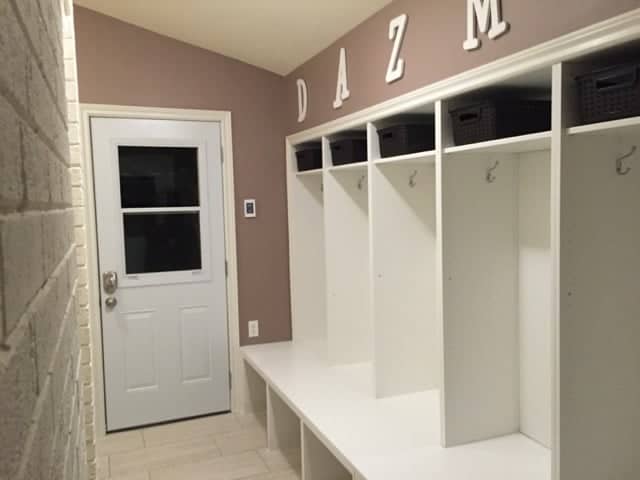 This mudroom hack uses IKEA Besta shelves and frames. It creates really useful storage on a large scale. This is perfect for a large space such as a garage or basement. See it here.
DIY Mudroom using IKEA Stuva Benches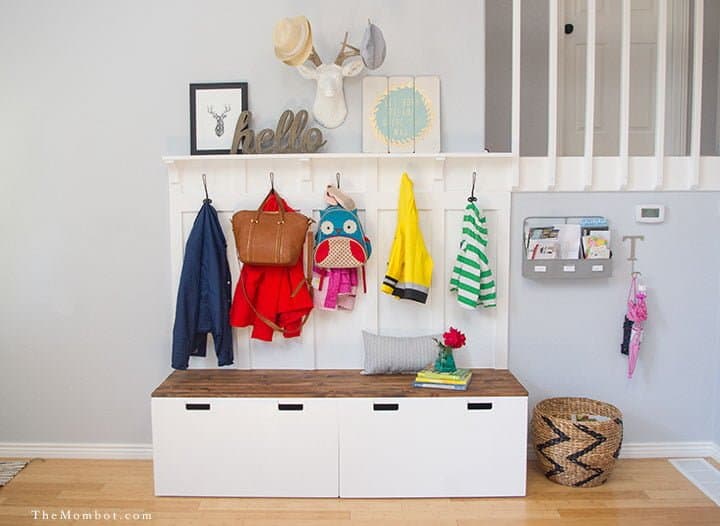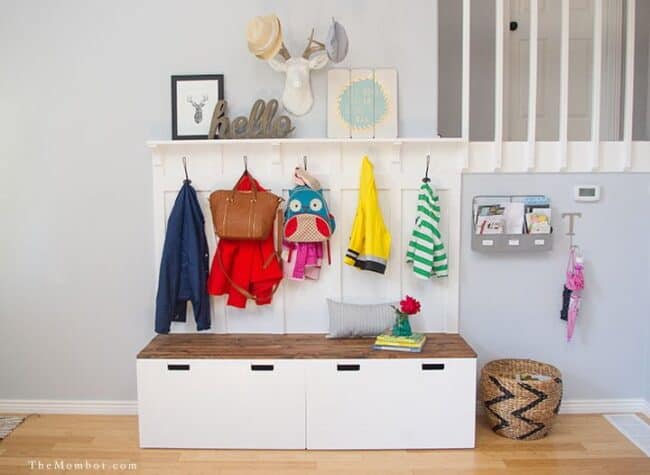 This is a small scale mudroom that fits perfectly into a small space. Its core is the IKEA Stuva bench. You can see the hack here.
Create a gorgeous and stylish mudroom using IKEA products with these 12 hacks! They all use an IKEA product as a base for amazing mudrooms.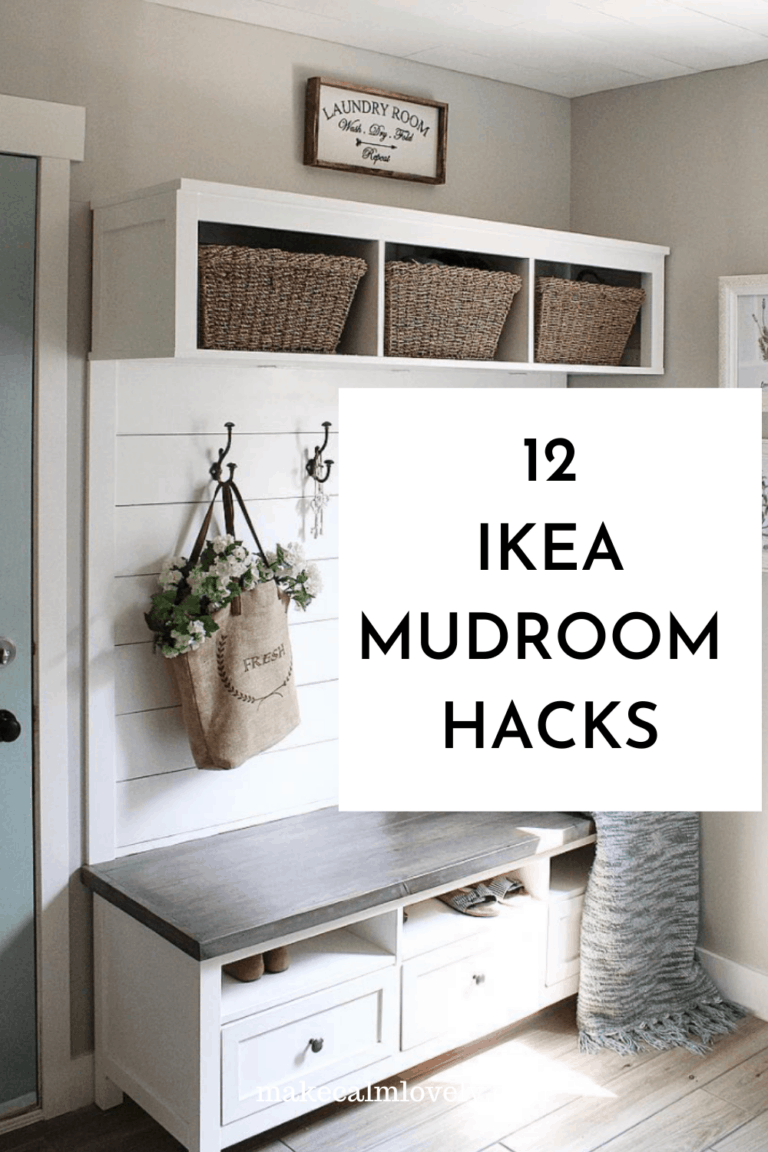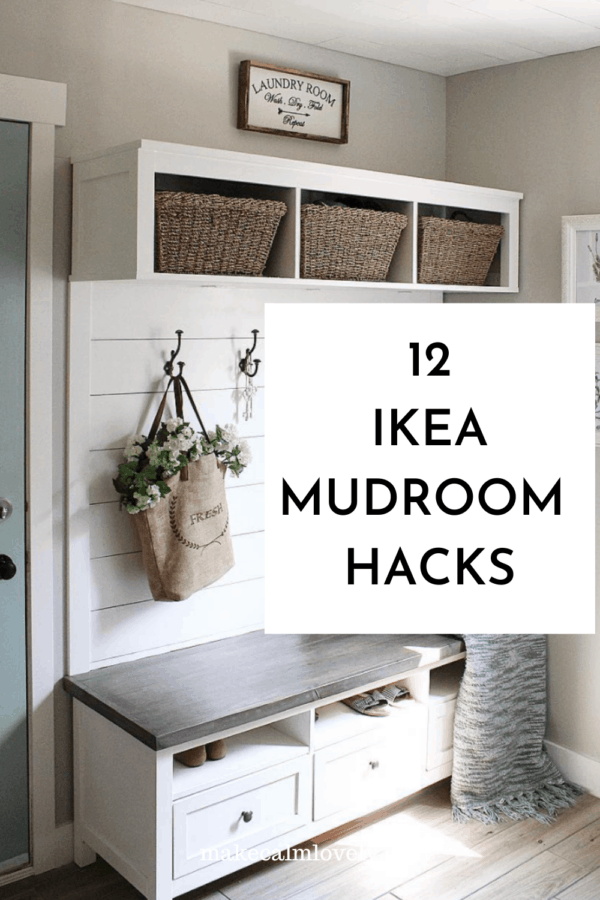 Mudrooms are great areas to have your home for all kinds of storage, especially shoes, bags and coats. Here are 11 magnificent mudroom hacks using IKEA products for your home.
About Make Calm Lovely
Make Calm Lovely is a lifestyle blog specializing in IKEA DIY hacks, DIY & craft projects, home decor and so much more! Check out all the amazing things you can do and create to make your life calmier and lovelier at Makecalmlovely.com!