Speckled Ceramic Look Clay Bowl DIY
This pretty clay bowl has that vintage on trend speckled pottery look. It is incredibly easy to make and the end result looks amazing!
I love the look of speckled pottery, and I am constantly looking through Etsy at all the beautiful speckled pottery pieces they have for sale.
So I wanted to have a go at making my own using air dry clay. I had seen some tutorials online that showed how to get that speckled pottery look, and it looked like it could be done fairly easily with great results.
Air dry clay is so easy to work with. It comes in a slab all ready made. All you have to do is turn it into what you want it to be – anything at all.
It works really well for small projects such as bowls and containers. It is easy to work with – and as the name suggests – it air dries, so you don't have to do any complicated baking in the oven with it!
You can use this bowl anywhere in your home. It makes a great dish for your keys, a holder for your office products on your desk, it can hold your jewelry, and it has so many other uses!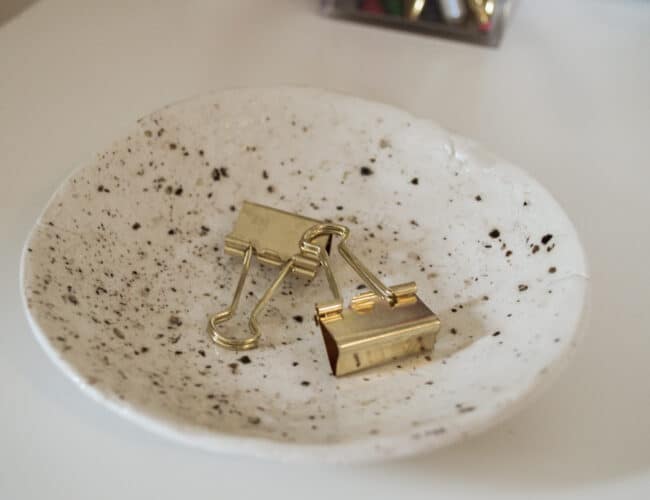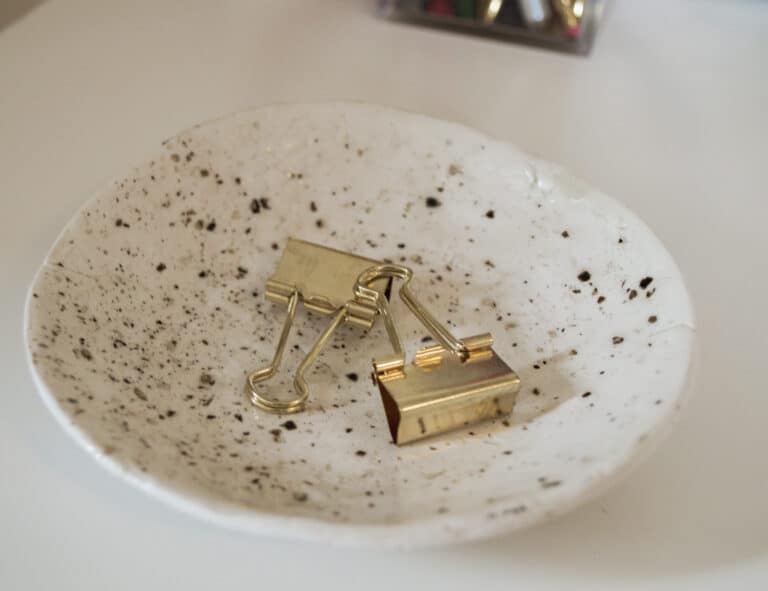 This post contains affiliate links. This means that if you click on a link in this post and make a purchase via that link I may receive a small commission, at absolutely no additional cost to you
How to get the Speckled Effect using Black Pepper
There are several ways to get that speckled look to clay and pottery. You can flick a paintbrush loaded with paint so that the flicks of paint make those speckles, and you can also lightly use a spray on stone-effect paint.
But my absolute favorite way to get that speckled look is to use ground black pepper! As I was researching making the speckled pottery look, I came across several ideas for using black pepper to create that speckled effect.
I was a little hesitant that it would actually work well, but I tried a couple of different test projects with it and I have to say it really does create that speckled pottery look really really well!
The way to get the look completely right with black pepper is to grind the peppercorns onto the clay, and then to use the rolling pin to roll them further into the clay.
The end result really doesn't look like you used pepper at all. The result is an amazing 'stone' ceramic look.
Supplies Needed to make the Speckled Pottery Clay Bowl
Air Dry Modelling Clay
Black Pepper – ground
Sculpey Gloss Glaze
Tools Needed to make the Speckled Pottery Clay Bowl
Rolling Pin
Bowl
Small paint brush or foam brush
Sandpaper or sanding block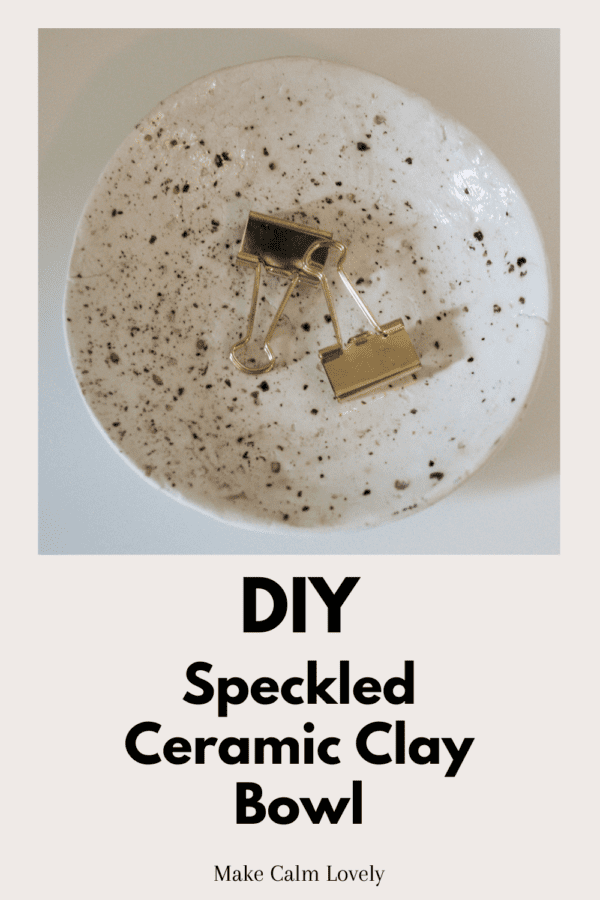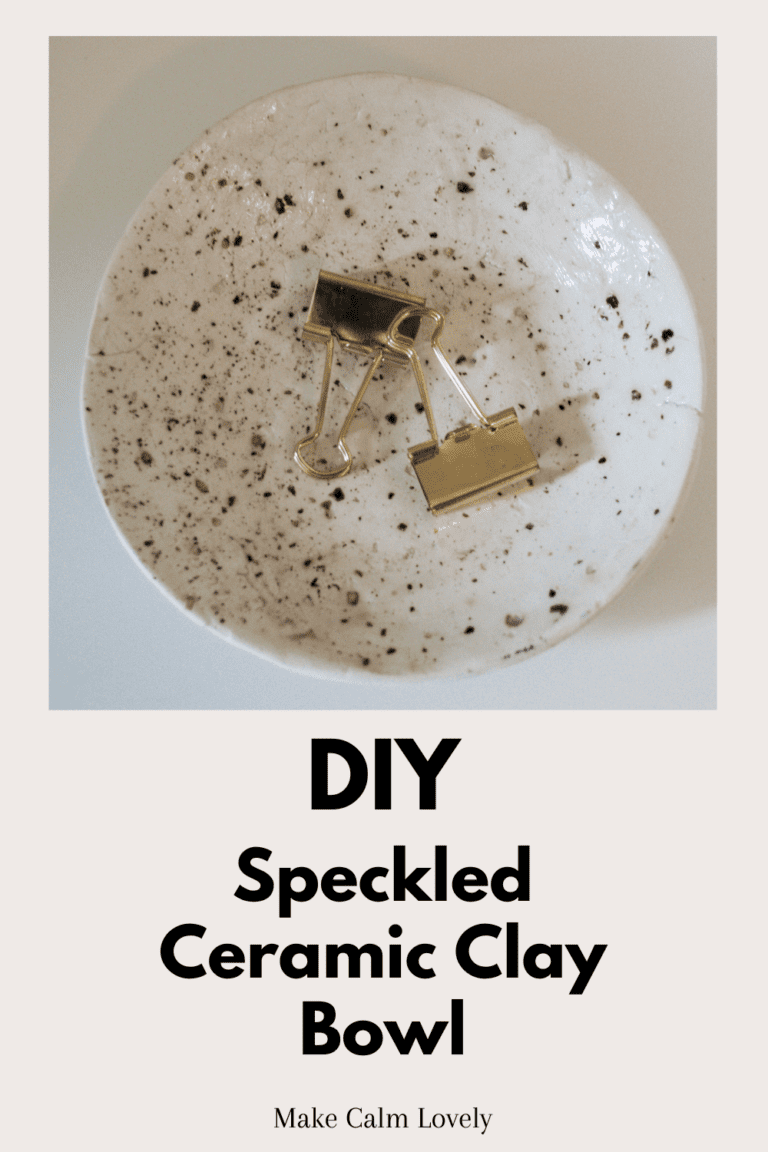 How to Make the Speckled Pottery Clay Bowl
Step One: Get your Air Dry Modelling Clay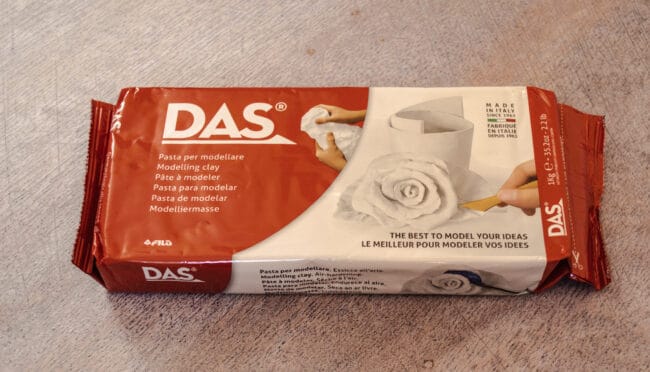 My favorite air dry clay to use is this Das modeling clay. I love the way it is so easy to use, and it dries in no time at all.
Start out by cutting/pulling off the amount of air dry clay that you will need for the bowl. Don't worry about gauging the amount needed completely accurately, just make your best guess.
Step Two: Roll out the Clay
Using a rolling pin, roll out the modeling clay to about a 1/4 inch thickness or so.
You are making a round bowl, but at this stage you don't need to have a round shape, just roll out the clay.
Related: 20+ Polymer Clay Bowls to DIY
Related: DIY Tassel Wine Charms
Step Three: Grind the Black Pepper into the Clay
Once the clay is rolled out you are going to be adding the black pepper to create the speckled effect.
To do this, just take a pepper grinder/mill and grind out peppercorns onto the rolled out modeling clay.
Grind out pepper all over the clay, bearing in mind you are not going to be using the entire rolled out piece of clay, so you do not have to go to every corner with the ground pepper.
Once the pepper is ground all over the rolled out clay, take your rolling pin and roll out over the ground peppercorns again. This will grind the pepper more firmly into the clay and create a smoother surface.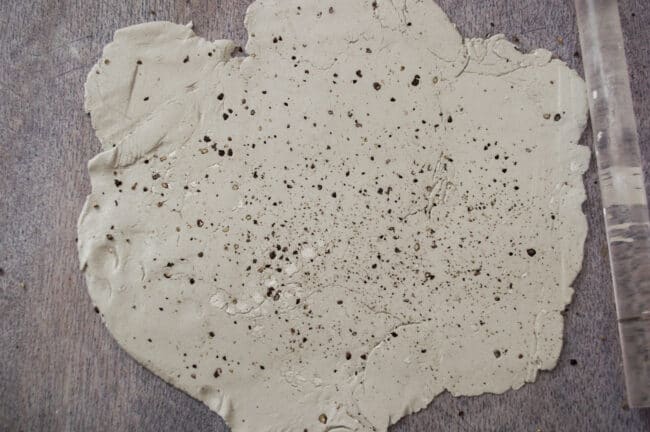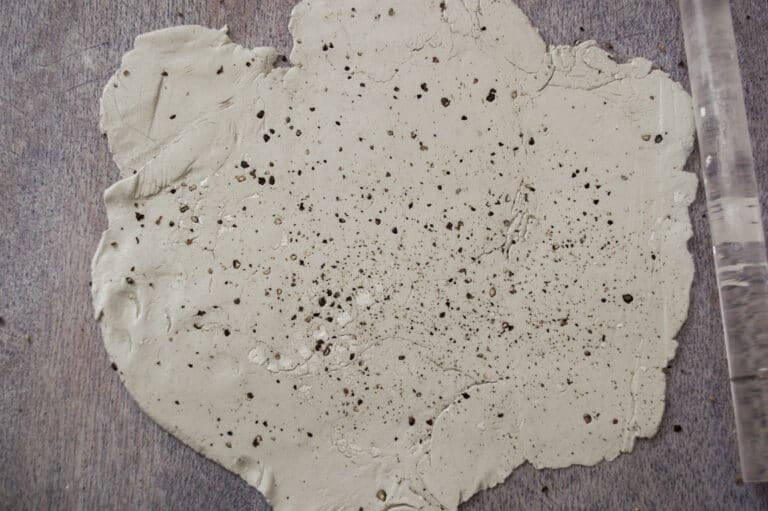 Step Four: Cut out the Bowl Shape
Take a small bowl, and place it upside down on top of the rolled out clay. This is going to form the shape of your bowl.
Cut around the bowl with a small knife to create a round circle of clay.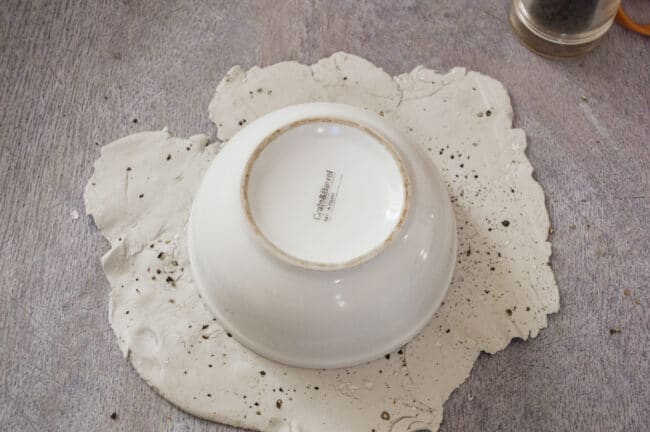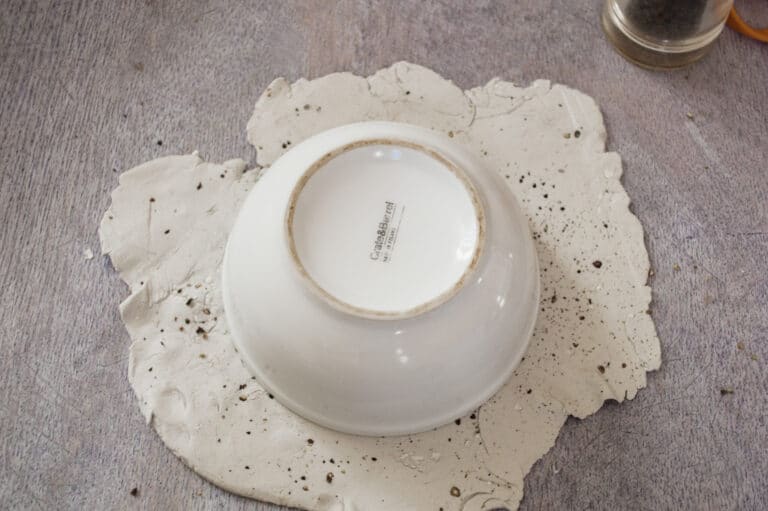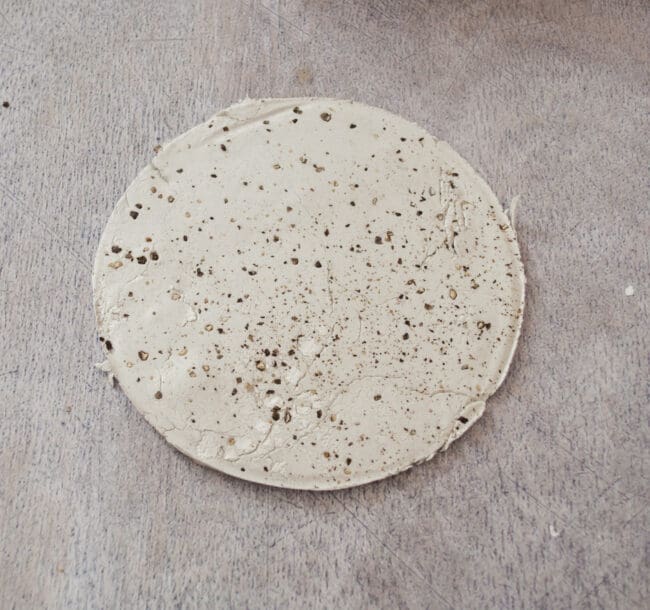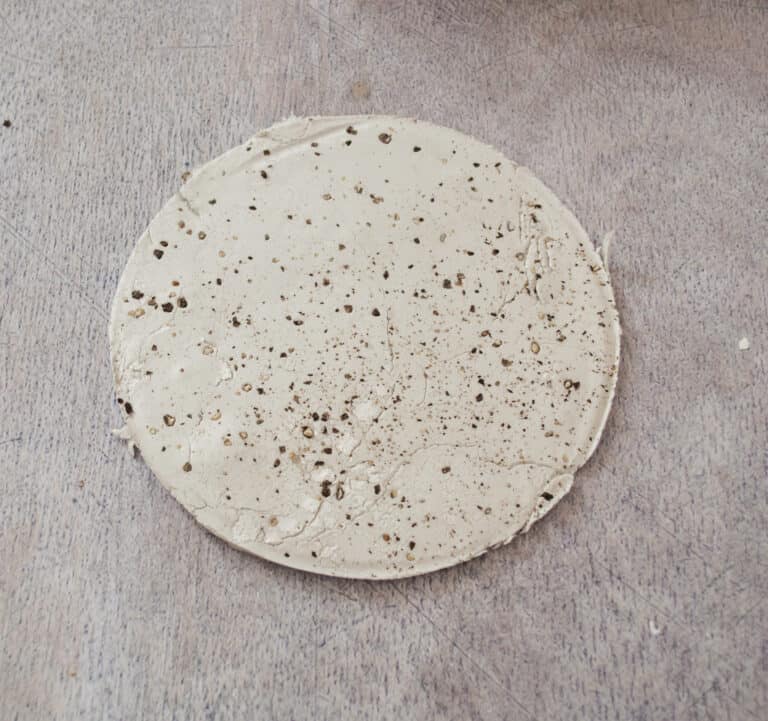 Step Five: Place the Clay Circle inside a Bowl to Dry
Place the circle of clay you just cut out into the bottom of a bowl. A mixing or similar bowl will work well for this.
Gently place the clay circle into the bottom of the bowl you are using. Gently manipulate the clay into the bottom of the bowl, so that it adheres to the bottom and sides of the bowl inside.
Be careful not to change the shape of the bowl too much. It should just gently slip into the shape of the outer bowl.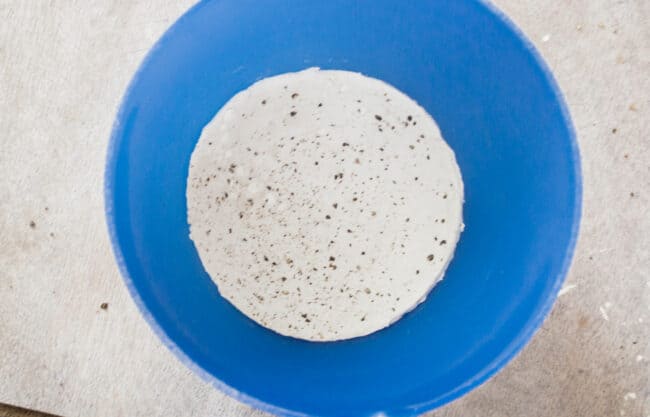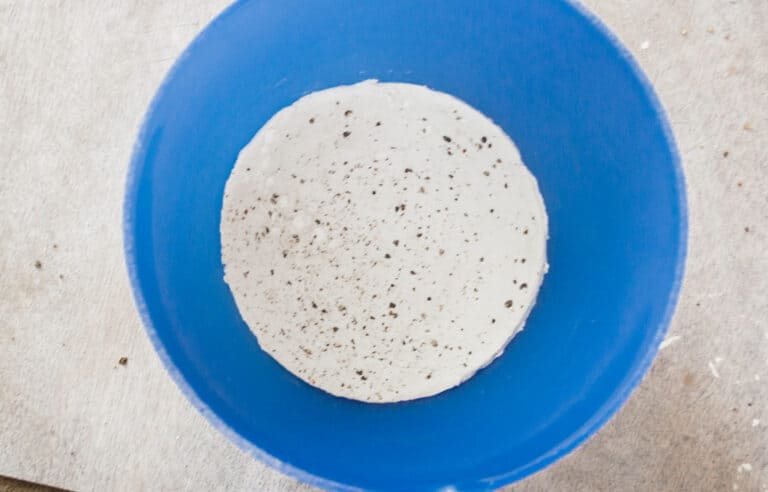 Step Six: Leave the Clay to Air Dry
Leave the clay bowl to air dry inside the bottom of the bowl. I left mine overnight to make sure it was completely dry.
Step Seven: Remove the Clay Bowl from the Bowl
Take out the bowl once it is dry. The clay bowl should ease out of the outer bowl it was sitting in fairly easily. Handle it as gently as possible as you remove it.
Step Eight: Glaze the Bowl
Using Sculpey Gloss Glaze, glaze the bowl with 2 layers of the gloss. Use either a paintbrush or a foam brush for this.
Allow each coat to dry before placing another coat.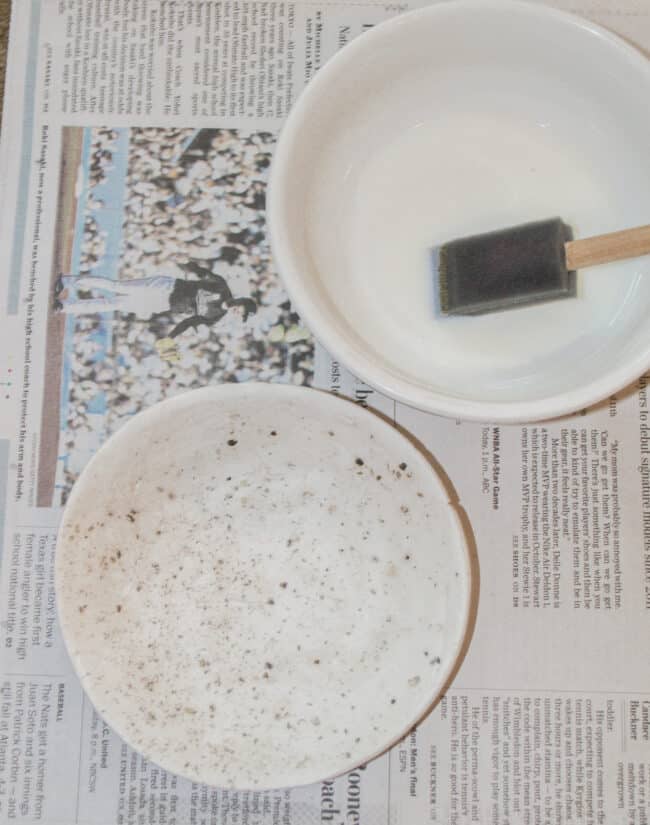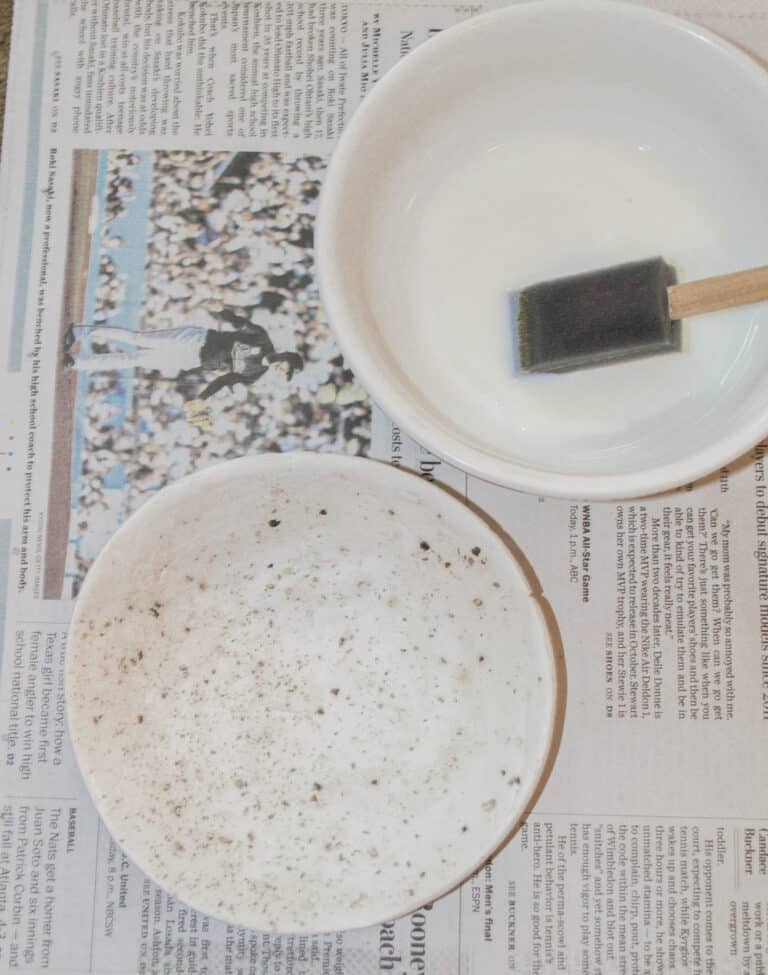 Once the glaze on the bowl is completely dry (it dries very fast) your new bowl is all ready to use!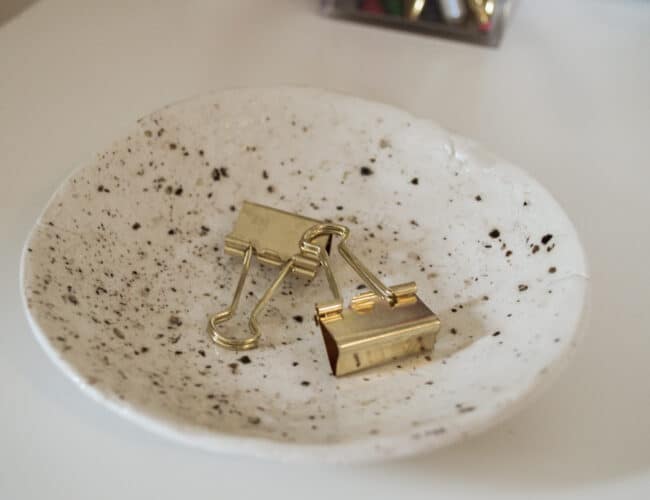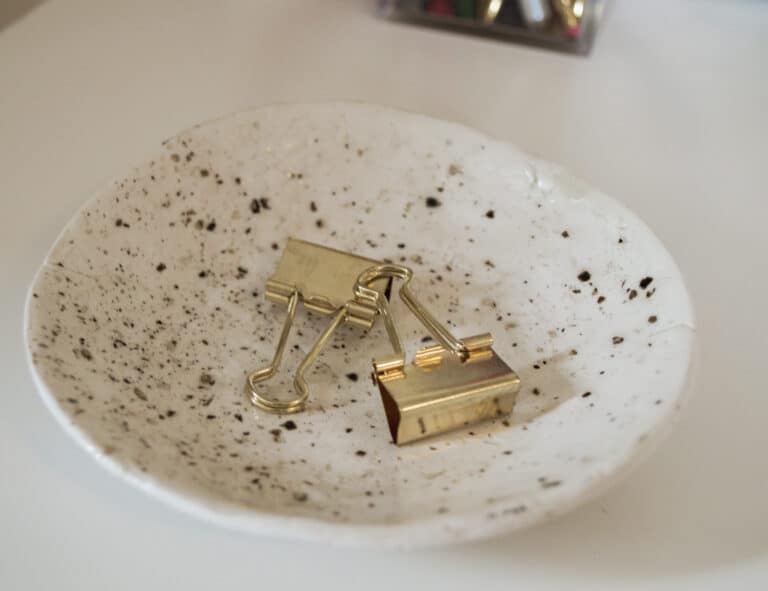 I hope you enjoyed this DIY project! Don't forget to check out the DIY section on Make Calm Lovely for more DIY & craft ideas!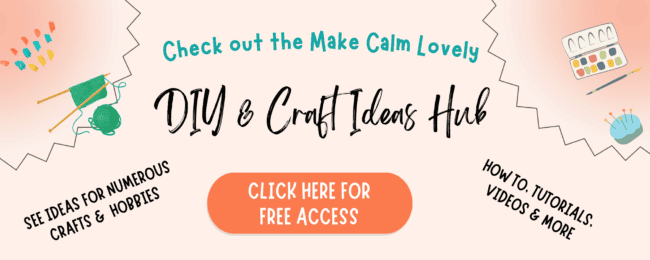 This pretty clay bowl has that vintage yet trendy speckled pottery look. It is incredibly easy to make and the end result looks amazing!