14 Stylish & High-End IKEA Hacks
These IKEA hacks for every room of your home are stylish and high-end looking. They look more like something that you bought at an expensive furniture store rather than a DIY hack from an IKEA piece!
You may think you have seen all possible IKEA hacks, but have you really?! Check out these. high-end IKEA hacks that are both stylish and expensive looking.
A basic IKEA piece of furniture can easily be changed into something high-end looking, as long as you are prepared to. put in the work.
These DIY IKEA hacks vary from not much work at all, to putting in a fair amount of elbow grease. But the outcome of all of them, regardless of the effort, is that they create a beautiful and stylish piece that will stand out in your home and then your visitors will envy!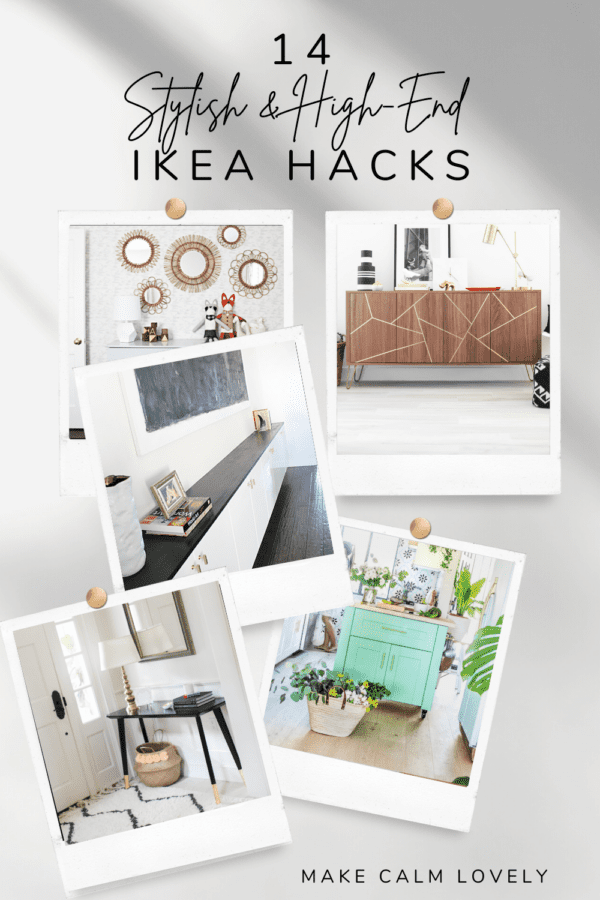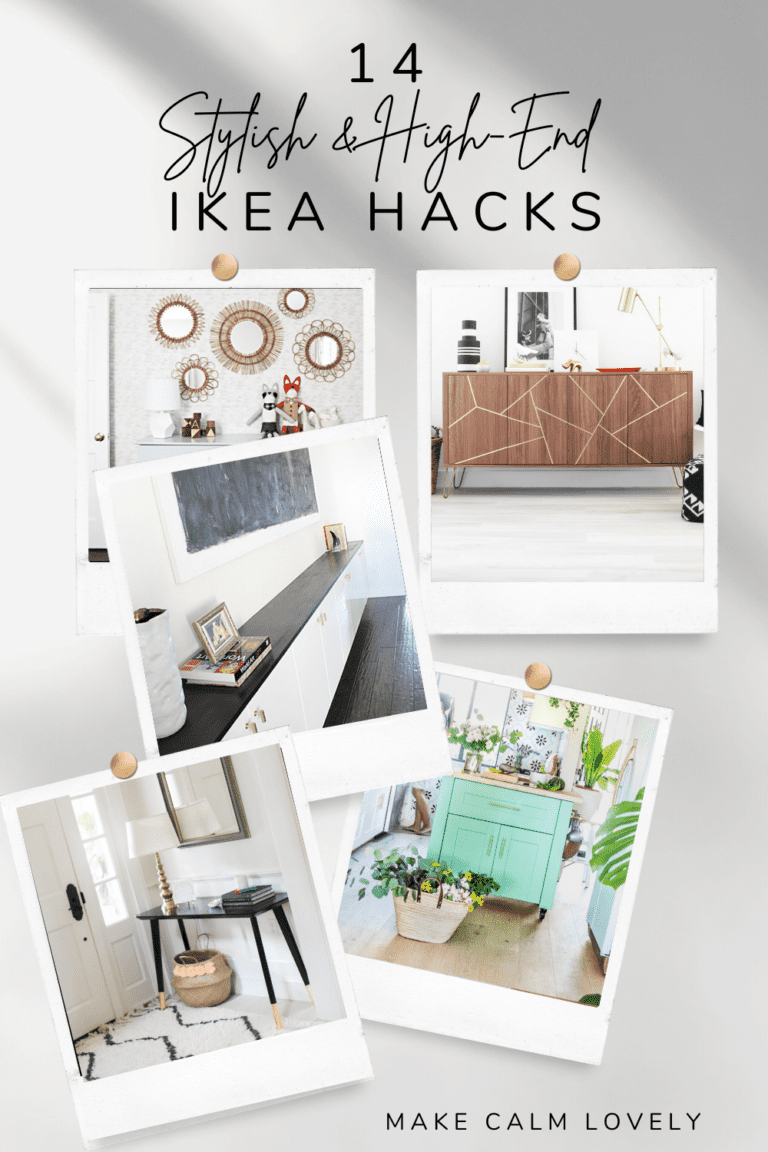 Billy Bookcase Built-Ins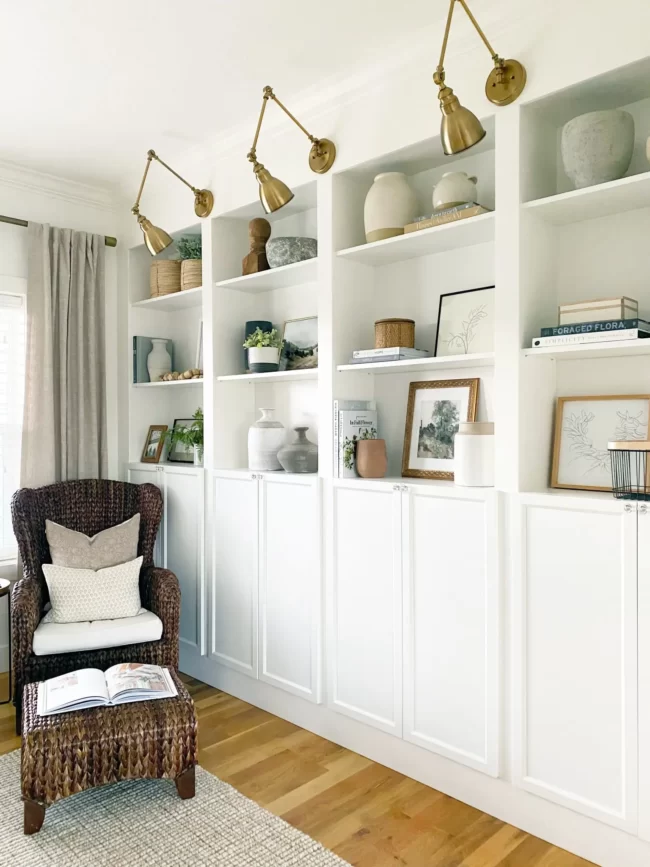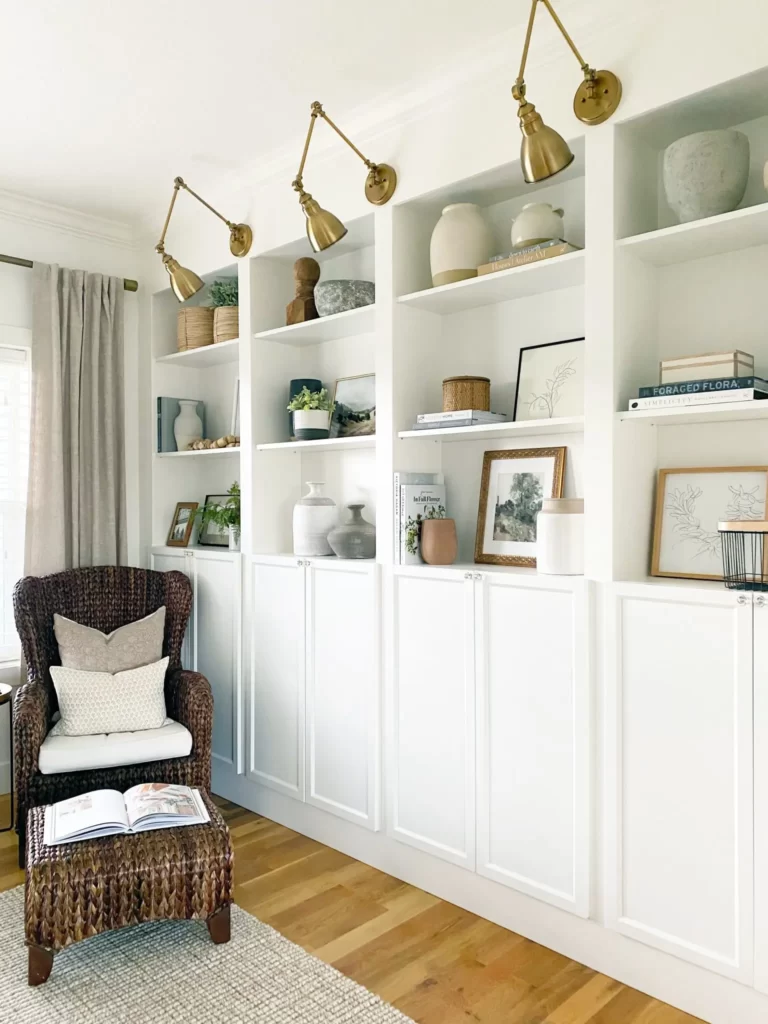 The Billy Bookcase is one of IKEA's best-selling products, and has been for decades. It is a widely available and inexpensive bookcase that comes in several colors and sizes.
You may look at the Billy bookcase and just see a plain bookcase. But that is doing it such an injustice! Billy bookcases can be hacked into the most beautiful and amazing built-ins.  The Sommer Home has hacked Billy bookcases into these incredibly beautiful built-ins, that look custom-made and expensive.
Related: IKEA Billy. Bookshelf Makeovers that Look Custom-Made & Elegant
Woven Cane Storage Cabinet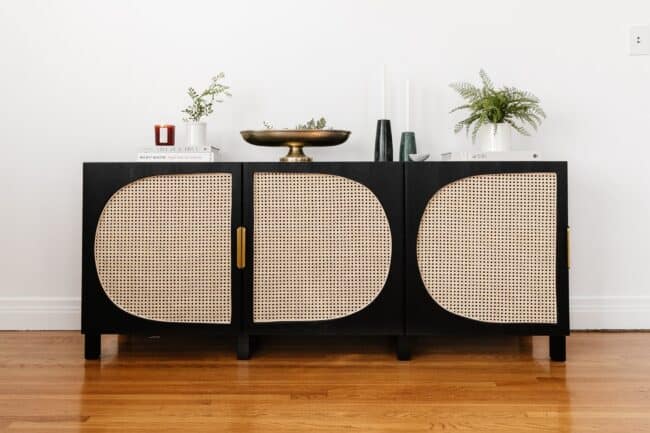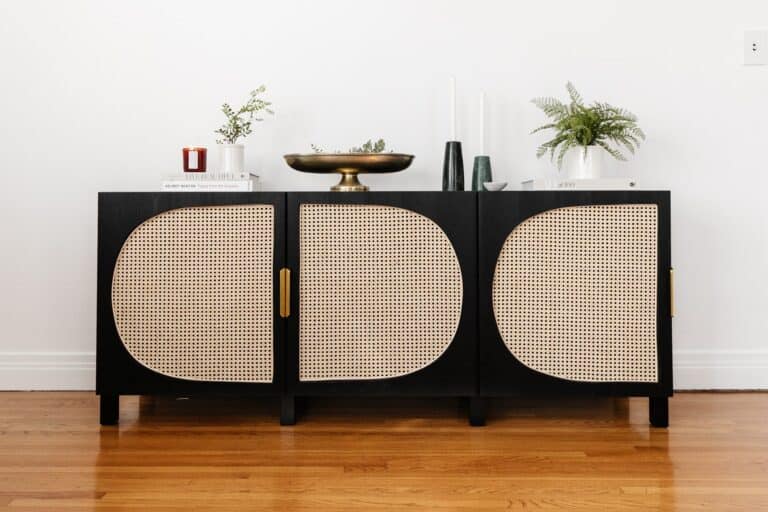 This incredibly beautiful woven cane storage cabinet is created out of IKEA's Besta TV unit.  It looks more like an elegant and expensive piece of furniture that you would purchase from a high-end furniture store.
This hack has placed  new legs on the cabinet, cut out panels and applied cane webbing, added new handles, painted it and more!  Check out the hack here.
Farmhouse DIY Kitchen Island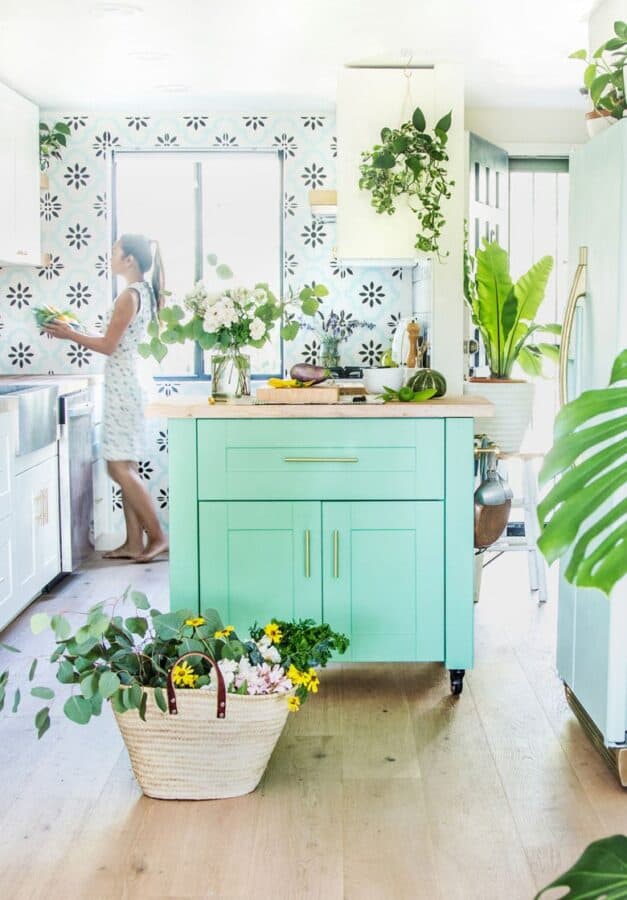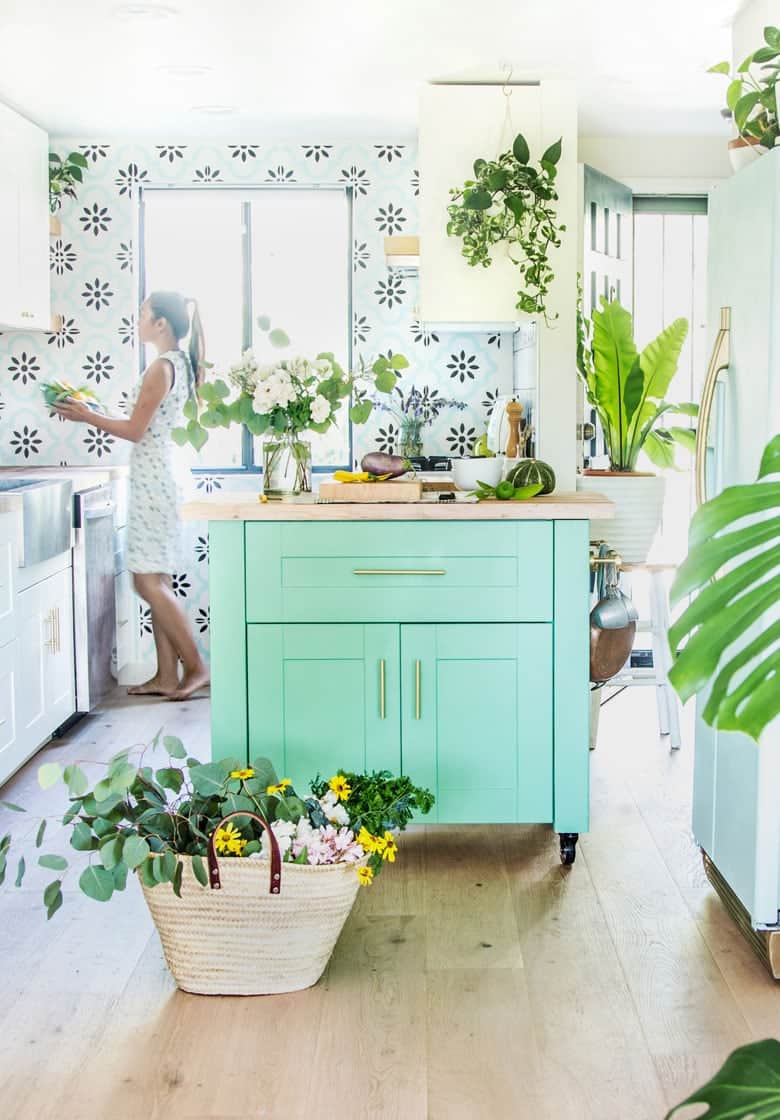 This beautiful farmhouse style kitchen island was created out of an IKEA deep base cabinet base from their kitchen cabinets range.
This entire piece has been painted, a countertop placed, wheels added, and hooks and hardware also added. This is quite the incredible hack. You can see it here.
Mid Century Modern Sideboard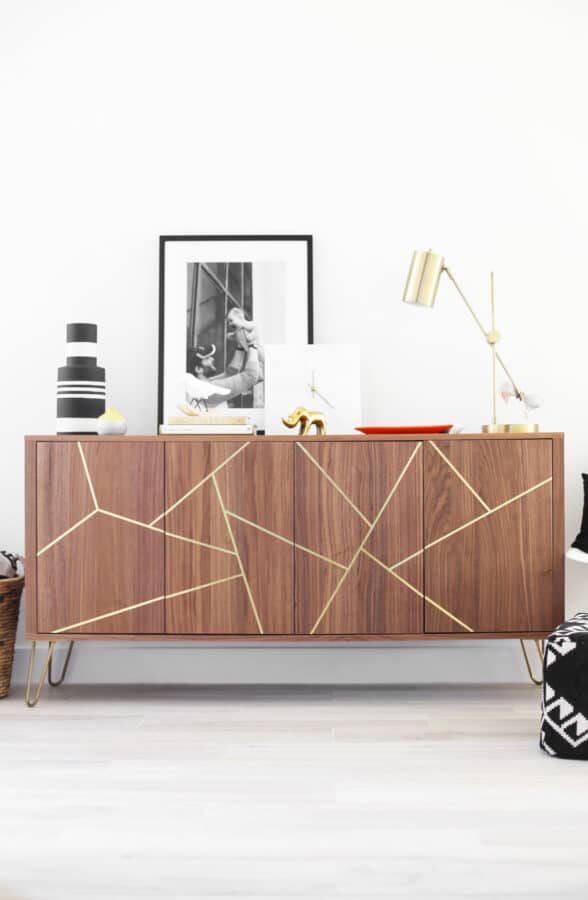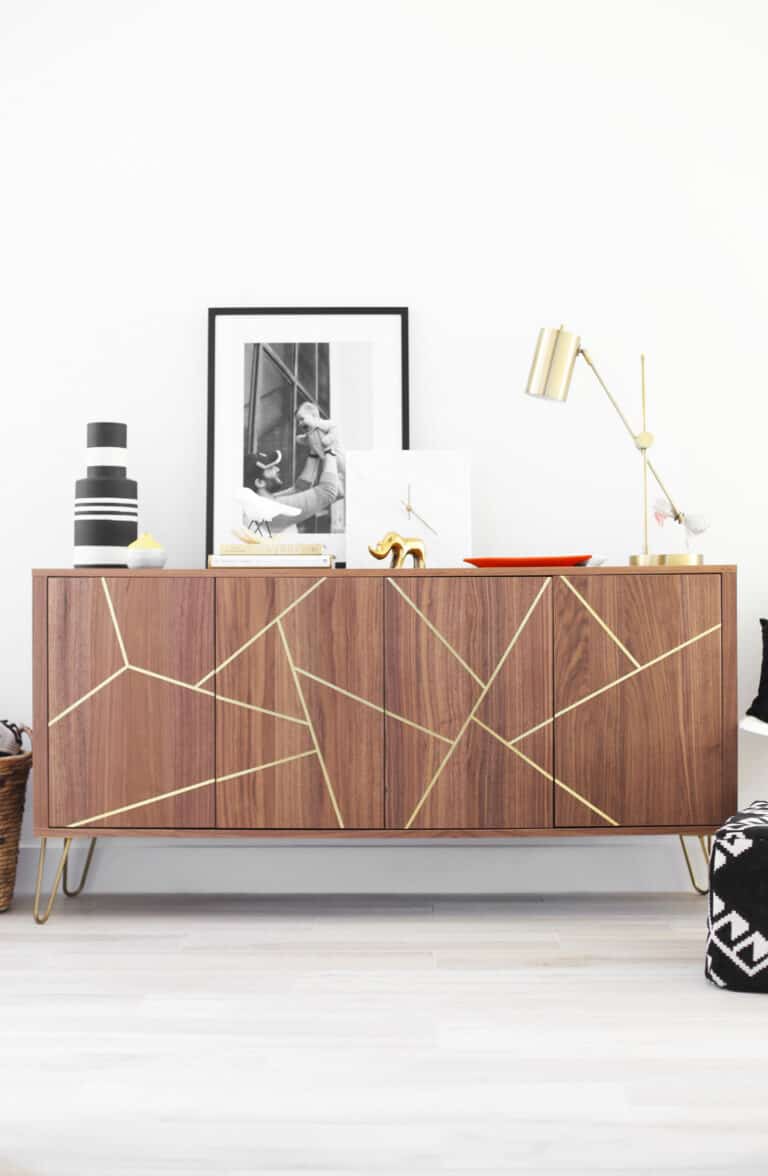 For an outstanding piece for your dining room or living room, check out this beautiful Mid-Century style sideboard hack.
This piece uses an IKEA sideboard. There really isn't that much to this hack, which is what is so amazing about some IKEA hacks – you don't need to do much to completely transform a piece.  It has just had new hairpin legs added and brass strips for the pattern.
Related: IKEA Mid-Century Modern DIY Hacks for your Home
Faux Marble Top Coffee Table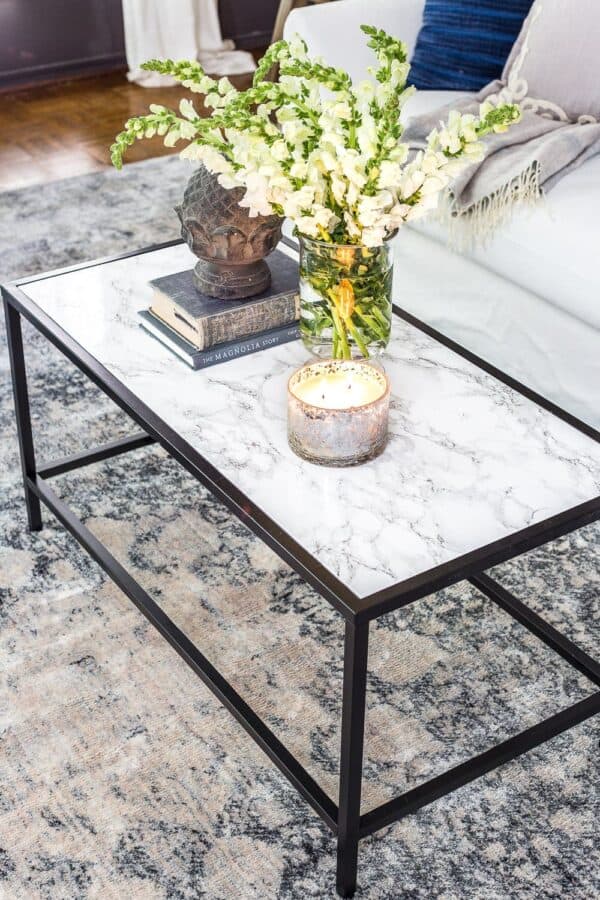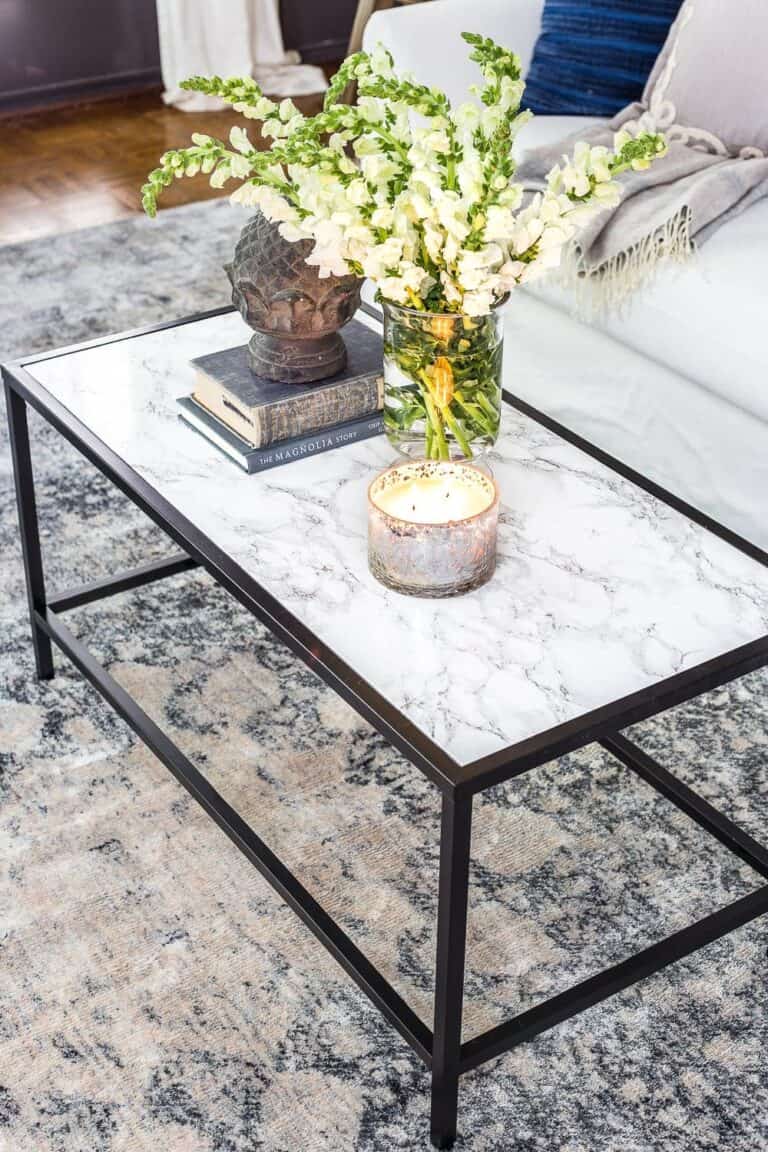 Marble coffee tables can be expensive to buy.  But with this clever hack you can completely transform an IKEA coffee table into a beautiful marble-top piece.
Just by placing marble contact paper on top you can create this amazing faux marble coffee table. You can see the hack right here.
Modern Hollywood Regency Credenza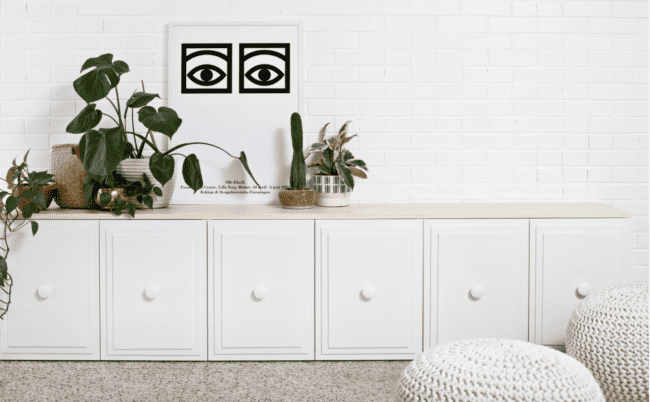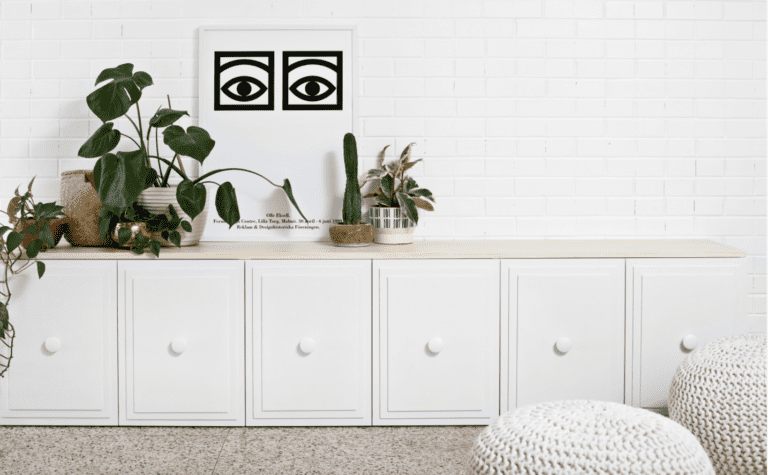 This hack is created from plain white IKEA upper cabinets, that have been transformed with plywood and funkier handles.
This entire storage credenza looks much more stylish and up-market, and is perfect for a family room.  You can see the entire hack here.
Cowhide Ottoman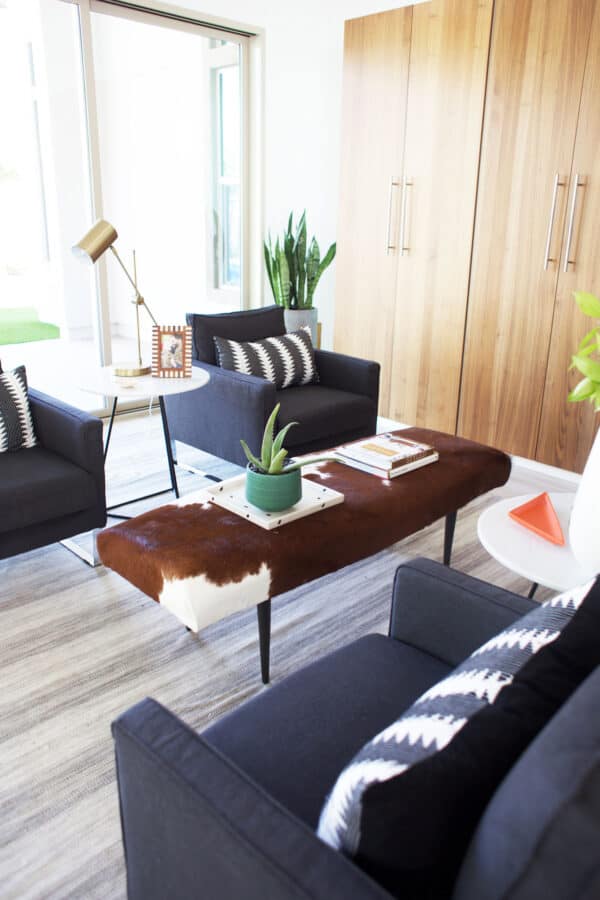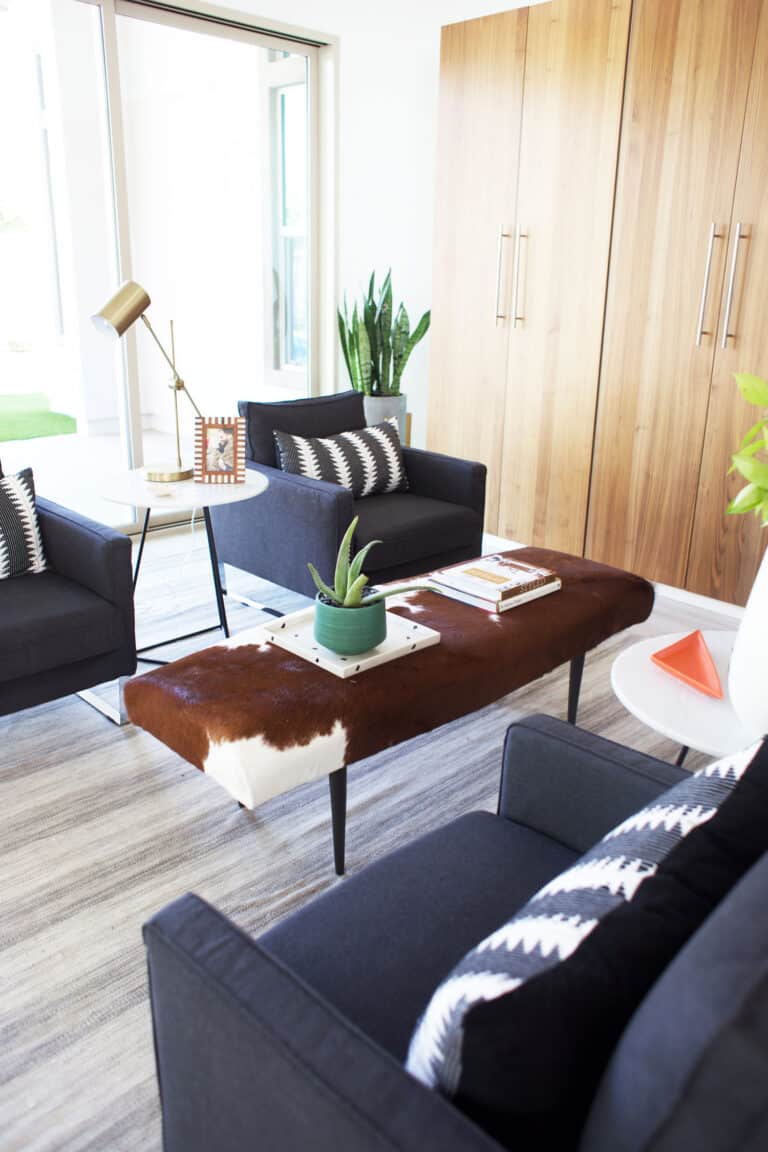 This cowhide ottoman looks expensive and something you would purchase from a designer high-end furniture store.
Just take a basic IKEA bench and cover it with upholstery foam and IKEA cowhide fabric. You can see the hack right here.
Reclaimed Wood Buffet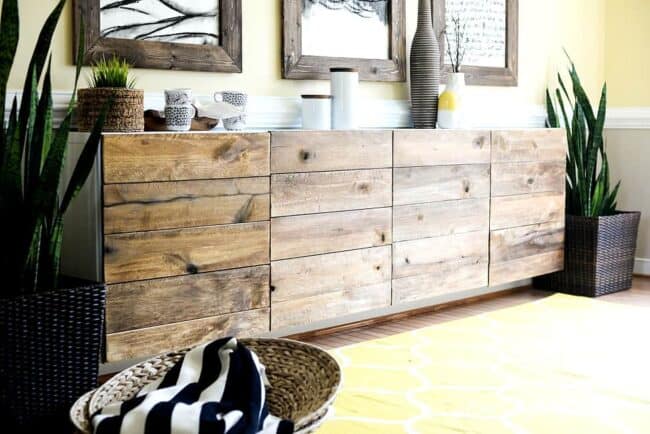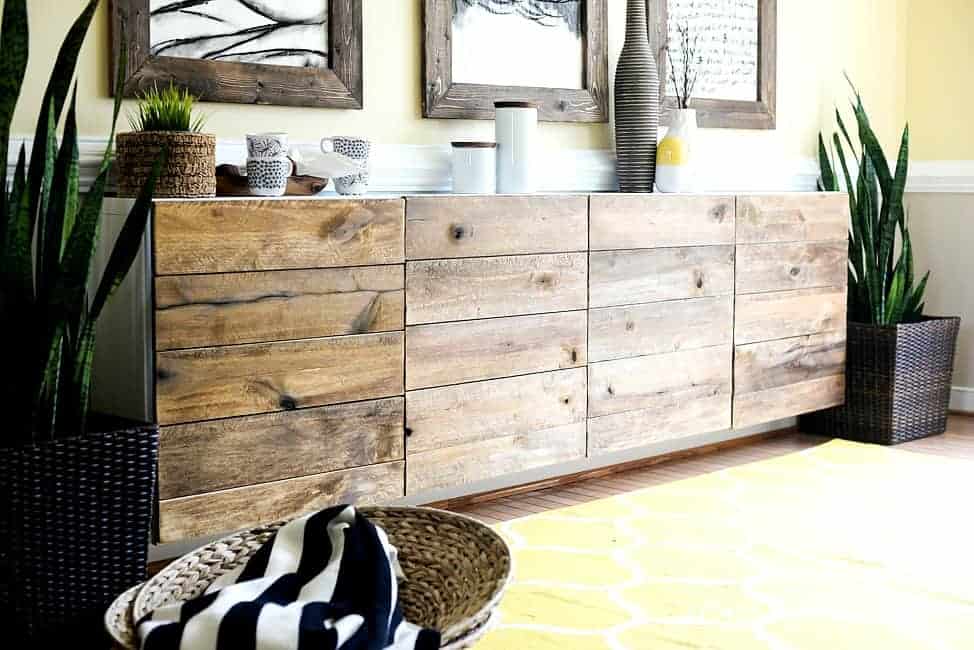 This amazing hack uses the Besta wall cabinet with doors.  The DIY then uses reclaimed wood strips, which are applied to the front of the cabinet for a truly amazing look. You can see the complete DIY here.
Elegant Dresser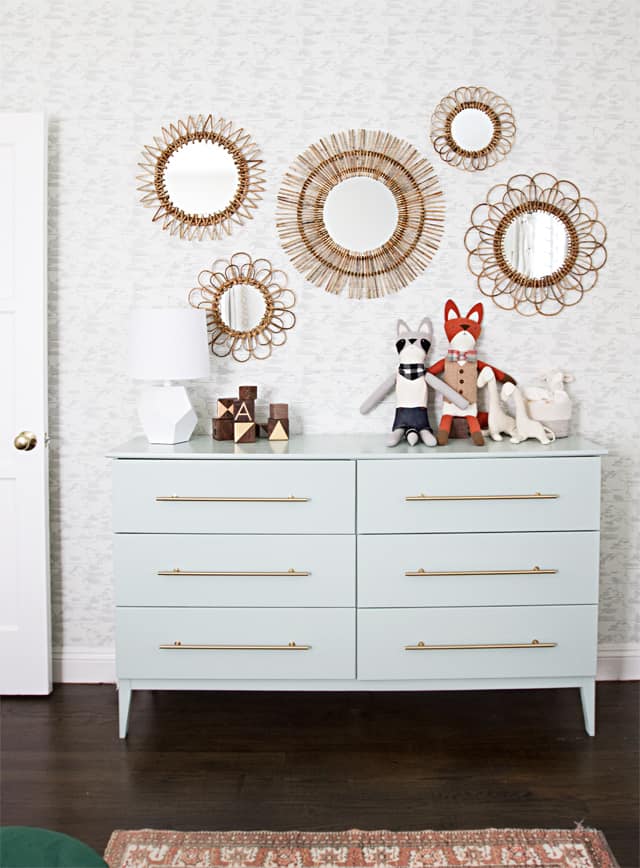 This pretty and elegant looking dresser was created out of a basic wooden IKEA dresser.  You can see how totally stylish and elegant it looks just by adding new handles, painting it and more. You can see the hack for the dresser here.
Stylish Built-in Cupboards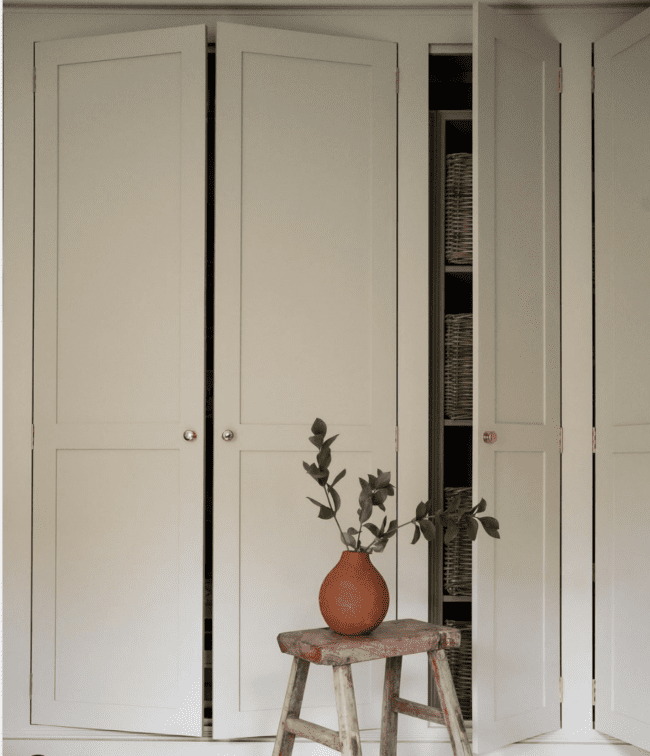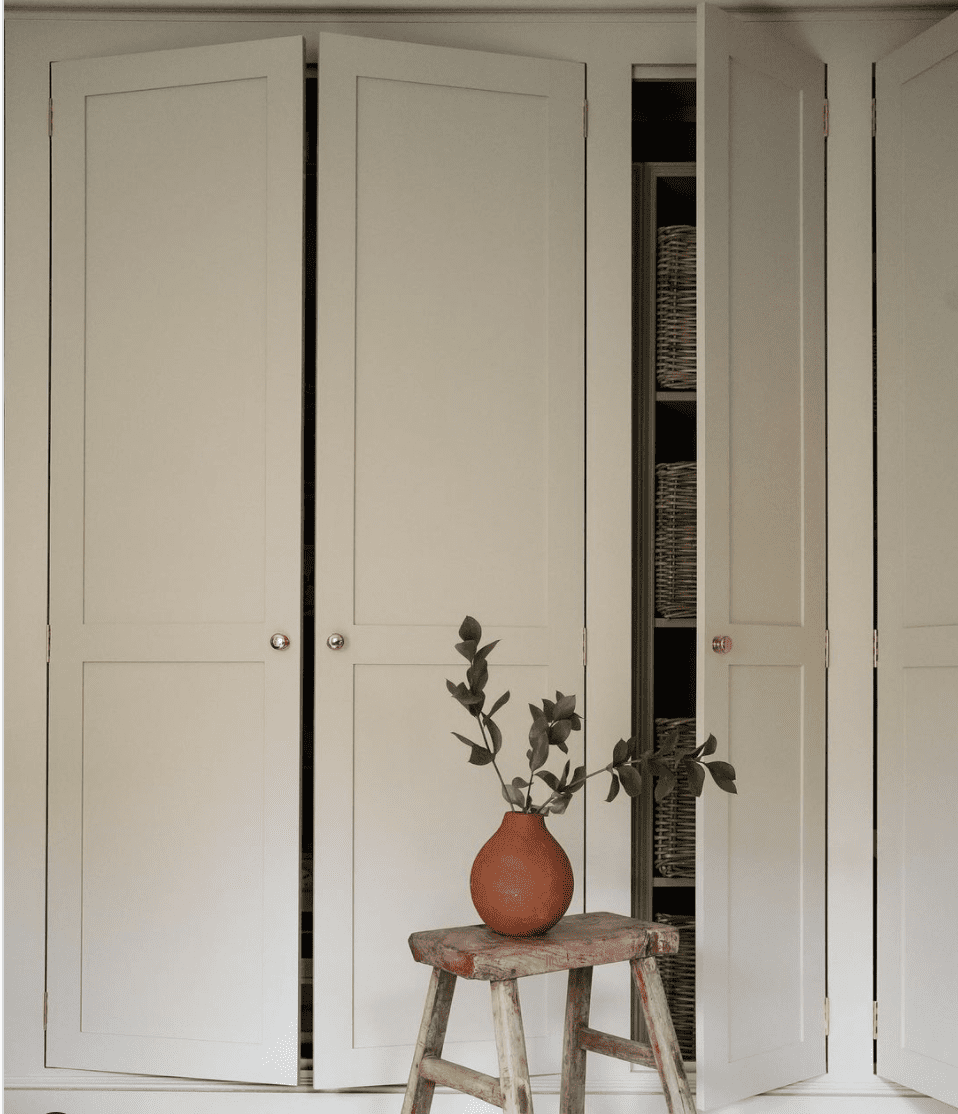 These beautiful stylish built-in wall cupboards were created using IKEA Billy bookcase units. Several units were used for t his hack, and moulding built all around them to create a beautiful custom-look. Take a look at the hack here.
Stylish Entryway Table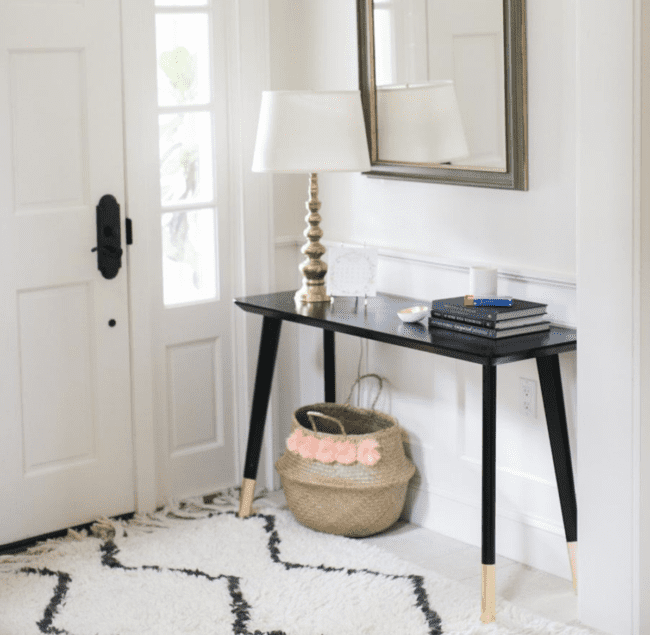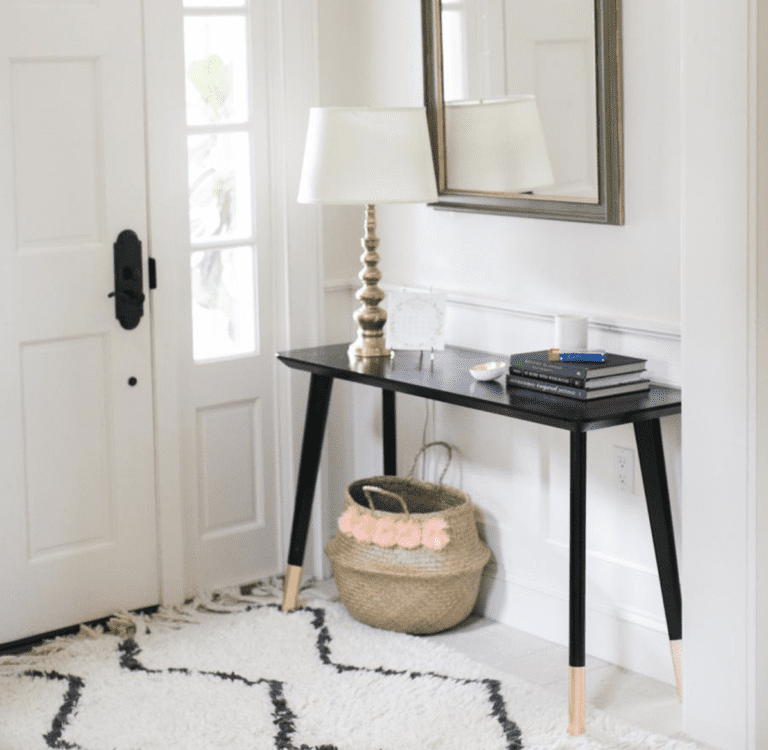 If you are looking for a stylish and pretty entryway table this hack is just perfect.  It takes a basic wooden IKEA desk and spray paints it with black gloss paint, and adds gold leaf on the bottom of the legs.
Gold Bar Cart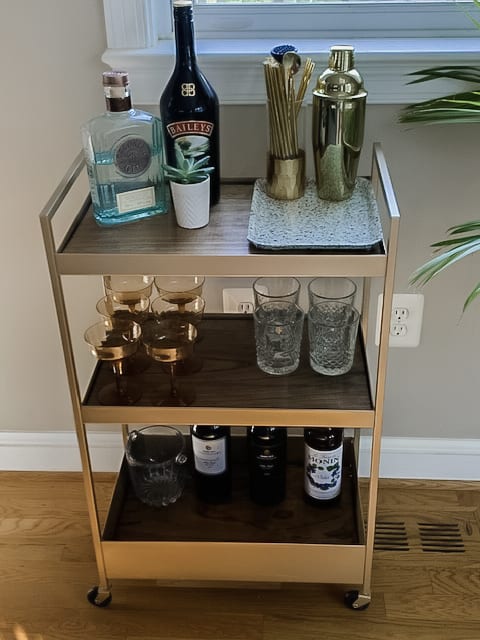 The IKEA Nissafors storage cart is the basis for this car cart hack.  If you need a stylish looking bar cart for your home, that doesn't look like you DIY'd it – this is the hack you need!  It has been spray painted in metallic gold paint, and wooden shelves added for the upmarket look.  Check out the hack here.
Floating Cabinet
This beautiful floating cabinet, which will really stand out in any room, was made using IKEA Akurum cabinets, new glam handles, and a pretty black top. Perfect for storage anywhere in your home, when you want that storage to look stylish and pretty too. You can see the hack here.
Gold Hollywood Shelf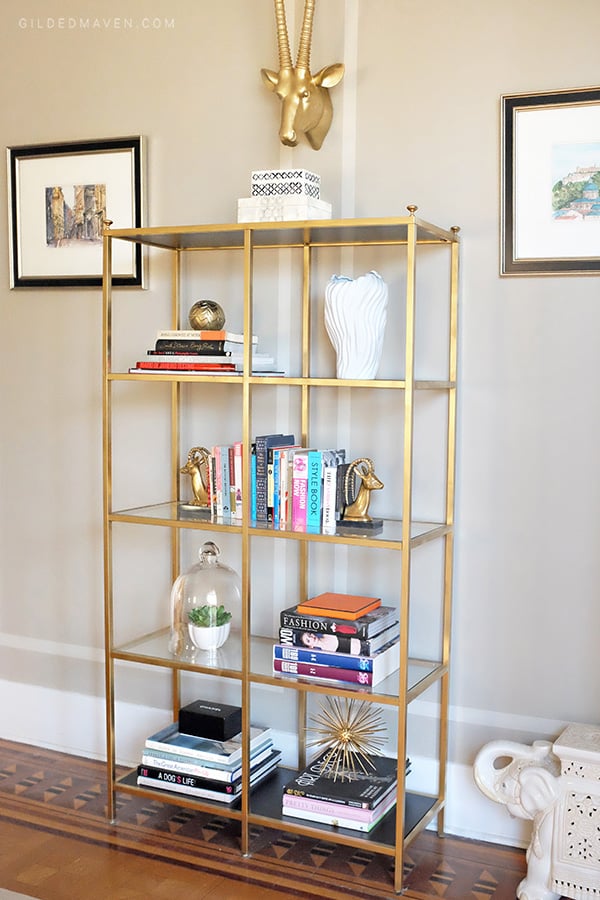 If you want a shelf unit for your room, which isn't blah and boring, check out this amazing hack.  A basic IKEA Vittsjo shelving unit has been spray painted in this hack, to create a dreamy stylish shelving unit.  You can see the hack here.
These IKEA hacks for every room of your home are stylish and high-end looking. They look more like something that you bought at an expensive furniture store rather than a DIY hack from an IKEA piece!
About Make Calm Lovely
Make Calm Lovely is a lifestyle blog specializing in IKEA DIY hacks, DIY & craft projects, home decor and so much more! Check out all the amazing things you can do and create to make your life calmier and lovelier at Makecalmlovely.com!