14 IKEA Billy Shelf Hacks that look Custom-Made & Elegant
The IKEA Billy bookcase has been an IKEA staple for years.   Take a look at these amazing Billy transformations that look custom-made & elegant!
The IKEA Billy bookcase has been a staple of IKEA for over 40 years! 
Yes you read that correctly! The Billy bookcase celebrated 40 years of being in existence in 2019!  This iconic bookshelf has graced so many homes all over the world for over 40 years!
IKEA Billy shelving is stylish, useful and affordable. It now comes in several different colors. It is tall or short, wide or narrow.  There are many Billy styles and options to choose from.
Used as it comes Billy is a really useful bookcase for any room of your home. It can be upgraded however so easily and made into something so elegant and stylish. Nobody but you would know it isn't a custom-designed unit!
These 14 DIY hacks show you amazing ways to upgrade and hack Billy. All these units look custom-made and so elegant. Nobody would ever guess that you started out with a mere IKEA bookcase!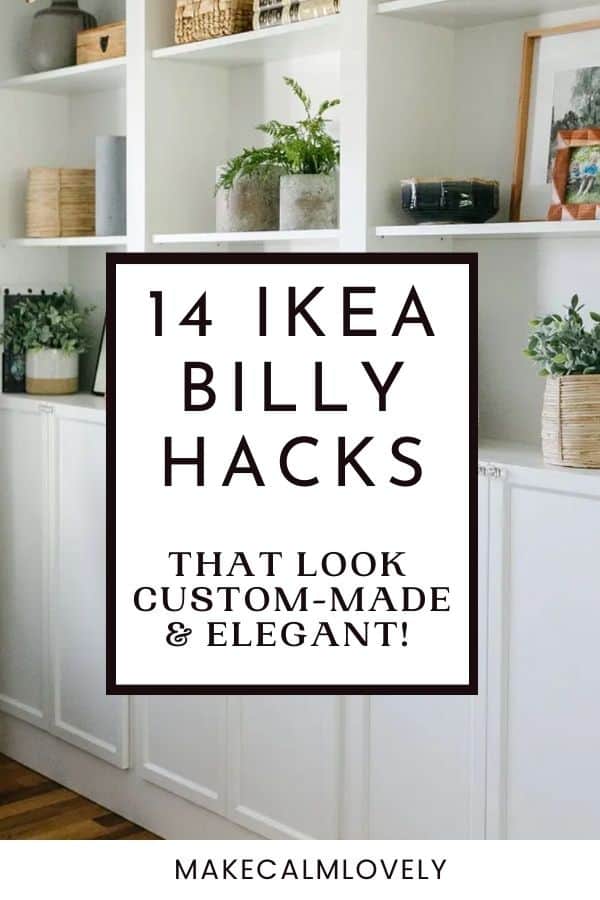 DIY Built-in Billy Bookcase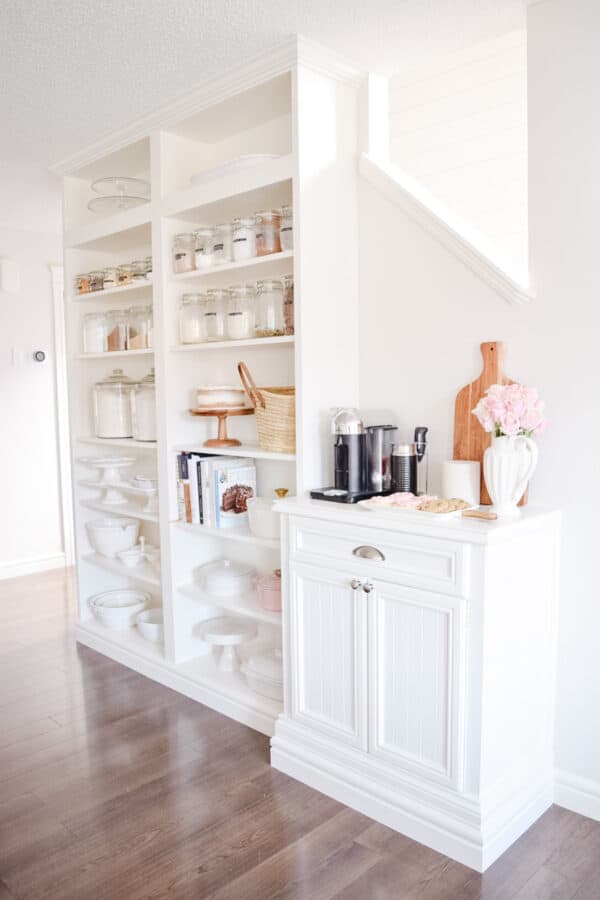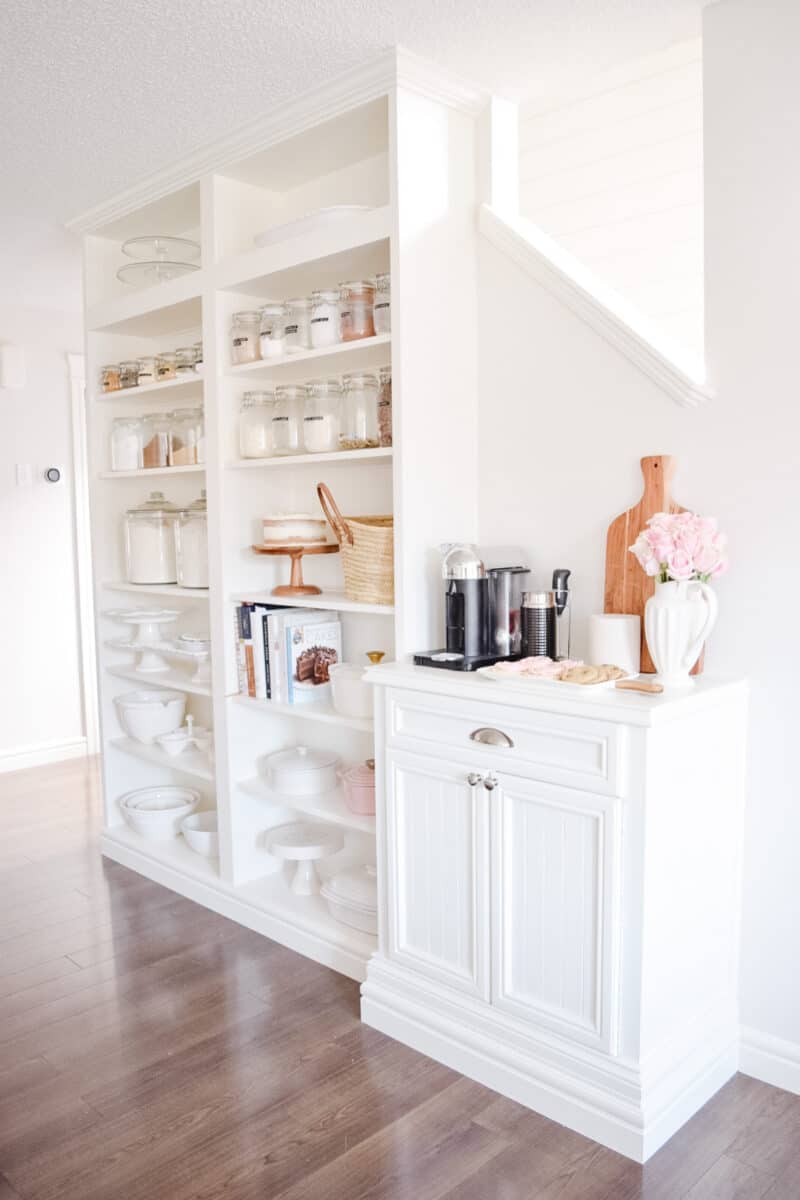 This beautiful Billy hack created gorgeous and so useful pantry shelves.  These are perfect to display baking ingredients and tools in your kitchen (because you just want to display many of them!).  
Not only do these shelves add an elegant touch to the room, they are so useful in that they organize kitchen equipment so well – you can see what you have easily. You can see the full hack right here.
Fireplace Alcove Built-in Shelves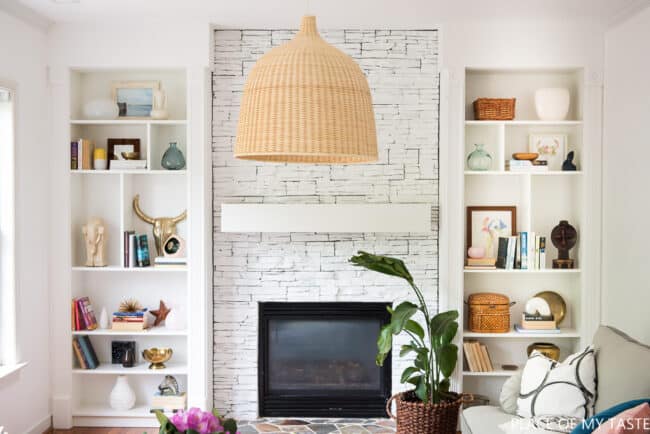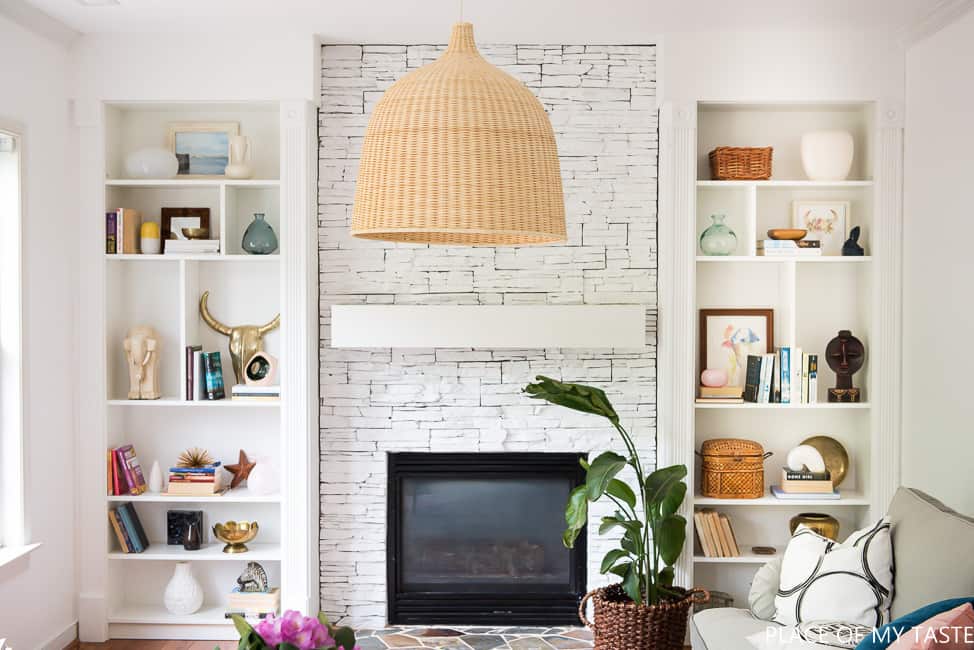 Another beautiful Billy hack here from Place of My Taste, showcases Billy into beautiful shelving that really makes the fireplace stand out.  This post gives full instructions on how to DIY these incredible shelf built-ins yourself.
Related: IKEA Desk Hacks
Complete Wall Built-in Bookshelves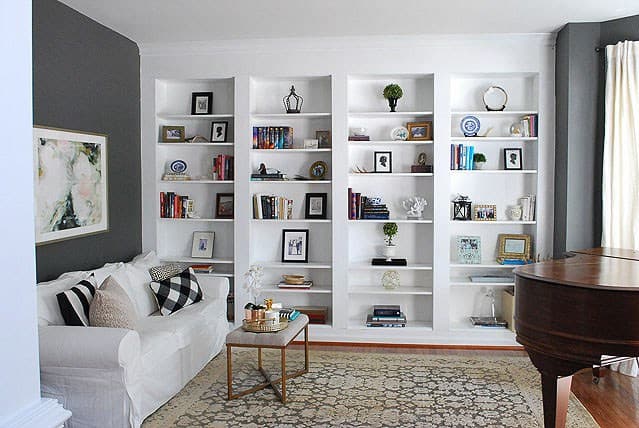 These amazing built-in bookshelves take up the complete wall of this room.  They look custom-made and professional, yet they are using the IKEA Billy bookcase units! You can see the complete hack right here.
Wall of Built-Ins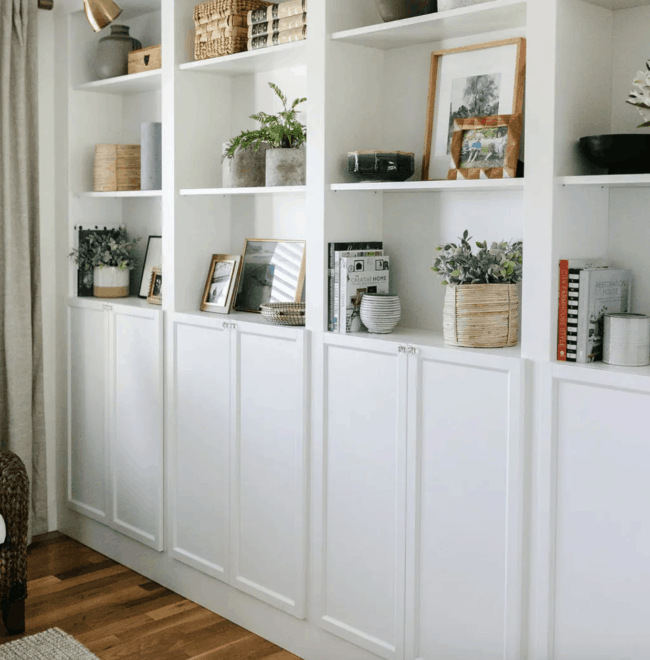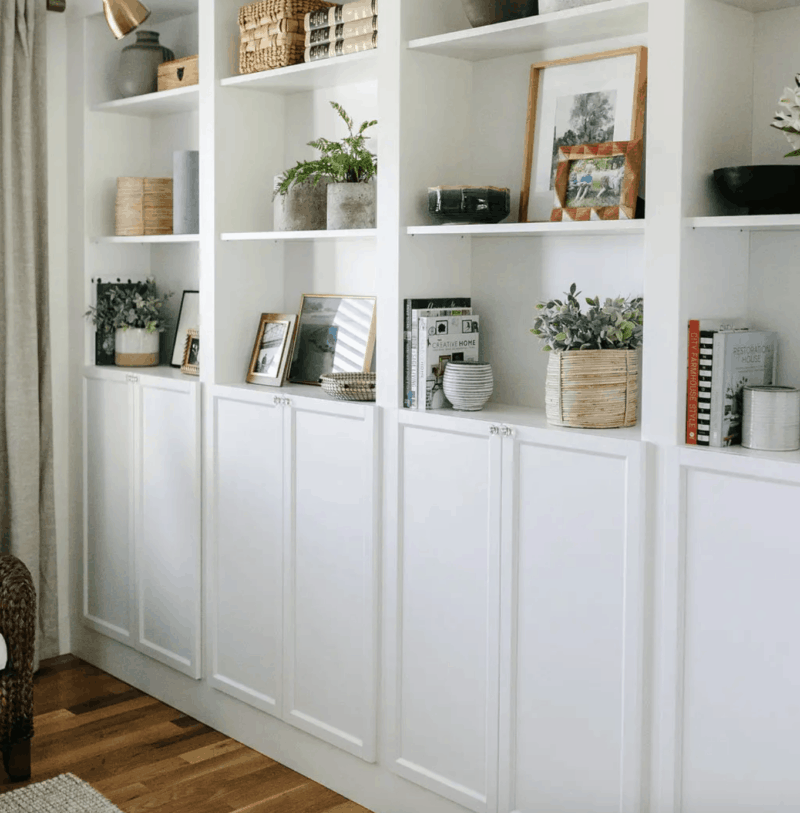 Here is another beautiful wall of built-ins, created all out of the Billy bookshelf units. You can see the DIY hack right here.
French Style Bookcase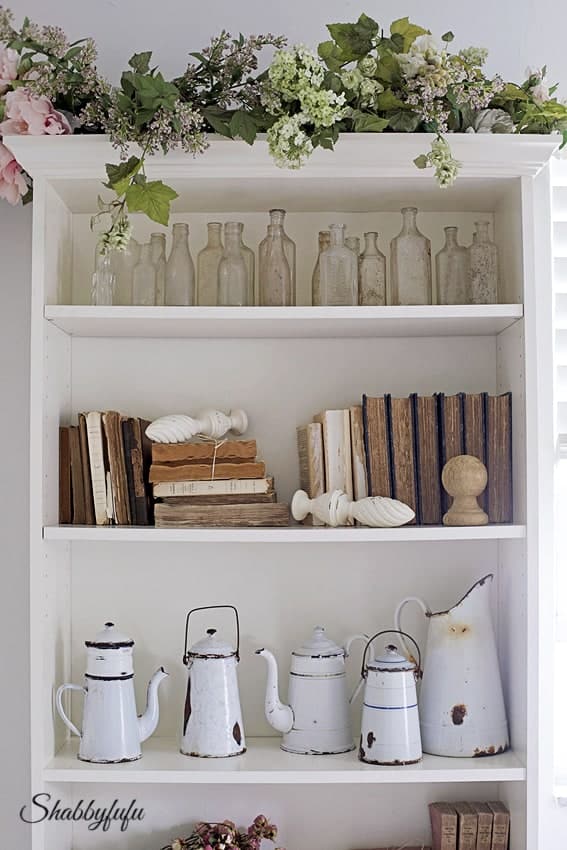 This l0vely hack takes the Billy bookcase and turns it into a stylish and elegant French style shelf.  By adding molding at the top of the shelf, it adds a more elegant touch to the shelf unit. You can see the hack right here.
Related:The Best IKEA Hacks
Elegant Corner Built-in Bookcase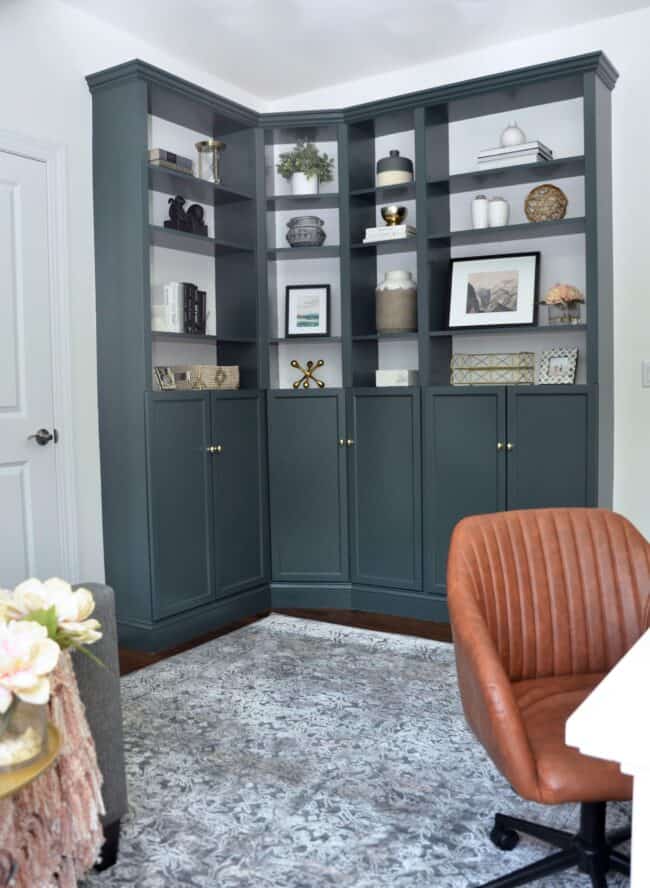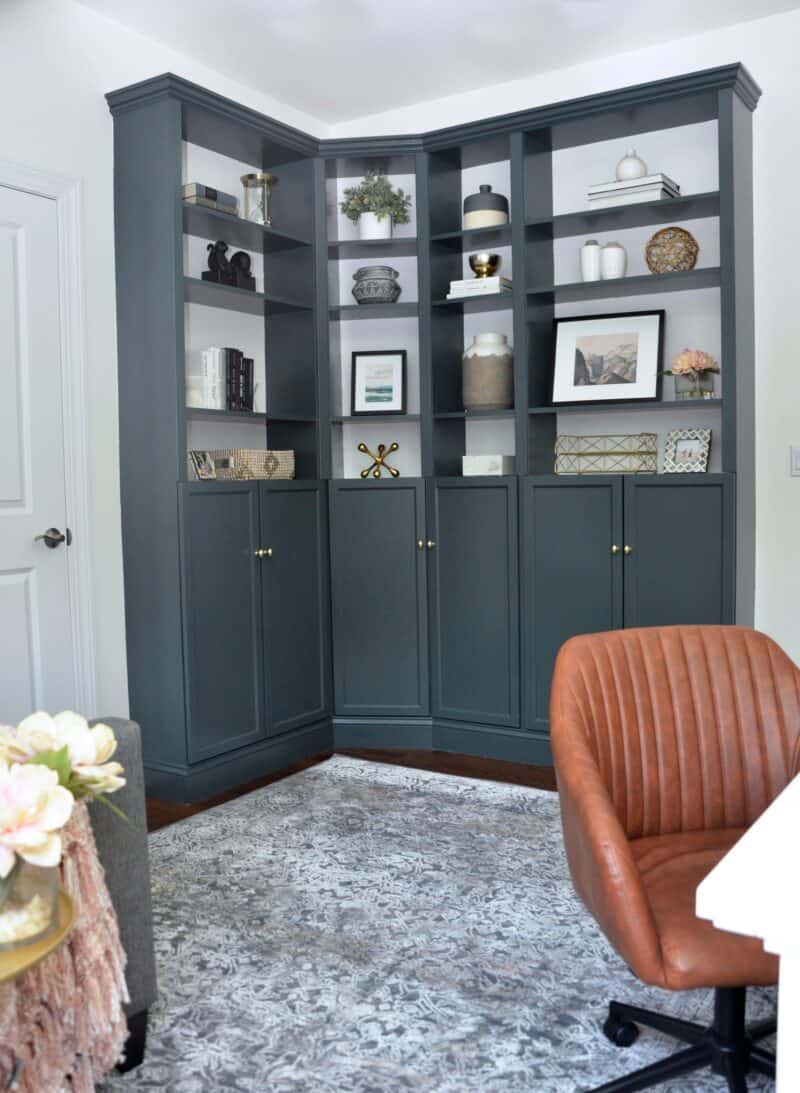 This elegant built-in corner bookcase is entirely made out of billy bookcases.  This hack uses both narrow and wide Billy bookcases. Crown molding and doors make the unit more custom looking and elegant.  You can see the hack right here.
LOVE THIS IKEA HACK? PIN IT FOR LATER!
Follow MAKE CALM LOVELY on Pinterest!
Tall Bookcases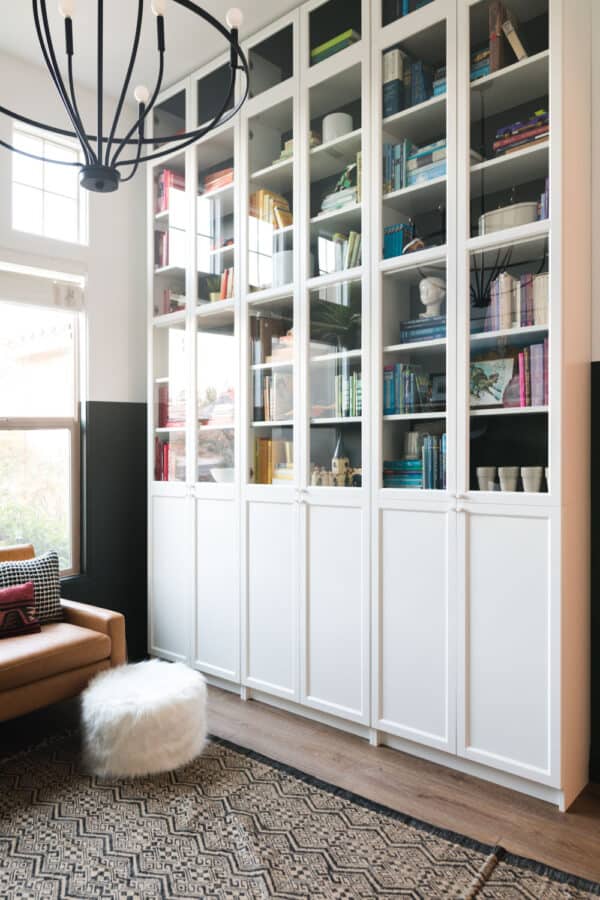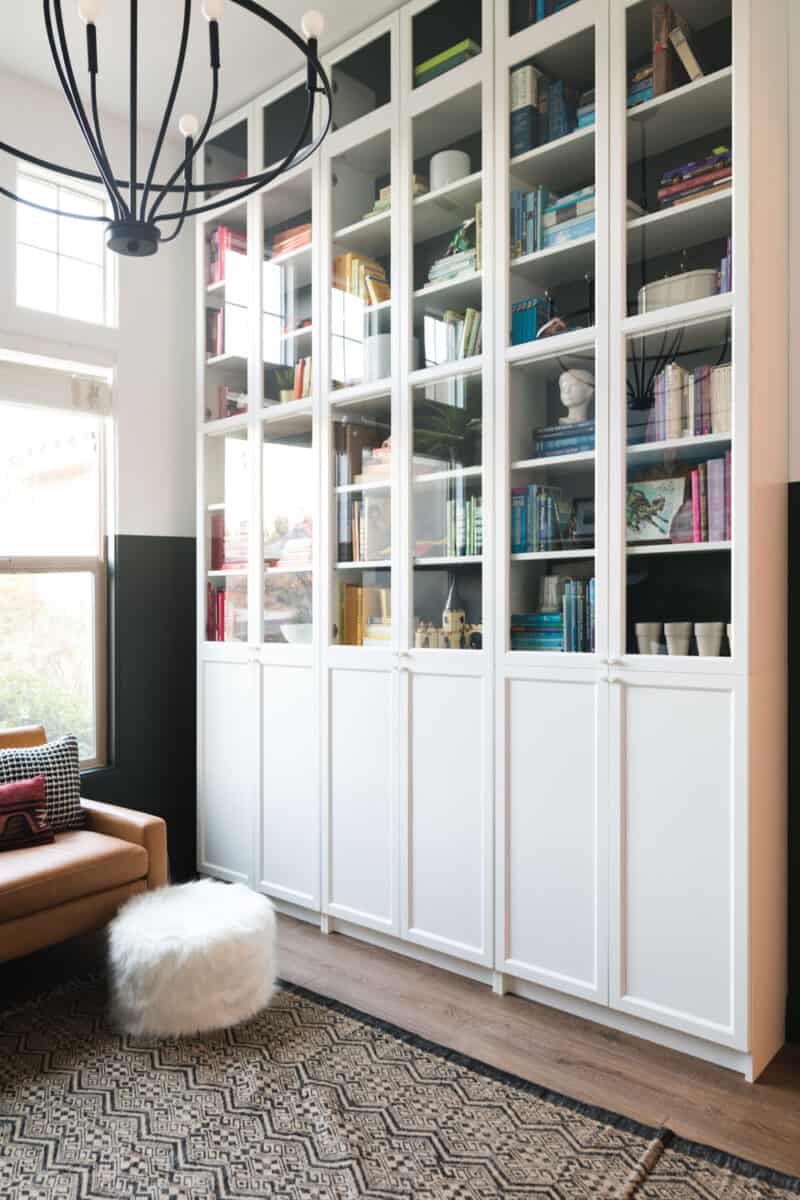 These amazing tall and gorgeous bookshelves are made entirely by hacking Billy.  In this hack the bookcases are stacked (and you must use brackets to do this). You can see the complete DIY hack tutorial right here.
Faux Built-in Units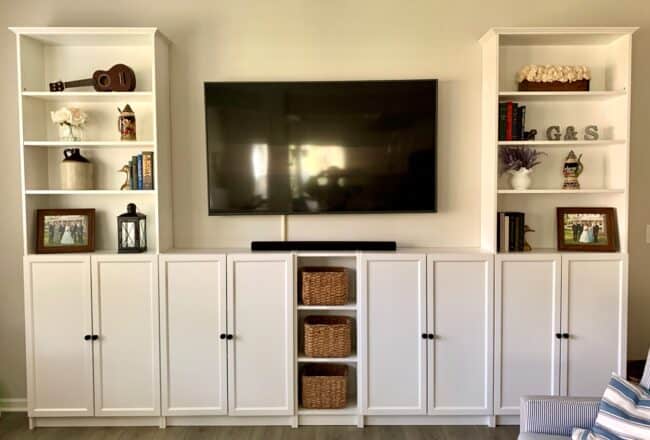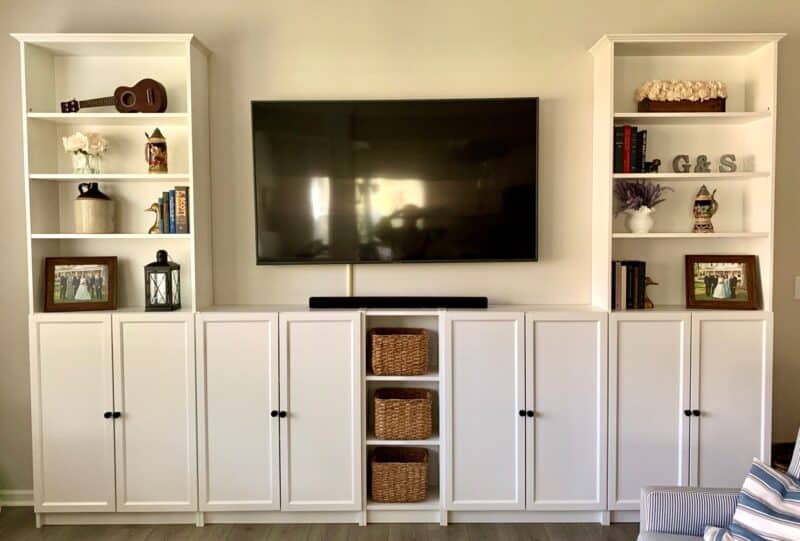 Here are some more built-in units from Billy. These ones are great for a TV unit, or even around a fireplace too.  You can see the hack and DIY instructions right here.
Billy Built-in Unit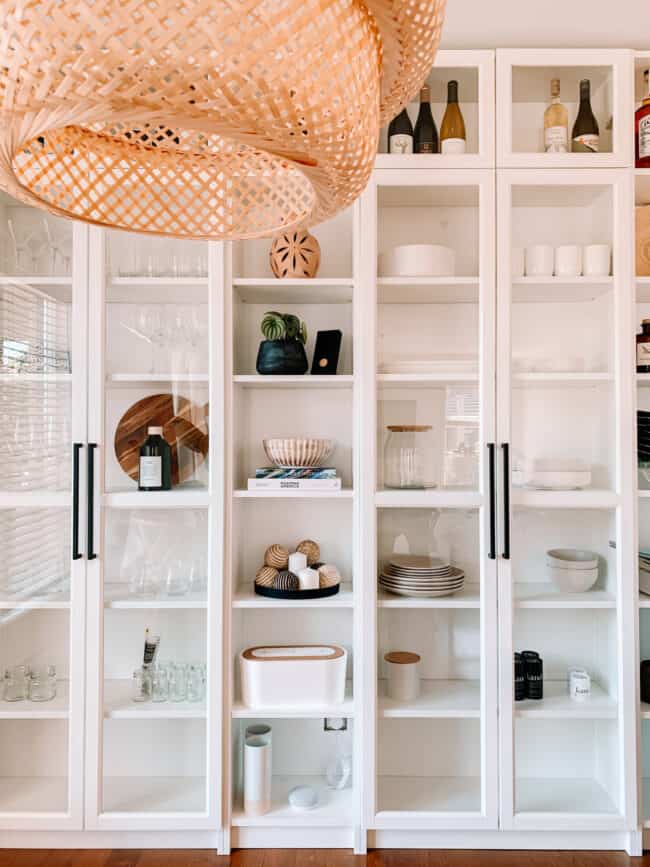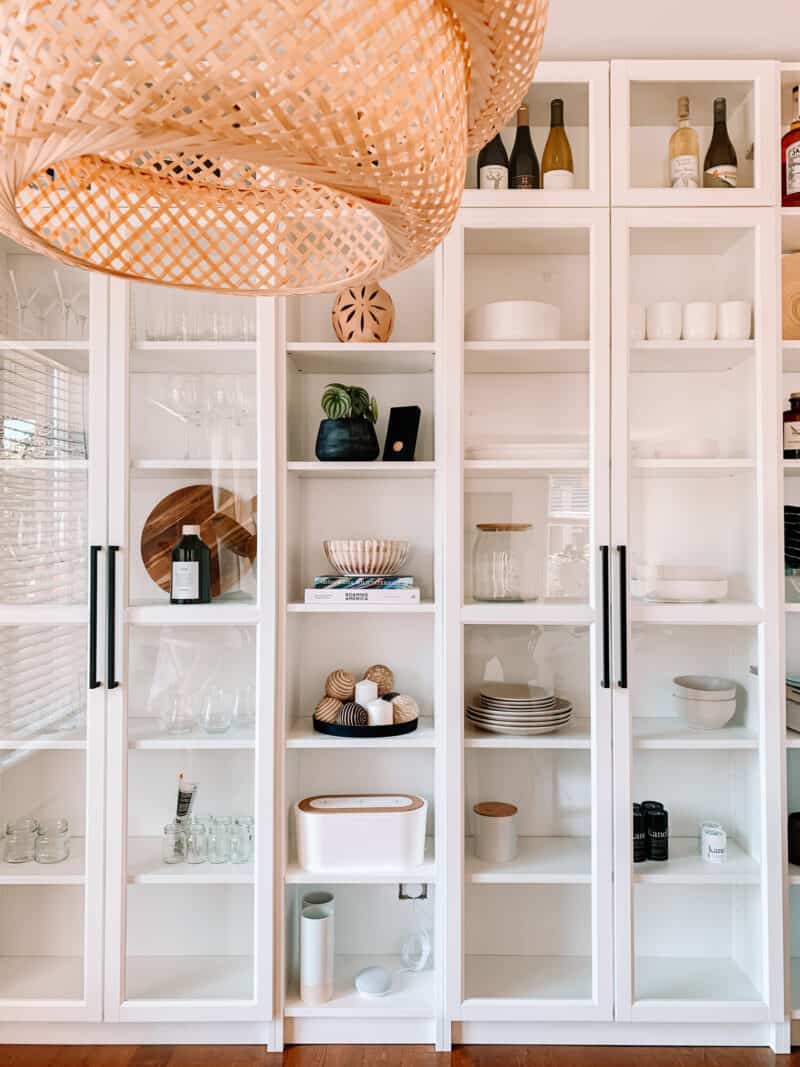 Here is another beautiful built-in unit from Billy. This one features elegant and stylish glass fronted doors also. You can see the hack right here.
Raised Modern Farmhouse Shelving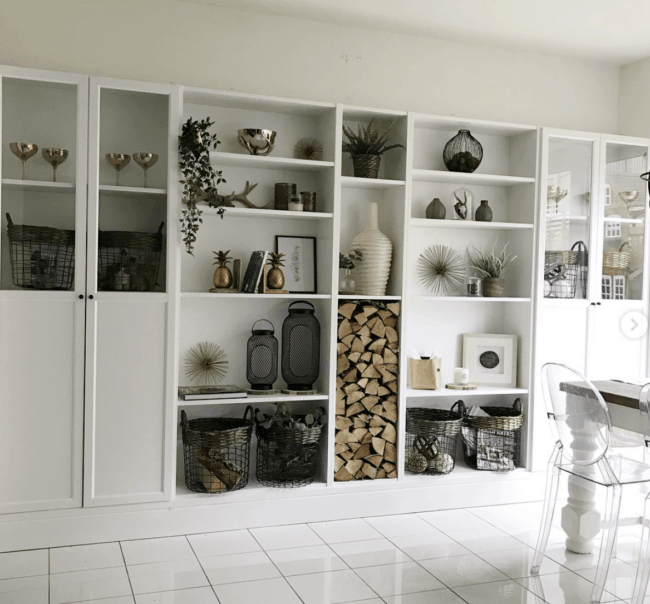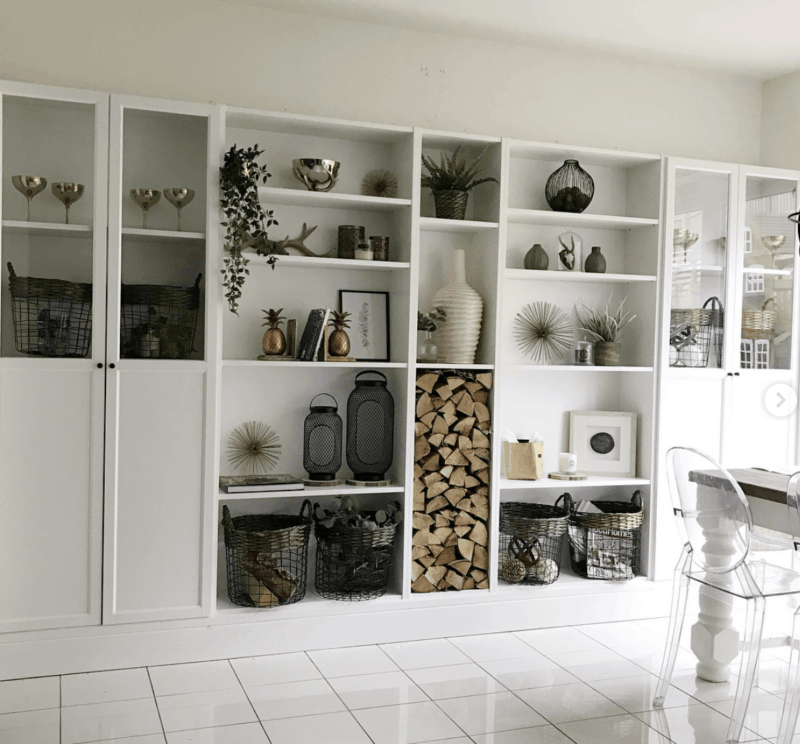 This raised modern farmhouse shelving, made entirely from Billy shelving, is so stylish and perfect.  The end result looks sleek and custom-made.  Just look at all that storage space too! You can see the hack here.
Hallway Storage Cabinet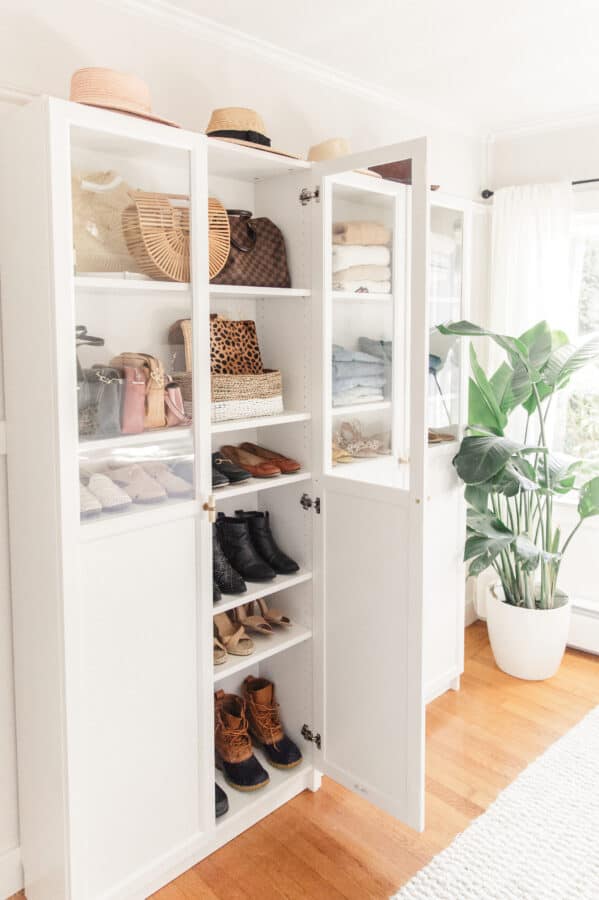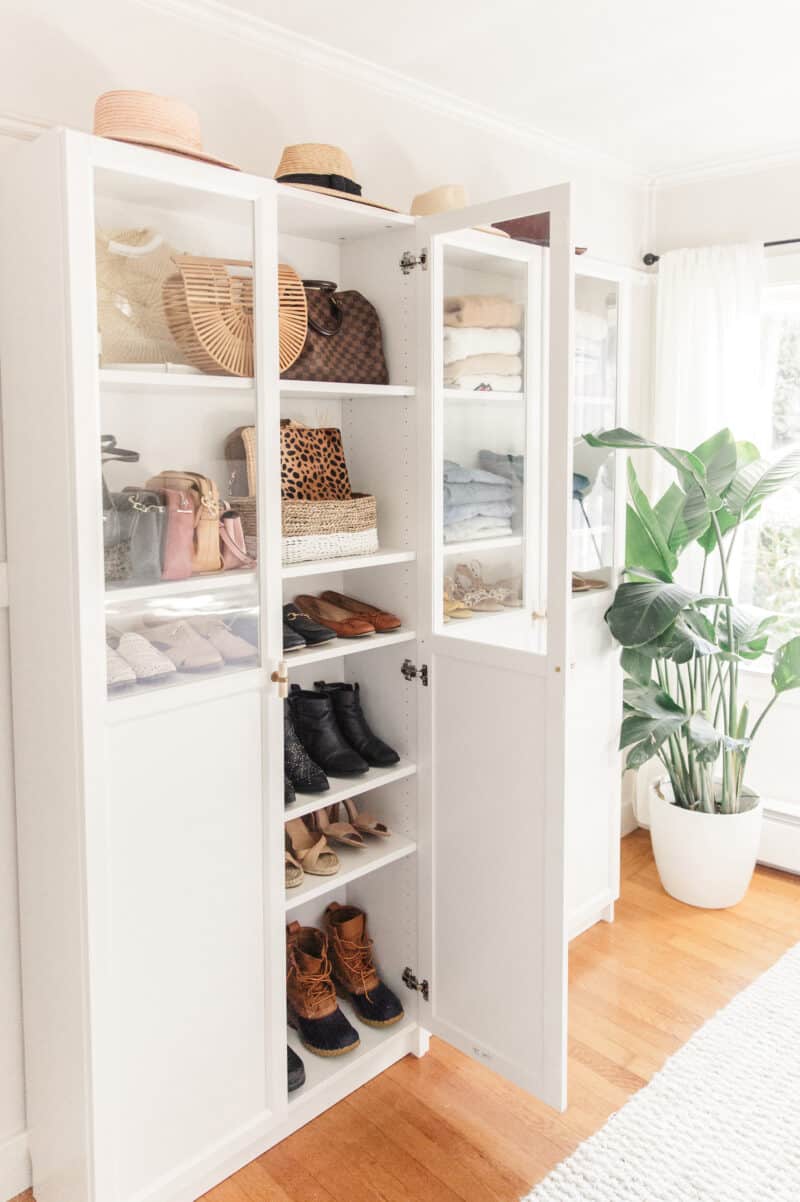 This is an amazing piece that not only looks so pretty, but it is so incredibly useful too. For all the stuff you need to store to hand in your hallway, create a beautiful storage cabinet unit for it using IKEA Billy shelving!  You can see the hack right here.
Art Deco Bookcases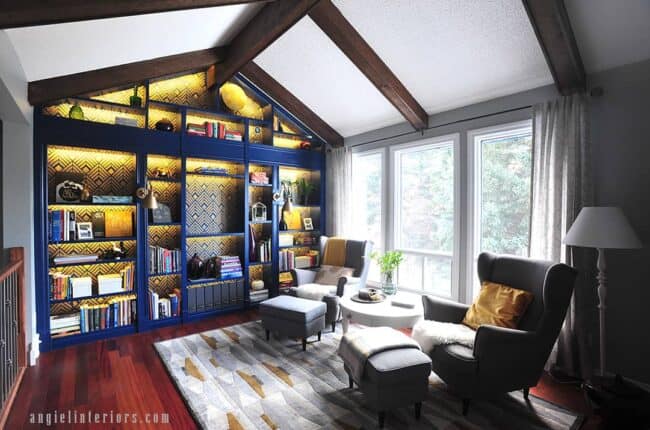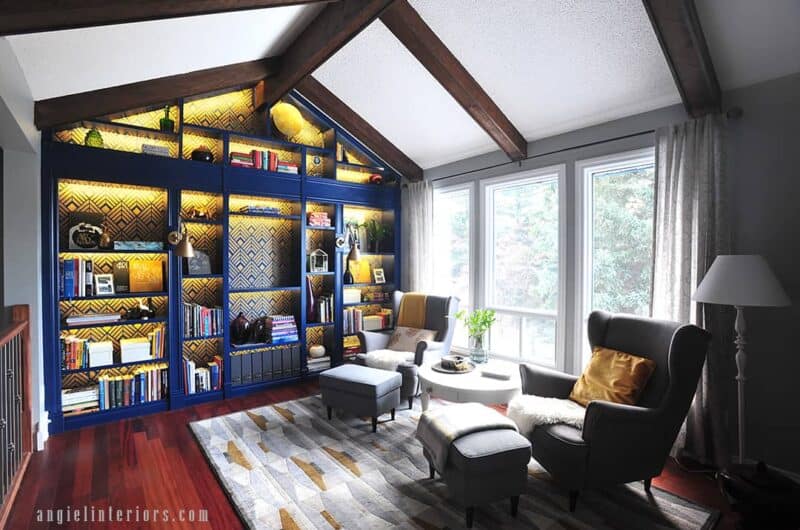 Billy bookshelves created this amazing Art Deco style bookcase unit for a library in this hack.  It is astonishing to realize that this was created all out of IKEA Billy units! You can see the truly awesome hack here.
Open Cane Weave Cabinet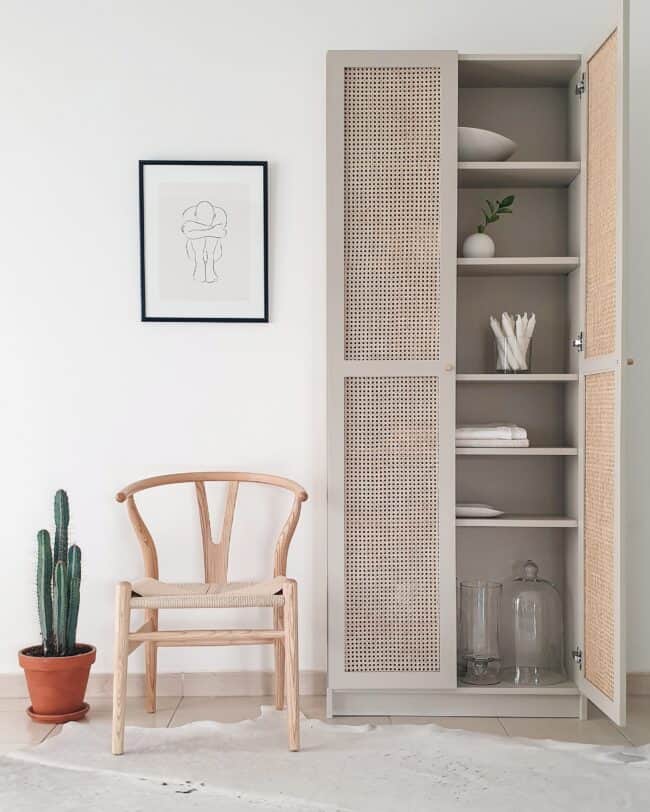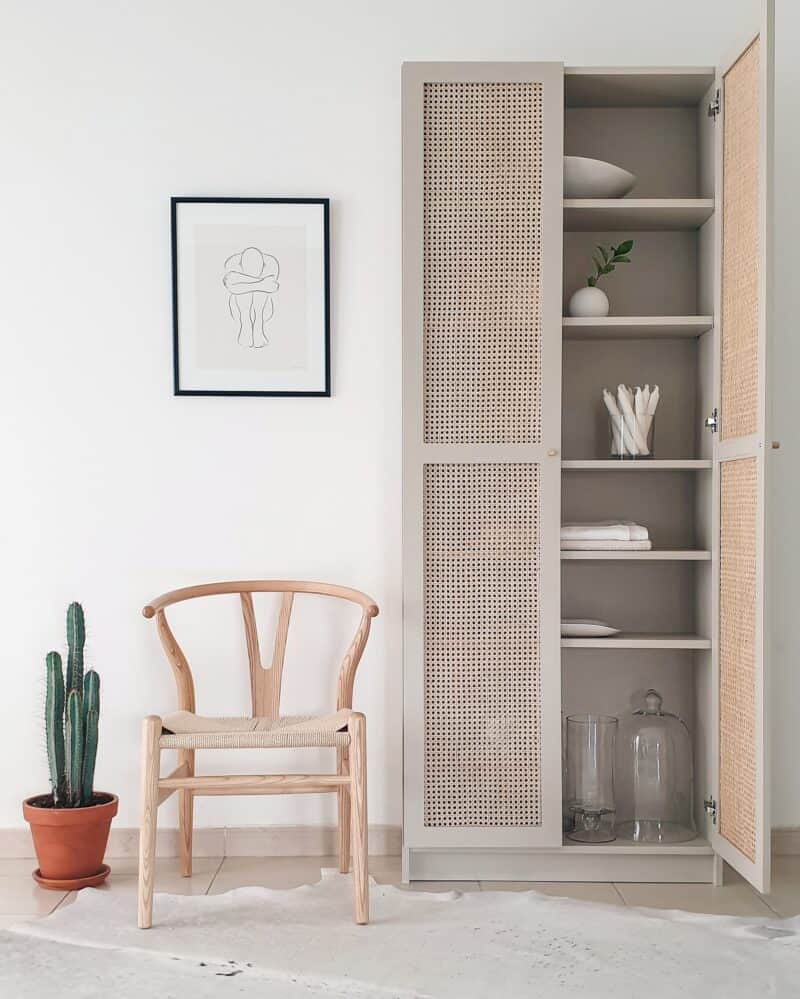 By adding trendy cane-paneled doors to this Billy bookcase, it has created a modern, sleek and beautiful unit.  This cabinet is so gorgeous, and would really stand out in any room of your home. See the hack right here.
Related: Amazing Beautiful & Stylish IKEA Cane & Rattan Hacks 
Billy Bookcase Hack with Library Ladder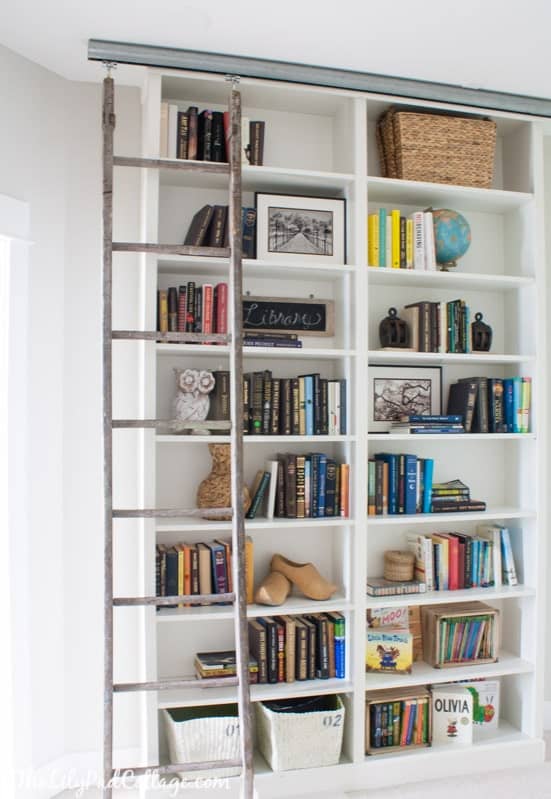 If you have always desired bookshelves with a moving ladder, this hack is for you!
Using the Billy unit, this bookcase has been created to be not just stylish, but incredibly useful too.  Now you can easily reach all that stuff up at the top of your shelves!  You can see the DIY hack right here.
Create an amazing piece for your home with an IKEA Billy bookcase! Change it and hack it and create a custom-made looking piece of shelving or a cabinet with these amazing hacks!
Pin this for Later!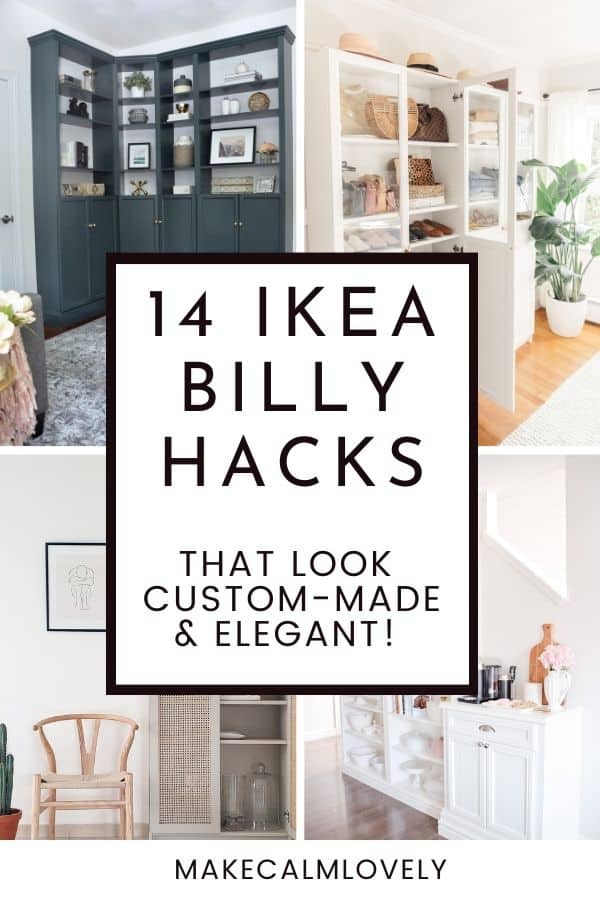 The IKEA Billy bookcase has been an IKEA staple for years.  It is a simple and affordable bookcase that can be hacked and upgraded so easily. Take a look at these amazing Billy transformations!
About Make Calm Lovely
Make Calm Lovely is a lifestyle blog specializing in IKEA DIY hacks, DIY & craft projects, home decor and so much more! Check out all the amazing things you can do and create to make your life calmier and lovelier at Makecalmlovely.com!