12 Must-Have Products from Amazon for your Mud Room
Here are 12 great must-have products for your perfect mud room! That mud room has to serve your family and gets high traffic too! These pieces will ensure that mud room keeps working for you!
If you are lucky enough to have a mud-room, or a designated entry room, you will know how useful and wonderful it it!
Mud rooms are the perfect landing spot for everyone to put their stuff when they come in, and grab their stuff when they are going out.
Mud rooms can house everyone's shoes, everyones's coats and jackets, bags, backpacks, school stuff, keys, umbrellas and so much more!
So here are 12 ideas for great products to have in your mud room – to make that important room work much better for you!
All these choices are also available on Amazon – so no matter where you are – you can get them easily!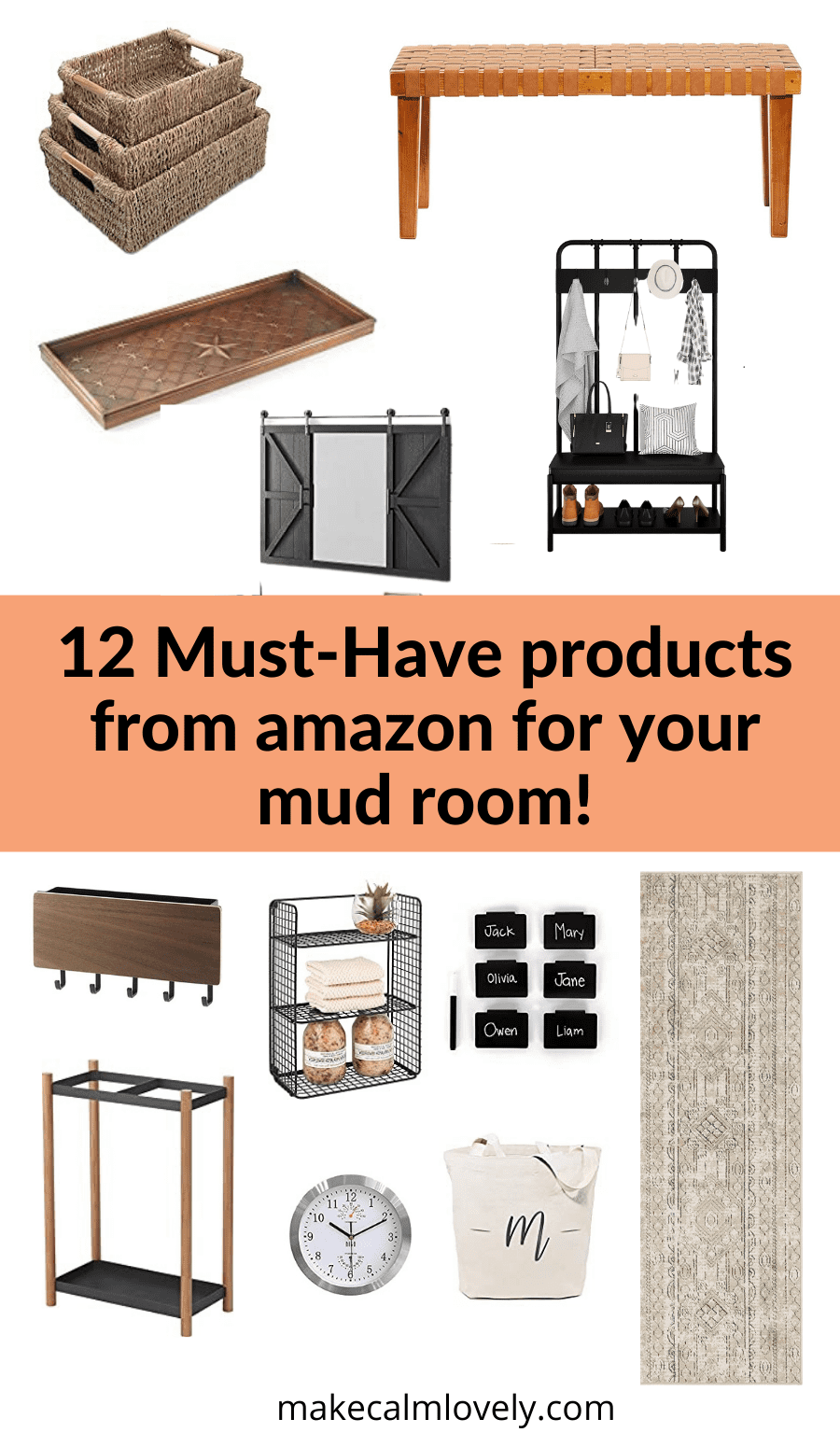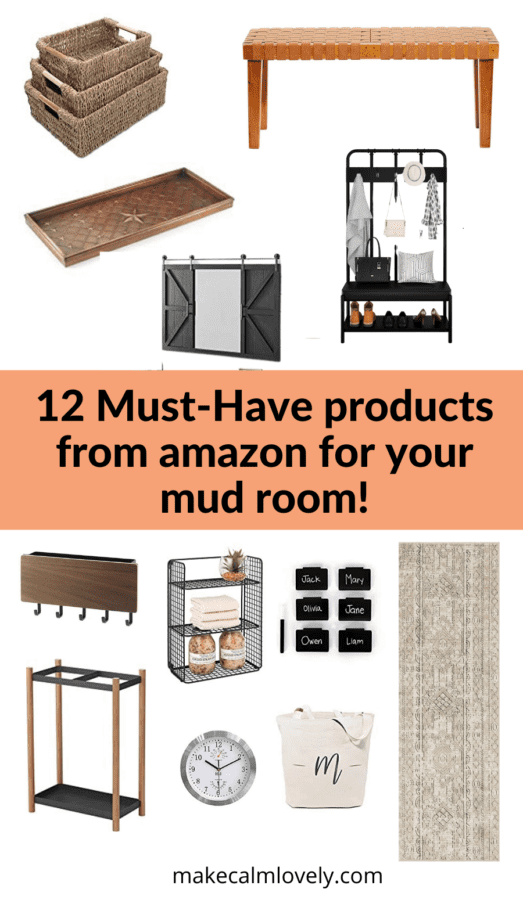 This post contains affiliate links. This means that if you click on a link in this post and make a purchase via that link I may receive a small commission, at absolutely no additional cost to you.
Wicker Storage Baskets
Storage baskets are so useful in mud rooms. They can be catch-all baskets for gloves, scarfs and hats. They can keep shoes together, they can hold important papers and more.
These wicker storage baskets are made from natural seagrass and come in a set of 3 different sized baskets. They are durable and hard-wearing, and will last a long long time.
Rustic Birch Bench
This is a really attractive birch bench, which is so durable and hardwearing too. It is perfect for an entryway or mudroom.
It has a rustic design that will fit in with pretty much any decor, and it is solid wood, with a woven leather top. This bench will last you for years and years.
Boot Tray
A Boot Tray is such a handy thing to have in your mudroom. Those dirty and wet boots can stain your floors and cause such a mess.
This is a durable boot tray that has a raised relief that promotes air-flow – so your stuff dries faster. Plus it is a lovely copper material that is hard-wearing and pretty to look at too.
Key Holder with Hooks
A key holder/mail holder is so useful to have just inside your door. This key holder has 5 handy hooks and is self-adhesive for easy mounting too.
Runner Rug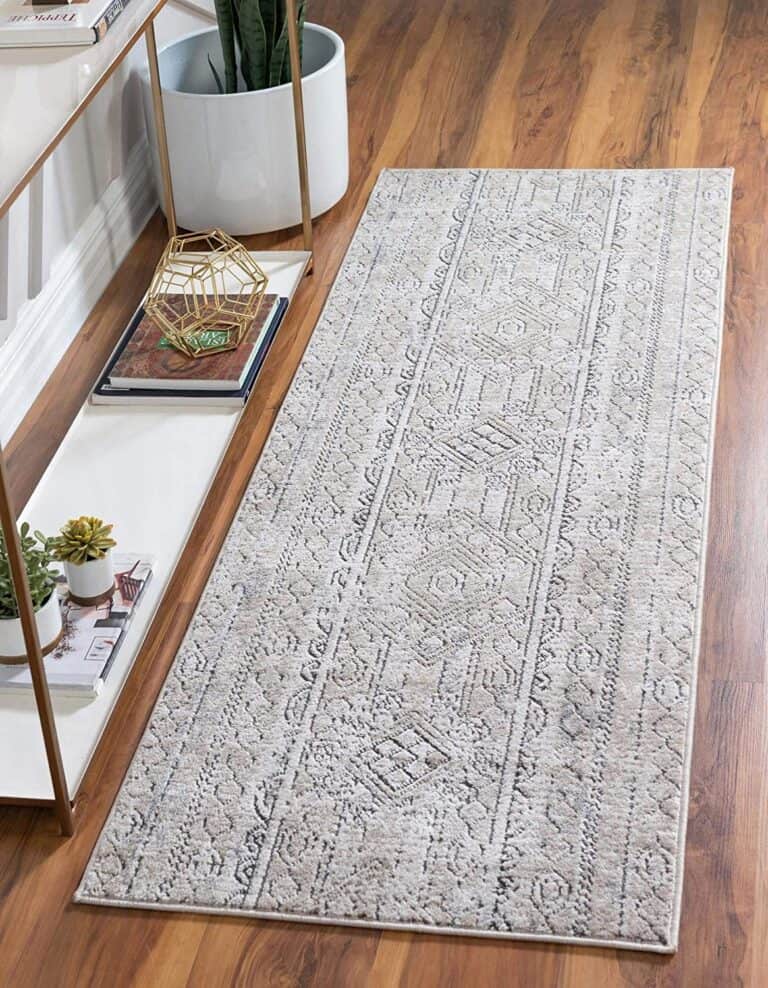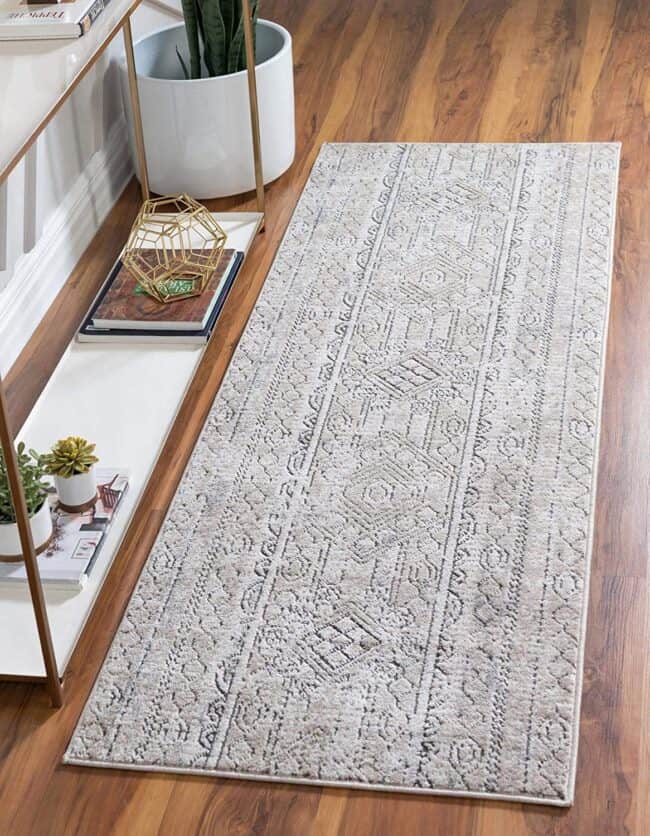 This is a pretty runner rug that is perfect for a mudroom, that is hard wearing to withstand a lot of everyday foot traffic too!
Entryway Hall Tree
This is a combination of coat rack, shelf, and shoe rack all in one, so is just perfect for a mudroom where you need that coat, shoe and other storage.
Metal Wire Farmhouse Style Wall Shelf
If you need extra shelving in your mud room, this is a really pretty farmhouse style wire shelf that is durable as well as attractive too.
Umbrella Stand
An umbrella stand is a really useful item to have in a mudroom. If you are running in with wet umbrellas, or need to grab an umbrella quickly, this is a great stylish piece that will serve you well.
Wall Clock
Chances are that a lot of time you find yourself in your mud room you are running out somewhere and trying to get your stuff together fast. Therefore a wall clock can be a great piece to have in there, so you always know what time you have!
Mirror
A mirror is so useful to have in your mudroom so you can check yourself finally before you rush out the door! This mirror is a pretty stylish barn door mirror – that will add a touch of decor to your mudroom as well as being practical too!
Basket Bin Labels
Keep track of whose stuff is whose with these chalkboard bin labels. You can click them on shelves, on baskets and bins and more. So everyone will know automatically where there stuff goes, and can be found!
Personalized Name Bag
Another great way to keep stuff organized by person in your mudroom is to use a monogrammed initial canvas bag for each person for their stuff!
Here are 12 great must-have products for your perfect mud room! That mud room has to serve your family and gets high traffic too! These pieces will ensure that mud room keeps working for you!