Best IKEA Vanity Dressing Tables
Our guide to the best make-up vanity dressing tables from IKEA! See our top picks for the best vanity dressing tables for your home, depending on your needs!
Vanity tables are a great way to store your make-up and other accessories, and also to sit at and do your make-up and hair too.
If you are looking for a stylish and affordable dressing table vanity unit you won't go wrong with IKEA.
IKEA sells really affordable stylish furniture.  They have a range of dressing tables and vanity units to choose from.
It is not a huge range, but with about 8 or so dressing/vanity tables to choose from there is a very good chance they have exactly the type that you need and want.
Here are our top picks for a dressing table/vanity table from IKEA.  Scroll down to the end of this article for our top pick!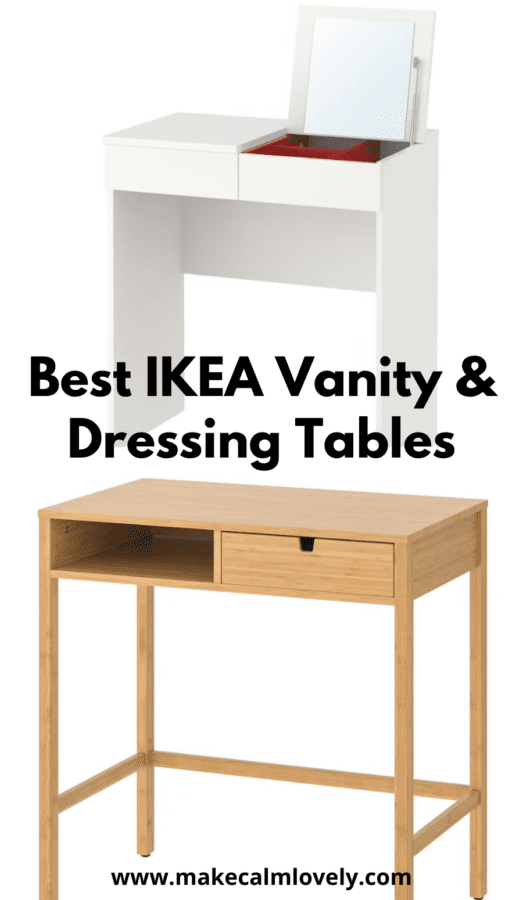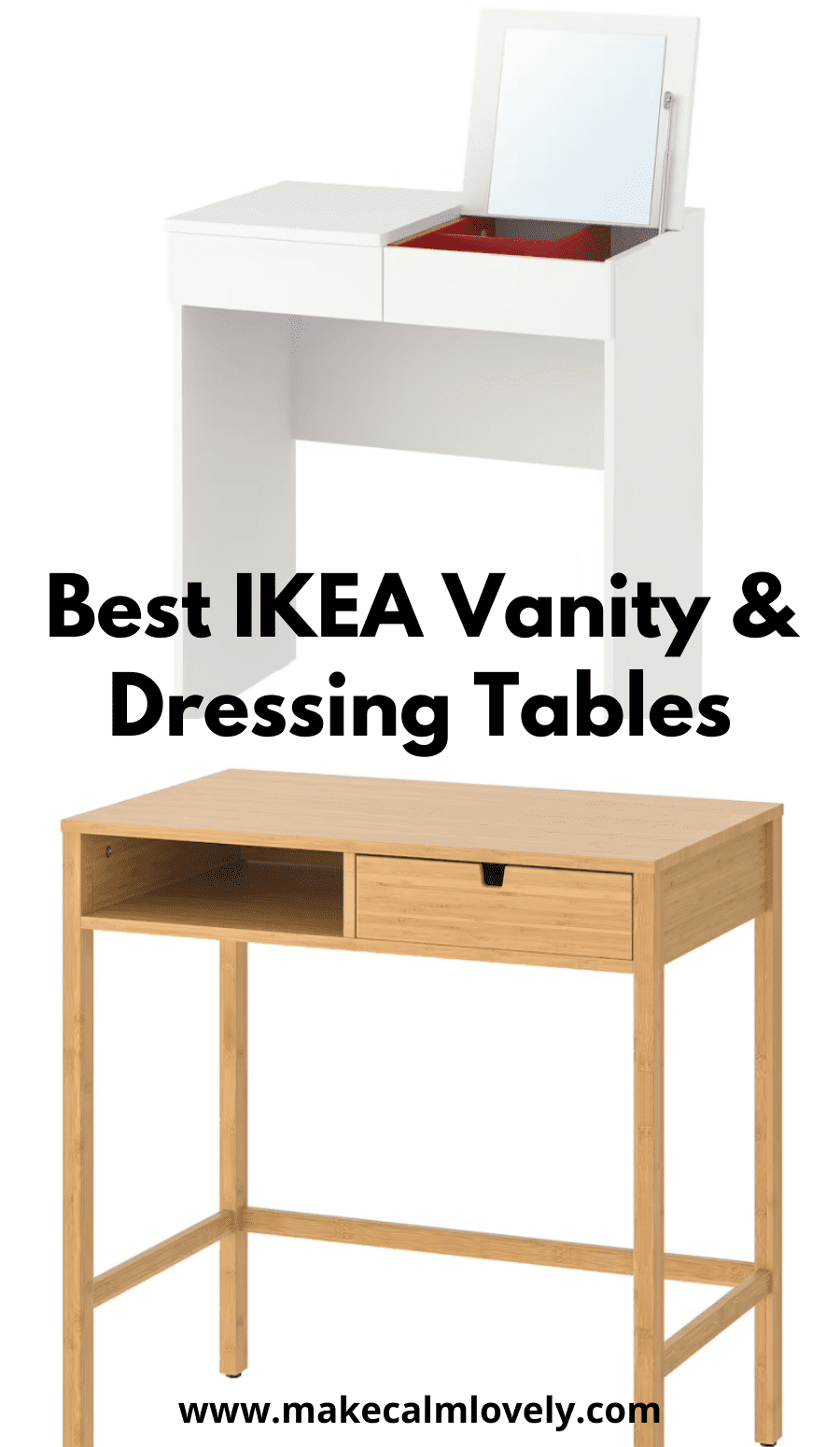 IKEA Brimnes Vanity Table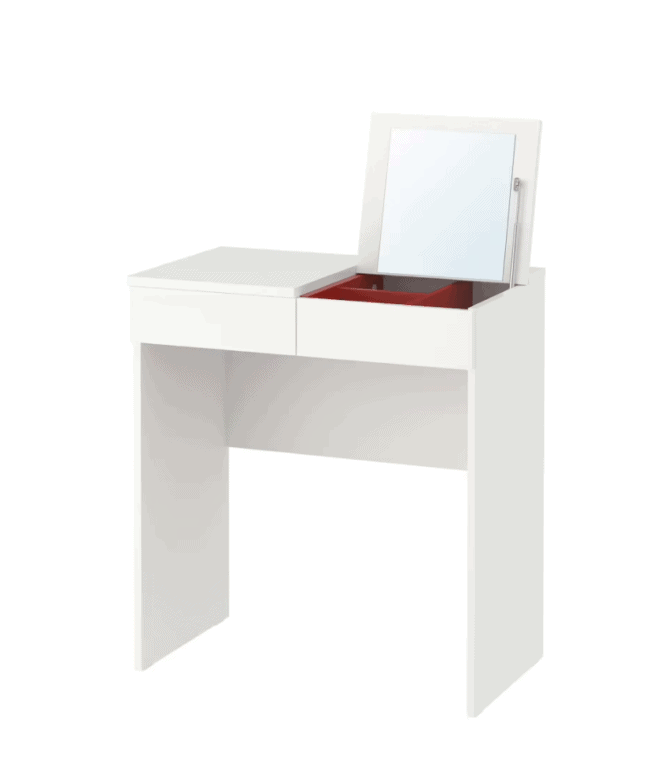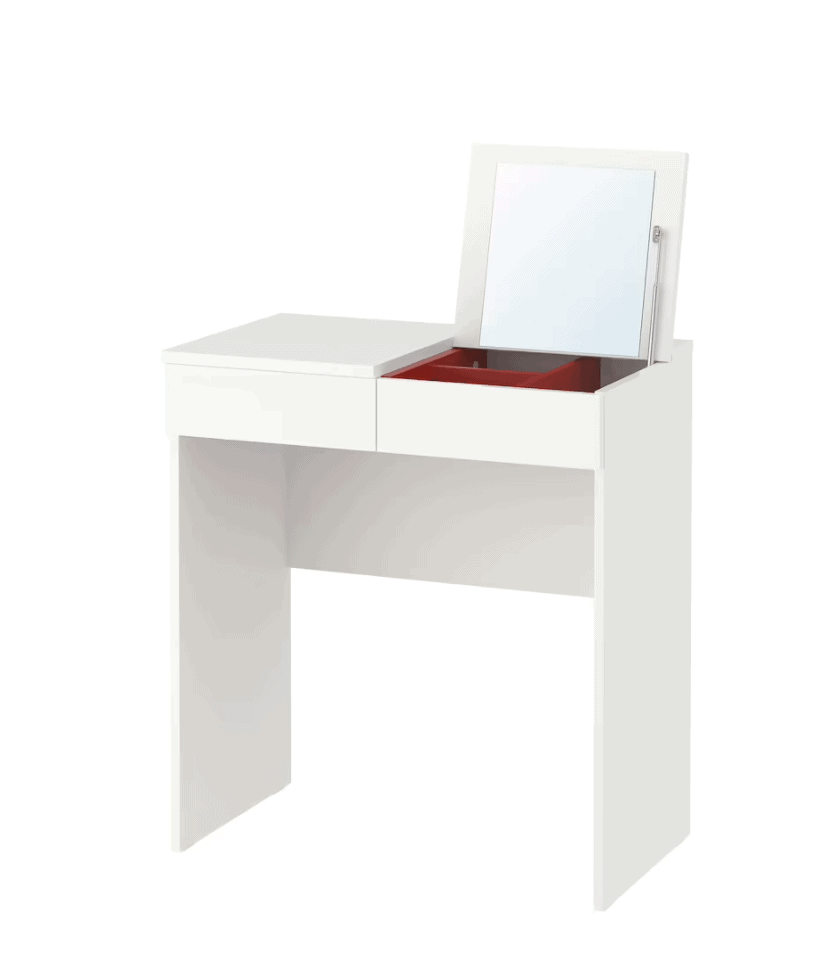 The IKEA Brimnes vanity table is a great compact sized dressing table, especially for when you don't have a lot of available room for a dressing table in your home.
Brimnes comes with a really handy storage unit, with a flip-up lid that also houses a mirror. In addition to this storage unit there is also a really handy storage drawer too.
This vanity unit is a great option for a smaller sized dressing table.  It has more than adequate storage for make-up, with both the drawer and the compartmentalized storage area underneath the hinged lid.
Price: $129 (US)
Reasons why IKEA Brimnes is a great vanity table:
Good compact size will fit into most spaces and rooms

Can also be used as a desk too 

Stylish minimal design

Comes in either white or dark gray

Good sized pull out drawer for storage 

Good sized additional storage unit with compartments

Hinged lid which houses a mirror

Easy to assemble and build in about 30 minutes or so

Good affordable price, even if you are on a budget

Drawer has a pull-out stop and slides very smoothly
Cons of the IKEA Brimnes Vanity Table:
Some reviewers have mentioned the following as cons to this vanity table:
Mirror in the lid is not the best make-up mirror, doesn't lean back enough to use well.

Inner compartments are a bright red – which doesn't appeal to everyone. But they cannot be seen unless the lid is opened.
Nordkisa Bamboo Dressing Table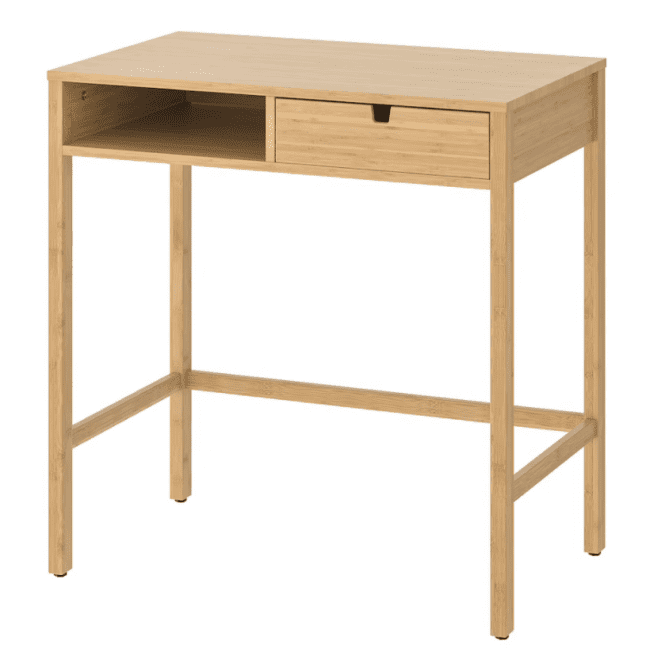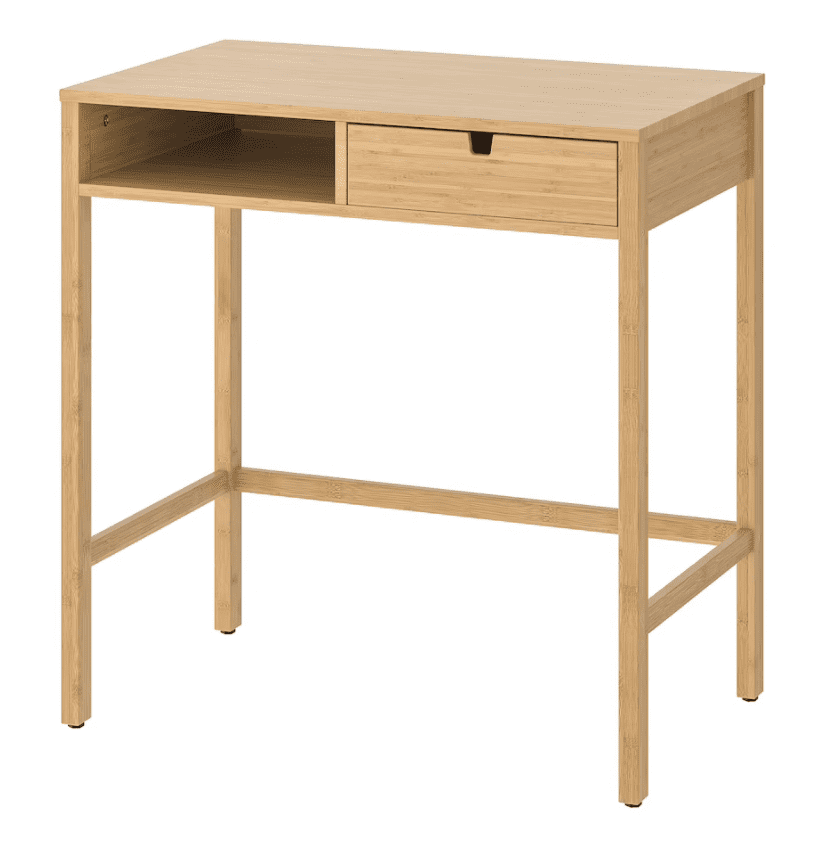 The Nordkisa dressing table is an attractive and stylish dressing table that is made with sustainable bamboo. Therefore the color and durability of this table is really great.
There is one handy storage drawer in this unit, which can be accessed from both sides, which means you can either push this dressing table against a wall, or leave it free-standing.
There is another open shelf compartment to the left of the drawer that can be used for additional storage.
This is a good compact size that will easily fit into most homes and rooms, especially if space is tight.
Price: $149.99 (US)
Reasons why IKEA Nordkisa is a great vanity table:
Lovely bamboo material that looks warm and is so durable

Easy to assemble

Drawer for storage

Good compact size

Stylish contemporary design

Can be also used as a desk

Good affordable price
Cons of the IKEA Nordkisa Dressing Table:
Some of the cons that people have mentioned in reviews are:
There is no drawer stop

The bottom decorative rails are very fragile, especially if you rest your feet on them
Alex Desk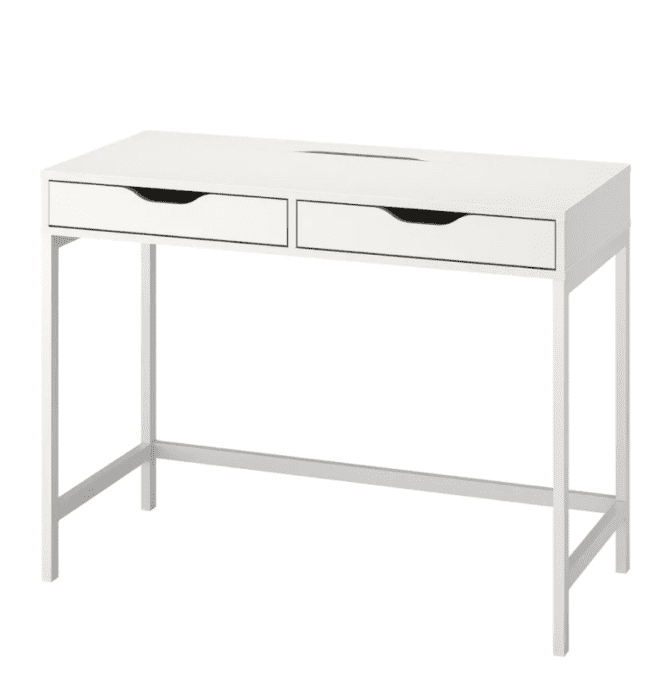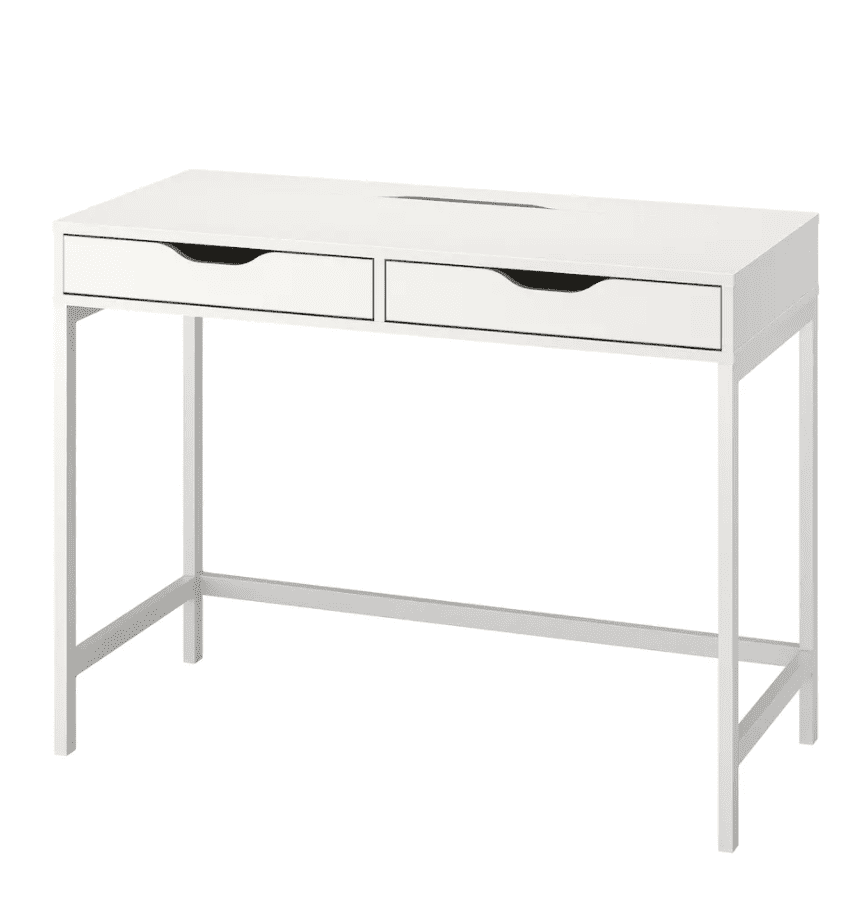 The IKEA Alex desk is a nice clean looking desk with two handy storage drawers.
It fits in completely with IKEA's Alex range of furniture, which includes drawer units and more, if you want to match up furniture.
The storage drawers are a really good size to store a lot of what you need to keep at hand.
Price: $139.99 (US)
Reasons why the IKEA Alex Desk is a great dressing table:
Very handy sized storage drawers for your make-up

Can be used as a desk as well as a dressing table

Built-in cord management

Drawer stops

The back is finished, so it can be placed anywhere in the room

Comes in white, black-brown, and Gray-turquoise colors

Sturdy desk

Can easily be set up with additional drawers using the matching Alex drawer units.
Cons of the IKEA Alex Desk:
Some of the cons that people have mentioned in reviews are:
Not a lot of space to store things on the top of the desk (but this was more in relation to it being used as a desk with a computer etc)
Hemnes Dressing Table with Mirror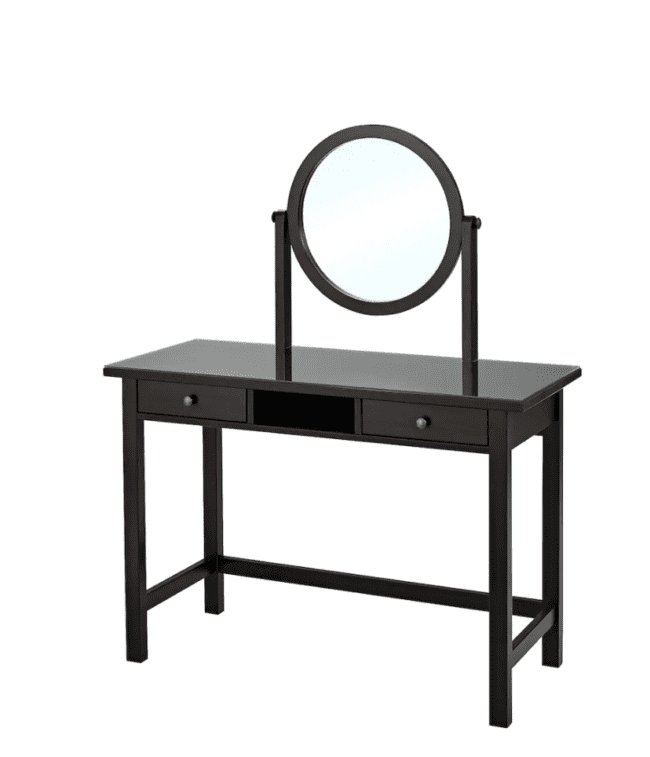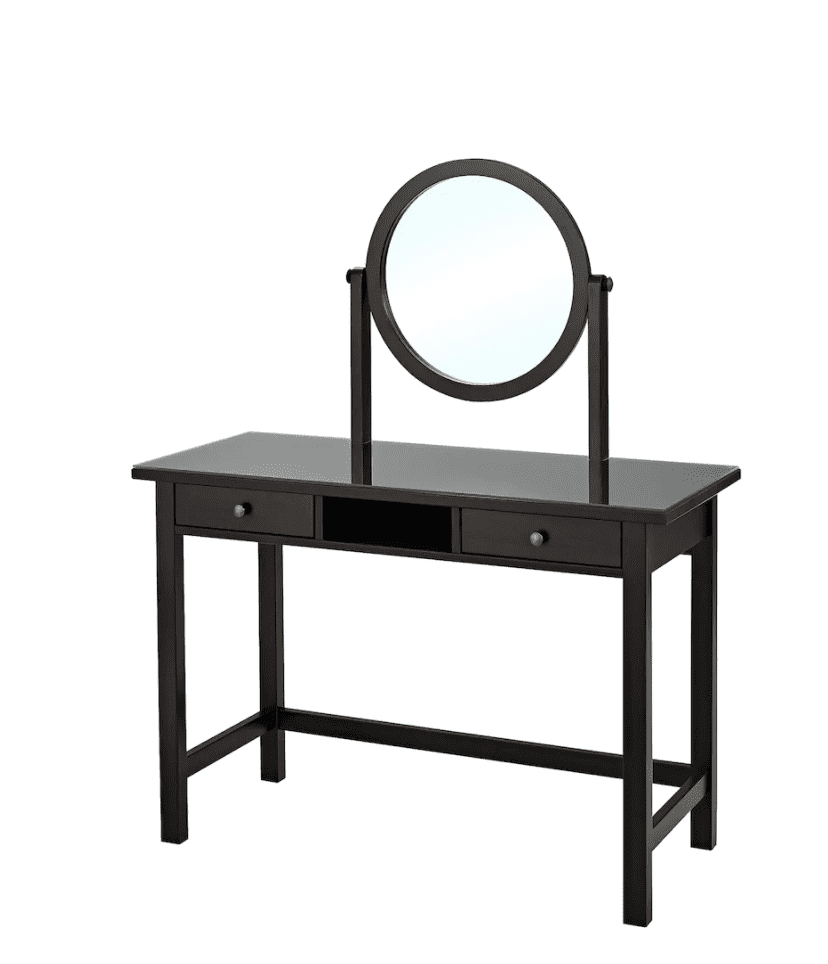 The IKEA Hemnes dressing table comes in a black-brown color to fit in with most color schemes and decor in your home.
It has two good sized drawers with drawer stops for storage, and an additional center shelf area for storage too.
The attached mirror is a really nice touch, especially as it can be adjusted and moved up and down.
Price: $229.99 (US)
Reasons why the IKEA Hemnes dressing table is a great dressing table:
Lots of storage space with 2 drawers and a shelf compartment

Mirror is adjustable

Stylish design

Has a nice glass top that makes it more durable and expensive looking

Easy to assemble

Can also be used as a desk too

Top is easy to wipe clean
Cons of the IKEA Hemnes dressing table:
Some of the cons that people have mentioned in reviews are:
Drawers did not line up with the runners when assembling them, so they removed them (and it worked just fine regardless).
About Make Calm Lovely
Make Calm Lovely is a lifestyle blog specializing in IKEA DIY hacks, DIY & craft projects, home decor and so much more! Check out all the amazing things you can do and create to make your life calmier and lovelier at Makecalmlovely.com!