Easter Decor that is Simple & Pretty
These glass jars of chocolate eggs are the perfect simple and pretty Easter decorations for your home! They are easy to make, and they are inexpensive too!
If you are looking for simple and pretty decorations for your home for this Easter, these glass jars of colorful chocolate eggs are the perfect decor!
You can find glass jars anywhere (including your own home), and chocolate eggs are always readily available pretty much everywhere!
For this DIY you just need a glass jar or storage container and some chocolate eggs! It is that simple!
It is so simple, yet absolutely so effective! But be warned – you will have to keep fingers out of the jars!
You could place a glass jar full of chocolate eggs as a centerpiece on your table. Or place a couple of glass jars of eggs on a mantlepiece or shelf.
This DIY looks particularly effective if you use different sized glass jars full of eggs next to each other.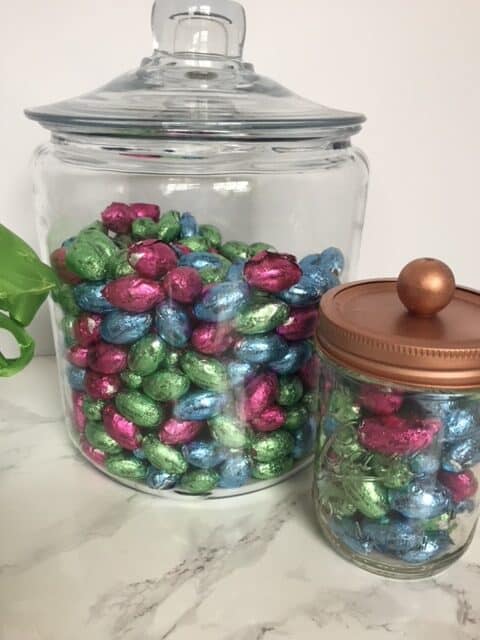 This post contains affiliate links. This means that if you click on a link in this post and make a purchase via that link I may receive a small commission, at absolutely no additional cost to you. You can view my disclosures here.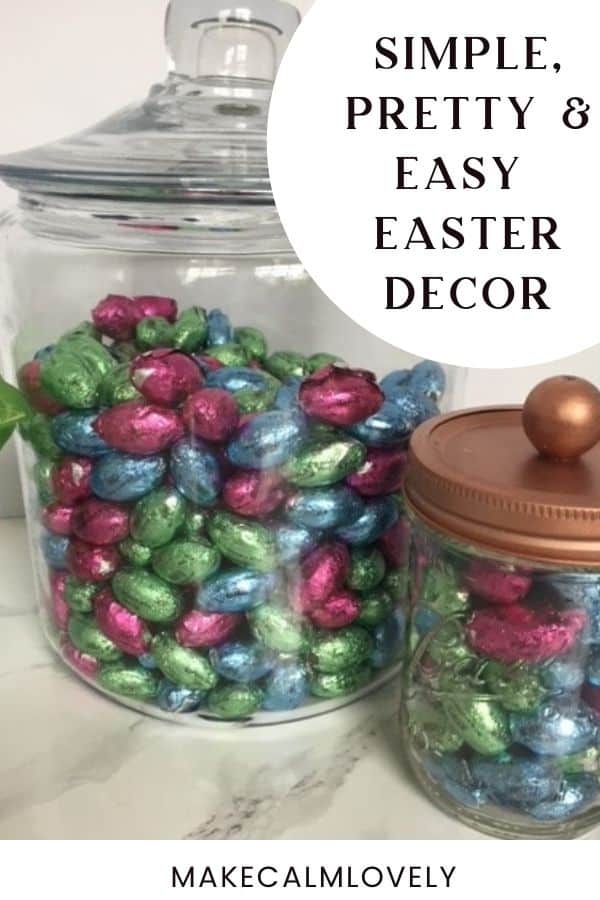 Some Great Glass Jars to use
Use up glass jars that you have around your home for this DIY. Mason jars can look especially good for this, or even jam and jelly jars.
The copper topped jar shown in this DIY was an easy DIY project to turn an old jar into a great looking glass cannister storage jar. It is the perfect way to recycle glass jars! You can see the DIY project right here.
Glass Candy Jars
These glass candy jars are ideal for filling with chocolate eggs! They have a great glass stopper handle on the lids, which gives the look of an old-fashioned candy jar. You can get them here.
Black Metal Lid Farmhouse Style Jar
This jar has a real farmhouse look to it – so it is perfect if you love farmhouse modern style in your home! You can get it here.
Glass Cannisters
These glass cannister jars would also look great for chocolate eggs! They have that lovely flat stopper top to them. You can get them here.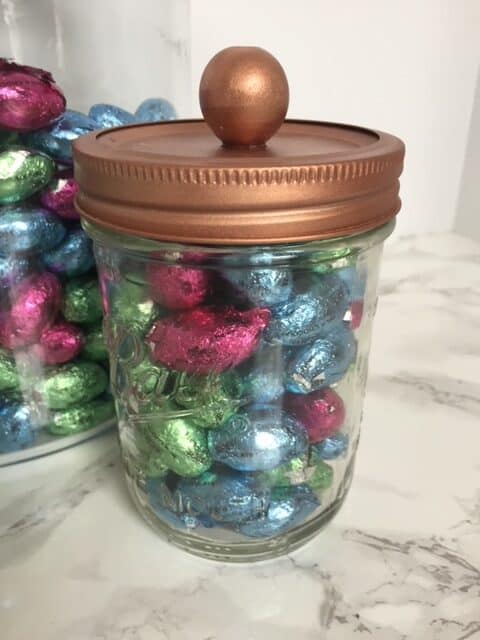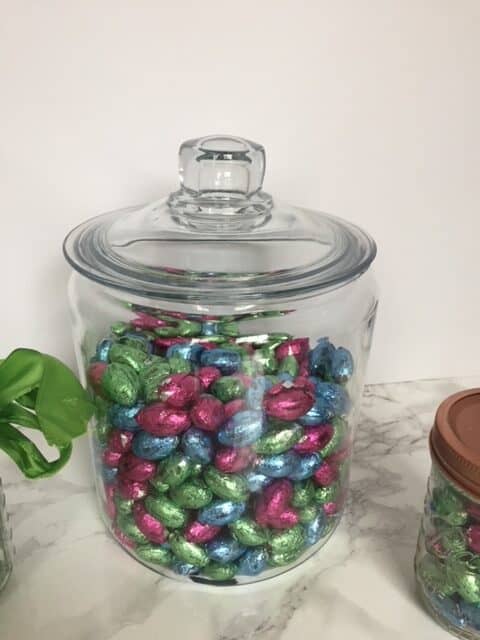 Chocolate Easter Eggs
You can get these small foil covered chocolate eggs just about anywhere if you want to use the same eggs that I used in this DIY. They are also readily available here from Amazon.
I love these particular eggs because the colors are "so Easter" and fun and pretty too!
But your local grocery store probably has a wide selection of chocolate eggs around Easter time! Just grab several bags next time you are in there!
This Easter decor DIY is easy, fast and inexpensive. Just what you need for Easter decor!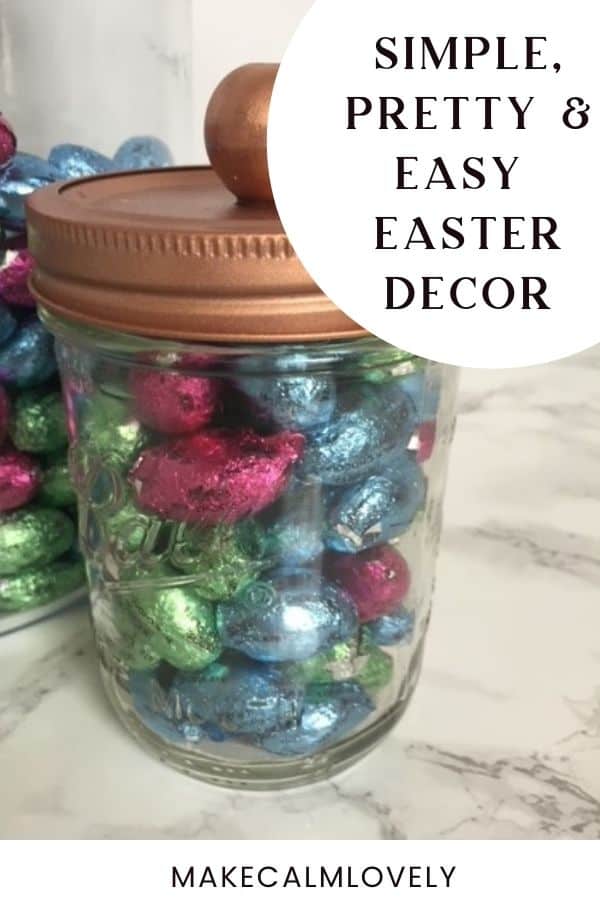 These glass jars of eggs are the perfect simple and pretty Easter decorations for your home! They are easy to make up, easy to get, and are inexpensive too!