12 Amazing IKEA Trones Hacks & Uses
The IKEA Trones storage units are lovely yet simple  storage shelves, designed for storing shoes, or pretty much anything at all, in any room of your home. Here are.   hacks and uses for this great unit!
The IKEA Trones storage shelving unit is simple yet elegant.  It is designed to be placed in an entrance hallway, or anywhere with limited space, to store your shoes and other items. In fact Trones was originally made for shoe storage, but it is so much more than that!
Trones is an extremely popular and affordable unit that IKEA sells.  If you use it alone it looks stylish enough, and it comes in two different colors too to match your decor. But you can also paint it too, if you want something more than the white and black colors that it comes in already.
You can use Trones in an entrance hallway, in a kitchen, in a bedroom or nursery, in a garage… in fact you can use Trones just about anywhere in your home.
But there are things you can do to Trones to make it prettier and more useful.  This includes painting it, adding different pulls and handles, stacking several units together, and so much more.
So here are 12 different ways and ideas to hack the Trones unit, or to put it to good use around your home.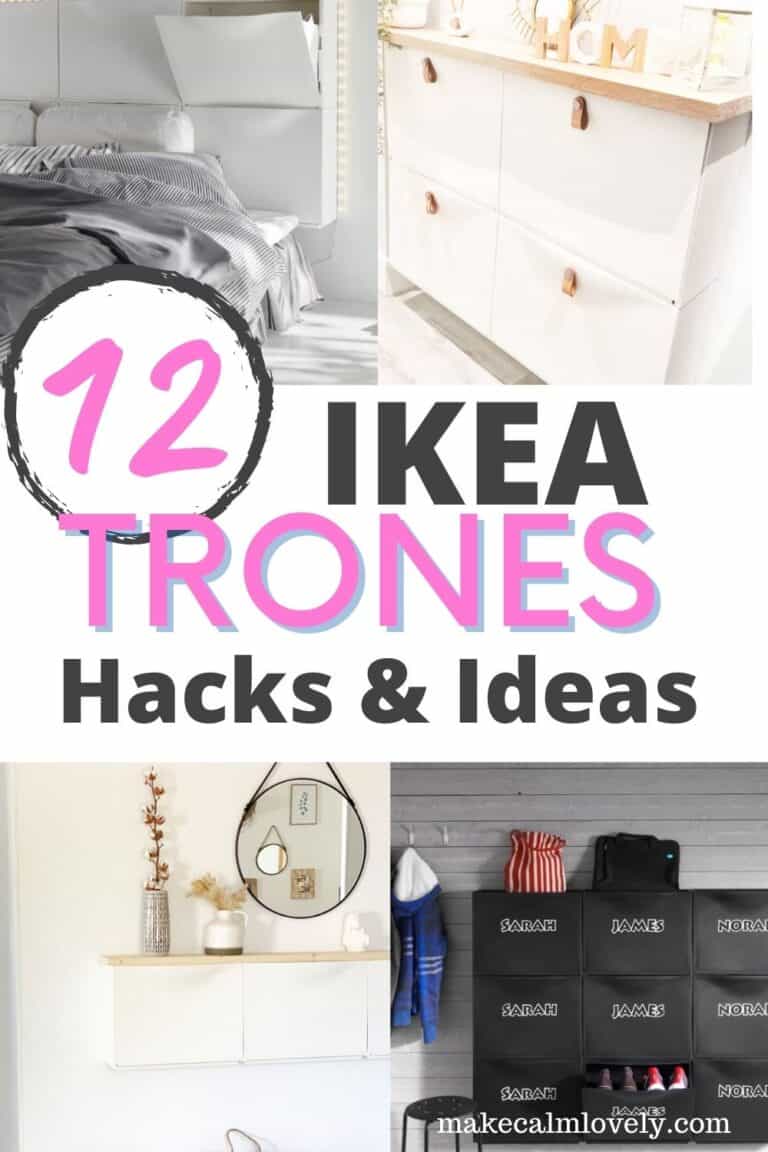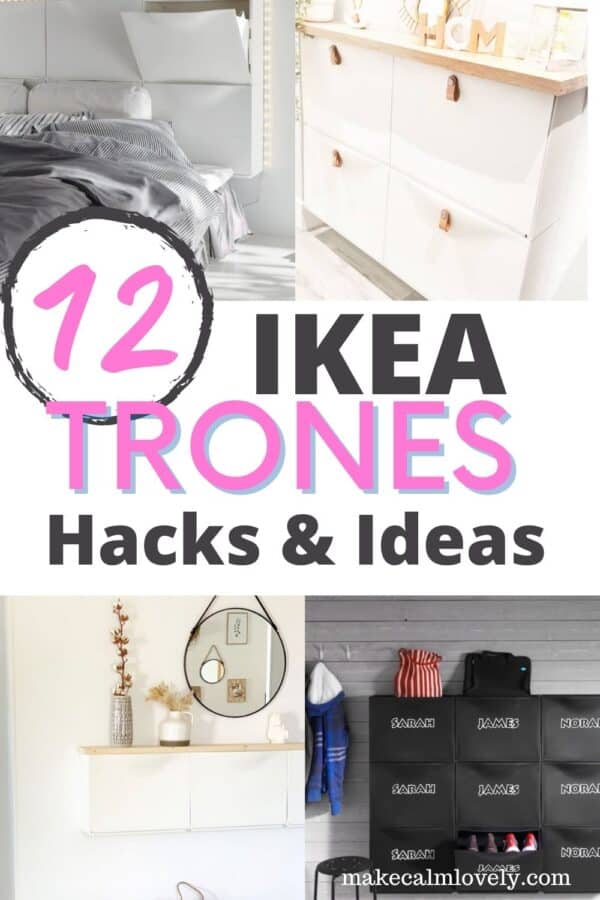 The IKEA Trones Unit
The IKEA Trones unit is a 2-drawer unit that comes in both white and black colors. This is how it comes directly from the store: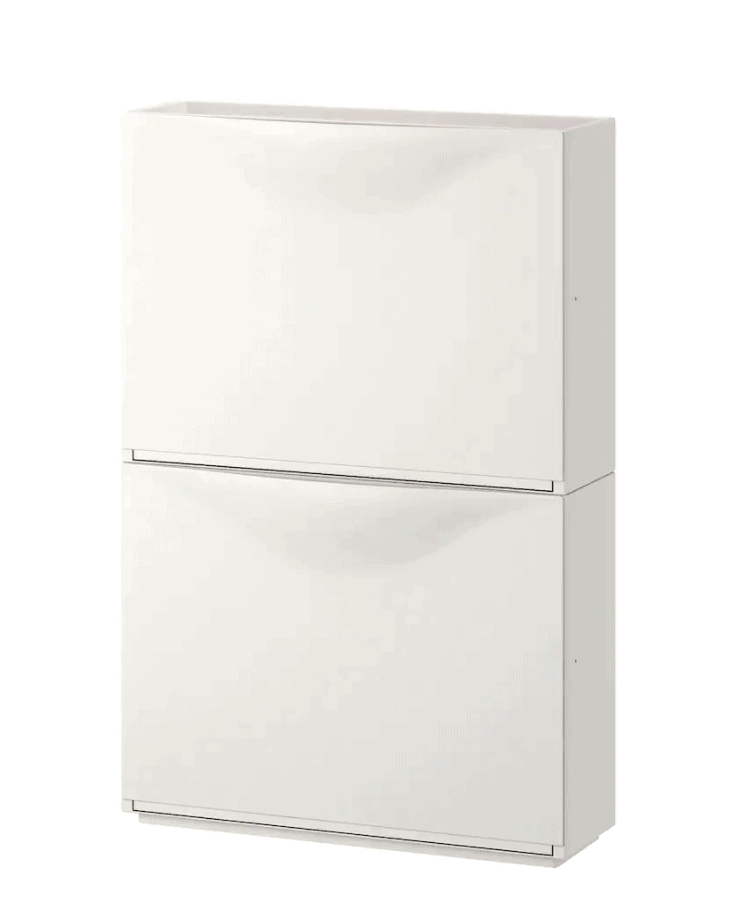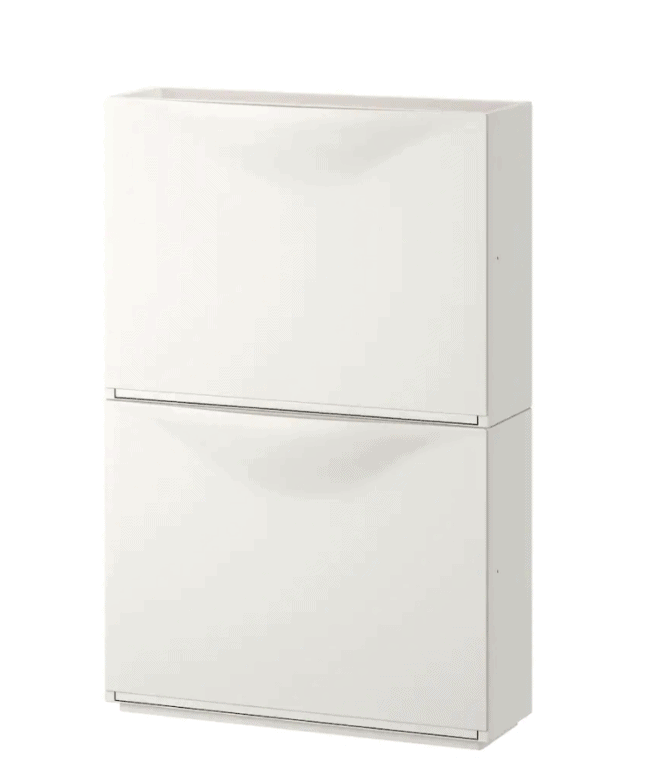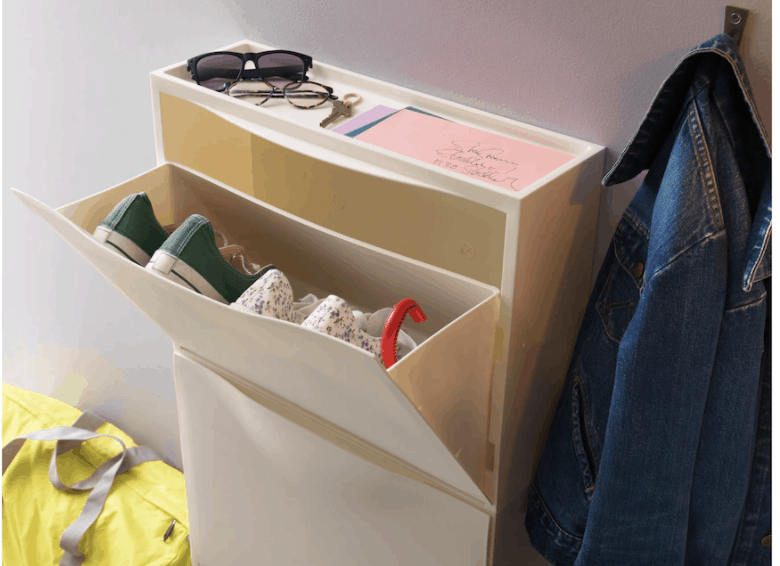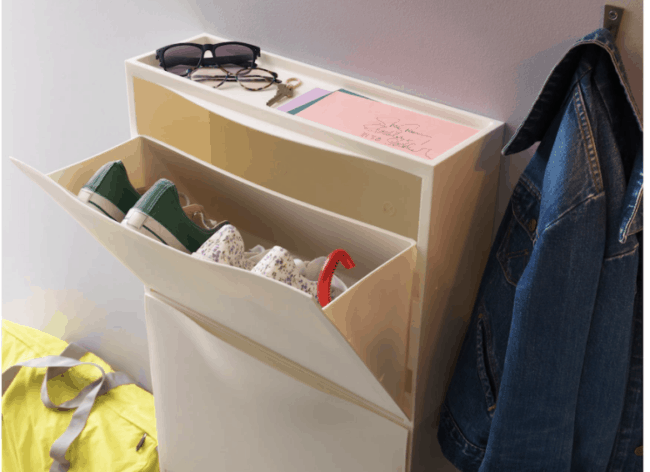 It is a shallow cabinet that takes up minimum space. Therefore it is perfect for entrance hallways, closets, or anywhere where you need storage, but you just don't have the room otherwise.
There is a recessed area on the top of the unit, which can be used to store little things, such as keys or your phone. Then there are pull down shelves for storing or shoes (or anything else!).
IKEA Trones Hacks
These hacks have taken the Trones unit, and changed it completely from its original two drawer cabinet into something entirely different:
Floating Vanity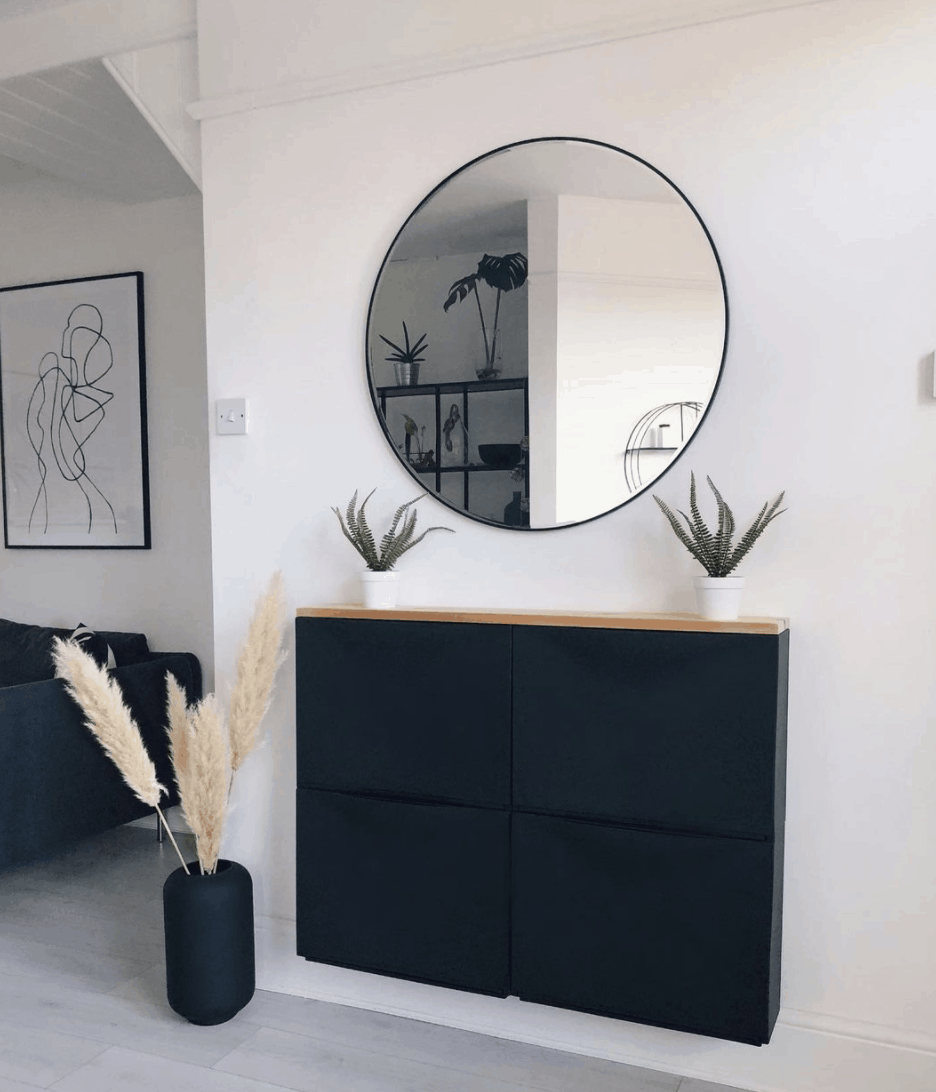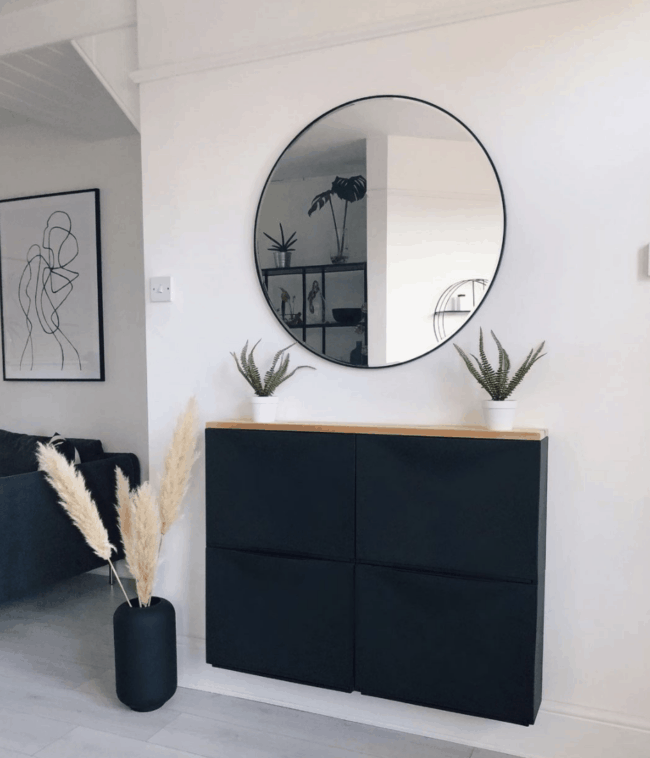 Here Trones is being used as a lovely stylish floating vanity unit.  The unit has been painted black for this hack. To make it so stylish and modern looking. See it here. You can also buy Trones in black.
Related: How to Paint Laminate & IKEA Furniture
Laundry Cabinet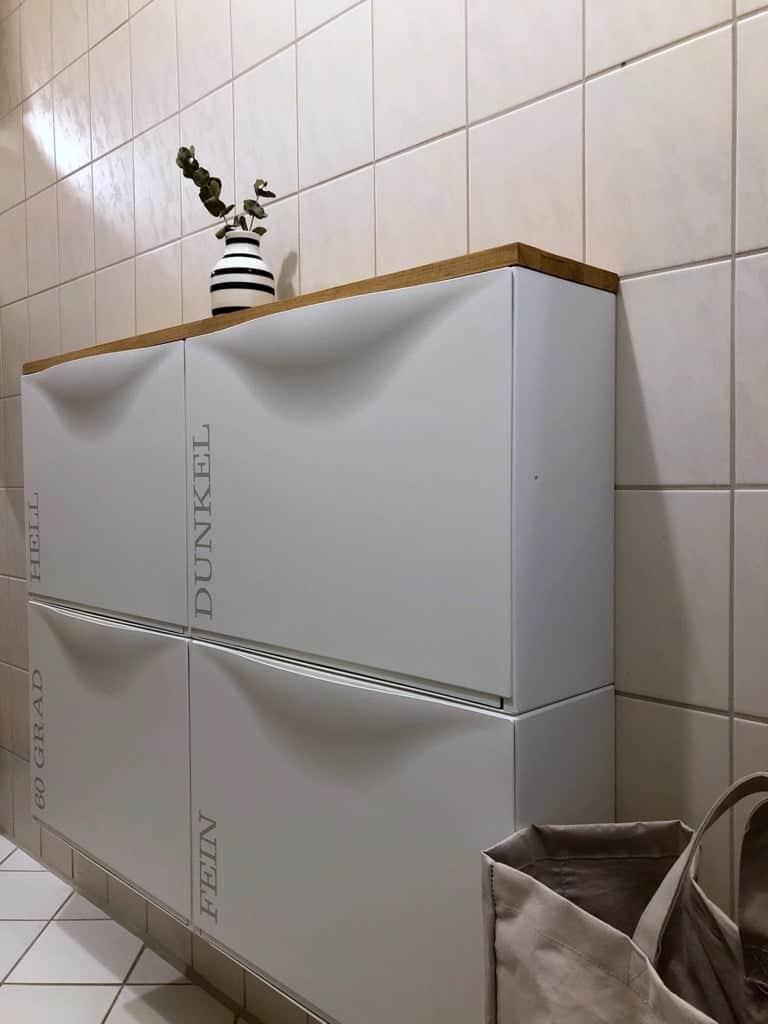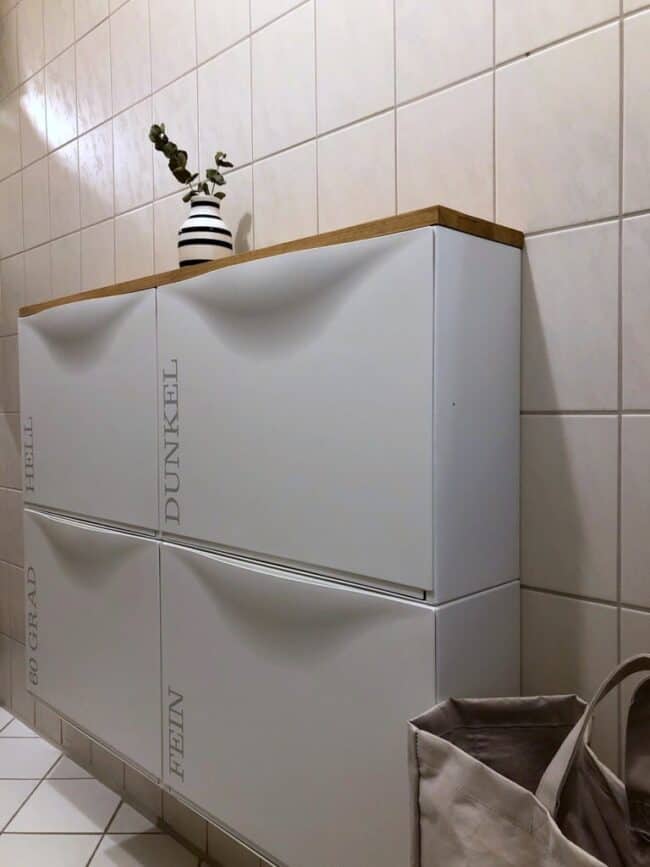 Here Trones is being used as a special laundry cabinet. It is a great way to separate your colors from your whites and your mixed colors and other items!  
But it is also great if you don't have a lot of space, but you still need some good storage. You can see how it is being used for this right here.
Sheet Music Storage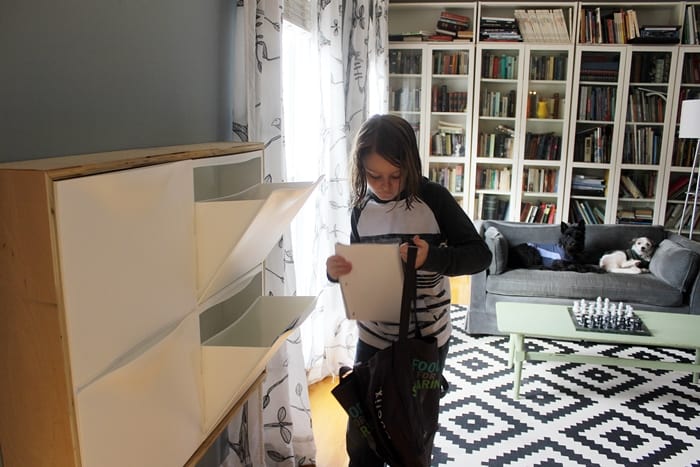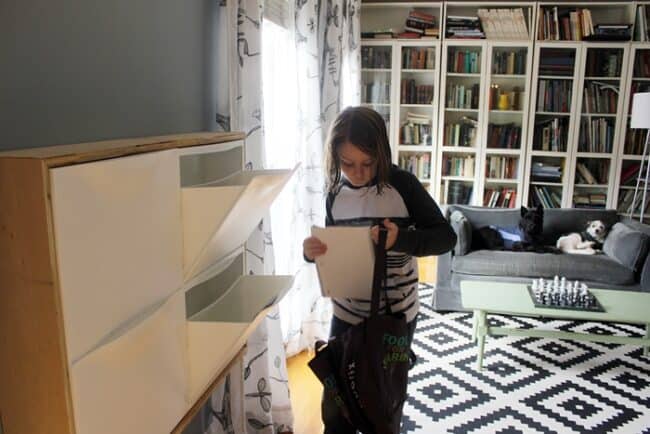 Here the Trones is being used for sheet music storage.  This is a perfect demonstration of how Trones can be used for so many different things and needs! You can see what they did here.
Stack Them Vertically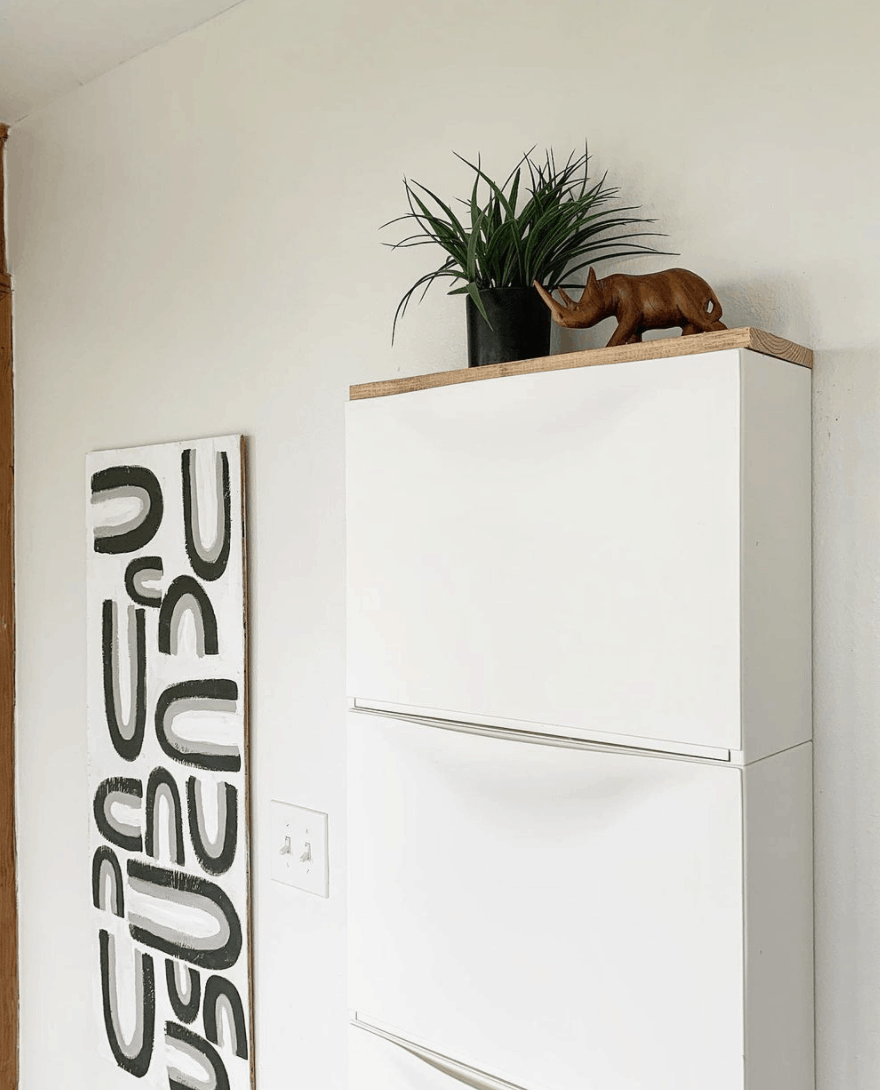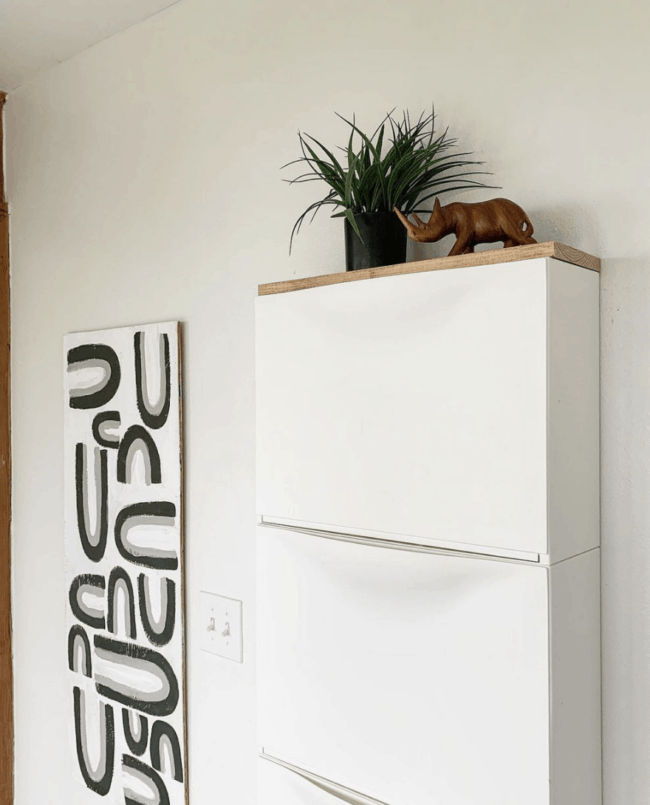 By stacking Trones vertically, you can add as many units as you want, as high as you want to go! But just remember, Trones does need to be secured to a wall very well to be safe and secure.
Here Trones stacked vertically creates a great tall storage unit. You can see it here.
Small Entryway Makeover
nbsp;
Here is a great video showing you how to hack Trones for a perfect entryway makeover for a small entryway.
Floating Trones Drawers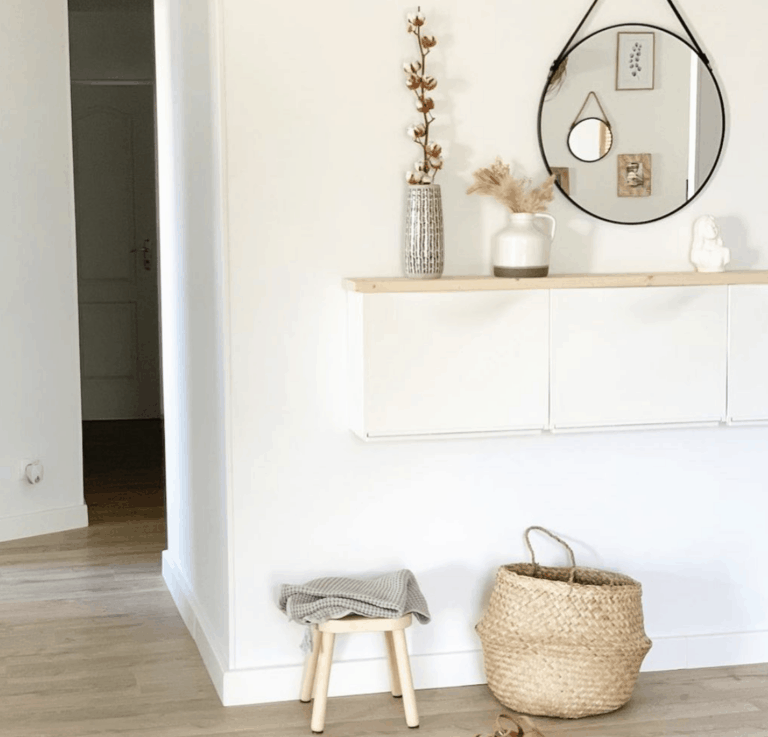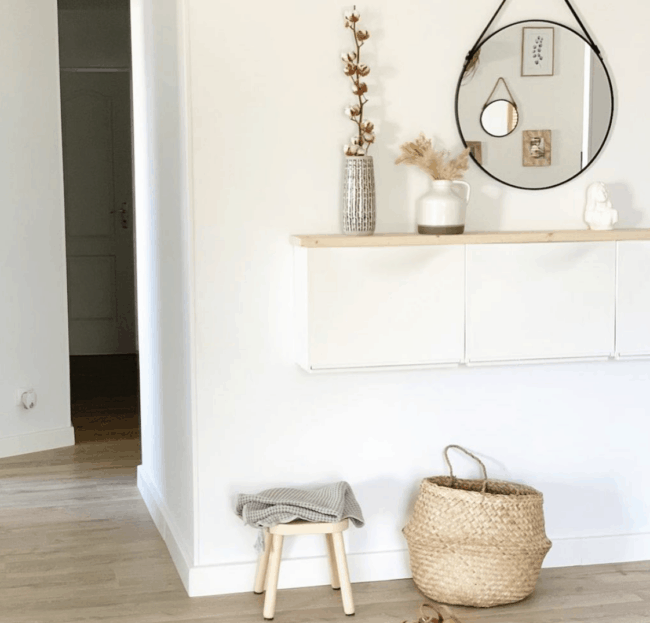 These floating Trones drawers have been made into a floating wall mounted storage cabinet. The addition of a wooden shelf adds some style and a modern Scandi look to the cabinet. See it here.
Related: Amazing IKEA Shoe Storage Hacks
Bed Headboard with Storage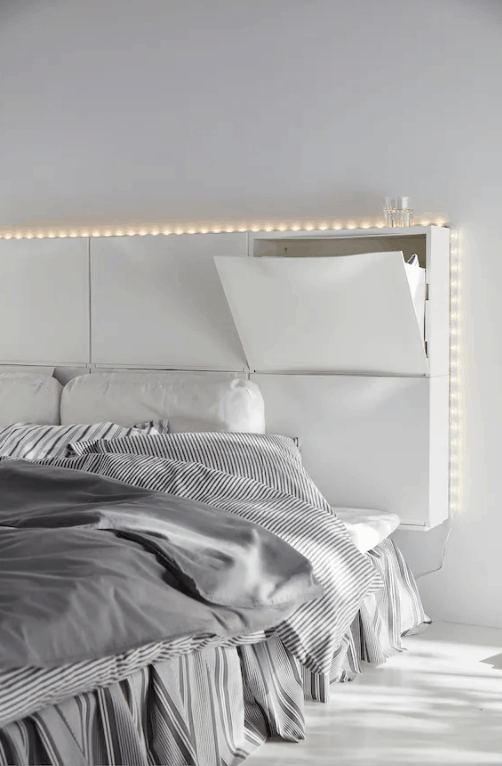 This is a great use of several Trones cabinets being mounted together, to create a stylish and oh so practical and useful headboard, full of storage. Here it is shown with white Trones, but you could also do this with the black Trones too.
LOVE THIS IKEA HACK? PIN IT FOR LATER!
Follow MAKE CALM LOVELY on Pinterest!
Personalized Family Storage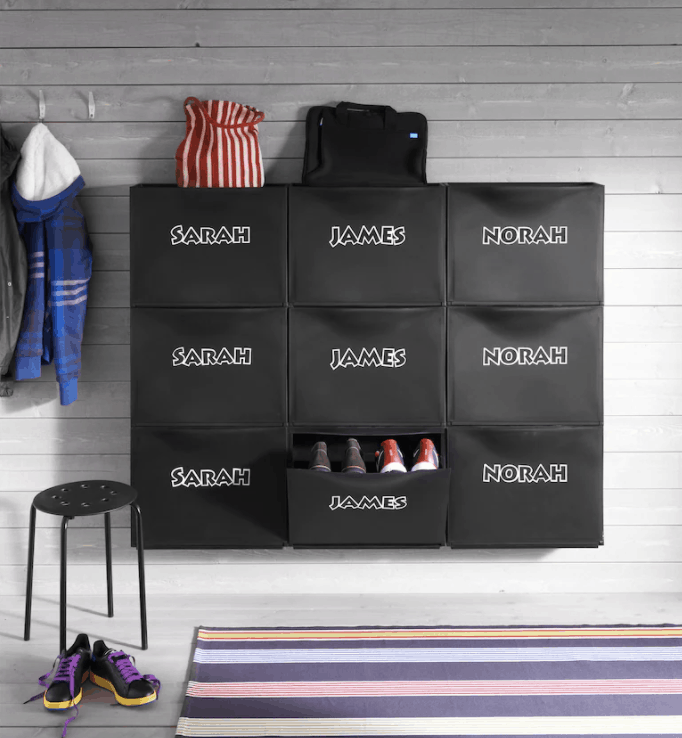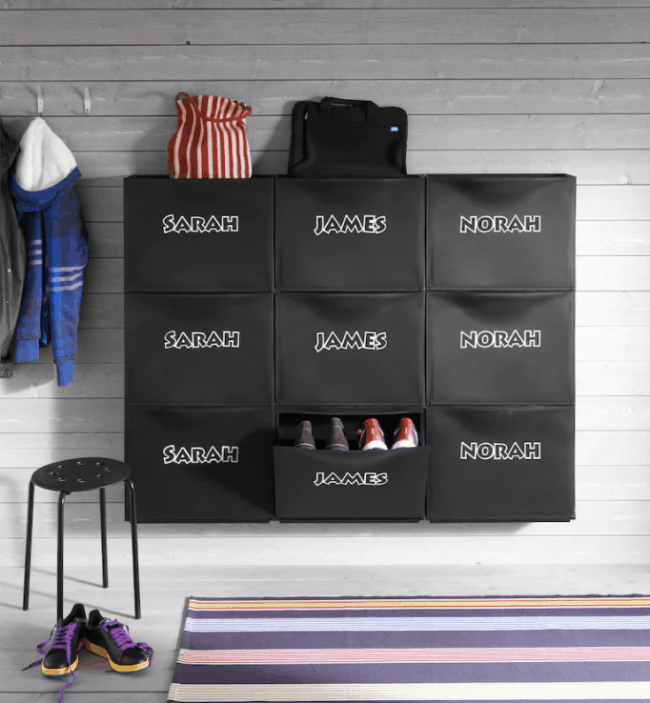 With this hack, several Trones have been placed together, and each one personalized, so everyone in the family just knows exactly where their stuff is stored and how to find it!
Pretty With Pulls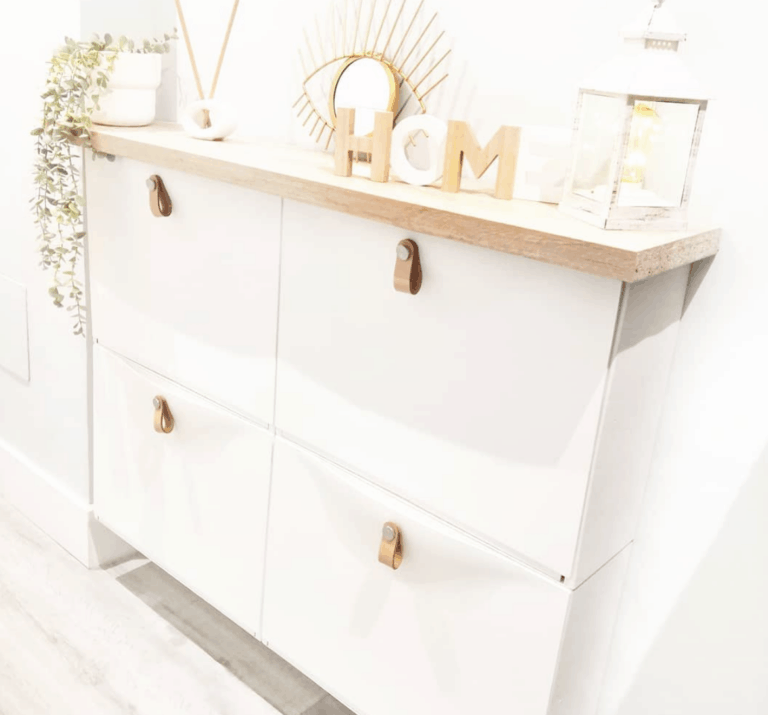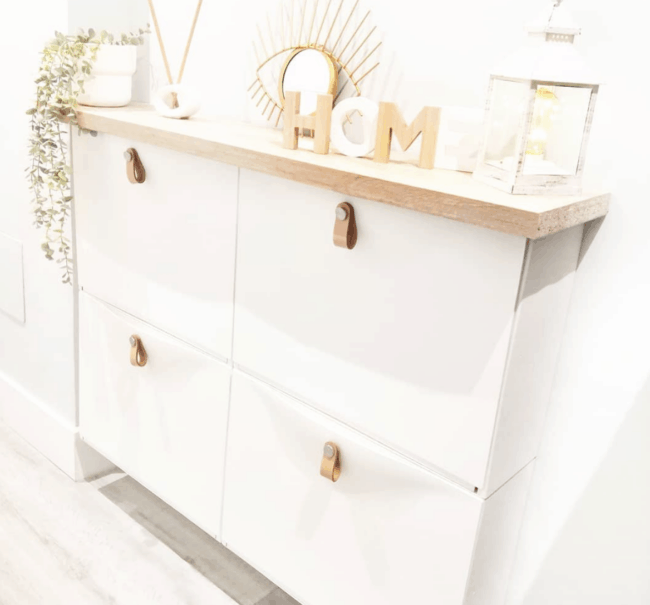 Here two Trones have been added together to make a pretty and useful storage unit.  Leather pulls have been added, and a great wooden shelf at the top. 
This creates a stylish unit perfect for storage in your hallway, kitchen, or just about anywhere in your home.  You can see it here.
Other uses for the IKEA Trones Shoe Cabinet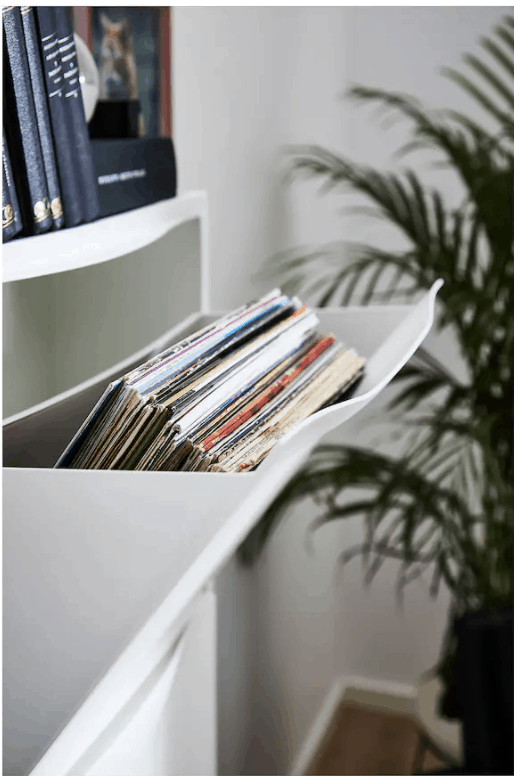 Magazine or Book Storage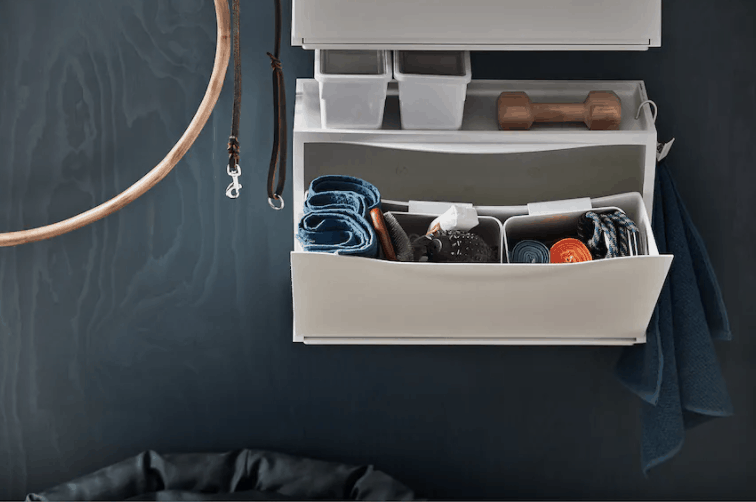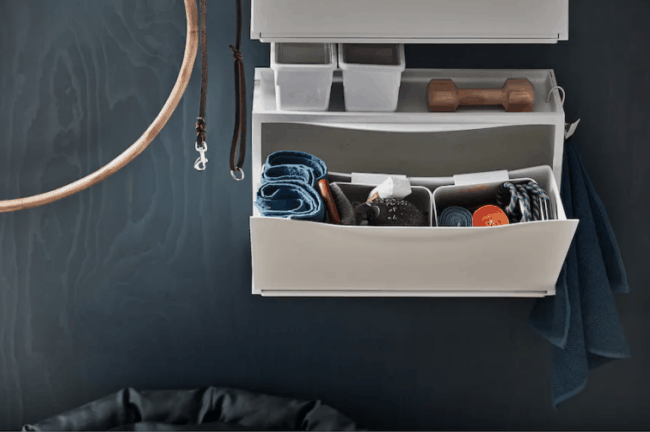 Garage Storage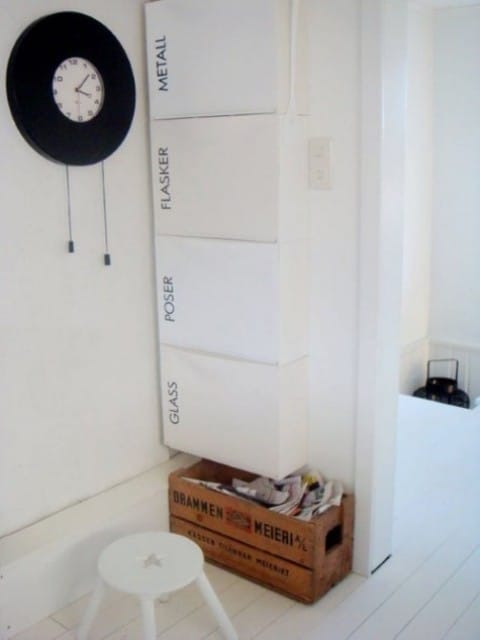 Recycling Unit
Related: IKEA Hacks for a Weekend
These great hacks and ideas for your IKEA Trones storage unit can be used around your home, in pretty much any room of your home!
The IKEA Trones storage unit is a lovely yet simple cabinet designed for storing shoes, and is especially great for entrance hallways.  But you can also make it prettier and more useful!
About Make Calm Lovely
Make Calm Lovely is a lifestyle blog specializing in IKEA DIY hacks, DIY & craft projects, home decor and so much more! Check out all the amazing things you can do and create to make your life calmier and lovelier at Makecalmlovely.com!