IKEA Hacks & Ideas for your Wedding
Weddings can be expensive!  So save money by hacking some popular IKEA items into amazing pieces for your wedding, including center pieces, lights, and so much more.
Your wedding can be so expensive.  Just purchasing centerpieces, lights, and all the things you need to create a beautiful occasion can be overwhelming high priced.
Catering companies and venues can charge what seems like a fortune for centerpieces and more, and your wedding can very quickly go over budget and become a source of stress rather than joy.
But it is possible to create unique pieces for your wedding, such as florals, lights, centerpieces and so much more.  
Here are amazing pieces for your wedding that are created just by hacking and changing popular IKEA products. These IKEA products are lower priced, but you just wouldn't know by the time you have hacked them!
We also feature great ideas for things you can buy at IKEA to use as pretty decor and more!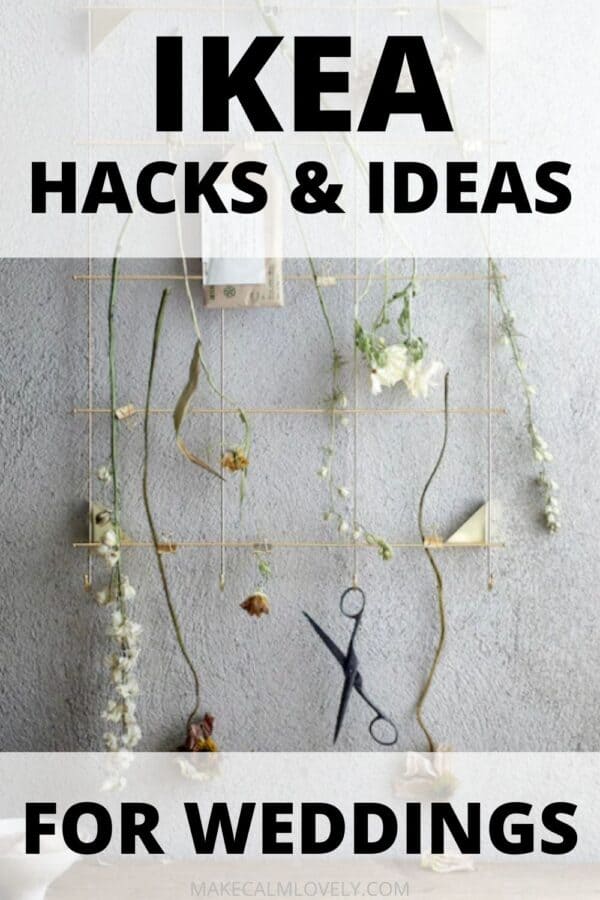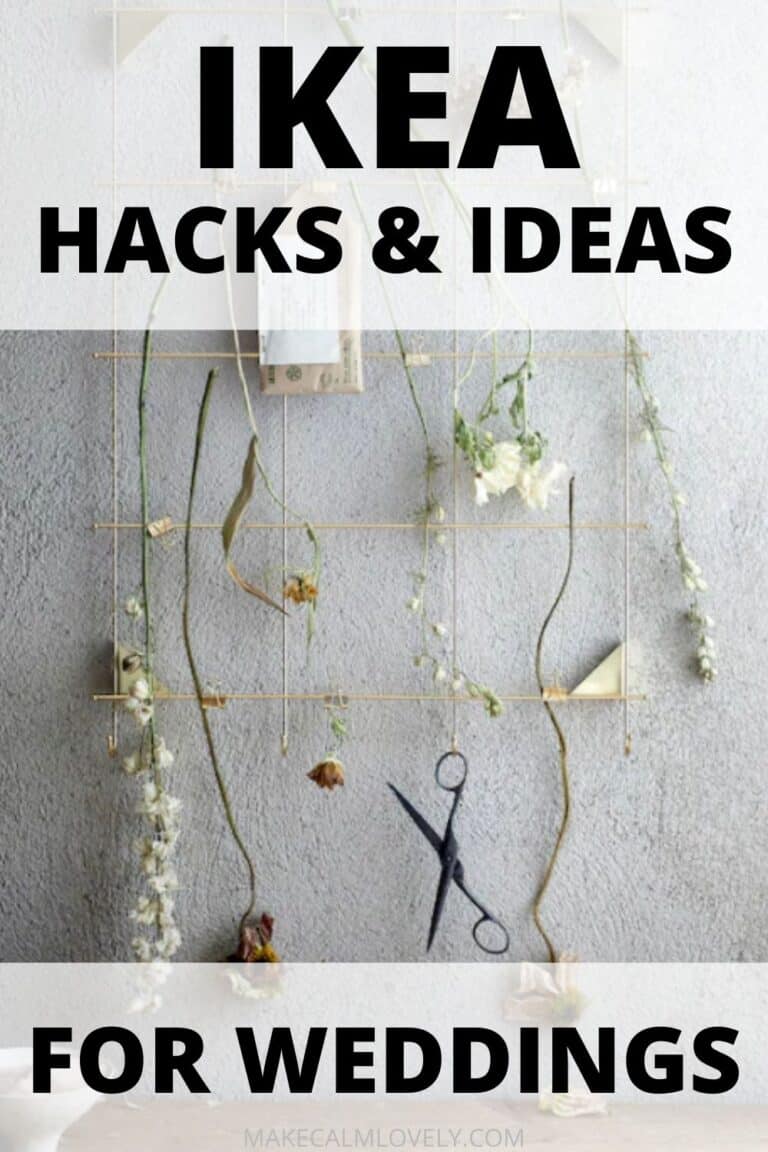 Ombre Lace Tea Light Holders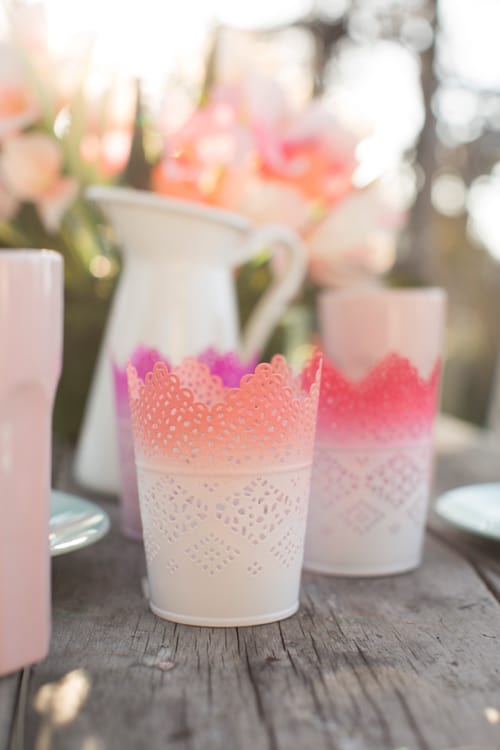 Pretty candles and tea light holders are the perfect centerpieces for your wedding tables.  But they can be expensive to purchase or rent from caterers and facilities.
But these candle/tea light holders are made from inexpensive IKEA pretty lace patterned pots, spray painted in ombre colors. You could choose the colors to match your wedding colors!  See the hack right here.
Floral Holders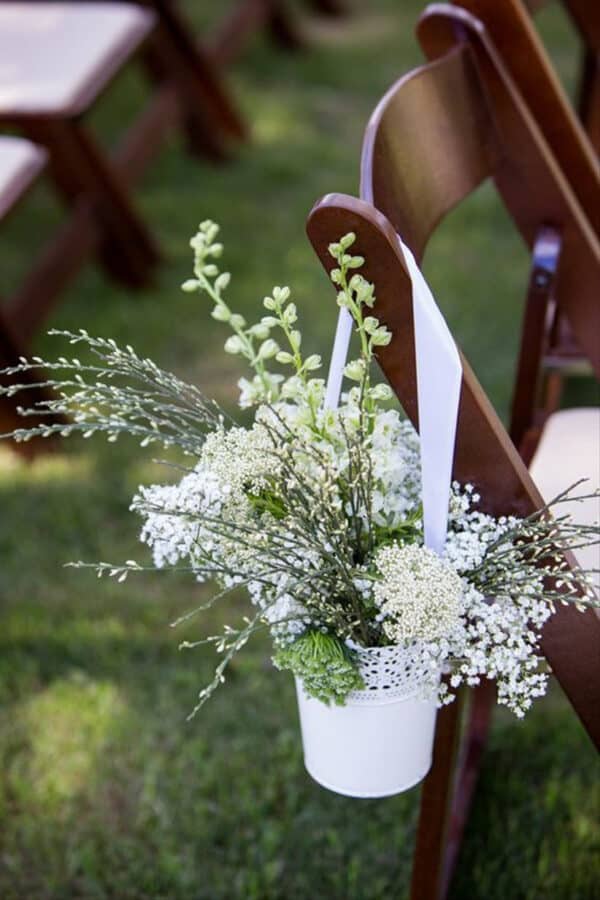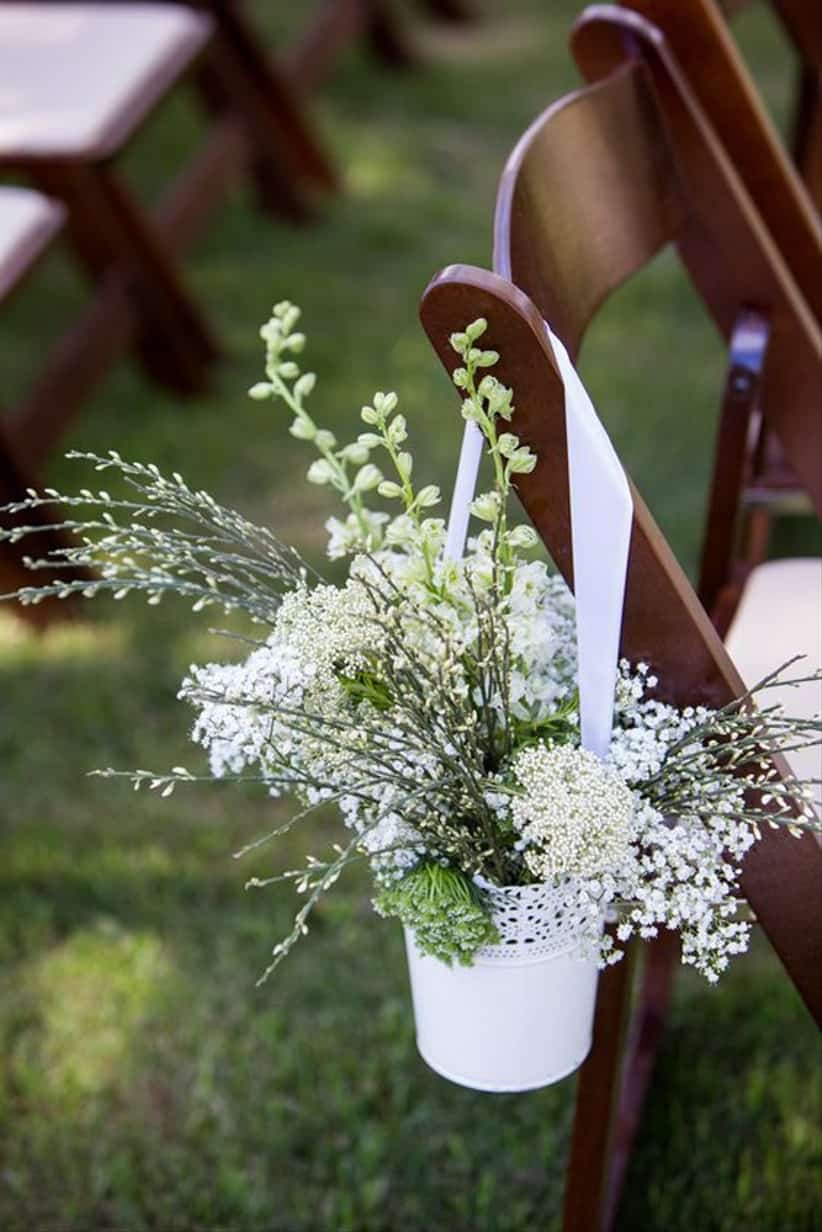 Those pretty lace plant pots can also be used for floral displays. You can use them at the end of rows of chairs, on the ends of aisles, and also as centerpieces too!
Watercolor Glass Bottle Table Numbers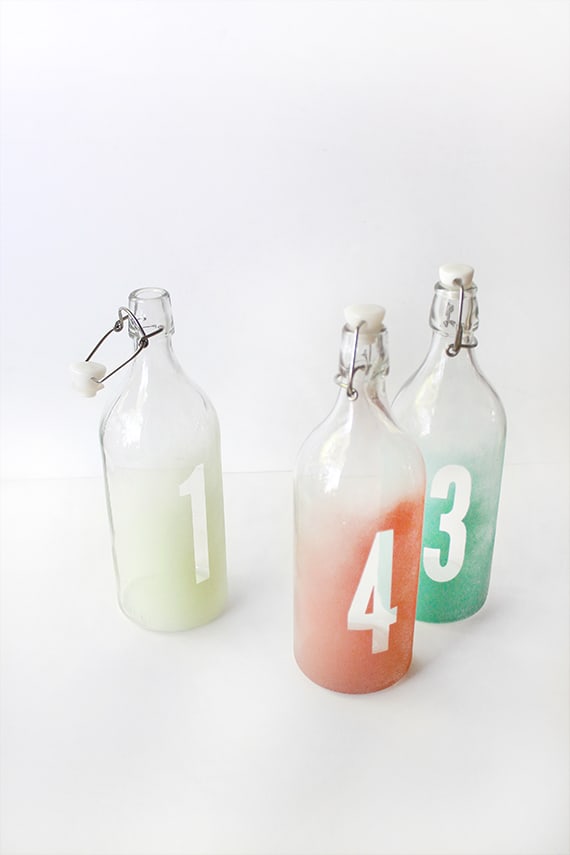 For inexpensive and incredibly stylish table number centerpieces you need to see this hack!  These glass bottles are available from IKEA.
Just spray paint them in pretty colors of your choice, and add a number sticker. That is it! You can see the hack right here.
Lamp Shades turned into Centerpieces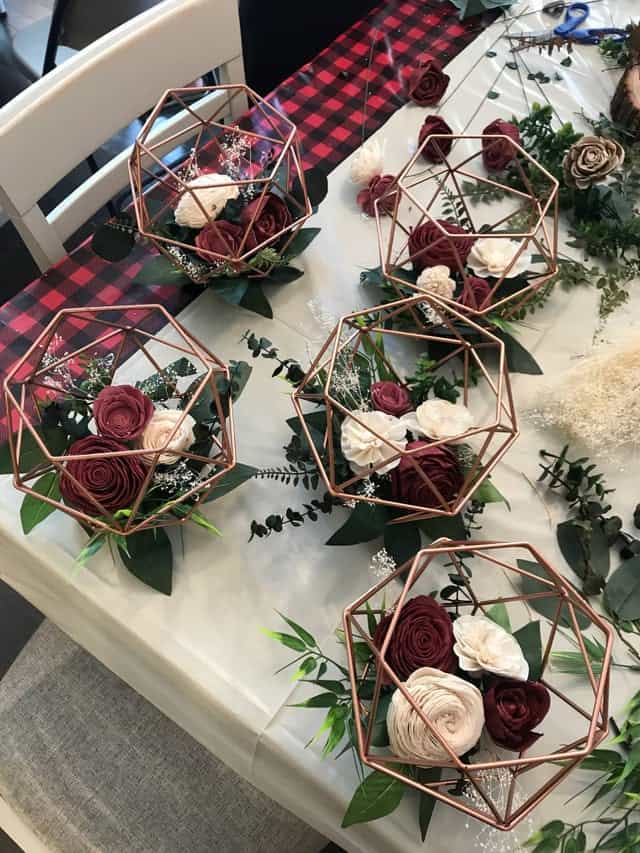 Here IKEA Brunsta pendant lamp shades have been spray painted, filled with flowers and greenery, and turned into beautiful centerpieces for tables. You can see it here.
Bar Cart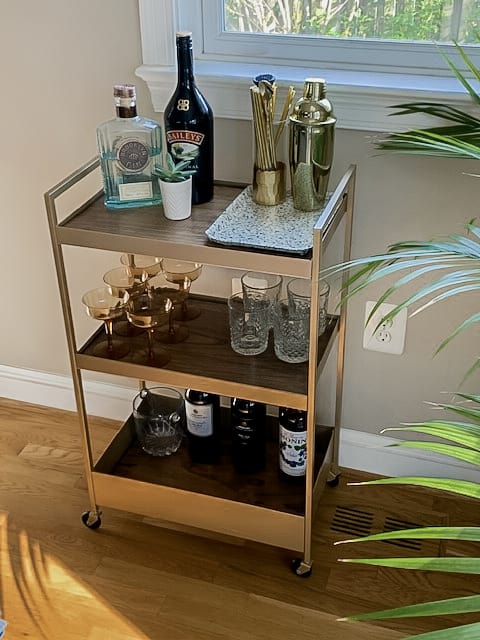 If you need a bar cart for your wedding, this hack takes a popular IKEA cart and turns it into a pretty and stylish bar cart.
By spray painting the cart with a beautiful hue of gold spray paint, and adding wooden shelves, you can create such a stylish and beautiful centerpiece for your wedding. You can see the hack here.
Socker Greenhouse Card & Gift Box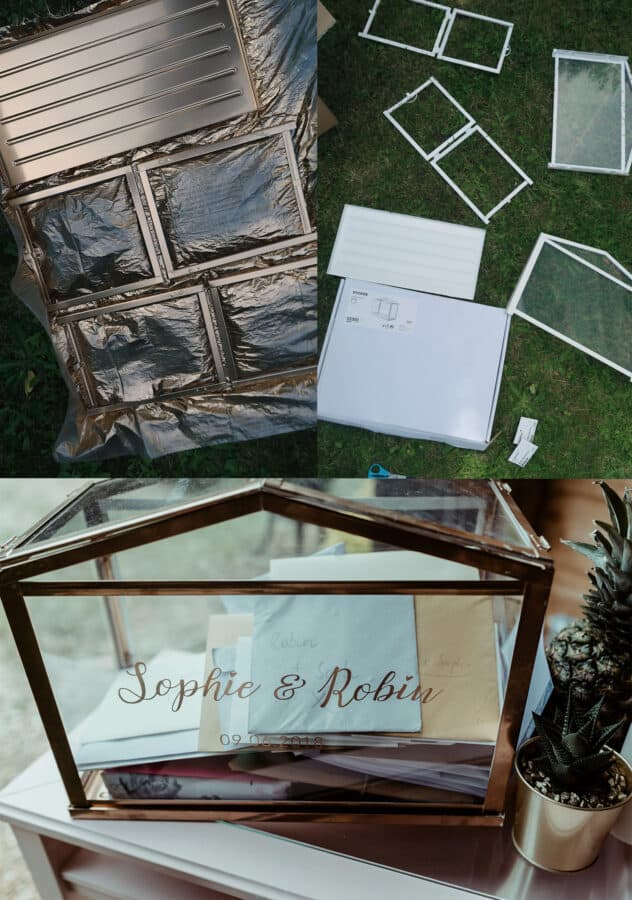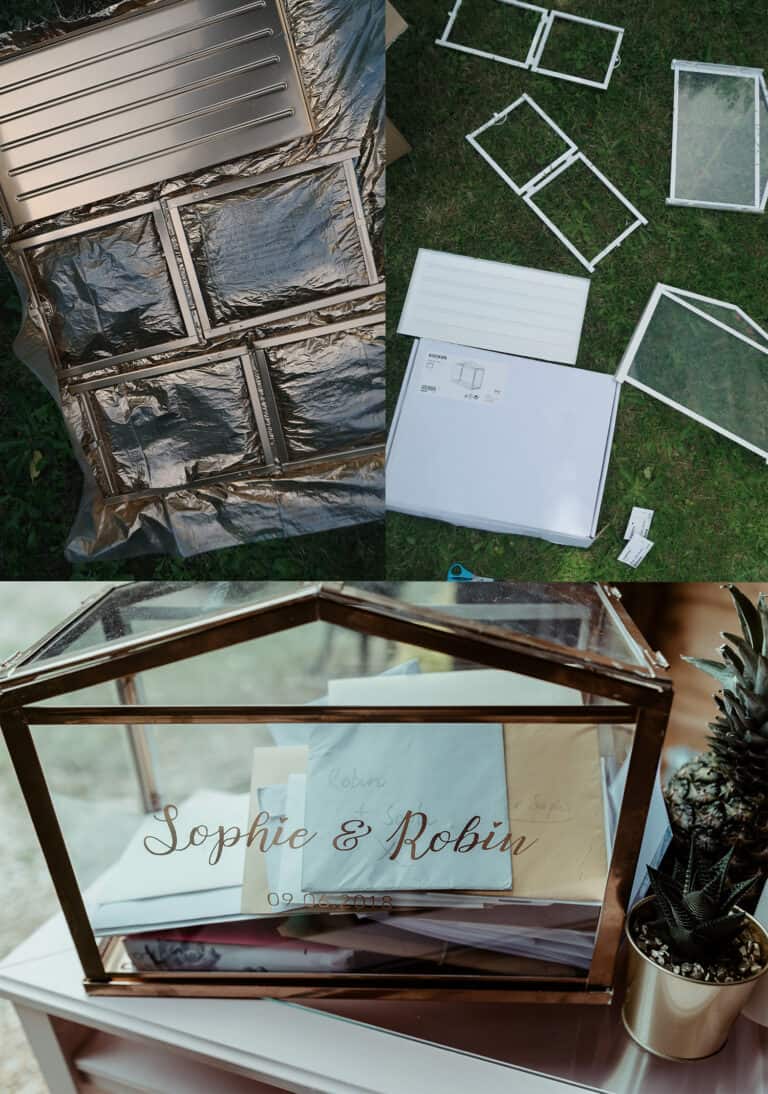 The socker greenhouse is a lovely way to display your plants.  But if you spray paint it a beautiful gold color, you can also use it as the perfect box to collect cards and gifts at your wedding.  You can see it right here.
IKEA Chalkboard Wedding Sign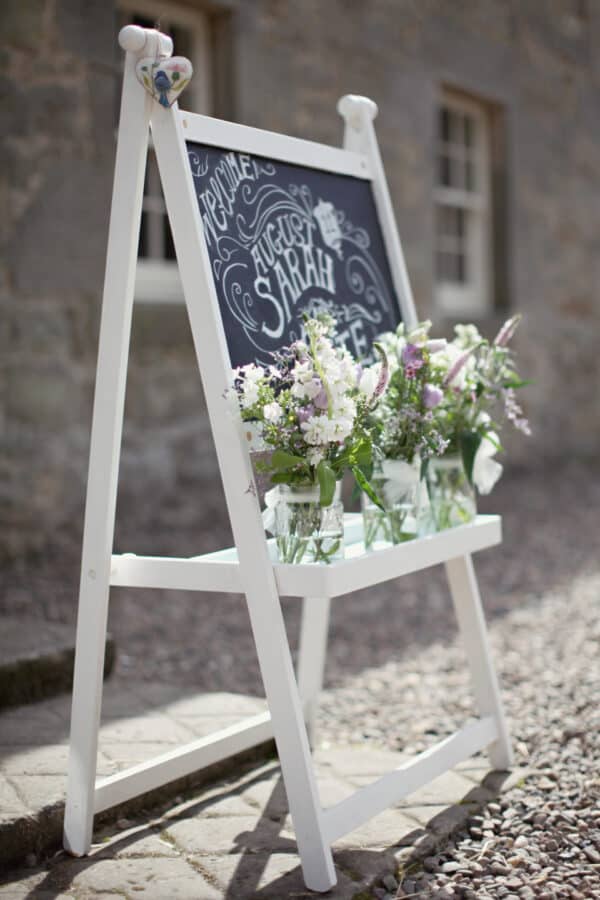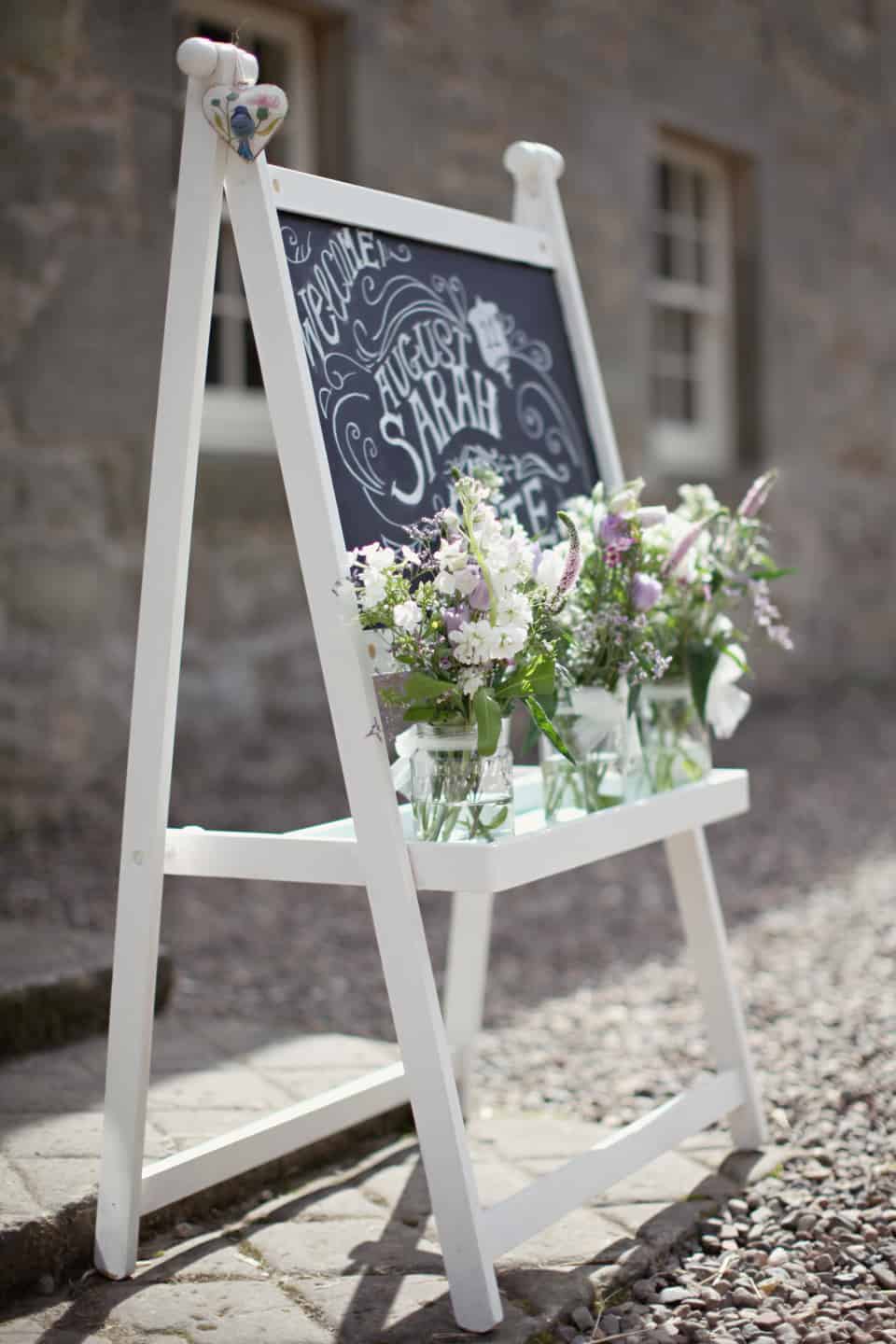 A simple IKEA chalkboard can be turned into the absolutely perfect sign for your wedding. You can paint it whatever color you want too ! See it here.
String Lights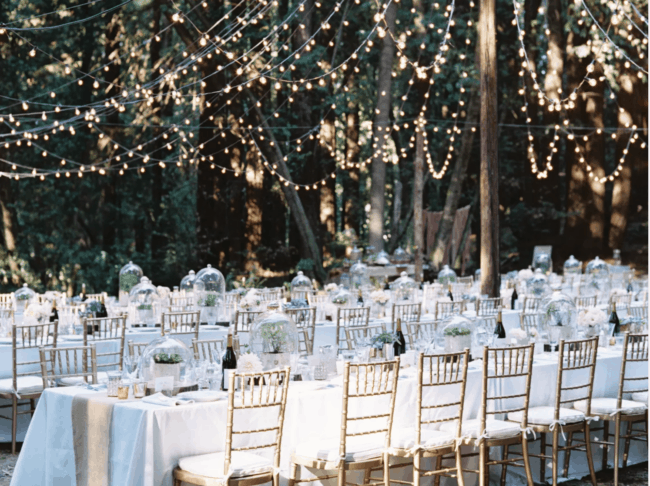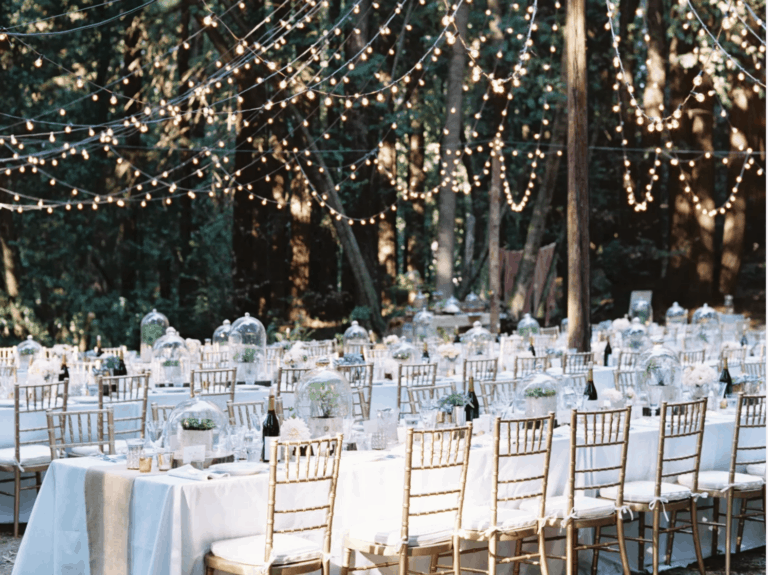 String lights are so perfect for an outdoor evening wedding and reception.  A great inexpensive way to have lots of beautiful lights is to purchase IKEA string lights.
They are inexpensive and easy to find, and you can pick up a lot of them easily!  See them here.
LOVE THIS IKEA HACK? PIN IT FOR LATER!
Follow MAKE CALM LOVELY on Pinterest!
Pretty Memo Board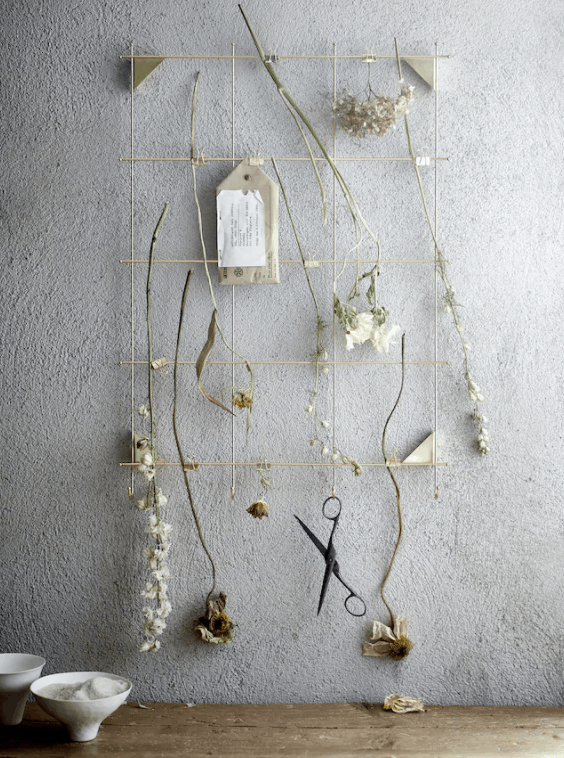 The IKEA  Myrheden brass wire memo board would make a beautiful memo board to hang notices on, and even wedding gifts (the paper or card ones!). It comes complete with clips too. The brass color it comes in is especially pretty, but you could also spray paint it if you wanted to.
Related: 21 Best New IKEA Finds
More IKEA Ideas for your Wedding
Glass Vases
IKEA sells numerous glass vases, that can be used for weddings.  They are inexpensive, therefore you can buy numerous vases well below budget.
Use glass vases filled with flowers as centerpieces, place candles or string lights inside them, place them on tabletops, and so much more.
LED Candles
IKEA also sells numerous LED candles, ranging in many different sizes. These are perfect for tables and centerpieces, and would also be great if you have an outside wedding, scattered all around.
Lanterns
There are also numerous lanterns sold by IKEA, most which are painted white or black.  The white ones make great centerpieces for tables, or can be scattered around for pretty wedding decor. You can also spray paint them silver or gold if you want to make them more beautiful.
Tealight Holders
Tealights are great for tables, scattered all over to hold candles for a pretty and cozy look.  IKEA has so many tealight holders that it sells, that are so incredibly inexpensive.
Picture Frames
Gold picture frames make great props for your wedding. Stand them on tables or hang them with important notices such as floor plans etc.  
Curtains and Fabric
Net and sheer curtains can be purchased inexpensively from IKEA and used around your wedding. They can be used to create backdrops for photos, hung to create soft looking decor, tied onto chairs, and also used for table coverings too.
Hope you love all these ideas for things you can buy and create for your wedding, using IKEA products!
Related: IKEA Gladom Terrazzo. Side Table Hack
Related: 17 IKEA Hacks that look Designer & Expensive
Weddings can be expensive!  So save money by hacking some popular IKEA items into amazing pieces for your wedding, including center pieces, lights, and so much more.
About Make Calm Lovely
Make Calm Lovely is a lifestyle blog specializing in IKEA DIY hacks, DIY & craft projects, home decor and so much more! Check out all the amazing things you can do and create to make your life calmier and lovelier at Makecalmlovely.com!