Minimal Wooden Bead Scandi Style Christmas Ornaments
Sometimes less is so much more, and that is so true of these pretty and simple wooden bead Christmas ornaments. Decorate your tree with a Scandi style with these easy to make ornaments.
Scandinavian Christmas decorations are more natural and simple, yet warm and beautiful. Therefore I wanted to create Scandi style Christmas decorations that are just that – simple, natural and beautiful.
I have so many of these little wooden beads! I bought a pack of them and I swear I have hundreds of them! Luckily wooden beads are one of the best craft supplies you can possibly have, as you can do so much with them!
So these wooden beads came in so handy for this DIY. They are perfect to create Christmas ornaments with. They are so easy to work with, and so natural and simple looking.
These simple minimal wooden bead wreath ornaments are pretty and noticeable, yet simple, warm and natural. They can be made very easily in no time at all. They are a fun DIY to do too!
These ornaments would look great on a Christmas tree with white lights, just with a very natural and simple look. They can also be interspersed with your more traditional Christmas tree ornaments.
These ornaments are also not just for your tree. They would also look great as window decorations, or other decorations throughout your home for the holidays. They would also make great gift toppers for gift giving.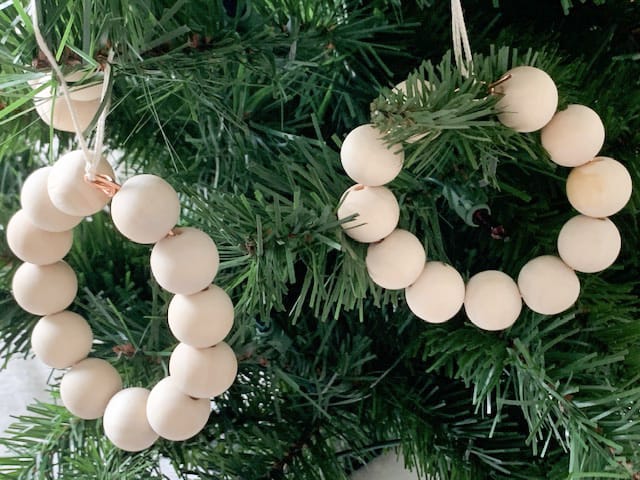 Supplies you Need to Make the Wooden Bead Christmas Ornaments
Natural wooden beads (the beads I used were 20mm)
Jewelry Wire, such as memory wire
Memory Wire cutters or pliers
Cord or string to hang ornament
Memory wire is a thicker wire used for jewelry making and other projects. The beauty of memory wire is that it can retain its shape easily, which makes this a great choice for these ornaments.
In addition to retaining its shape, memory wire is so easy to twist and work with. Plus it is strong and long-lasting.
You could however also use regular jewelry wire for these. Once the beads are threaded on the ornament should retain its shape and be sturdy.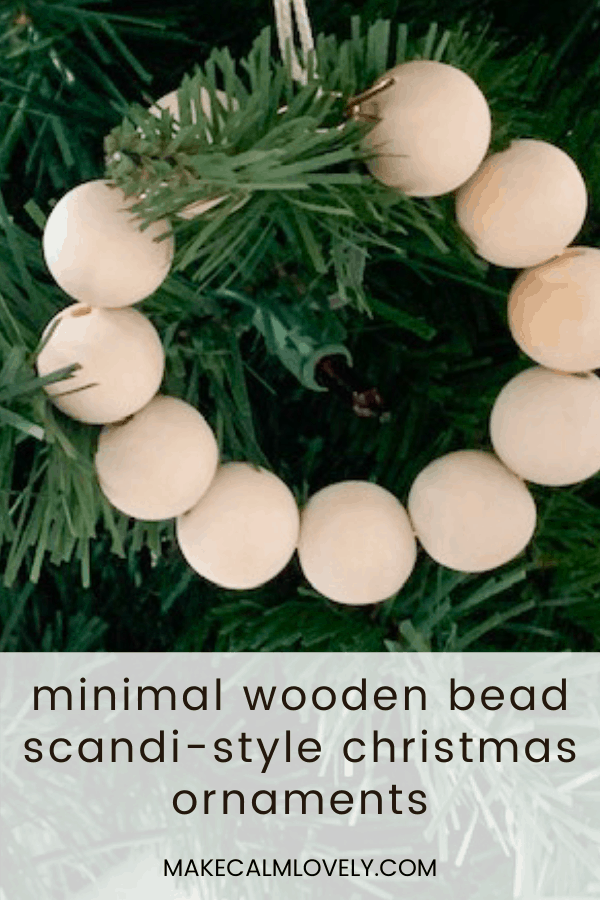 This post contains affiliate links. This means that if you click on a link and purchase something via that link I may receive a small commission, at absolutely no additional cost to you. You can view my disclosures here.
How to make the Wooden Bead Christmas Ornaments
First of all, you need to cut a circle out of the memory wire. As the wire comes in a set of coiled circles, it should be easy to just cut off one of the circles at the part where the circle comes together in the coil.
The circle you cut out will look just like a bracelet.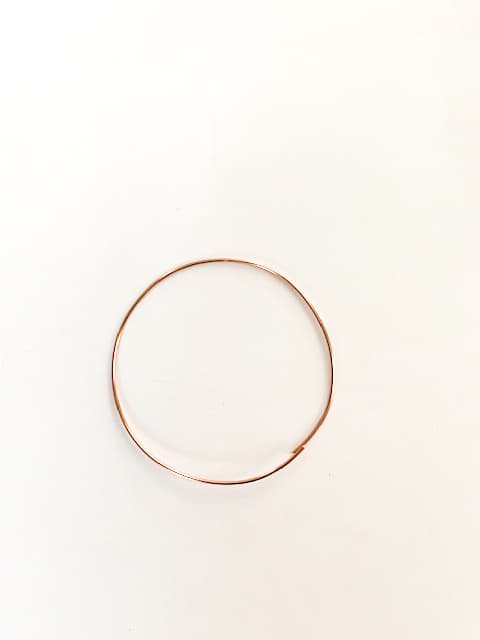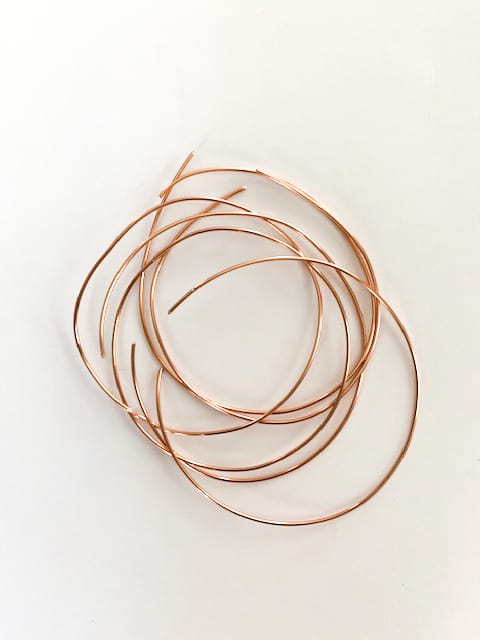 With your memory wire cutter or pliers, gently pull one end of the circle into an outward facing loop. This is going to be one end of the wire hoop. You will start threading the beads on the straight end.
By twisting the wire into an outward facing loop, you are ensuring that the beads won't fall off as you thread them at this end.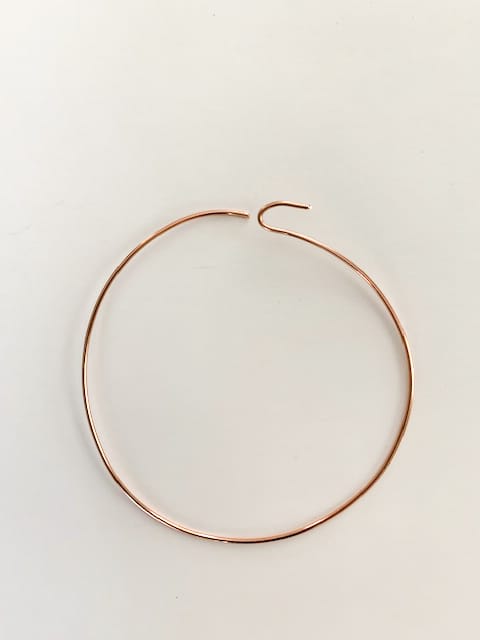 Start threading the wooden balls onto the wire. Thread them one by one, and pull then around so that they eventually form a circle of wooden balls.
I used around 11 or 12 of the wooden balls on my wreath ornaments, based on the size of wooden balls that I used (which were 20mm).
You want to use enough wooden beads for the wreath to be tight. But make sure you have a little of the wire left free at the end, that you will need to work with.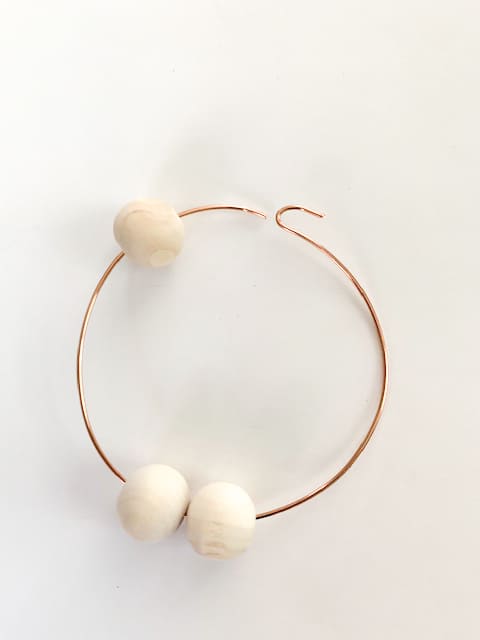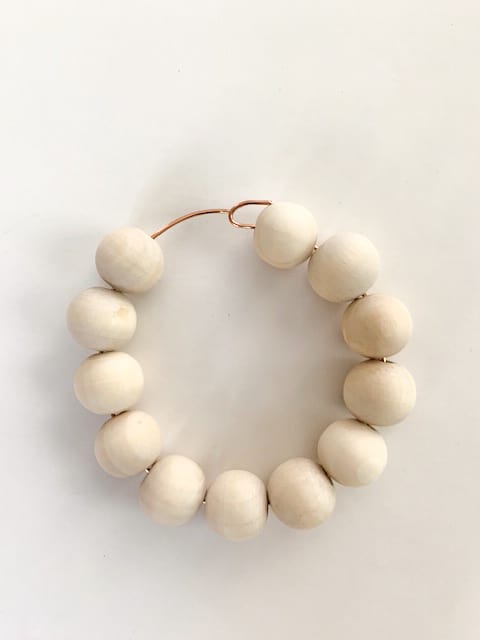 Once all the balls have been threaded on the wire, you will need to secure the wreath at the top so that it holds both ends securely together.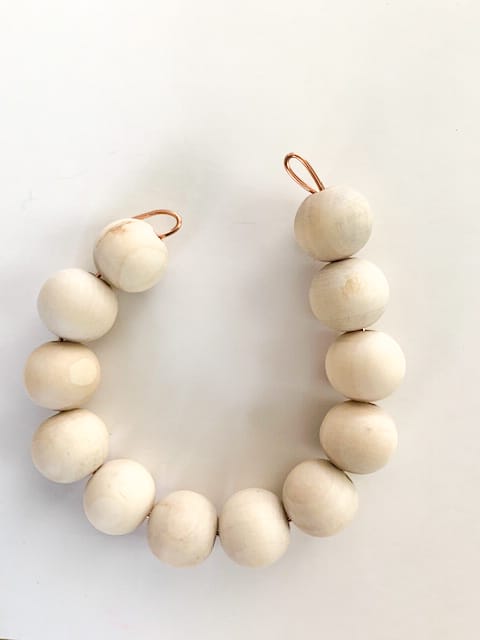 The un-bent end of the wire, that you just finished threading the beads on, needs to be twisted so that everything stays in place and you can hook and join the two ends together.
To do this, using the memory wire cutter or pliers, gently twist the straight end of the wire into a loop, and then insert the loop down inside the hole in the bead. You are making a hoop, and securing the hoop by pushing it down inside the hole.
Now take the loop that you made with the other end of the wire, and insert and slip that loop into the hook that you just made at the other end of the wire, so that the two ends are joined.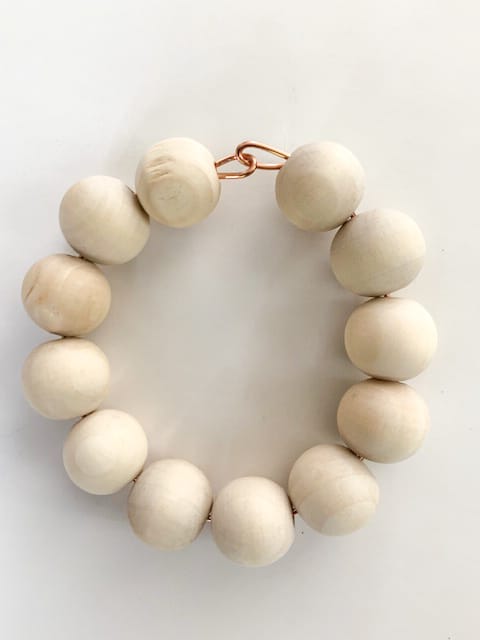 You should now have a perfect circular wooden bead wreath.
To hang the ornament, attach a length of string or ribbon by threading one end through the joined hoop that you just made, taking it up evenly, and then tying off the top.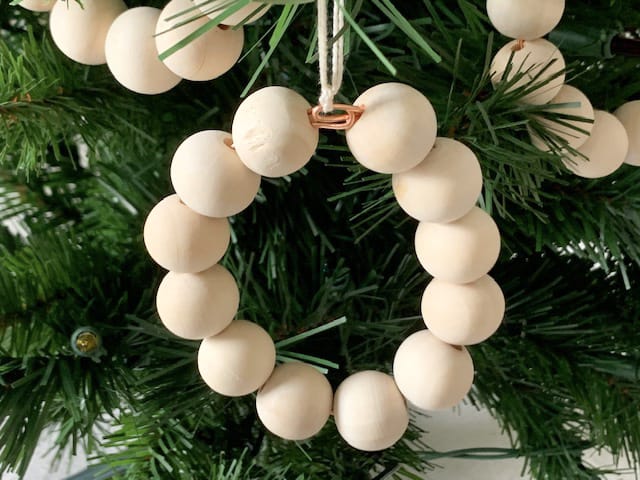 Make as many of the ornaments that you want to. Hang them on your Christmas tree for a lovely simple and minimal Scandi style Christmas tree.
Or you could hang these in your window, or attach them as gift toppers for your holiday gift giving.
You could also experiment with coloring these, if you want to make additional ornaments. Wooden beads can be dyed pretty easily. You could color them red and green, or intersperse a natural bead with a red or green bead. The options are endless!
Check out these other Christmas and Holiday DIYs:
DIY Glitter Dipped Bottle Brush Trees
IKEA Hacks for the Most Wonderful Time of the Year
16 DIY Easy and Fun Christmas Ornaments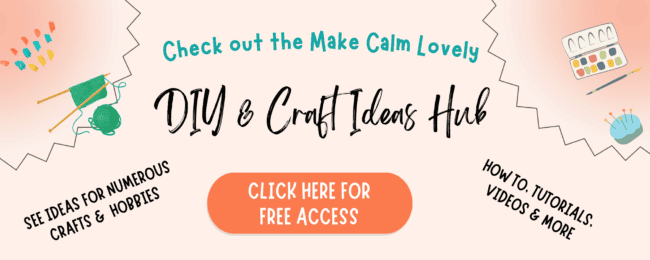 Sometimes less is so much more, and that is true of these pretty and simple wooden bead Christmas ornaments. Decorate your tree with a Scandi style with these easy to make ornaments.