21 Ideas for Organizing & Storing Lego
Lego is such an awesome toy and activity, great for all ages – children and adults alike! But it can very quickly take over your home!
I love that my kids love Lego! It is a fantastic educational toy and activity, and it keeps our kids entertained for hours. It is great for their fine motor skills, and I bet a lot of architects got the initial idea to go into architecture because of it!
But those bricks and pieces can get everywhere in your home! How many of you have trodden on a piece of Lego? (you won't forget doing that!!). How many of you have accidentally vacuumed up a piece? How many of you have found those pieces in places in your home where it just shouldn't go?! (I once found a piece of Lego in the washing machine!).
One of the biggest home storage and organization successes can be found in getting your kids Lego organized once and for all! So here are some of the best ideas and suggestions I have come across for organizing your kids Lego bricks (and hopefully keeping them organized!).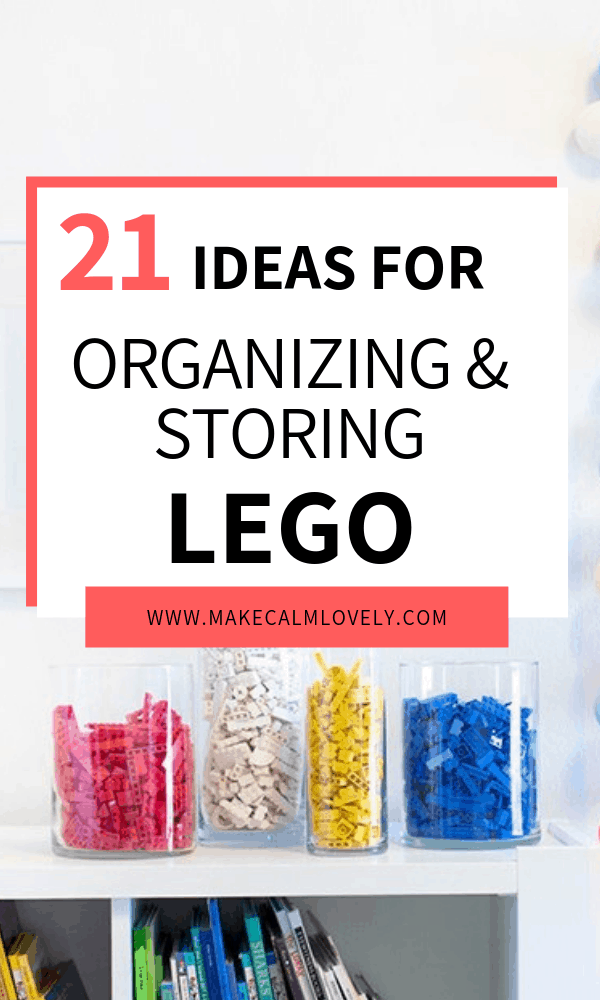 This post contains affiliate links. You can view our policies and disclosures here.
Organize bricks by Color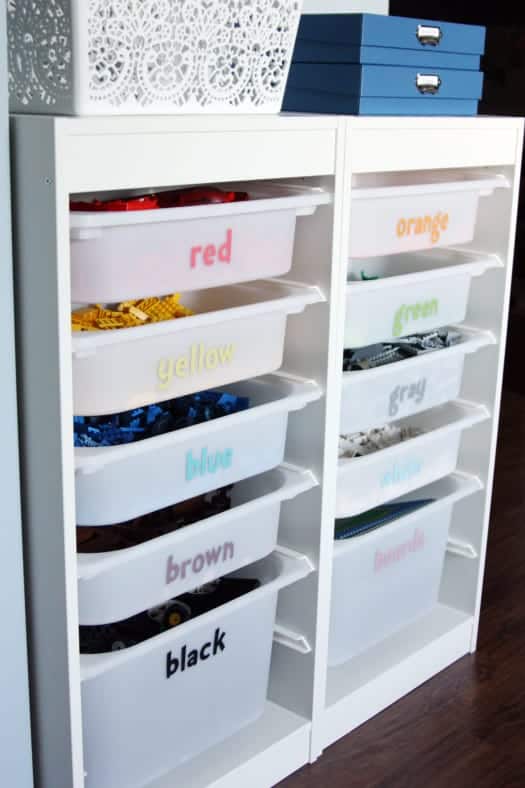 Photo: I Heart Organizing
This is a great DIY project to get absorbed in! And afterwards your kids bricks will be so wonderfully organized! See the post here from I Heart Organizing.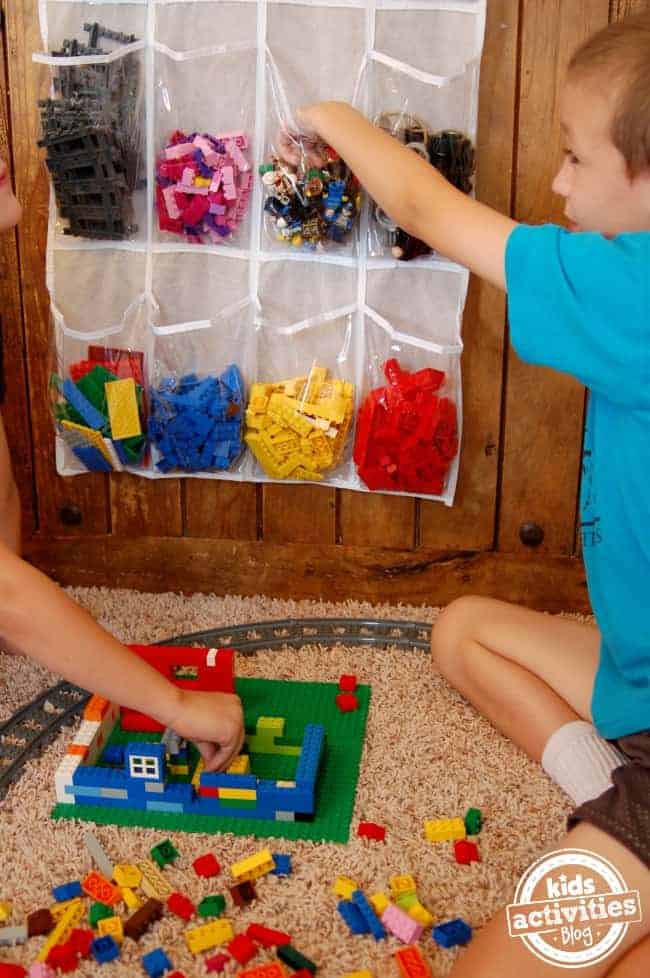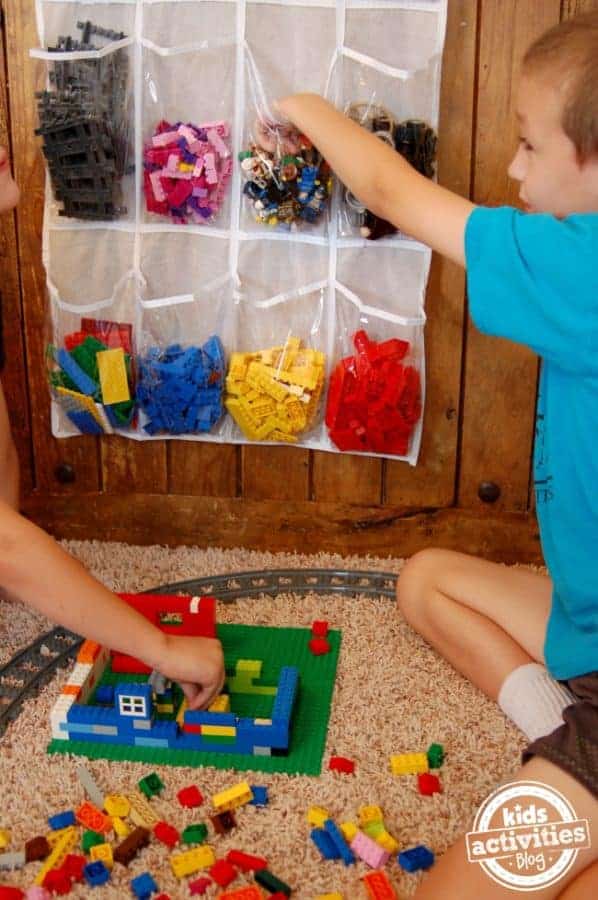 Photo: Kids Activities Blog
This idea for organizing by brick color uses a plastic hanging shoe storage bag. The clear see-through plastic allows them to see the bricks by color easily and the bricks are easy to find and access. See the full post here from Kids Activities Blog.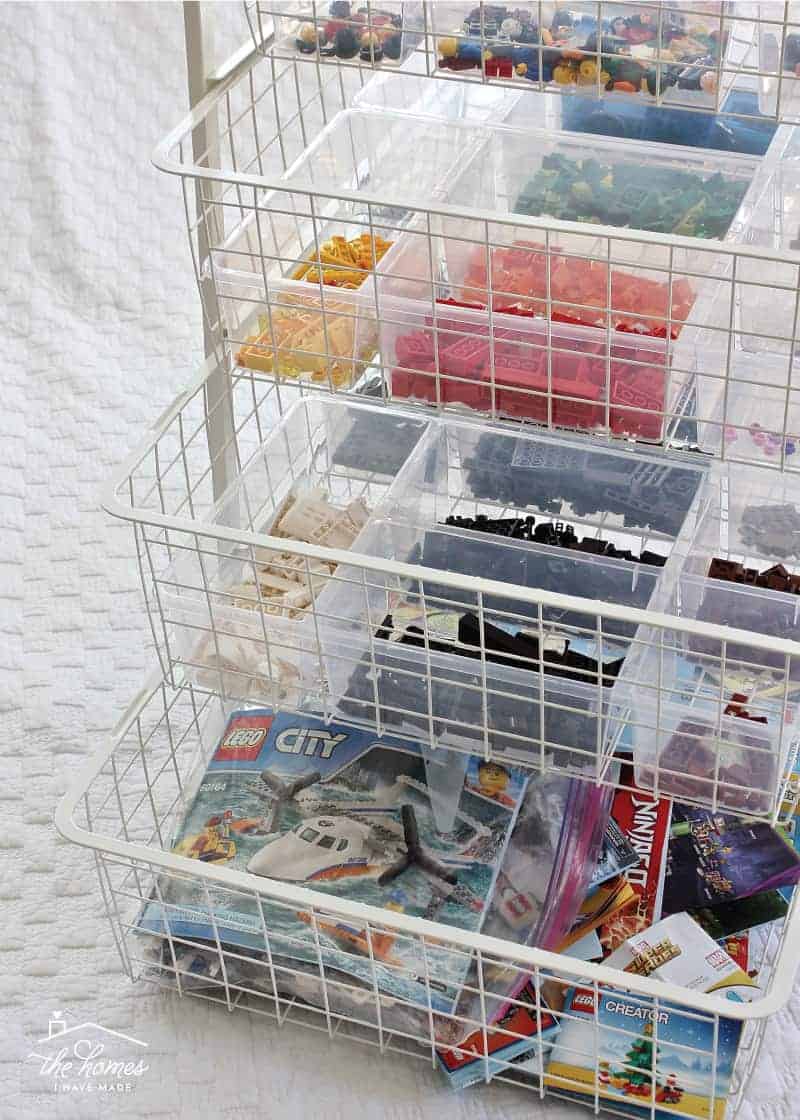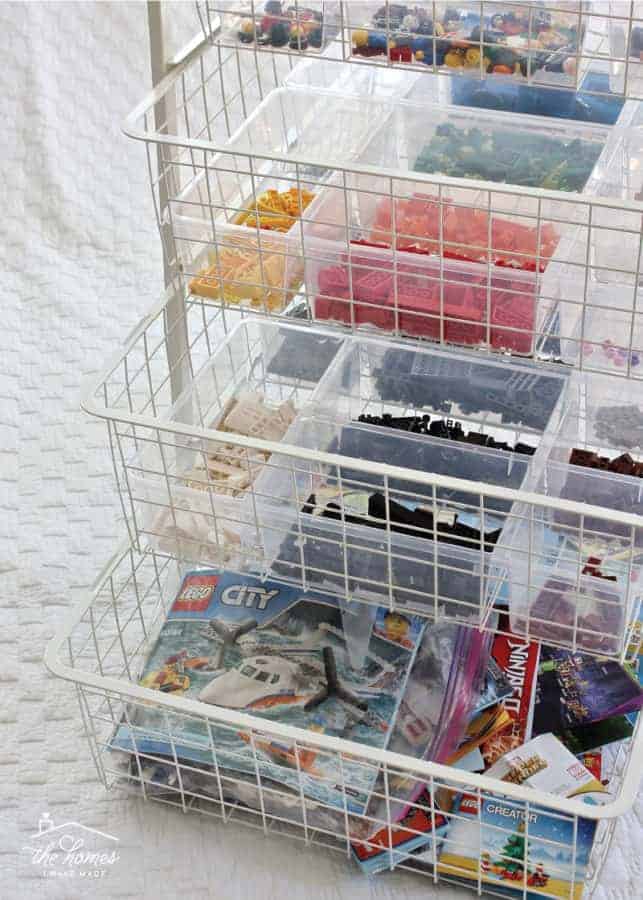 Photo: The Homes I have Made
This color organizing hack is using the IKEA Antonius system. See the full post here from The Homes I Have Made.
Photo: Say Yes
This is a very pretty way of storing and displaying those bricks – by brick color in glass jars. See the idea here at Say Yes.
Store by Type
Here is a great idea for storing pieces by what they are – flat, doors, colors etc!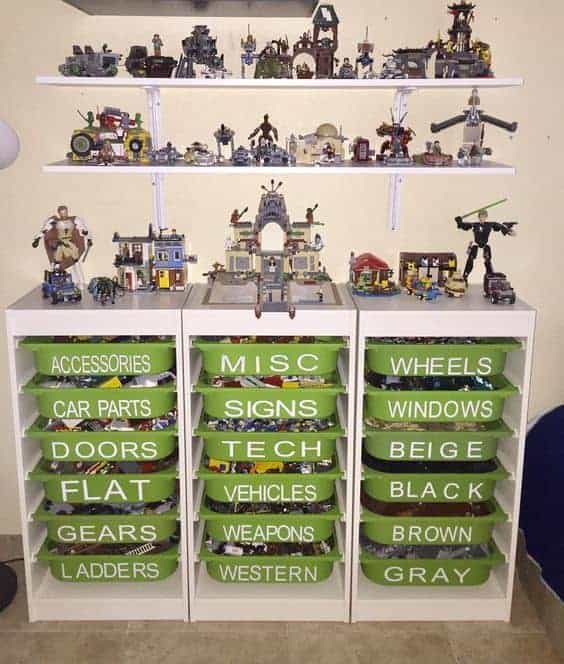 Photo: Pinterest
Store by Kit
Photo: The Homes I have Made
This organization method is by kit. A great way to ensure that the entire kit stays together! See the full post here from The Homes I have Made.
Make it Yourself Storage
If you want to tackle a DIY project that will give a great end result for storing your kids bricks, you can make this Rolling Under Bed Lego Storage Cart. See the instructions right here from The Happy Housie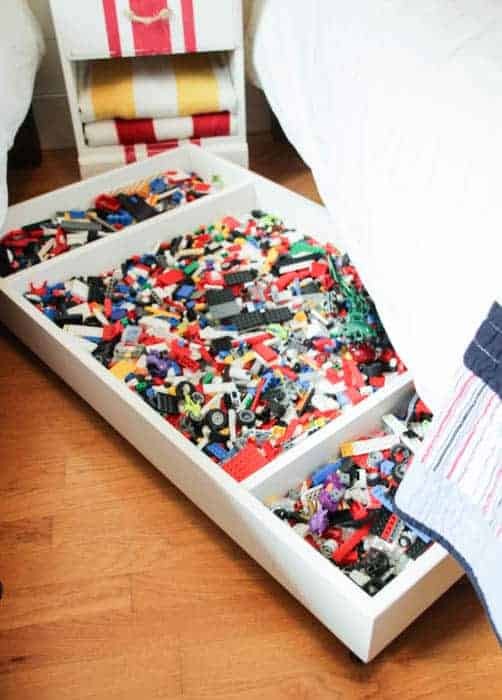 Photo: The Happy Housie
You can also make an under the couch storage drawer! Get the instructions here from Smart Girls DIY.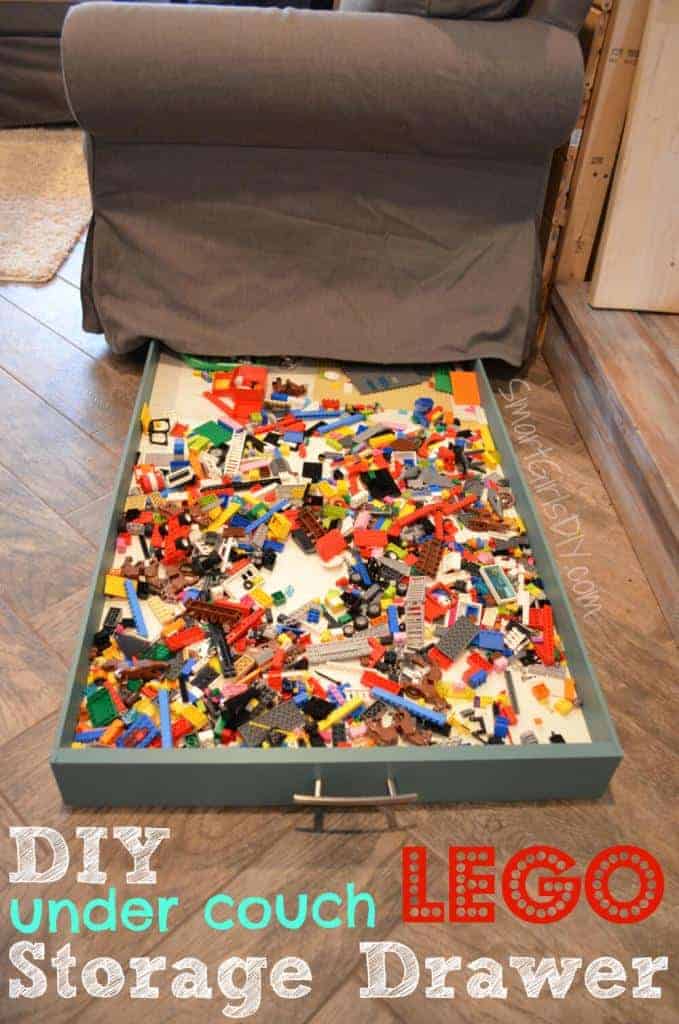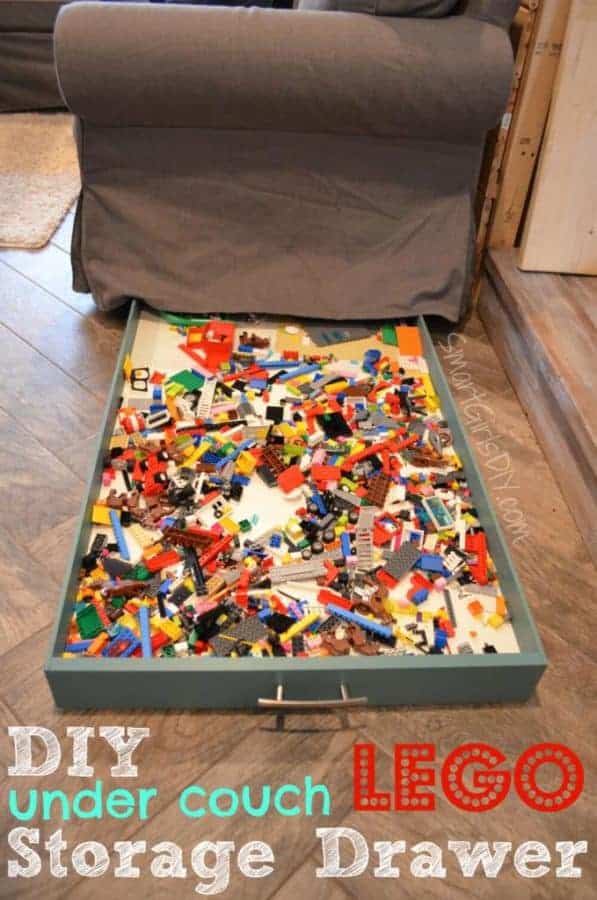 Photo: Smart Girls DIY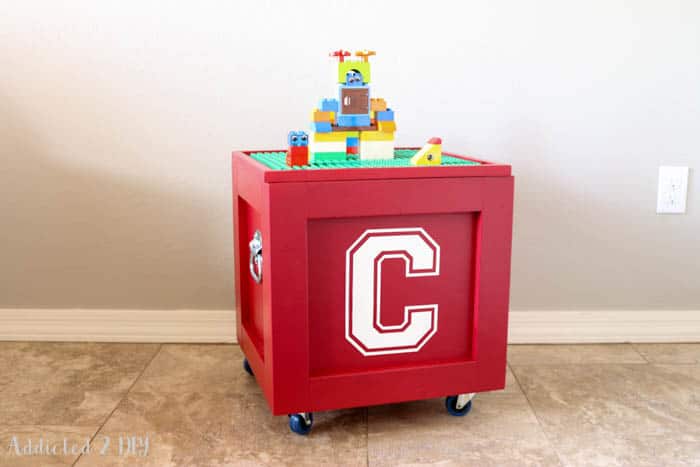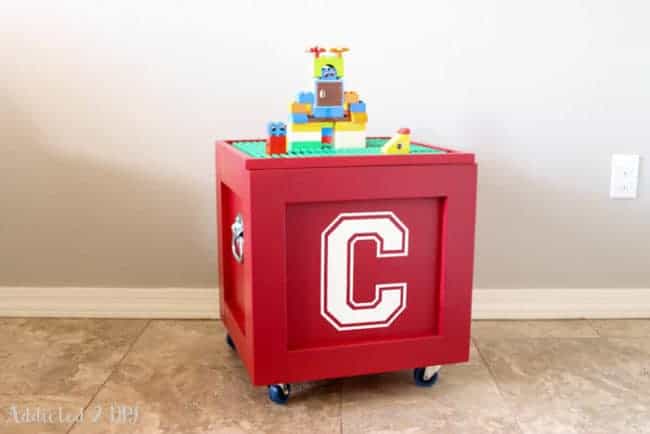 Photo: Addicted 2 DIY
This is a DIY storage cube that you can make to store all their bricks. See the instructions here at Addicted 2 DIY.
IKEA Hacks are good too!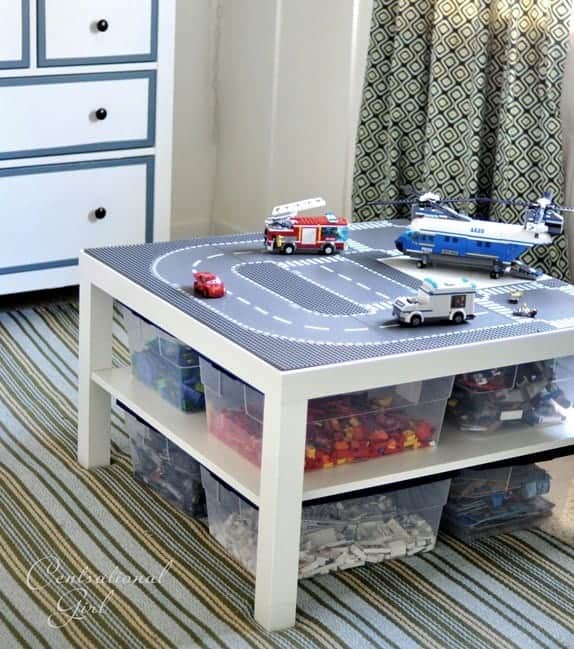 Photo: Centsational Girl
The IKEA Lack table can be hacked to make a very excellent table! See the post here from Centsational Girl.

Photo: The Decorated Cookie
Here is another IKEA hack to make a table. See the post here from the Decorated Cookie.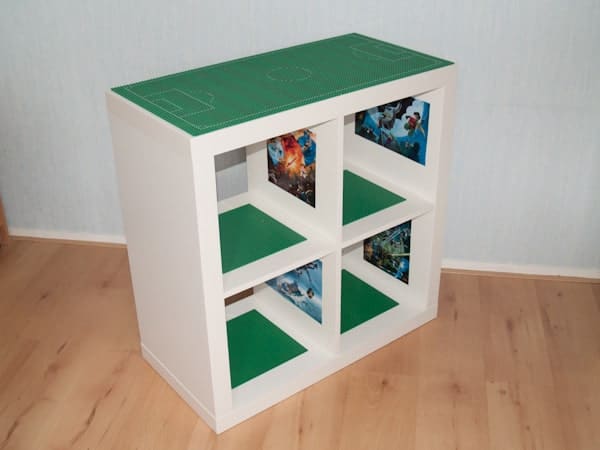 Photo: IKEA Hacks
Here is a great Playhouse made from IKEA furniture! See the post here at IKEA Hacks.
What about those Instruction Manuals?
All those kit instruction books, just what do you do with them? Here are some suggestions!
Put them in a binder. See this how to from Making Lemonade Blog.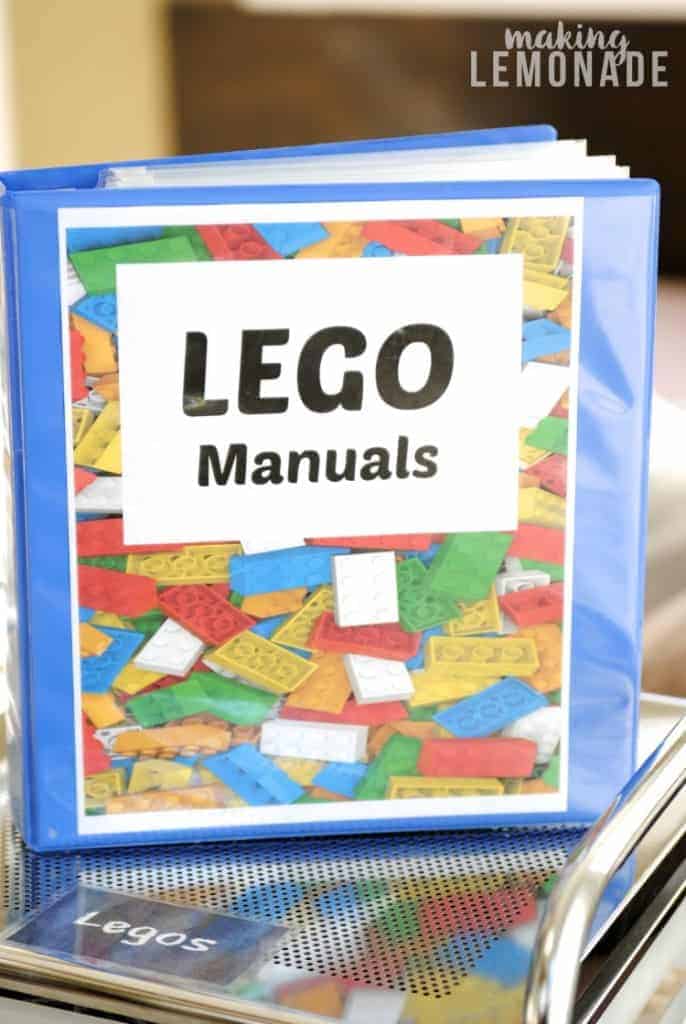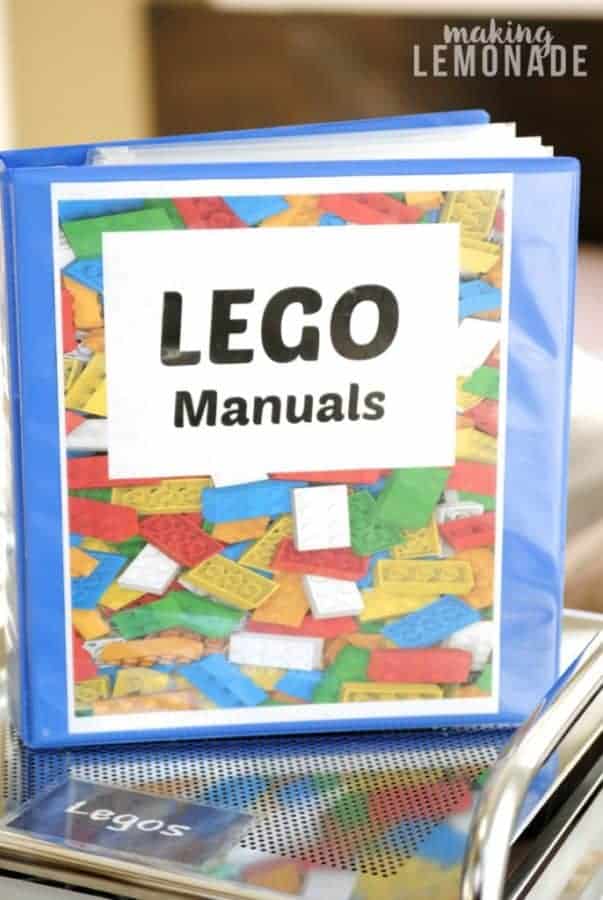 Photo: Making Lemonade Blog
Instruction Book Binders. See the how to here from My 4 Misters & Their Sister.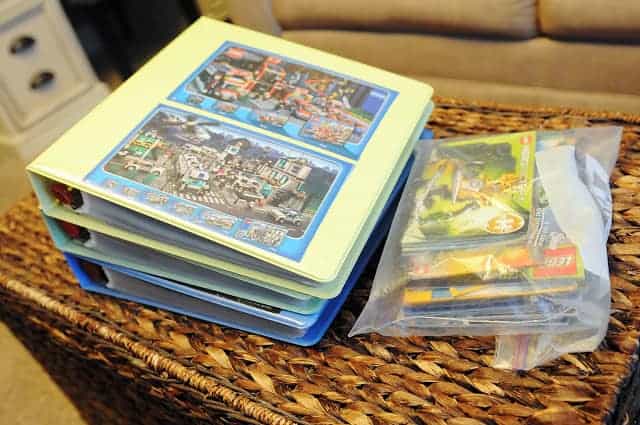 Photo: My 4 Misters & Their Sister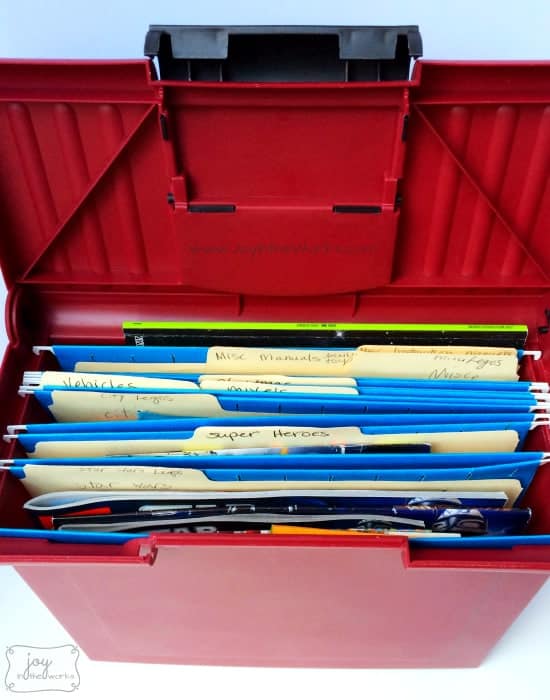 Photo: Joy in the Works
File the manuals in a storage box. See the details here.
Ideas for storage bags and boxes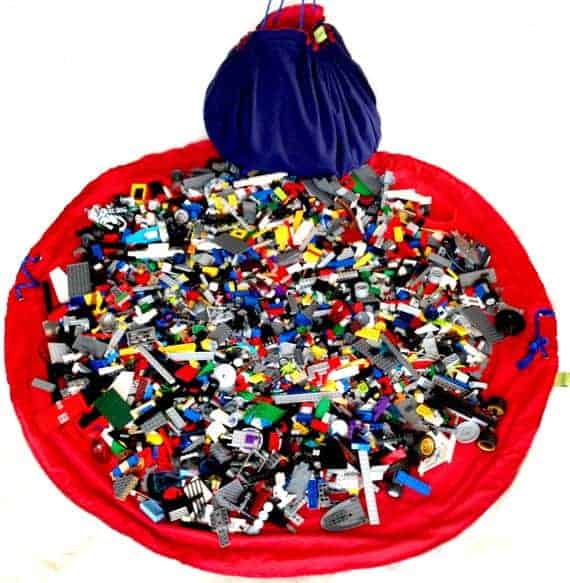 These storage bags are a great way at keeping bricks together. They can open them up, play with the bricks on the bag, and then when finished just scoop it all up! You can buy them here.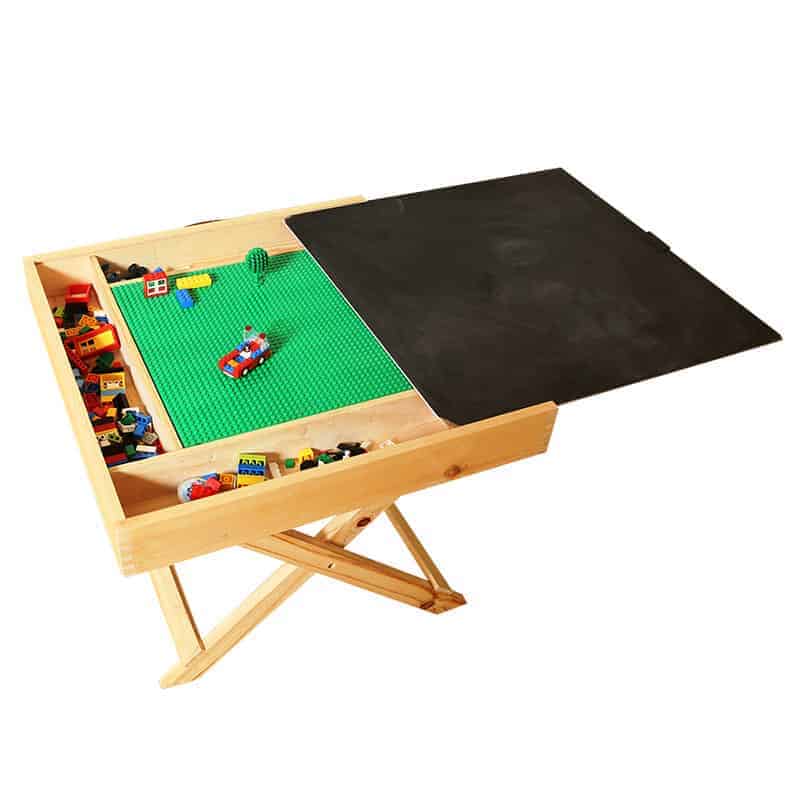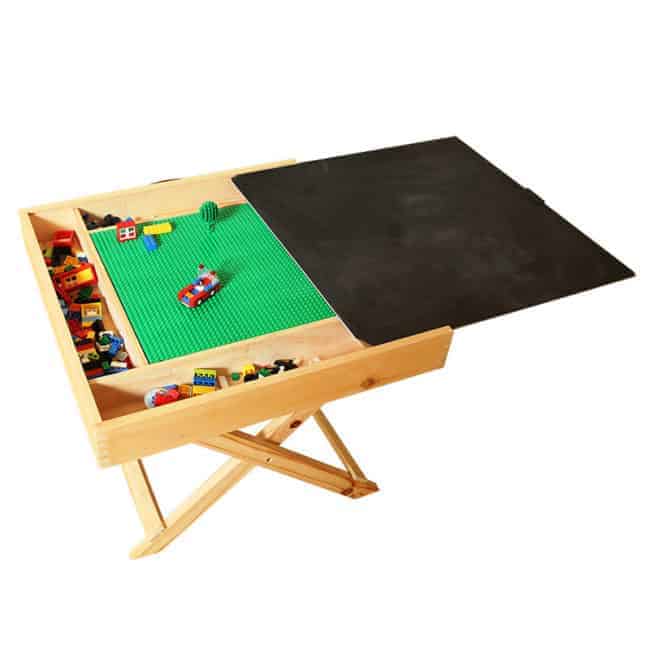 Here is a great folding table that can store bricks, and then fold up out of the way! You can buy it here.

Here is a great Building Bricks table. Store the bricks in the middle, and the entire outsides of the table can be a production center for all kinds of Lego projects! You can get it here!
Portable Storage
Here are some amazing ideas for portable Lego storage. This way kits will be kept together, and these are small enough to pop into your bag for your kids to use when you go out to a restaurant, on a car journey etc.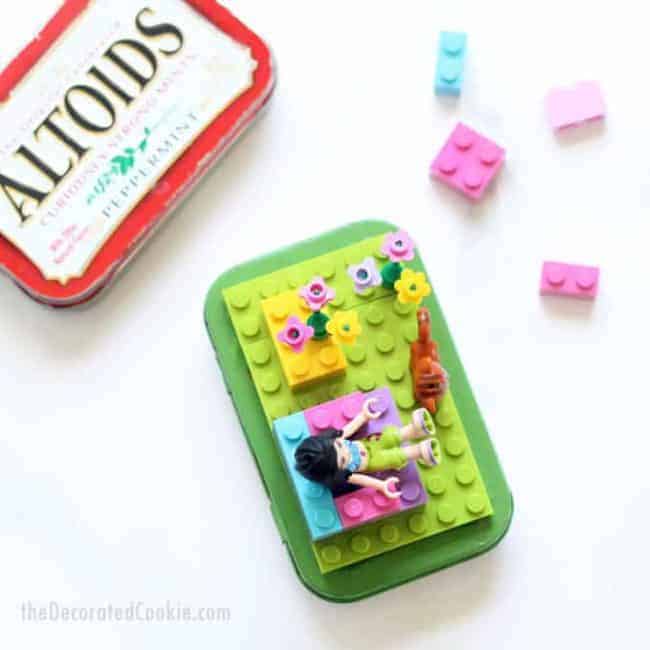 Photo: The Decorated Cookie
This little kit is all placed inside an Altoids tin! See the post here from The Decorated Cookie.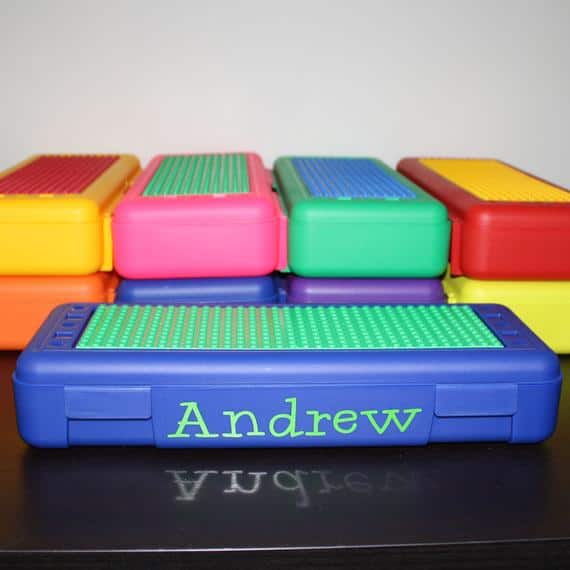 These personalized storage boxes come in numerous colors, and can all be personalized especially for your children. They can be kept in the home, or taken out on car journeys and more. You can buy them here.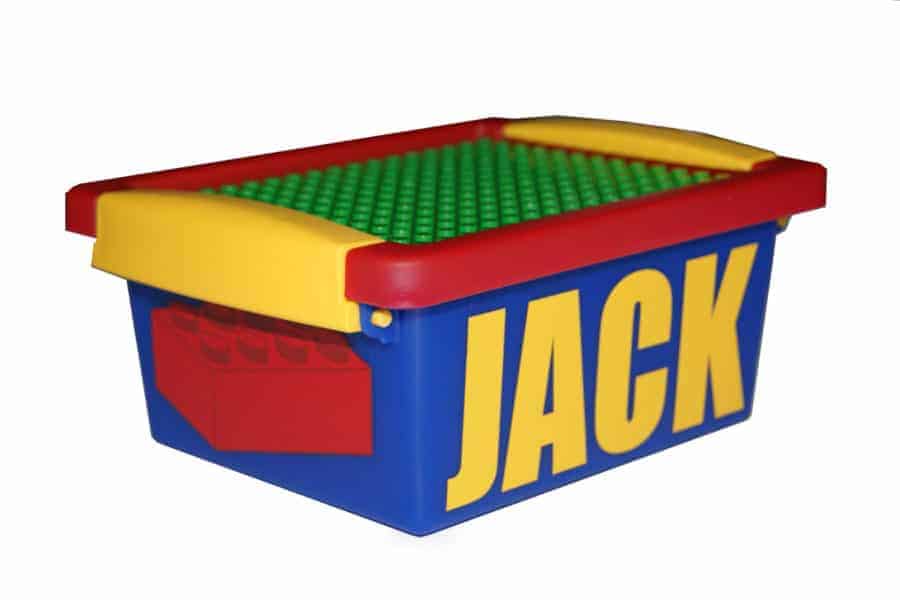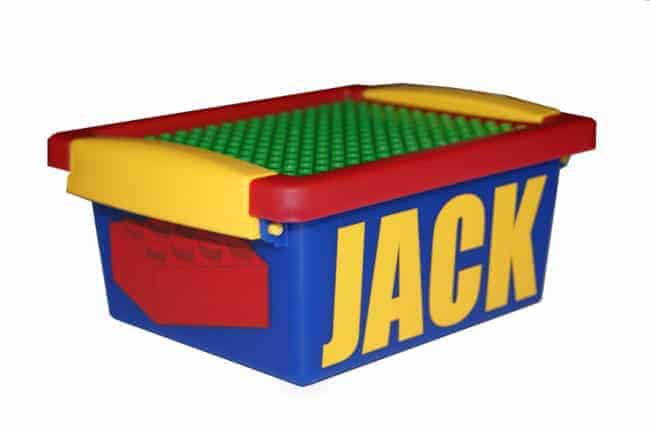 Here is another personalized storage box, great for travel. You can buy it here.
Hopefully this post has given you so many ideas for organizing and storing your kids Lego bricks! Whatever system you choose I really hope it works well for you.
If you have additional storage ideas and suggestions please let us know!
You may also like:
14 Great IKEA Hacks for your Kitchen