Beautiful & Easy Brown Paper Gift Wrapping Ideas for Christmas
There is no reason to buy fancy gift wrapping paper. You can create beautiful unique wrapped gifts using just brown Kraft paper and a little imagination!
Brown Kraft paper can be turned into beautiful wrapped gifts. It has the lovely vintage rustic look to it already as a base. You can then add so much to the simple brown paper to make your gift look so beautifully wrapped and presented.
Fancy gift wrap can be very expensive. Usually it is just one use only then it is discarded. Which is not good for your wallet or the environment.
But just by taking some brown Kraft paper, and adding embellishments and designs to it, you will have a more cost effective gift wrap.
Your final gift will also look so much more unique. It also won't look like everyone else's gift!
Here are some fantastic ideas which take simple brown Kraft paper, and turns it into something so much more unique and beautiful!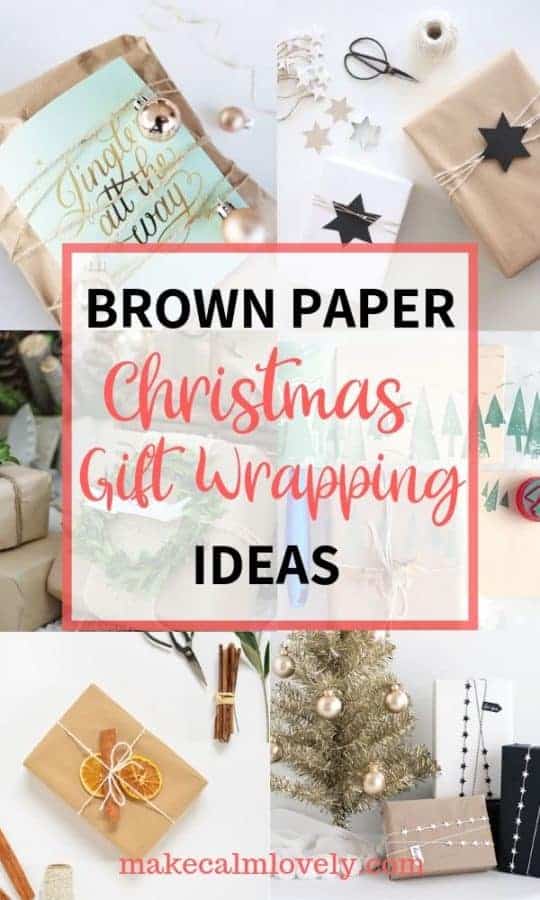 This post contains affiliate links. You can read my disclosures here.
Simple String and Stars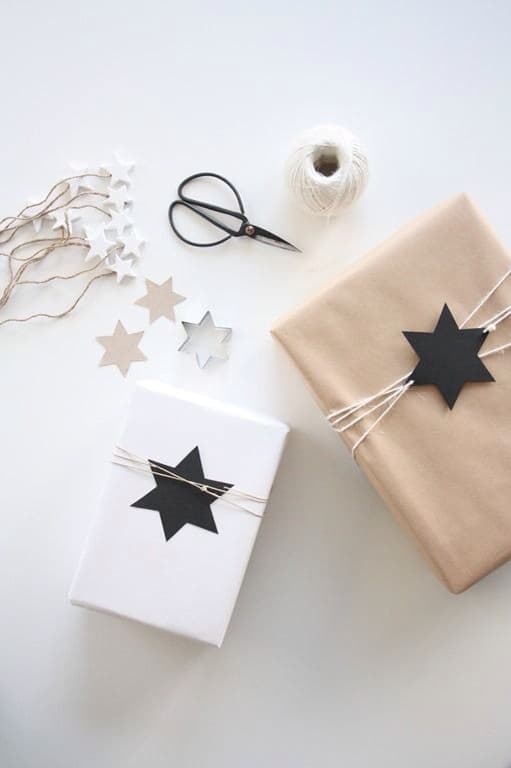 Photo: The Little Design Corner
This gift wrap idea is just so incredibly simple, but yet so beautiful. It uses a small piece of string, and a cardboard star.
The two are simply wrapped around the brown paper. So simple, so easy, and so beautiful! See more here.
Four DIY Gift Wrap Ideas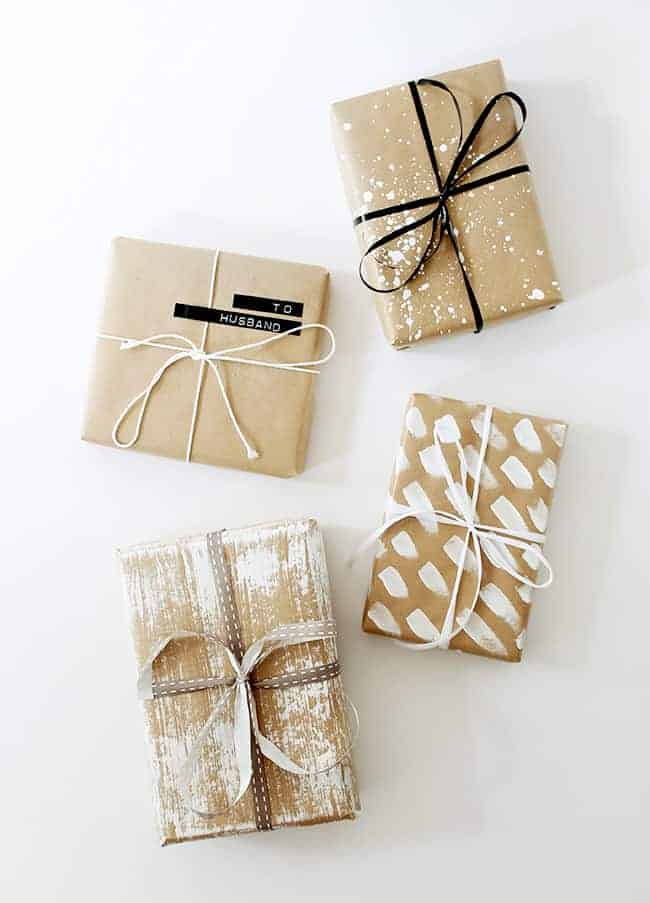 Photo: Almost Makes Perfect
Almost Makes Perfect always comes up with the best DIYs. I was so happy to find that they also have a great gift wrapping DIY using brown paper!
This DIY uses paint, and some simple ribbon and string. The end result is just perfect! You can see the tutorial here.
Simple with Baubles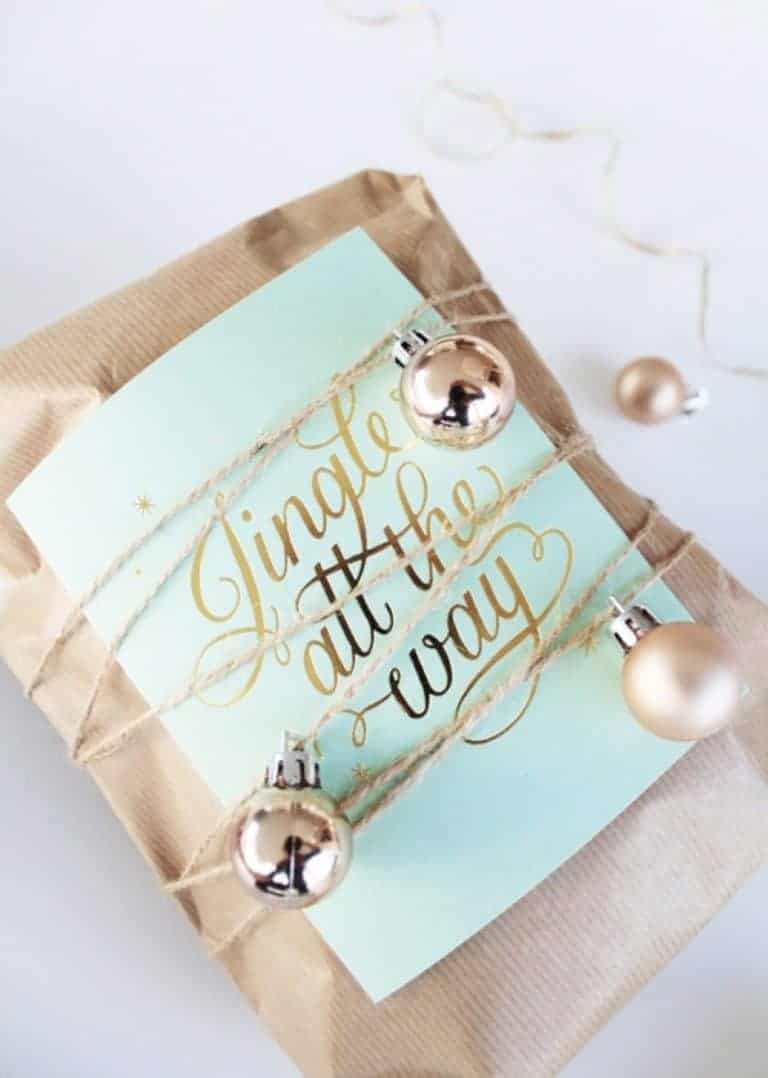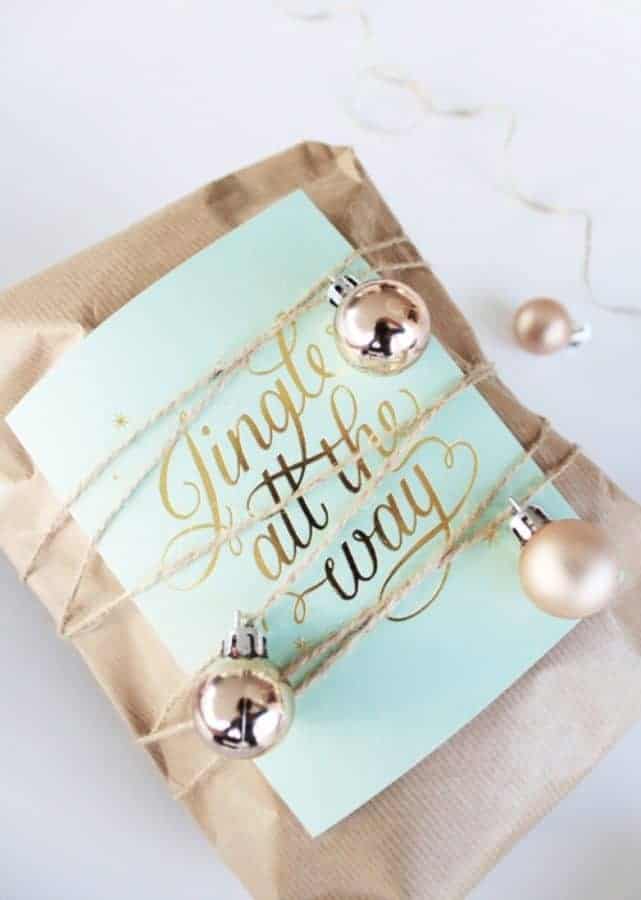 Source
This very simple idea just uses a Christmas card, tucked into the gift bound with string. A couple of miniature baubles threaded through adds a touch of festive glam!
Simple Burlap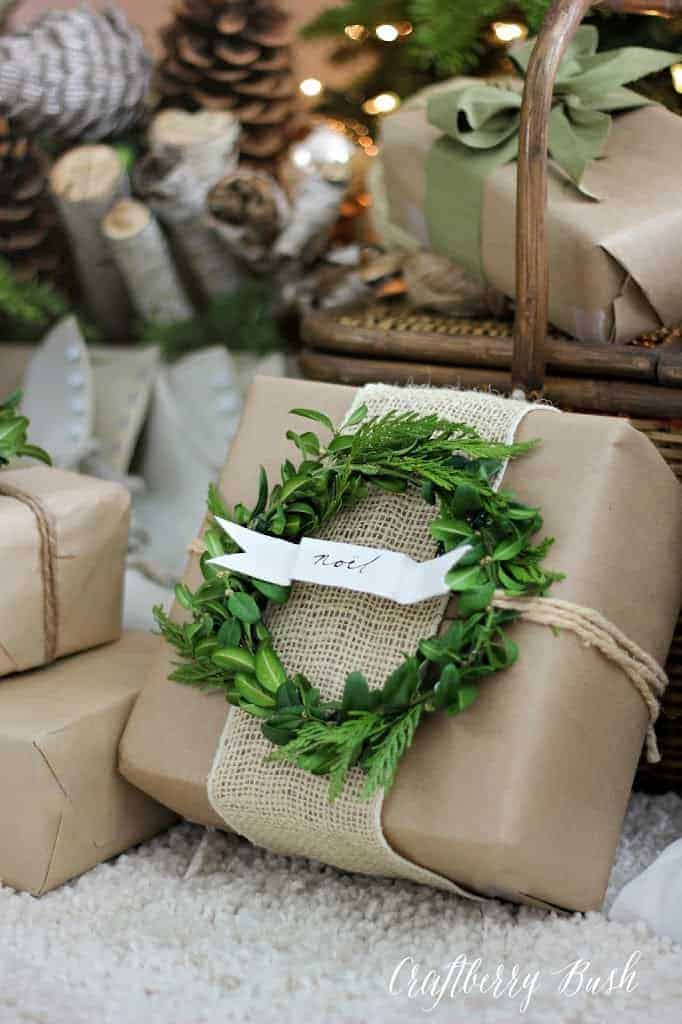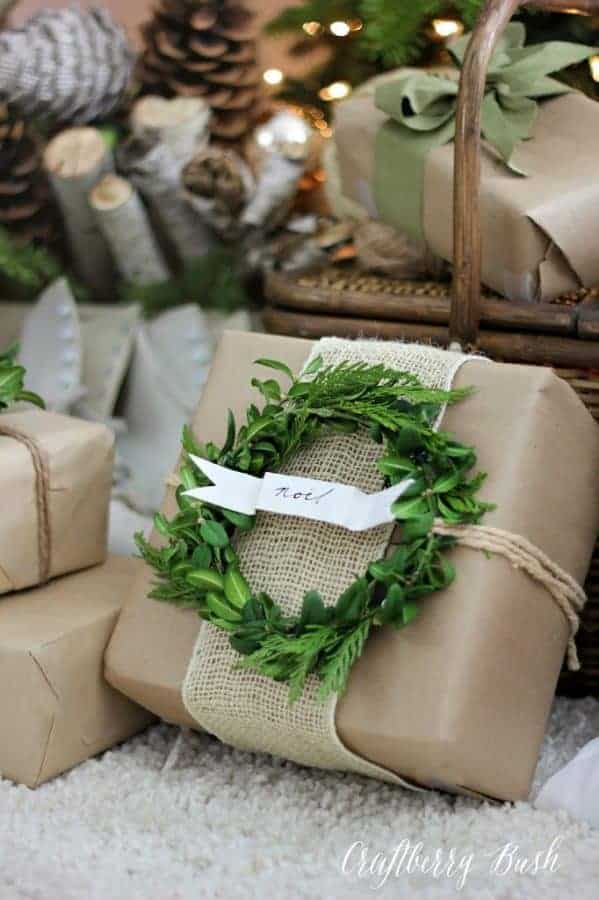 Photo: Craftberry Bush
This is another elegant, yet so incredibly simple, wrapping idea.
This one uses just a piece of burlap, string, and a pretty wreath. The result is so beautiful and elegant. They will never know how simple this was for you! See more information here.
Simple Stamped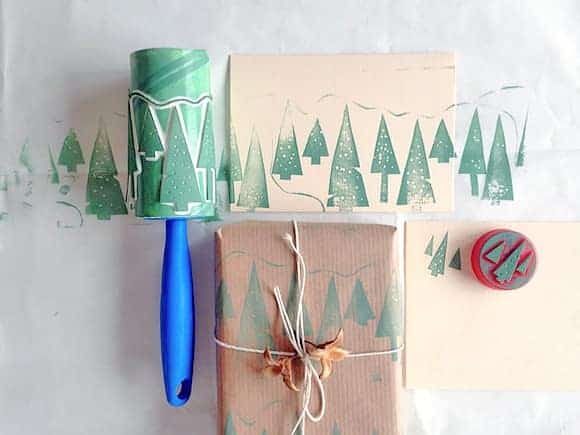 Photo: Handmade Charlotte
Just by simply stamping onto brown paper, you can create colorful and pretty wrapping paper.
Use a Simple Garland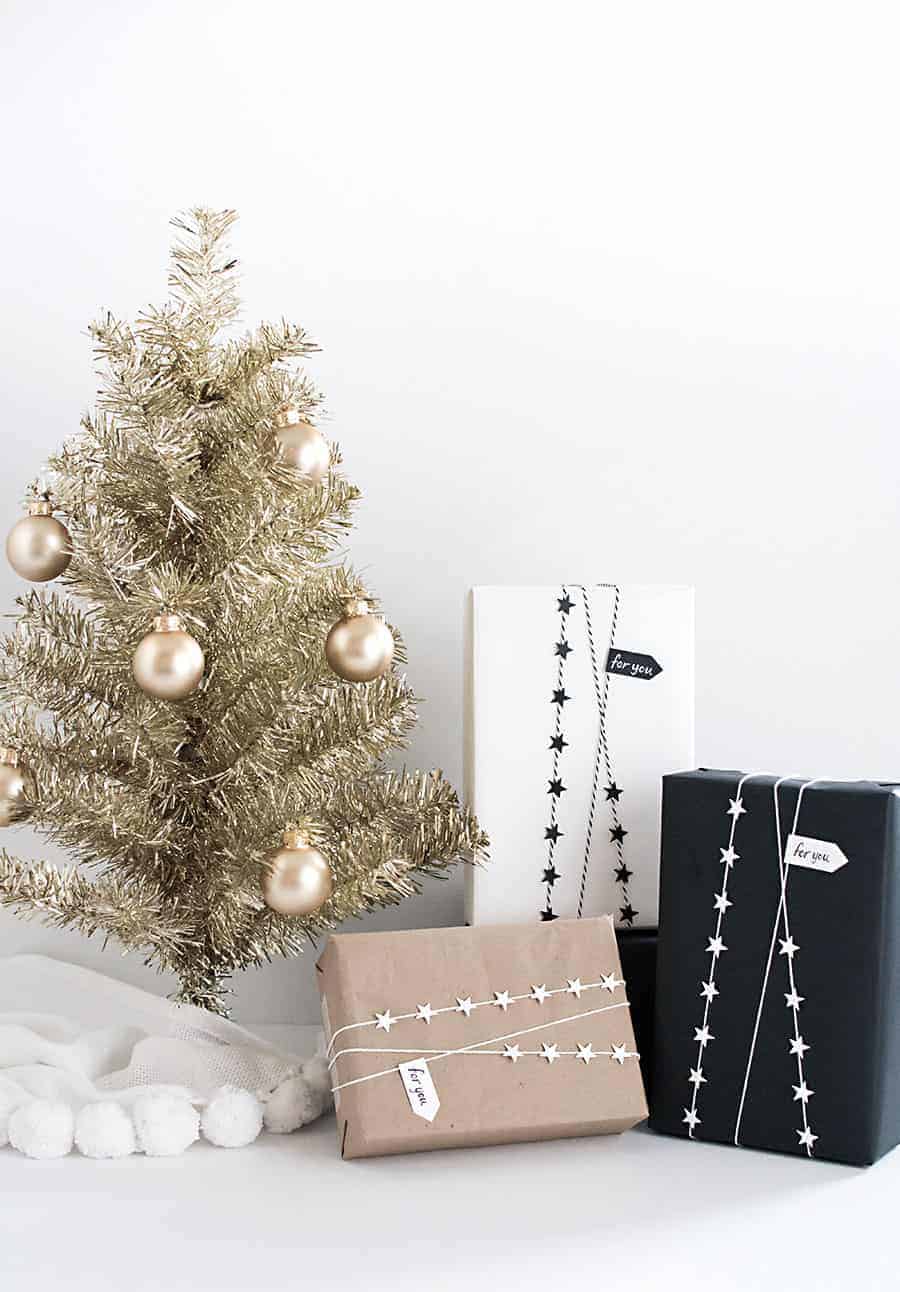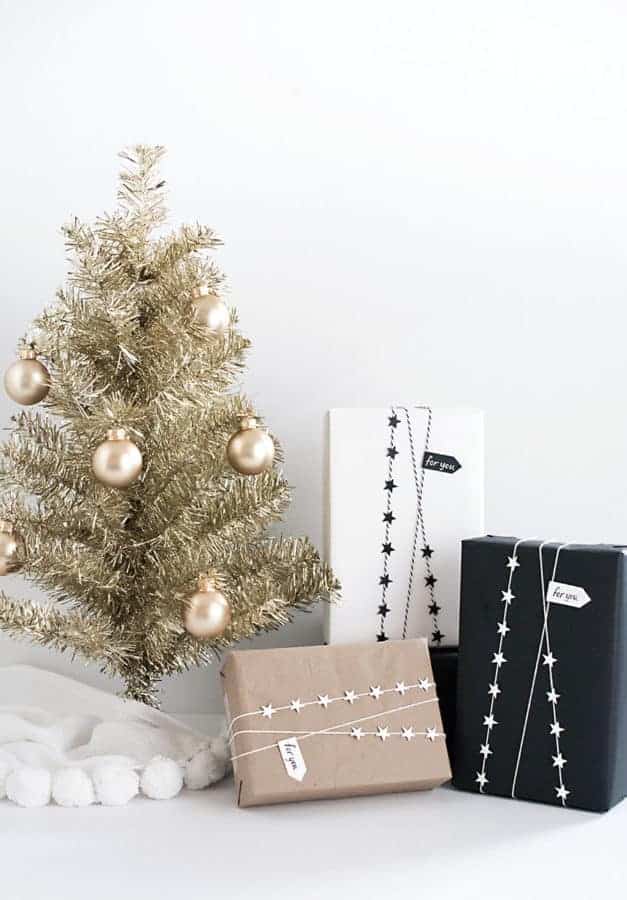 Photo: Homeyohmy
Make a simple DIY star garland, and use it to wrap all your gifts this holiday season.
All you need are some simple craft supplies. You can see the full tutorial right here.
Use Nature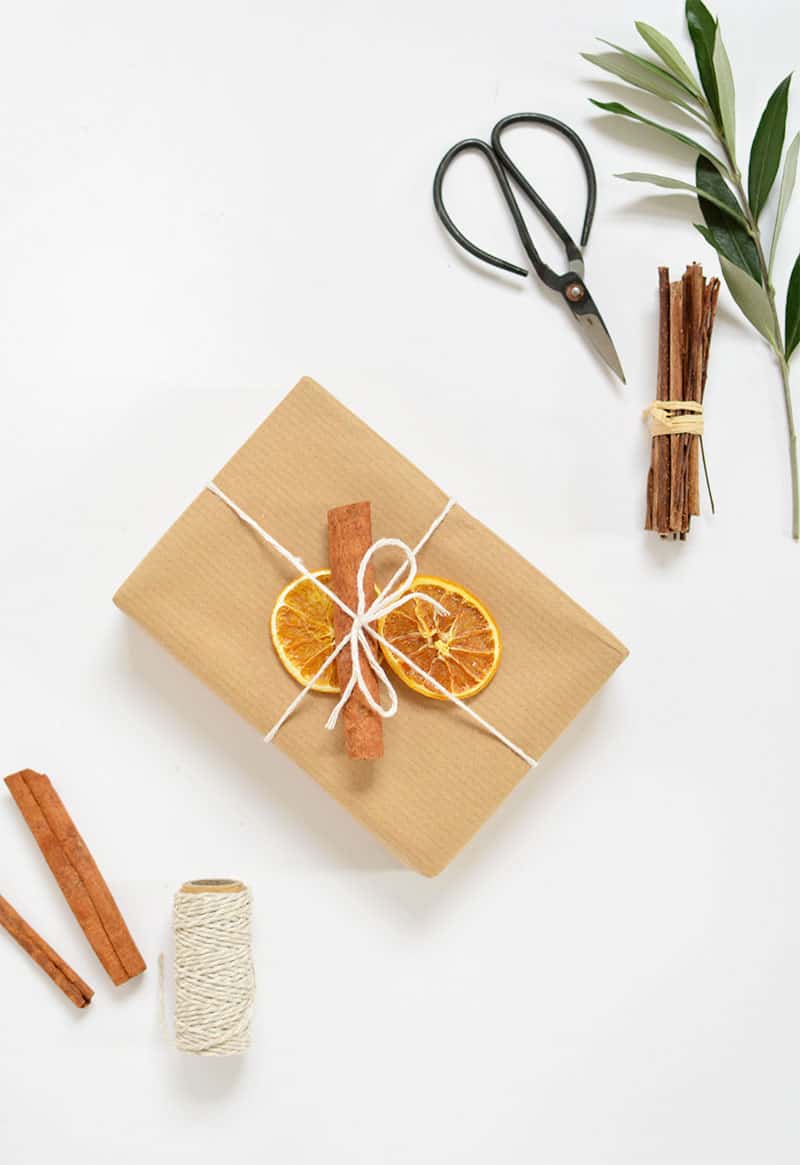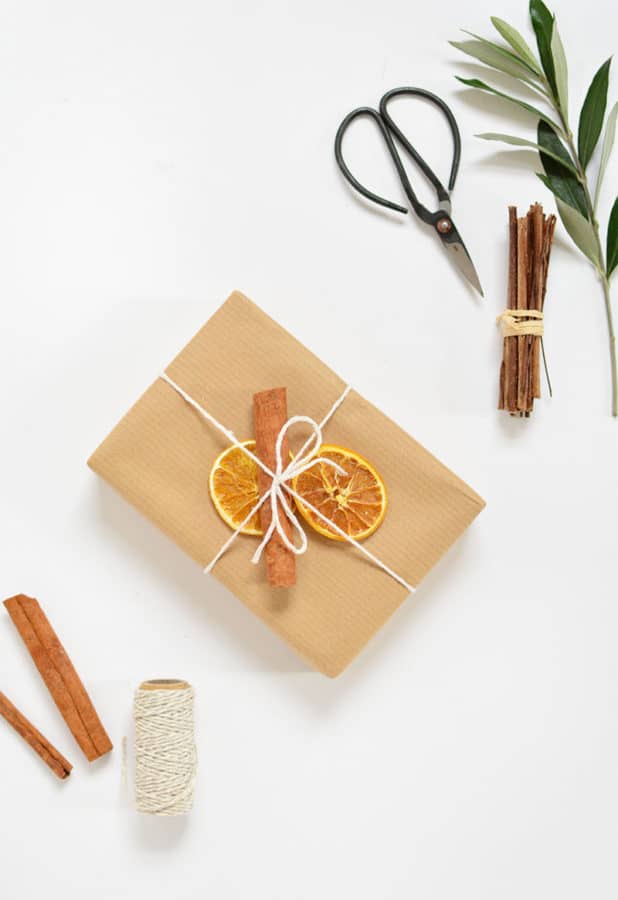 Photo: Burkatron
Using simple products from nature can turn something into a beautifully wrapped gift.
This variation uses dried fruit. You could also use pine cones, acorns, or anything at all that find outdoors. Just wrap it with string, add your nature embellishments and you have a great gift!
Polka Dot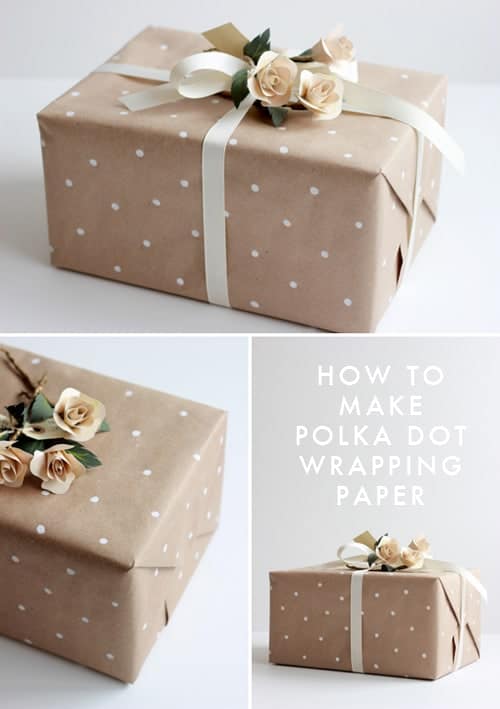 Photos: The House that Lars Built
Another incredibly simple wrapping paper idea. This polka dot pattern is so easy to make.
All you need for this DIY is a pencil and a stamp pad! Pretty easy, yet look how beautiful the gift looks! See the tutorial here.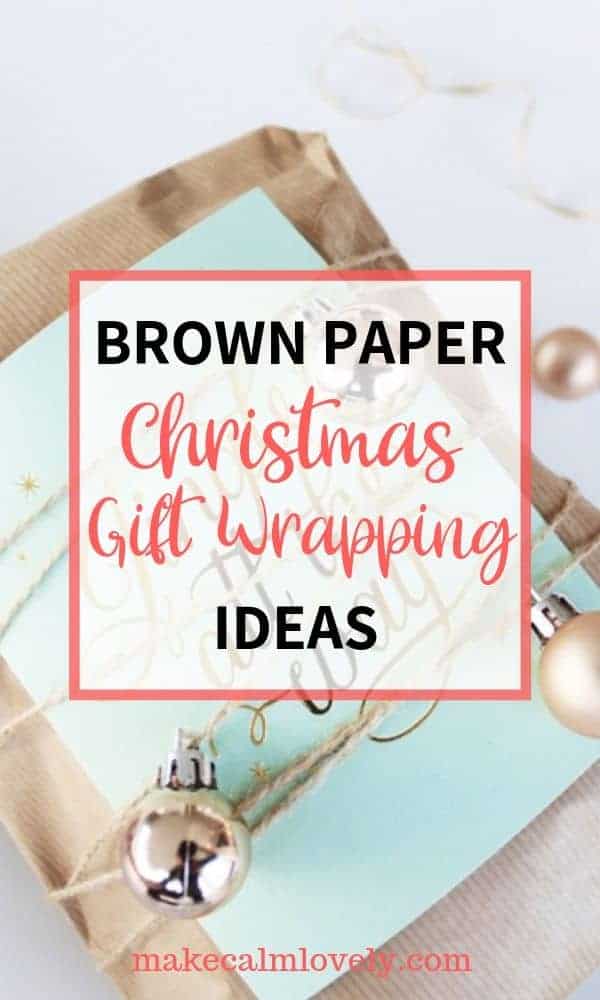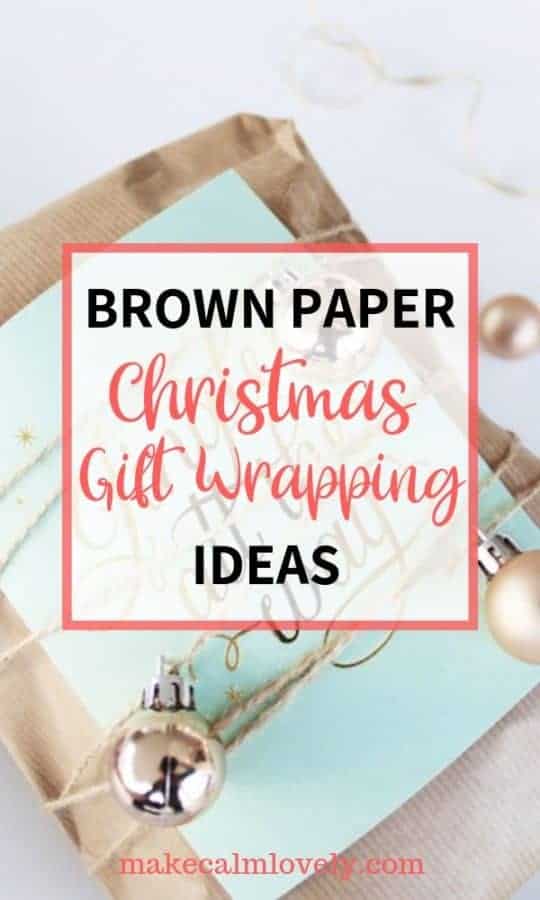 Cut out Letters
Photo: Bugs and Fishes
This simple DIY uses kraft paper cut out letters. You can put words or names onto the gift! See more here.
Just Draw on it!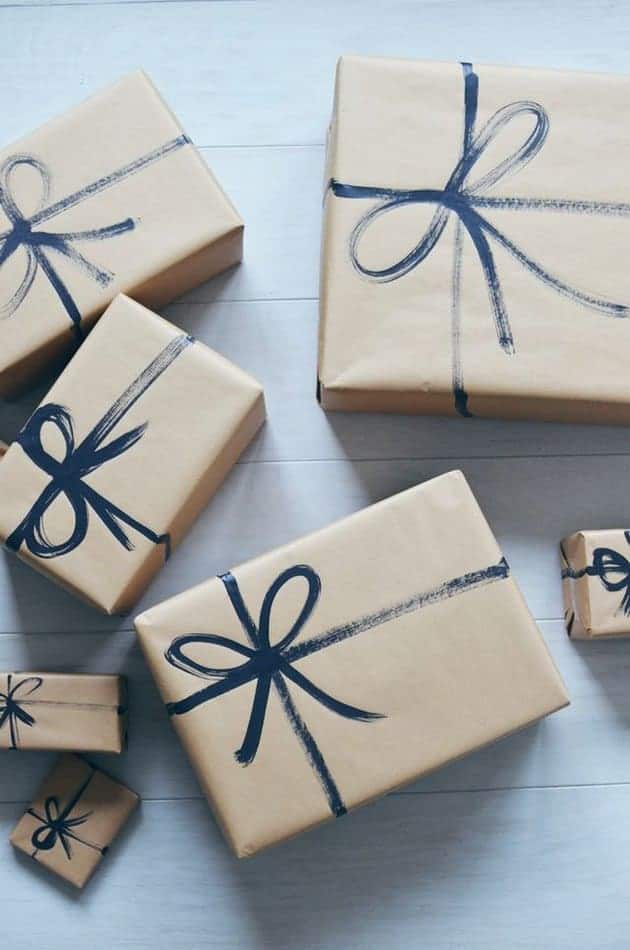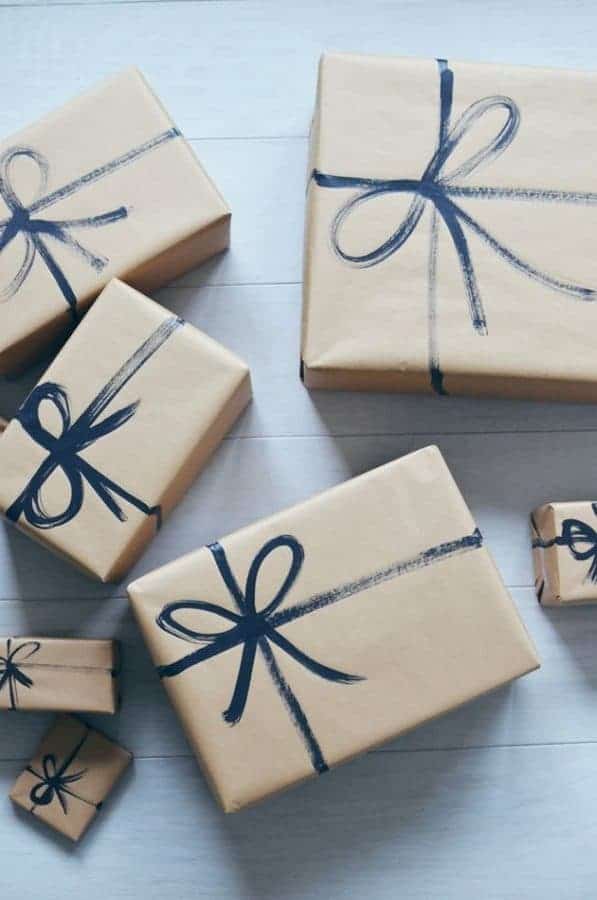 Photo: Bloglovin
Just simply drawing onto the paper can create a beautiful looking gift!
Draw a simple ribbon, or a special picture for the recipient and give them a very unique gift. All you need are markers for this!
Use Washi Tape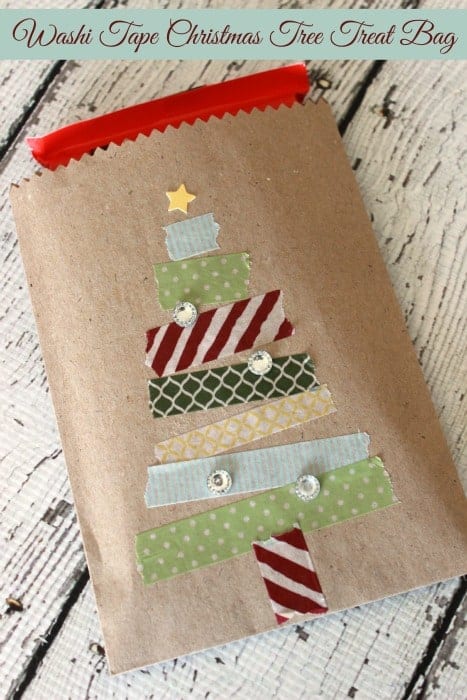 Source
Washi tape is the perfect craft supply to jazz up anything. It works so well used on simple brown craft paper.
Just stick it on and make a picture, a design, or just put it on to create a pretty border.
Here are some great festive designed Washi tapes.
Twine Snowflake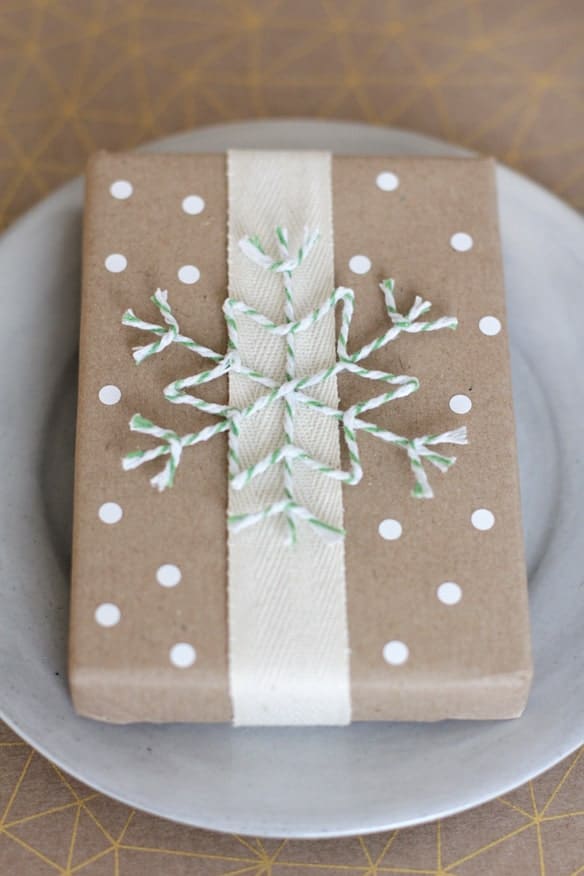 Photo: Fellow Fellow
Simply by taking some twine, and arranging it into a snowflake, creates this beautiful gift. You can see the full details right here.
Glitter Ribbon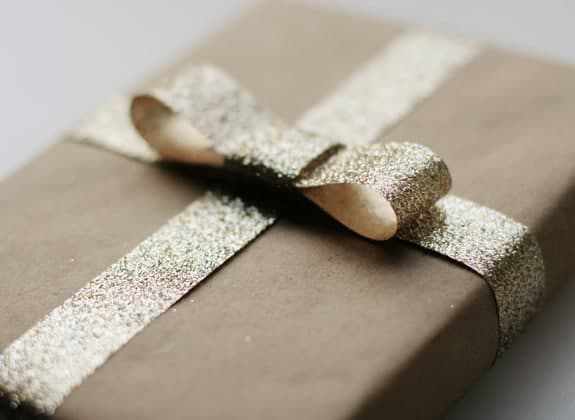 Source
Just tying glittery ribbon around your gift, can make it look festive and pretty.
Choose pretty glittering ribbons to wrap all your Christmas gifts. Gold and silver ribbon look especially pretty and festive, as do red and green.
Add Stickers
Stickers are also great to stick onto brown craft paper.
Try using gold or silver stickers to create a polka dot wrap. You could also stick Christmas themed stickers onto the wrap, such as Santa and Christmas tree stickers.
There is no reason to buy fancy gift wrapping paper. You can create beautiful unique wrapped gifts using just brown paper and a little imagination!