9 Amazing IKEA Fabrikor Cabinet DIY Hacks & Uses
The already stylish and beautiful IKEA Fabrikor cabinet can be hacked and changed into something more amazing with these DIY hacks!
IKEA sells many, already stylish and beautiful, cabinets.  These include the Fabrikor glass door cabinet, which is lovely in itself.  But….. you can hack Fabrikor to be even more useful, stylish and beautiful in your home!
The IKEA Fabrikor cabinet comes in several colors, including black, white, navy, grey, yellow, and green. It also comes in two size options, a single tower cabinet, or a double wide cabinet. An interesting thing about the two sizes is also that they are both the same price!
What's more you could also spray paint Fabrikor to be another color that you prefer.  You can add a background for instance (see the pegboard background example in this post..) You can cover the shelves in pretty paper, and even use the cabinet inside and outside your home.
As it comes Fabrikor already makes for a lovely cabinet, perfect for storing and displaying your treasures, or just about anything!
People use their Fabrikor cabinets to display their various collections, for their plants, and even as a pretty bathroom cabinet.
People have used it to display their Star Wars collection, their collection of vintage typewriters, their pottery collection, and so much more!
But Fabrikor can be so much more than that! Fabrikor can be used for things you can't even imagine too!  Take a look at these 9 DIY hacks for Fabrikor. You may be astounded by some of these uses for this amazing cabinet!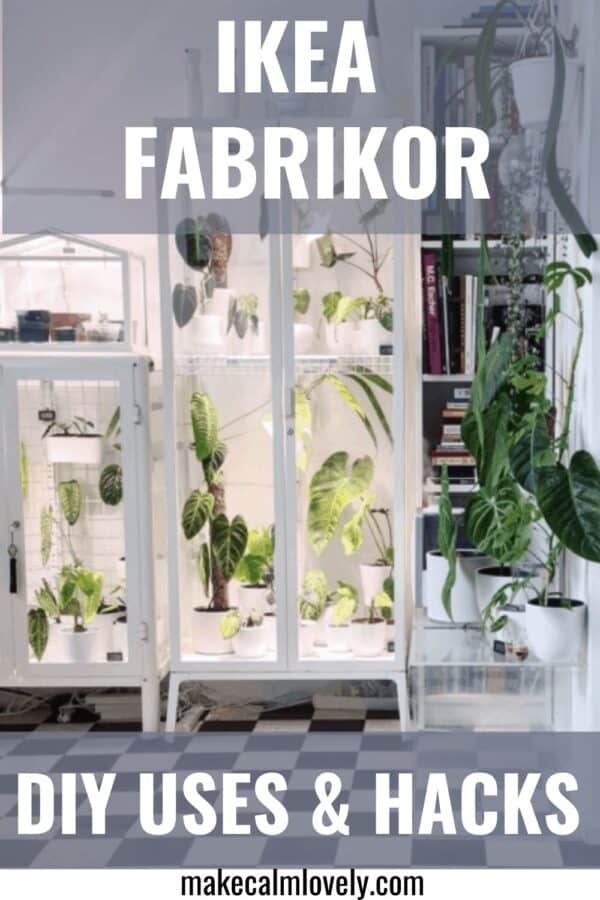 Pretty Plant Cabinet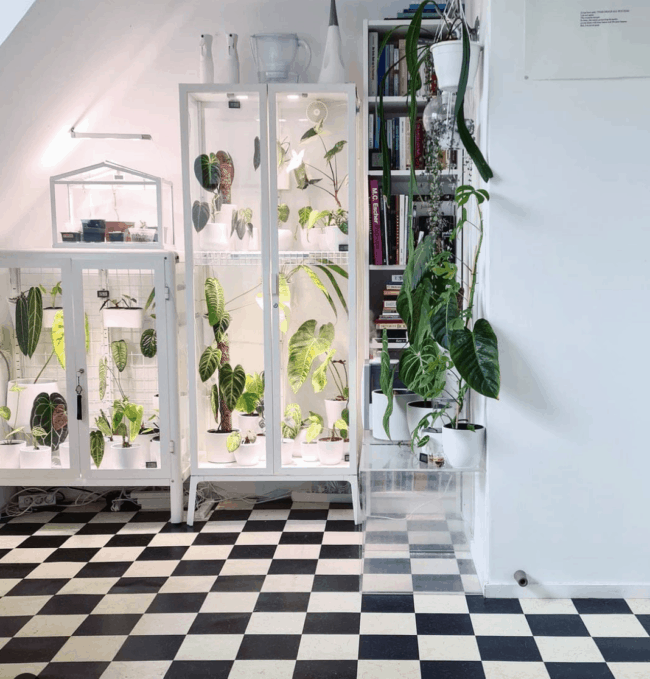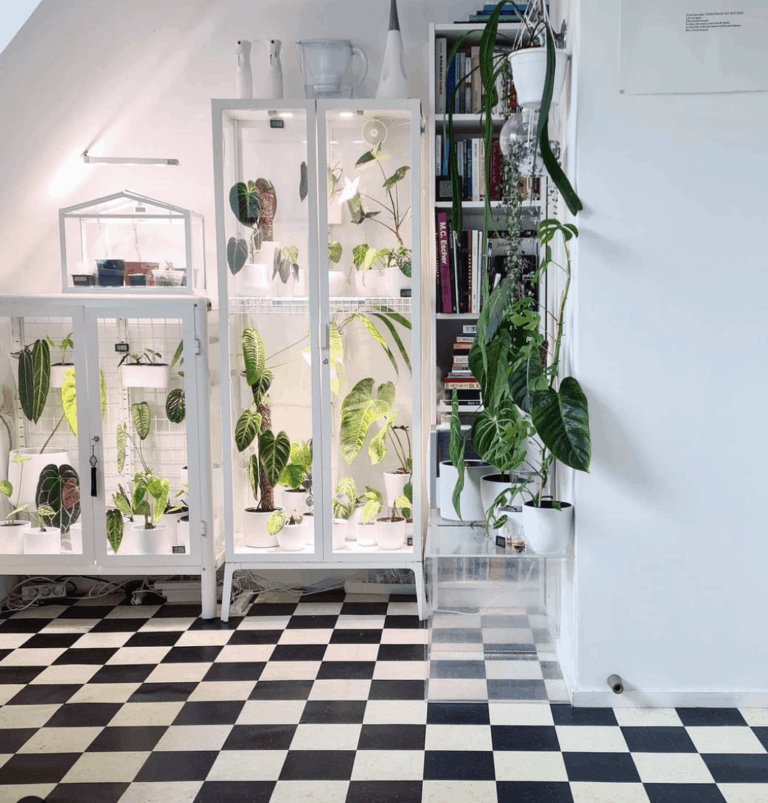 The Fabrikor cabinet is being used on the left by this Instagrammer to create a beautiful minimal display for plants.
Grow lights have been added to this cabinet to encourage plants to grow, so this really is a beautiful ideal indoor greenhouse.
A plant cabinet is actually one of the most popular uses for the Fabrikor cabinet.  It is like a pretty little indoor greenhouse, and doesn't need much customization to be used for this purpose! You can use it indoors or out for a greenhouse!
Fabrikor works so well for plants, that you will find pictures of Fabrikor housing plants all over social media!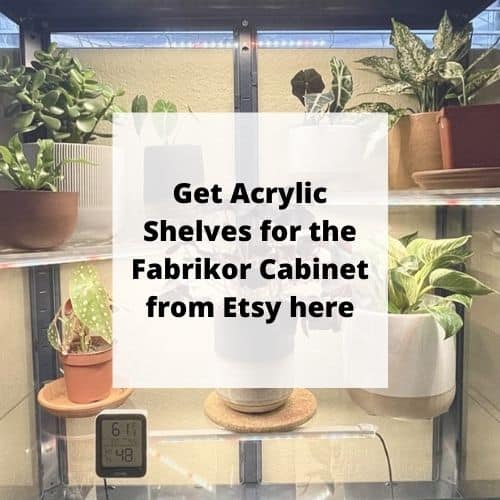 Vintage Display Cabinet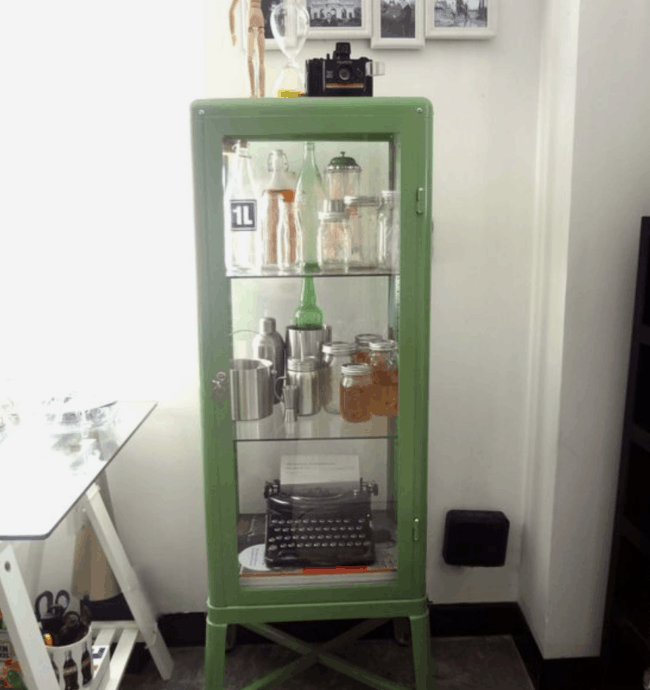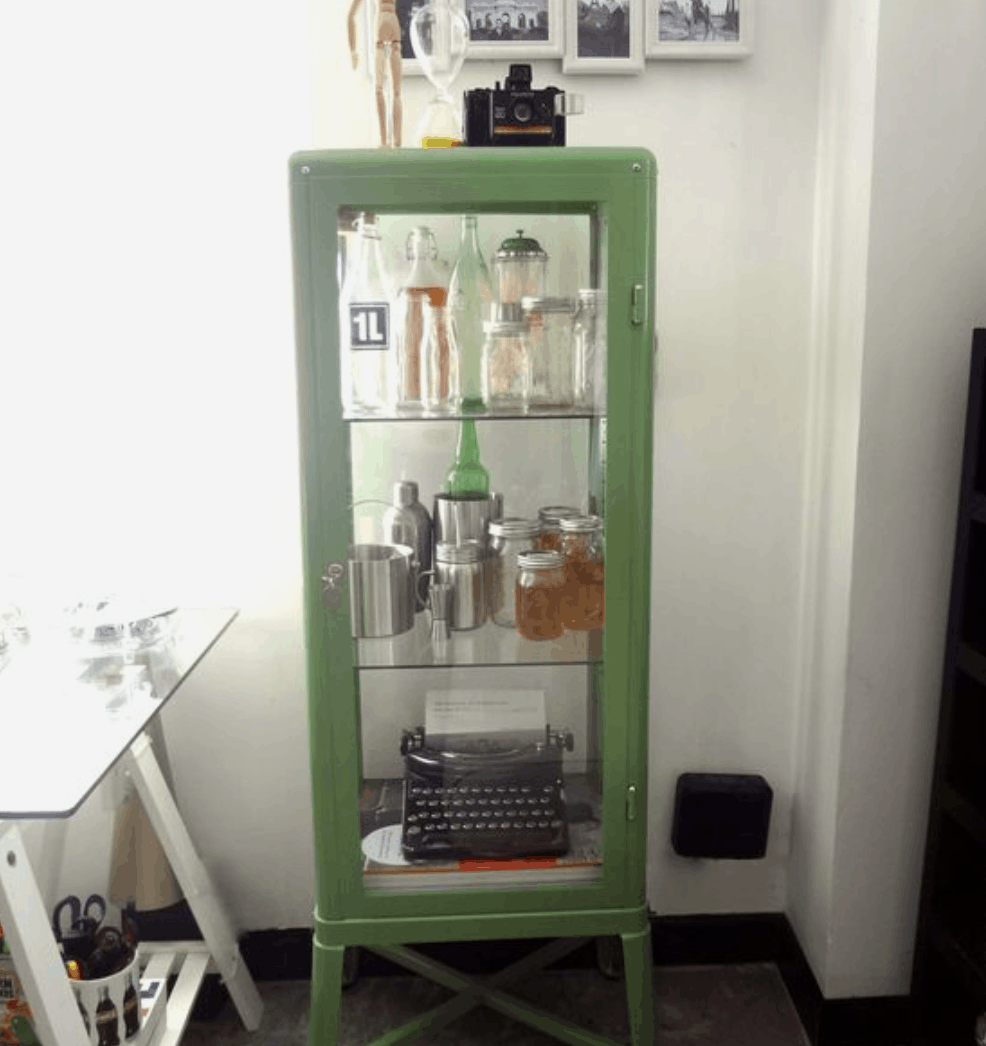 Fabrikor has been turned into a beautiful vintage display cabinet here. This pinner on Pinterest has created lovely storage that is protected and seen for their precious items.
If you want to show off your treasured possessions and collections, displaying them in your Fabrikor cabinet is the perfect use.
Purple LED Lighted Cabinet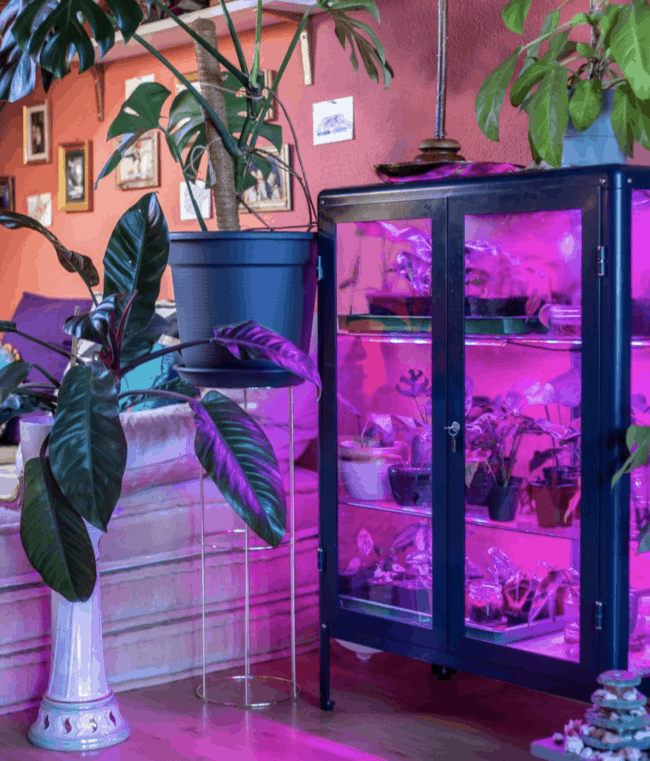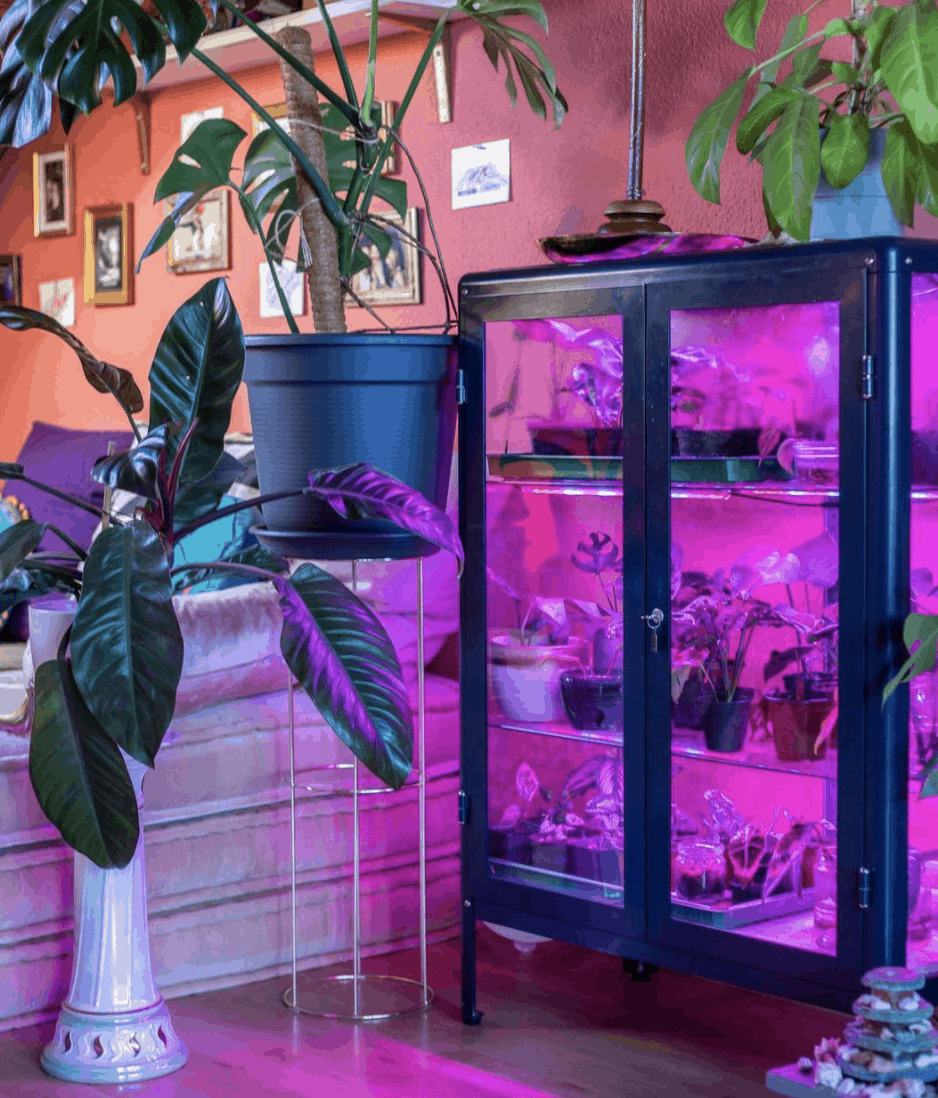 This Fabrikor cabinet has had a purple LED light added to it to create a beautiful, and wonderful environment for plants in this hack here!  See more from this Instagrammer.
This is a plant cabinet made more pretty and surreal!
Related:  DIY IKEA Hacks for your Plants
Air Plant Cabinet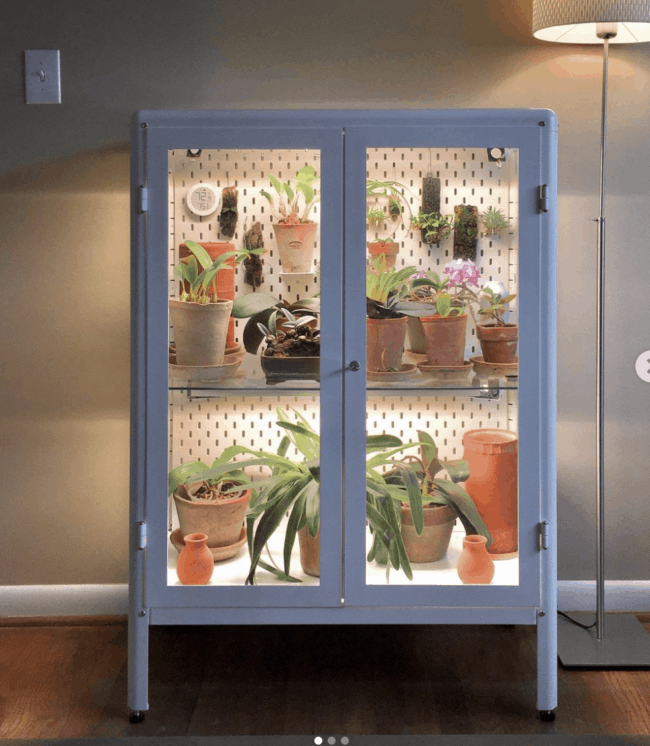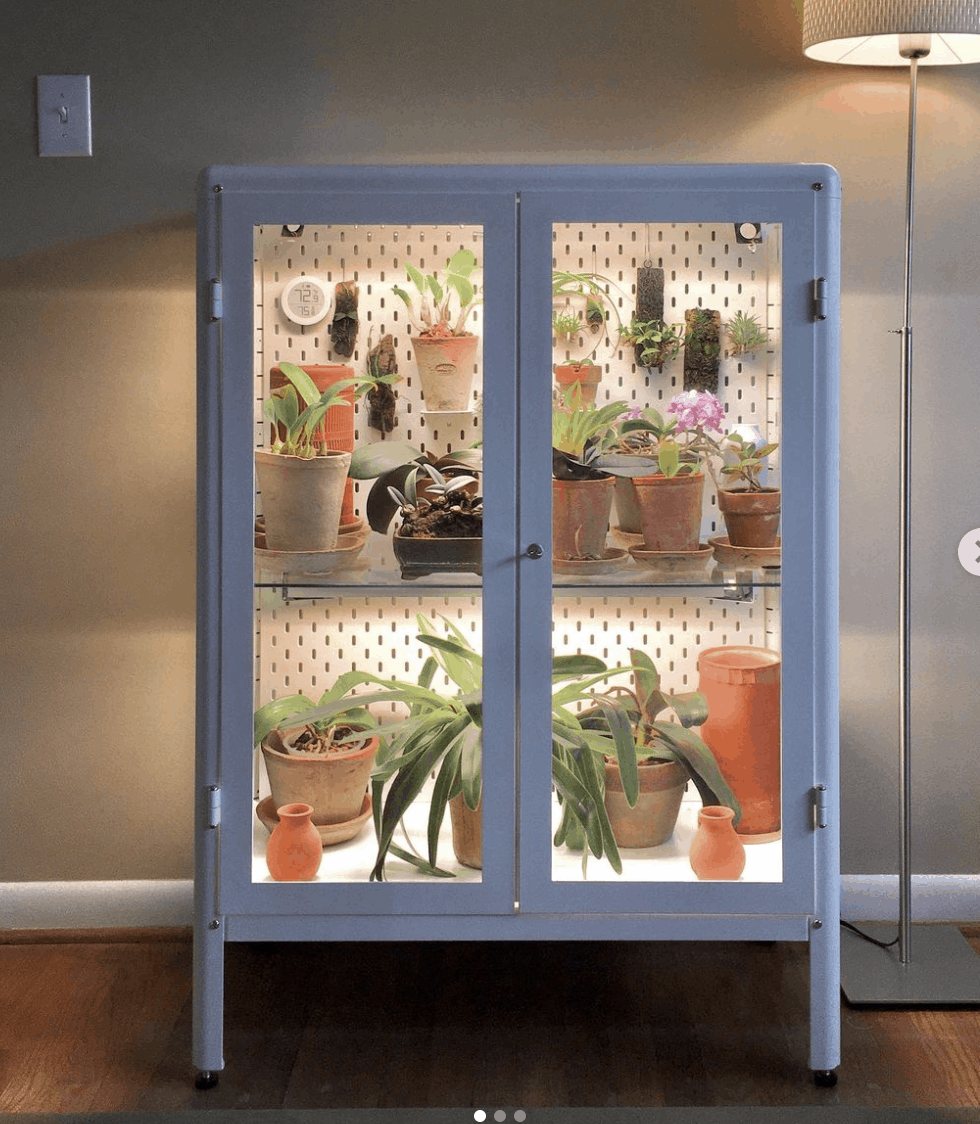 A waterproofed IKEA Skadis pegboard has been added to the back of this Fabrikor cabinet especially for air plants.
Lights and a humidifier have also been added to this cabinet.  You can see more from this Instagrammer.
Air plants deserve to be displayed somewhere pretty, and this is the perfect pretty place for them!
LOVE THIS IKEA HACK? PIN IT FOR LATER!
Follow MAKE CALM LOVELY on Pinterest!
Pretty Bathroom Cabinet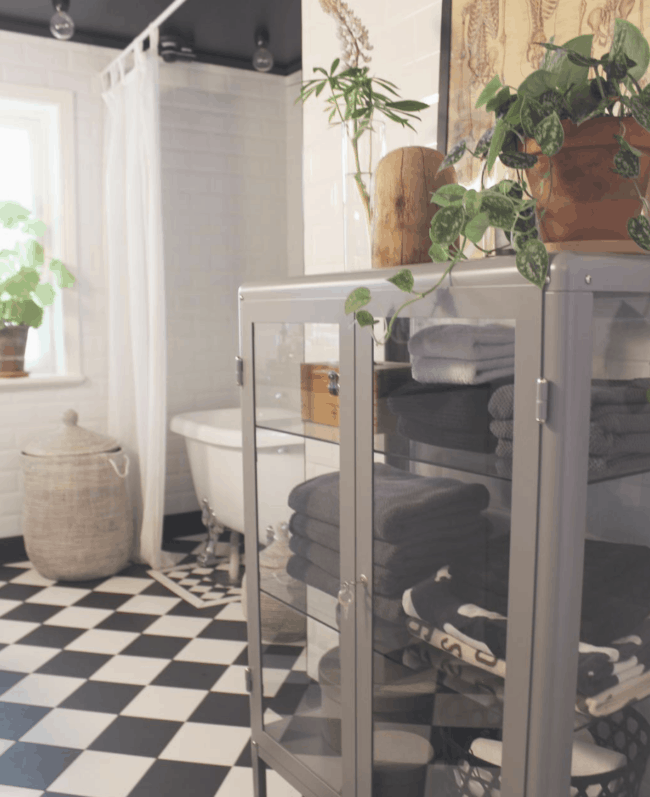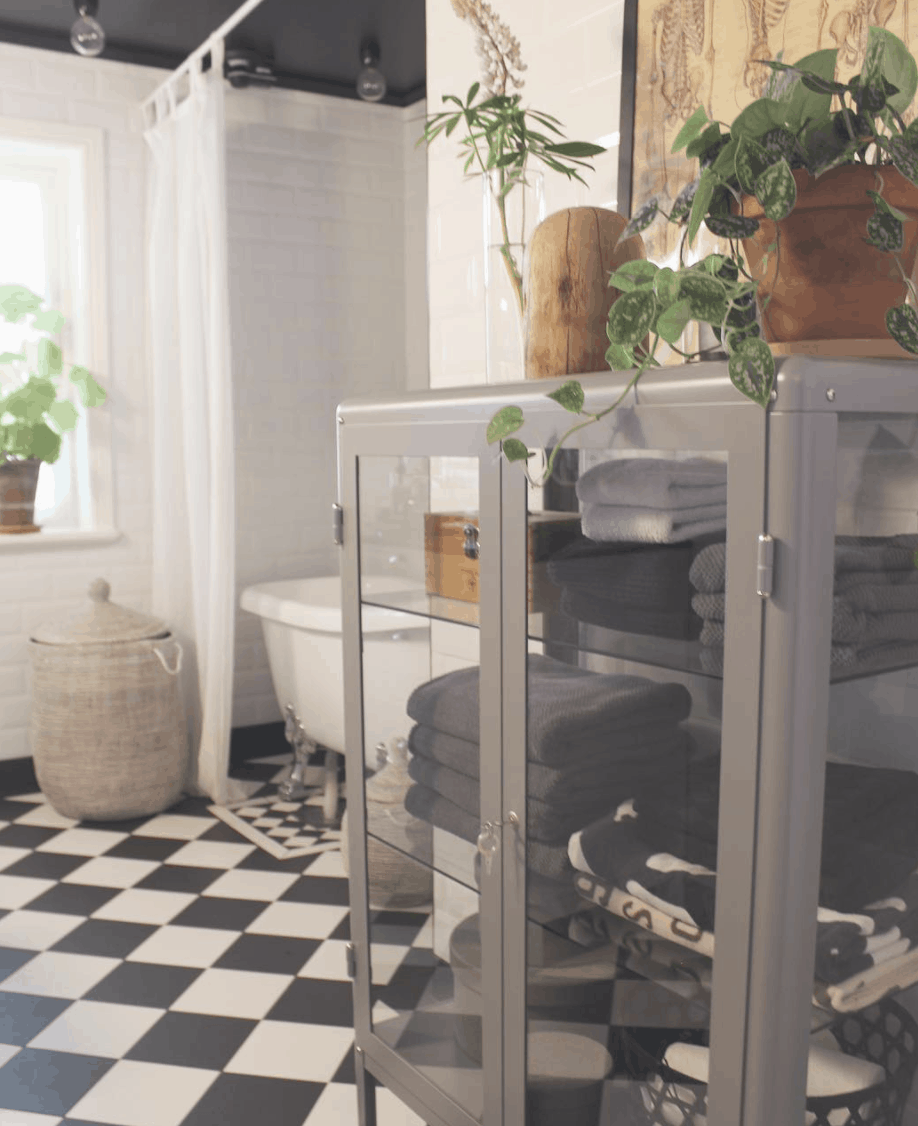 Fabrikor also makes a pretty and stylish bathroom cabinet.  Perfect for storing towels and toiletries, so you can see them and easily find them.
Add some glamor to your bathroom with this stylish use for the Fabrikor cabinet.  You can see it here.
Fabrikor Lighthouse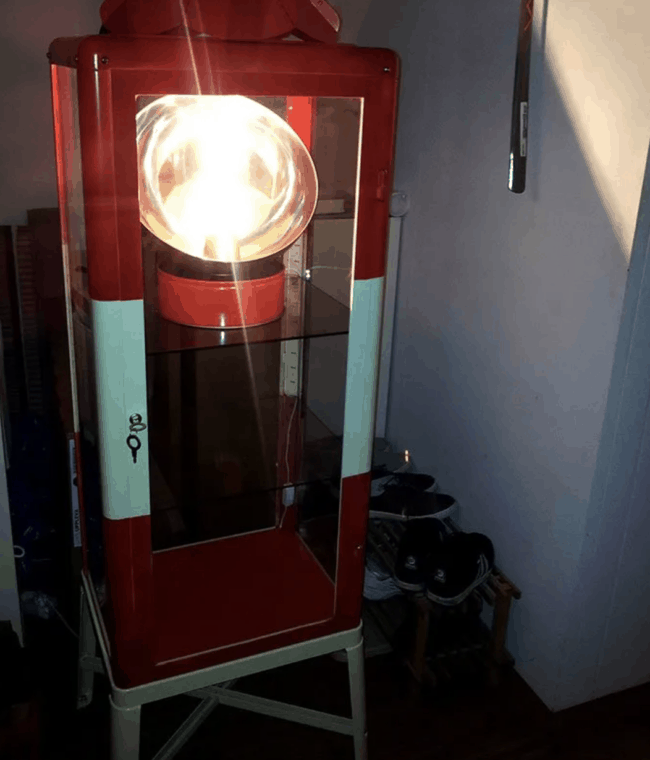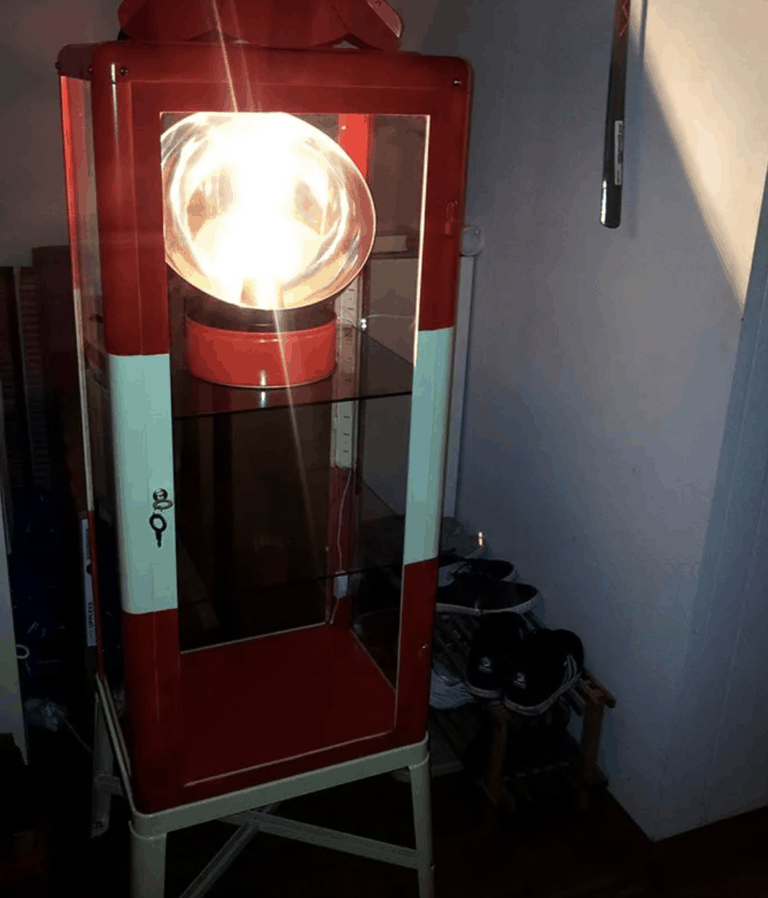 A truly unique use for Fabrikor here! This is a lighthouse created out of the cabinet.  When IKEA Austria set a challenge for Pimp My IKEA, this was an entry! See it here.
You probably never imagined this use for Fabrikor in even your wildest dreams!
Christmas Tree Display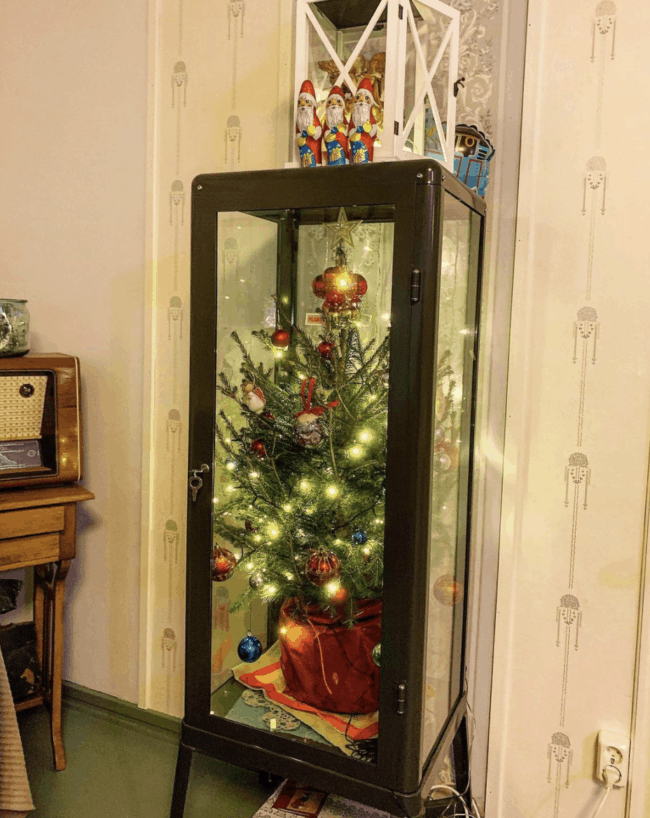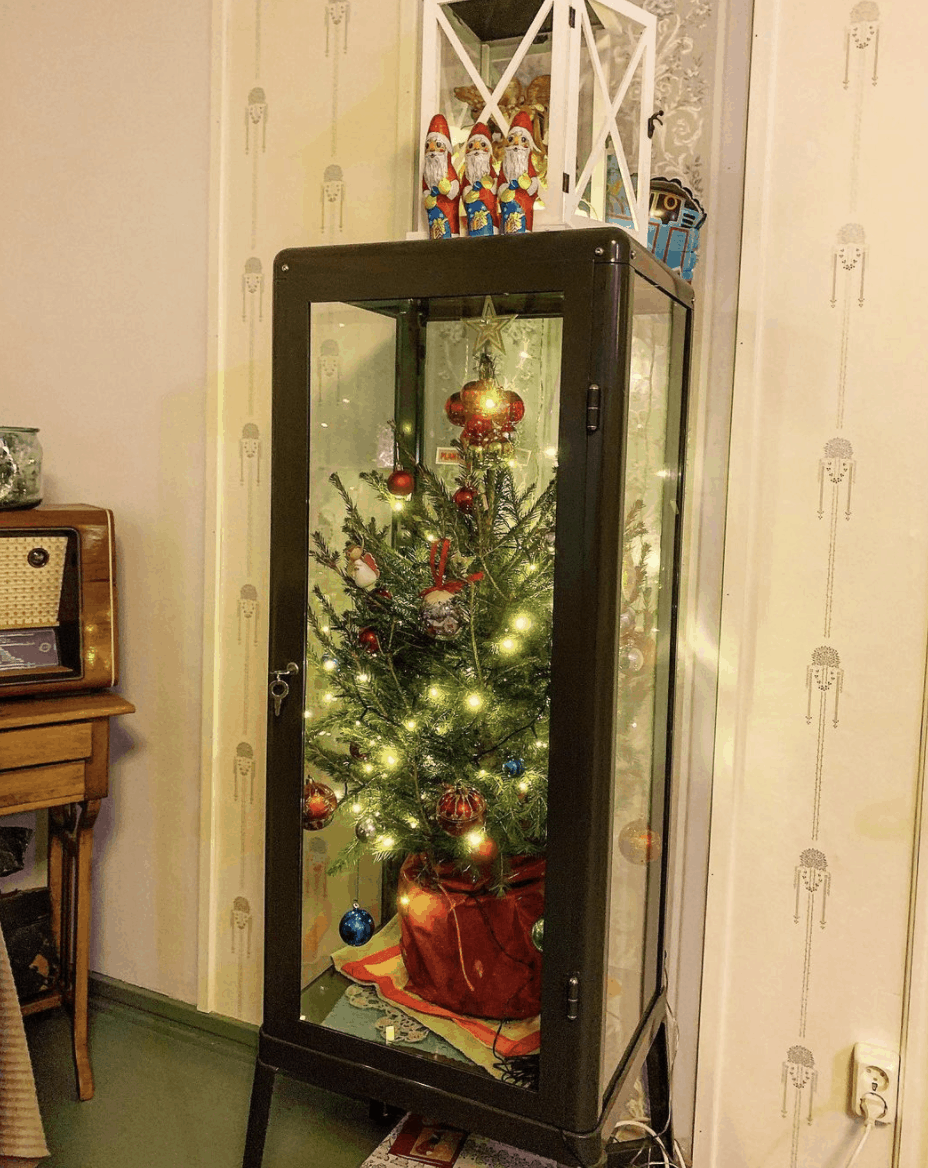 Another unique use for the Fabrikor is to display your Christmas tree! This not only makes your tree stand out, it also gives it a somewhat vintage vibe too!
Colorful Binder Storage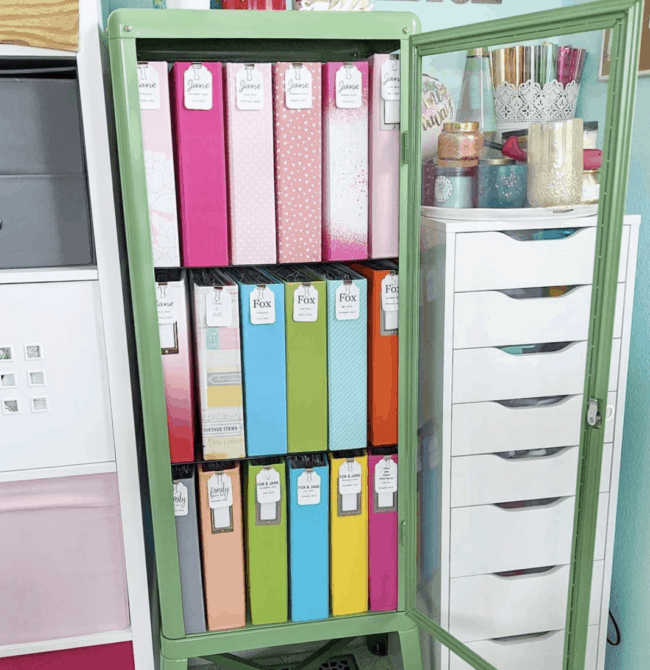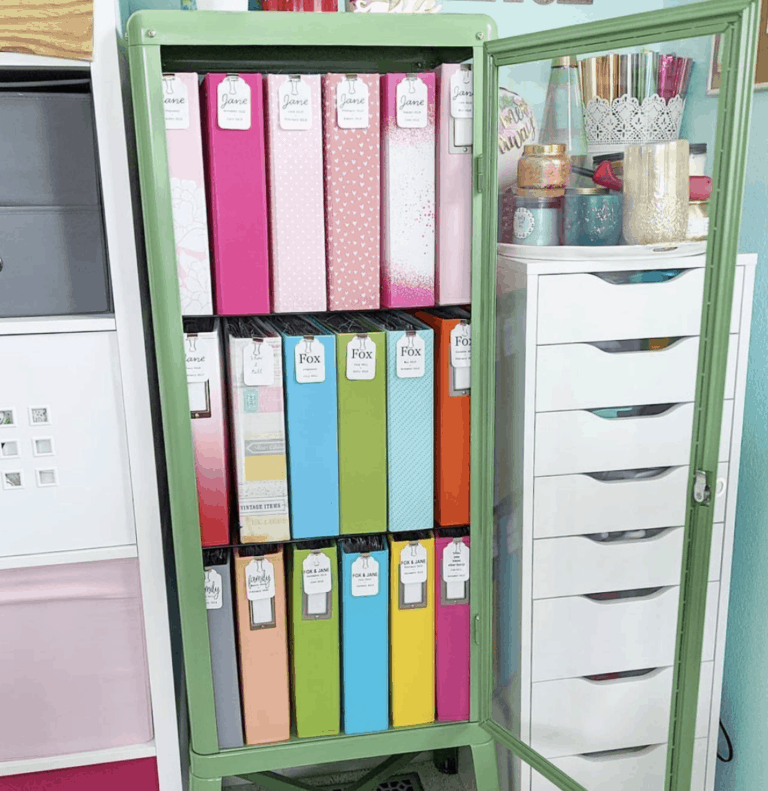 This Instagrammer has used the cabinet to display scrapbooks and folders. Not only do they look all pretty inside the cabinet, but they can easily be seen, found and located too!  Which makes it the perfect filing system. You can see it here.
Hamster Playground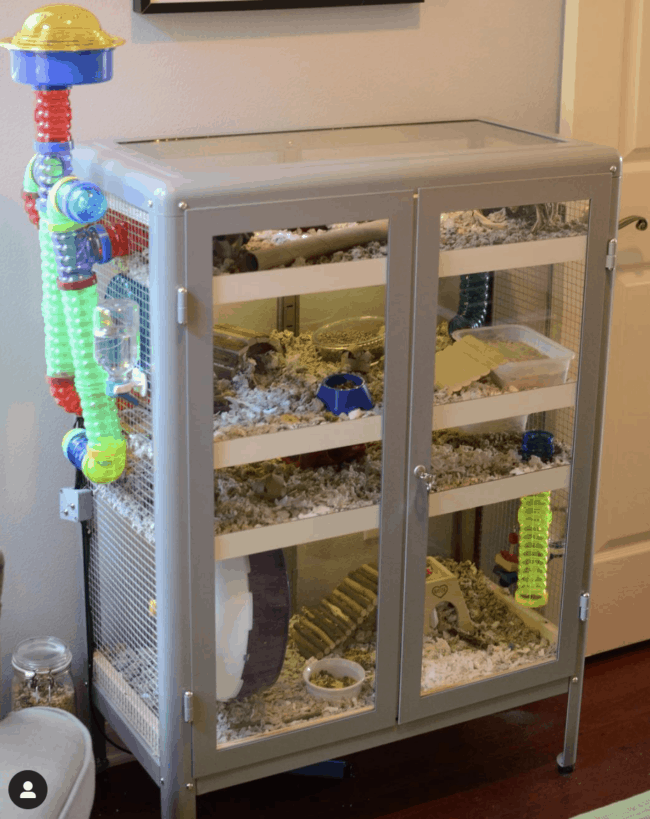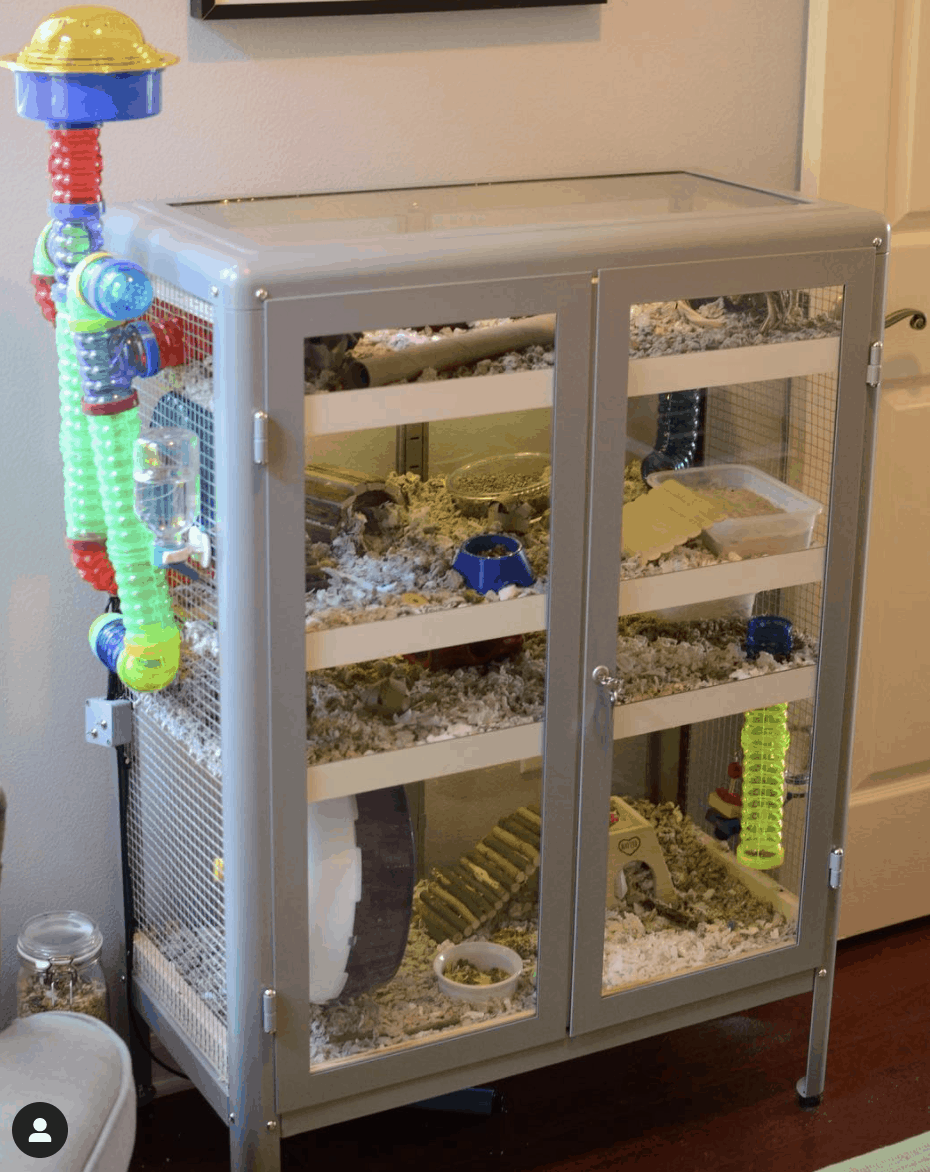 This is a very unique use for the Fabrikor cabinet! This hack has turned it into an amazing hamster playground! See more here.
This is truly a wild use for Fabrikor – but then why not?! It makes the perfect hamster adventure playground!
Related: IKEA TV & Media Cabinet DIY Hacks
Related: IKEA Gladom Terrazzo Side Table Hack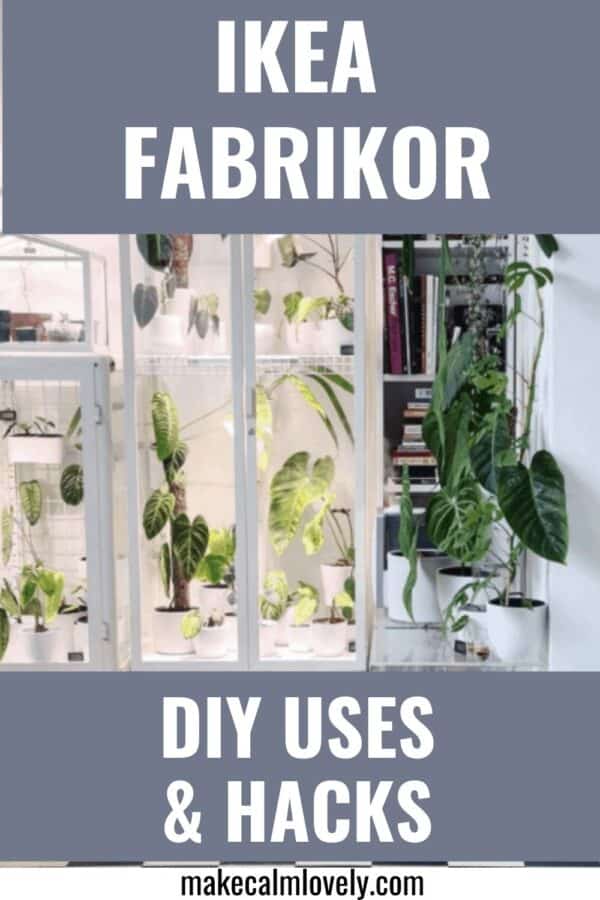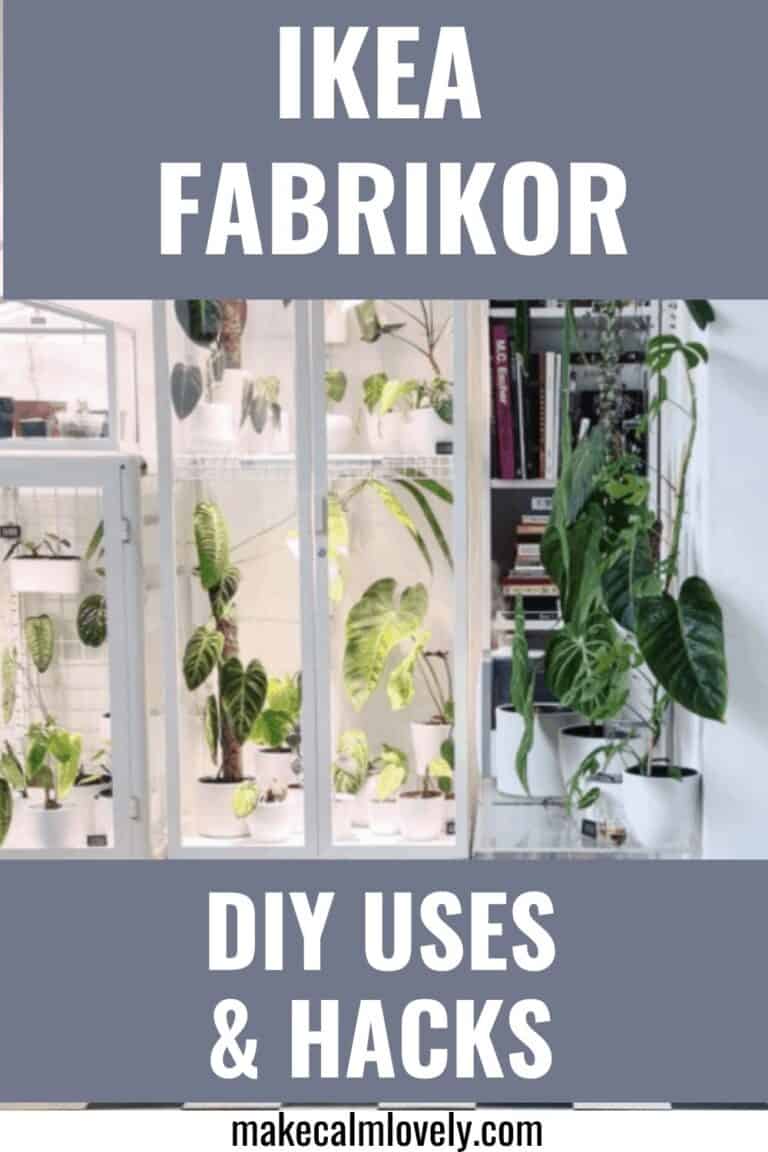 The already stylish and beautiful IKEA Fabrikor cabinet can be hacked and changed into something more amazing with these DIY hacks!
About Make Calm Lovely
Make Calm Lovely is a lifestyle blog specializing in IKEA DIY hacks, DIY & craft projects, home decor and so much more! Check out all the amazing things you can do and create to make your life calmier and lovelier at Makecalmlovely.com!